This is the list of the very Best Meal Prep Ideas on the internet! Get organized for the work week with these breakfast, lunch and dinner meal prep recipes.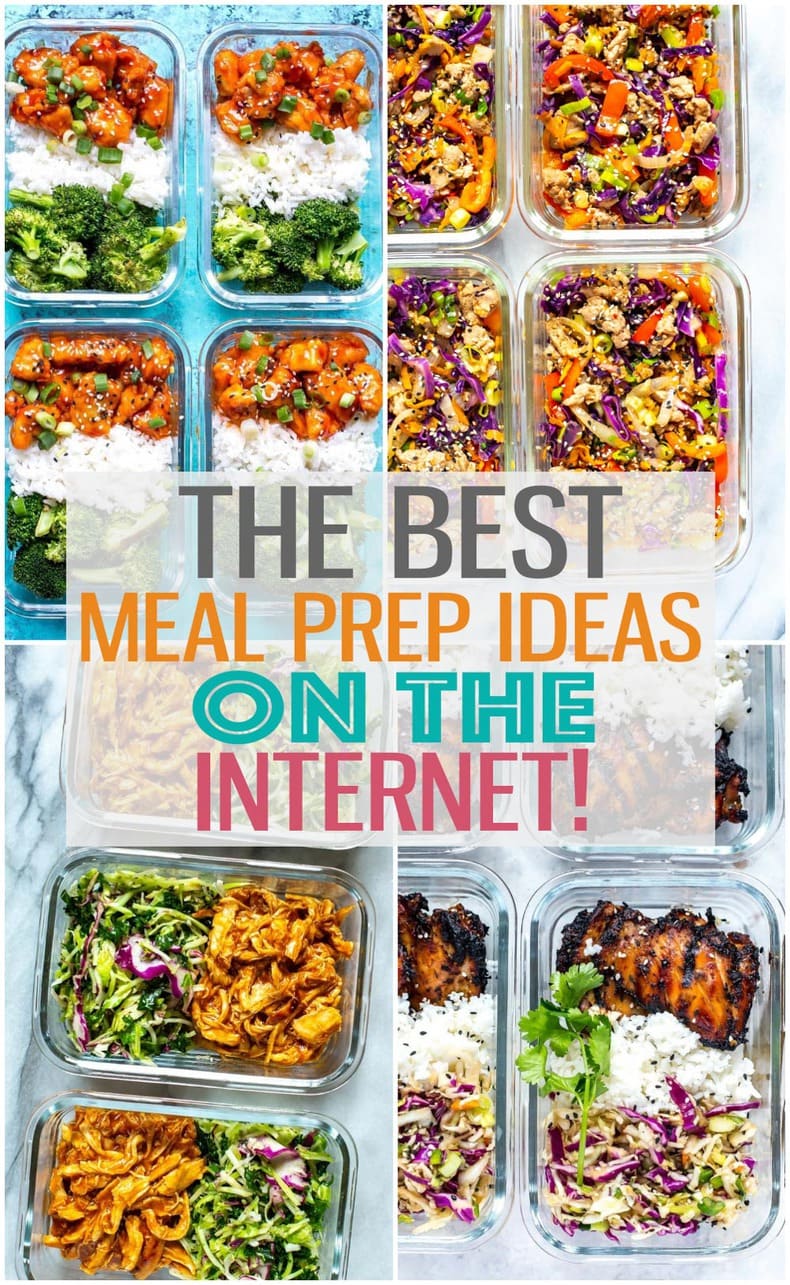 Choosing meal prep recipes
Besides choosing recipes with ingredients that you enjoy eating, look at the preparation method for the meal prep recipes.
You want to find recipes that make it easy to prepare a large batch at one time. Even better is if it requires little oversight while cooking. That way you can do other things while you are cooking. You could even prepare several meals at one time to put in individual containers.
Some of the easiest cooking methods for meal prep are:
Instant Pot – not only does this cook quickly, but you can put a large amount of food in the Instant Pot. Plus, you can set it and forget it!
Sheet pan – sheet pan recipes cook all the ingredients on one pan.
Slow cooker – while this takes awhile, it cooks without any need to watch it.
One pot – soups or other meals that are all cooked in one pot are just as easy as sheet pan recipes.
Try food prep instead of meal prep
One of my favourite ways to meal prep without having to spend all day in the kitchen is to do some ingredient prep, aka food prep.
Check out my video tutorial on the process and check out my food prep process.
DOWNLOAD YOUR 7-DAY MEAL PLAN HERE.
The easiest ways to meal prep
There are several methods of meal prep. Try any of them to find what works best for your family and busy schedule. Experiment with these scheduling techniques to make the most of your limited meal prep time:
Pick one day per week to do all the work. Find a day you have a few hours to dedicate to preparing meals. After that, you will have most of the work done for the entire week!
Just prep the ingredients. Instead of completely cooking each meal, prepare the ingredients to make less work for yourself the day you cook. Cut veggies, cook the meat or prepare grains. This is great prep for dump meals that go in the crock pot or Instant Pot. This method is perfect for dinners where you will need to cook for the whole family. All the prep work is done and you only have to cook.
Double your favorite recipes. You don't have to search for new recipes if you want to start to meal prep. Double some of your favorite recipes each time you make them. You'll have plenty left over for lunches or to freeze for later.
Try a buffet style meal prep. Prepare a wide variety of ingredients that can be combined in any number of ways. Cook the meat. Saute or steam the veggies. Hard boil some eggs. Prepare grains. Dice some fruit. Then you can combine the ingredients in any way that sounds good to you with any type of sauce when you are ready to eat.
How many meal prep recipes should you make in a week?
This really depends on the number of people you are feeding.
If you are only cooking for one, two or three meals each week will be plenty.
If you have to feed a family, you may need up to five each week.
Most recipes make four to six servings. Use this information to plan how many meal prep recipes you will need.
Make sure you have the right equipment for meal prep ideas. I prefer to use glass storage containers. Plastic can leach into your food and you can't reheat your food in it. Plus, glass is durable and easily washable. Make sure you buy containers with lids that fit tightly. Mason jars also work great for storing your pre-made meals.
Meal prep breakfasts
You'll find my favourite meal prep, make-ahead breakfasts below. They're great to grab on your way out the door, and you can even freeze some of them so that you have plenty of variety for your first meal of the day!
Meal prep lunches
Typically I eat dinner leftovers for lunch the next day, but that's because I only have myself to cook for. If you're cooking for more people and you're unlikely to have leftovers, then you may want to prep a set of lunches for yourself. Here are my fave ideas below.
Meal prep dinners
You can either cook dinner fresh each night, or prep some meals ahead of time for those busy nights. I prefer slow cooker and Instant Pot meal prep for dinners because you can have everything cooking all day or just dump everything and push start. However, you may also want to actually cook and portion out food for nights where you have activities in the evening. These recipes are better suited towards dinner and will give you that hot meal you're looking for.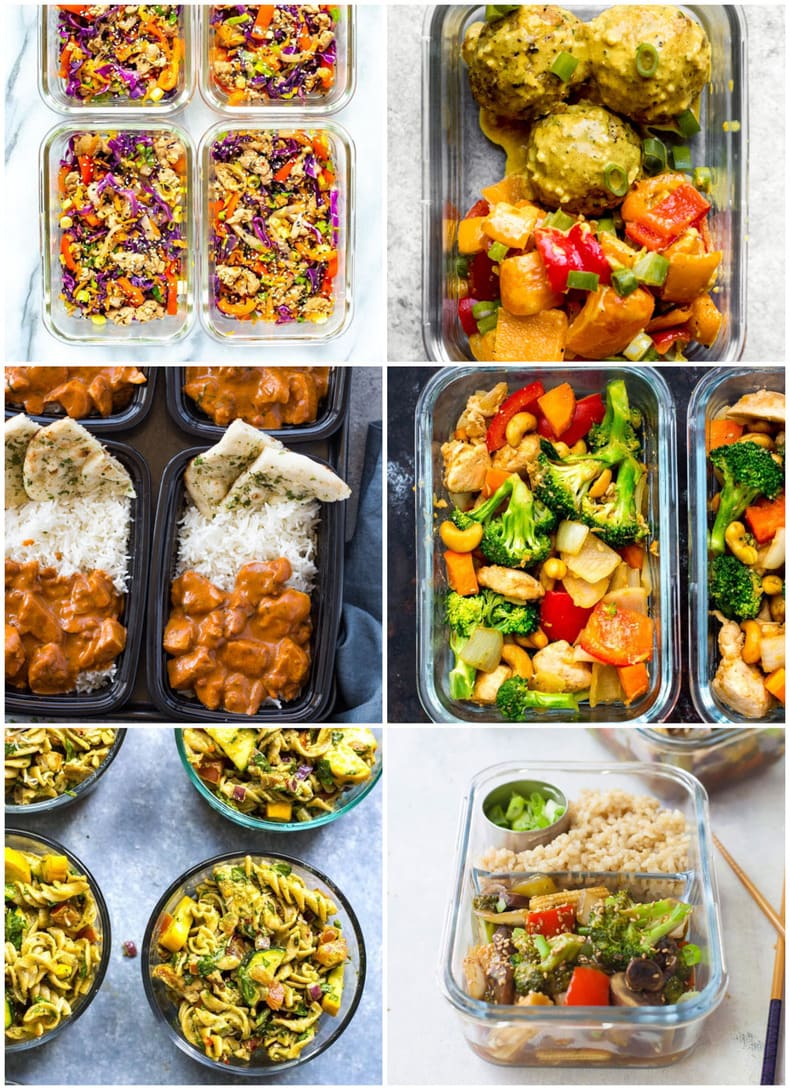 Helpful meal prep tools
Best Meal Prep Ideas
This is the list of the very Best Meal Prep Ideas on the internet! Get organized for the work week with these breakfast, lunch and dinner meal prep recipes
Print
Pin
Rate
Instructions
Click on over to each recipe linked to in the blog post.
Video
Nutrition