Sheet Pan Bruschetta Chicken
This Sheet Pan Bruschetta Chicken with broccoli is a healthy one pan dinner idea and one of my favourite healthy summer meals. It's also a delicious way to enjoy your favourite appetizer as a high-protein meal!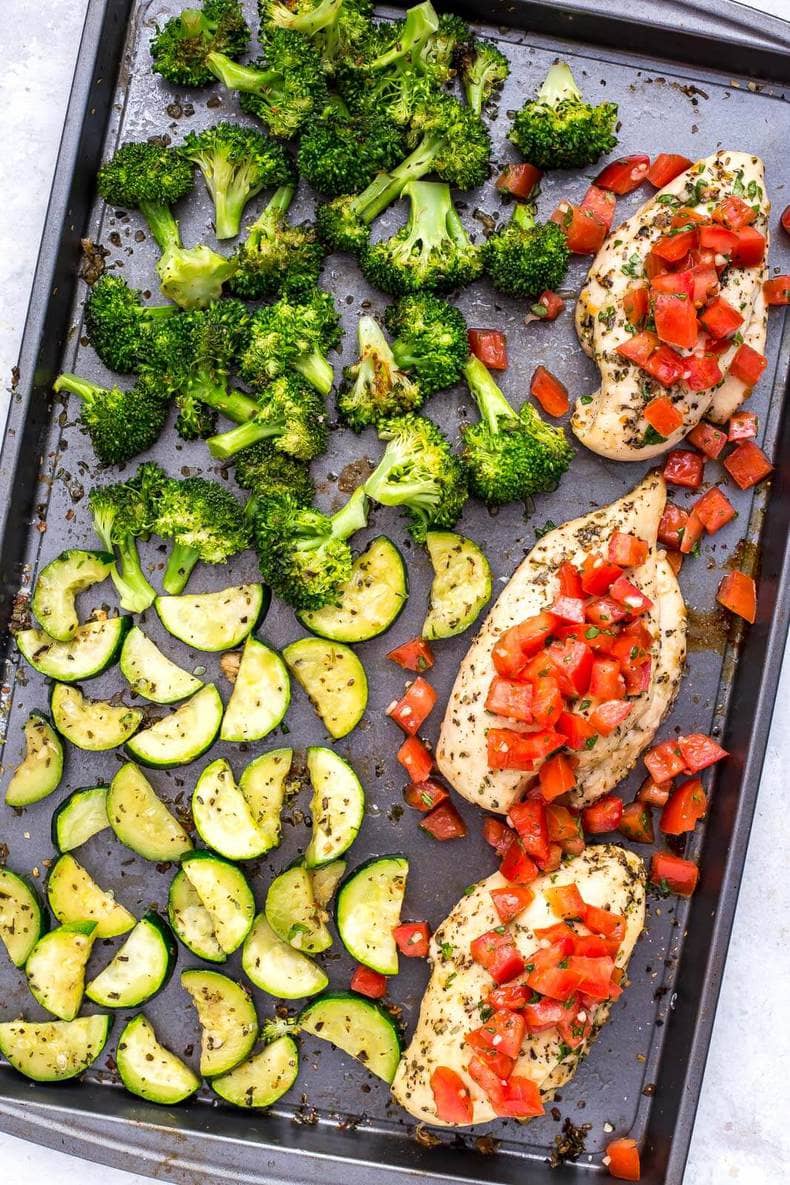 Say hello to your fave appetizer in healthy loaded chicken form.
OH.
And it's basically made all on one sheet pan so it's super tasty, AND super easy! You're welcome all you meal preppers out there!
I included some broccoli and zucchini alongside the chicken for this sheet pan meal but if you'd like to add some carbs you can easily add in some chopped up potatoes, or make some rice/quinoa to go along with it. Pasta is always a super tasty side as well, and I've even got a Chicken Bruschetta Pasta up on the blog from a couple of summers ago and it's my FAVE!
I think bruschetta is THE food of the summer. I'm literally finding every excuse to put it on everything.
If you're looking to get serious about meal prepping and make more delicious recipes like these, you HAVE to sign up for my free 5-day challenge below!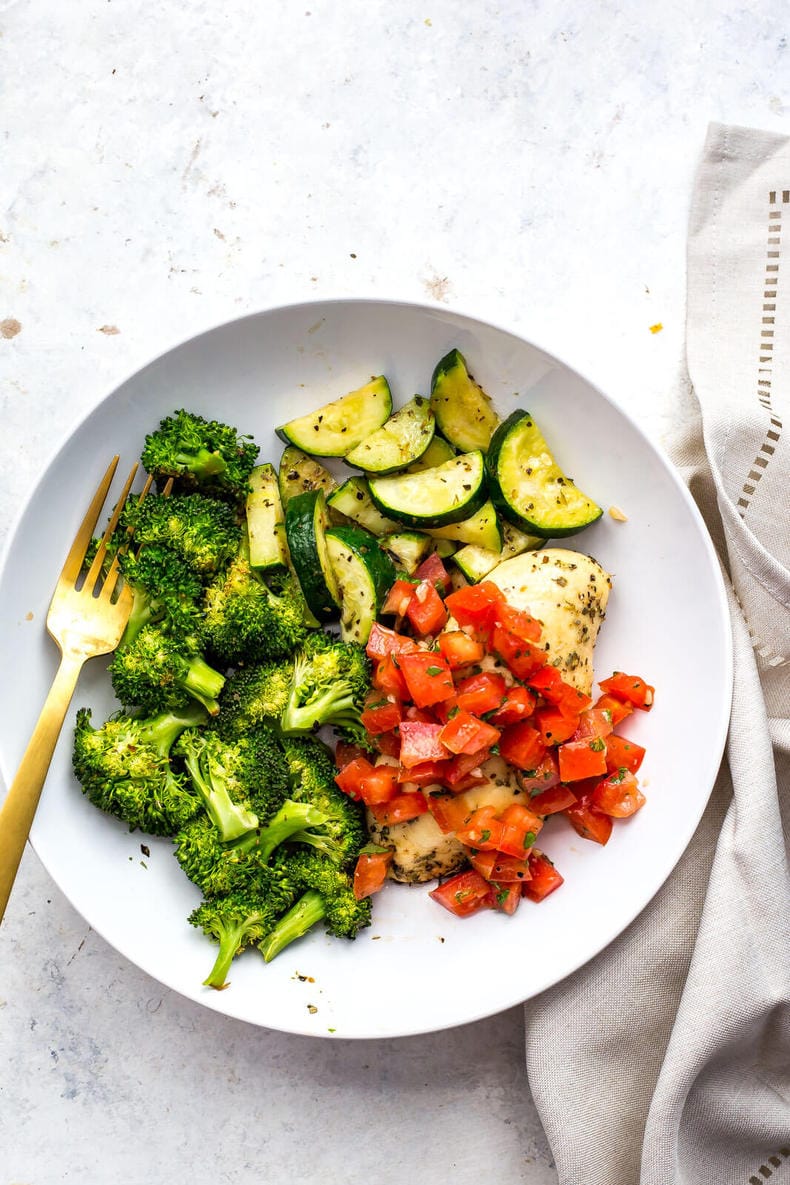 So, I know I'm getting ahead of myself here and that it's really not quite summer.
But I'm always working ahead on new blog content (like 2 months ahead right now trying to juggle all these photoshoots, the amount of food I produce each week is insane) and so I honestly feel like we're in the middle of July already. Lots and lots of bruschetta chicken just does that to you.
I swear, I need to hire a professional recipe taster. The life of a food blogger always involves way too much food. And trust me, I absolutely LOVE to eat but sometimes it's just too much.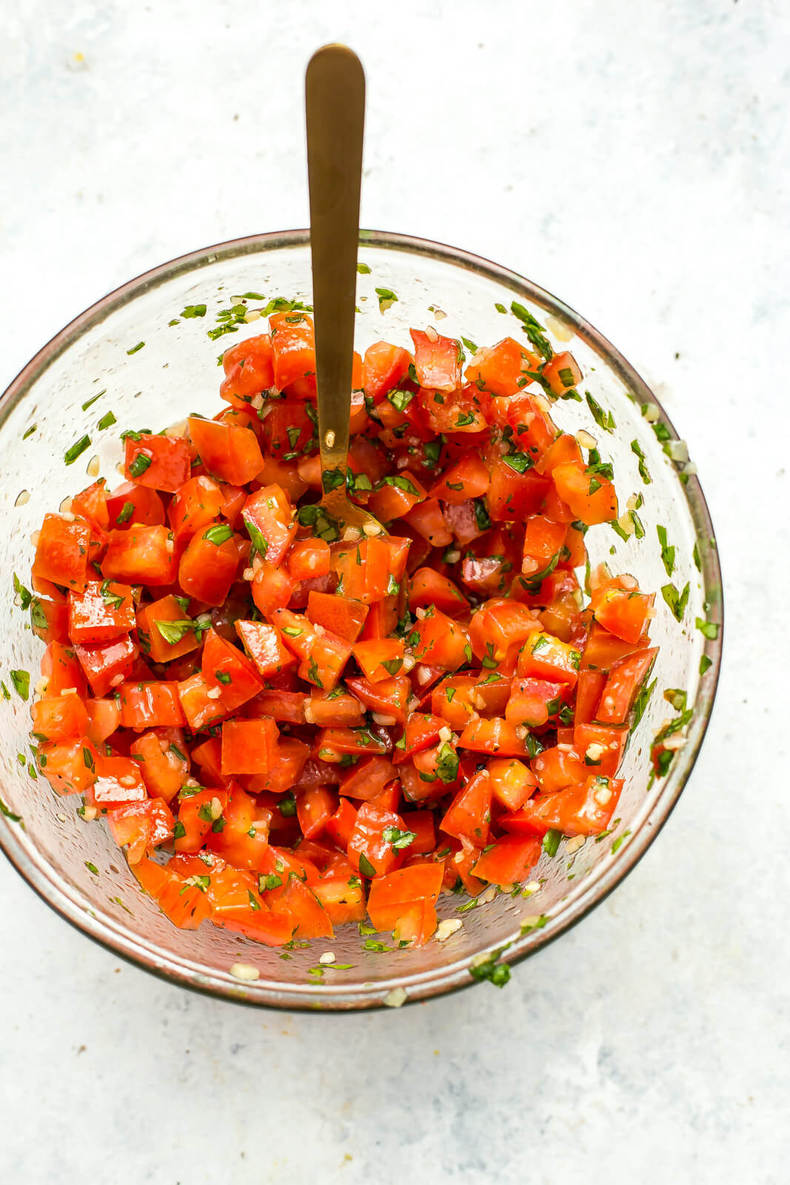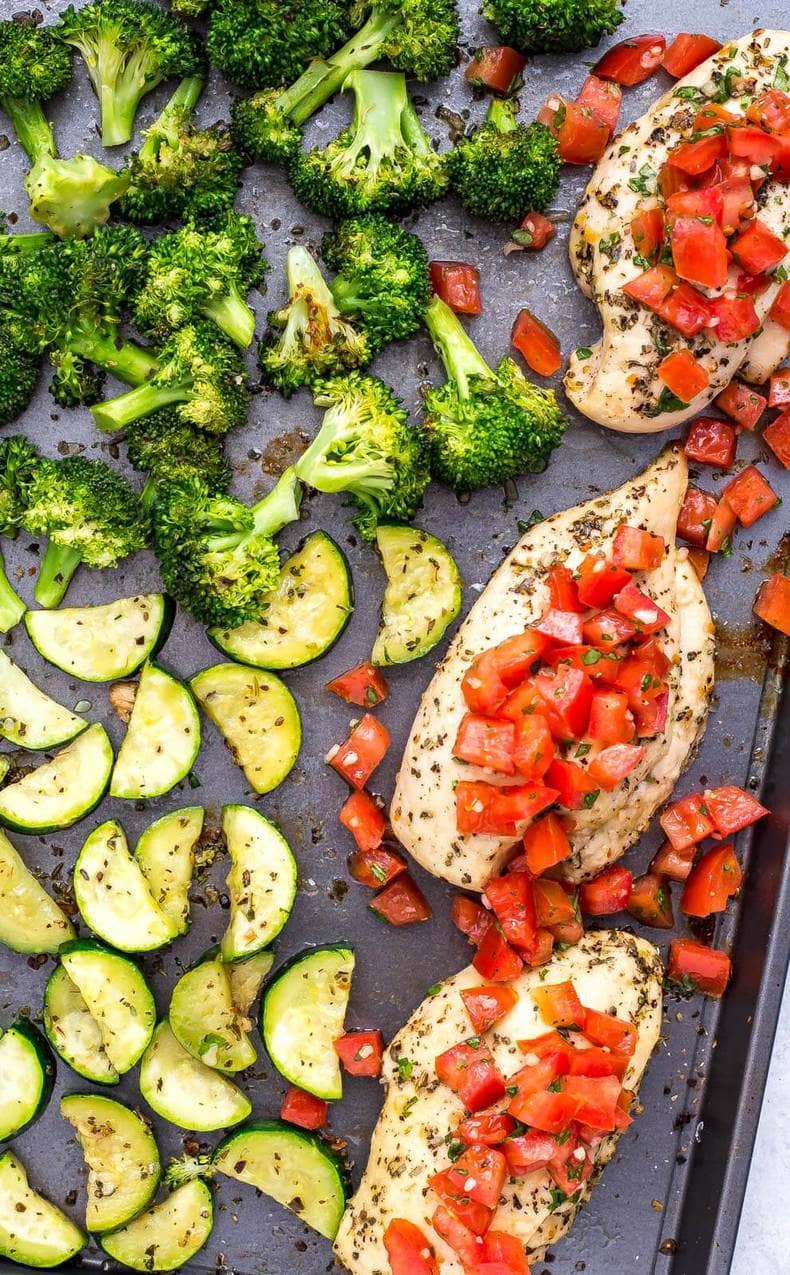 Now this bruschetta recipe is your most basic  out there, and I pretty much got it from my mom's recipe index where she keeps all her handwritten cards. This one's from her friend Louise, and who knows where Louise got it from. Where do most recipes even come from anyway?
Well, bruschetta is pretty simple, and it's the most prime example of being able to take a few ingredients and turn them into something AMAZING.
The basic formula is this: plum tomatoes + LOADS of garlic + olive oil + salt + fresh basil.
DO NOT skimp on the fresh basil.
One time my mom legit used dried basil and it absolutely ruined in for me. I know it's a pain, but keeping fresh herbs on hand at your house is one of the best ways to elevate your weekly meals from plain and boring to delicious and full of flavour.
I ALWAYS have basil and cilantro on hand in my produce drawer, and usually a third herb like parsley or sage as well. I'll honestly look for excuses to top most of my meals with a bit of cilantro or basil, they are just staples on my grocery list now from week to week.
And they're so cheap you may as well always restock your fridge with them.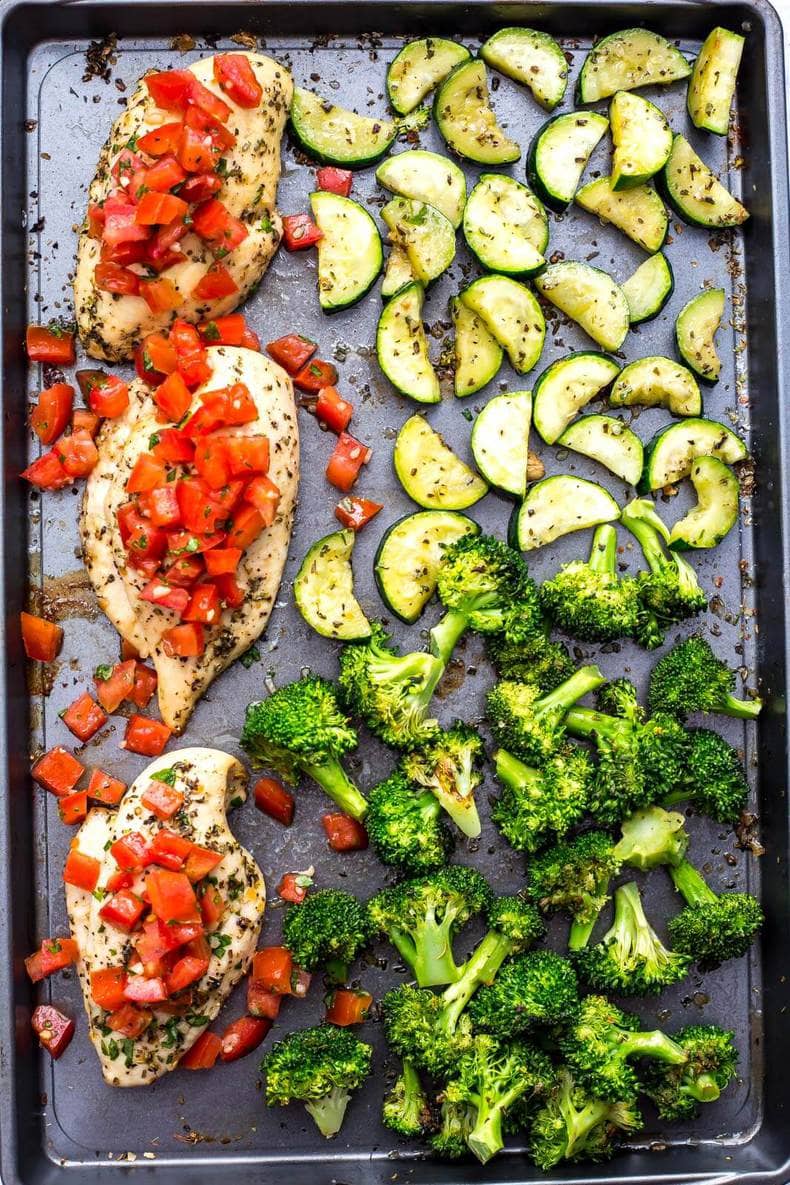 Getting the cook time right on this Sheet Pan Bruschetta Chicken is probably the most noteworthy part of this recipe because you'll be cooking the chicken longer than the veggies and taking the pan in and out of the oven a couple of times to ensure the right cook time on everything.
I've actually been making sheet pan meals for a while now and I used to make the rookie mistake of just throwing everything on the pan and into the oven and not removing it for 20-30 minutes. This works perfectly fine if you've cut your chicken up into bite-sized pieces because they will usually cook quickly this way. But if you're cooking whole chicken breasts, you'll want a longer cook time on the chicken and less cook time on the veg. Especially if using broccoli and zucchini, which tend to cook in 10 minutes or so.
So for this Sheet Pan Bruschetta Chicken, you're going to bake the chicken for 12 minutes, remove from the oven and add the veggies and cook another 10-12 minutes. While that's all going, make your bruschetta. Remove from oven, top chicken with bruschetta and serve.
If you're feeling REALLY fancy, top bruschetta chicken with cheese, plate veggies, and broil cheese for 1-2 minutes before serving. OMG I'm drooling. So good.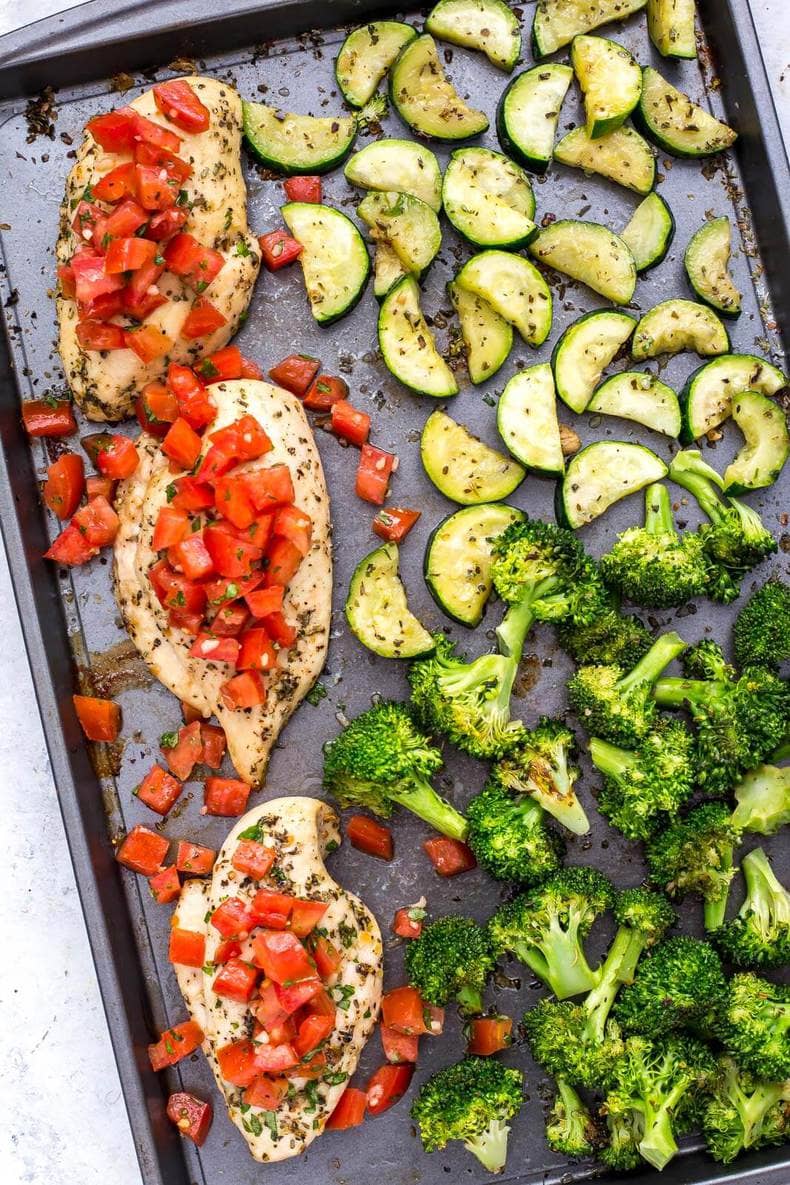 Will you be making this Sheet Pan Bruschetta Chicken? 
I wish my weekly meal prep was always this delicious; and that's coming from someone who eats and meal preps probably double what the average person should LOL! The woes of a food blogger amirite? Life is hard…
If you try any of my recipes be sure to let me know on Instagram, Twitter, Facebook or in the comments – I'd love to see what you come up with!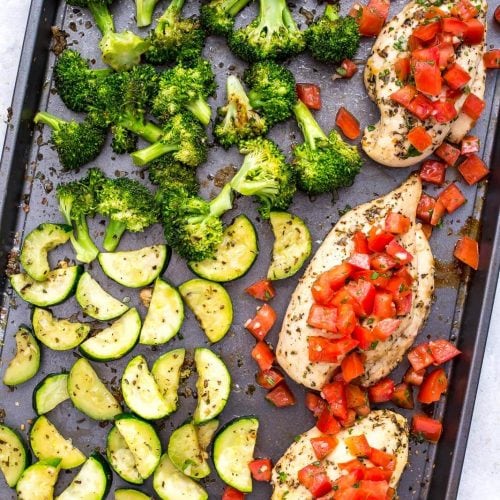 Print Recipe
Sheet Pan Bruschetta Chicken
This Sheet Pan Bruschetta Chicken with broccoli is a healthy one pan dinner idea and one of my favourite healthy summer meals. It's also a delicious way to enjoy your favourite appetizer as a high-protein meal!
Ingredients
1

tbsp

olive oil

4

chicken breasts

1

zucchini, sliced

1

head

broccoli, chopped

1

tbsp

Italian seasoning, divided
Bruschetta
1

tbsp

olive oil

5

plum tomatoes, diced

4

cloves

garlic minced

1/4

cup

freshly chopped basil

1/2

tsp

salt

1/2

tsp

pepper
Instructions
Preheat oven to 400F. Drizzle chicken breasts with a bit of olive oil (about 1/2 tbsp) and season with salt and pepper and 1/2 tbsp of Italian seasoning. Bake in oven for 15 minutes. Meanwhile, combine all ingredients for bruschetta and set aside.

Remove chicken from oven and add broccoli and zucchini to baking sheet, tossing with about 1/2 tbsp of olive oil, 1/2 tbsp of Italian seasoning and seasoning with salt and pepper. Bake another 12-15 minutes until chicken is fully cooked.

Remove baking sheet from oven and top chicken with bruschetta. Serve and enjoy!
Nutrition
Calories:
274
kcal
|
Carbohydrates:
6
g
|
Protein:
31
g
|
Fat:
13
g
|
Saturated Fat:
3
g
|
Polyunsaturated Fat:
2
g
|
Monounsaturated Fat:
7
g
|
Cholesterol:
83
mg
|
Sodium:
425
mg
|
Potassium:
243
mg
|
Fiber:
2
g
|
Sugar:
4
g
|
Vitamin A:
900
IU
|
Vitamin C:
35.5
mg
|
Calcium:
60
mg
|
Iron:
1.6
mg