These 5 Mix and Match Mason Jar Salad Recipes make healthy lunches easy – they're great for meal prep and this post will show you what size jar is best!  

Welcome to one of my fave ever meal prep posts! Today we'll learn how to build the ultimate mason jar salad – they are perfect as grab and go lunches (check out more meal prep lunch ideas here) and this post will detail how to overlap different ingredients so you can enjoy different jars everyday!
That's my biggest pain point when it comes to meal prep: I don't like to eat the same thing every day. Well, you don't have to if you are strategic about the ingredients you're using and opt for different dressings and combos. The variety among these five mason jar salads will have you enjoying lunch again!
CLICK HERE FOR ALL OF MY BEST MEAL PREP RECIPES.
What are the advantages of preparing a salad in a jar?
There are many benefits of making mason jar salads, including:
WEEKLY MEAL PREP. You can easily make enough salads to cover lunch for a week. You can also make extra jars and use them as side salads for dinner.
SAVE MONEY. Preparing and bringing your lunch to work can save you money compared to buying lunch every day.
EAT HEALTHIER. Preparing mason jar salads for your work lunches can make it a lot easier to resist temptation when faced with fast food options.
THE VARIETY. There are so many combinations that you could be enjoying a different salad every day of the week.
LESS INGREDIENTS. You don't need to purchase a lot of ingredients, you just need to switch one or two ingredients in each salad to have a different taste combination each day.
EASY CLEAN UP. Mason jars are easy to clean and since glass does not stain or retain flavors or odors, they're easier to keep clean compared to plastic lunch containers.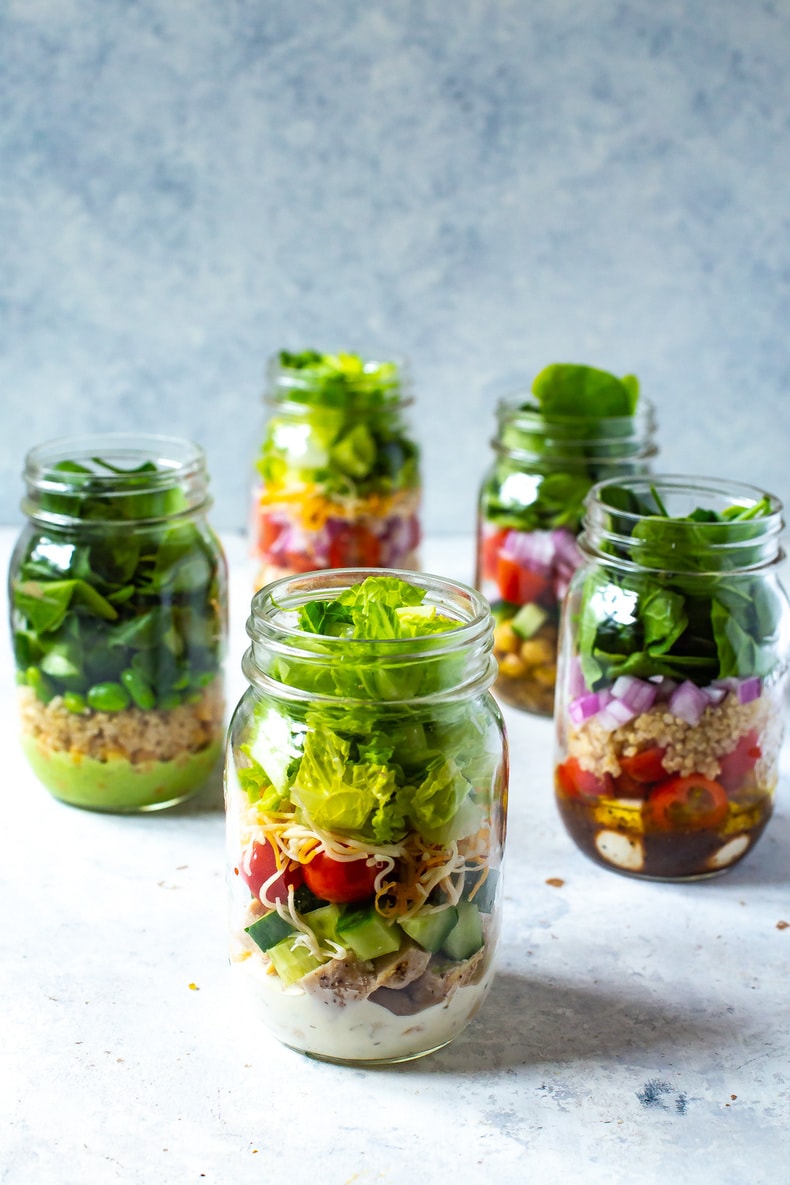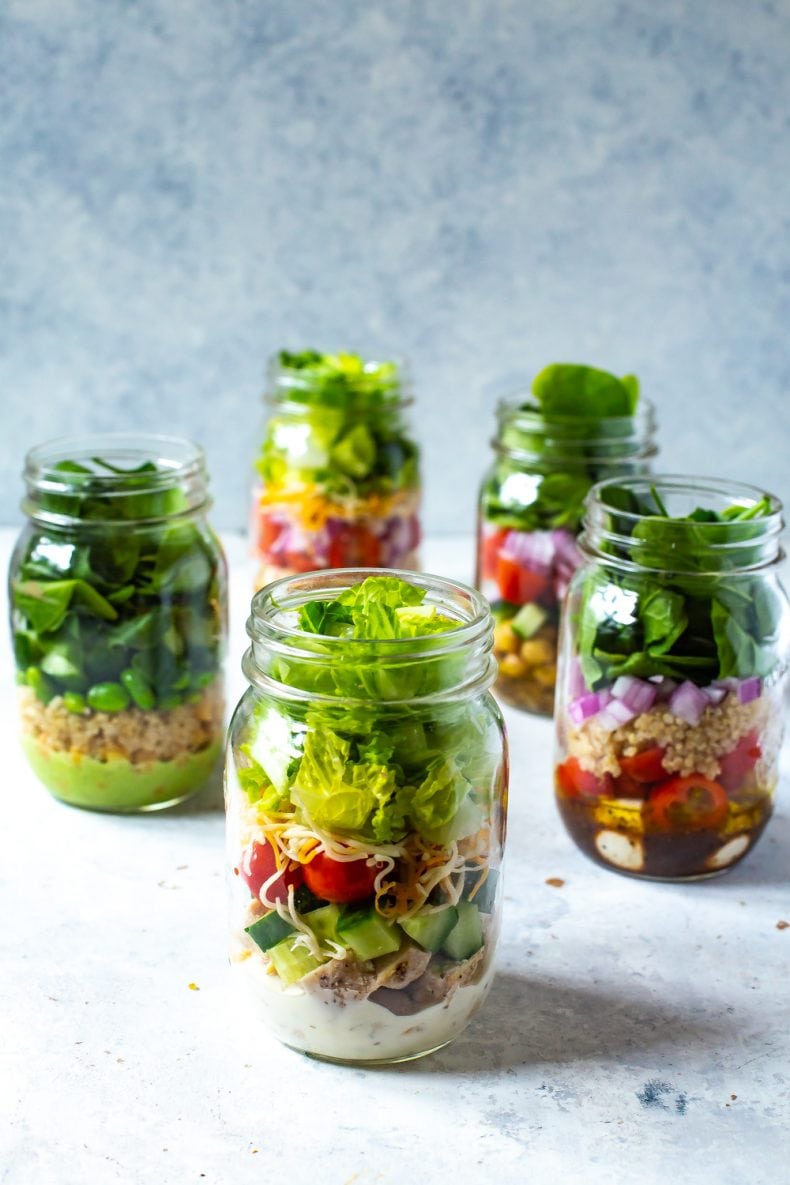 What is the best mason jar salad size?
In the US and Canada, the standard Mason jar opening comes in two sizes: regular (2 and 3/8 inches wide) and wide mouth (3 inches wide). The wide mouth jar is generally a better choice for salads because it's much easier to get ingredients in and out of the wider opening.
Mason jars come in a variety of sizes, but the ones most commonly used for salad recipes are the pint (16 oz) and quart (32oz) size jars. I've used the 16 oz size mason jars for the recipes pictured.
How long does a mason jar salad stay fresh?
If stored properly, most mason jar salad recipes can last four to five days in the refrigerator.
Keep in mind that some ingredients stay fresher in the refrigerator longer than others. If you're doing meal planning and want to prepare a variety of salads for an entire week, plan it so that you consume the salads with ingredients that stay fresh for longer later in the week.
How to layer mason jar salads
To keep your salad fresh and crisp, make sure you layer your ingredients properly! Here's the exact order in which you should be layering everything.
The dressing. This always goes on the bottom.
Grains and proteins. Grains (like quinoa), proteins (like chicken, chickpeas, edamame) or anything else large and chunky goes in next. This layer helps keeps the dressing separate from all the other top layers and also helps bring extra flavour to the proteins.
Everything else except leafy greens.
Leafy greens.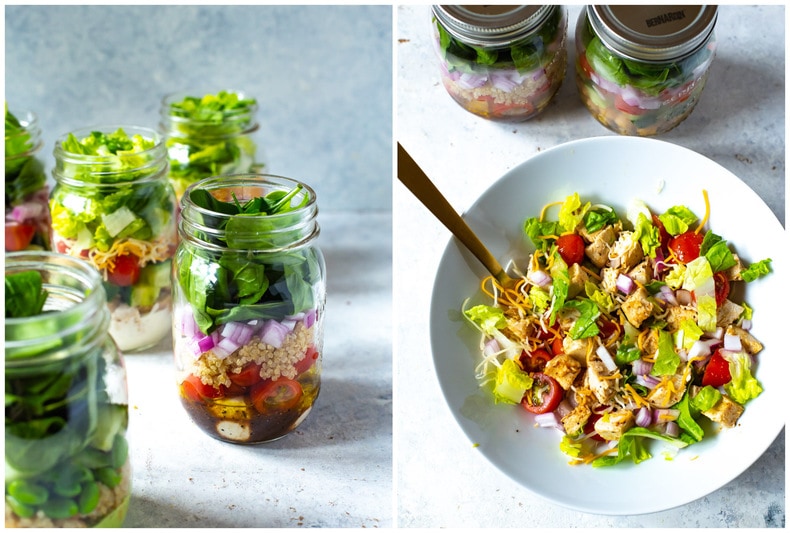 How do you eat salad from a mason jar?
Some people eat their salads straight from the jar. A few minutes before eating, tip the jar upside down (so that the dressing is now at the top) and let gravity do its thing – the dressing will slowly trickle down through the salad. Right before you eat the salad, give the jar a few good shakes and then take off the lid and enjoy!
However, if you've packed your salad nice and tight (which helps keep the ingredients from shifting in the jar and getting soggy too early), then this might not work. If this is the case, then grab a bowl and pour the salad into the bowl. Stir to combine the ingredients and enjoy!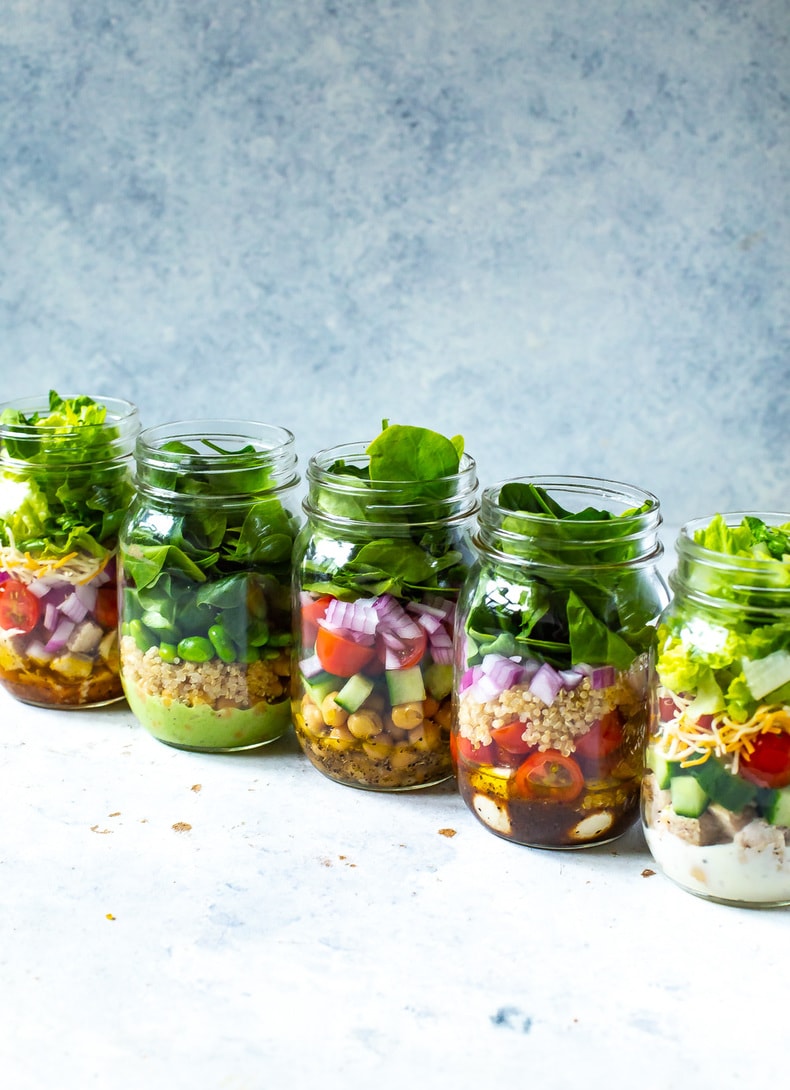 How do I prevent my salad from going soggy?
The easiest way to prevent your salad from getting soggy is to layer the more delicate ingredients such as greens and lettuce away from the dressing. In fact, that is the main purpose of mason jars! When you use regular containers for salads and try to take them for lunch, you end up with soggy lettuce because all the ingredients are mixed together.
Mason jars are also great for salad and ensuring crisp lettuce because you don't need to pack an extra container for the dressing. As long as the veggies are layered on top and the proteins/dressing are on the bottom, you won't have a problem with soggy salad.
How to make salad last longer
If you'd like to make your jars last as long as possible, you've got to use the right ingredients. For instance, I find that cheese and certain veggies like tomatoes do not hold up well for more than two or three days. Expect a minor change in texture for different types of ingredients if consuming after three days, or try to use toppings that hold up better longer.
Here are some ingredients that last longer than others:
Lettuce
Leafy greens
Onions
Legumes (chickpeas, beans, lentils, etc)
Quinoa
Bocconcini cheese
Edamame
Broccoli
Shredded carrots
Here are the ingredients that I find don't last so long:
Tomatoes
Shredded cheese
Rice
Chicken, beef, shrimp
Cucumber
Fresh herbs
Ingredients that don't do well
Besides ingredients that do not hold up for a long time, there are just certain ingredients that you should not be including in your mason jar salads for practicality reasons. The ingredients below won't last for more than a day in the fridge or won't retain their texture, so pack these ingredients on the side if you'd like or leave them out altogether.
Avocado
Tortilla strips
Bacon (turkey or pork)
Nuts (they get a bit soft…if you're ok with the texture add them anyway!)
Granola
What kind of dressing for jar salads?
You can make your own homemade dressings as shown below, but with some types of dressings, you may want to stick with store-bought. Ranch dressing is one type of dressing that I prefer not to make myself because I don't always have the ingredients on hand and don't want to complicate my weekly meal prep.
It's up to you to decide whether you want to make your own dressings or buy them. Your salads will be healthier with homemade dressings, but if you can find dressings from the store with clean ingredients or really just want your damn ranch, then go for it!
You can always make homemade dressings ahead of time as most oil and vinegar-based dressings will last in the fridge up to 3 months, assuming you are not using fresh herbs.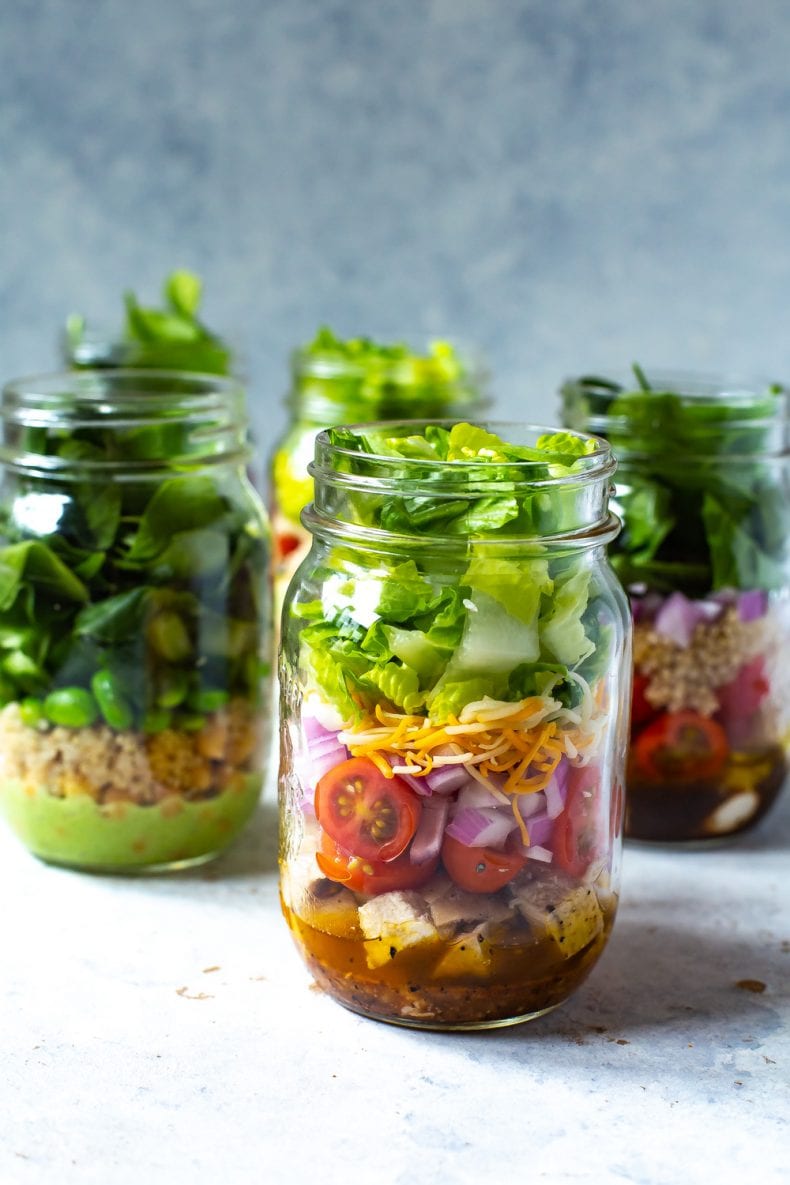 How to mix and match ingredients
As you can see below, there is a ton of overlap between all the ingredients I've used for these mason jars. I bought only a handful of vegetables and then used some types of veggies for some jars, and other veggies for the rest. I cooked up some chicken to use in some jars, then opened up a can of chickpeas for other jars. Bocconcini cheese and quinoa made up the protein content in another jar and I was able to repurpose those ingredients for other varieties of jars as well.
You can often stick to just 10 ingredients when you're grocery shopping to make your salad jars. Scroll down to see pictures of each jar I made using just 11 ingredients (not counting dressings…most dressings use ingredients that are pantry staples so I don't count these as fresh ingredients).
Here's what I purchased to use in five different mason jar salad combinations:
Chicken
Chickpeas
Quinoa
Bocconcini cheese
Shredded cheese
Cucumber
Red onion
Cherry tomatoes
Edamame
Lettuce
Spinach
You could probably even get away with less than that! Scroll down below to see pictures of each jar I made. This is a different jar each day of the week for lunch!
Tex Mex Salad Jars
Ranch salad jars
Caprese salad jars
Green goddess salad jars
Greek salad jars
Can you freeze mason jars?
You can freeze mason jars but I don't recommend that you do it for salads 🙁 You just can't ensure the same level of freshness since you are eating salad. I definitely freeze other types of recipes in mason jars such as soups and stews, but salads don't work.
That said, you can freeze components of the salads such as cooked chicken, rice, quinoa, etc.
Cleaning mason jars
Cleaning mason jars couldn't be easier! They can go right in the dishwasher, or cleaned by hand (having a dish wand makes this super easy). Even the lids can go in the dishwasher.
Lids and sealing
One question I get asked is whether the lids need to be vacuum sealed for freshness or replaced every once in a while and the answer to both is NO! I have never had a problem with my lids wearing out and if you have layered your mason jar salads correctly, then you don't have to worry about anything going bad in under five days.
You may sometimes lose your lids, but you can easily order replacements off Amazon or just get new jars and use your lidless jars as drinking glasses.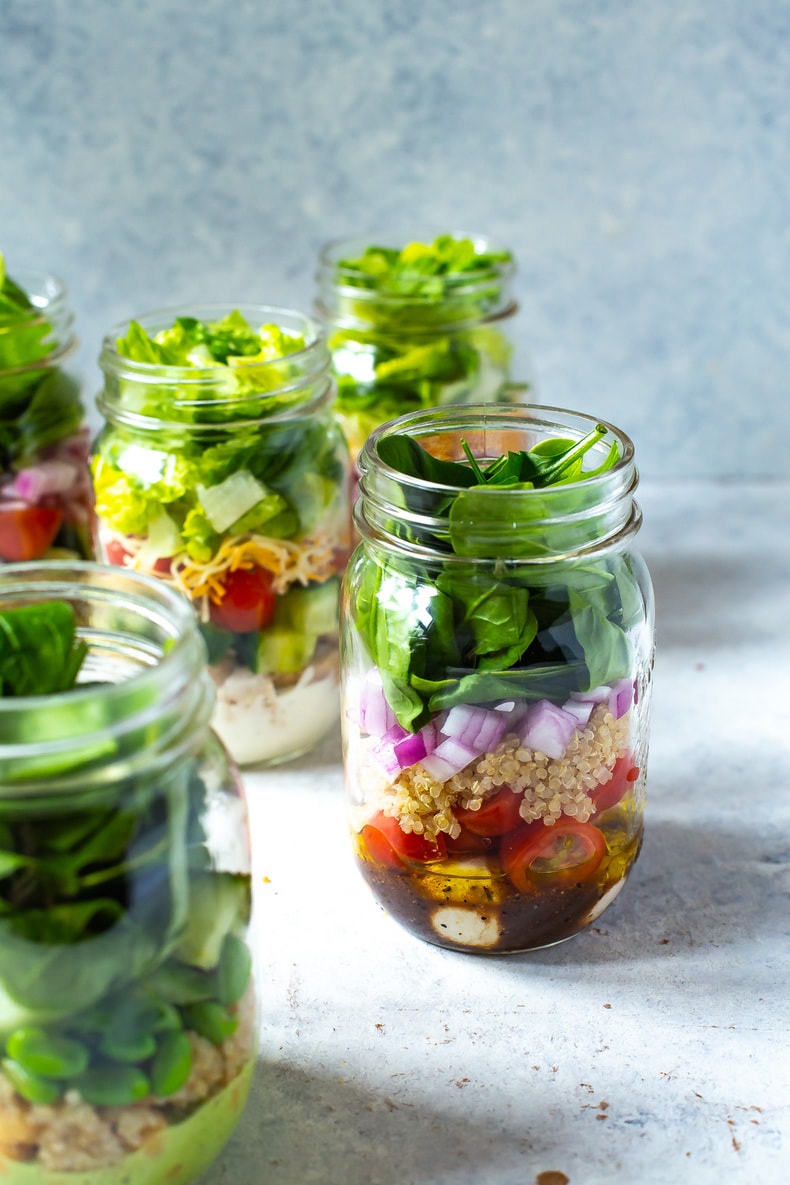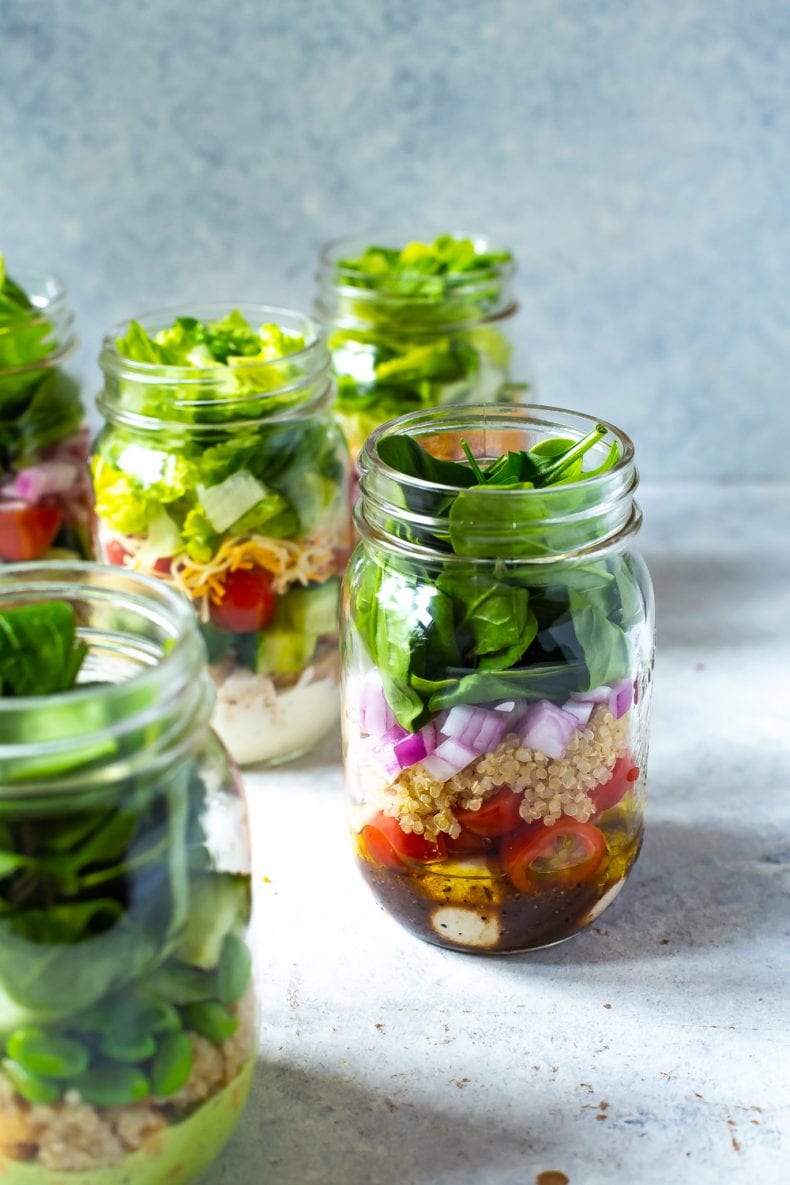 Other delicious mason jar recipes
I make more than just salads in mason jars! Here are some other great mason jar recipes from my website that you may want to check out.
More meal prep tips
Looking to meal prep and eat healthy on a more consistent basis? Check out these other resources, they are top posts on my website (including how to get the perfect chicken breast for these jars!)
CLICK HERE FOR ALL OF MY BEST MEAL PREP RECIPES.
Meal prep tools for mason jar salads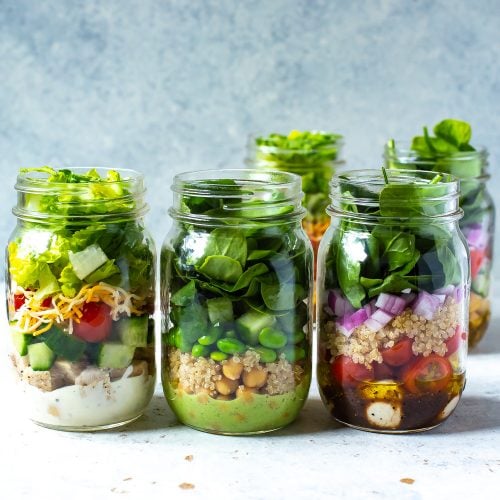 5 Mix and Match Mason Jar Salad Recipes
These 5 Mix and Match Mason Jar Salad Recipes make healthy lunches easy - they're great for meal prep and this post will show you what size jar is best!
Print
Pin
Rate
Ingredients
Make ahead ingredients
1-2

chicken breasts

(depends on how many jars you're making - 1 breast per two jars is standard)

1

cup

quinoa (dry)
Tex Mex salad jars
chicken

cherry tomatoes, sliced

red onion, diced

grated cheddar cheese

lettuce, chopped
Tex Mex dressing
1

tbsp

olive oil

1

tbsp

lime juice

1

clove

garlic, minced

1

tsp

chili powder

1/2

tsp

cumin

1/2

tsp

each salt and pepper
Greek salad jars
chickpeas

cucumber

cherry tomatoes, sliced

red onion, diced

baby spinach
Greek dressing
1

tbsp

olive oil

1

tbsp

lemon juice

1

clove

garlic, minced

1

tsp

oregano

1/2

tsp

each salt and pepper
Caprese salad jars
quinoa

cherry tomatoes, sliced

bocconcini cheese

red onion, diced

baby spinach
Balsamic dressing
1

tbsp

olive oil

1

tbsp

balsamic vinegar

1

tsp

Dijon mustard

1/2

tsp

each salt and pepper
Ranch salad jars
chicken

cucumber

cherry tomatoes, sliced

grated cheddar cheese

lettuce, chopped
Ranch dressing
1-2

tbsp

bottled ranch dressing
Green goddess salad jars
chickpeas

quinoa

cucumber

edamame

spinach
Green goddess dressing
1

tbsp

olive oil

1

tbsp

lime juice

1

tbsp

packed cilantro or parsley, finely chopped

1

tbsp

sour cream

1

clove

garlic, minced

1/2

tsp

each salt & pepper
Instructions
Cook make-ahead ingredients: Bake chicken breasts with a little bit of olive oil, salt & pepper in a 400 F for 20 min. When cooled, dice up into 1-inch pieces. Meanwhile, make quinoa in a rice cooker - combine 1 cup quinoa with 2 cups water and cook until all liquid is absorbed.

Mix together dressing of choice - you can use the homemade versions listed above or store-bought versions to save time. Each salad jar should require only 1-2 tbsp of dressing.

Add dressing of choice to the bottom of a 16-oz mason jar. Layer in ingredients of choice in order of what is listed. For instance, for the Mexican jars, add in chicken, cherry tomatoes, red onion, cheese and lettuce to the jar in that order.


Jars will keep in fridge up to 4 or 5 days. For easy meal prep, cook chicken and quinoa ahead of time up to 24 hours in advance so all you have to do is assemble.

Serve by shaking mason jar so dressing gets distributed, then dump in a large bowl to eat. Enjoy!
Video
Nutrition
Calories:
239
kcal
|
Carbohydrates:
23
g
|
Protein:
18
g
|
Fat:
9
g
|
Saturated Fat:
1
g
|
Cholesterol:
30
mg
|
Sodium:
77
mg
|
Potassium:
369
mg
|
Fiber:
2
g
|
Vitamin A:
190
IU
|
Vitamin C:
3.5
mg
|
Calcium:
24
mg
|
Iron:
2
mg
Nutrition values are approximate and will depend on what you put in each jar