This is the EASIEST Beef Stir Fry recipe, with a 2-ingredient stir fry sauce. You likely already have all the ingredients you need, too!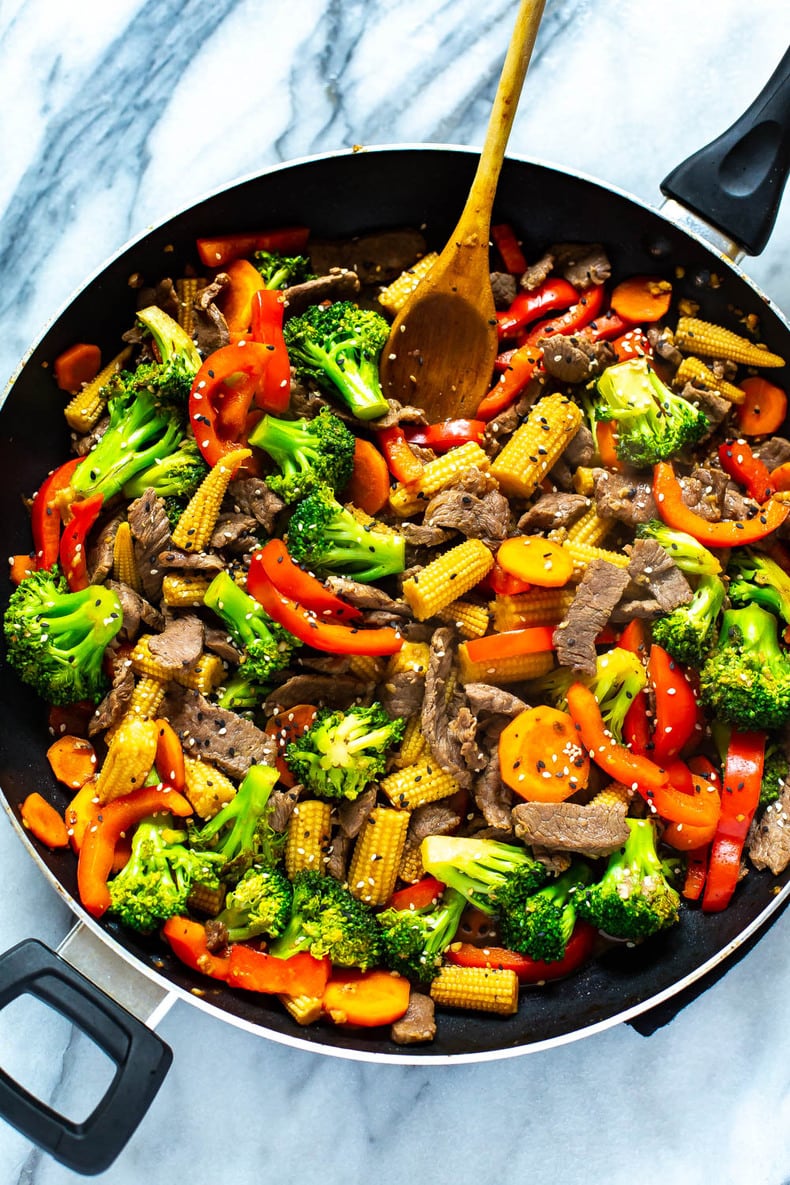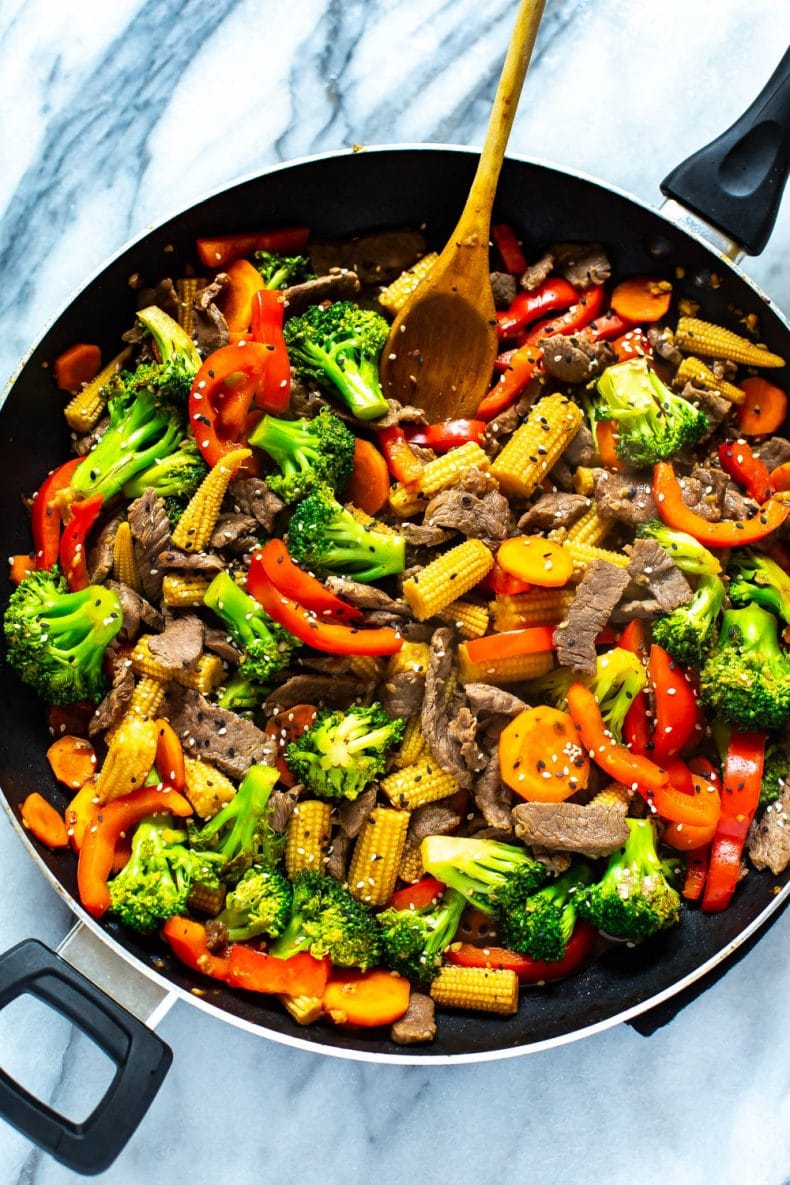 Ingredients in a beef stir fry
The vegetables in my opinion are really what make the flavours in this stir fry shine, so choose your favorites! I used to love baby corn as a kid so I added a can (rinsed and drained, of course), and I also love broccoli so that was a no-brainer to add. I always have carrots on hand in the fridge and a bell pepper or two kicking around so added those as well. You can feel free to add any vegetables you have on hand on the fridge – you are likely to have more of one thing than another on hand so go with your favorites.
Here are some other great vegetable add-ins below:
mushrooms
onions
cabbage
bok choy
cauliflower
water chestnuts
You can also use frozen veggies if that's all you have on hand but they won't be as crisp as using fresh veggies.
Two-ingredient beef stir fry sauce
The great thing about this beef stir fry is that the sauce comes together with just TWO ingredients: hoisin sauce and soy sauce. If you don't have hoisin sauce already on hand at home you can substitute the same amount of oyster sauce or add 2 tbsp of honey instead. Really, it's quite versatile and there's no need to overthink it.
How to thicken the sauce
If you'd like a thicker sauce, you can feel free to add in 1 tbsp of cornstarch. Mix all the ingredients in a small bowl and add the sauce towards the end just like you would do if you were making the recipe normally. This will make the sauce a bit thicker and have more substance if you're choosing to serve the stir fry over rice or noodles.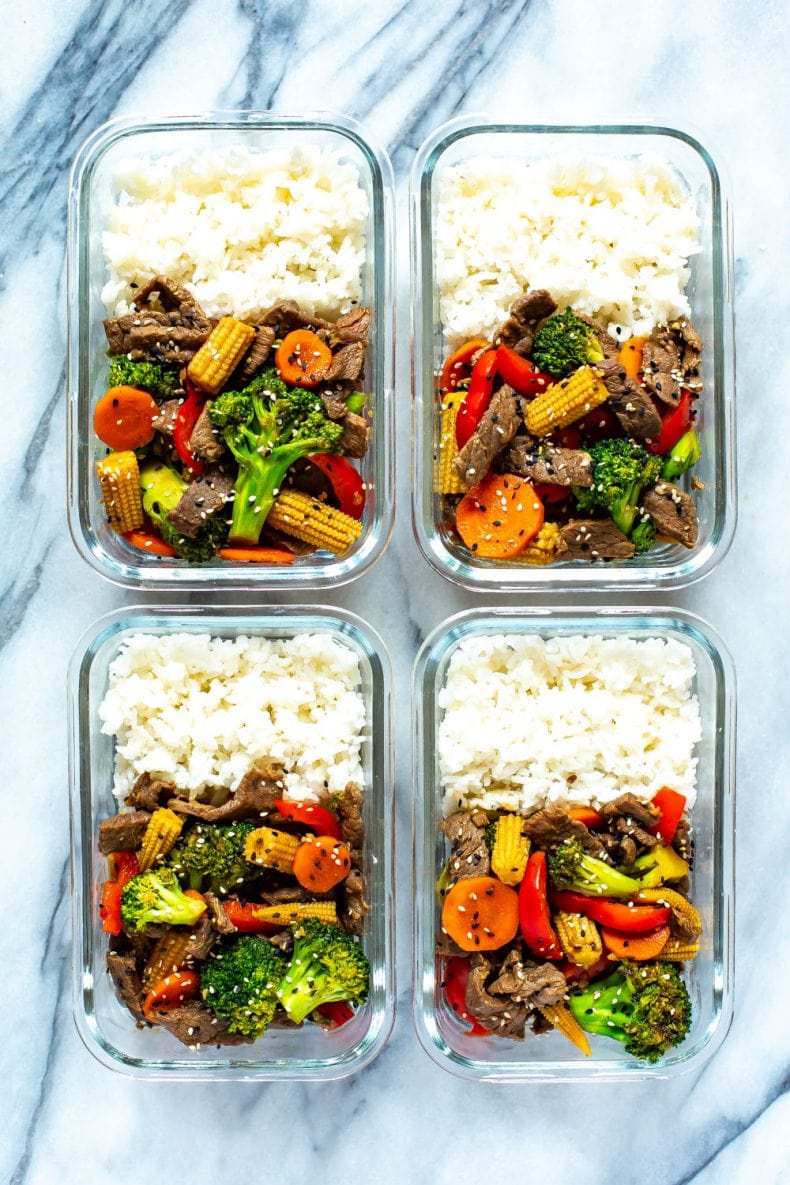 What's the best beef for beef stir fry?
You'll want to use a tender of meat for this beef stir fry recipe. Stir fries cook up in about 10 minutes (the beef cooks for even less time), so you should use a cut of beef that has little to no fat or muscle fibers.
I use sirloin steak and slice it against the grain into thin bite-sized slices, but other options for a beef stir fry include:
tri tip
tenderloin
top loin
flank steak
rib eye
shoulder cuts (Ranch steak and flat iron steak)
Worst comes to worst you can just use fast fry steak for your stir fry – you can often find strips of beef already sliced up at your local grocery store so that's a good option if you're in a rush, but the beef may be a bit tougher since you don't know what cut of beef it is. Ensuring a low cooking time on high heat no matter the cut is important. You don't want your beef to be too tough to eat!
How to make stir fry beef more tender
In order to tenderize the beef ahead of time, you can add 1 tsp of baking soda and 1 tsp of cornstarch to the beef along with 2 tbsp of soy sauce. Let it all sit in a large bowl or Ziploc bag for 30 minutes before sauteing on high heat. This should result in more tender beef, especially if you're using a tougher cut of meat.
The baking soda and cornstarch will create a layer that will prevent the meat from drying out and overcooking. You don't have to do this step if you're in a hurry, but it will result in tastier, more flavourful meat and who doesn't love that?!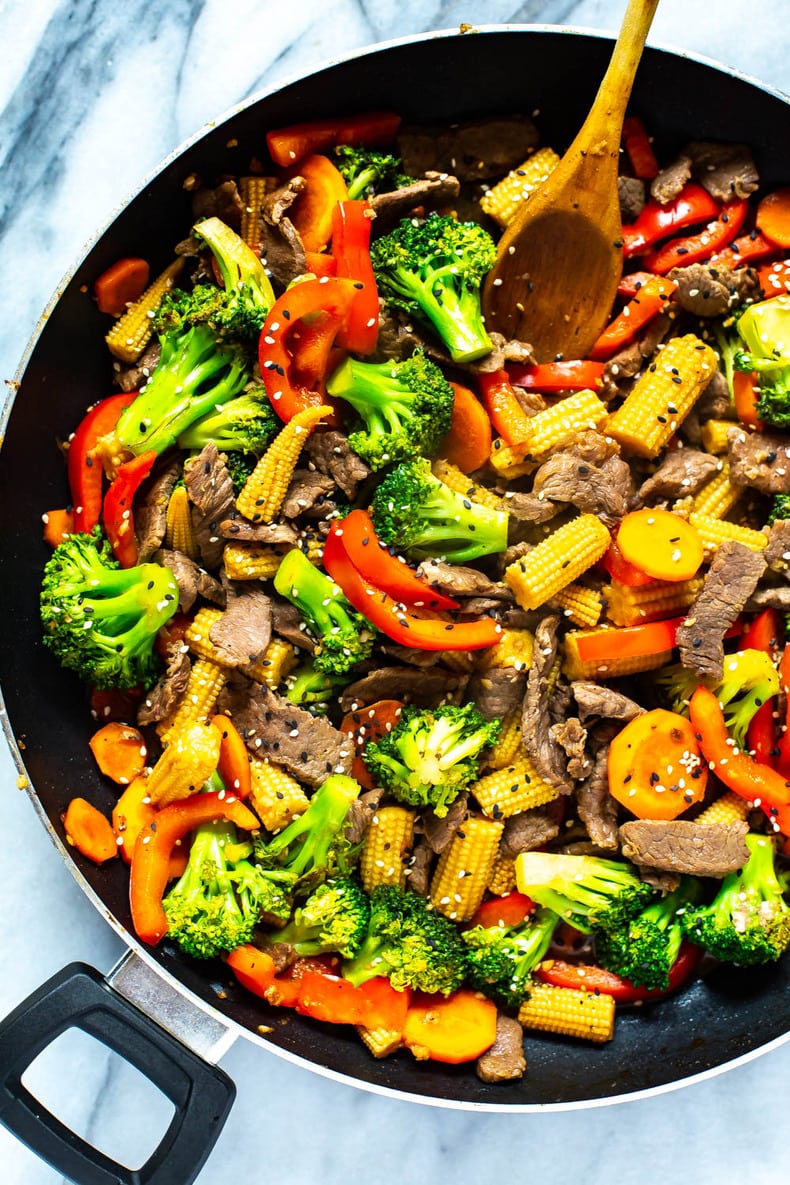 How do you make a beef stir fry?
Whether you're making a stir fry with beef, chicken, shrimp, or just vegetables, the process is the same and it's super easy!
Step 1: Prep the Ingredients
So that everything cooks evenly, be sure to cut the meat and vegetables as close in size as possible. The broccoli florets should all be close to the same size, the carrots should be sliced evenly, the bell peppers sliced the same, etc.
If you'll be serving the stir fry with rice, this is a good time to start doing that. I use a rice cooker, so it doesn't take quite as long as making it on a stove top and it can almost cook on autopilot while I'm tending to the stir fry itself. It also eliminates a lot of mess and guesswork.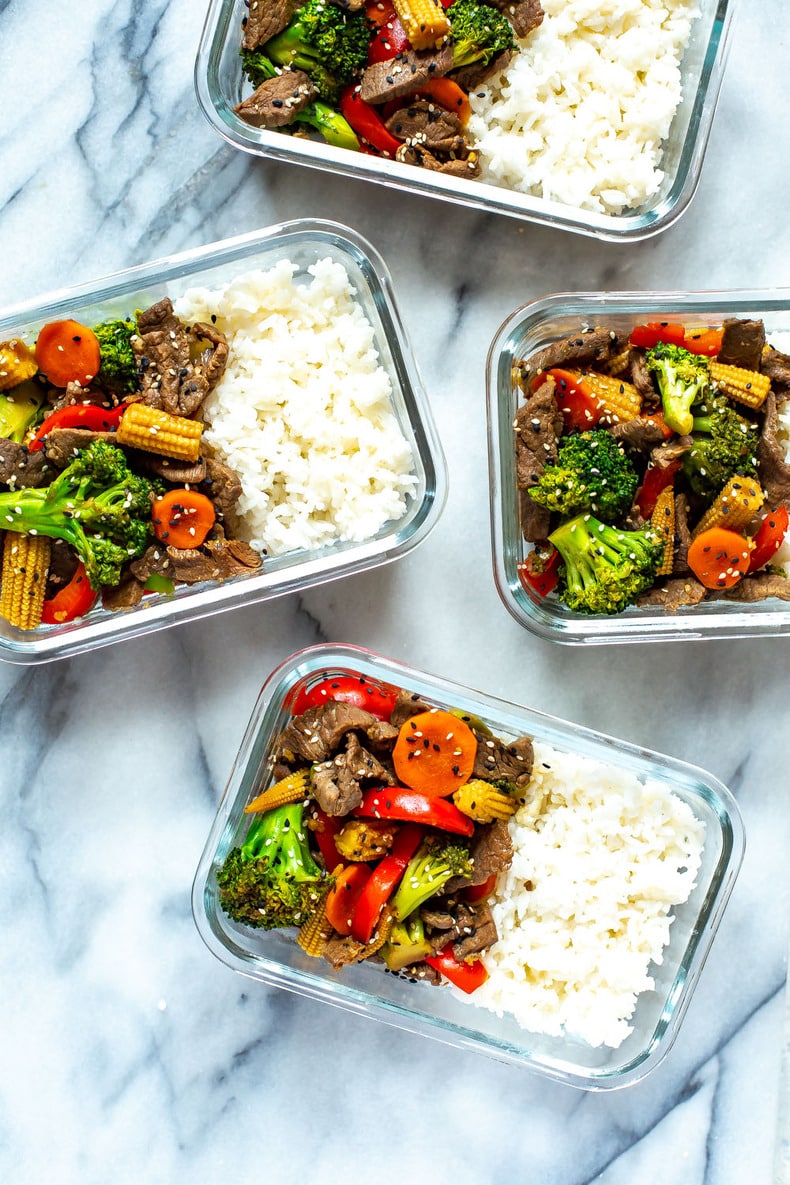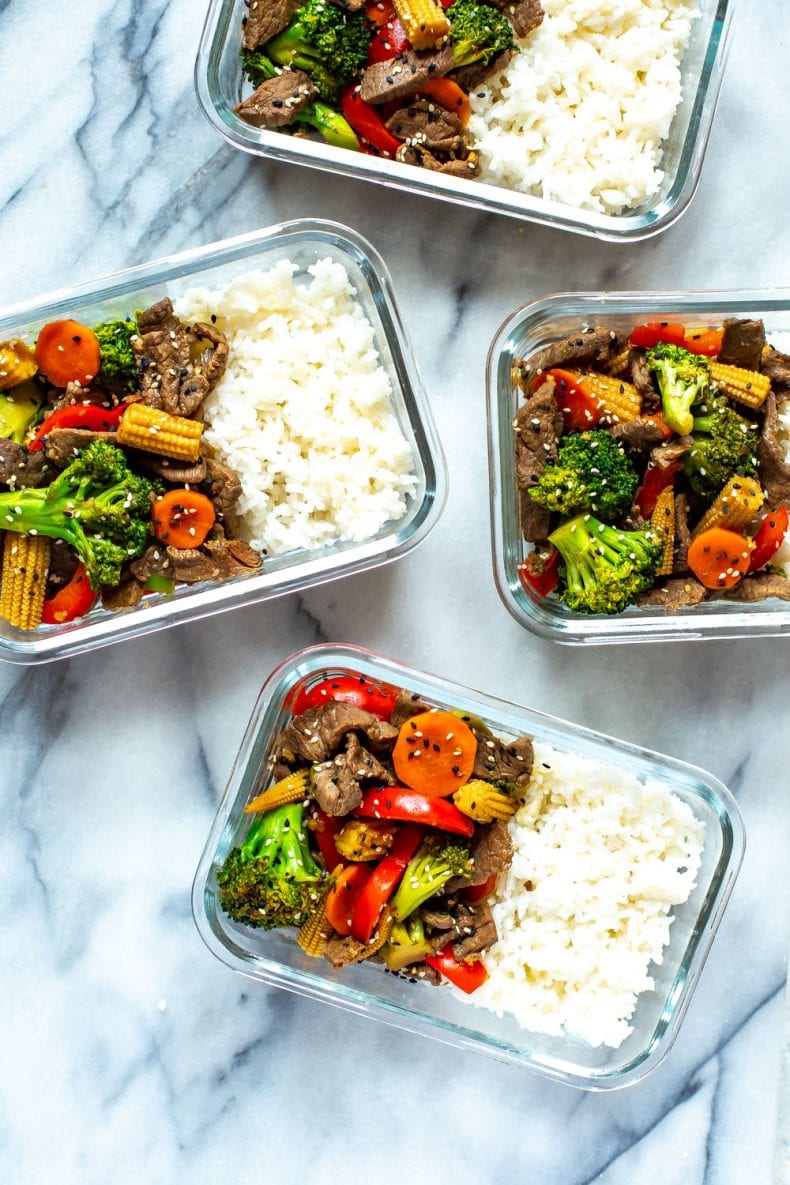 Step 2: Make the Stir Fry Sauce
Remember, this is a 2-ingredient beef stir fry sauce – making it is SO easy! Just add soy sauce and hoisin sauce to a small bowl, whisk to combine and it's done! You can also just add the two sauces to the pan as you're cooking to cut down on the amount of dishes you'll use. Nobody likes a ton of clean up, right?
Step 3: Cook the Beef and Vegetables
When it's time to cook the beef stir fry, you'll be searing the meat first. As a result, the meat will be partially cooked already when you add the vegetables. This is good because the beef doesn't take as long to cook as the vegetables.
Step 4: Add the Beef Stir Fry Sauce
For the final step, just add the stir fry sauce into the pan with the meat and vegetables. Continue to cook, stirring occasionally for a minute or two, then you'll be ready to eat!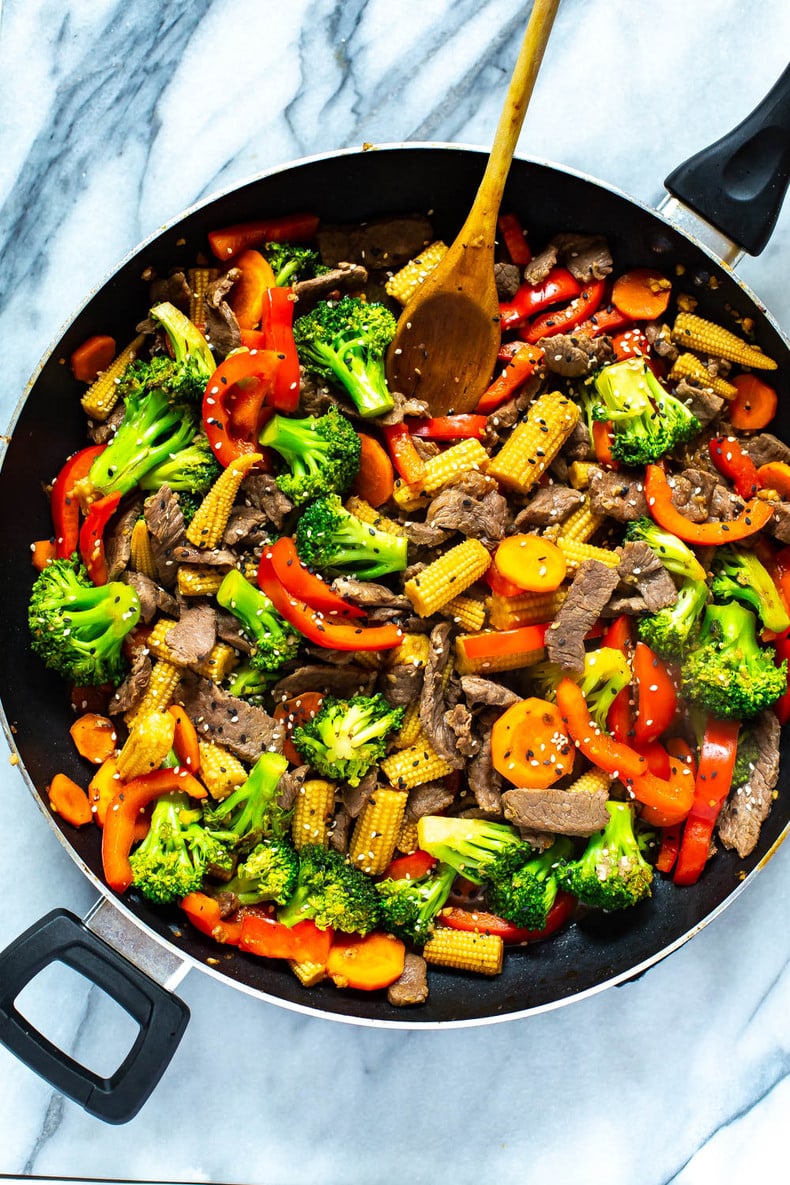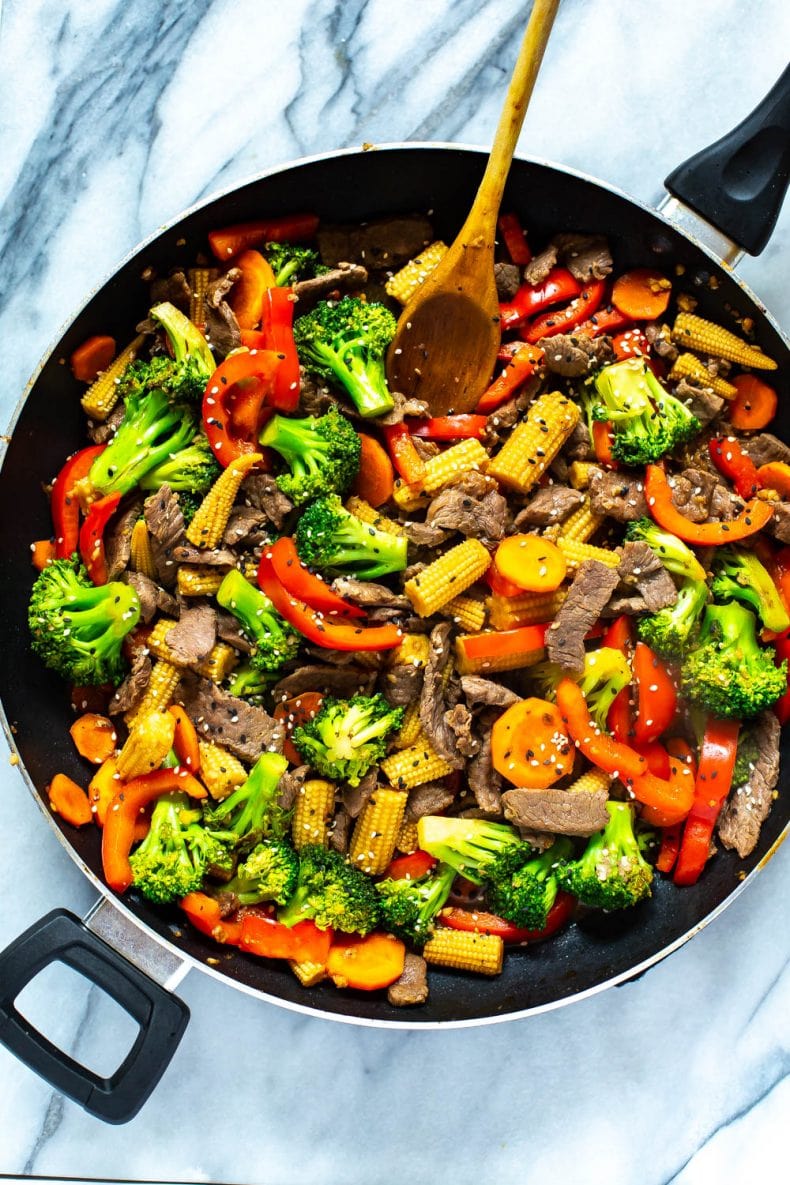 How to meal prep this beef stir fry
This recipe is perfect for meal prep because it comes together in less than 30 minutes and in one skillet to boot. You can enjoy this stir fry for dinner, of course, but it also makes for amazing weekly lunches for work. Just divide everything up into glass meal prep containers and it will keep in the fridge up top 5 days.
I find that you don't get the same "leftovers" taste with beef as you do with chicken so that's always a bonus! To reheat, just pop the glass bowls into the microwave for 2-3 minutes and you've got one tasty lunch!
Can you freeze this stir fry?
I would not recommend freezing the stir fry itself because it depends heavily on the veggies you've used. Some of them can come out soggy when you reheat them, so as long as you don't mind that aspect you should be ok to freeze this stir fry. In a pinch you can freeze in glass meal prep bowls, then reheat in the microwave for 6-7 minutes.
What to serve alongside this beef stir fry
I prefer to serve rice on the side as mentioned above (get it going in the rice cooker while you cook the stir fry), but you can feel free to get creative and serve it with just about anything! Some other favorites of mine would be ramen noodles, udon noodles, rice noodles or even spaghetti.
To make this recipe low carb, just serve on its own without the rice, or serve with some cauliflower rice.
More easy Asian-inspired recipes
If you love the idea of this beef stir fry, you're also going to love these recipes!
Meal prep tools for this recipe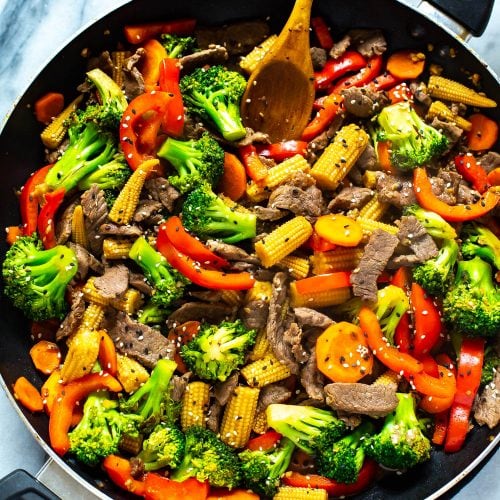 The Easiest Beef Stir Fry
This is the EASIEST Beef Stir Fry recipe out there - with a simple 2-ingredient sauce, you'll likely already have all the ingredients you need to make this healthy dinner idea!
Print
Pin
Rate
Ingredients
1

tbsp

sesame oil

8

oz

sirloin steak, thinly sliced against the grain

4

cloves

garlic, minced

1/4

tsp

each salt & pepper

1

head

broccoli, chopped

1

carrot, peeled and thinly sliced

1

can

baby corn, drained and rinsed

1

red pepper, sliced

Sesame seeds, for garnish (optional)
Stir fry sauce
1/4

cup

low-sodium soy sauce

1/4

cup

hoisin sauce
Rice (optional, to serve)
1

cup

dry white rice

2

cups

water

1

tsp

butter
Instructions
Cook rice with water and butter together in a rice cooker (if serving with stir fry).

Optional step for more tender beef (skip if you're in a rush): Add 1 tsp cornstarch, 1 tsp baking soda and 2 tbsp soy sauce to sliced steak. Toss to combine and let marinate for 30 minutes in a large bowl or Ziploc bag.

Heat sesame oil in a large skillet over med-high heat. Add steak, garlic, salt and pepper, sauteeing for 2-3 minutes until seared. Remove from heat and transfer to a plate. Meanwhile, mix stir fry sauce ingredients together in a small bowl.

Without wiping pan clean, add broccoli and carrots, then cover skillet with a lid. Cook for 3-4 minutes until veggies are tender, stirring occasionally. Add in baby corn and red pepper, sauteeing another 2 minutes.

Add steak back to pan, along with stir fry sauce, tossing well to coat. Cook 1-2 minutes until sauce thickens slightly.

Serve overtop of rice and garnish with sesame seeds. Enjoy!
Video
Nutrition
Calories:
500
kcal
|
Carbohydrates:
81
g
|
Protein:
25
g
|
Fat:
10
g
|
Saturated Fat:
2
g
|
Cholesterol:
37
mg
|
Sodium:
921
mg
|
Potassium:
1119
mg
|
Fiber:
8
g
|
Sugar:
14
g
|
Vitamin A:
4735
IU
|
Vitamin C:
180.3
mg
|
Calcium:
120
mg
|
Iron:
3.5
mg