This 30-Minute One Pan Italian Chicken Skillet is a delicious, low calorie, quick and easy meal to throw together after a long day! Fresh basil takes this skillet to the next level!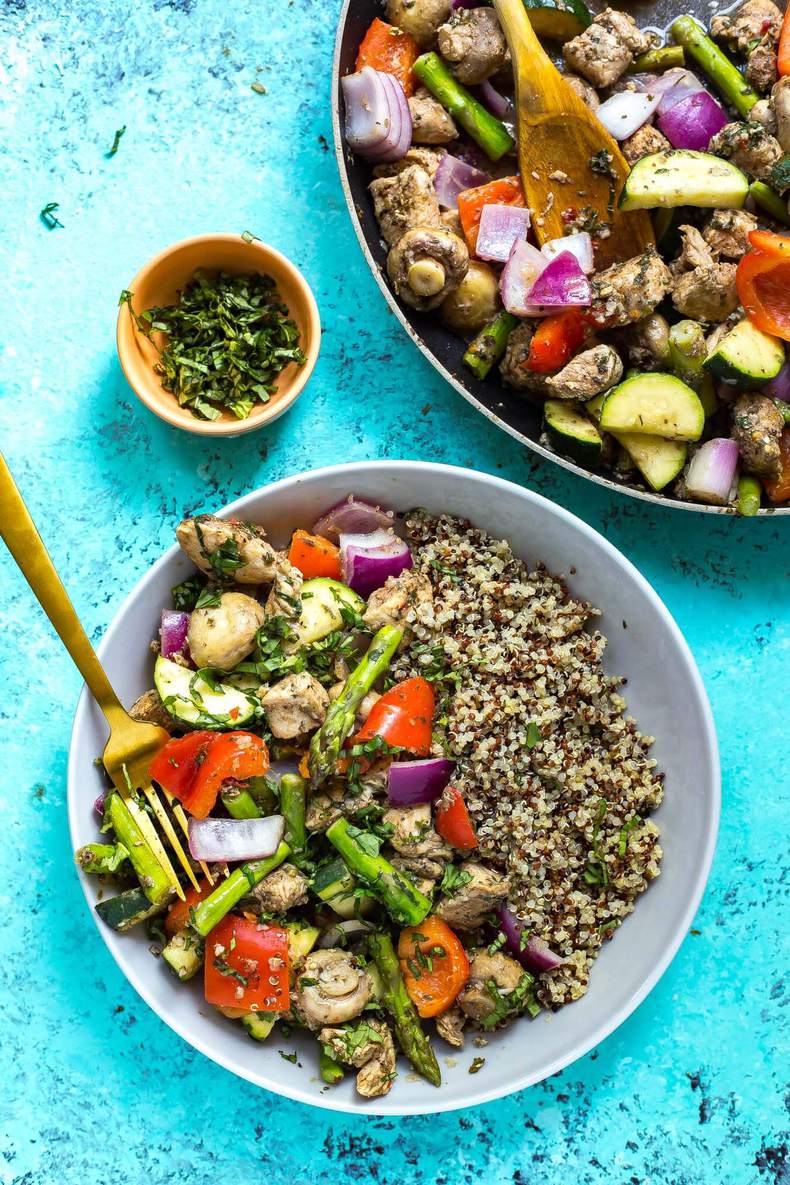 Ahh, 30 minute dinners.
They're perfect after long days, or times when you've forgotten you've actually gotta feed yourself between activities. Oh right, dinner…that…
As we head into the fall season, life gets a lot more hectic. There always seems to be something going on, and nourishing yourself with good food seems to be the last thing on your mind. This 30-Minute One Pan Italian Chicken Skillet is going to be your next lifesaver when you're super busy and don't have a ton of time to prep something that's healthy and nutritious.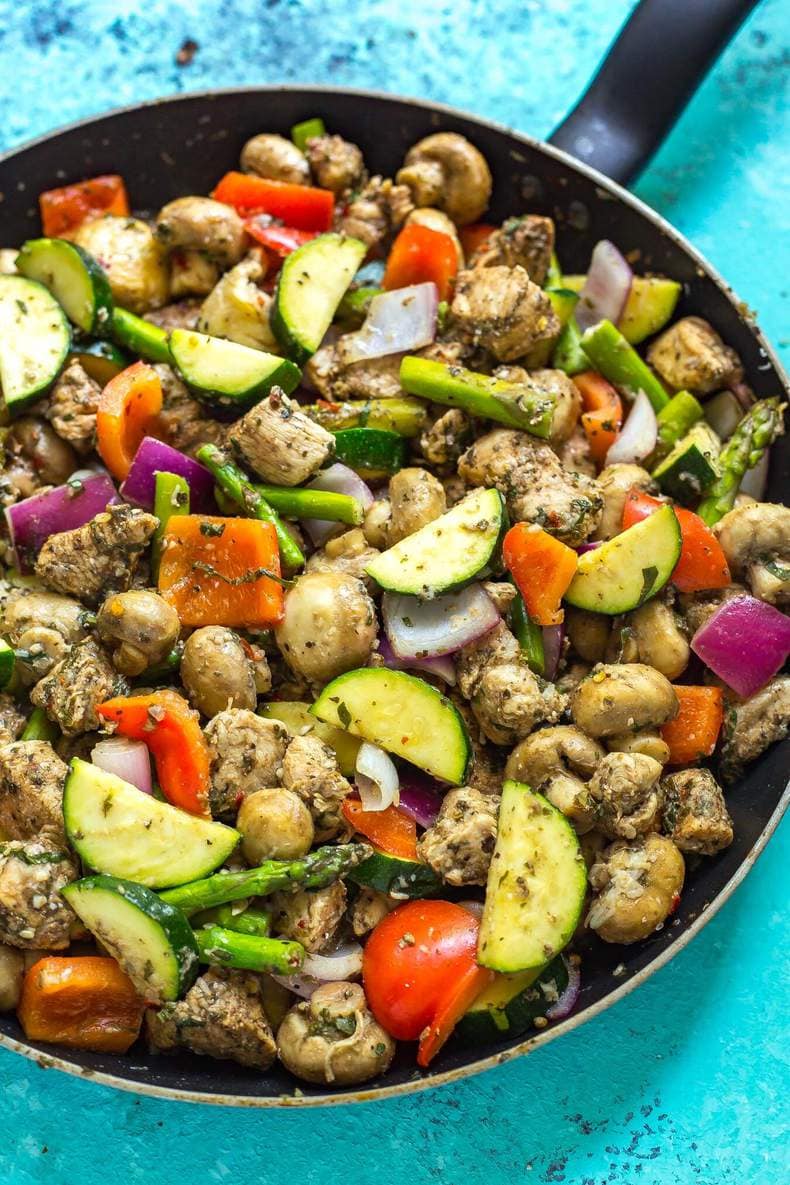 I've made a bunch of these different types of skillet meals over the years as a quick meal in between activities and let me tell you what a lifesaver they are. I think I actually like skillet meals even better than sheet pan dinners. If you're using chicken, it cooks up especially quickly and you can use just about any type of seasoning or sauce and it'll turn out great.
I feel like this doesn't even deserve to be called a recipe because of how quick and easy it is, and let me tell you: it makes the BEST meal prep ever. So simple. Throw all the veggies from your fridge in a frying pan with lean protein, then divide it all up among meal prep bowls for the work week and BOOM, you're set.
And of course you can switch up the protein or veggies depending on what you're craving. Really want some shrimp? Go for it! Swap in the Italian seasoning for some taco seasoning or even just a bit more garlic and some smoked paprika.
The spice drawer is your friend here.
I'm especially loving recipes like this considering the fact that I'm FINALLY moving back to downtown Toronto!!! After years of being "The Girl on Bloor" – living on and off one of Toronto's main streets, you guessed it…Bloor Street! – I had to move back in with my parents to rebuild my savings after grad school.
Yeah, 7 years of being in school almost full time leaves you pretty broke.
Looking back and realizing that I've managed to make myself financially stable with this whole blogging thing in a relatively short period of time, I'm sure could have just stuck it out and lived off my savings for a bit, but city living is expensive.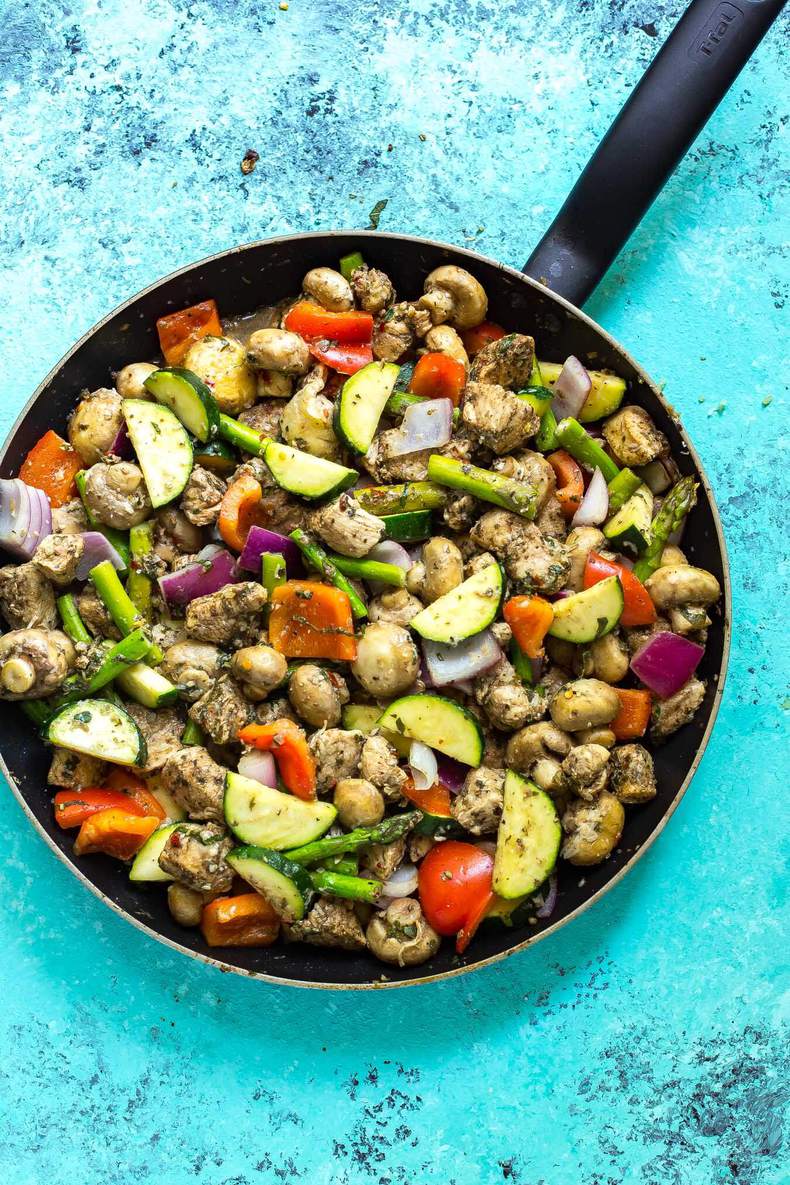 It's so funny as I reflect on that tumultuous time now that I'm out the other end of it. I thought moving back in with my parents was a last resort and I wasn't looking forward to it, but it's given me the time and space to build a successful photography business and I wouldn't trade their support for the world.
Or the few times a week someone else made my meals LOL. Don't get me wrong, I took on my fair share of cooking for the house, but now it's back to the real world where I'm gonna be cooking for myself 7 days a week, and having to make smaller portions or rely on leftovers a whole lot more. Well, gimme ALL the 30-Minute One Pan Italian Chicken Skillets please.
Now, you can eat this  30-Minute One Pan Italian Chicken Skillet with or without rice or quinoa – I've included it here as an optional side dish but honestly, this meal is filling enough on its own, and this way it's also low carb and less calories so you can make it fit within whatever your dietary restrictions happen to be.
I know I'm currently trying to eat a whole lot more veggies with every meal (yes, even with breakfast – these egg cups sure are coming in handy), so I'd probably enjoy without the grains.
Or you could always add some baby potatoes or sweet potatoes to the skillet if you're craving a little bit of carbs in there. It's up to you 🙂
Will you be making this 30-Minute One Pan Italian Chicken Skillet? 
What are some of your favourite last minute dinner ideas when you're running short on time? Maybe you've gotta get to an event after dinner, or you're running out the door to grab drinks with your friends on a weekend. Regardless, this dinner's got your back!
If you try any of my recipes be sure to let me know on Instagram, Twitter, Facebook or in the comments – I'd love to see what you come up with!
30-Minute One Pan Italian Chicken Skillet
This 30-Minute One Pan Italian Chicken Skillet is a delicious, low calorie, quick and easy meal to throw together after a long day! Fresh basil takes this skillet to the next level!
Print
Pin
Rate
Ingredients
1

tbsp

olive oil

4

cloves

garlic minced

1

package

Button mushrooms

3

chicken breasts, diced

1

red pepper, chopped

1

small red onion, chopped

1/2

bunch

asparagus, chopped

1

zucchini, sliced

1

tbsp

Italian seasoning

2

tbsp

balsamic vinegar

2

tbsp

fresh basil, chopped

1/2

cup

parmesan cheese, grated

2

cups

cooked quinoa
Instructions
Cook quinoa according to package instructions and chop veggies.

Heat olive oil over med-high heat in a large skillet. Add mushrooms and garlic, sauteeing for 5 minutes until liquid starts to release. Add chicken and cook another 5 minutes until browned. Add Italian seasoning, balsamic vinegar and basil.

Add veggies, cooking another 5-10 minutes until veggies are tender and everything is cooked. Stir in parmesan cheese, then serve with quinoa in four large bowls and enjoy!
Nutrition
Calories:
332
kcal
|
Carbohydrates:
32
g
|
Protein:
28
g
|
Fat:
15
g
|
Saturated Fat:
6
g
|
Polyunsaturated Fat:
2
g
|
Monounsaturated Fat:
6
g
|
Cholesterol:
24
mg
|
Sodium:
681
mg
|
Potassium:
370
mg
|
Fiber:
3
g
|
Sugar:
0.2
g
|
Calcium:
380
mg
|
Iron:
4.3
mg