These Chicken Tandoori Meal Prep Bowls are a tasty sheet pan meal idea ready in 45 minutes – prep these Indian-inspired bowls on a Sunday and enjoy delicious lunches all week long!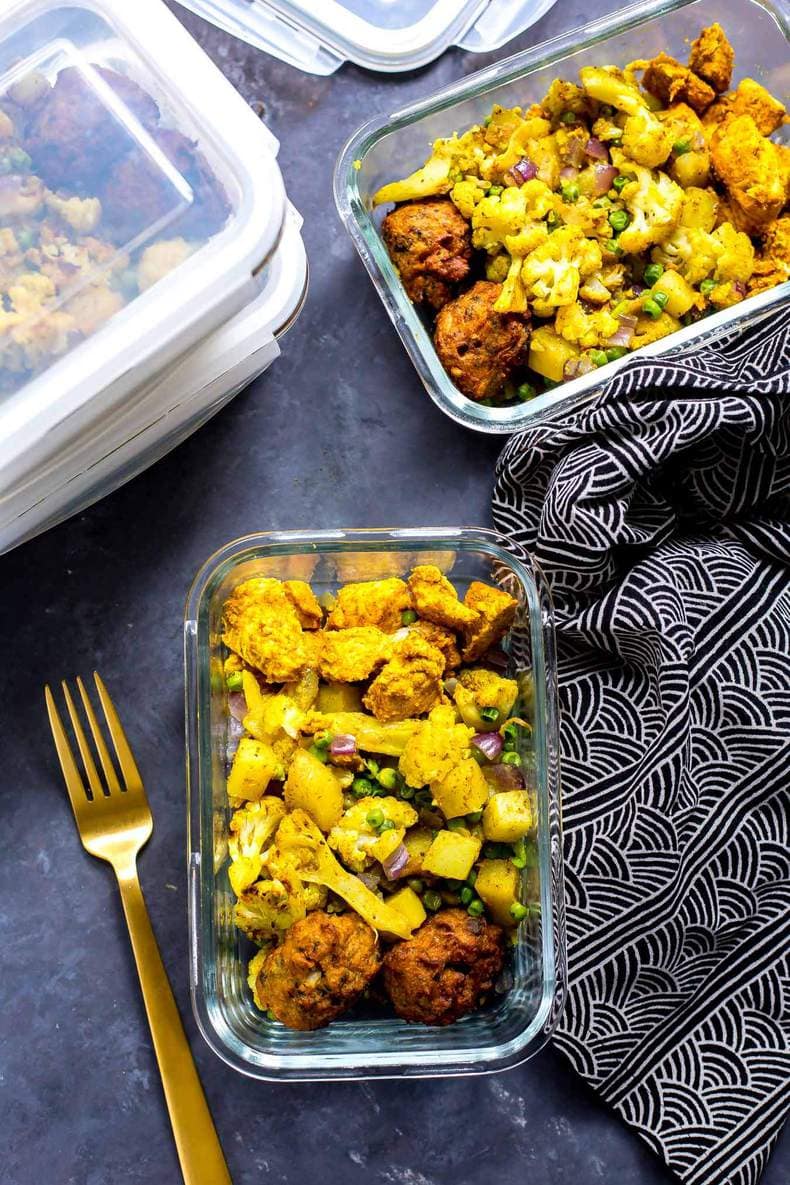 This post is sponsored by Spice It Up Foods and you can find their veggie pakoras at select Costcos in Eastern Canada. Thanks so much for supporting the brands I love – they help keep my blog up and running!
Okay, so these Chicken Tandoori Meal Prep Bowls are both a meal prep recipe AND sheet pan dinner all in one and I have to say I don't think I could be more in love with Indian food!
And trust me, the flavours in these bowls are a whole lot easier to nail than you would imagine, using spices that are already probably in your pantry. Say hello to takeout inspired flavours all in the span of just 45 minutes! And healthy takeout at that!
I've done Indian-inspired recipes before on the blog, like these Chicken Tikka Masala Rice Bowls and these Tandoori Chicken Naan Burgers, but I'm starting to think that these Chicken Tandoori Meal Prep Bowls are my favourite, and not just because they're ready so quickly!
First of all, there are three phenomenal components to these bowls that make them so good, and the best part is that you can cook all three on one pan! I've got a quick aloo gobi (curried cauliflower, potatoes and peas) that goes in the oven while the tandoori chicken is marinating, then in goes the chicken and pakoras.
And these pakoras, let me tell you. These spiced vegetable fritters are actually so good that I was seriously considering building a meal prep bowl solely out of pakoras alone, I just wanted to keep eating them and eating them. Like, these things are actually dangerous.
So for a bit of flavour, you've got two of them per meal prep bowl. Maybe you can throw in three for good measure though…
I mean, I didn't need much convincing when Spice It Up Foods approached me about partnering with them to create an easy recipe using their pakoras. I'm a pakora fiend. But as with all good things in life, sometimes some are better than others, and it's best not to get your hopes up ahead of time.
Well, let's just say I WAS NOT DISAPPOINTED. With just a hint of heat, Spice It Up Foods Pakoras are jam packed with flavour and can turn even the most boring meal into something to look forward to. The day after shooting these Chicken Tandoori Meal Prep Bowls, we took the pakoras up to the cottage for Thanksgiving and might have just filled up before even indulging in our turkey dinner.
Maybe we've got a new holiday tradition here. A bit out of the box, but I'll take it.
Thank goodness these pakoras come in a giant Costco-sized bag. As if you need any more excuse to visit Costco – they just launched in Eastern Canadian stores and are vegan, made from all natural ingredients, and ready in 15 minutes or less.
And you know me, I love getting creative with my meal prep – a delicious lunch is pretty much the only way to make it through the work day so these versatile pakoras are the perfect surprise addition to these Chicken Tandoori Meal Prep Bowls. I should also mention how they can easily be incorporated into other recipes such as wraps and sandwiches, buddha bowls and salads.
Or you could just enjoy as a tasty snack or appetizer. But be warned ahead of time how addicting they are, that's all I'm gonna say.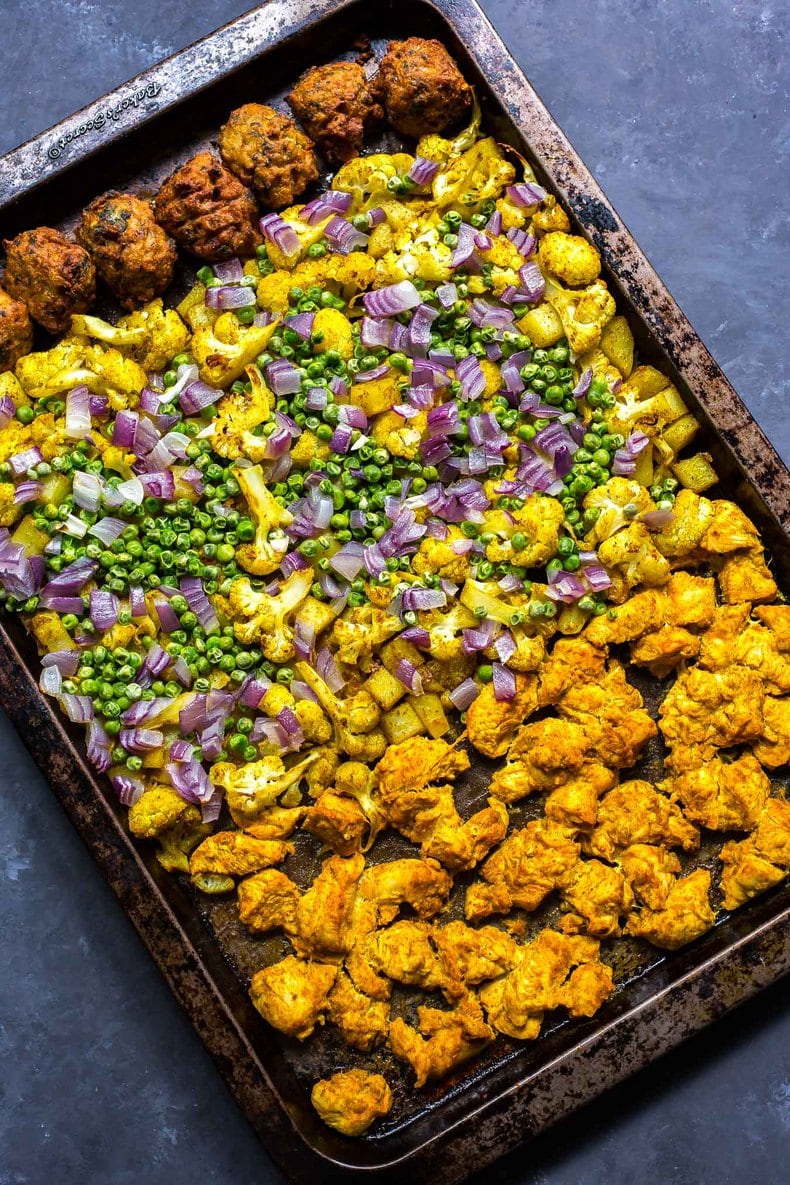 But let's get back to these bowls. The key is really getting the spices right, and while the pakoras have it down pat, you're going to need to make a couple different spice blends for the veggies and chicken.
Oh, MEAL PREP TIP BTW: you can easily make a big batch your own spice blends to have on hand for the next time you make these Chicken Tandoori Meal Prep Bowls or another recipe that requires similar seasonings. I tried to use mostly pantry staples for this recipe so you don't have to go shopping for specialty spices. The only thing you may not already have on hand is garam masala, but I assure you that either garam masala or its similar equivalent cardamom is usually found in with other spices at the grocery store. In a pinch, a bulk foods store should have them or you can just leave them out of the chicken marinade and double up on the ground ginger.
Basically, you're looking for the punchiness that garam masala/cardamom brings to the table and extra ginger will sort of give you the same flavour. From there, it's just a matter of tossing the chicken and veggies with each spice blend and a bit of olive oil and baking.
Done and done!
Will you be making these Chicken Tandoori Meal Prep Bowls? 
I promise your meal prep will be filled with delicious, heart-warming flavour that's perfect for this time of year. Skip the takeout, load up your sheet pan with veggies, chicken and pakoras, and get ready to indulge in the most perfect lunch all week long. Just make sure you hide these bowls in the staff fridge…people might be tempted to steal your food! 😉
If you try any of my recipes be sure to let me know on Instagram, Twitter, Facebook or in the comments – I'd love to see what you come up with!
Chicken Tandoori Meal Prep Bowls
These Chicken Tandoori Meal Prep Bowls are a tasty sheet pan meal idea ready in 45 minutes - prep these Indian-inspired bowls on a Sunday and enjoy delicious lunches all week long!
Print
Pin
Rate
Ingredients
1

tbsp

olive oil

2

cloves

garlic minced

1

head

cauliflower, chopped

1

medium-sized

russet potato, diced

1

cup

peas

1

small

red onion, diced

6

Spice it Up Foods Pakoras
Chicken marinade
2

chicken breasts, cut into 1-inch pieces

2

tbsp

plain yogurt (Greek or low fat is fine!)

1

tbsp

olive oil

1

tbsp

lemon juice

2

cloves

garlic minced

1

tsp

turmeric

1

tsp

paprika

1/2

tsp

garam masala (sub in cardamom or if you're really in a pinch, leave out altogether and double the ground ginger)

1/2

tsp

cumin

1/2

tsp

ground dried ginger

1/2

tsp

salt
Aloo gobi spice
1

tsp

curry

1

tsp

coriander

1/2

tsp

turmeric

1/2

tsp

cumin

1/2

tsp

ground dried ginger

1/2

tsp

salt
Instructions
Preheat oven to 400 F. Toss cauliflower and potatoes with aloo gobi spice, olive oil and garlic on a baking sheet. Bake for 15 minutes, then remove from oven.

Meanwhile, mix chicken together with marinade ingredients and let marinate for 10-15 minutes. Mix red onion and peas into cauliflower mixture. Add chicken and pakoras to baking sheet and bake for 15 minutes, turning pakoras and tossing chicken halfway through.

Remove from oven, and serve!
Nutrition
Calories:
368
kcal
|
Carbohydrates:
38
g
|
Protein:
22
g
|
Fat:
14
g
|
Saturated Fat:
4
g
|
Polyunsaturated Fat:
2
g
|
Monounsaturated Fat:
6
g
|
Cholesterol:
41
mg
|
Sodium:
395
mg
|
Potassium:
803
mg
|
Fiber:
7
g
|
Sugar:
10
g
|
Vitamin A:
550
IU
|
Vitamin C:
71.8
mg
|
Calcium:
60
mg
|
Iron:
2.9
mg