These Mason Jar Instant Noodles are the perfect work lunch. The jars are packed full of veggies, vermicelli noodles and shredded chicken!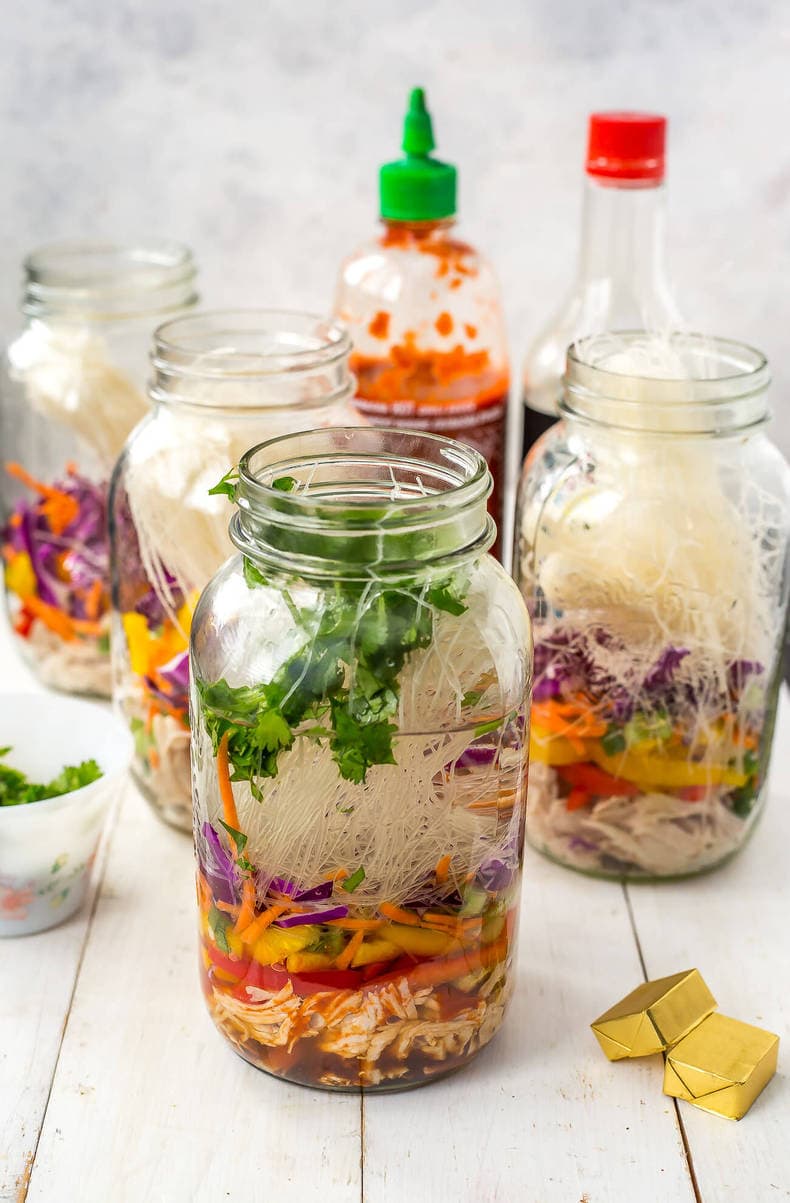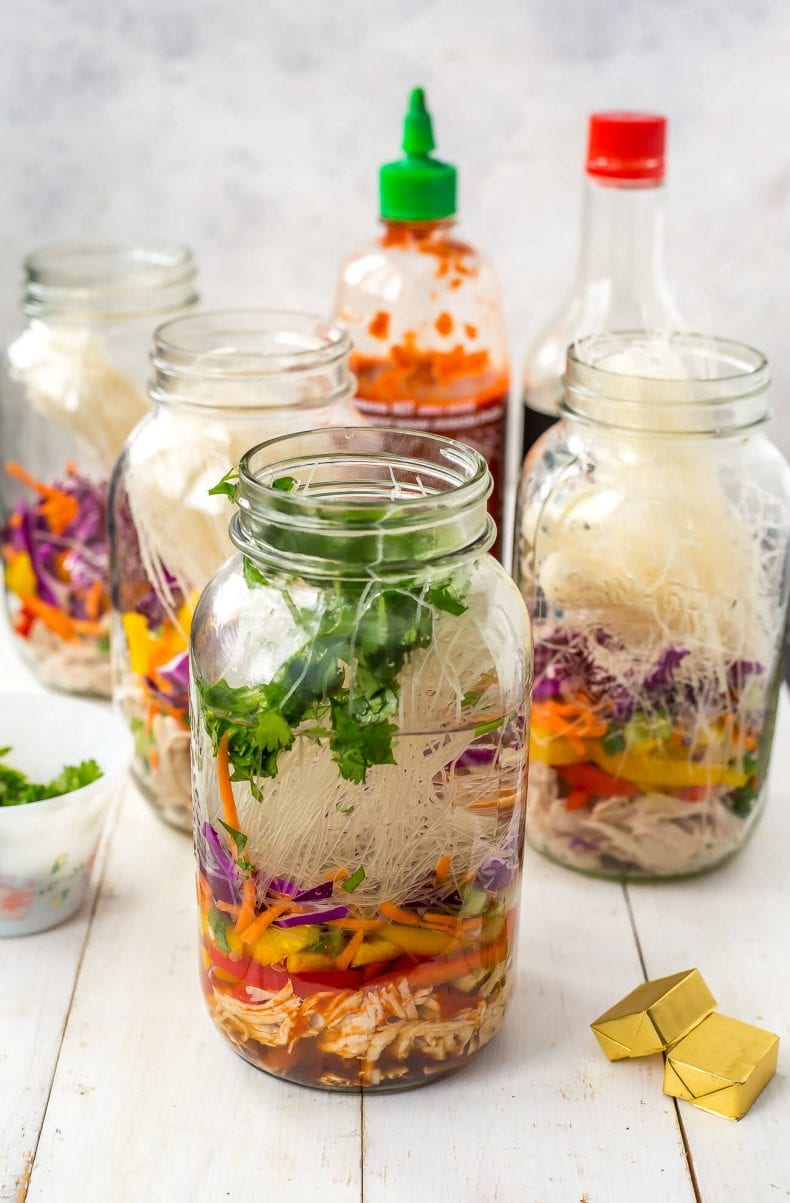 Ingredients and substitutions
Chicken breasts – swap out for chicken thighs or another meat of your choice. Feel free to leave the meat out altogether for a vegetarian version.
Soy sauce – coconut aminos or tamari are the best soy sauce substitutes.
Sriracha chili garlic hot sauce – if you're not a fan of hot sauce, leave this out or use another seasoning like lemon pepper, Italian seasoning or Old Bay.
Lime juice – fresh or bottled lime juice can be used.
Vegetable bouillon cubes – chicken bouillon cubes would also work.
Julienned veggies – use any combination of veggies of your choice. More veggie ideas include beans, chickpeas, lentils, spinach, kale, zucchini, cabbage or cooked mushrooms.
Rice vermicelli noodles – miso noodles or zucchini noodles would also be good!
Sunflower sprouts – cilantro or bean sprouts are great garnishes or you can leave these off altogether.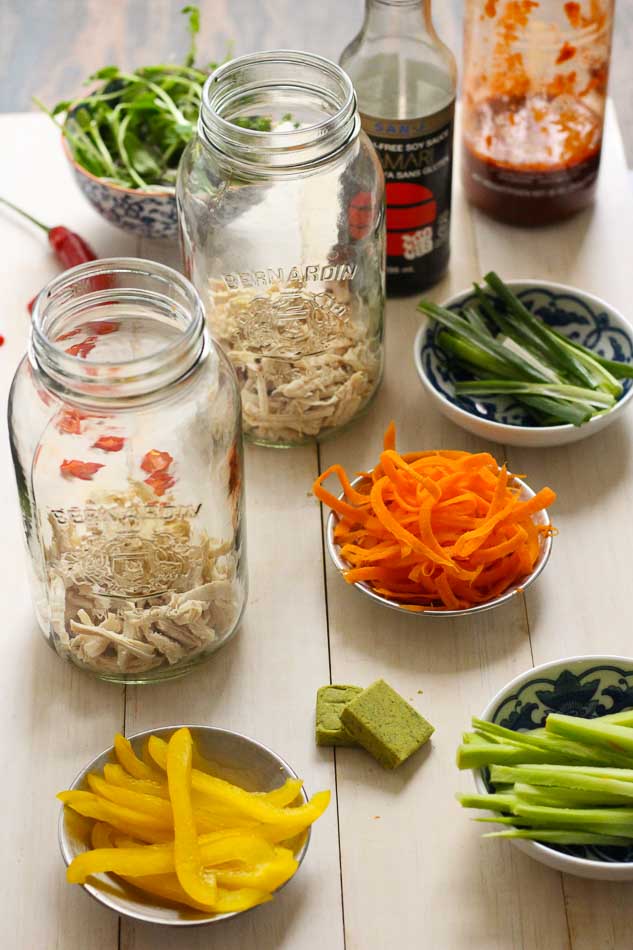 How to make this recipe
Cook and shred the chicken.
Prep your veggies.
Layer the ingredients in the jars.
Store for later!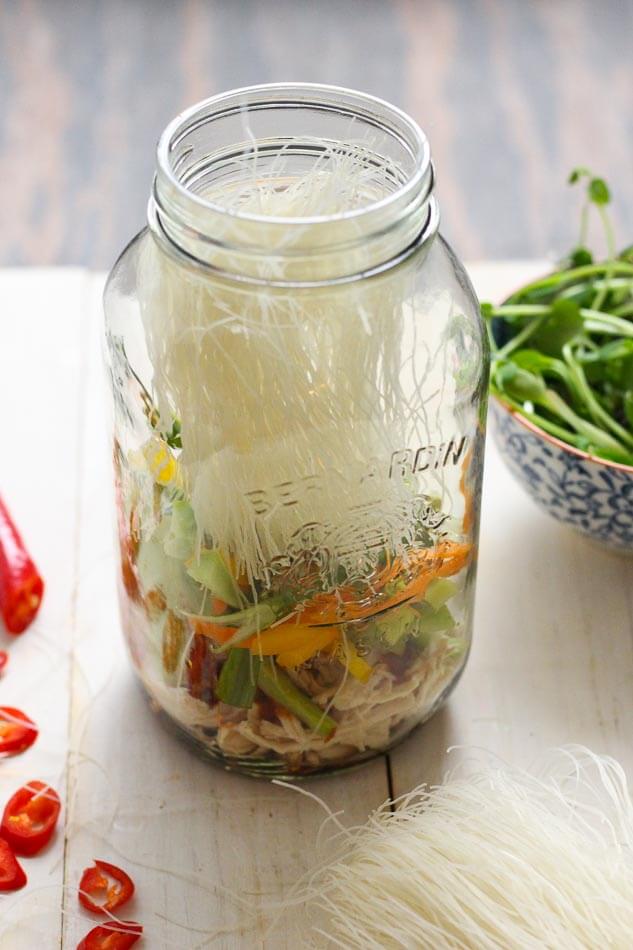 How to serve this soup
While mason jars are perfect for storage and travel, they aren't the best for eating out of. Make sure to take a bowl with you so you can pour your mason jar soup into the bowl and eat it from there. Struggling to get a spoon in and out of a mason jar can be a pain!
When you're ready to enjoy your soup jars, all you have to do is pour some boiling water in the jar until the bouillon cube dissolves and the noodles have cooked. You may need to stick the jar in the microwave for a couple minutes if need be.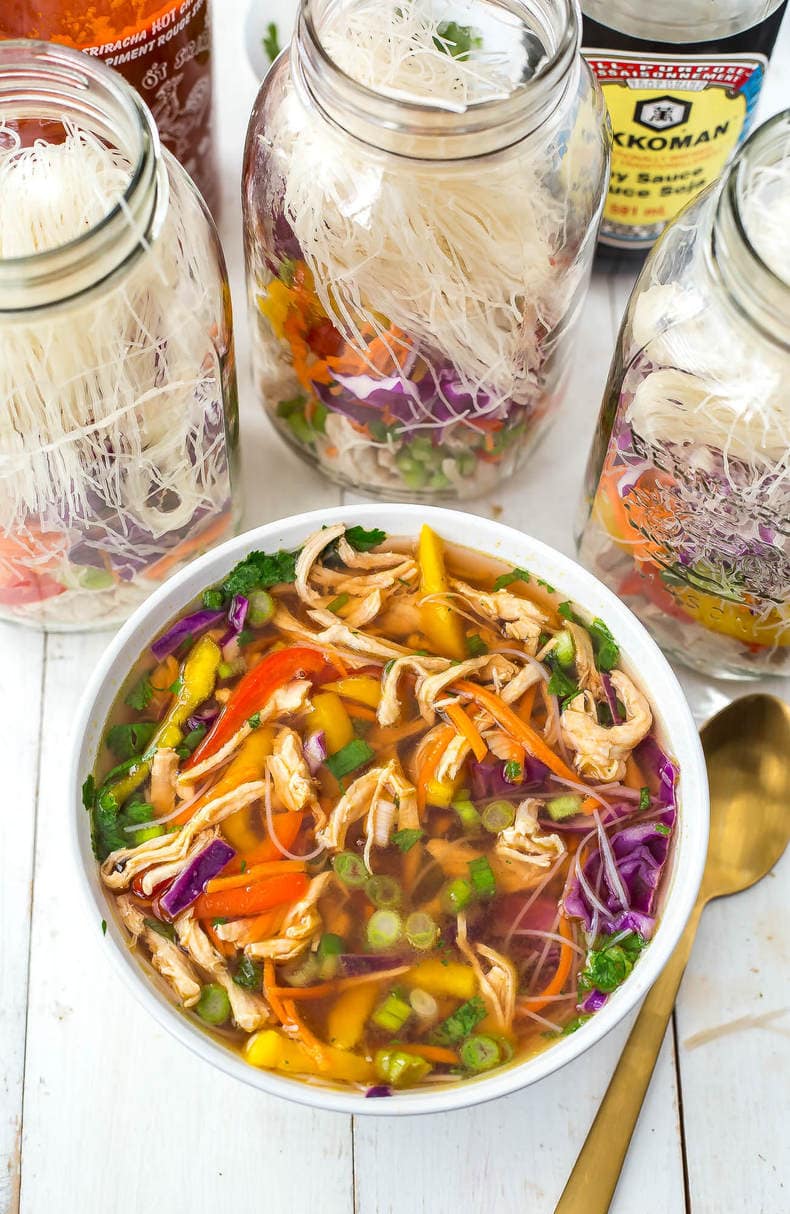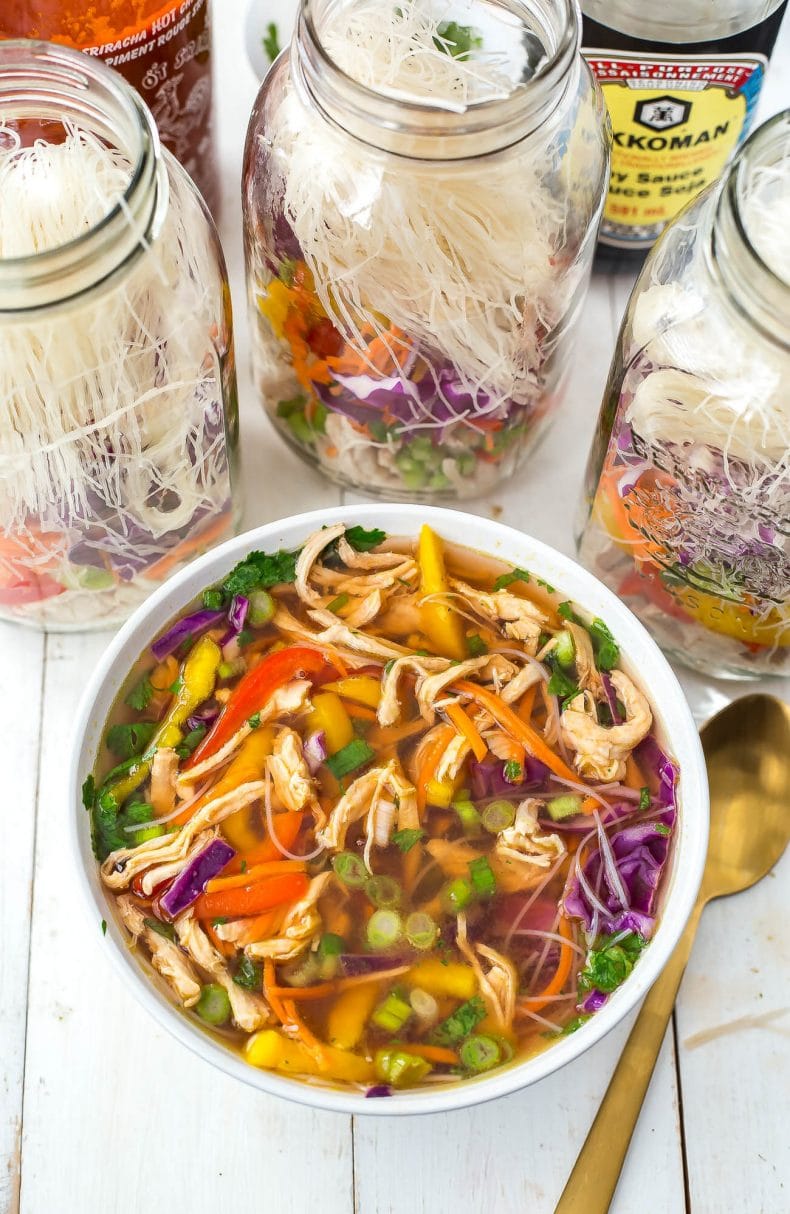 Frequently Asked Questions
Are instant noodles healthy?
Your typical instant noodles that come in a package are not very healthy and the flavour packets are normally full of preservatives. This recipe offers a healthier spin on your favourite noodle dish. There are just 369 calories per seasoning with way less sodium, since you're adding your own sauces and toppings. Keep in mind that the calorie count will vary depending on what you add to your jars.
What layer do you order the jars in?
When it comes to layering your mason jar soup, add the shredded chicken first, followed by the sauces (so the soy sauce, sriracha and lime juice), then the vegetables, the bouillon cubes and the noodles.
What can you prep ahead of time?
All of the prep work for these mason jar soup lunches can be done in advance. Take the time to cook and shred the meat as well as cut the veggies on the weekend. Pack everything into the jars and you'll have a stash of healthy lunches ready to go.
What jars should you use?
Mason jars are perfect for this meal prep recipe. The 1L jars will hold plenty of food for lunch. Unlike plastic, glass is completely safe and will not leach chemicals into your food. You can find mason jars everywhere and they are easy to clean. They also work perfectly in the refrigerator. Because they are vertical, you can fit a lot more in a small space. The tall mason jars keep your liquids at the bottom and away from the noodles. There is no chance of soggy ingredients before you are ready to mix it all together.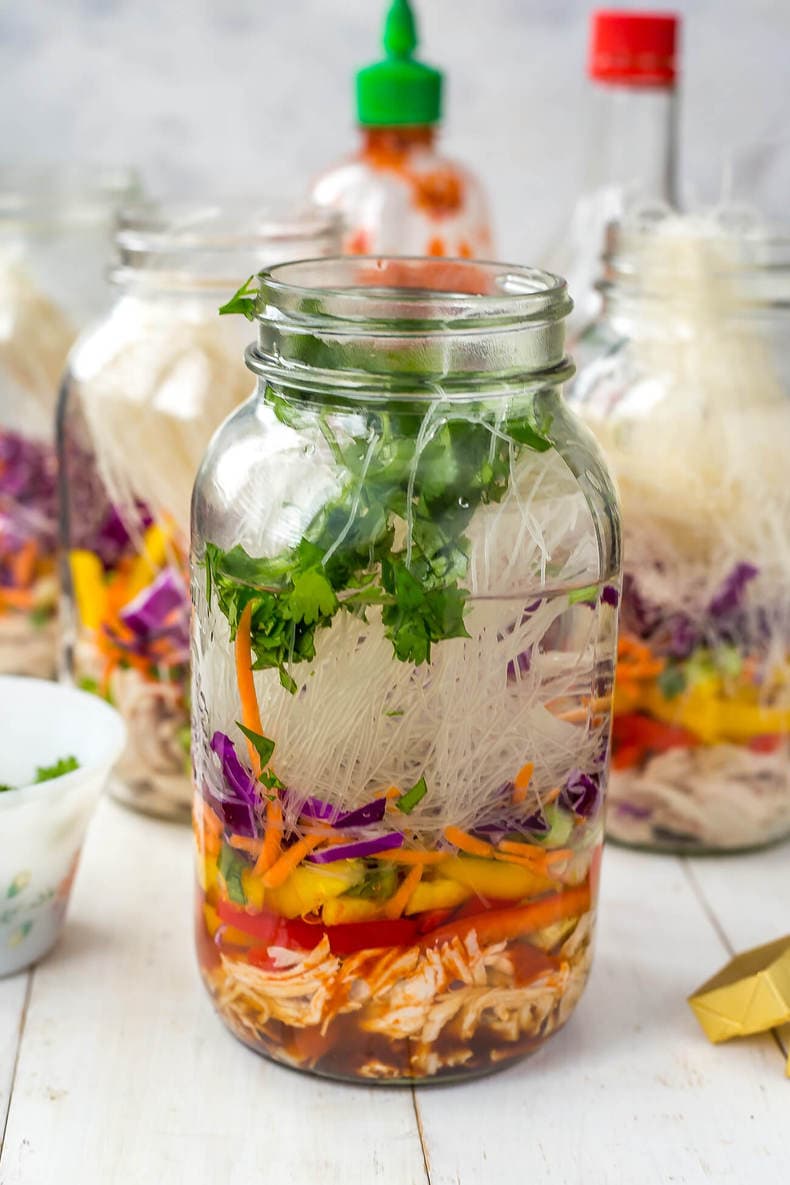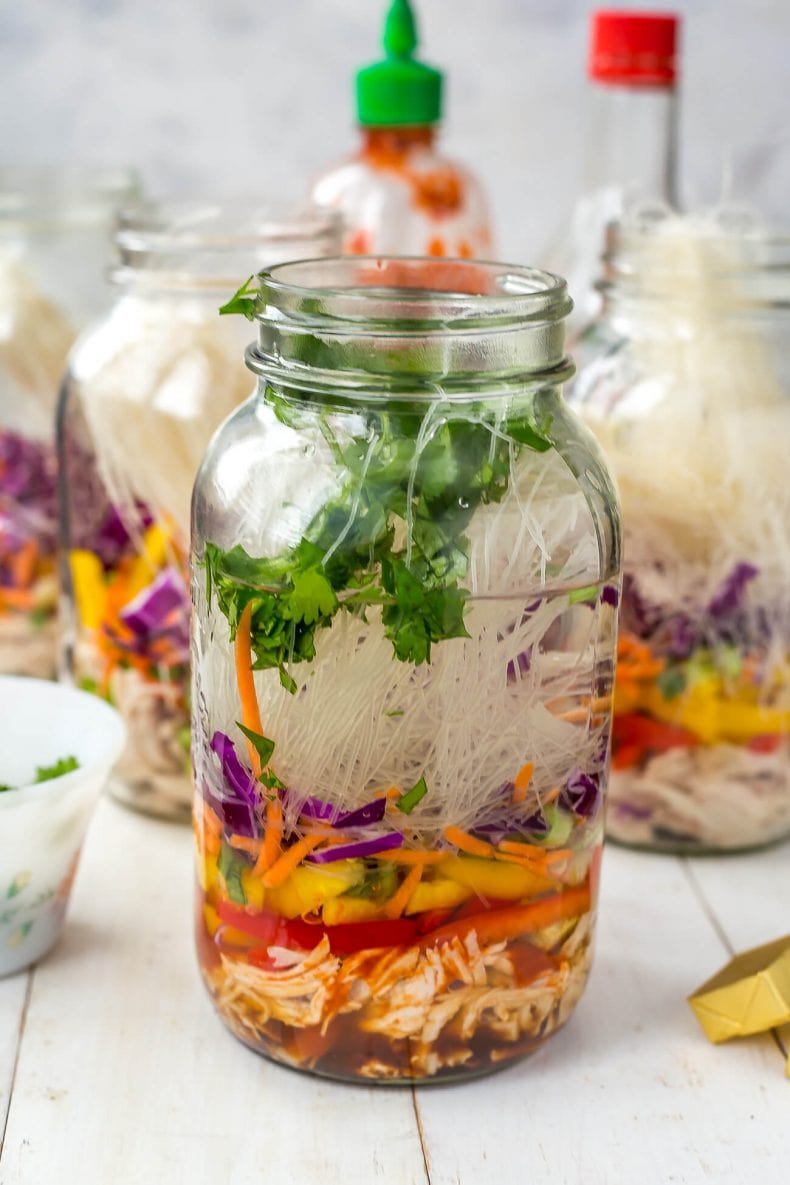 Storing and reheating
Your soup jars will last in the fridge for 4 to 5 days. If you don't eat all of your soup, you can stick it back in the fridge for another day or two. Just pop it back in the microwave for a couple minutes to reheat it.
Keep in mind that if you let the soup sit for more than one day after you've already added the boiling water and cooked the noodles, the noodles and veggies will get soggy and the soup won't be as good.
Freezing this recipe
The best way to freeze this soup is to make it completely, including the boiling water. Then you can cool and freeze it in glass bowls with lids for up to 3 months.
You can freeze anything right in the mason jar too. They are great for all kinds of storage, including in the freezer. To reheat from frozen, simply microwave the soup for 6 to 7 minutes, stirring halfway through.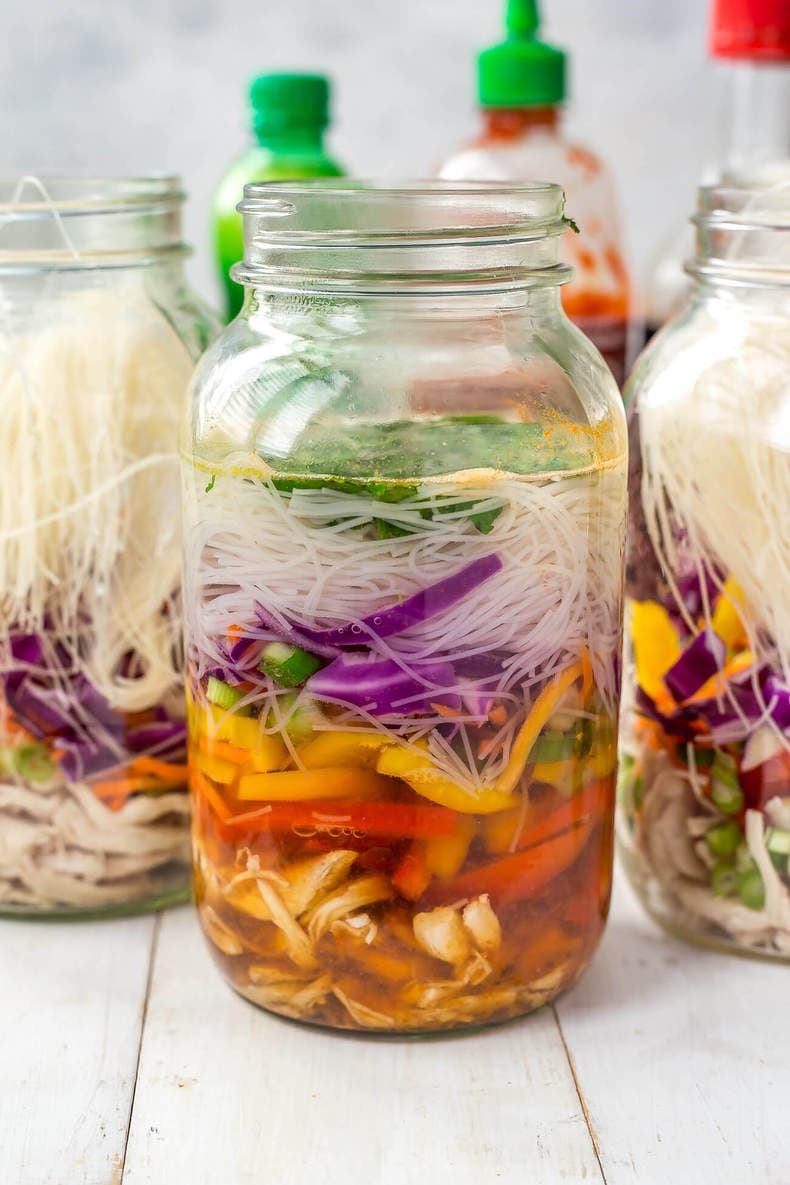 Wanna Learn How To Meal Prep?
My meal planning service, Dinner Prep Pro, removes the guesswork and helps you get dinner on the table in 15-20 minutes each night. My meal prep checklists only take 1 hour each week!
Meal prep tools for this recipe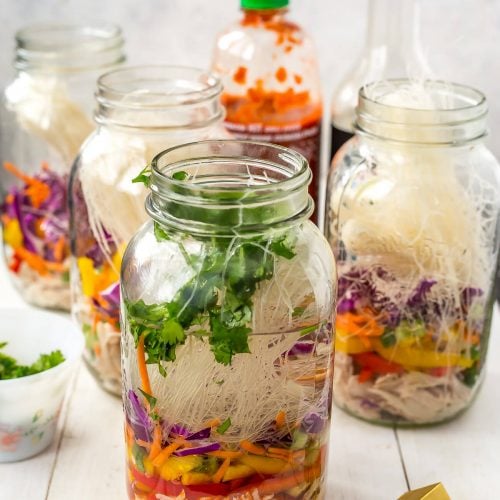 Mason Jar Instant Noodles
These Mason Jar Instant Noodles are the perfect work lunch. The jars are packed full of veggies, vermicelli noodles and shredded chicken!
Print
Pin
Rate
IN A CYCLE OF EATING POORLY?We've got you covered with our free Routine Revamp mini course! You'll receive 8 lessons and free coaching with us! Register👇
Join Routine Revamp!
Servings: 4 servings
Calories: 369kcal
Ingredients
4 (1 L) Mason jars
2 chicken breasts cooked and shredded
4 tsp soy sauce or tamari
4 tsp Sriracha chili garlic hot sauce
4 tsp lime juice
4 vegetable bouillon cubes
1/2 cup each julienned broccoli stems, carrots, bell peppers and green onions
1 lb package rice vermicelli noodles
Sunflower sprouts or cilantro for garnish
Instructions
To shred chicken, boil breasts in a large pot of hot water for 12-15 minutes until chicken is cooked through. Pull apart with your hands or with a fork once cooled.

Divide the shredded chicken into each mason jar evenly, then add 1 tsp of soy sauce, Sriracha and lime juice to each jar.

Layer in vegetables, then drop in bouillon cubes. Finally, finish by dividing vermicelli noodles evenly among each jar and keep in fridge until ready to eat.

When ready to serve, pour boiling water in to fill jar and carefully stir contents, making sure to dissolve bouillon cube completely and saturate noodles. You may also need to microwave the jar for 1-2 minutes depending on the type of noodles used (some varieties of vermicelli are harder than others). Let the jar sit for 5 minutes before serving.

Pour contents of the jar into large bowl when ready to eat (should be within 5 minutes of pouring boiling water) and eat right away!
Video
Notes
Use noodles that don't quire a long cooking time like rice vermicelli or cellophane noodles. Store your soup jars in the fridge for 4-5 days. Cook this soup then freeze it in airtight glass bowls for up to 3 months. Microwave from frozen for 6-7 minutes, stirring halfway through.
Nutrition
Calories: 369kcal (18%)Carbohydrates: 52g (17%)Protein: 28g (56%)Fat: 4g (6%)Saturated Fat: 1g (6%)Cholesterol: 72mg (24%)Sodium: 1366mg (59%)Potassium: 496mg (14%)Fiber: 2g (8%)Sugar: 1g (1%)Vitamin A: 1189IU (24%)Vitamin C: 8mg (10%)Calcium: 22mg (2%)Iron: 1mg (6%)
Don't wait until January to eat healthy!Sign up for our free Routine Revamp mini course!
Join Routine Revamp!