Mason Jar Instant Noodles
These Mason Jar Instant Noodle Soups are the perfect on-the-go work lunch and packed full of raw veggies, quick-cook vermicelli noodles & shredded chicken!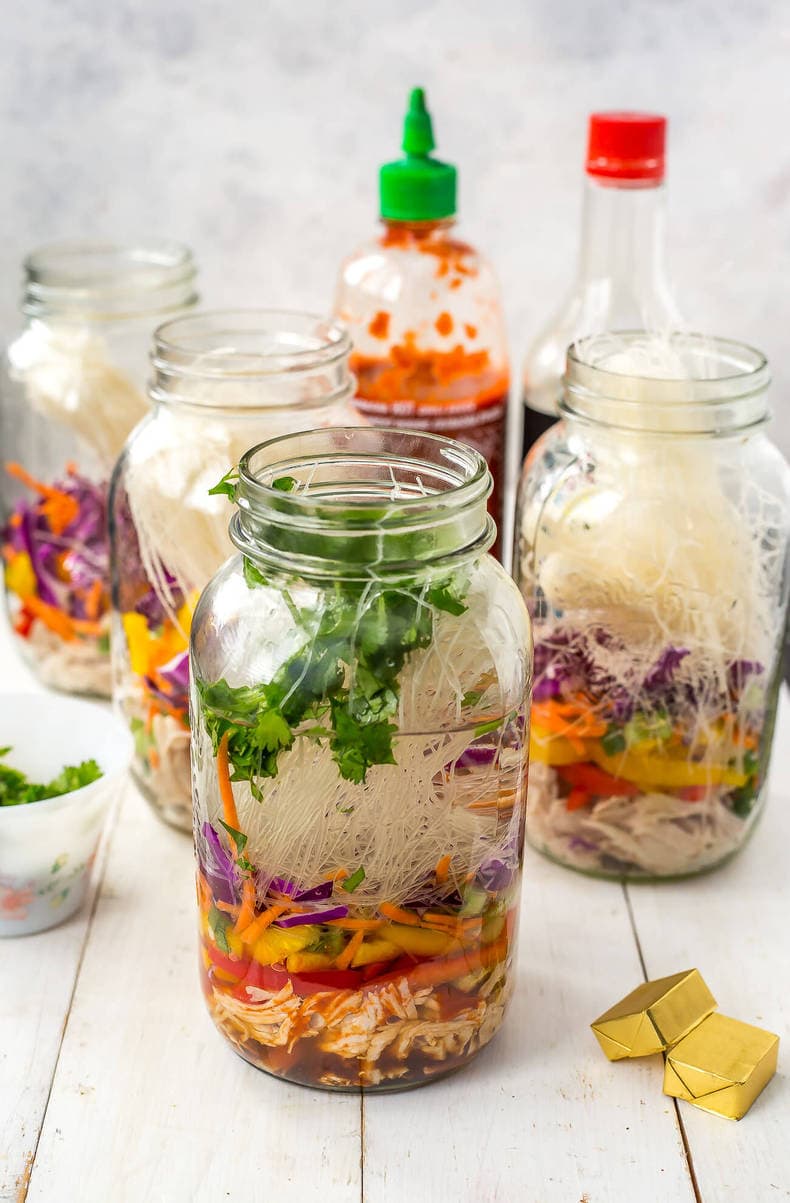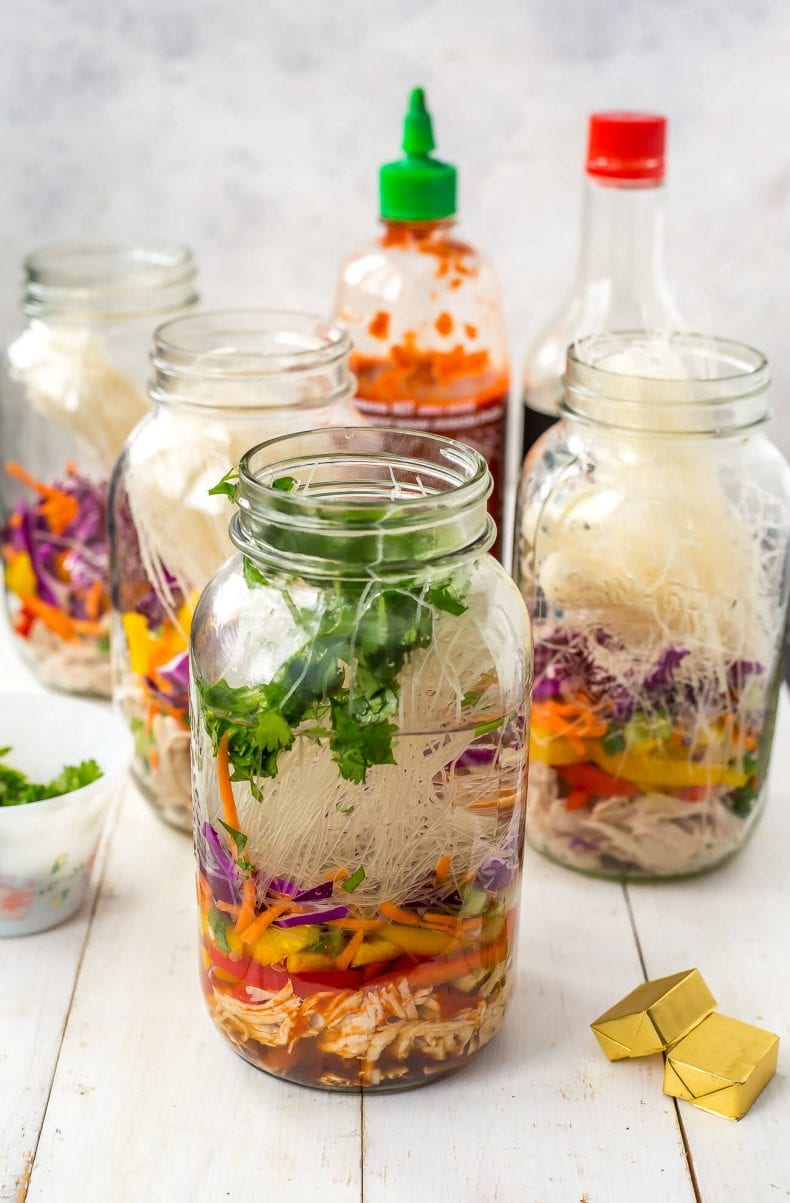 Easy, delicious, comforting lunches. Somehow after the holiday season, with all the snow and cold ahead of us, it seems impossible to create lunches from scratch and still keep to our healthy eating resolutions. I have WAY less motivation when it's dark and cold out and even with the best of intentions I've been known to slip up every now and then…
Factor in work and school, and you're looking at a lot of plain, paper bag sandwiches or expensive meals out and about, seriously.
Well, it's my personal belief that these Mason Jar Instant Noodles are going to change all that! I had seen ideas for these cute little soup jars elsewhere, but was skeptical of creating one myself. When I first started playing around with jar recipes a few years ago I totally had no idea what I was doing, but three years later and these Mason Jar Instant Noodles are still a go-to lunch recipe of mine come summer or winter.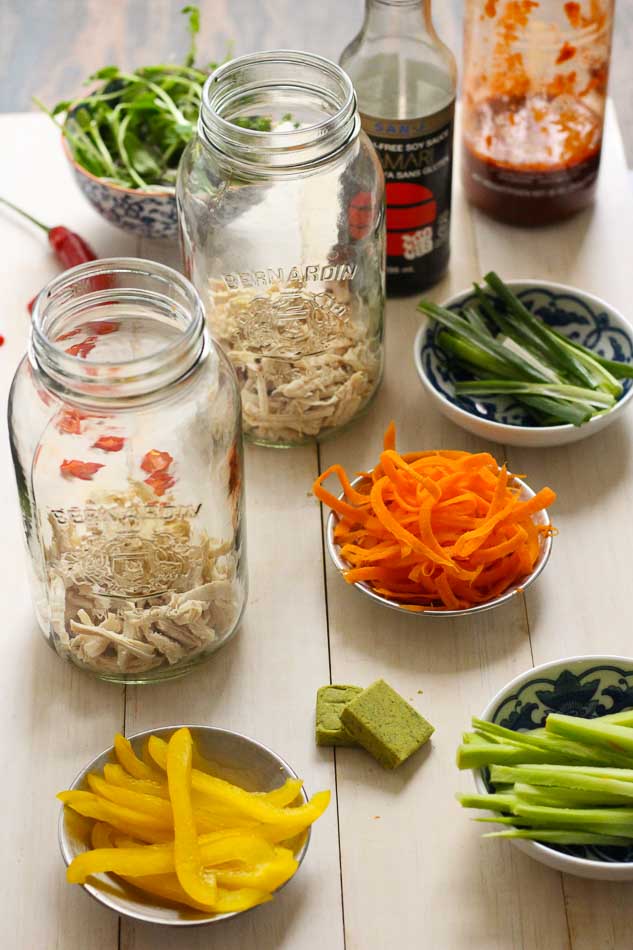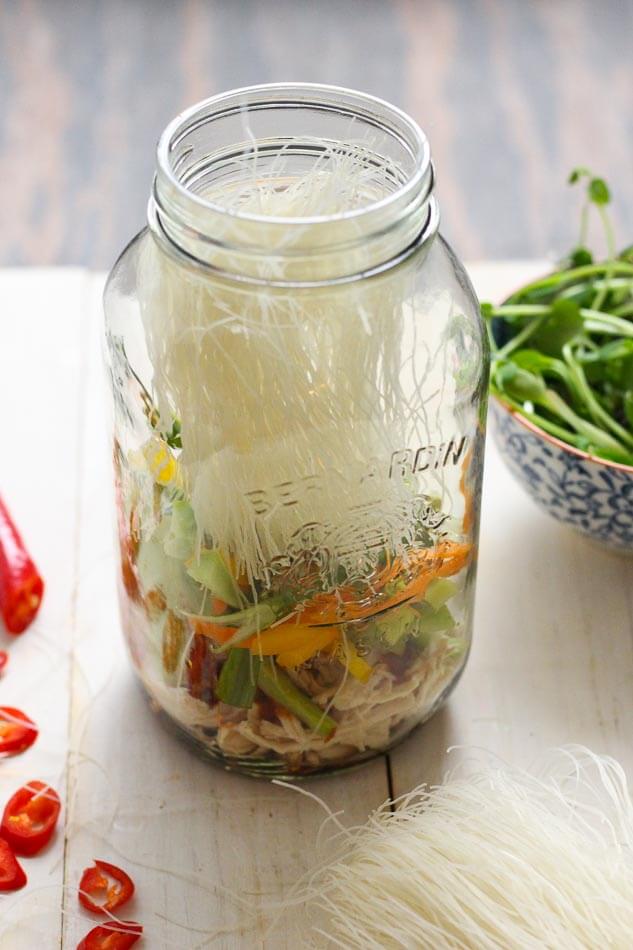 They're just so easy and delicious, and something I keep going back to time and time again when I run out of ideas for work week lunches.
These healthy, no-preservative Mason Jar Instant Noodles with shredded chicken, hot sauce, vermicelli and veggies are beyond easy to make and are the perfect on-the-go lunch for school, work, or anything else you've got going on in your busy day.
You could seriously eat these all five days of the week – all you have to do is cook your chicken ahead of time on Sunday, pick whatever vegetables you've got lying around, and go nuts!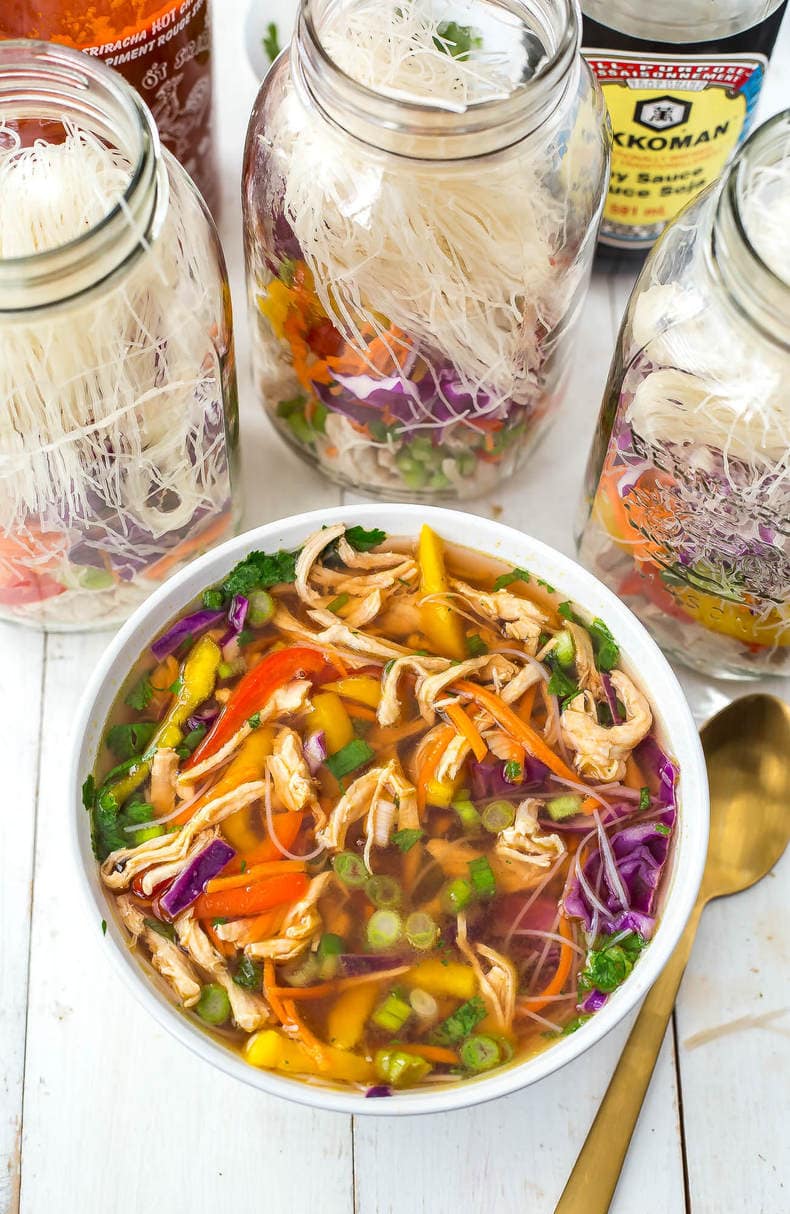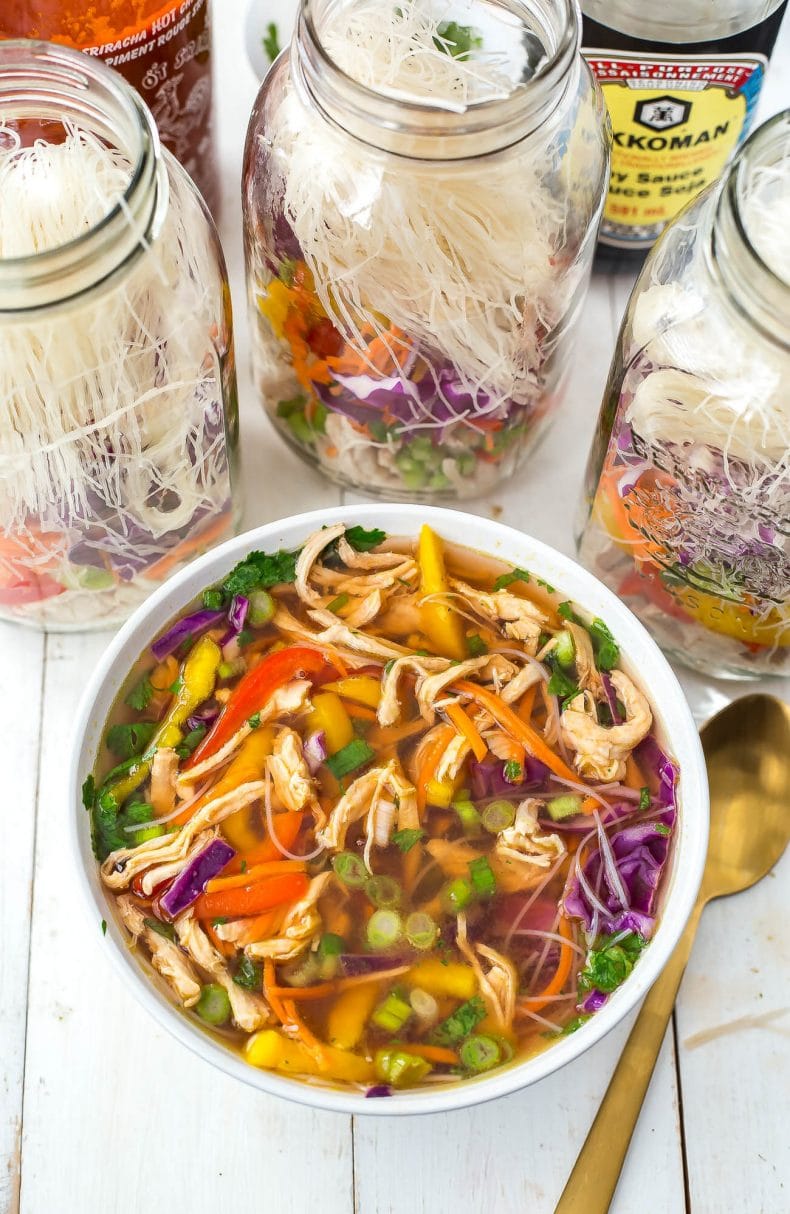 Or if you're anything like me and you have leftovers out the ying yang, you'll probably already have some leftover chicken to use up and this is the perfect recipe for that! These Mason Jar Instant Noodles are perfect for reviving old, dry leftover chicken because the broth soaks into the pulled chicken and instantly removes that sort of dry aftertaste and texture you get with leftover chicken.
And trust me, I'm a picky eater and I'm telling you I'm impressed with this recipe. I think I've found a magic instant noodle broth, seriously.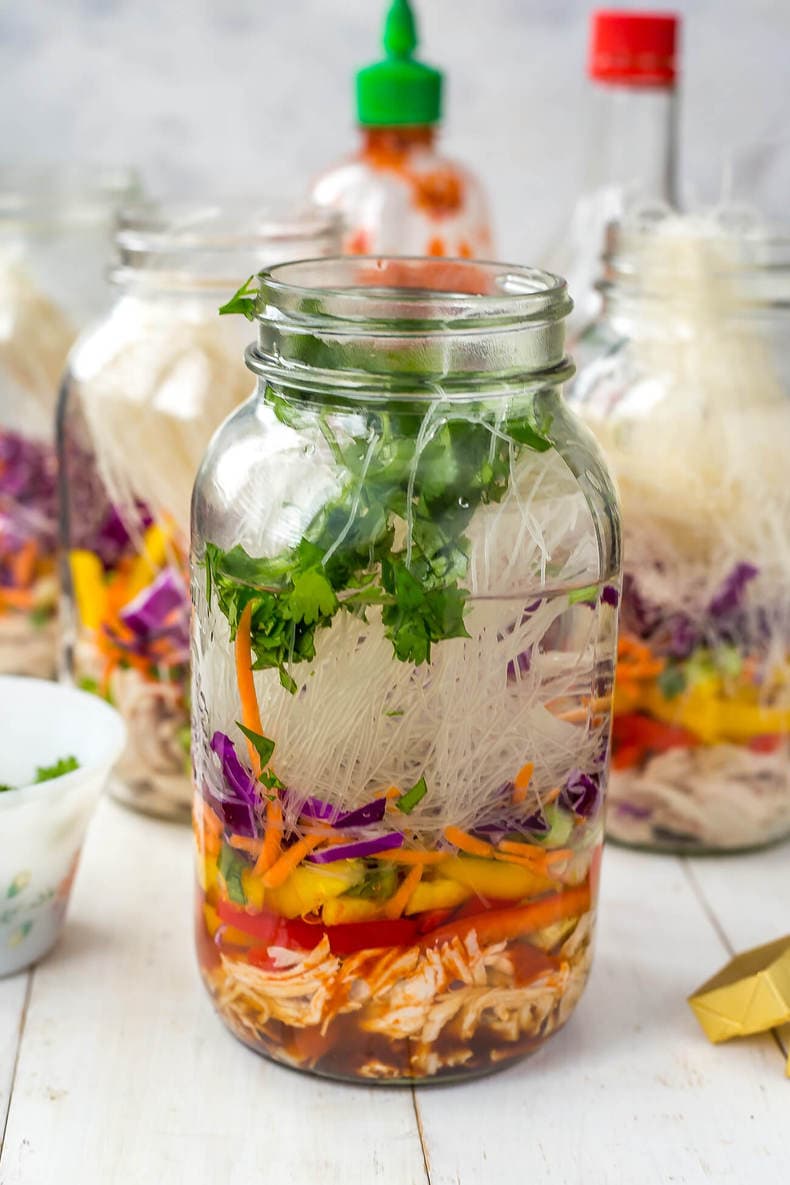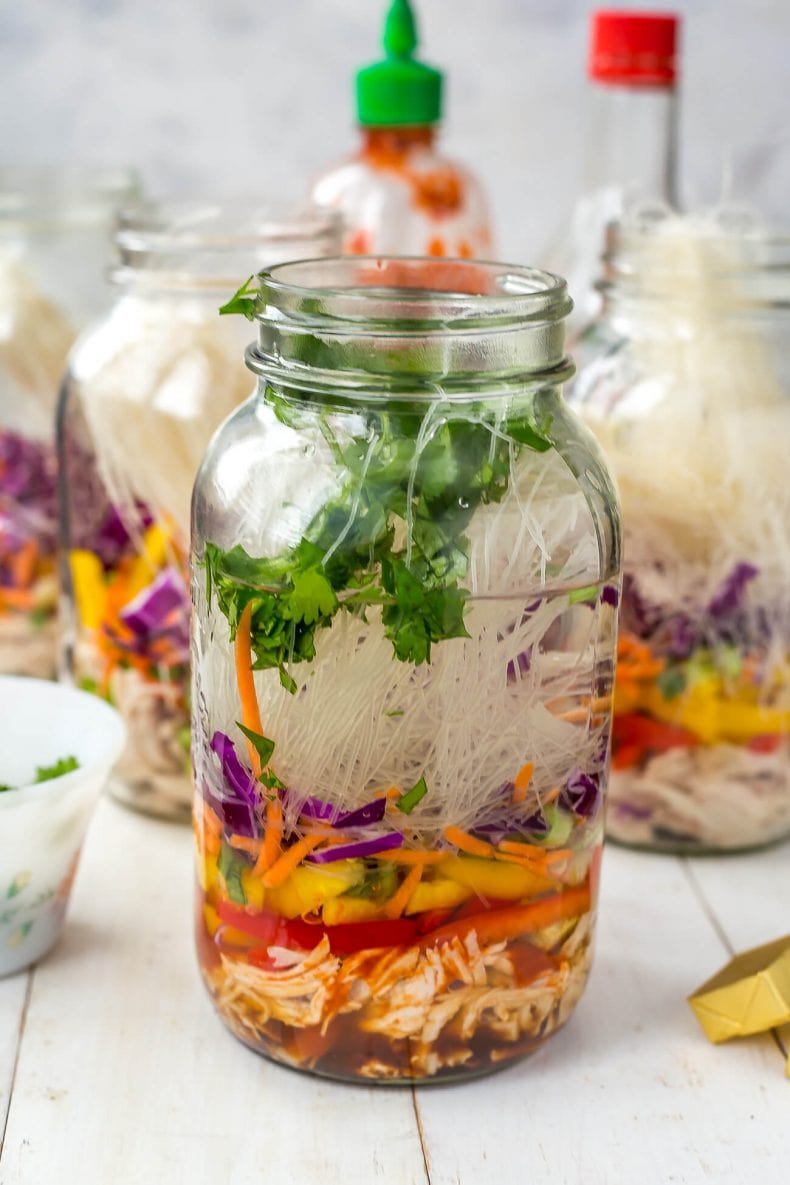 The "instant" broth is remarkably simple and I still can't get over the shock of how delicious it really is: just drizzle some soy sauce, Sriracha hot sauce and lime juice over the shredded chicken so that it has time to marinate. Let it sit up to 5 days in the fridge along with all the veggies, and if you can, use fresh herbs like cilantro or basil.
From there, layer in your fave vegetables, add a bouillon cube and some quick cooking vermicelli rice noodles and that's really all there is to it!
Here's what I typically use in my Mason Jar Instant Noodles:
Broccoli stems
Shredded carrots
Chopped red cabbage
Chopped bell peppers
Green onions
Fresh herbs
Leafy greens (spinach, kale, etc)
I don't fill my mason jar up all the way (I only do it about half to two-thirds full), so before you go all crazy with it know that you want to leave a little bit of room so that everything fits in a big bowl.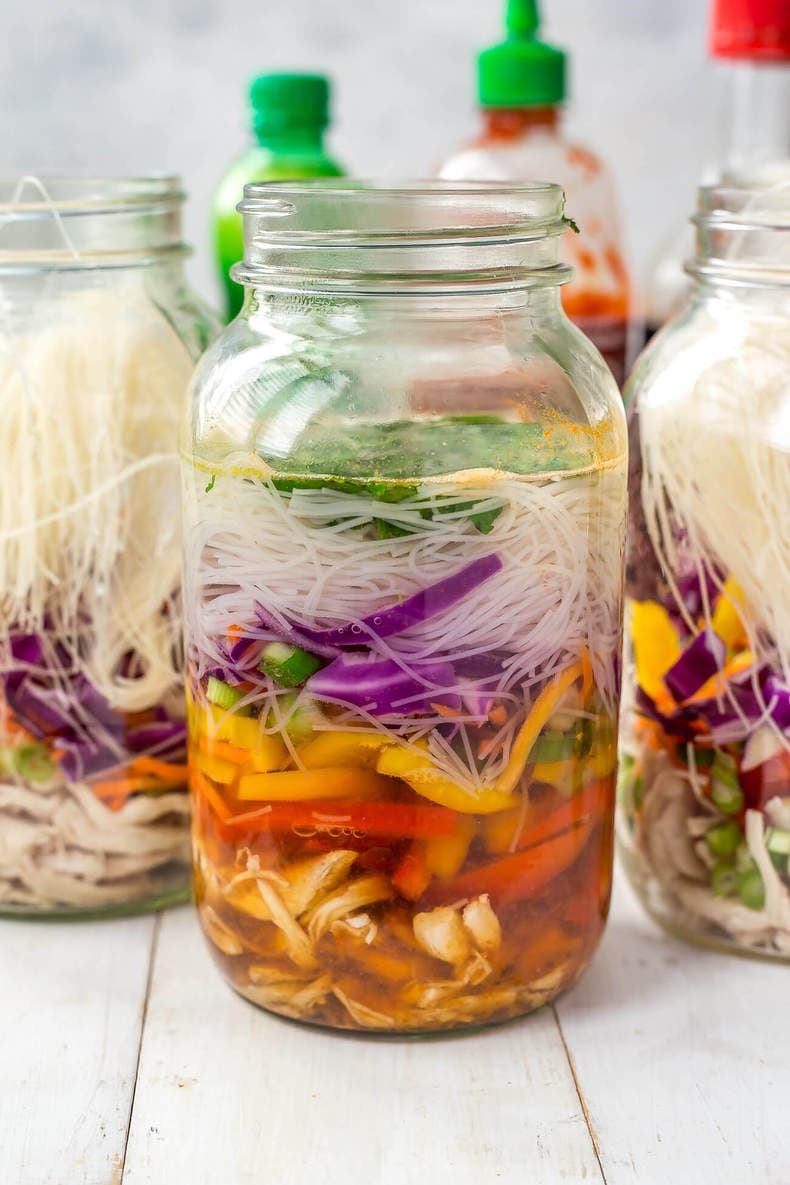 I mostly just use the mason jars as transporting containers until I can get myself to a kettle. Mason jars are actually sooooo handy to keep on hand by the way. You can get them pretty much everywhere and I have come to really prefer them over plastic tupperware containers just for the layering aspect. Keep your meat and sauce in the bottom so the veggies stay fresh. And they take up way less fridge space because they're vertical.
Genius right?
I don't know about you, but I had SUCH a great holiday with family and friends. It was so nice to kick back and relax and step out of routine for a little bit. Sometimes you need to step away from your routine to appreciate it in the end, and get back to doing work that you love while recharged and refreshed.
I am proud, however, that I was able to stick to a fairly clean diet over the course of the break, and look forward to developing more super easy and healthy recipes like this for the New Year ahead.
There's nothing better than something so simple being the reason you're able to stay on track with a healthy diet.
Make these on a Sunday, and pop 'em in the fridge for the rest of the week. I just suggest bringing a bowl wherever you're off to though so that the soup is easier to eat, but other than that this recipe is super low maintenance.
You can always customize these Mason Jar Instant Noodles by adding different seasonal vegetables, different herbs, and even adding different flavourings like fish sauce or miso paste.
It really all just depends on what you have on hand, and what you're craving!
Will you be trying my Mason Jar Instant Noodles recipe? If you do be sure to tag me on Instagram and Twitter so I can see your custom creations!!!
Meal prep tools
Meal prep challenge
If you'd like some more help with meal planning, then you'll love my free 5-day meal prep challenge! Sign up for free below: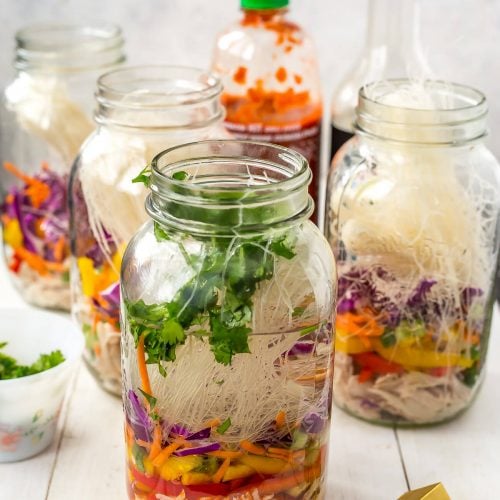 Print Recipe
Mason Jar Instant Noodles
These DIY Mason Jar Instant Noodles are the perfectly quick and easy on-the-go lunch
Ingredients
2

Mason jars

1L

1

chicken breast

boiled and shredded

1

tsp

soy sauce or tamari

1

tsp

Sriracha chili garlic hot sauce

1/2

tsp

lime juice

2

vegetable bouillon cubes

1/2

cup

each julienned broccoli stems

carrots, yellow peppers, green onions

Half red chili pepper

thinly sliced (optional)

1/2

package rice vermicelli noodles

Sunflower sprouts and cilantro for garnish
Instructions
To shred chicken, boil in a large pot of hot water for 12-15 minutes until chicken is cooked through. Pull apart with your hands or with a fork once cooled.

Divide the shredded chicken into each mason jar evenly, then add soy sauce, Sriracha and lime juice.

Layer in vegetables, then drop in bouillon cubes. Sprinkle in chili pepper if desired. Finally, finish with vermicelli noodles and keep in fridge until ready to eat.

Pour boiling water up to about two-thirds of the jar and stir contents, making sure to dissolve bouillon cube completely and saturate noodles. Microwave jar for 1-2 minutes if you're looking to eat the noodles right away.

Pour contents into large bowl when ready to eat (should be within 5 minutes of pouring boiling water) and eat right away!
Nutrition
Calories:
351
kcal
|
Carbohydrates:
57.5
g
|
Protein:
24
g
|
Fat:
3
g
Looking for some other delicious lunch inspiration? I've got you covered with these Mason Jar recipes: