These 17 One Pan Skillet Recipes are going to help you with your last minute meal prep! Pick a protein, then add some veggies and starches.
Disclosure: This post contains affiliate links – that means I will make a very small commission if you happen to make a purchase through one of my links; this helps me keep my site up and running so I can continue to provide you with free recipes and resources 🙂 There is no additional cost to you!
Let's talk skillet recipes! Sometimes you get into the same boring old routine with dinner, or you're just looking for a little less clean up on a busy weeknight where you can throw a bunch of healthy ingredients into the frying pan and go to town. Well, if you're looking to simplify dinner time a little bit, look no further than these easy one pan recipes!
If you're looking for a more specific guide on how to get started with meal prep check out my FREE 5-day meal prep challenge below – it's a step-by-step mini course sent to your inbox over five days!
How to Make Skillet Recipes
There is definitely a basic formula for any type of skillet dinner, and that's usually picking your protein (chicken, steak, eggs, tofu) and pairing it with a ton of veggies, and possibly a starch like potatoes, pasta or a pre-cooked grain like quinoa or rice.
If you're going with grains, I suggest you cook them ahead of time at the beginning of the week. A rice cooker usually comes in handy here!
If you haven't prepped ahead, no need to fret! Most of the skillet recipes in this round up come together with a ton of protein and veggies so they're also low carb. The seasoning is key with these recipes; you'll be using anything from pre-made fajita or taco seasoning (store bought or make your own!), Italian seasoning, minced garlic, chili flakes and more. There's usually a super easy way to boost flavour without having to run to the store. Just take a look in your pantry!
More Healthy Dinner Ideas
If you're looking for more delicious meal inspiration, look no further than some of these helpful resources below!
More Meal Prep Resources
Healthy Lunch Ideas
If you're also struggling to make lunch every week, I've got some great posts to help you out!
Meal Prep Tools
Skillet Dinners Round Up
In this round up we've got everything from tasty skillet chicken recipes to steak fajitas, pasta bakes, breakfast skillets and more! For the oven-based recipes you'll need a cast-iron skillet but for the others any old frying will do. Get ready for the easiest, fastest dinners of your life with these skillet recipes! Which ones will you be trying?
30-Minute One Pan Italian Chicken Skillet via The Girl on Bloor
Easy Steak Fajitas via Isabel Eats
Veggie Mushroom & Halloumi Bake via The Desserted Girl
30 Minute Tuscan Chicken Skillet via Sweet Peas and Saffron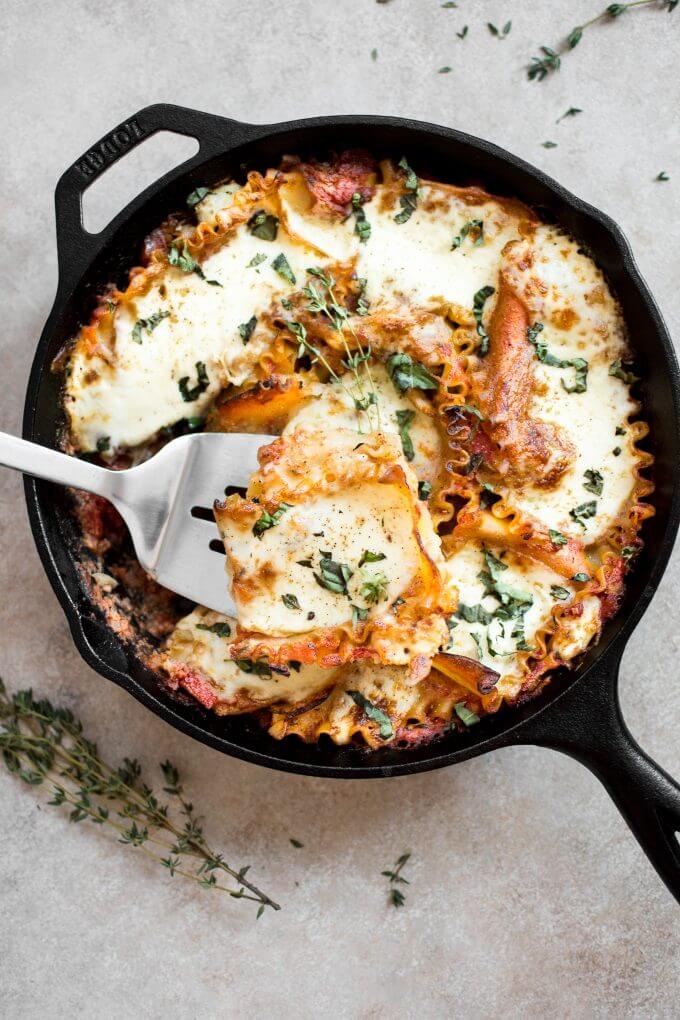 Healthy Caprese Skillet Lasagna via Salt and Lavender
Skillet Catalina Chicken with Broccoli via Diethood
One Skillet Parmesan with Orzo via The Girl on Bloor
Summer Veggie Skillet Enchiladas via The Endless Meal
Cajun Sausage and Shrimp Skillet via Tastefulventure
Chipotle Shakshuka via Isabel Eats
Easy Balsamic Chicken Skillet with Tomatoes and Tarragon via Sweet Peas and Saffron
If you're looking to get serious about meal prep, you HAVE to sign up for my free 5-day challenge below!
Skinny One Pan Caribbean Jerk Chicken Skillet via The Cookie Rookie
Cheesy Baked Meatball Skillet via Salt and Lavender
Skillet Eggs and Potato Garden Breakfast via Aberdeen's Kitchen
Easy Mexican Quinoa Skillet via Tasty Thin
Beef Burrito Skillet via Food Fanatic
Stacked Eggplant Parmesan via What's Gaby Cooking
One Pan Skillet Recipes
These 17 One Pan Skillet Recipes are going to help you with your last minute meal prep! Pick a protein, then add some veggies and starches.
Print
Pin
Rate
Instructions
Follow the instructions of the recipe of choice linked to above.
Nutrition