Cashew Chicken Stir Fry is better than takeout, and the perfect meal prep idea. You probably already have the sauce ingredients on hand too!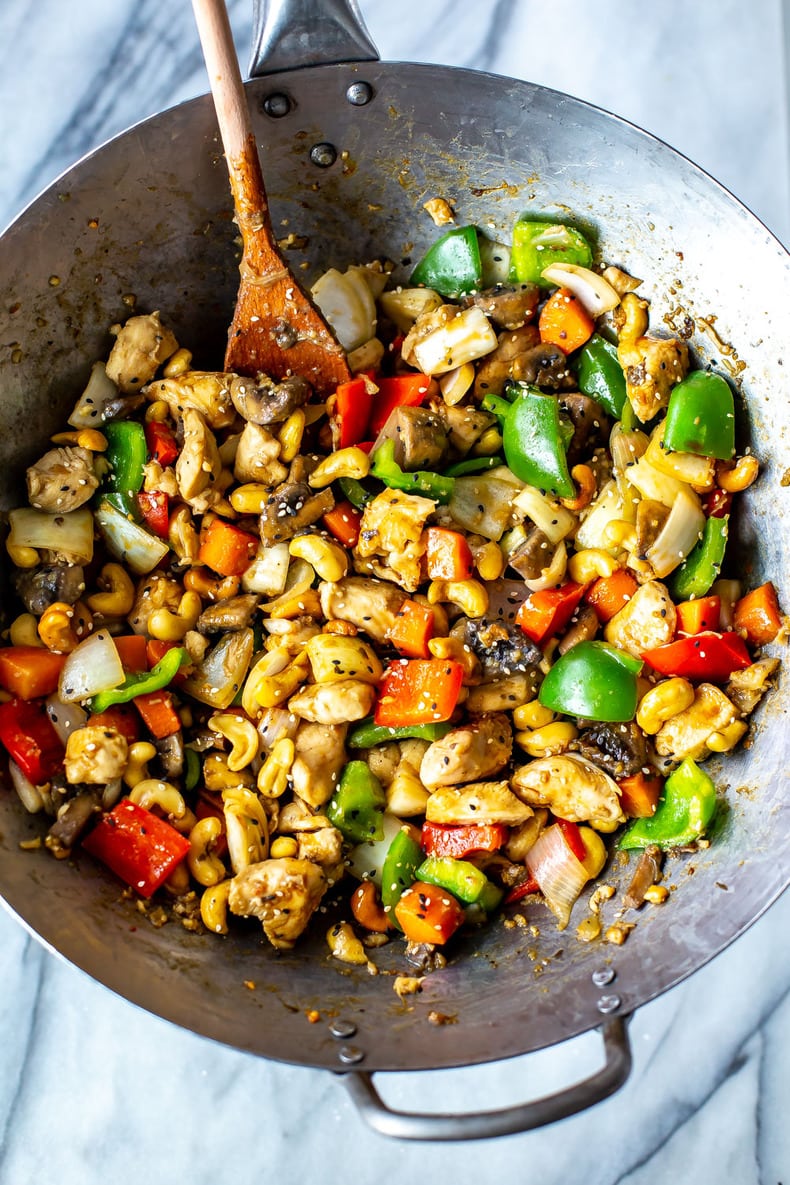 How to make cashew chicken
All you need is a large pan, a little bit of prep work, and about 20 minutes to make a delicious and filling meal. Try this recipe and you'll have budget-friendly takeout right from your own fridge. You won't even be able to tell the difference!
Mix together the stir fry sauce ingredients in a bowl and set it aside temporarily.
Season the chicken with a bit of salt and pepper and toss it in cornstarch.
Heat oil in a wok or large skillet. Sauté the carrots and mushrooms for about 5 minutes.
Place the seasoned chicken in the pan and cook until browned.
Add the remaining vegetables and sauté for a few more minutes, stirring occasionally.
Pour the sauce into the pan and stir until everything is coated. Cook for a couple more minutes until sauce has thickened. Finally, remove the pan from the heat and stir in the cashews.
Ingredients in cashew chicken
Stir fry recipes are perfect for a quick and healthy dinner option with leftovers (if you can resist eating the whole pan!)
This also works well for meal prep. Make this on one of your days off and portion it out to use as lunches for the week.
Cashew chicken is extremely flexible, so you can adjust and substitute ingredients as needed. It's also a great way to use up any vegetables you have in the fridge before they go bad.
Here's what you need to make it:
chicken breasts, cubed
mushrooms, halved
chopped veggies:  carrots, onion, green and red bell pepper, and some minced garlic
cashews
sesame oil
soy sauce
honey
cornstarch
salt and pepper
Ingredient substitutions
Chicken: Boneless, skinless chicken thighs can be used in place of the chicken breasts.  If you like seafood, shrimp can be used as your protein instead of the chicken.
Vegetables: You can substitute or add in any sturdy vegetables you like! Zucchini or yellow squash, broccoli, snap or snow peas, bok choy, and celery are great options. You can also find pre-mixed bags of stir fry vegetables in the freezer section of your grocery store. No need to thaw them first – just add to the pan already frozen and cook until tender and warmed through.
Add some heat: If you like a spicier stir fry, you can add red pepper flakes or sriracha to the sauce. You can also substitute half of the minced garlic for grated fresh ginger. To save more time, you can use the paste in a tube from the fresh foods section of the grocery store.
How to thicken stir fry sauce
If you use frozen vegetables in this stir fry recipe, they will release water during the cooking process which can thin out your sauce. This might also happen if you use vegetables with high water content, like zucchini or yellow squash.
To thicken your sauce, you just need to add some cornstarch slurry.
Here's how:
Combine 1-2 tablespoons of cornstarch with the same amount of cold water and stir until well combined.
Add the slurry to the pan of stir fry and mix to combine. The stir fry sauce will thicken in a few seconds. And the good news is, it doesn't change the flavours of the dish at all!
How to meal prep this stir fry
This dish reminds me of a stir fry dish we get at my family's favourite Thai restaurant in Hamilton. You'll swear you're eating takeout for the work week!
You can even switch your meal prep up, making a 2-for-1 deal.
Just use two pans to switch up the protein and veggies in both bowls, but keep the sauce the same. Do shrimp, zucchini, bell peppers and bok choy in one pan with the sauce, then do chicken, cashews, carrots, broccoli and onions in the other. Something along those lines.
I feel like the number one thing people complain about with meal prep is that they can't eat the same thing everyday for a week. Well, don't be afraid to switch it up – it's easy to do!
Serving suggestions
This stir fry recipe is delicious all by itself, but there are several options if you want to add to the dish.
Rice: Cashew chicken is delicious over rice, or even fried rice. It's a great way to stretch the recipe into more meals. Plus, the rice soaks up all of the delicious sauce.
Noodles: Lo mein noodles would be EXTRA tasty, as would rice noodles.
Storing and reheating instructions
Chicken stir fry will stay fresh in the refrigerator for 4-5 days. Store in airtight containers, either as a large batch or individually for meal prep.
Reheat in the microwave or toss in your wok or skillet until heated through, usually 1-2 minutes.
Can you freeze this stir fry?
Yes, it is possible to freeze cashew chicken! Keep the vegetables a little more firm by cooking them for less time. This will prevent them from becoming mushy when reheating.
First, let the dish cool to room temperature, then store in airtight containers or a freezer-safe plastic bag in the freezer.
Try to use it within 2 to 3 weeks for the best flavour. Nutrients will also start to break down after that time.
Also, it's best to let it thaw in the refrigerator overnight before reheating. But, if you're pressed for time, you can run the bag or container under warm water until everything loosens up. Then reheat as normal.
More stir fry recipes
Meal prep tools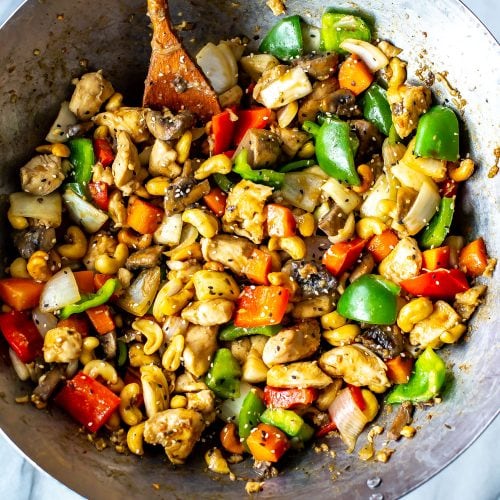 Cashew Chicken Meal Prep Bowls
Cashew Chicken Stir Fry is better than takeout, and the perfect meal prep idea. You probably already have the sauce ingredients on hand too!
Print
Pin
Rate
Ingredients
1

lb

chicken breasts, diced into 1-inch cubes

1

tbsp

cornstarch

Salt & pepper, to taste

1

tbsp

sesame oil

1

cup

mushrooms, sliced in half

1

carrot, chopped

1

yellow onion, chopped

1

green pepper, chopped

1

red pepper, chopped

1/2

cup

cashews
Stir fry sauce
3

tbsp

low-sodium soy sauce or tamari

2

tbsp

honey

4

cloves

garlic, minced
Instructions
In a large bowl, season chicken with salt & pepper, then toss with cornstarch. Meanwhile, mix the stir fry sauce ingredients in a small bowl and set aside.

Heat oil in a large skillet or wok over med-high heat. Add carrots and mushrooms to skillet, cooking for 5 minutes until carrots soften and mushrooms release juices. Add chicken and saute for another 5 minutes until browned, stirring often.

Add onion, green pepper and red pepper to the skillet, sauteeing another 2-3 minutes, then add sauce, cooking for 2-3 more minutes until sauce thickens.

Stir in cashews, then remove from heat. Serve garnished with sesame seeds (optional), and enjoy!
Video
Nutrition
Calories:
333
kcal
|
Carbohydrates:
24
g
|
Protein:
29
g
|
Fat:
14
g
|
Saturated Fat:
2
g
|
Cholesterol:
73
mg
|
Sodium:
549
mg
|
Potassium:
828
mg
|
Fiber:
3
g
|
Sugar:
14
g
|
Vitamin A:
3623
IU
|
Vitamin C:
67
mg
|
Calcium:
26
mg
|
Iron:
2
mg