These Mediterranean Chickpea Salad Jars with artichokes and sundried tomatoes are the perfect packable lunch – they're also high protein, vegetarian and gluten-free!
Ingredients in chickpea salad jars
The protein in these jars comes right from the main ingredient- chickpeas. You can cook chickpeas in large batches from dry if you use them a lot. Soak them overnight and then simmer them for 20-25 minutes. If you want a much quicker method, use canned chickpeas. Drain and rinse your canned chickpeas before adding them to the salad recipe.
The other ingredients you need for chickpea salad jars are:
Olive oil
Lemon juice
Sun dried tomatoes
Red onion
Cherry tomatoes
Artichokes (while you could cut and cook one from raw, I just use the ones in a jar)
Fresh parsley
How to make chickpea salad jars
It will only take your about 15 minutes to put these chickpea salad jars together. This salad recipe will fill five small mason jars or two to three large ones.
This recipe is super easy to double if you want to be prepared for a whole week of meals for the family.
Simply cut all of the tomatoes, onions, artichokes and parsley. Put all the ingredients together in a bowl and mix.
How to make the dressing
The dressing for this chickpea salad jar is just lemon juice and olive oil. I season it with salt, pepper and thyme. The vegetables in this salad recipe are super flavorful already so they don't need a lot of dressing.
You have a few options for how to mix it in though.
I like to mix all the dressing ingredients in the bottom of my bowl first then put the salad ingredients in. This way, I know that the dressing is fully and evenly mixed. Stir the whole salad around a few times to distribute the dressing.
You could also make the dressing separate and drizzle it on top of the chickpea salad jars. Close the lid and give it a good shake.
You can also make the dressing and keep it separate from the other ingredients. We don't have anything that will wilt in this salad, but if you use this salad jar idea with other ingredients, you may want to wait for the dressing until you are ready to eat it.
Always give the salad jars a shake right before you eat them to mix the dressing well.
Ingredient substitutions
As it is, this chickpea salad jar is vegetarian. If you wanted more protein, you could add shredded chicken to the salad. It would be easy to swap lentils for the chickpeas too.
Other veggies you may want to consider adding are:
Roasted red peppers
Olives
Cucumber
Zucchini
Cheese (feta tastes great with this if you eat dairy products)
Shredded carrots
Capers
You could even use a sturdy whole grain like farro
You could experiment with other ingredients in your salad dressing as well. Use any kind of oil you prefer in place of the olive oil. For the acid part of the dressing, you could use red wine vinegar or balsamic vinegar instead. You could even used prepared salad dressing like Greek or get a little more creative with something like pesto sauce.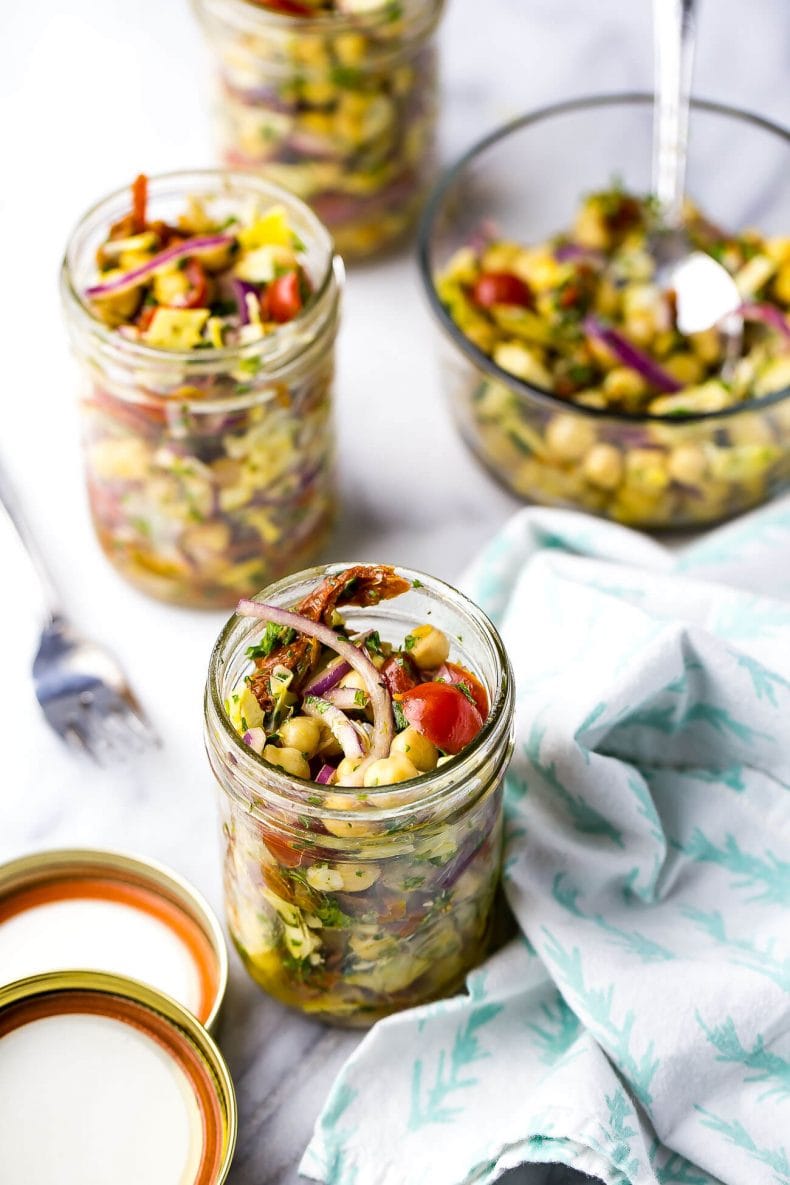 How to serve salad jars
I love using mason jars to store my lunch salads. They are vertical so they store nicely in the refrigerator. Plus, they're easy to find in stores and infinitely reusable. Even better, they are dishwasher safe and cheap!
However, they aren't the easiest thing to eat from, especially if you don't have the wide-mouth variety. I take a plate with me and dump my salad jar on that to make it easy to eat.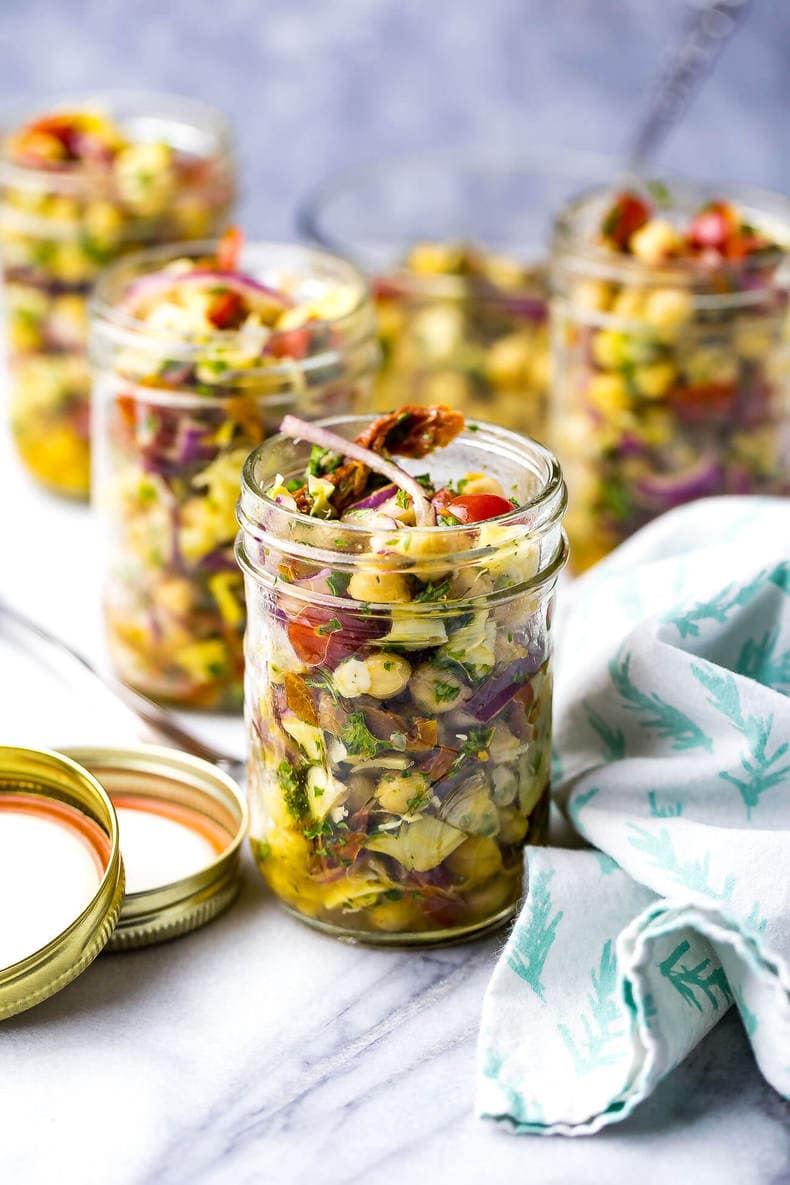 What to serve in addition to salad jars
I find this to be a filling lunch. It has protein and veggies all in one jar.
If you want to serve something else to compliment your salad recipe, try some of these suggestions:
Bread
Fruit
Whole grain crackers
A small portion of meat (I like chicken or turkey)
A burger (you can make these at home too!)
This also makes a great side salad for any meal. It tastes great with lamb, chicken or fish.
It would make a great potluck dish too. Anything that is a salad jar travels well and will hold up to a potluck dinner.
Storing chickpea salad jars
These chickpea salad jars will keep in the refrigerator for up to five days. Since there are no leafy greens, you don't have to worry about wilting. This sturdy salad recipe holds up well and makes a great meal prep idea.
This is a recipe that is easy to double if you like a bigger serving size or if you are preparing for the whole family.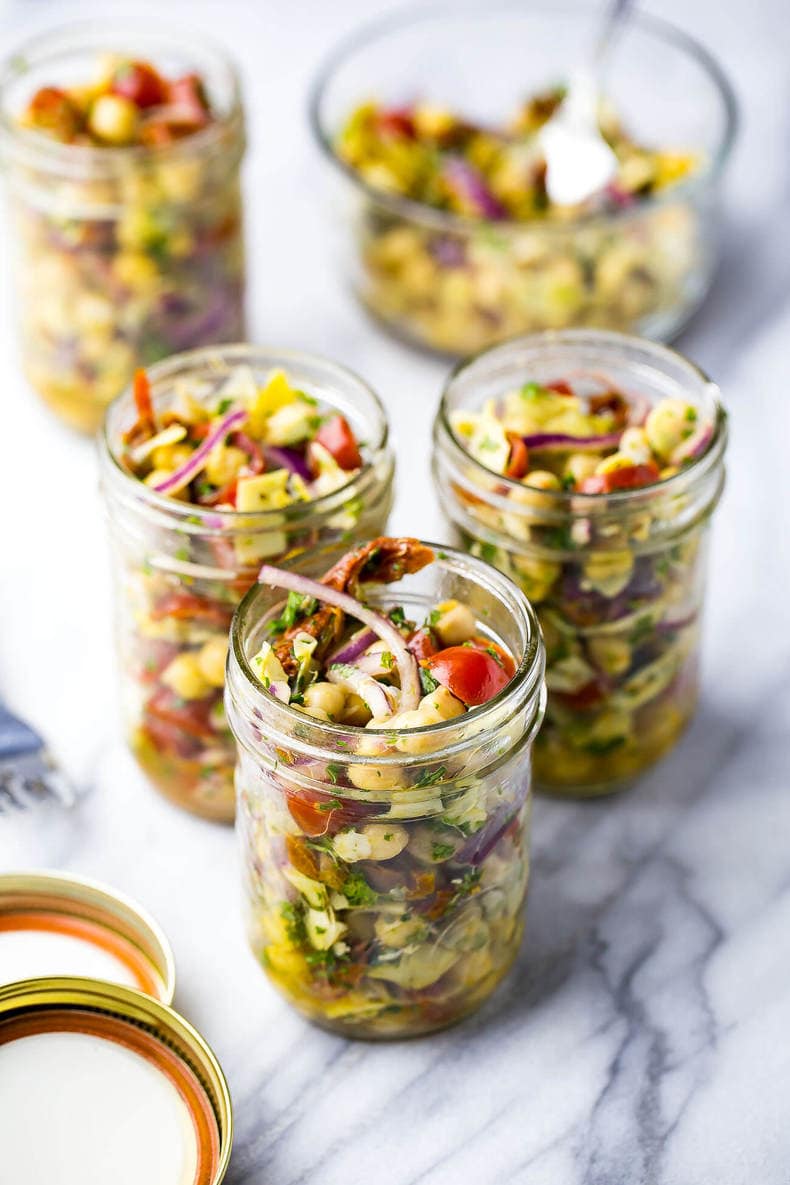 These are the size jars I use for this salad!
Mediterranean Chickpea Salad Jars
These Mediterranean Chickpea Salad Jars with artichokes and sundried tomatoes are the perfect packable lunch - they're also high protein, vegetarian and gluten-free!
Print
Pin
Rate
Servings:
5
smaller mason jars (2-3 large ones)
Ingredients
2

tbsp

olive oil

1/4

cup

lemon juice

2

cans

chickpeas, drained and rinsed

1/4

cup

julienned sundried tomatoes, packed in oil and rinsed

1

small

red onion, sliced

1/3

cup

cherry tomatoes, sliced

1

can

artichoke hearts, rinsed and chopped

1/3

cup

parsley, finely chopped

1

tsp

dried thyme

1

tsp

salt

1/2

tsp

pepper (optional)
Instructions
Mix all ingredients together in a large bowl. Divide evenly among 5 small mason jars (the ones I use are for jams - for a larger portion size, double the recipe and keep in large mason jars!). Keep refrigerated up to 5 days.
Nutrition
Calories:
224
kcal
|
Carbohydrates:
32
g
|
Protein:
8
g
|
Fat:
10
g
|
Saturated Fat:
1
g
|
Polyunsaturated Fat:
1
g
|
Monounsaturated Fat:
6
g
|
Sodium:
453
mg
|
Potassium:
168
mg
|
Fiber:
11
g
|
Sugar:
7
g
|
Vitamin A:
200
IU
|
Vitamin C:
9.1
mg
|
Calcium:
70
mg
|
Iron:
5.2
mg