Coconut Mango Chicken Meal Prep Bowls
These Coconut Mango Chicken Meal Prep Bowls with basmati rice, corn salsa and an easy mango marinade are a delicious way to prep your lunches for the week!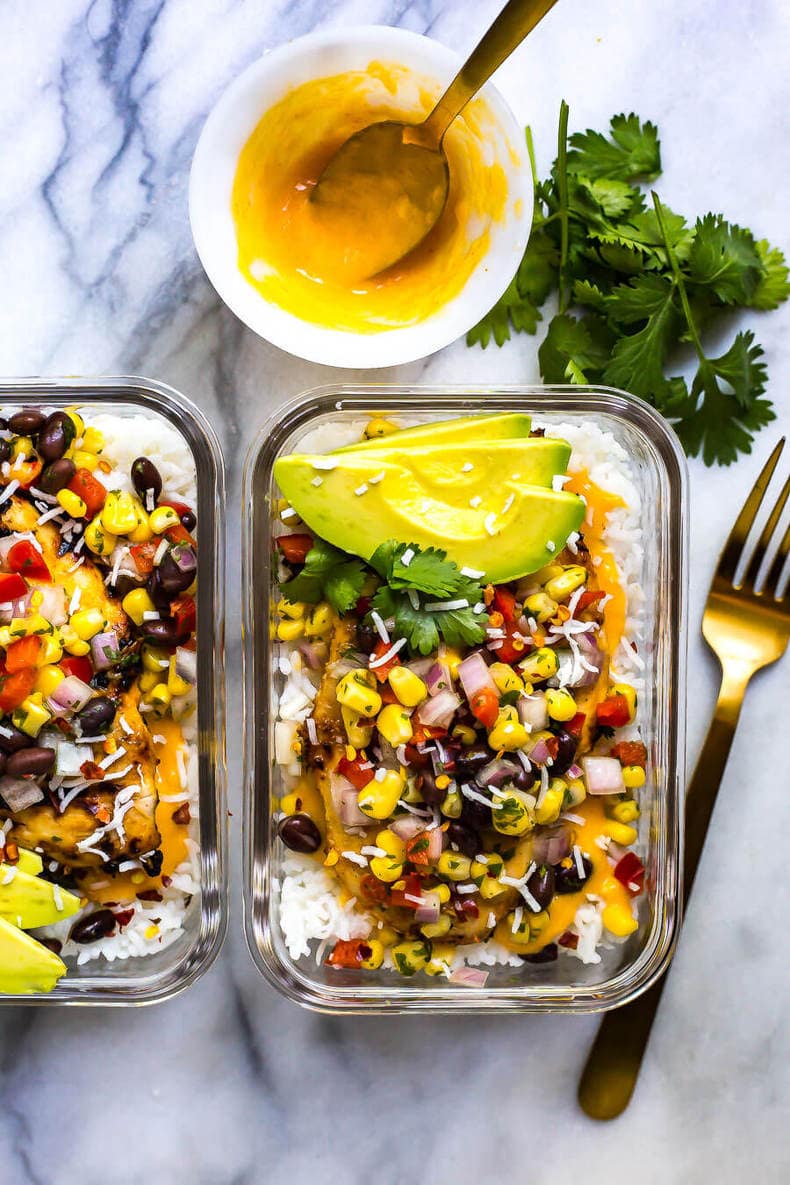 My latest obsession is adding coconut to savoury meals. OMG. TO DIE FOR.
Specifically, sweetened shredded coconut. There is something about the hint of sweet combined with the nutty flavour of basmati rice and my super easy mango chicken sauce that I am just here for. I can't get enough.
I might just drown in these Coconut Mango Chicken Meal Prep Bowls.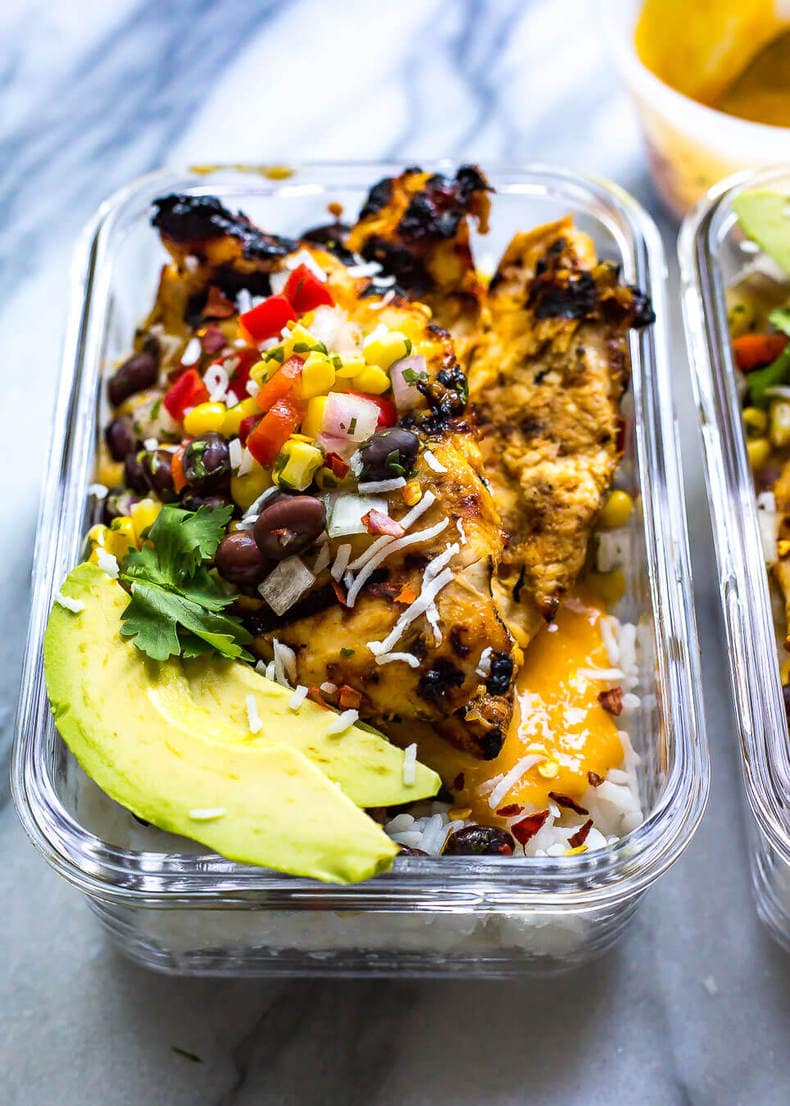 Something I've been doing a lot of lately now that it's summer is doubling whatever marinade I've made (like in these Pad Thai Meal Prep Bowls) and saving half for the actual meat I'm grilling, and then using the other half as a dressing or sauce. I swear, it takes years off your meal prep time and you also get to enjoy a ton of flavour in whatever you're making. I employed this technique recently with my Cilantro Lime Chicken Soba Noodle Bowls and let's just say I ate them all week straight without getting sick of them…
I also included a super easy and delicious corn and black bean salsa with red pepper and cilantro to top the chicken in these bowls, and garnished with some sliced avocado. Because every bowl should come with avocado, okay.
That's gonna be my new meal prep rule.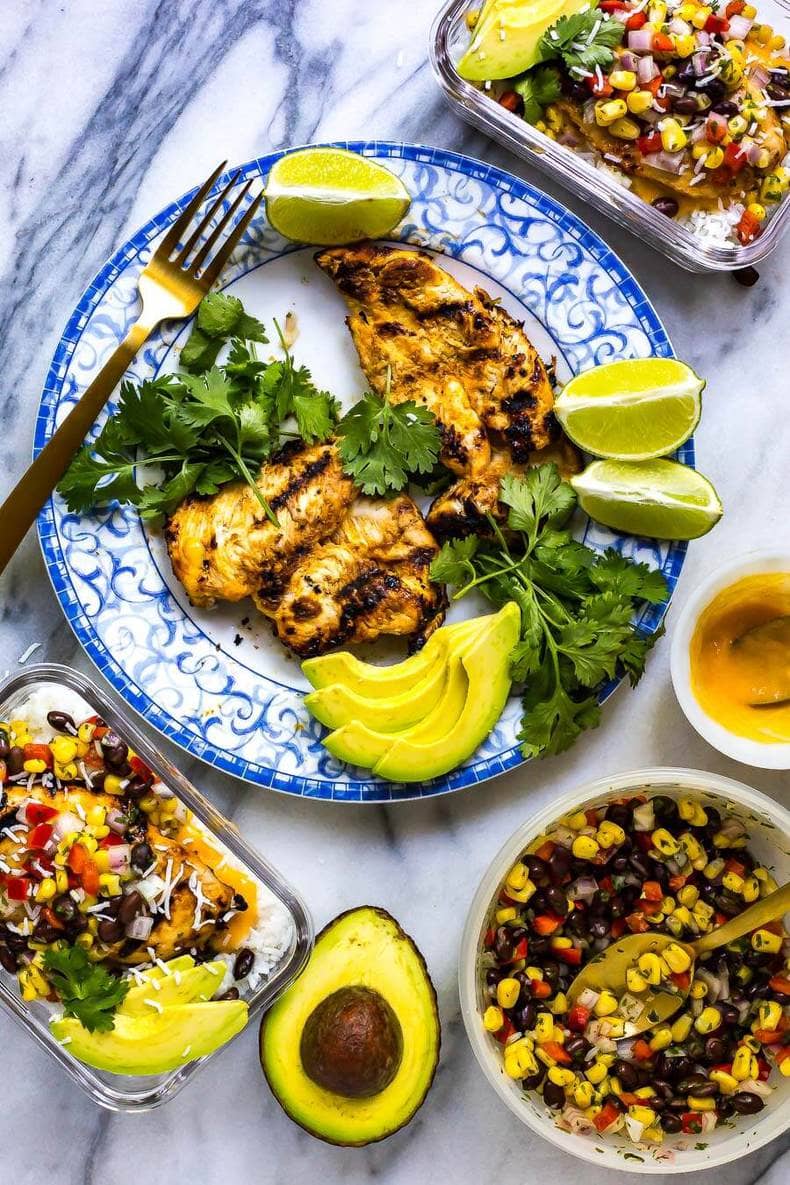 If you want your avocado to stay in tip top shape, I recommend buying one that is still super hard and will ripen as the week carries on. As a food photographer, literally the hardest part of my job is picking out the perfect avocado for photos.
You laugh, but I swear, I get so stressed out when I go to the grocery store and realize most of the avocados are either unripe or too soft. I can't even tell you the effect it has on my blood pressure levels. The avocado is a finicky fruit (yes, I think it's a fruit!)
I'm actually so dramatic, but you get it. Basically, try to pick the firmest avocado you can while ensuring a tiny bit of softness so you can slice it up and pack it in these bowls for the week. I usually find it's fine for 4 days or so if you slice it up just at the point where it's about to ripen.
Part of the trick to making these Coconut Mango Chicken Meal Prep Bowls in a pinch is also having the right equipment on hand and knowing when to time everything. I used a rice cooker to cook jasmine or basmati rice while I made the mango sauce in a Magic Bullet (single serving size blender).
From there, I marinated the chicken in a plastic bag for 10 minutes, reserving half the sauce to pour overtop of the cooked chicken and rice afterwards. While the chicken was marinating, I tossed the ingredients together for the corn salsa (basically defrosted corn, black beans and chopped red pepper and onion with a bit of cilantro and lime juice) then I threw the chicken on the BBQ.
When you cut the chicken breasts in half lengthwise, you can cook them for half the time you would normally need – maybe 4 minutes each side if that. So quick and easy and my favourite new way to BBQ chicken!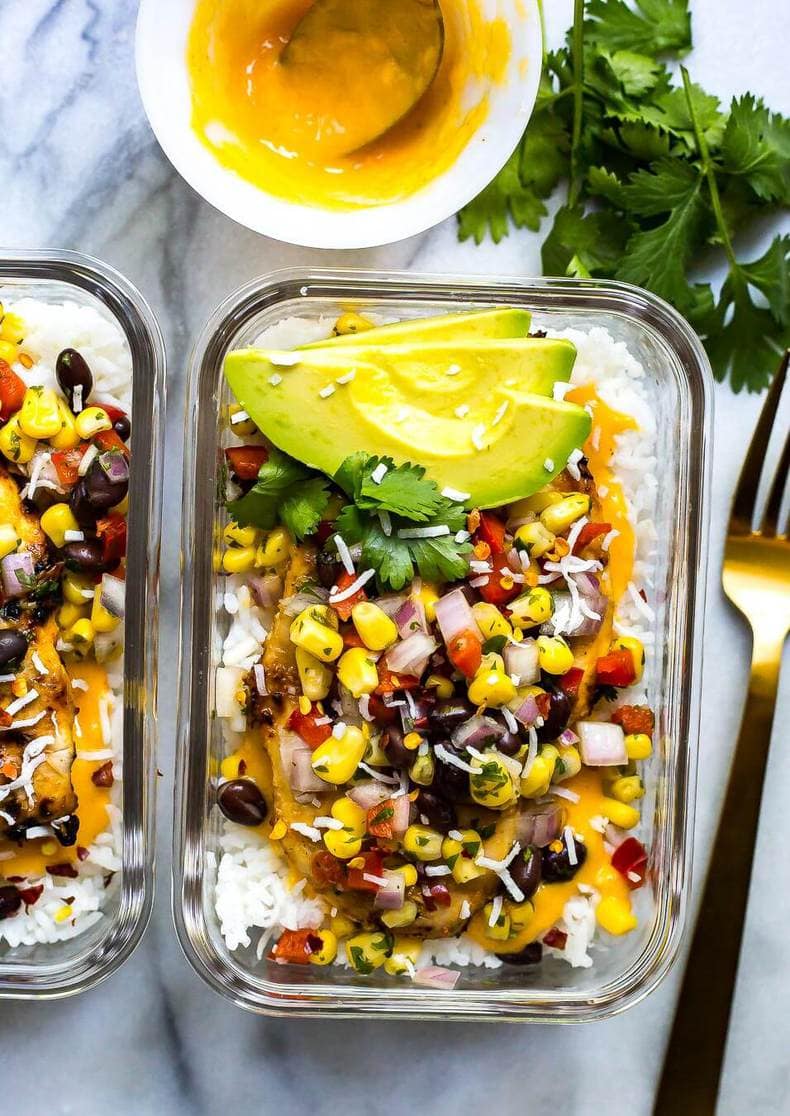 If you don't have a BBQ, no need to worry! You can cook the chicken the same exact way in the oven – just let it cook in the sauce in an ovensafe dish for 10-12 minutes until the chicken is fully cooked.
Divide the rice among four square glass meal prep bowls, top with two slices of chicken, the extra sauce and the corn salsa then sprinkle some coconut and extra cilantro overtop. Boom, lunch for the week is ready and you're gonna love yourself for it!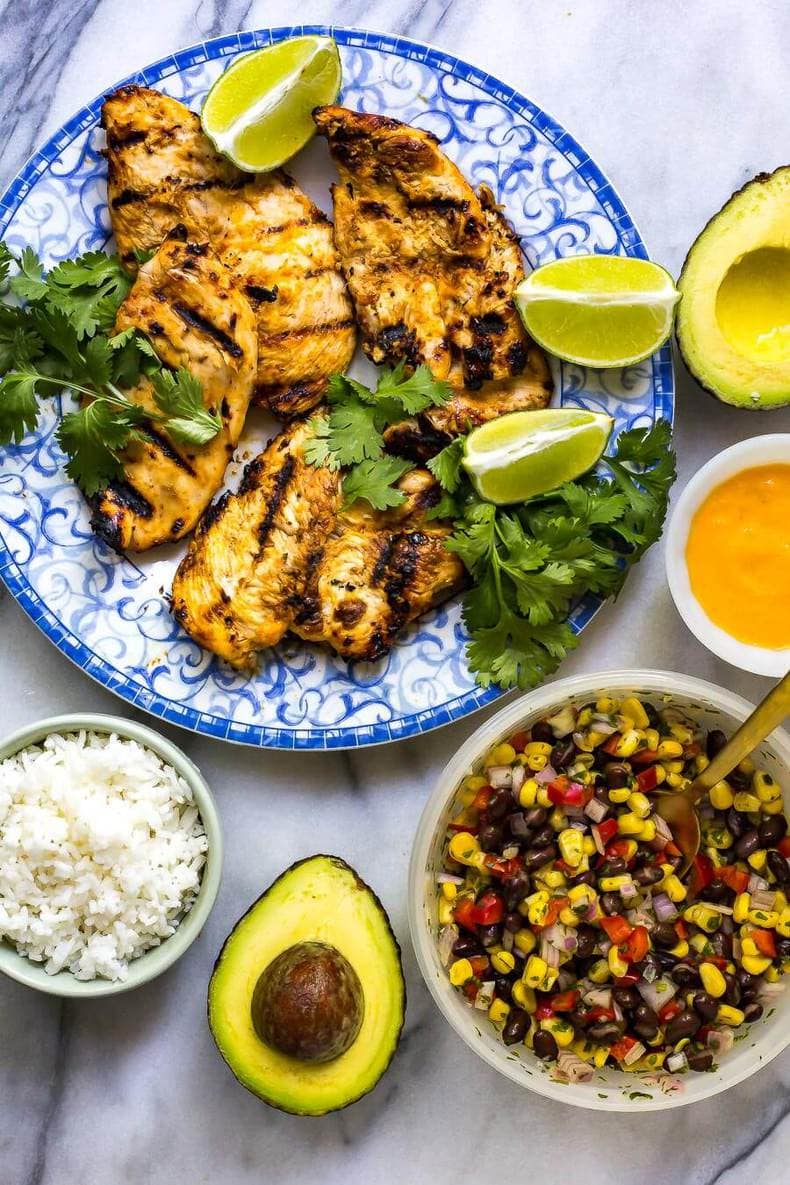 Will you be making these Coconut Mango Chicken Meal Prep Bowls? 
Fire up that BBQ and get prepping for the work week ahead! You'll be glad you spent 45 minutes over the weekend to eat something delicious the whole week long. I think food is actually the only thing that gets me through 10 hour work days…
If you try any of my recipes be sure to let me know on Instagram, Twitter, Facebook or in the comments – I'd love to see what you come up with!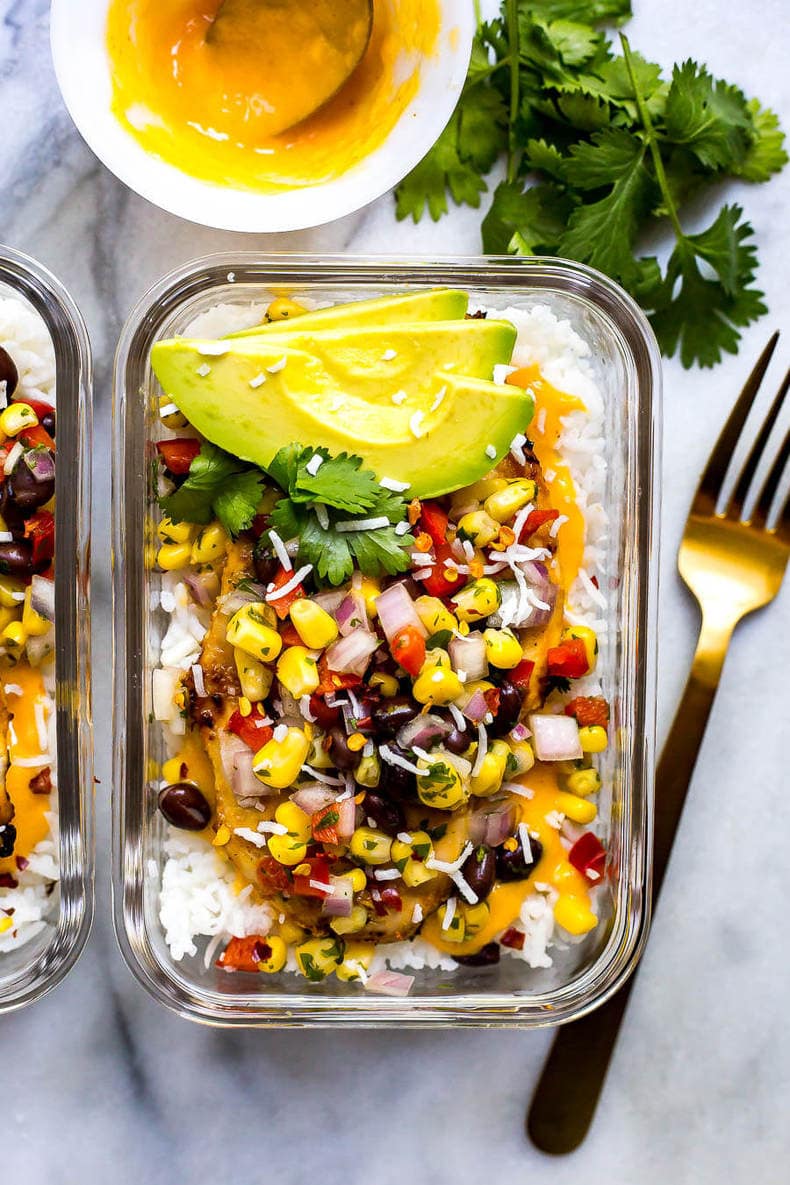 Print Recipe
Mango Chicken Meal Prep Bowls
Yum
These Coconut Mango Chicken Meal Prep Bowls with basmati rice, corn salsa and an easy mango marinade are a delicious way to prep your lunches for the week!
| | |
| --- | --- |
| | |
Preheat BBQ to med-high heat (alternatively, preheat oven to 425 F). Cook rice in a rice cooker according to package directions.

Blend ingredients for mango sauce together, then marinate chicken (each breast sliced in half lengthwise) in half of mixture for 10 min. Meanwhile, mix together ingredients for corn salsa.

Add chicken to grill and cook for 4 min per side. Remove from heat. Divide rice among four glass meal prep bowls. Add 2 pieces of chicken to each bowl (there should have been 8 slices total) and top with extra reserved mango sauce, corn salsa, shredded coconut and extra cilantro. Add slices of avocado and refridgerate up to 5 days in the fridge.
Nutrition Facts
Mango Chicken Meal Prep Bowls
Amount Per Serving
Calories 482
Calories from Fat 72
% Daily Value*
Total Fat 8g 12%
Total Carbohydrates 72g 24%
Protein 34g 68%
* Percent Daily Values are based on a 2000 calorie diet.