The Easiest 2-Ingredient Crockpot BBQ Chicken with kale slaw is made using just chicken and BBQ sauce – it's perfect for meal prep!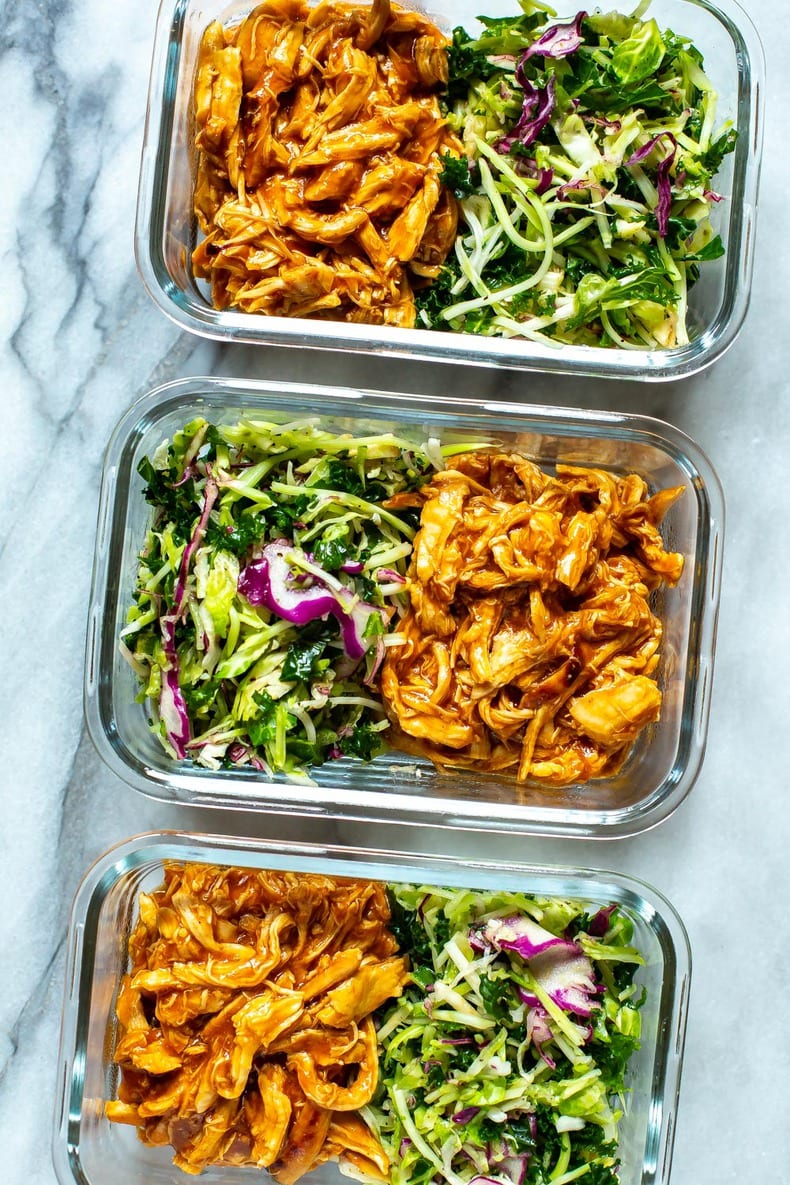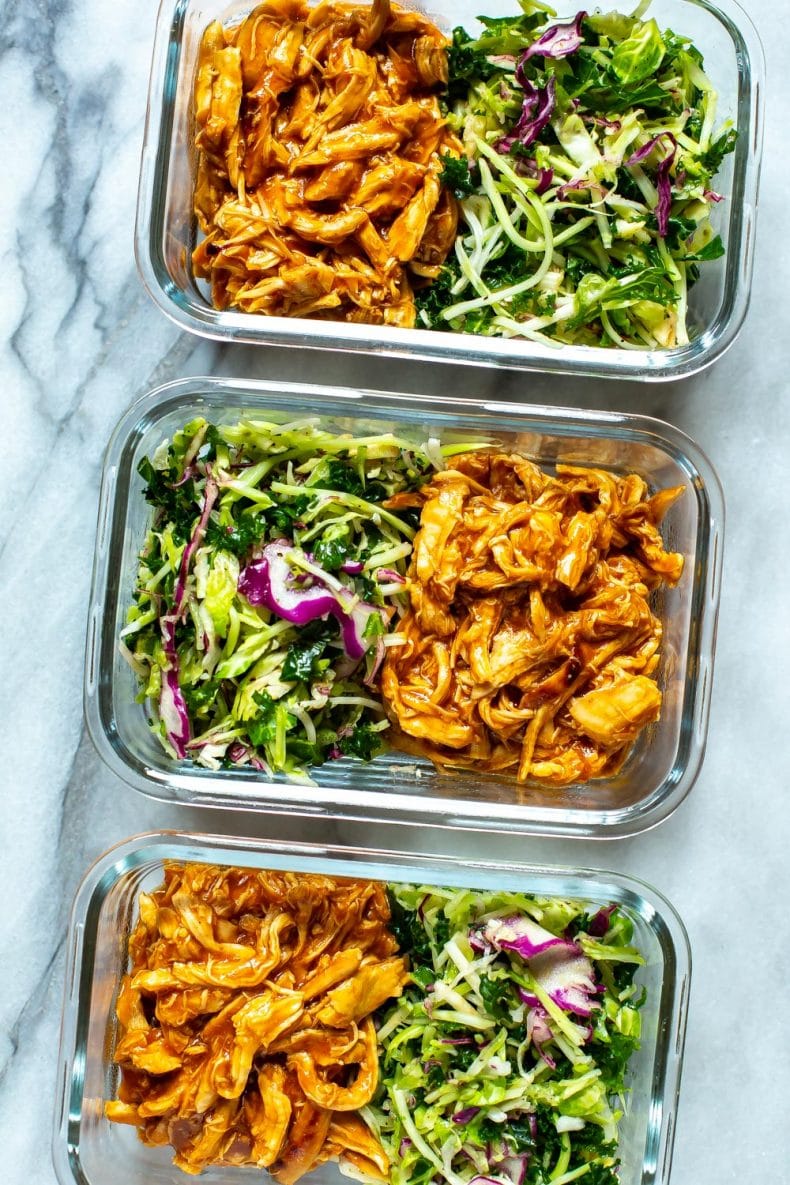 How to make Crockpot BBQ chicken
It's literally as easy as dumping in your chicken breasts, adding BBQ sauce, and cooking on low for 8 hours. Can you believe how easy that is?!
I like to add a little bit of extra olive oil to the bottom of the Crockpot in order to ensure my chicken doesn't stick, but you could also use slow cooker liners to avoid making a mess. In any case, if you tell me I only have to wash one pot after cooking I'd say that's a pretty good deal!
Why cook chicken in a Crockpot?
Although a slow cooker isn't ideal for every cooking situation, it does offer some great advantages, especially when it comes to making the perfect pulled chicken.
It's convenient – flip it on in the morning and come home to a ready-to-eat meal!
Easy clean up, especially if you use a slow cooker liner.
Keeps the kitchen cool, which is perfect for the warm weather months.
Hands off cooking – just dump everything in, set it and forget it!
Crockpot BBQ Chicken sauce
To make this recipe super easy, I've just used store-bought BBQ sauce to cook the chicken in. When it comes to meal prep and healthy eating, sometimes cutting a corner or two is necessary to ensure you get a homemade meal in as opposed to stopping for takeout.
You can also make your own homemade BBQ sauce ahead of time if you're concerned about using a bottled one. I love making my own spice blends (see the best spice rubs for chicken here) and sauces ahead of time. You can keep most in the fridge up to 3 months for easy cooking when you do go to make a crockpot chicken recipe such as this one.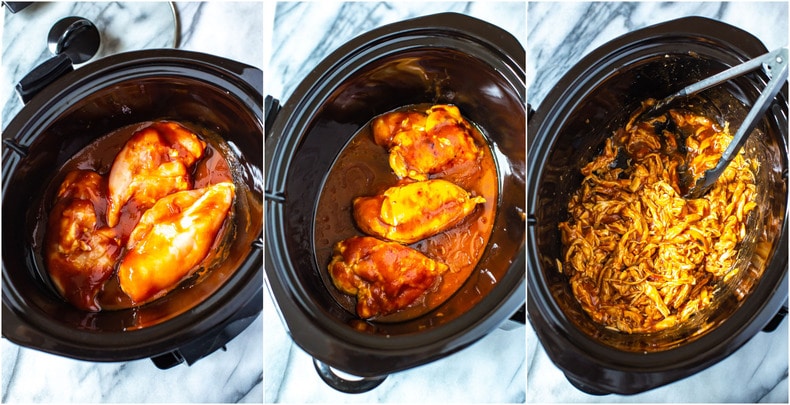 Crockpot chicken cook time
Sometimes you can't always wait the full 8 hours for your chicken to cook, so it's good to know that you should be able to cook the chicken on high for 4-6 hours instead of waiting the full 8 hours and you should be able to expect similar results.
I wouldn't recommend cooking the chicken any longer than 8 hours because it can easily dry out. An alternative would be using bone-in chicken breasts and removing the skin ahead of time if you do need your chicken to stay in the Crockpot longer – bone-in chicken takes longer to cook and retains its moisture a little bit better. This is a great option for those of you looking to have this cooking all day while you're at work.
What size chicken breasts to use
Cook times can also vary slightly according to which size chicken breasts you use. The typical size is about 6oz per breast – I use 3-4 breasts when making this Crockpot BBQ Chicken and it ends up being 1lb of chicken total. That is the optimal amount of chicken for this recipe, but if you're looking to use less chicken you can use as few as two chicken breasts.
I would not recommend adding more than 1 lb of chicken to the Crockpot as this may throw off the cooking time. It's just good to be aware that you can add up to a certain weight so it doesn't necessarily have to be just 3 or 4 breasts if you are using very small chicken breasts.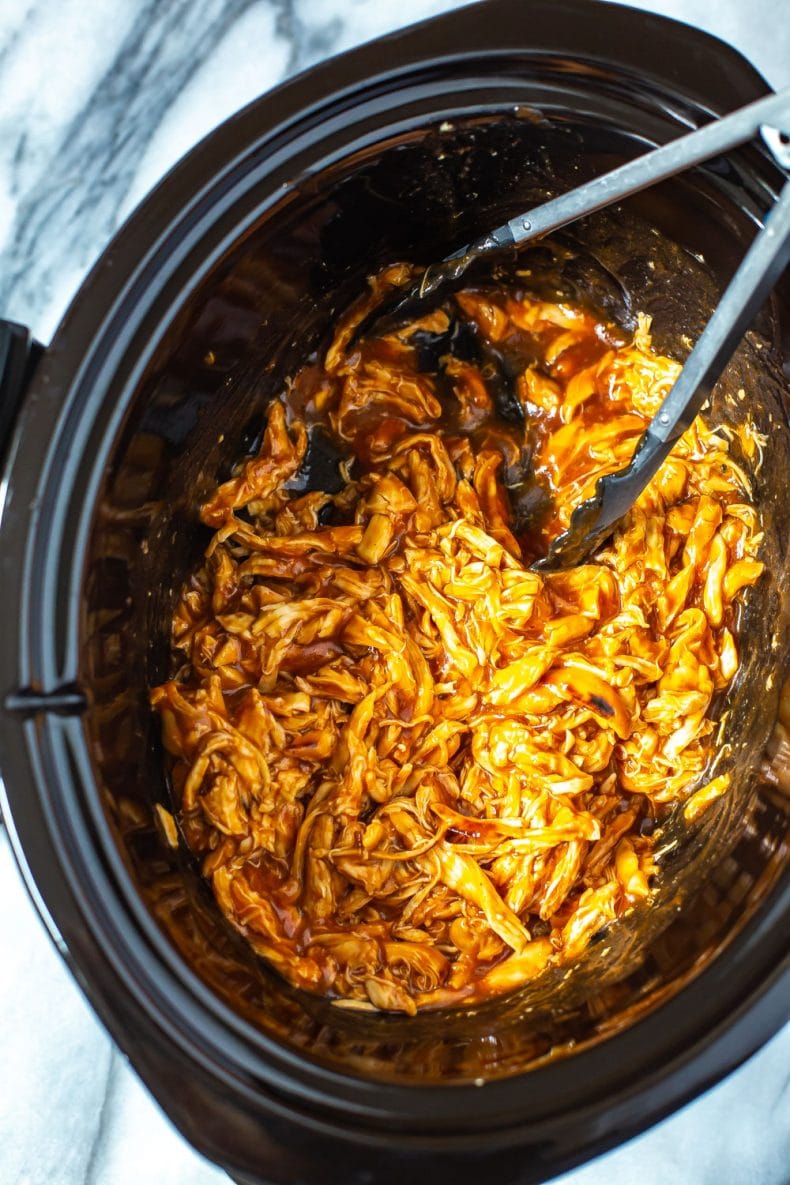 Can you overcook chicken in a slow cooker?
In general, a slow cooker is best for meats that have a lot of connective tissue that need to be broken down. In other words, tough cuts of meat that are typically inexpensive are great in a slow cooker. Chicken breast doesn't have a lot of connective tissue so it can easily be overcooked in a slow cooker and come out too dry.
To remedy that, make sure that you cook chicken breasts with ample liquids (like BBQ sauce) which will keep the chicken from drying out too much.
Can I make slow cooker BBQ chicken thighs instead?
You sure can! You can easily substitute chicken thighs for breasts in this slow cooker BBQ chicken recipe. Chicken thighs are often less expensive than breasts, but generally have less protein and a bit more fat than chicken breasts. Some people find the dark meat of the thighs more tender and juicy than chicken breast.
Sub in 1lb of boneless, skinless chicken thighs for 1 lb boneless, skinless chicken breasts in this recipe. As long as you are using the same weighted amount, the results will be similar.
Meal prepping BBQ chicken
Shredded chicken is SO perfect for meal prep because of its versatility! Often you just need one or two side dishes to turn the chicken into a full meal. Whether you're meal prepping for your work week lunches or just need a delicious dinner, this BBQ is perfect for that!
I have a few side dish ideas listed below so you know what to serve this chicken with, but to meal prep it all you really need are some meal prep bowls. Once the chicken is done cooking, shred it with a knife and fork, add the chicken back to the sauce to coat, then serve in glass bowls. Serving in glass bowls makes for easy reheating later.
Can I freeze slow cooker BBQ chicken?
Cooked chicken can safely be left in the refrigerator for up to five days but if you won't be using it up during time, then it's best to freeze the leftovers for a future meal.
Divide the leftover chicken into meal-sized portions and place them into glass meal prep containers or heavy-duty freezer bags. If you are using freezer bags, make sure to flatten the bags so that they take up less space in the freezer. The cooked BBQ chicken will keep well in the freezer for up to three months.
Side dish ideas for Crockpot BBQ chicken
I made an easy kale slaw to make this crockpot BBQ chicken low in carbs and healthy enough to take as work week lunches, but there are SO many side dishes you can serve alongside it. Here are some other healthy ideas:
Any type of coleslaw
Roasted potatoes or roasted vegetables
Veggies & dip (make it super easy!)
Quinoa or quinoa salad
Corn
Side salad
Rice
Making the kale slaw
Making this kale slaw is super easy! Buy a packaged kale slaw mix from the grocery store, or feel free to use other types of pre-packaged slaw mixes such as broccoli slaw or regular coleslaw. Mix 2 tbsp vinegar and 2 tbsp sugar together, add 1 tsp olive oil and a pinch of salt, and you've got the easiest dressing ever!
The kale slaw does stay relatively fresh in the fridge for 3-5 days so you can meal prep it ahead of time by tossing with the dressing – the flavours actually develop more the longer that it all sits.
Can I make BBQ Chicken in an Instant Pot?
You can definitely make this BBQ chicken in your Instant Pot if you're looking to have it ready for you right away but are still looking forward to a hands-off cooking process. The process is very similar: add olive oil to the bottom of the pot, add your chicken and BBQ sauce, then cook on high pressure for 6-8 minutes.
The time will depend on the size chicken breasts used. For larger breasts, go the full 8 minutes. For medium-sized breasts, 6 minutes is the better bet.
To get similar moist chicken, you'll let the Instant Pot do a natural pressure release (just wait for the pin to drop, about 15 minutes) instead of doing a quick release, which will result in tougher chicken.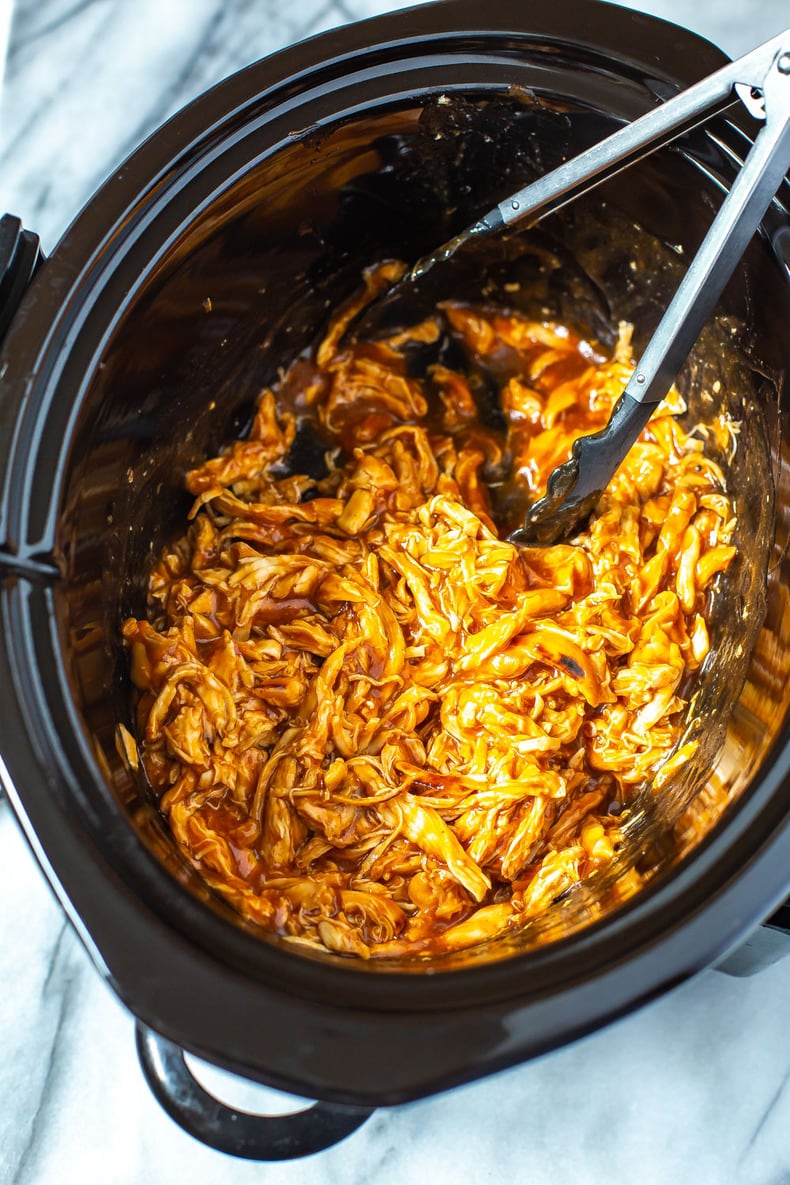 Other ways to use crockpot shredded BBQ chicken
You can use the chicken in a variety of ways. Here are a few suggestions – just substitute the shredded BBQ chicken for the meat in the recipes:
Meal prep tools for this recipe
The Easiest 2-Ingredient Crockpot BBQ Chicken
The Easiest 2-Ingredient Crockpot BBQ Chicken is made using just chicken and BBQ sauce - perfect for meal prep, you can make pulled chicken sandwiches, pizzas, salads and more using this tasty, juicy chicken!
Print
Pin
Rate
Ingredients
1

tbsp

olive oil

3

medium-sized boneless, skinless chicken breasts (about 1lb of chicken)

1

(455mL) bottle

BBQ sauce of choice
Coleslaw
1

(340g) package

kale, broccoli or regular coleslaw mix

2

tbsp

vinegar

2

tbsp

sugar

1

tsp

olive oil

1/2

tsp

salt

1/4

tsp

pepper
Other serving suggestions
Roasted potatoes

Corn

Hamburger buns (to make sandwiches)

Mixed greens

Sliced avocado
Instructions
Add olive oil, chicken and BBQ sauce to Crockpot. Cook on low for 8 hours or on high for 4 hours. Shred chicken once cooking time is complete, then add chicken back to pot with sauce to mix.

Meanwhile, mix together ingredients for coleslaw. Serve with chicken in meal prep bowls for a healthy lunch, otherwise serve with optional sides as suggested above.

Chicken freezes well in glass bowls up to 3 months, or keeps in fridge up to 5 days. Defrost in fridge overnight and warm up in microwave for 2-3 minutes to serve after freezing.
Instant Pot Instructions (optional)
Add olive oil, chicken and BBQ sauce to Instant Pot. Place lid on Instant Pot and make sure valve is set to seal. Press the pressure cook button and set to high, then cook for 6-8 minutes (depends on size of breasts).


Instant Pot will take about 10-15 minutes to come to pressure then pressure cook the 8 minutes.


Do a quick release of the pressure on the Instant Pot by flicking the switch at the top with a spoon. Open the lid when pressure gauge has dropped and the lid opens easily. Shred chicken once cooking time is complete, then add chicken back to pot with sauce to mix. Serve with kale slaw and enjoy!
Video
Nutrition
Calories:
195
kcal
|
Carbohydrates:
6
g
|
Protein:
24
g
|
Fat:
7
g
|
Saturated Fat:
1
g
|
Cholesterol:
72
mg
|
Sodium:
425
mg
|
Potassium:
419
mg
|
Sugar:
6
g
|
Vitamin A:
35
IU
|
Vitamin C:
1.3
mg
|
Calcium:
6
mg
|
Iron:
0.4
mg
Nutritional info is for 1/4 of chicken mixture and kale slaw – does not include added optional sides