These Copycat Oven-Baked Starbucks Egg Bites are just like the sous vide version – you just need an oven and a silicone egg tray! 
Get ready to get your daily dose of Starbucks without even having to leave your house!
Who else is obsessed with the Starbucks sous vide egg bites like I am? They're such a great low carb option for breakfast and I've found a way to make them very similarly but with your oven at home! No fancy equipment needed, just a little water bath and a silicone muffin tray (and if you don't have a silicone egg tray, you can easily make these similar turkey bacon egg cups without any special equipment!)
I'm showing you how to make the bacon and gruyere egg bites as well as the roasted red pepper egg white version with spinach and let me tell you, they're amazing. I can't quite choose which one's my fave yet.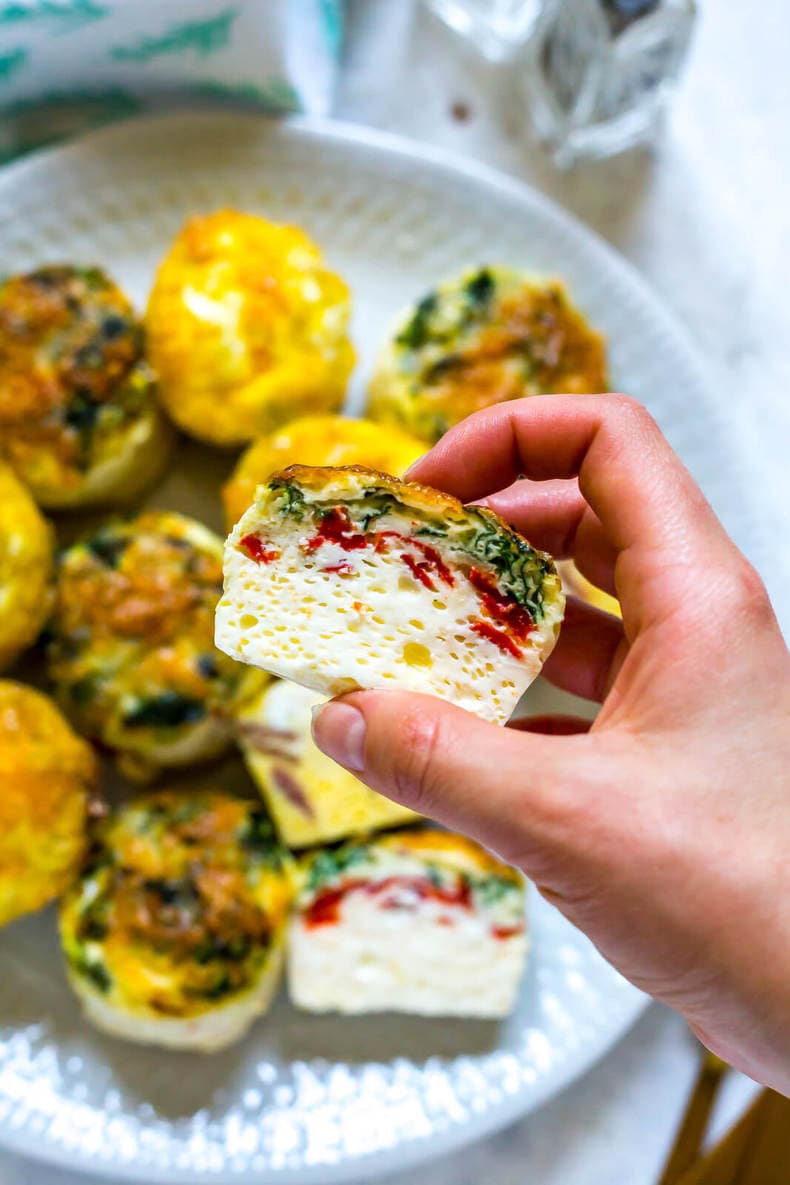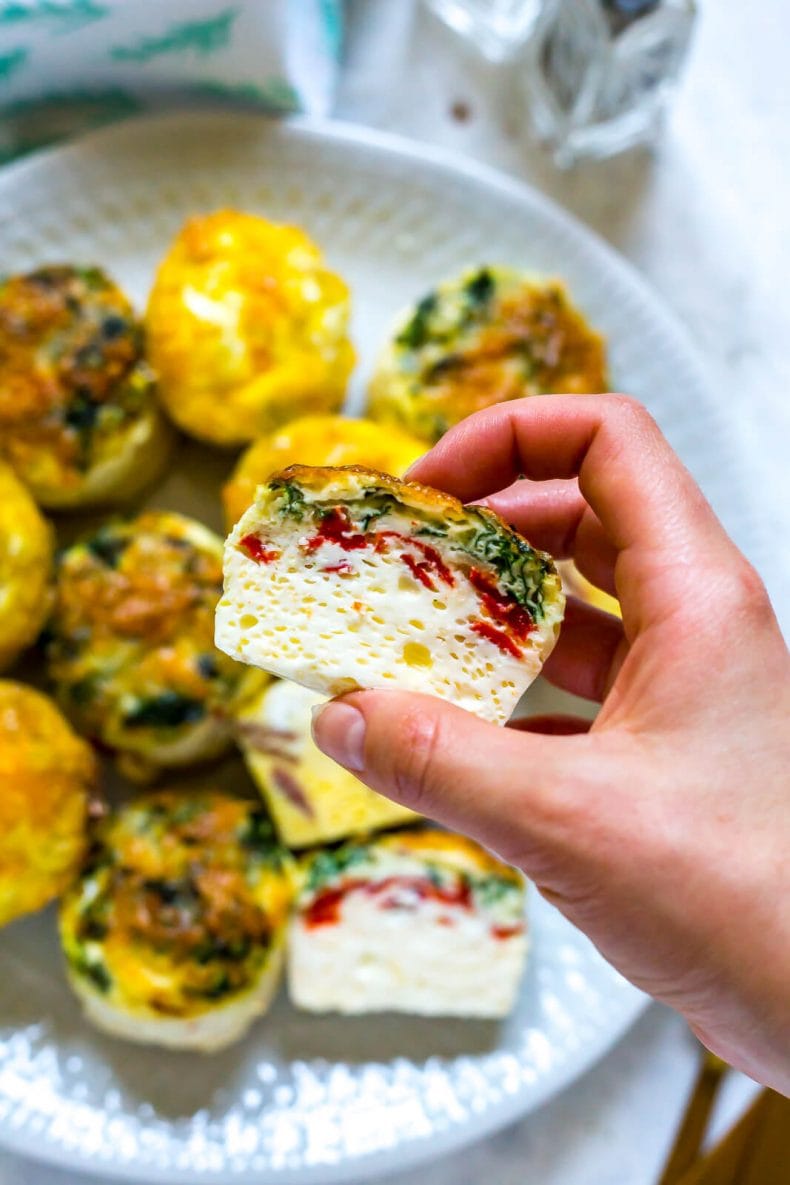 For being the foodie I am, I'll admit I have yet to master certain cooking techniques such as sous vide. I can bake, roast, saute, slow cook and stir fry the hell out of a lot of foods, but the fancy stuff like sous vide has never been my thing. After all, I am all about simplicity and incorporating healthy foods into your diet in a way that is sustainable for the long term. So to me, that means sticking with what you know and developing a routine where you're able to meal prep easily.
According to Wikipedia (I know, that journalism degree has really been useful right? LOL), sous vide is a cooking method where food is placed in a plastic pouch or glass jar and then immersed in a water bath for longer than usual cooking times at a lower cooking temperature.
The idea is that the food will get cooked evenly at a constant temperature, so you won't have any browning or crisping on the outside or overcooking on the inside. It also helps food retain moisture so nothing gets dried out.
These Oven-Baked Starbucks Egg Bites are a great way to prep a ton of your fave breakfast item all at once (next to these breakfast pizzas anyway), and I've taken the same sort of approach as sous vide, borrowing the concept as a whole to create a soft, evenly cooked egg bite with minimal crispiness.
And this I can get behind: there's honestly nothing I hate more than a crispy egg, and I do struggle with this when making other sorts of egg bites and frittatas. I know there are some people out there who like the crispy outside of a frittata or quiche, but I really find it throws off the whole texture. I'm that person who scrapes off the crispy ends. So this faux sous vide technique had me intrigued.
How to Make Starbucks Egg Bites
First, you'll want to make sure the oven temperature is set relatively low. You already cook eggs on a low temperature anyway (I usually do frittatas and quiches at 350-375 F), but you'll want to go lower for the faux sous vide method. I did 325 F, but you could probably even lower it 300 F and cook a bit longer.
From there, pour your water into a 9×11 baking dish and set your greased silicone egg tray on top of it. If you want the true sous vide experience, make sure that you use tin foil overtop to create a pouch. Place your toppings in each cup of the egg tray, then pour your egg mixture overtop. EASY!
You'll also want to cook the eggs for much longer than you usually would. I did mine for a full hour in the oven at a super low temperature to ensure an even cook on the eggs. And surprisingly, you really do get more of a fluffy, spongey texture with the eggs that you wouldn't necessarily get by doing them in a pressure cooker, like I've seen a ton of lately.
I'm not ashamed to admit that this wasn't the perfect sous vide when I put together these oven-baked Starbucks egg bites. For one, I realized after the fact that you're supposed to have some sort of covering like tin foil to create a little pouch for the eggs once they've filled up the muffin tray. I actually had just run out of tin foil, so I was unable to create a little pouch where the steaming would help cook the eggs instead. Hence a tiny bit of crispiness on the top of these egg bites.
But, I will say that the crispiness is there mainly because I used cheese and it floated to the top.
Will you be making these Copycat Oven-Baked Starbucks Egg Bites? 
They are seriously the most perfect meal prep breakfast and you're just going to LOVE them! Don't be afraid to try different veggies in there too! They're a great way to clear out your vegetable crisper and reduce food waste.
Tools for this recipe
More meal prep breakfast ideas
Copycat Oven-Baked Starbucks Egg Bites
These Copycat Oven-Baked Starbucks Egg Bites are just like the sous vide version - you just need your oven and a silicone egg tray!
Print
Pin
Rate
Ingredients
Bacon and Gruyere
1

tbsp

olive oil or butter (to grease egg tray)

8

eggs, whisked

1

cup

cottage cheese

4

slices

bacon or turkey bacon, cooked and chopped

1

cup

gruyere cheese or aged cheddar, shredded
Egg White and Red Pepper
1

tbsp

olive oil or butter (to grease egg tray)

3

cups

egg whites

1

cup

cottage cheese

1/2

cup

roasted red peppers, diced

1

cup

spinach, finely chopped

1

cup

monterey jack cheese, shredded
Instructions
Note: Pick one version for this recipe; if you wish to do both versions (like in the video), cut each of the ingredients in half.

Preheat oven to 325 F. Grease a 12-count silicon egg tray with olive oil or butter. Fill a 9x11 baking dish halfway with warm water, then silicone egg tray overtop.

Add either eggs and cottage cheese, or egg whites and cottage cheese to a blender, blending on high until well combined and creamy.

Divide toppings of choice and cheese (either gruyere or monterey jack) among egg cups, then fill the rest of the way full with egg/egg white mixture. Bake in the oven for 60 minutes or until eggs are set.

Remove egg bites from molds once cool and serve and enjoy!
Notes
*Nutrition info is for one regular egg bite; each of the egg white bites is 96 calories (1 g carbs, 5 g fat, 2 g saturated fat, 11 g of protein)
Nutrition
Calories:
167
kcal
|
Carbohydrates:
2
g
|
Protein:
17
g
|
Fat:
9
g
|
Saturated Fat:
4
g
|
Polyunsaturated Fat:
1
g
|
Monounsaturated Fat:
3
g
|
Trans Fat:
1
g
|
Cholesterol:
127
mg
|
Sodium:
307
mg
|
Potassium:
185
mg
|
Sugar:
2
g
|
Vitamin A:
312
IU
|
Calcium:
161
mg
|
Iron:
1
mg