These Meal Prep Jerk-inspired Chicken Rice Bowls are the most delicious lunch idea with mango salsa, avocado and brown rice!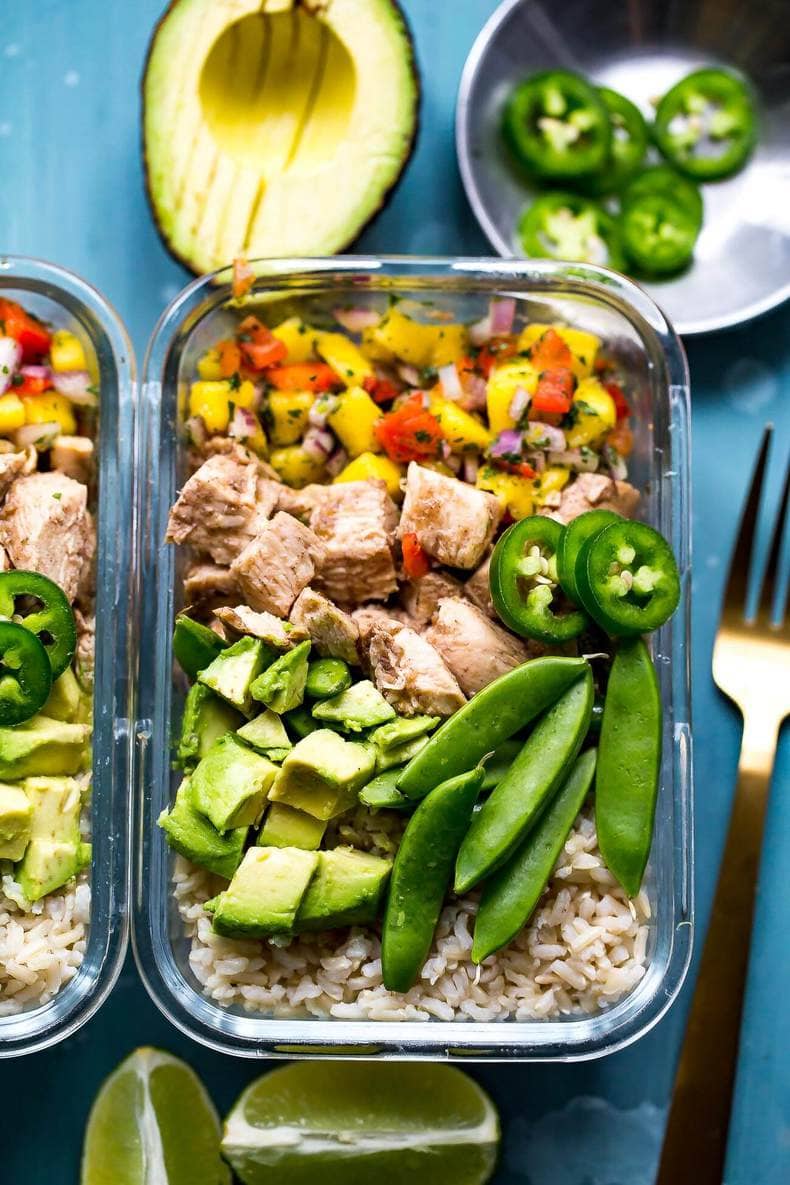 I'm back at ya with another mid-week meal prep idea, and this one has got to be one of my new favourites. All kinds of different textures, super delicious oven-baked jerk chicken, creamy diced avocado, colourful, tangy mango salsa and crunchy sugar snap peas. Is there seriously a more delicious lunch bowl than this?!
We've been lucky enough to get some beautiful, sunny weekends so far this April and I'm already dreaming about summer. And when I think of summer, I think of adding a little bit of tropical flair to my meals, something as sunny and warm as the weather outside.
I'm not even a huge fan of fruit but I absolutely love adding different kinds of salsa to rice bowls like this. Homemade salsa like this mango version is so easy to make – just add your fruit and vegetables of choice, dice everything up, toss with some lime juice, cilantro and a pinch of salt and you've got a super delicious and low-calorie condiment that's perfect for dressing up boring brown rice. I use it in place of sauces and other fatty condiments all the time to pack in a ton of flavour and key nutrients all at the same time!
Now let's talk about the juicy, mouth-watering chicken in these Meal Prep Jerk Chicken Rice Bowls.
I don't want to pass off my jerk chicken recipe as one that's super authentic or anything – I've minimized the spice here but I've tried to use ingredients that are true to this dish itself, like scotch bonnet peppers, sweet onion and allspice.
Those three ingredients are the key to the flavours within the marinade. You can find scotch bonnet peppers often sold individually among all the other peppers at the grocery store, so you only have to buy one or two for this recipe and de-seed them before throwing them in the food processor. I think they're like 30 cents or something when you buy them this way. Super budget-friendly. Of course if you like a little more spice you can always buy a couple more to add in! I would rate the spice factor here at about 5 or 6 on a scale of 1-10 so definitely feel free to add in more scotch bonnets for more flavour and heat.
I love using this jerk spice rub for other meats on the BBQ in the summer too – the first time I made it was when I was trying to marinate tofu and copy one of my favourite dishes from this vegan Caribbean restaurant called One Love Vegetarian in Toronto. Sadly, I don't think it works with tofu as well as with meats like chicken and pork, but it is very versatile and adds amazing flavour to grilled meats, potatoes and rice.
When I first moved to Toronto, I think I actually tried just about every different type of cuisine in the first year I was there with the exception of Caribbean-style food. I had my favourite Thai place, Indian buffet, pizza joint and even Middle Eastern restaurants all picked out, but never actually tried jerk chicken, oxtail, peas and rice or the like until I visited The Real Jerk five years into me living downtown. The Real Jerk is another iconic Toronto restaurant where Rihanna actually filmed her Work music video with Drake in the winter of 2016. I mean, had I known they were gonna be there I would have went a lot sooner!
One of my fave brands to work with in the past few months hands down has to be Mann's. I love anything that makes my life easier when it comes to meal prep, and with a variety of different pre-packaged veggies I know I can add something healthy (and usually green!) to my lunch bowls without having to do any crazy prep. Just toss in and go!
I've used sugar snap peas here in these Meal Prep Jerk Chicken Rice Bowls, and while I love them for bowls and stir fries, I honestly also love to snack on them raw with other veggies and dip. OMG, the best. There's something about the crunch that makes me go nuts. Swap these in place of some chips anyday!
If you're looking to speed up the timing of these bowls, you can also saute the chicken in the jerk rub with the snap peas in a skillet on med-high heat for 8-10 minutes or until chicken is fully cooked. You'll have your weekly lunch prep ready in a snap!
If you're looking for more fun meal prep ideas to switch up your lunch routine, I've got you covered! I'm all about batch prepping for the week ahead these days but the same old meal can get boring. Not anymore!
When you're stuck in a rut, you should try: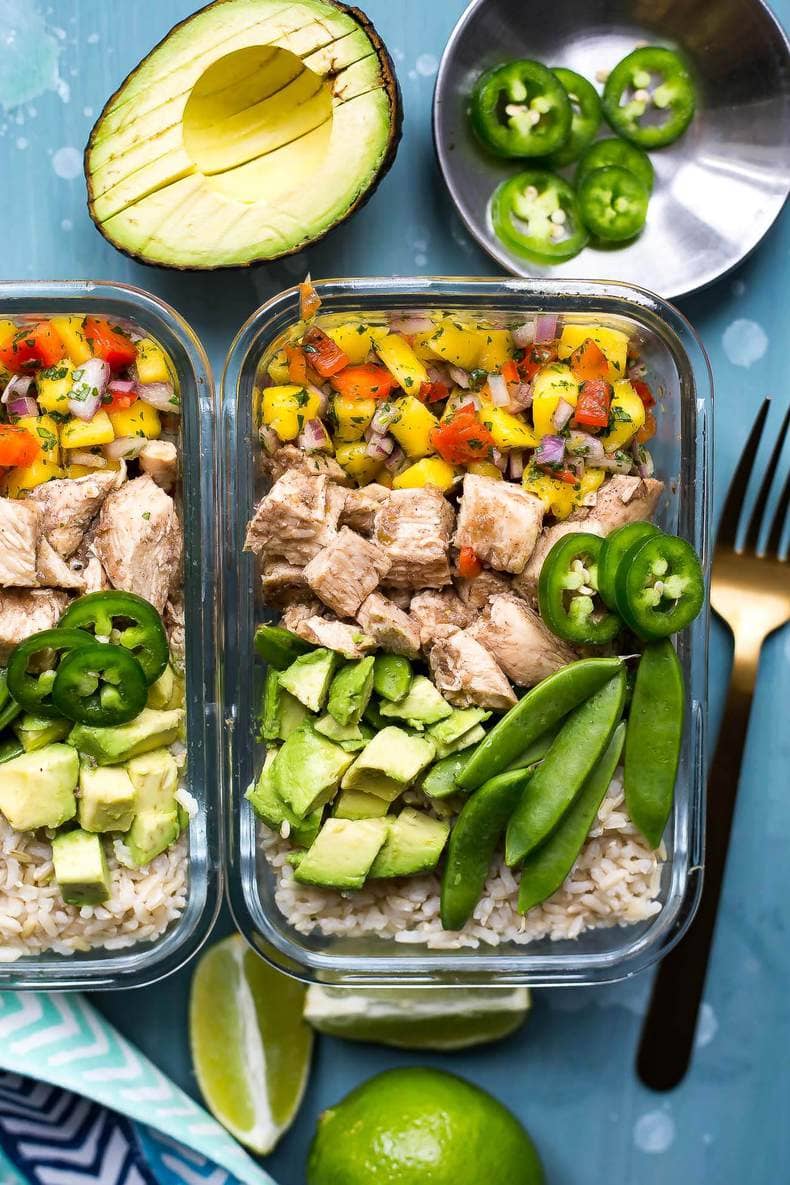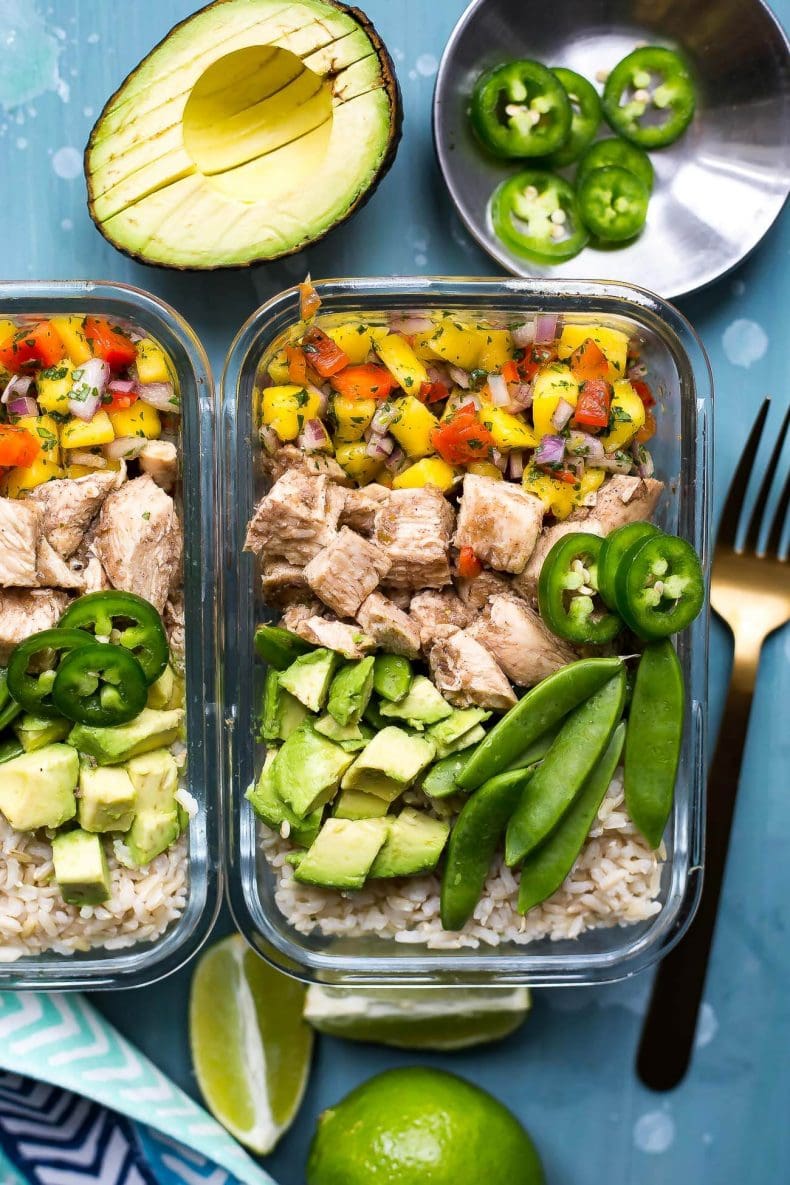 Will you be making these Meal Prep Jerk Chicken Rice Bowls with mango salsa? 
I am seriously obsessed with all the different twists you can put on meal prep ideas these days. I think I'll just keep going with these bowl recipes until I run right out of ideas? Not that that's happening anytime soon!
If you try any of my recipes be sure to let me know on Instagram, Twitter, Facebook or in the comments – I'd love to see what you come up with!?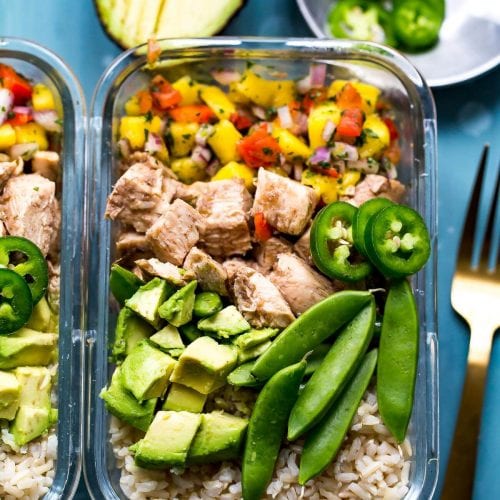 Meal Prep Jerk-Inspired Chicken Rice Bowls
These Meal Prep Jerk-inspired Chicken Rice Bowls are the most delicious lunch idea with mango salsa, avocado and brown rice!
Print
Pin
Rate
Ingredients
1

lb

chicken breasts, diced

2

cups

cooked brown rice

2

cups

sugar snap peas

1

jalapeno pepper, sliced

1

avocado, diced
Jerk-inspired marinade
1

tbsp

olive oil

1

tbsp

lime juice

1

tbsp

brown sugar

1

tbsp

soy sauce

1

sweet onion

2

cloves

garlic

2

tsp

allspice

1

tsp

thyme

1

tsp

nutmeg

2

scotch bonnet peppers

deseeded

1

tsp

salt
Mango Salsa
1

mango

1/2

red pepper, diced

1

small red onion, diced

1/3

cup

cilantro

1

tbsp

lime juice

1/2

tsp

salt
Instructions
Preheat oven to 425 F. In a food processor or Magic Bullet, blend all ingredients for Jerk-inspired marinade together. Pour overtop of chicken in an oven-safe dish and bake for 20-25 min until chicken is fully cooked.

Meanwhile, mix together mango salsa and cook rice according to package directions on the stovetop or in a rice cooker.

Remove chicken from oven and let cool. Cut into 1-inch cubes and toss in remaining sauce from oven-safe dish.

Add rice, chicken, snap peas, mango salsa, diced avocado and sliced jalapenos to each bowl. Serve and enjoy!
Video
Nutrition
Calories:
557
kcal
|
Carbohydrates:
74
g
|
Protein:
33
g
|
Fat:
16
g
|
Saturated Fat:
3
g
|
Polyunsaturated Fat:
2
g
|
Monounsaturated Fat:
9
g
|
Trans Fat:
1
g
|
Cholesterol:
73
mg
|
Sodium:
1274
mg
|
Potassium:
1295
mg
|
Fiber:
10
g
|
Sugar:
25
g
|
Vitamin A:
2899
IU
|
Vitamin C:
130
mg
|
Calcium:
97
mg
|
Iron:
4
mg