These Healthy Bento Lunch Box Recipes are perfect for back to school – Try pizza, turkey & hummus, egg & cheese, chickpea salad and more!  
Why use a bento box?
Bento boxes were first common in Japan. Thanks to the Bento's ability to make lunchtime fun for kids, they're popular nearly everywhere these days!
The most popular Bento lunch boxes feature elaborately styled food but you don't need a special box; glass meal prep containers work perfectly. Bento lunch ingredients are often colorful and always fun – that's why kids love them!
It's also a fantastic way to manage portions and divide up a larger servings, and it's better for the environment when you skip using plastic bags and switch to reusable products.
How long does it take to make a bento box lunch?
Some people take hours to craft a picture perfect bento box. If that's not for you, I have a perfectly easy solution to help you create Bento lunch box ideas in minutes!
To create one of the five no-cook bento box lunches below, you really only need 5-10 minutes of prep time and you've got amazing lunches ready in no time.
By preparing several bento boxes at one time, you can meal prep lunches for an entire week. No fancy ingredients, not a ton of prep time, and NO cook time.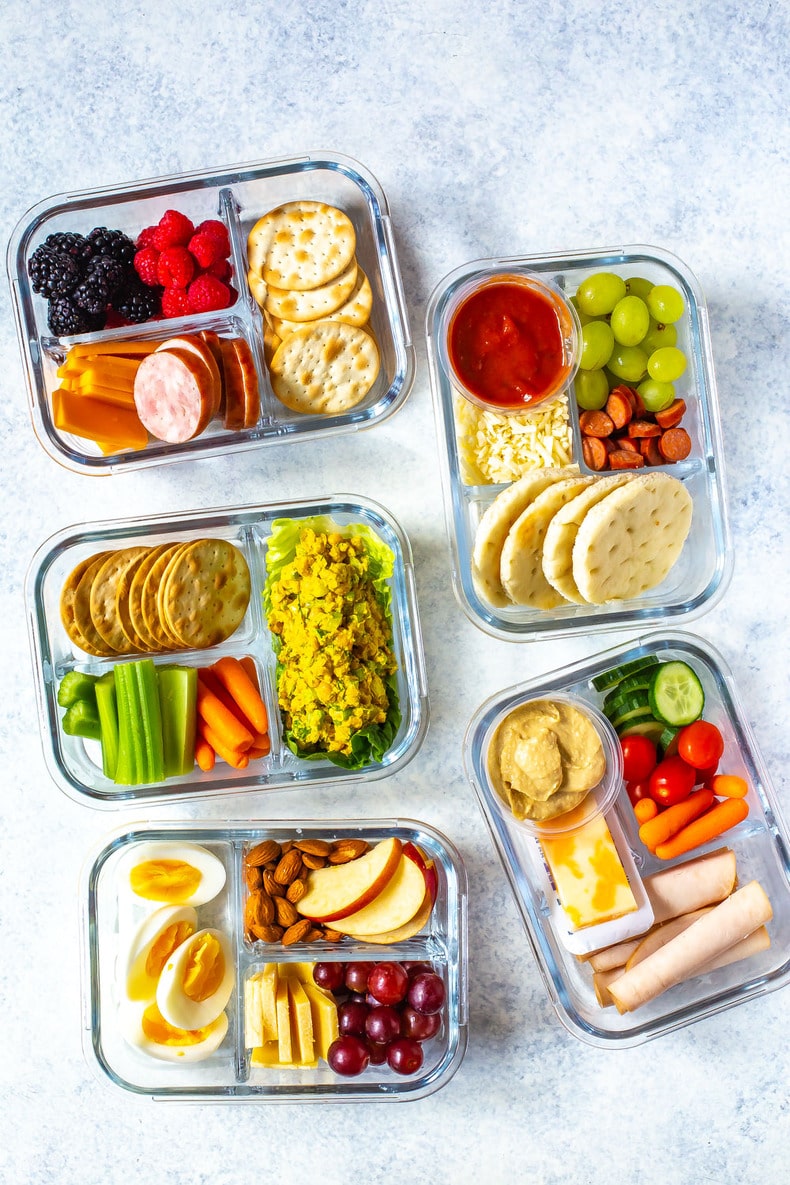 Different varieties of Bento box lunch ideas
All of these varieties make a bento lunch box kids and adults will both enjoy! I have made five different bento boxes for you to try – here they are listed and pictured below alongside the ingredients you'll need.
Pizza Bento Box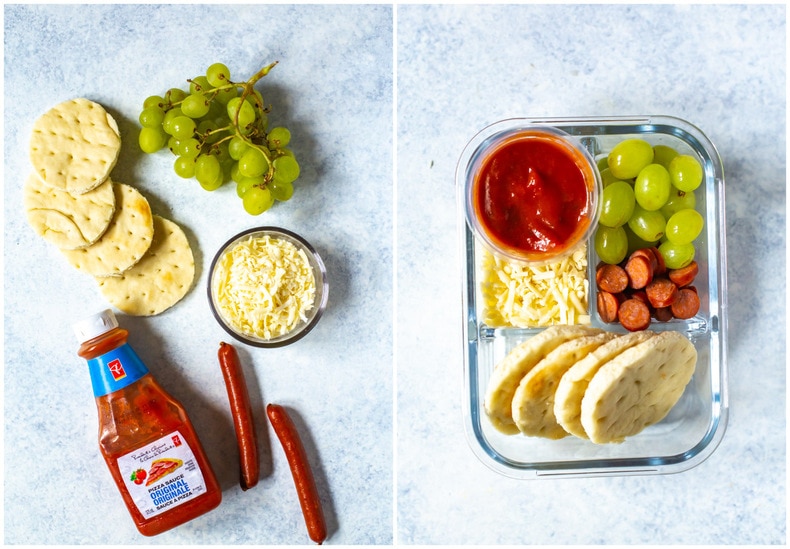 Turkey and Hummus Bento Box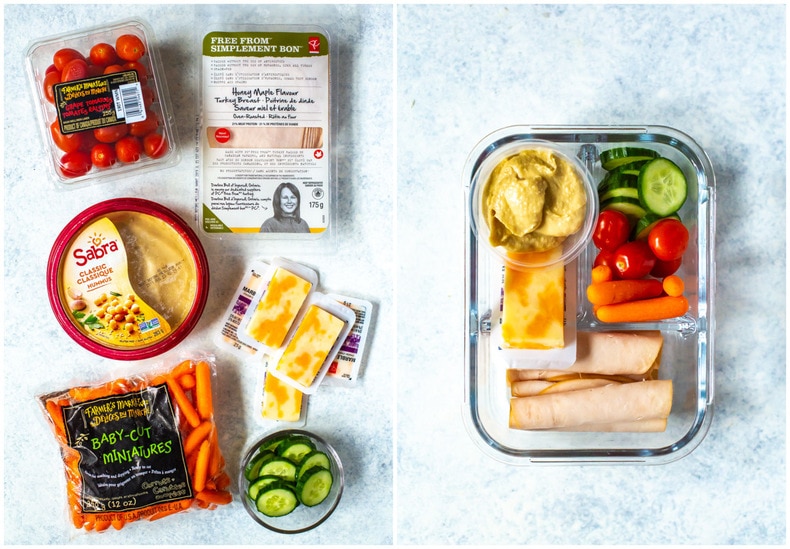 Chickpea Salad Bento Box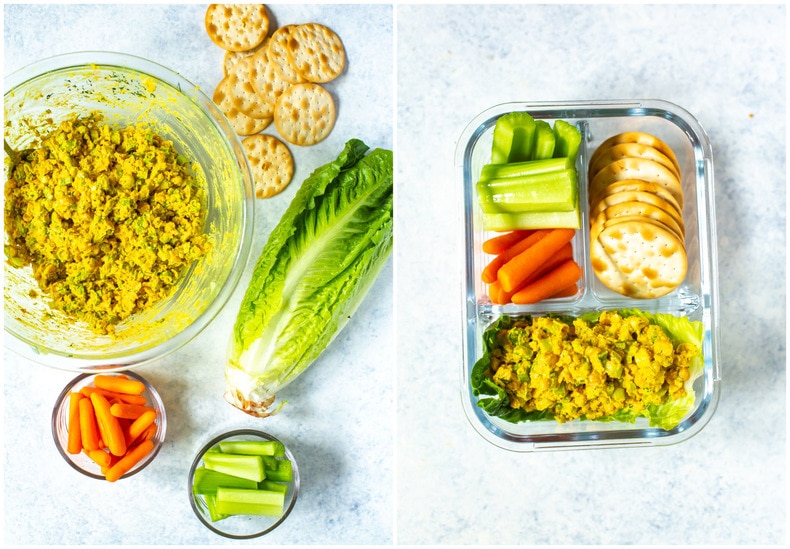 Egg and Cheese Bento Box

Meat and Cheese Bento Box

How to make bento lunch boxes (step-by-step)
Bento boxes are basically assembling a variety of healthy ingredients into one meal. But here are some suggestions to get you started.
Find containers you like. Typically, you will want some kind of glass or plastic container that is divided into sections. You could also use silicone dividers to separate the food in a larger container. Here are the containers I use.
Create a well balanced meal. There are four sections to the bento box: carbs, protein, vegetables and fruits.
Tightly pack the Bento box lunch. The tighter you pack the box, the less mess and shifting there will be. Pack the bulky stuff first and the flexible items last. For example, the cheese in the pizza bento should be last because it will fit in anywhere. Using leftovers is a great way to create a new meal out of the ingredients you already have in your fridge.
How long will they last in the fridge?
If you are packing hot food into a bento box, allow it to cool completely before putting the lid on. This will help you avoid soggy meals.
Bentos can be kept in the refrigerator overnight or can be made quickly in the morning.
How long they last in the fridge depends on the ingredients. The five in this recipe will last several days. Just wait to put any non-refrigerated ingredients in until the day you plan to eat them.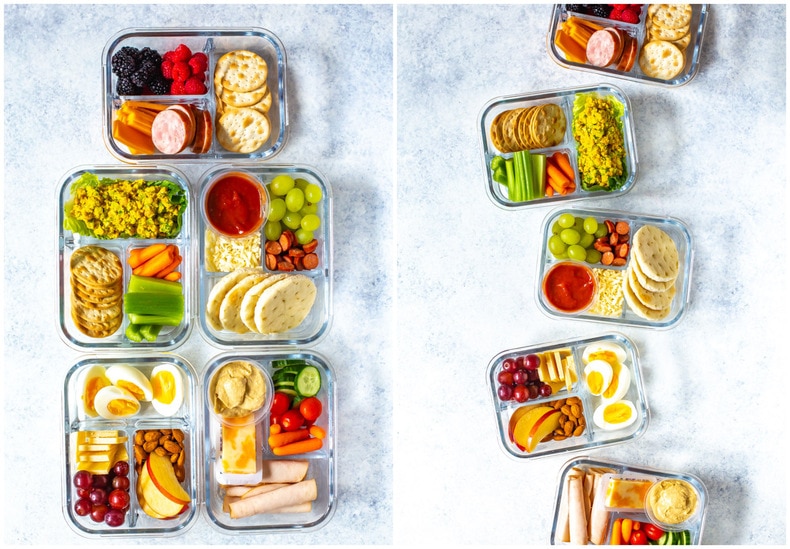 How to extend shelf life of ingredients
You can freeze most of the ingredients in the bento boxes, but do so individually. For example, make the chickpea salad and freeze it separately from other items you plan to add to the box.
You can also vacuum seal the bento box ingredients in a similar manner.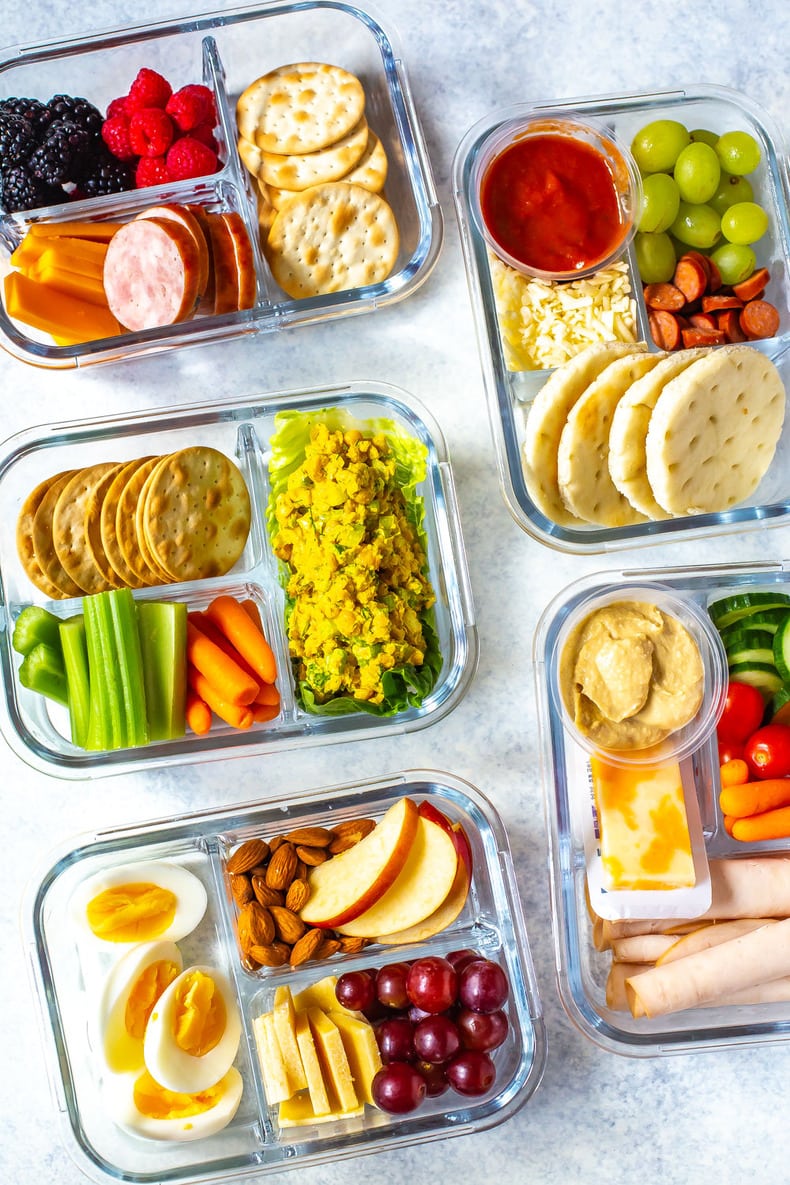 Bento lunch boxes for adults
Bento boxes are a perfect solution for leftovers. Nearly any ingredient that you have some leftovers of after dinner can be reimagined into bento lunch boxes for adults!
What started as a trend for school lunches gets a sophisticated new look when you add ingredients like eggs and cheese. This is your chance to combine the flavors you like best for a lunchtime meal you will look forward to.
Where can you buy bento lunch boxes?
With the recent popularity of bento boxes, you can find them at nearly any national chain store, or online at places like Amazon.
You want to look for boxes that have compartments for the different food groups. Most are dishwasher and microwave safe. Many even come with silverware and an ice pack to keep everything at a safe temperature until lunchtime.
Other cold lunch ideas
If you need some suggestions of ingredients to add to a Bento lunch box, try some of these. They don't even need to be reheated!
Deli meat roll ups
Cold noodles or pasta
Quinoa salad (with or without meat)
Watermelon salad
Marinated vegetables
Other meal prep lunch resources
Preparing meals in advance helps you make healthy choices and it saves you a lot of time in the morning.
A Bento box lunch box is just one solution on the quest for a healthy, easy lunch. Get more meal prep ideas from these posts:
Meal prep tools for this recipe
Healthy Bento Lunch Box Recipes 5 Ways
These Healthy Bento Lunch Box Recipes are perfect for back to school - Try pizza, turkey & hummus, egg & cheese, chickpea salad and more! 
Print
Pin
Rate
Ingredients
Turkey & Hummus
16

deli turkey slices

2

cups

mixed veggies (cucumber, carrots, cherry tomatoes)

1/2

cup

hummus

4

cheese sticks
Meat & Cheese
1

cup

sliced kielbasa, ham or salami

1

cup

sliced cheddar cheese

2

cups

crackers

2

cups

raspberries & blackberries
Egg & Cheese
8

hard boiled eggs, sliced in half

2

apples, cored and sliced

1

cup

sliced white cheddar cheese

1

cup

grapes

1/2

cup

raw almonds
Chickpea Salad
1

can

chickpeas, rinsed and drained

1/3

cup

light mayo

1

tbsp

lemon juice

1

tsp

turmeric

1

tsp

curry powder

1/2

tsp

salt & pepper

1/2

tsp

dried dill

or 1 tbsp fresh dill, finely chopped

1

tsp

garlic powder

2

celery stalks, diced

2

green onions, sliced

Extra veggies and crackers, to serve
Pizza
3

pitas, cut into small circles

1/2

cup

pizza sauce

1/2

cup

mozzarella cheese

1/2

cup

mini pepperoni or turkey pepperettes, sliced
Instructions
Add ingredients of choice to each bento box container. For chickpea salad, mash chickpeas in a large bowl with a fork (will be a rough mash), then serve over lettuce in bento box container with sides of choice.

Bento boxes will last in the fridge up to 5 days. Enjoy!
Video
Notes
NOTE: Nutritional info is for the Turkey and Hummus bento box. It will need to be calculated separately for all other bento boxes - Myfitnesspal or Livestrong are great options for this.
Nutrition
Calories:
194
kcal
|
Carbohydrates:
8
g
|
Protein:
17
g
|
Fat:
11
g
|
Saturated Fat:
4
g
|
Polyunsaturated Fat:
2
g
|
Monounsaturated Fat:
2
g
|
Trans Fat:
1
g
|
Cholesterol:
41
mg
|
Sodium:
805
mg
|
Potassium:
353
mg
|
Fiber:
2
g
|
Sugar:
1
g
|
Vitamin A:
61
IU
|
Vitamin C:
2
mg
|
Calcium:
48
mg
|
Iron:
1
mg