These Healthy Bento Box Lunch Recipes are the perfect lunch for work or school – make them ahead and store in the fridge for up to 5 days!
Components of a bento box
Protein: Turkey slices, kielbasa, ham, salami, egg, tofu, chickpeas, mini pepperoni
Starch, Grain or Nuts: Crackers, pita bread, almonds
Dairy: Cheddar, mozzarella, Swiss
Fruits and Veggies: Cucumber, carrots, cherry tomatoes, bell peppers, grapes, raspberries, strawberries, blackberries, sliced banana
Dips: Ranch, hummus, pizza sauce
Bento box lunch tips
Here are some of my top tips and tricks for putting together your bento box lunch:
Use healthy ingredients: You still want your bento box to be fairly healthy, so make sure you're adding in relatively healthy ingredients. Go for lean proteins, lots of veggies, and fruits for some natural sweetness.
Pay attention to portions: Bento boxes are great for ensuring you don't go overboard on the portion sizes, but you should still be mindful of how much you're adding in and ensure you're getting a balanced meal that's high on the veggies and protein, and low on carbs and sugar.
Focus on the aesthetics: Traditional Japanese bento boxes are all about the pretty presentation – the idea is that the way food is presented reflects how it tastes. Include different colours and mix different shapes and textures.
Pack the right containers: I recommend using nice bento boxes, like these glass ones I used in this post.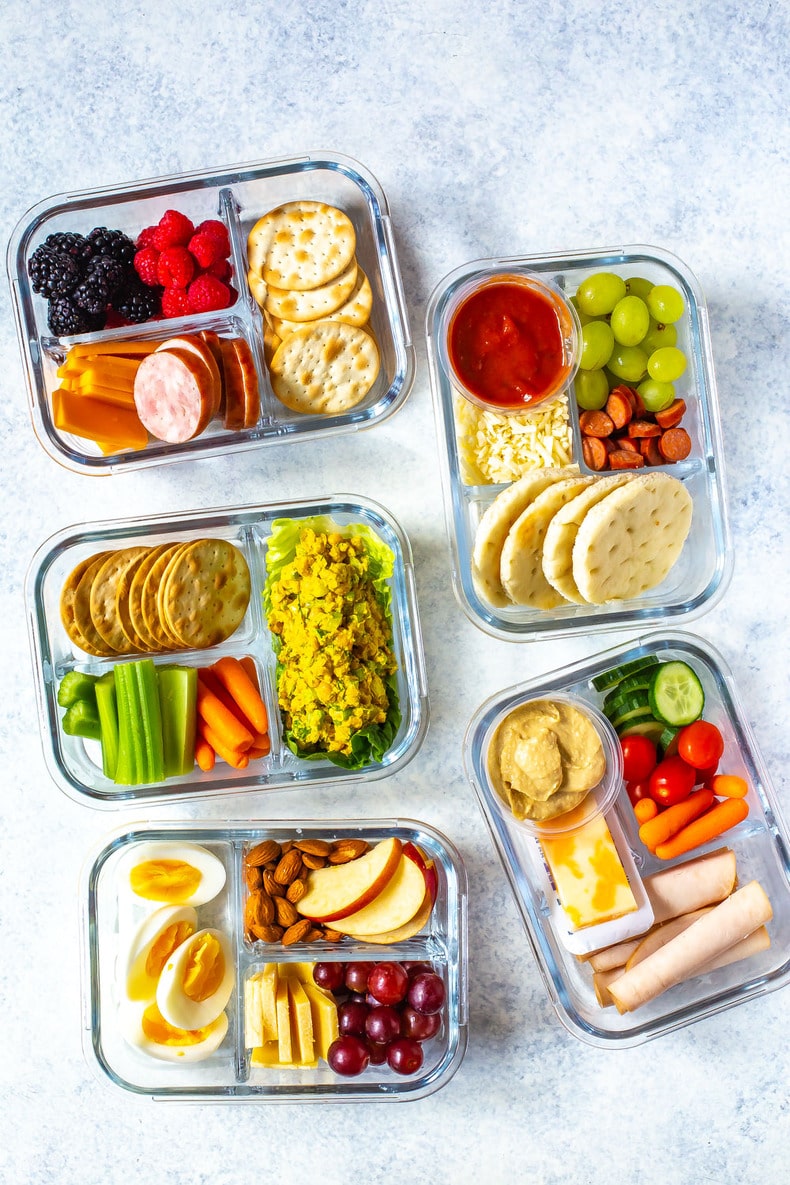 How to make a bento box
Assemble your ingredients.
Make your lunch box.
Store in the fridge for up to 5 days.
Serve and enjoy!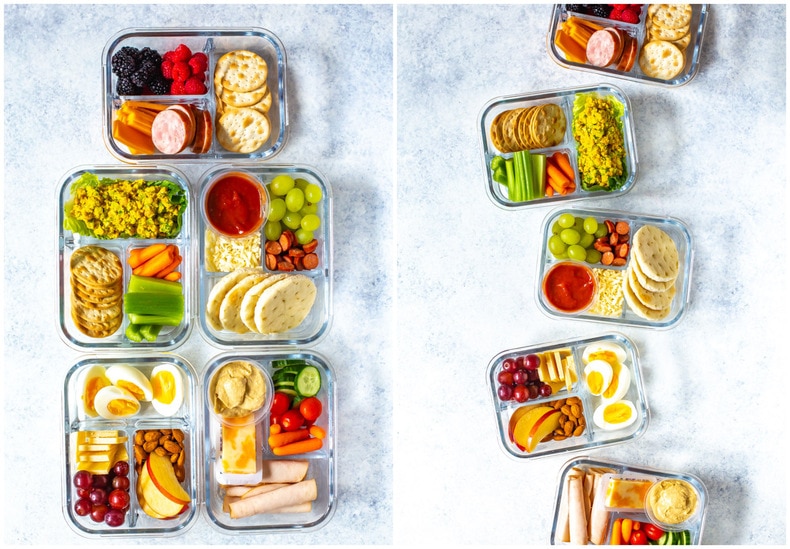 Bento Box Lunch Ideas
I put together five different bento box ideas for adults and kids. They're ready in minutes and are perfect for work and school lunches!
Pizza Bento Box
Make your own mini pizzas for lunch with these bento box ideas for adults that are made with pitas, pizza sauce, mozzarella cheese and mini pepperoni.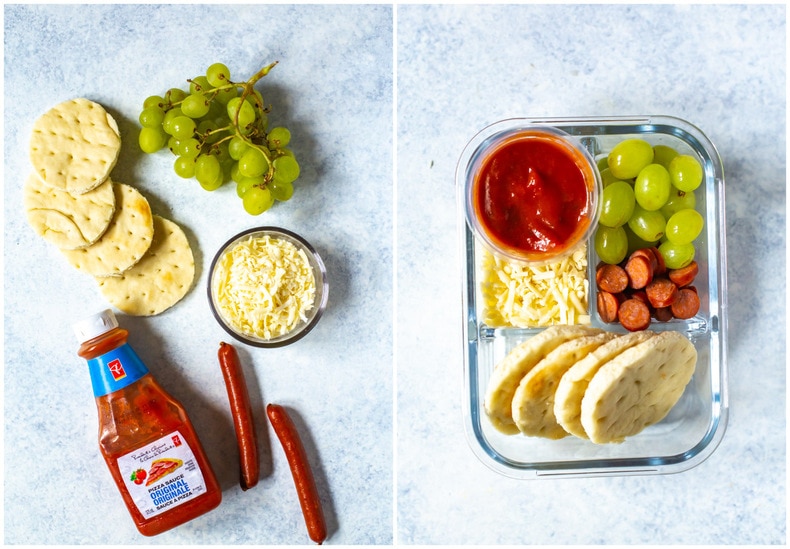 Turkey and Hummus Bento Box
This turkey and hummus bento box is high in protein and flavour! It's made with sliced deli turkey breast, hummus, cheese and a variety of veggies including carrots, cucumber and tomatoes.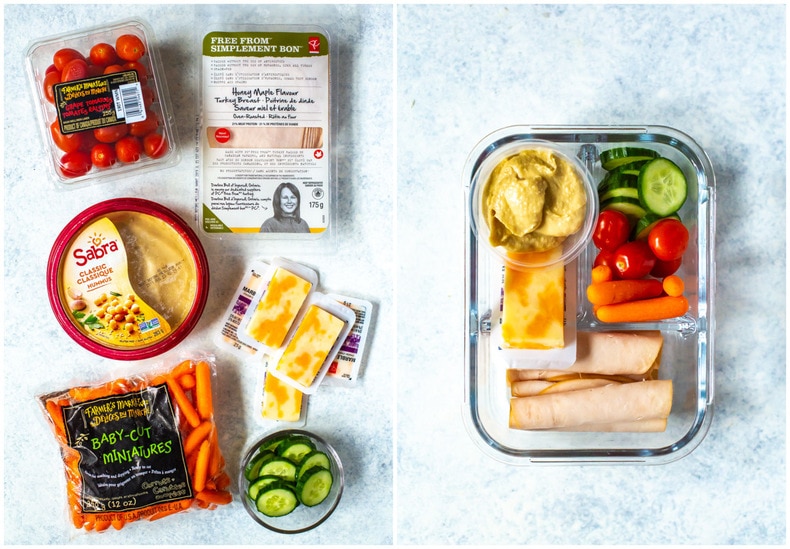 Chickpea Salad Bento Box
Searching for healthy bento box ideas? This vegan option does the trick. The chickpea salad is super easy to make and is seasoned with turmeric and curry powder, with extra veggies and crackers on the side.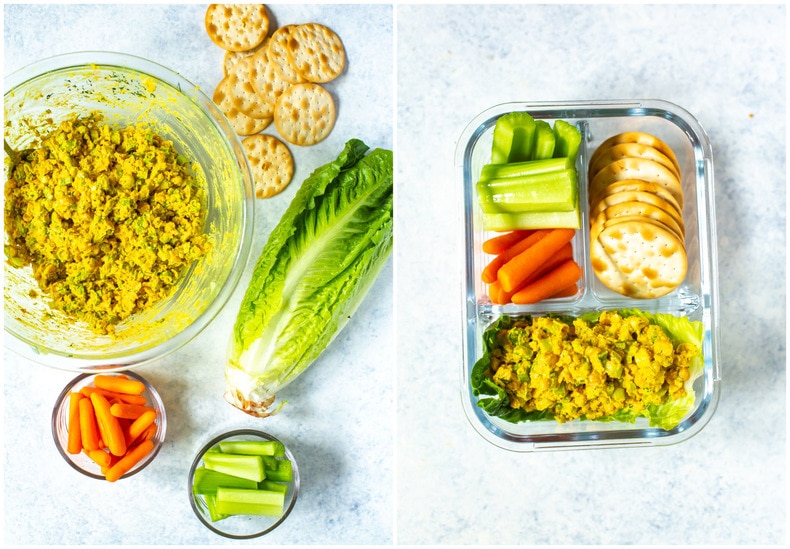 Egg and Cheese Bento Box
This vegetarian bento box tastes just like the one from Starbucks for a fraction of the price. They're full of protein thanks to the eggs and almonds, with slices of cheese, apples and grapes on the side.

Meat and Cheese Bento Box
This meat and cheese bento box is basically a charcuterie board to go! Sliced up pieces of cheese and kielbasa are served alongside crackers, with some berries for sweetness.

Frequently Asked Questions
Why use a bento box?
The most popular bento lunch boxes feature elaborately styled food, but you don't need a special box; glass meal prep containers work perfectly. Bento lunch ingredients are often colorful and always fun! It's also a fantastic way to manage portions and divide up larger servings, and it's better for the environment when you skip using plastic bags and switch to reusable products.
Can you make your bento box the night before?
You sure can! These bento box lunch ideas can be made up the night before or even several days in advance, depending on what ingredients you're adding, which makes them great for meal prep.
How do you keep the ingredients from getting soggy?
One of the great things about bento boxes is that everything is stored in separate containers, keeping your ingredients as fresh as possible. If you want to ensure your softer items like pita bread or crackers don't get soggy, you can keep things separate using paper liners, parchment paper or even lettuce leaves (like I did for the chickpea salad lunch box).
How many compartments should you have?
It all depends on the kind of bento box you're using. I'd recommend at least three different compartments – that way you have room for your protein, carb and fruits/veggies – but you can have as many as you want!
Are they eaten cold?
Yes, these bento box lunches are meant to be eaten cold.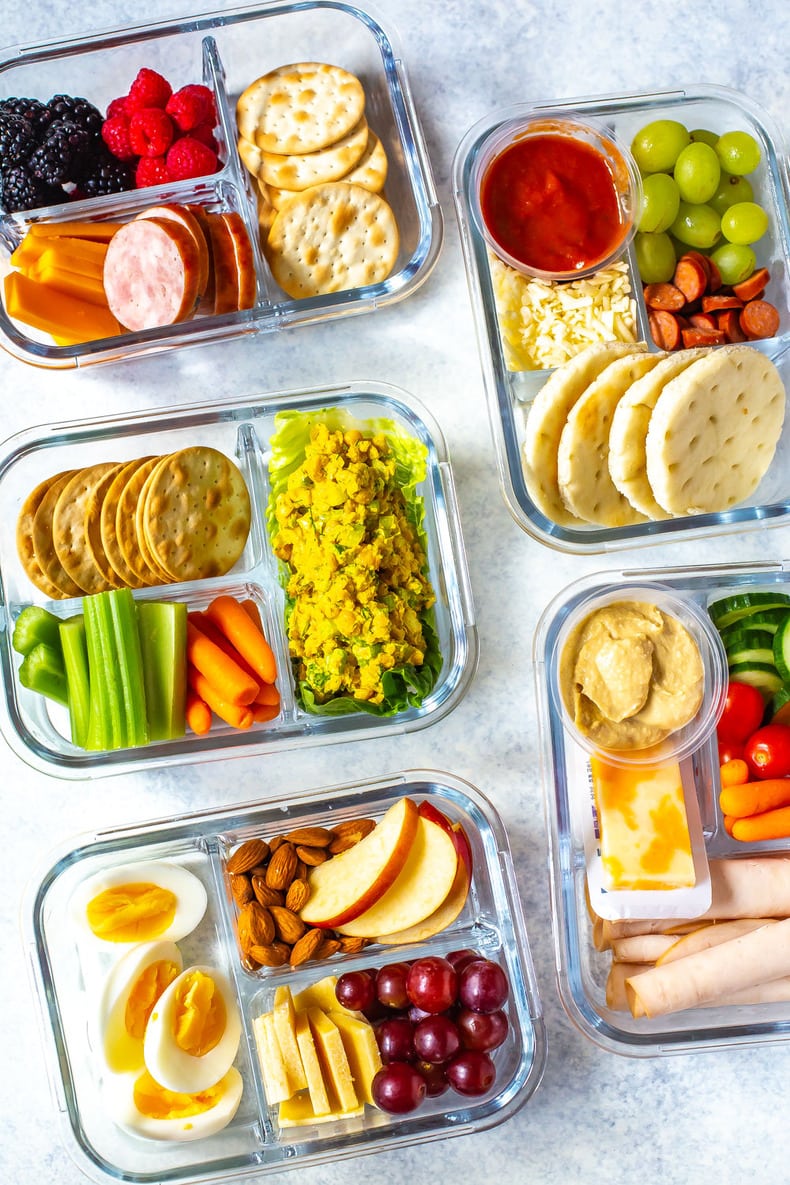 Storing bento boxes
If you are packing hot food into a bento box, allow it to cool completely before putting the lid on. This will help you avoid soggy meals. Bento boxes can be kept in the refrigerator overnight or can be made quickly in the morning.
How long they last in the fridge depends on the ingredients. The five in this recipe will last several days. Just wait to put any non-refrigerated ingredients in until the day you plan to eat them.
Wanna Learn How To Meal Prep?
My meal planning service, Dinner Prep Pro, removes the guesswork and helps you get dinner on the table in 15-20 minutes each night. My meal prep checklists only take 1 hour each week!
More healthy lunch recipes
Where to buy bento boxes
Amazon: There are so many bento box containers available on Amazon! Here are the bento box containers I use in this post. If you're looking for something cheaper, try these plastic bento boxes.
Big Box Stores: Big box stores like Walmart, Target or Canadian Tire should carry a few different bento box options in store where the rest of the lunch boxes are.
Bento&co.: Bento&co. carries authentic Japanese bento boxes and accessories. They have different sizes and some really cute designs!
Monbento: Monbento offers customizable bento boxes. You can mix and match your favourite colours to create a lunch box that's perfect for you.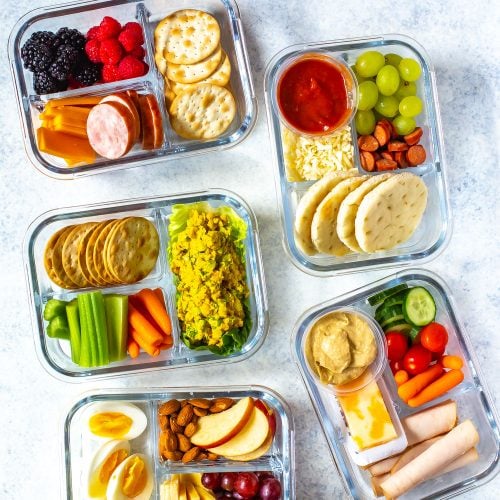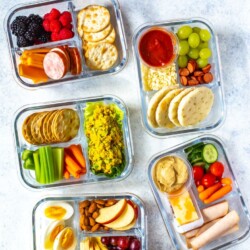 5 Easy & Healthy Bento Box Lunch Ideas
These Healthy Bento Box Lunch Recipes are the perfect lunch for work or school – make them ahead and store in the fridge for up to 5 days!
Print
Pin
Rate
IN A CYCLE OF EATING POORLY?We've got you covered with our free Routine Revamp mini course! You'll receive 8 lessons and free coaching with us! Register👇
Join Routine Revamp!
Servings: 4 servings
Calories: 194kcal
Ingredients
Turkey & Hummus
16 deli turkey slices
2 cups mixed veggies (cucumber, carrots, cherry tomatoes)
1/2 cup hummus
4 cheese sticks
Meat & Cheese
1 cup sliced kielbasa, ham or salami
1 cup sliced cheddar cheese
2 cups crackers
2 cups raspberries & blackberries
Egg & Cheese
8 hard boiled eggs, sliced in half
2 apples, cored and sliced
1 cup sliced white cheddar cheese
1 cup grapes
1/2 cup raw almonds
Chickpea Salad
1 can chickpeas, rinsed and drained
1/3 cup light mayo
1 tbsp lemon juice
1 tsp turmeric
1 tsp curry powder
1/2 tsp salt & pepper
1/2 tsp dried dill or 1 tbsp fresh dill, finely chopped
1 tsp garlic powder
2 celery stalks, diced
2 green onions, sliced
Extra veggies and crackers, to serve
Pizza
3 pitas, cut into small circles
1/2 cup pizza sauce
1/2 cup mozzarella cheese
1/2 cup mini pepperoni or turkey pepperettes, sliced
Instructions
Add ingredients of choice to each bento box container. For chickpea salad, mash chickpeas in a large bowl with a fork (will be a rough mash), then serve over lettuce in bento box container with sides of choice.

Bento boxes will last in the fridge up to 5 days. Enjoy!
Video
Notes
NOTE: Nutritional info is for the Turkey and Hummus bento box. It will need to be calculated separately for all other bento boxes – Myfitnesspal or Livestrong are great options for this. The formula for a bento box is simple: you need a carb, protein, vegetables and fruits. Bento boxes aren't just for kids; combine all the flavours you love for an adult-friendly bento lunch box. Tightly pack your bento box to ensure things don't shift around. Store these boxes in the fridge for several days. Freeze some of the ingredients separately then assemble your fresh bento boxes.
Nutrition
Calories: 194kcal (10%)Carbohydrates: 8g (3%)Protein: 17g (34%)Fat: 11g (17%)Saturated Fat: 4g (25%)Polyunsaturated Fat: 2gMonounsaturated Fat: 2gTrans Fat: 1gCholesterol: 41mg (14%)Sodium: 805mg (35%)Potassium: 353mg (10%)Fiber: 2g (8%)Sugar: 1g (1%)Vitamin A: 61IU (1%)Vitamin C: 2mg (2%)Calcium: 48mg (5%)Iron: 1mg (6%)
Don't wait until January to eat healthy!Sign up for our free Routine Revamp mini course!
Join Routine Revamp!