These Meal Prep Freezer Breakfast Burritos are a make-ahead breakfast with all your favourite toppings – they'll last for up to 3 months!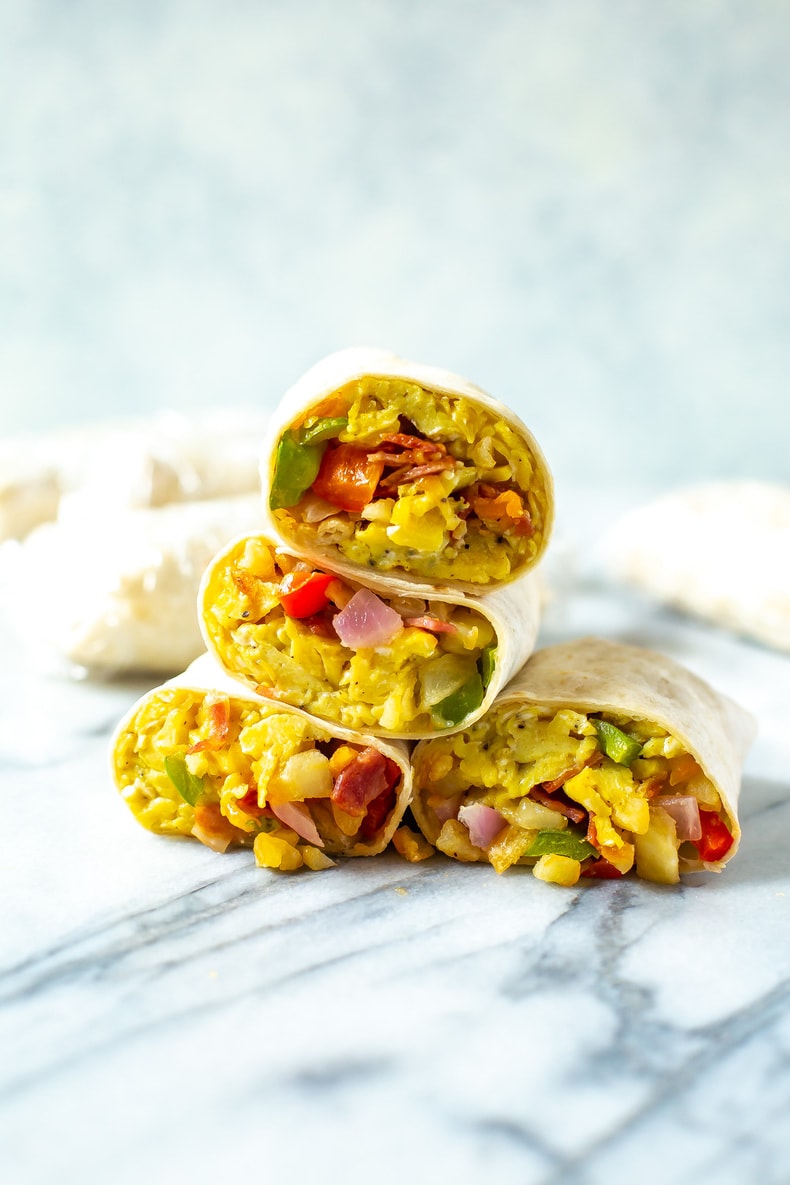 Ingredients and substitutions
Flour tortillas – use any variety of tortilla you prefer like white, wheat, low carb, etc.
Frozen hashbrowns – I like using cubed frozen hashbrowns but you can use pretty much any type of cooked potatoes.
Turkey bacon – regular bacon would also be good but has a higher calorie count.
Olive oil – swap out the olive oil for another neutral cooking oil like avocado or canola oil.
Bell peppers – feel free to swap these out for a veggie of your choice.
Red onion – white or yellow onion would also be good or you can swap out for another veggie.
Eggs – This is the protein building block for the burrito. You can technically substitute for egg whites but they won't have as much flavour.
Milk – use your preferred milk or dairy-free alternative.
Shredded cheddar cheese – substitute for another shredded cheese of your choice like mozzarella or Monterey Jack.
Salt & pepper – to taste.
How to make a breakfast burrito
Assemble your ingredients.
Bake the hashbrowns.
Cook the turkey bacon.
Sauté the veggies.
Make the scrambled eggs.
Assemble and roll your burritos.
How to roll your burrito
Ever wonder how to roll your burrito so you don't end up wearing the toppings? It's easy when you know the right way to do it! Just follow these simple steps:
Use a warm tortilla. While it may sound silly to warm them when you will be freezing the meal, warm tortillas are much easier to work with.
Don't use too much filling.
Keep your toppings in the center of the tortilla.
Fold one side in toward the filling, then fold in the opposite side.
Roll from the edge closest to you toward the top.
You can also watch the video at the bottom to see how I do it.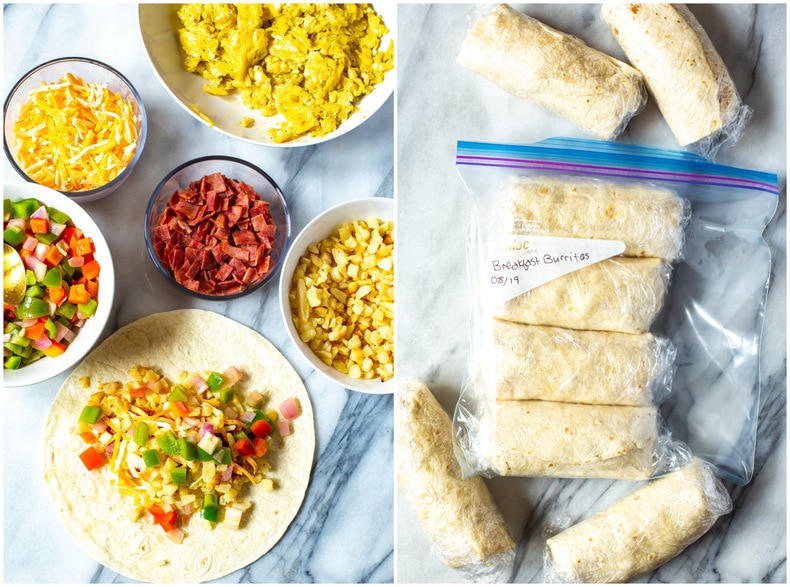 Frequently Asked Questions
What should I put in my breakfast burrito?
There are so many other ingredients you can add to make unique flavors and you'll never get bored with all the different flavour and ingredient combinations. Try mixing and matching with a range of different veggies, cheeses and meat – you can even add in some lentils, quinoa or legumes for plant-based protein.
How many calories are in this recipe?
This recipe has 369 calories per burrito, but the final calorie count will vary based on what ingredients and toppings you put in your breakfast burrito.
How do you keep them from getting soggy?
No one wants a soggy breakfast burrito! To keep yours from getting soggy, make sure that the filling is room temperature before rolling the burritos. Roll them tightly to keep out the moisture then wrap them in plastic wrap followed by a sheet of aluminum foil. When it comes to reheating, the oven or the toaster oven is the way to go to ensure you get a nice and crispy tortilla.
Freezing this recipe
Once you have perfectly rolled burritos, wrap them up in plastic wrap and aluminum foil then stick them in a freezer-safe Ziploc bag. Be sure to label them so you don't forget what they are! They will keep in the freezer for about 3 months.
How do you reheat frozen breakfast burritos?
When you're ready to enjoy your burrito, defrost it in the fridge overnight. In the morning, reheat it in the oven at 400° Fahrenheit for 10 minutes, or in a microwave for 1-2 minutes. I think they taste the best when reheated in the oven and you don't have to risk a soggy burrito this way.
If you're reheating from the fridge and not the freezer, the microwave works great. You can refrigerate these burritos up to 5 days and all you need is 1 to 2 minutes in the microwave, flipping over halfway through the cooking time to get an even reheat.
Wanna Learn How To Meal Prep?
My meal planning service, Dinner Prep Pro, removes the guesswork and helps you get dinner on the table in 15-20 minutes each night. My meal prep checklists only take 1 hour each week!
More meal prep breakfast recipes
Meal prep tools for this recipe
Grab some glass meal prep bowls if you plan on having these freezer breakfast burritos on the go.
Freeze these burritos in Ziploc bags up to 3 months to prevent freezer burn.
Meal Prep Freezer Breakfast Burritos
These Meal Prep Freezer Breakfast Burritos are a make-ahead breakfast with all your favourite toppings– they'll last for up to 3 months!
Print
Pin
Rate
Click Here to Remove Ads
Servings: 8 servings
Calories: 369kcal
Ingredients
8 flour tortillas
2 cups frozen hashbrowns
8 slices turkey bacon
1 tbsp olive oil
1/2 each red and green pepper, diced
1 small red onion, diced
12 eggs
1/2 cup milk
1 tsp salt
1/4 tsp pepper
1 cup shredded cheddar cheese
Instructions
Preheat oven to 450. Spread hashbrowns out on a parchment-lined baking sheet and bake for 10-15 minutes until fully cooked, stirring once halfway through.

Meanwhile, cook turkey bacon in a large skillet for 4-5 minutes over med-high heat. Remove and let cool, then crumble up and set aside. Meanwhile, add olive oil to skillet and saute bell peppers and onions for 3-4 minutes until softened. Remove once softened and set aside with bacon.

Mix together eggs, milk, salt & pepper in a large bowl, then add eggs back to pan, scrambling until slightly runny then remove from heat.

Microwave flour tortillas for 10-20 seconds until soft and pliable. Spread a little bit of egg, turkey bacon, hashbrowns, veggies and cheese then fold into burritos (see the video below to see how it's done!)

Wrap each burrito in plastic wrap then place five at a time in a large Ziploc freezer bag. Let cool for 20-30 minutes then freeze up to 3 months – they will also last in the fridge up to 5 days. To reheat from frozen, microwave for 3-4 minutes on high, or heat for 10 minutes in a toaster oven. Serve and enjoy!
Video
Notes
Calorie count will vary based on what toppings you use. Swap out the veggies and meat for whatever you're craving. Use a warm tortilla to make sure you can properly roll your burritos. Wrap your burritos in plastic wrap and aluminum foil then freeze them in a Ziploc bag for up to 3 months. For best results, defrost your burrito in the fridge then reheat in the oven at 400° F for 10 minutes.
Nutrition
Calories: 369kcal (18%)Carbohydrates: 28g (9%)Protein: 20g (40%)Fat: 19g (29%)Saturated Fat: 7g (44%)Cholesterol: 276mg (92%)Sodium: 1017mg (44%)Potassium: 396mg (11%)Fiber: 2g (8%)Sugar: 3g (3%)Vitamin A: 523IU (10%)Vitamin C: 5mg (6%)Calcium: 198mg (20%)Iron: 3mg (17%)