These Meal Prep Freezer Breakfast Burritos are a make ahead breakfast that you can grab on the go and take with you to work.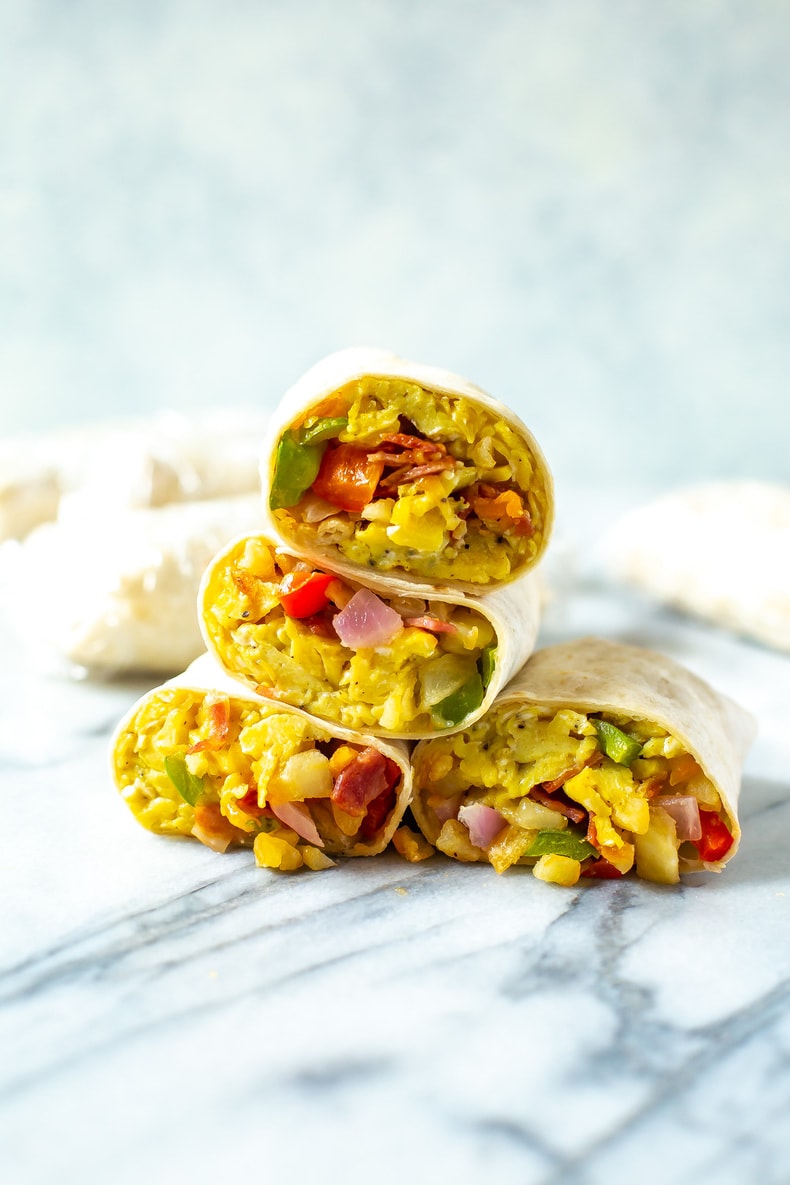 How to make freezer breakfast burritos
Gather your ingredients and get ready to stock your freezer with healthy freezer breakfast burritos!
Bake your hashbrowns in the oven on a sheet pan.
Cook the sausage and/or bacon.
Scramble the eggs and cook the veggies in the same pan as the bacon.
Warm the tortillas in the microwave to make them easier to work with.
Add all the ingredients to the tortilla.
Roll the burritos then wrap them tightly in plastic wrap or aluminum foil.
Now your freezer burritos are ready for the freezer!
Why breakfast burritos are great for meal prep
Breakfast burritos are the ideal meal prep food.
They are nutritious, delicious, and they freeze well. And when you reheat them, they are just as good as when they were freshly made.
Plus, they are quick to assemble. It's easy to put together an entire batch in less than 30 minutes and be ready for quick breakfasts all week long.
Ingredients in freezer breakfast burritos
The basic ingredients in freezer breakfast burritos are things you may already have on hand. Once you get the recipe down, you'll have fun creating new combinations. Start with these ingredients:
Scrambled eggs– This is the protein building block for the burrito.
Potatoes– I use hash browns but any type of cooked potatoes will do the trick.
Sausage– Ground sausage is the easiest to roll into the burrito but bacon (or turkey bacon) work great too!
Veggies- I use green and red bell peppers and onions but you can technically use any veggie.
Flour tortillas– Any type you prefer; white, wheat, low carb, etc.
What type of hash browns to use
For the potatoes, I think frozen cubed hash browns are the best choice. Don't bother thawing them before adding them to the freezer burritos because you'll be freezing them again. This shortcut will save you lots of time cutting and roasting potatoes.
Making your own hash browns takes a little more time, but it is super easy!
Cut a few Idaho or baking potatoes into cubes and toss them into a mixing bowl. This also works well for leftover baked potatoes – just cut them up!
Drizzle with a bit of olive oil and season with paprika, garlic powder, salt and pepper.
Roast for 30 minutes at 400 degrees F, making sure to toss them half way through cooking so they don't stick to the pan.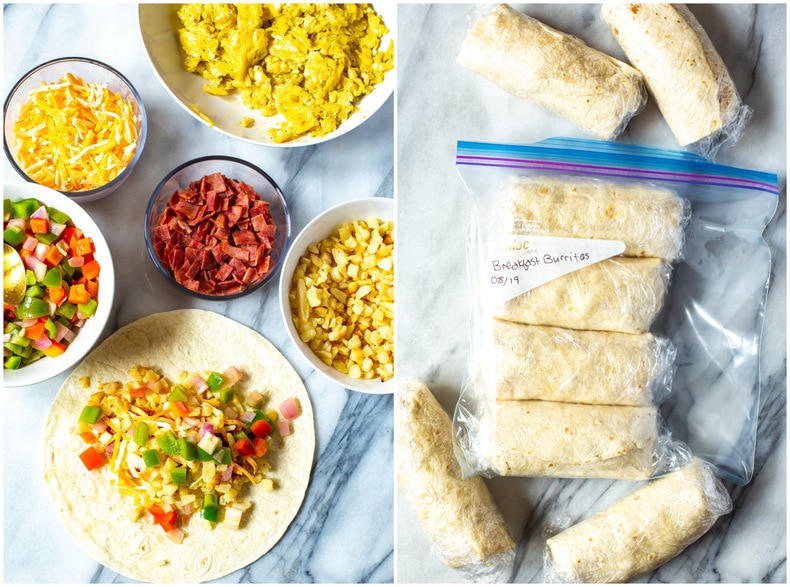 Other filling ideas and substitutions
This recipe is the basic plan for building healthy freezer breakfast burritos. There are so many other ingredients you can add to make unique flavors. You'll never get bored of this recipe with all the changes you can make to it. Try some of these tasty breakfast burrito filling ideas or create your own!
Veggies – Peppers, onions, spinach, tomatoes, scallions, jalapenos
Cheese – Your favourite variety. I like to use shredded cheddar cheese.
Meat – Diced bacon, ham, turkey or chicken sausage, or ground pork sausage.
Lentils, quinoa, or legumes
How to roll a burrito
Ever wonder how to roll your burrito so you don't end up wearing the toppings? It's easy when you know the right way to do it! Just follow these simple steps.
Use a warm tortilla. While it may sound silly to warm them when you will be freezing the meal, warm tortillas are much easier to work with.
Don't use too much filling.
Keep your toppings in the center of the tortilla.
Fold one side in toward the filling, then fold in the opposite side.
Roll from the edge closest to you toward the top.
You can also  and watch the video at the bottom to see how I do it.
Freezing breakfast burritos
Once you have perfectly rolled burritos, wrap them up and be sure to label them so you don't forget what they are. They will keep in the freezer for about three months.
How do you reheat frozen breakfast burritos?
Defrost in the fridge overnight. In the morning, reheat the defrosted burritos in the oven at 400 F for 10 minutes, or in a microwave for 1-2 minutes. I think they taste the best when reheated in the oven, and you don't have to risk a soggy burrito this way.
If you're reheating from the fridge and not the freezer, the microwave works great. You can refrigerate these burritos up to 5 days and all you need is 1 1/2 to 2 minutes in the microwave, flipping over halfway through the cooking time to get an even reheat.
Preventing soggy burritos
No one wants soggy breakfast burritos. Keep these simple tips in mind to help ensure that your breakfast will be delicious.
Make sure that the filling is room temperature before rolling the burritos.
Roll them tightly to keep out moisture.
Wrap them in plastic wrap and then a sheet of aluminum foil.
Reheat them in the oven or in a toaster oven in order to get a crisper tortilla.
More meal prep breakfast ideas
If you love these freezer breakfast burritos and want to meal prep more breakfasts ahead of time, I encourage you to check out these recipes! They are also great to make ahead of time and you can grab them out of the fridge on your way to work too!
Meal prep tools for this recipe
Grab some glass meal prep bowls if you plan on having these freezer breakfast burritos on the go
Freeze these burritos in Ziploc bags up to 3 months to prevent freezer burn
Meal Prep Freezer Breakfast Burritos
These Meal Prep Freezer Breakfast Burritos are a make ahead breakfast that you can grab on the go and take with you to work. 
Print
Pin
Rate
Ingredients
8

flour tortillas

2

cups

frozen hashbrowns

8

slices

turkey bacon

1

tbsp

olive oil

1/2

each

red and green pepper, diced

1

small

red onion, diced

12

eggs

1/2

cup

milk

1

tsp

salt

1/4

tsp

pepper

1

cup

shredded cheddar cheese
Instructions
Preheat oven to 450. Spread hashbrowns out on a parchment-lined baking sheet and bake for 10-15 minutes until fully cooked, stirring once halfway through.

Meanwhile, cook turkey bacon in a large skillet for 4-5 minutes over med-high heat. Remove and let cool, then crumble up and set aside. Meanwhile, add olive oil to skillet and saute bell peppers and onions for 3-4 minutes until softened. Remove once softened and set aside with bacon.

Mix together eggs, milk, salt & pepper in a large bowl, then add eggs back to pan, scrambling until slightly runny then remove from heat.

Microwave flour tortillas for 10-20 seconds until soft and pliable. Spread a little bit of egg, turkey bacon, hashbrowns, veggies and cheese then fold into burritos (see the video below to see how it's done!)

Wrap each burrito in plastic wrap then place five at a time in a large Ziploc freezer bag. Let cool for 20-30 minutes then freeze up to 3 months - they will also last in the fridge up to 5 days. To reheat from frozen, microwave for 3-4 minutes on high, or heat for 10 minutes in a toaster oven. Serve and enjoy!
Video
Nutrition
Calories:
369
kcal
|
Carbohydrates:
28
g
|
Protein:
20
g
|
Fat:
19
g
|
Saturated Fat:
7
g
|
Cholesterol:
276
mg
|
Sodium:
1017
mg
|
Potassium:
396
mg
|
Fiber:
2
g
|
Sugar:
3
g
|
Vitamin A:
523
IU
|
Vitamin C:
5
mg
|
Calcium:
198
mg
|
Iron:
3
mg