These chicken marinade recipes include everything from teriyaki to honey mustard and fajita. Most have 5 ingredients or less!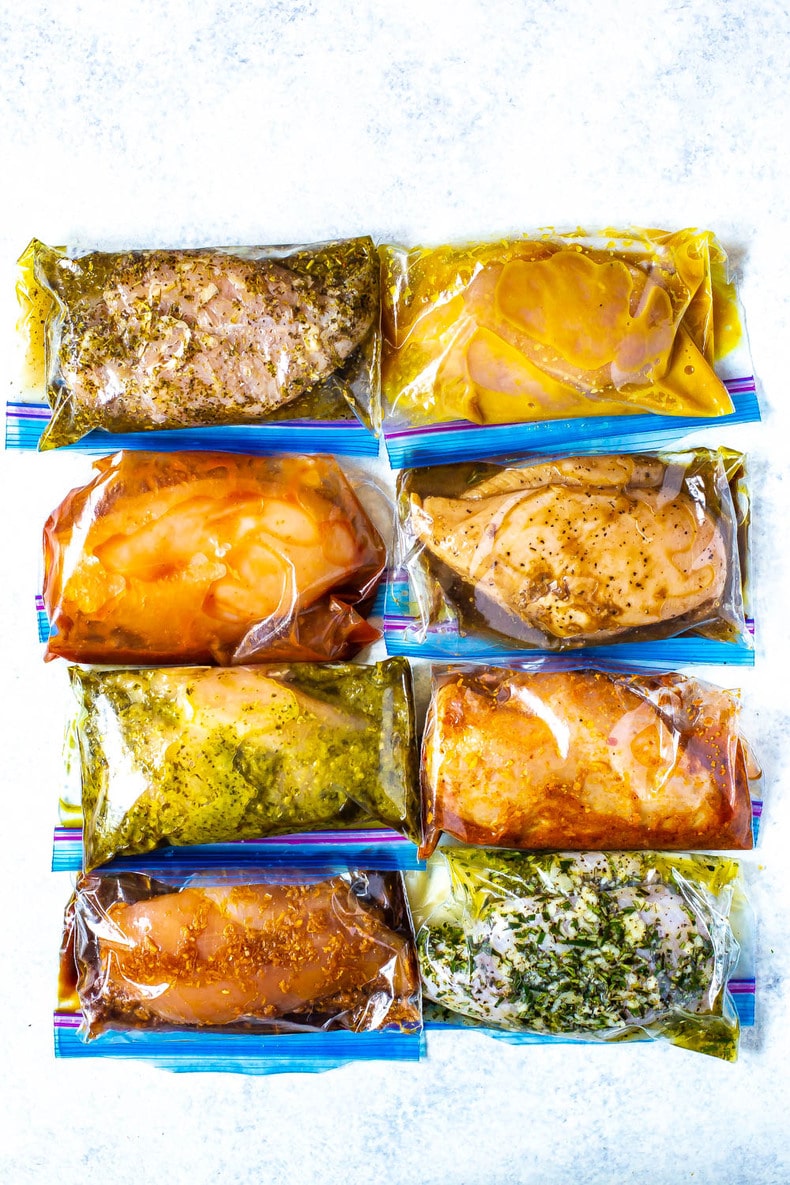 Different kinds of chicken marinades
Whether you're looking for some easy chicken dinner recipes or you're looking to grill chicken more, easy chicken marinades will certainly help make weeknight cooking a breeze!
I've rounded up over 20 grilled and baked easy chicken marinade recipes for every cuisine you can think of, from an Asian chicken marinade to an easy Mediterranean chicken, and so many more!
You can make most of these easy chicken marinade recipes ahead of time – one of my fave ever meal prep tricks is to freeze your chicken breasts in the marinade itself so all you have to do is pull them out of the freezer, then grill or bake. Your choice!
Marinade safety and avoiding contamination
Any time you use chicken marinades (or any other type of meat marinade), you should be extra cautious, especially when your hands and kitchen surfaces will come in direct contact with raw meat.
This precaution is necessary because dangerous bacteria thrive inside of raw chicken that can make you very sick. If you aren't careful, that bacteria will cross contaminate onto your hands, countertops, and other surfaces and body parts.
To avoid any potential risk, use these recommendations:
Wash your hands. Both before and after handling raw chicken, immediately wash your hands thoroughly for at least 20 seconds, using hot, soapy water. After you remove the raw chicken from the chicken marinades, wash your hands again.
Never reuse chicken marinades! Regardless of how clean the marinade may appear, bacteria are thriving inside. Cooking will not kill off all types of bacteria, so discard the chicken marinade immediately after use.
Why should you marinate chicken?
Chicken marinades are a great way to infuse a lot of flavor into the meat and they also help keep the chicken juicy and delicious.
This is especially true when you make certain slow cooker chicken recipes or other cooking methods that have a long cook time. The longer a chicken breast cooks, the more likely it is to become dry and over cooked. Chicken marinades will help to prevent that from happening!

How to make an easy marinade
Making an easy chicken marinade is as simple as whisking together a few simple ingredients for the chicken to sit in for a few hours. Marinating chicken allows the meat to tenderize and to soak up the flavours of the marinade.
A basic 4 ingredient chicken marinade usually includes:
oil
vinegar
soy sauce, dijon mustard or some other emulsifier
sweetener
You can use that simple marinade template alone, or add additional herbs and spices to create more depth of flavour. Let your creativity shine and your taste buds lead the way.
How long should you marinate?
There's no exact rule of thumb here but anywhere from 20 minutes to 24 hours is a safe bet for marinating chicken. You can also freeze chicken in most marinades!
If you're using a marinade that has a particularly acidic profile (think marinades heavy on lemon juice, vinegars, etc.) then you will want to marinate only 20-60 minutes and not overnight. With milder marinades such as honey mustard, pesto, BBQ and wine-based marinades, you can let them sit overnight in the fridge.
Grilling chicken marinades
The most obvious choice for cooking chicken marinades are on the grill! You get that delicious smokey taste and the flavours of whatever marinade you're using really shine. Just be sure to let your chicken marinate for at least 20 minutes if you're going to be grilling it afterward. You can also slice your chicken breasts in half lengthwise to get more of the marinade flavour shining through!
Baking chicken marinades
When cooking chicken involves low and slow heat, baking chicken marinades are the way to go. They help to lock the chicken's juices inside of the meat, which helps to prevent the chicken from becoming a dry, tasteless meal.
The perfect baked chicken breast
If you're looking for more chicken marinades and spice rub ideas, you'll definitely want to check out my formula for the BEST baked chicken breast. I've included three easy spice rubs and three easy marinades to get you started with baking chicken in the oven.
8 basic chicken marinades to get you started
Below you'll find pictures of my go-to super easy chicken breast marinades! Most of these marinades have 5 ingredients or less and they are pantry staples so there's no running to the store for any crazy spices.
These are my fave marinades and ones I always rotate through when it comes to my weekly meal prep.
Lemon rosemary marinade
Balsamic marinade
Pesto marinade
Teriyaki marinade
Garlic herb marinade
Fajita marinade
BBQ marinade
Honey mustard marinade
Baking multiple marinades at once
You can make multiple chicken marinades at once to get all kinds of flavors for your weekly meal prep! Create foil dividers as shown below ( here), then bake your chicken for the times suggested below in the recipe card. Easy peasy!
Freezing chicken marinades
You can freeze the raw chicken in the marinade right in the bag then freeze up to 90 days. When ready to serve, defrost the chicken in the fridge for 24 hours, then bake or BBQ as you normally would.
More Healthy Meal Ideas
If you're looking for more delicious meal inspiration, look no further than some of these helpful resources below!
Even more BONUS chicken breast marinade recipes
Here are some more chicken marinade recipes from some of my fave food bloggers if you're looking for more recipe inspiration. Click the links below the pictures to take you to these other delicious recipes!
The Best Chicken Marinade Recipe, via Mom on Timeout // Favorite Everyday Chicken Marinade, via A Beautiful Plate
The Best Greek Chicken Marinade, via Foodie Crush // Honey Mustard Chicken Marinade, from Rachel Cooks
Isabel's Island Chicken Marinade, via Healthy Seasonal Recipes // Spicy Beer Chicken Marinade, via Family Food on the Table
Korean Chicken Marinade, via Skinnytaste // Asian Ginger Chicken Marinade, via Oh Sweet Basil
Savory Low Carb Chicken Marinade, via Kalyn's Kitchen // Roasted Miso Chicken, via Real Housemoms
Japanese Ponzu Sauce, via A Family Feast // Chicken Shawarma Meal Prep Bowls, via The Girl on Bloor
Baked Cuban Mojo Chicken, via Spend with Pennies // Curry Yogurt Chicken Marinade, via Sweet Peas and Saffron
Spanish Chicken in Pepitoria Sauce, via A Family Feast // Baked Hasselback Greek Chicken with lemon-oregano marinade, via The Girl on Bloor
Instant Pot Chipotle Lime Chicken Breasts, via Sweet Peas and Saffron // Coconut Mango Chicken Meal Prep Bowls, via The Girl on Bloor
Spanish Chicken Marbella, via She Wears Many Hats // Salsa Chicken via The Girl on Bloor
And there you have it, my fave ever chicken breast marinades! There are so many more out there (just see this baked chicken breast compilation), but the above recipes are some of my fave ways to get creative.
Meal prep tools for this recipe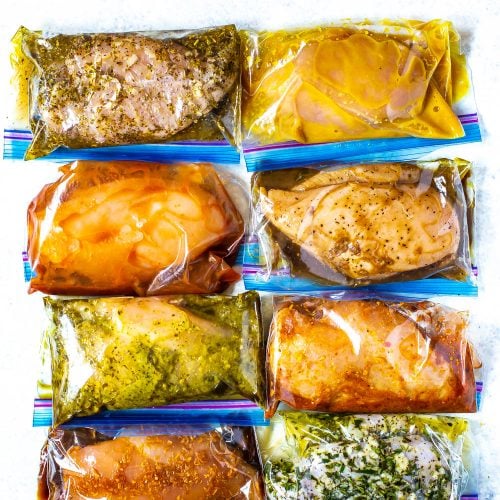 20 Easy Best Chicken Marinade Recipes
These chicken marinade recipes include everything from teriyaki to honey mustard and fajita. Most have 5 ingredients or less! 
Print
Pin
Rate
Ingredients
Teriyaki marinade
1

tbsp

sesame oil

1/4

cup

soy sauce

4

cloves

garlic, minced

1

tbsp

minced gingerroot
Honey mustard marinade
1/4

cup

honey

1/4

cup

mustard
Balsamic marinade
1/4

cup

olive oil

1/4

cup

balsamic vinegar

1

tbsp

Dijon mustard

2

cloves

garlic, minced

1/2

tsp

each salt & pepper
Fajita marinade
1/4

cup

olive oil

1/4

cup

lime juice

1

tbsp

homemade fajita seasoning

1/2

tsp

each salt & pepper
Garlic herb marinade
1/4

cup

olive oil

1/4

cup

dry white wine or lemon juice

4

cloves

garlic, minced

1

tbsp

Italian seasoning

1/2

tsp

each salt & pepper
Lemon rosemary marinade
1/4

cup

olive oil

1/4

cup

lemon juice

1

tbsp

fresh or dried rosemary

2

cloves

garlic, minced

1/2

tsp

each salt & pepper
Chicken
1

lb

boneless, skinless chicken breasts
Instructions
Preheat oven to 400 F. Mix together chicken marinade of choice in a small bowl and pour over chicken in a Ziploc bag or small bowl. Marinate for 15-20 minutes.

Line a baking sheet with parchment paper or tin foil. If you'd like to do multiple marinades at a time, make dividers using your tin foil as shown in the video below.

For 6 oz breasts: bake 18-20 minutes. For 8 oz breasts: bake 20-22 minutes. For 10oz breasts: bake 25-28 minutes. Check that chicken is cooked through by slicing one of the breasts down the middle and meat thermometre reads 165 F.

Let chicken rest for 5-10 minutes before slicing or chopping. Store in glass containers for later or serve immediately with a side dish. Enjoy!
Video
Nutrition
Calories:
169
kcal
|
Carbohydrates:
1
g
|
Protein:
26
g
|
Fat:
6
g
|
Saturated Fat:
1
g
|
Cholesterol:
73
mg
|
Sodium:
942
mg
|
Potassium:
450
mg
|
Fiber:
1
g
|
Sugar:
1
g
|
Vitamin A:
35
IU
|
Vitamin C:
1.3
mg
|
Calcium:
9
mg
|
Iron:
0.8
mg