One Skillet Chicken Parmesan With Orzo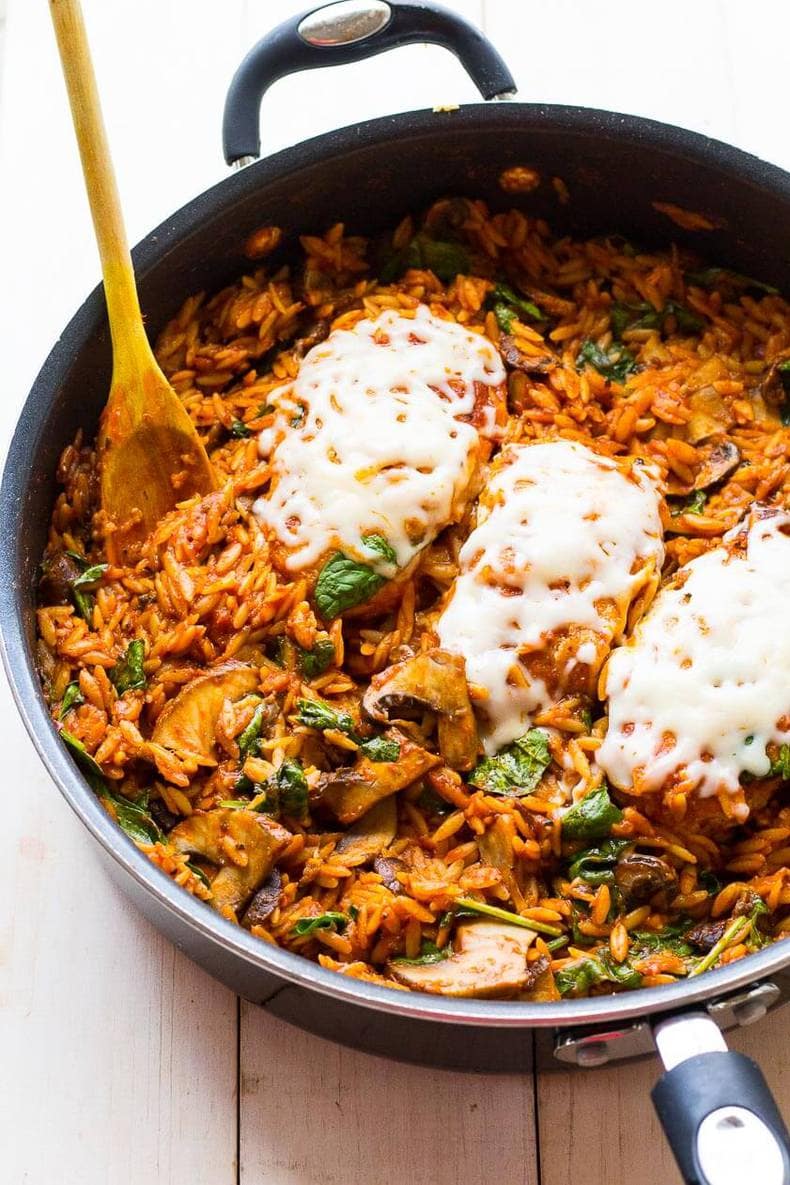 So the women in my family are very opinionated, and we tend to get what we want. Restaurants, family outings, vacations…they're all usually picked by my mom and me. I mean, I can't help it that we have good taste for one, or that my dad and brother hardly bother to speak up (err, yell) overtop of us to get their opinions known. Since I've moved home, I've been cooking a lot of trendy, but sometimes crazy and out there things, and my dad just so happens to be a meat and potatoes kind of guy.?
As much as I joke around, out of everyone in my family my dad is absolutely the most selfless. He washes all the dishes after my mom and I are done cooking, and he rubs my mom's feet every night. He puts up with our crazy antics and lets us take over the TV…you get the picture. One of the things he really loves in life besides making us happy though is Chicken Parmesan. So, being the good daughter that I am, I decided to give him a break and do a spin on one of his favourites, and this One Skillet Chicken Parmesan was born.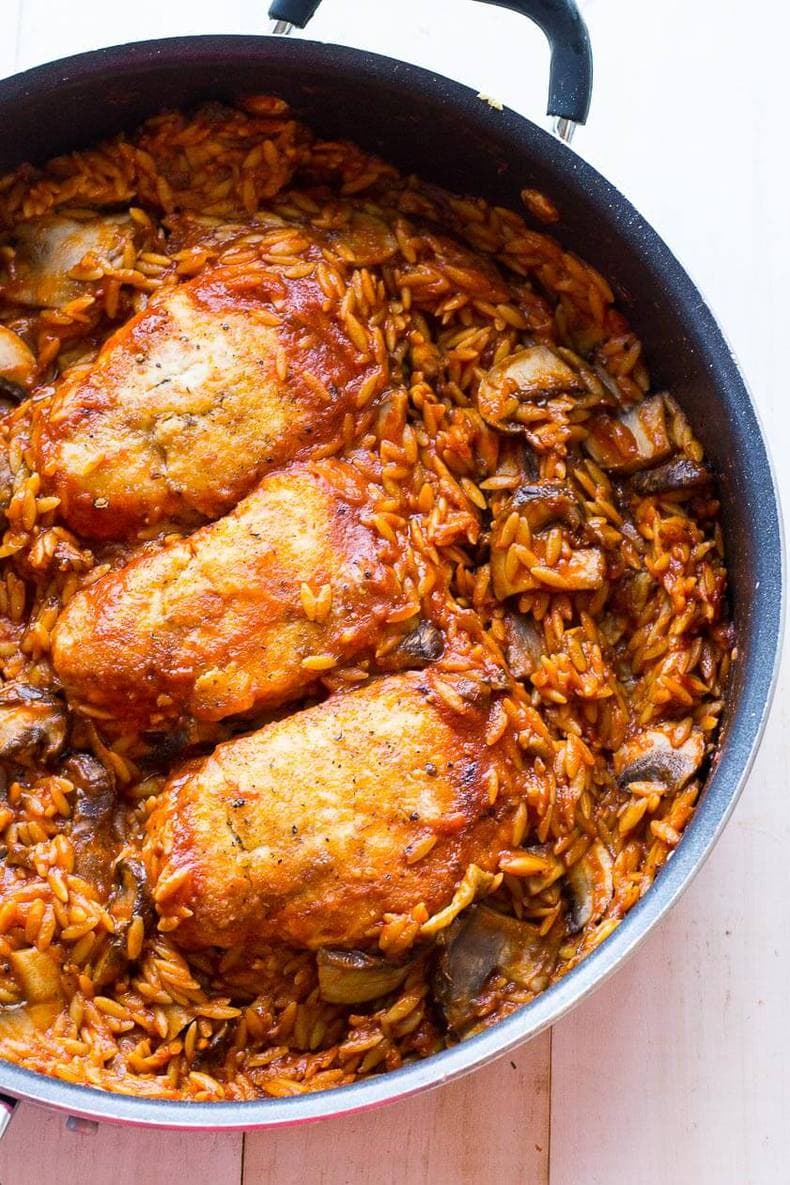 Lately because of school and commuting, I've only really had minimal time to think of meal planning. I need the fastest possible meal with the least possible mess for dinner. And preferably this ideal meal will include leftovers. I think this easy skillet dish pretty much checks off all those things on my list. Chicken, mushrooms, orzo, tomato sauce, done.✔️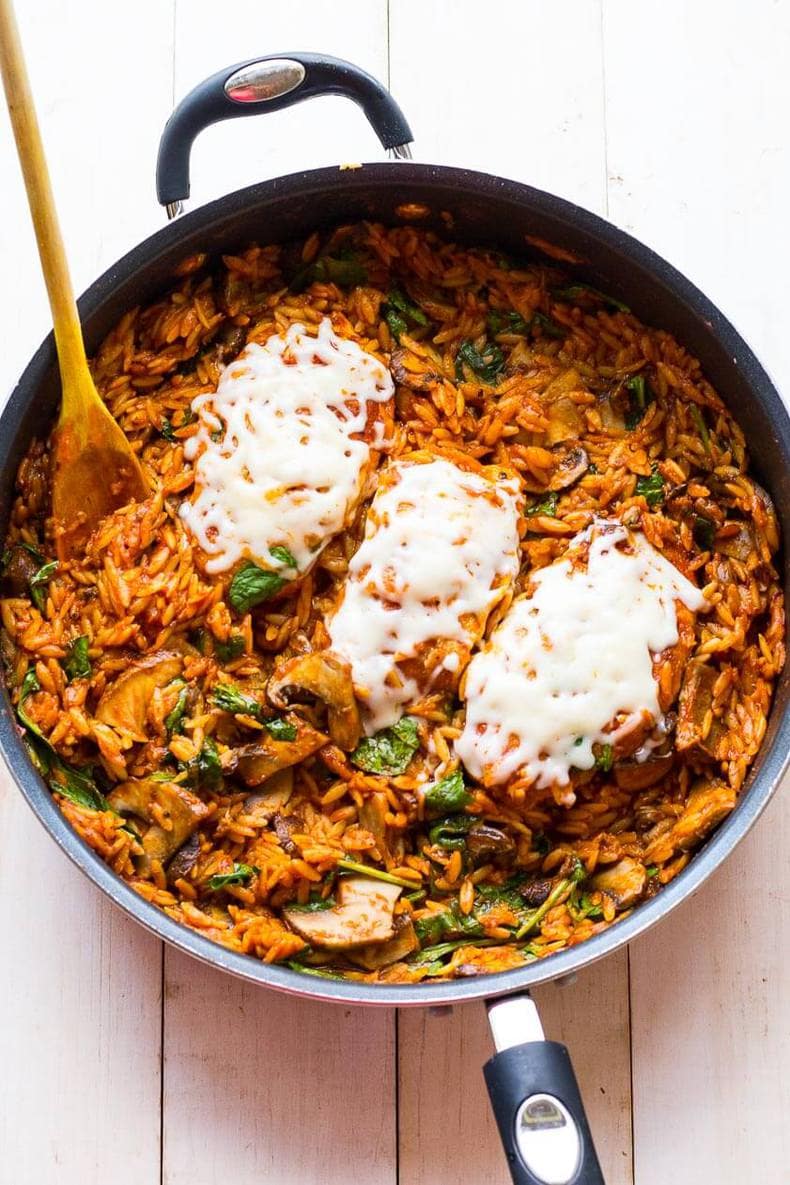 This One Skillet Chicken Parmesan is a fast and satisfying one pot meal filled with orzo pasta, spinach and portobello mushrooms for a healthy twist on a traditional favourite. You know me, I've gotta get my veggies in any time I have the chance!?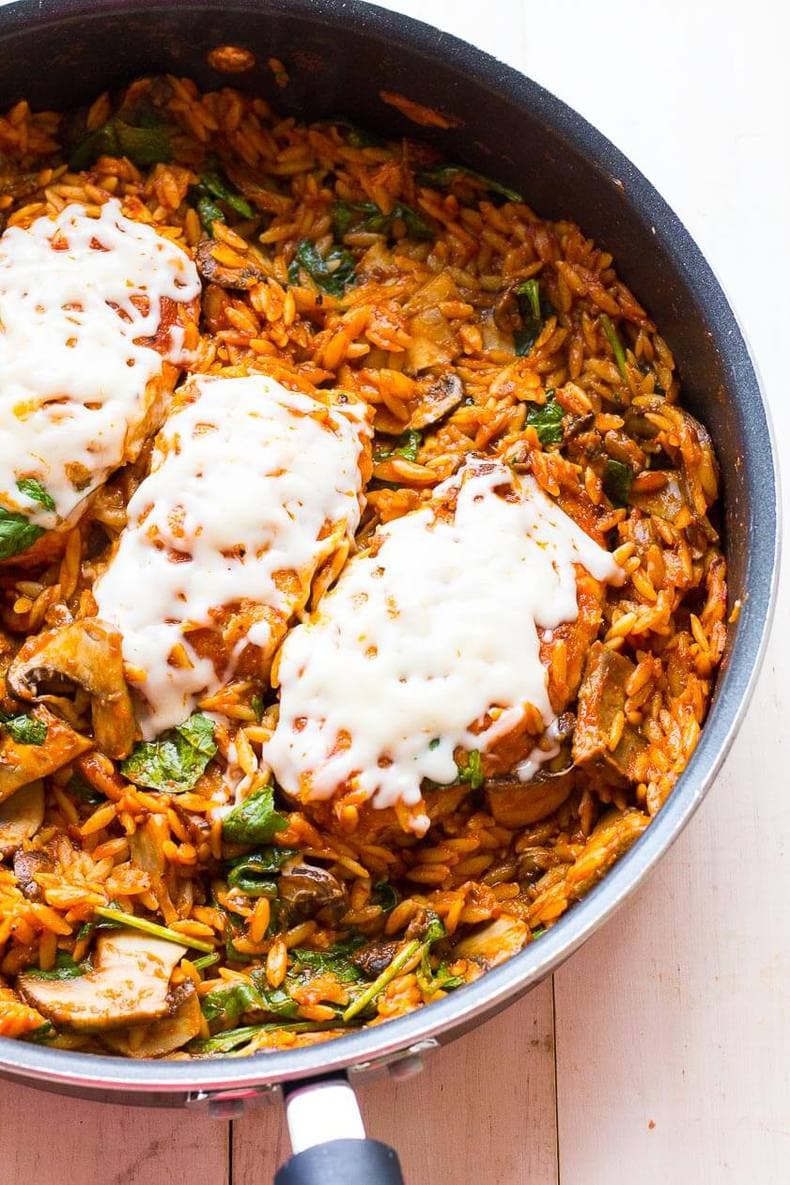 Just look at this big pot of deliciousness right here. I lightly breaded the chicken in this recipe and as long as you follow my recipe, it will all stay in tact and become absolutely amazing and tender from cooking in the tomato sauce for 25 minutes. I seriously can't even tell you how much I love this recipe.
Ready in 30 minutes and filled with all four food groups to perfection. This One Skillet Chicken Parmesan will definitely become a new staple in your weeknight dinner routine. You're welcome!?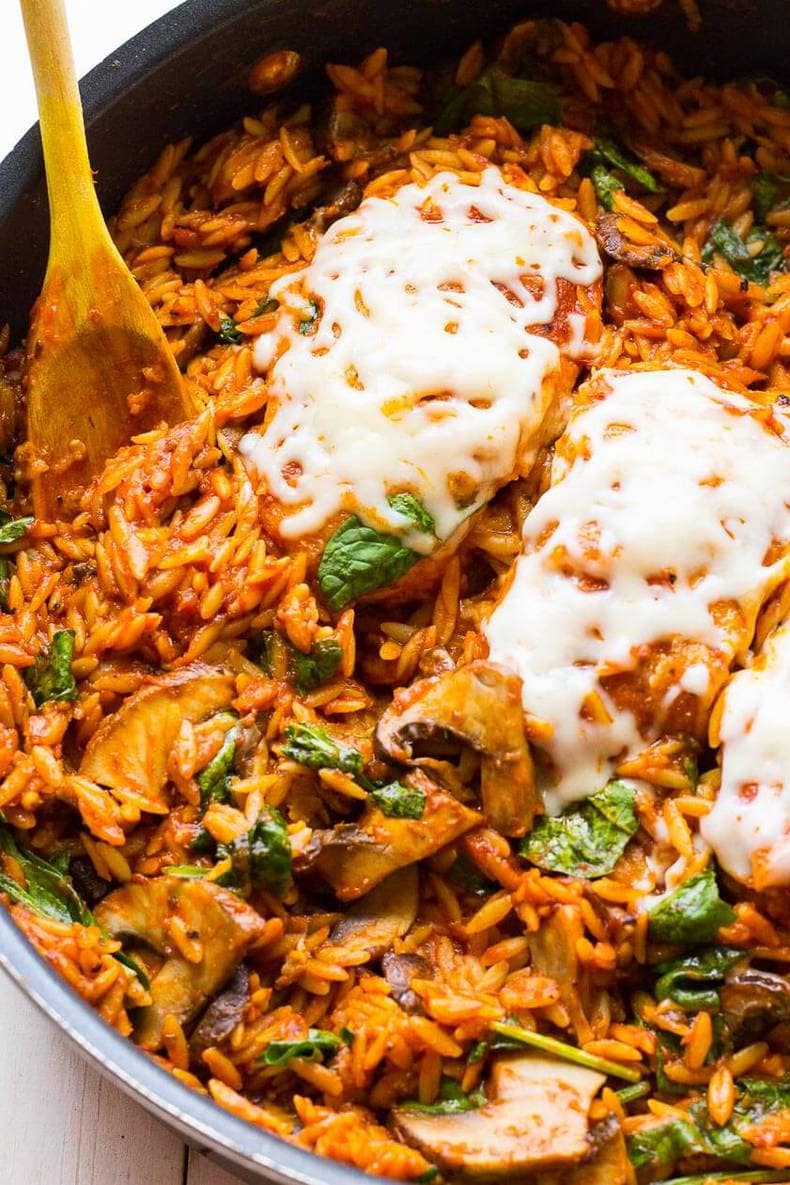 Will you be trying this One Skillet Chicken Parmesan? What are your healthy lunch routines? If you try any of my recipes be sure to let me know on Instagram, Twitter or Facebook – I'd love to hear from you!?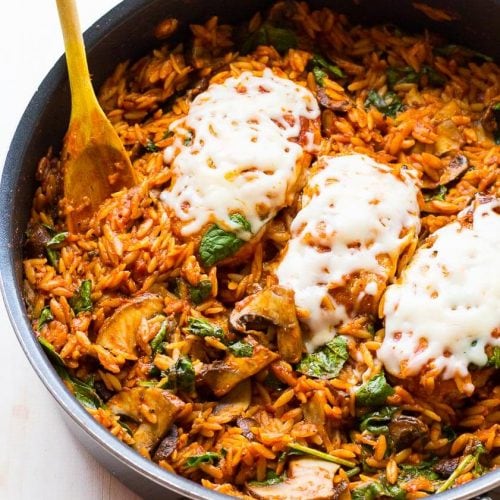 Print Recipe
One Skillet Chicken Parmesan With Orzo
This One Skillet Chicken Parmesan is a fast and satisfying one pot meal filled with orzo pasta & spinach for a healthy twist on a traditional favourite.
Ingredients
2

tbsp

olive oil

2

cloves

garlic

minced

2

Portobello mushrooms

1/2

cup

water

1 700

mL jar tomato sauce of your choice

1 1/2

cups

dried orzo

1/2

cup

shredded pizza mozzarella

1

cup

chopped baby spinach
Chicken Parmesan
3

chicken breasts

3

bowls each filled with breadcrumbs

flour and 1 scrambled egg

Salt & pepper to taste
Instructions
Heat olive oil in a large skillet over medium heat. Meanwhile, coat each chicken breast in egg, then in flour, then in breadcrumbs. Sprinkle with salt & pepper, then place in skillet and fry for about 3-4 minutes per side.

When breading becomes a bit more solid, continue to fry chicken in the middle of the pan and add garlic and mushrooms around, sautéing for about 5 min.

Add water, tomato sauce and orzo, then bring to a boil. Lower heat to low-medium, then cover skillet with well-fitting lid and let simmer for about 12-15 min, checking and stirring often until orzo and chicken is completely cooked through.

Remove lid and add cheese to the tops of each chicken breast. Stir in spinach and cover with lid again, cooking for another 2 minutes.

One serving is about 1/2 a chicken breast and 1 cup of the orzo/mushroom/spinach mixture, and reheats fairly well on the stovetop.

Enjoy!
Nutrition
Calories:
432
kcal
|
Carbohydrates:
53
g
|
Protein:
27
g
|
Fat:
13
g
|
Saturated Fat:
4
g
|
Polyunsaturated Fat:
1
g
|
Monounsaturated Fat:
6
g
|
Cholesterol:
45
mg
|
Sodium:
299
mg
|
Potassium:
429
mg
|
Fiber:
4
g
|
Sugar:
5
g
|
Vitamin A:
850
IU
|
Vitamin C:
14.9
mg
|
Calcium:
170
mg
|
Iron:
3.2
mg