Honey Sriracha Chicken Meal Prep Bowls
These Honey Sriracha Chicken Meal Prep Bowls with broccoli and jasmine rice are a delicious lunch idea that can be prepped ahead on one pan – and the sauce comes together so easily with only 3 ingredients!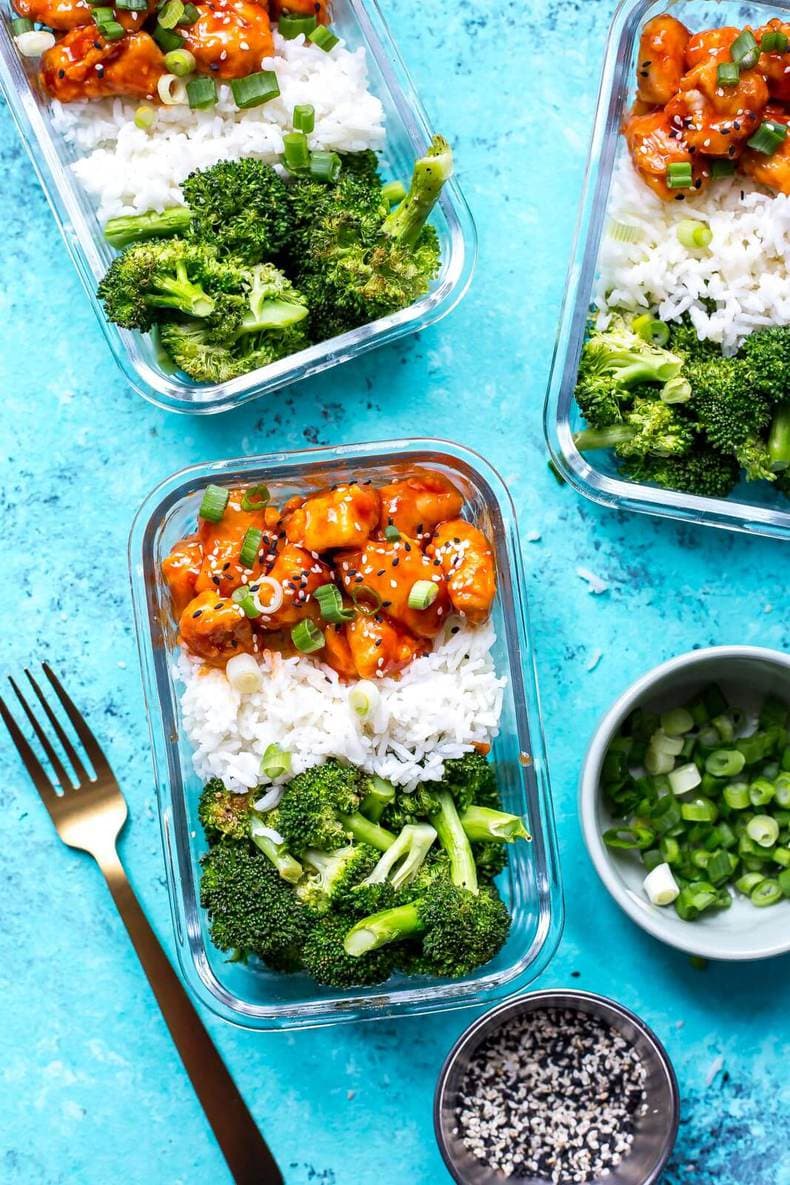 OMG you guys.
A new meal prep favourite, and it's inspired by chicken wings! Yes, chicken wings!
MY LATEST VIDEOS
So every year my family and I head down from Hamilton to Buffalo to go shopping and get in on some US deals (the shopping is just different in the States, okay?) And almost every time without fail, we stop at Applebee's because they are few and far between in Canada. In fact, I think there's really only one in Niagara Falls, and let's just say we aren't driving all the way down there for that.
Anyway! Because food is life and I'm always a pig when I'm on vacation, I always get the appetizer sample platter without fail every single time. And I suppose by now you can guess what one of my three appetizer items is…
Yes, boneless buffalo wing bites! Be still my heart!!!
LOL I am soooooo extra I know.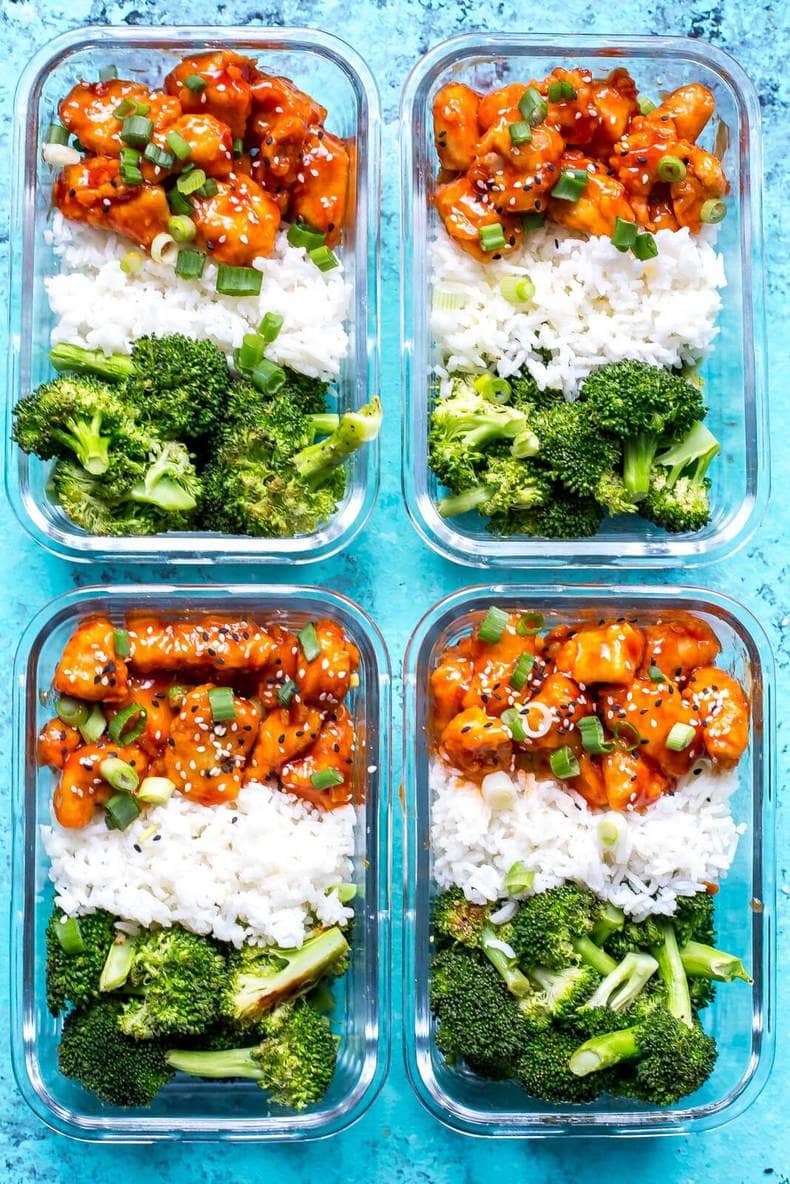 But seriously though, is there anything better than wing sauce? I think not!
But let's be real, the bottled stuff isn't always the same and you don't always have the motivation to make a wing sauce from scratch, let alone make yourself a batch of chicken wings. So, the girl with the trash taste in food who WORKS in food for a living is bringing you your very own super easy boneless wing bites at home, covered in sticky-spicy-sweet honey sriracha sauce.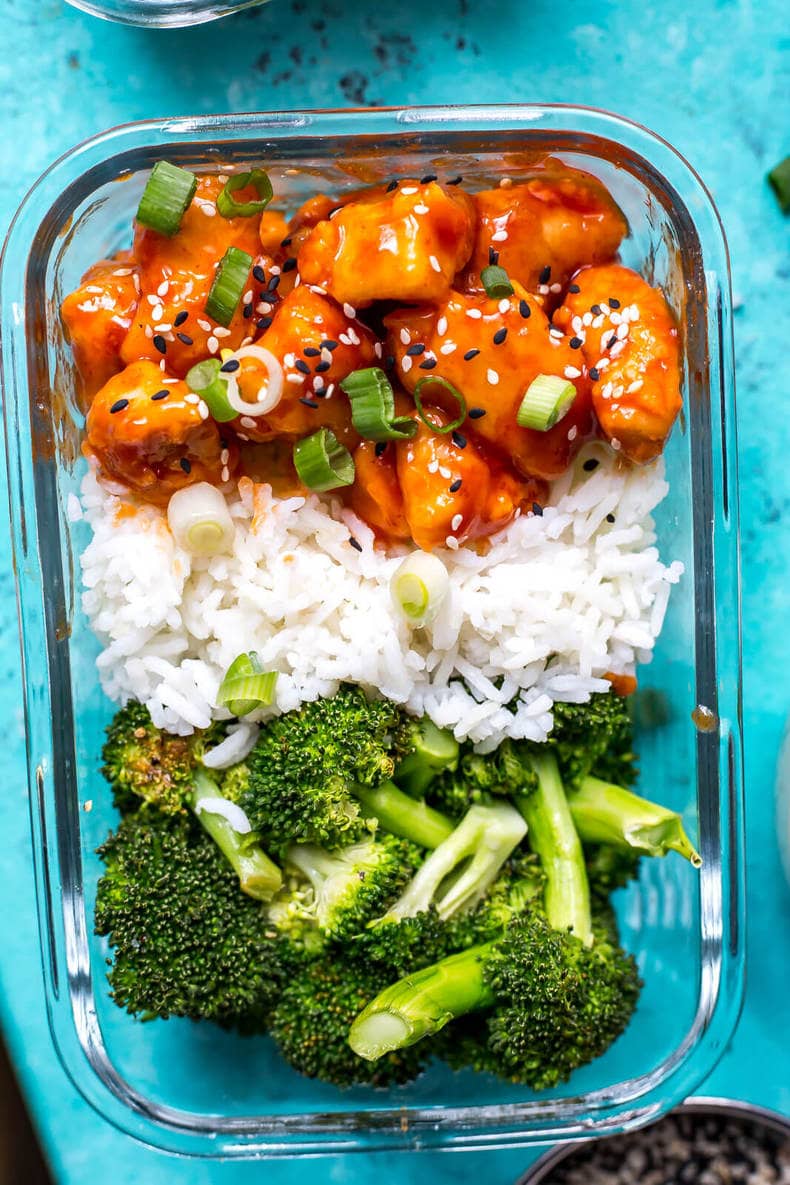 MEAL PREP Honey Sriracha Chicken bites to be exact, so you can eat good for the work week and ENJOY YOURSELF.
Add in a bit of jasmine rice and some roasted broccoli, and you've got one winner of a set of work week lunches. And as easy as they are to make, they're pretty healthy too!
If you check out the video, you'll see I cook the chicken and the broccoli on the same sheet pan to cut down on the prep time and cooking materials (I absolutely hate dishes!) and from there it's just a matter of putting in your rice. Or, if you're looking to make these Honey Sriracha Chicken Meal Prep Bowls low carb, you can just leave out the rice altogether and double up on the chicken or broccoli.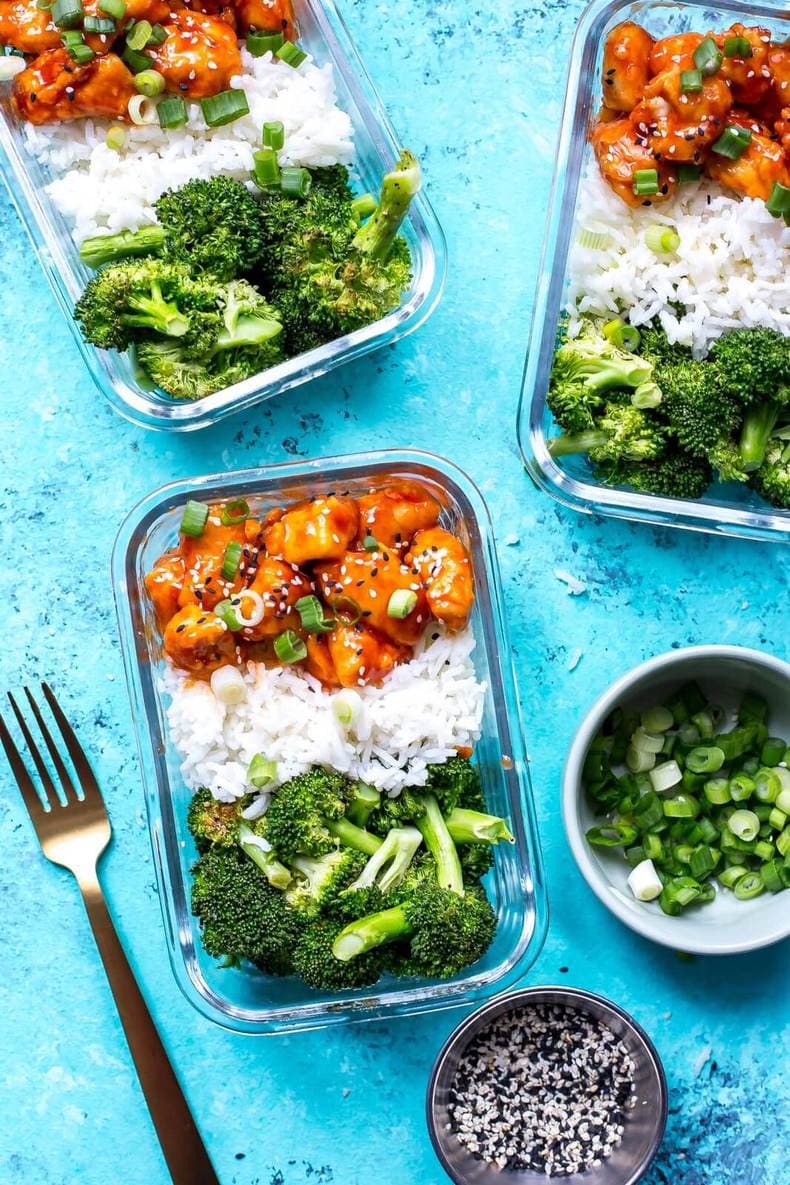 Okay, so how did I get this Honey Sriracha Chicken looking so bomb? There really is no secret, other than a little bit of egg and flour! I've used cornstarch and egg in the past too (like with these Sweet Chili Chicken Meal Prep Bowls) and that works pretty well for getting that coating on the outside of the chicken, and you can use panko breadcrumbs after the flour or crushed up cornflakes (like I did with this homemade Popcorn chicken) if you're looking to get some really crispy chicken.
But the way I see it, you're gonna get somewhat soggy chicken anyway the minute you douse it in sauce so you may as well make it easy on yourself.
Drench 1-inch chicken cubes in egg, toss in flour, place on a baking sheet and bake for 10 minutes, remove from oven and add broccoli. Bake another 10 minutes and you're done! So easy!
And let's not forget about the sauce! You'll get that ready while everything's cooking in the oven. It's relatively simple – ketchup, honey, sriracha and a bit of salt. Microwave it for a minute, then toss the chicken in it (make sure you use a large bowl to get an even coating).
Distribute the chicken evenly among meal prep bowls and serve with the broccoli and rice!
One thing I've been doing when I have time to meal prep on a Sunday is cooking rice and grains like quinoa ahead of time so I can just throw them in alongside a recipe that needs them. If you have a rice cooker it's super easy because all you have to do is measure out the liquid and rice and the rice cooker takes care of the rest – no burning in a pot on the stove!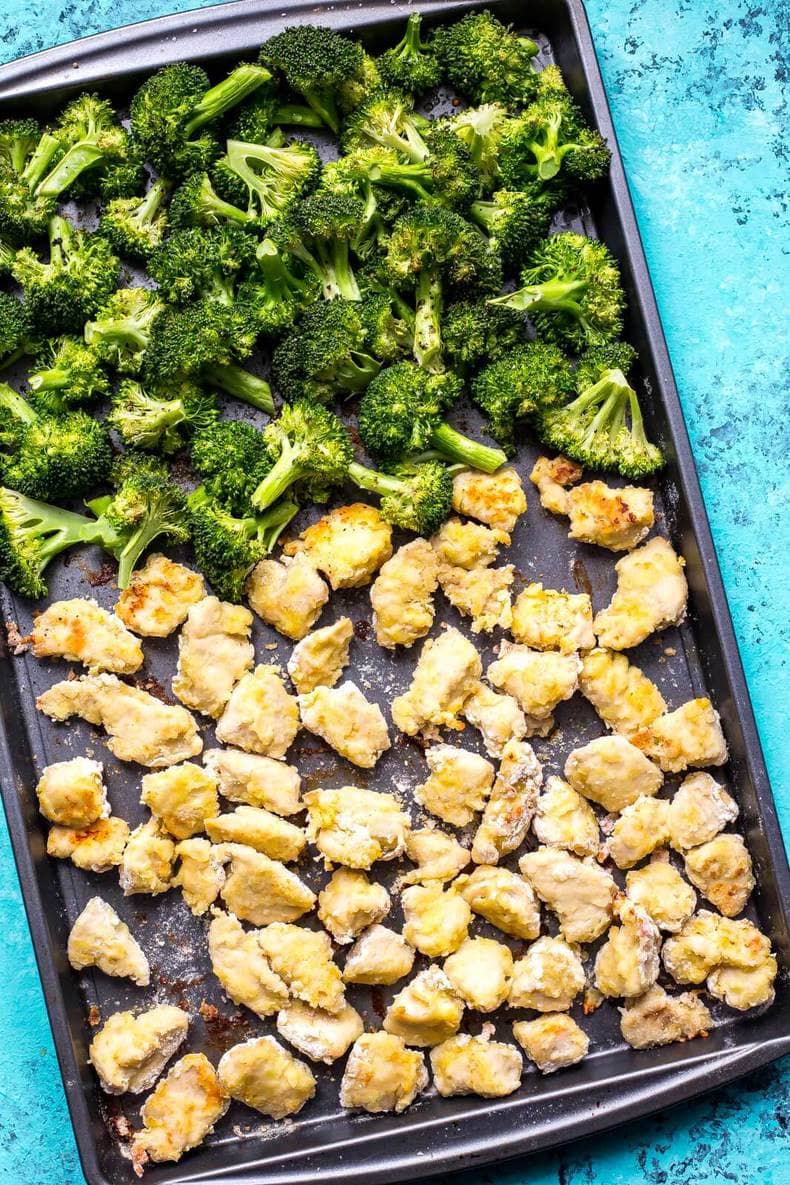 Will you be making these Honey Sriracha Chicken Meal Prep Bowls? 
You gotta get on the meal prep train if you aren't already…any excuse to have delicious lunches all week is a-okay with me!!! And these are basically like boneless wing bites. OMG so good!
If you try any of my recipes be sure to let me know on Instagram, Twitter, Facebook or in the comments – I'd love to see what you come up with!
Get your square glass meal prep bowls here!
And of course I get all my free-range chicken breasts from Butcher Box!
Print Recipe
Honey Sriracha Chicken Meal Prep Bowls
Yum
These Honey Sriracha Chicken Meal Prep Bowls with broccoli and jasmine rice are a delicious lunch idea that can be prepped ahead on one pan - and the sauce comes together so easily with only 3 ingredients!
| | |
| --- | --- |
| | |
Preheat oven to 425 F. Add egg and flour to two large separate bowls. Drench chicken in egg, then coat in flour, shaking to get off any extra flour. Grease a non-stick baking sheet with cooking spray or olive oil (about 1/2 tbsp) then add chicken pieces, leaving a bit of extra room for broccoli at one end. Bake in the oven for 10 minutes.

Meanwhile, cook rice in a rice cooker or according to package directions (you want enough rice for two servings). Chop broccoli florets.

Remove chicken from oven and flip, then add broccoli and drizzle with olive oil (about 1/2 tbsp) and season with salt and pepper. Place back in the oven for another 10 minutes.

While everything is finishing cooking, mix together sauce ingredients then microwave for 2 minutes until sauce is slightly thickened. Remove chicken from oven and toss in sauce to coat.

Add all ingredients to meal prep bowls then top with green onions and sesame seeds (optional). Serve and enjoy!
Nutrition Facts
Honey Sriracha Chicken Meal Prep Bowls
Amount Per Serving
Calories 455
Calories from Fat 90
% Daily Value*
Total Fat 10g 15%
Cholesterol 105mg 35%
Sodium 460mg 19%
Potassium 361mg 10%
Total Carbohydrates 67g 22%
Protein 24g 48%
* Percent Daily Values are based on a 2000 calorie diet.