These Skillet Shrimp Fajitas come together in just one pan for minimal clean up. They take 10 minutes to cook and are PACKED with flavour!

Ingredients and substitutions
Olive oil – any neutral oil will work in place of olive oil.
Shrimp – any variety of shrimp can be used for this recipe.
Salt & pepper – to taste.
Garlic – freshly minced garlic is preferred but jarred minced garlic can be used in a pinch.
Lime juice – use either fresh or bottled lime juice.
Soy sauce – coconut aminos and tamari are great gluten-free alternatives to soy sauce.
Vinegar – lemon or lime juice can be used in place of vinegar.
Red onion – shallots, white onion or yellow onion would also be good here.
Red, green and yellow bell peppers – feel free to use more or less of one colour of bell pepper depending on what you have on hand.
Fresh cilantro – if you're not a fan of cilantro, leave this off altogether.
Lime wedges – leave these off if you don't have any on hand.
Corn tortillas – serve with corn tortillas, flour tortillas or your favourite lettuce wraps for a low-carb option.
Homemade fajita seasoning
Chili powder – paprika, cayenne or chili flakes can be used instead.
Paprika – cayenne will work in a pinch.
Onion powder – replace with garlic powder or garlic salt.
Garlic powder – use garlic salt if you don't have garlic powder on hand, but be careful of any extra salt you add to this blend.
Cumin – ground coriander, paprika or garam masala can be used in place of cumin.
Salt & pepper – to taste.
Chili flakes – cayenne pepper will work well in place of chili flakes.
How to make shrimp fajitas
Marinate the shrimp.
Sauté the pepper and onions.
Add in the shrimp and marinade.
Assemble your fajitas and dig in!
What to serve with fajitas
Fajitas are a great stand-alone dinner option, but if you're looking to create a delicious Tex-Mex spread, here are some options:
Mexican rice, Spanish rice or Mexican quinoa
Corn on the cob or corn salad with cotija cheese
Pico de gallo, salsa or guacamole with tortilla chips
Frijoles or srefried beans
There are so many delicious dishes that you can serve with your shrimp fajitas, so feel free to get creative!
Frequently Asked Questions
What toppings go on fajitas?
I like garnishing my shrimp fajitas with lime wedges and cilantro, but you can add pretty much whatever options you want. Popular toppings including avocado, guacamole, cojita cheese, Tex Mex cheese, refried beans, salsa, refried beans, sour cream and corn.
What can you use instead of peppers?
There are so many delicious veggies that can work in place of bell peppers. Try using sliced portobello mushrooms, zucchini, thinly sliced jalapeños or poblano peppers, eggplant, roma tomatoes and more! Overall, any vegetable that is delicious in a stir fry can be used in a skillet fajita recipe.
How do you make the seasoning?
You can use a store-bought fajita seasoning or make your own blend and store it in the pantry for later. Making your own fajita seasoning is super easy – just mix together some chili powder, paprika, onion powder, garlic powder, cumin, chili flakes, salt and pepper.
How many calories are in a shrimp fajita?
This shrimp fajita recipe has 333 calories per serving. The calories will differ depending on the type of tortillas you use. If you want to enjoy this recipe on its own or with a low-carb tortilla alternative like a jicama wrap or lettuce wrap, then the calories will be lower. If you use a flour tortilla, the calorie count will be higher.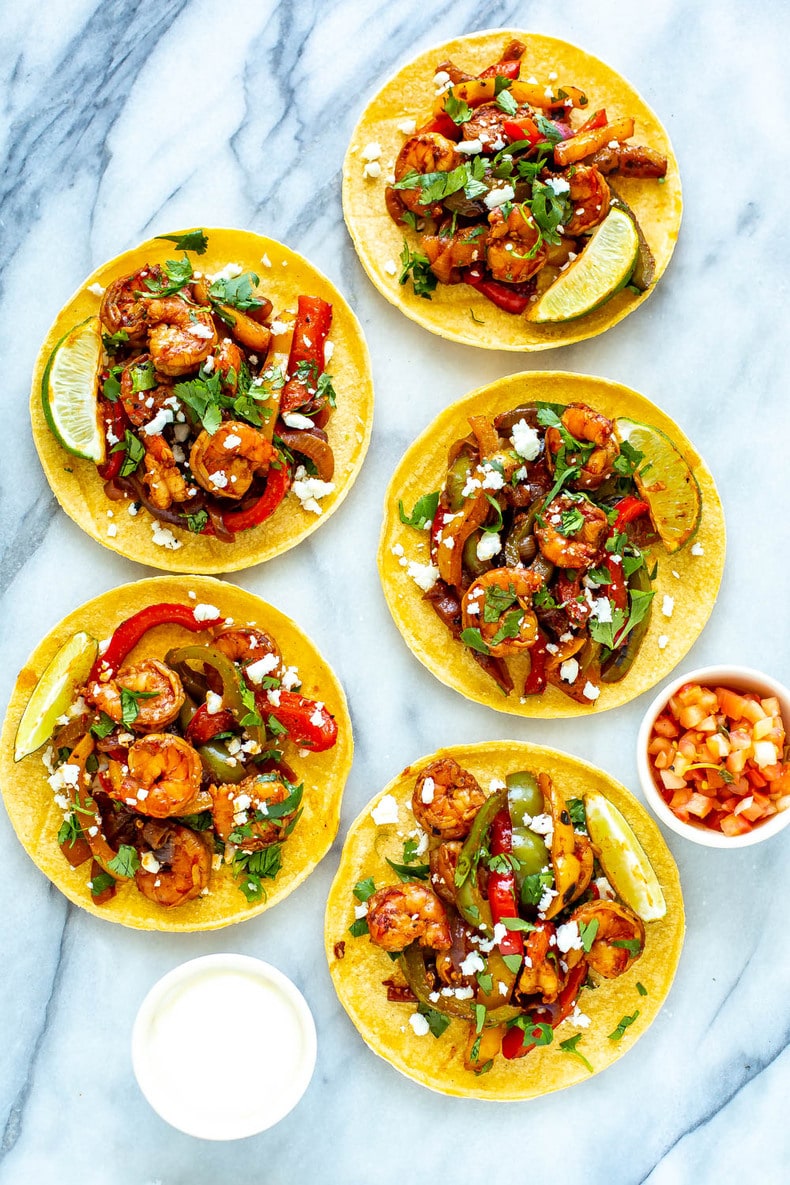 Want to Learn How to Meal Prep? Join Dinner Prep Pro!
Our meal planning service removes the guesswork and helps you get dinner on the table in 15-20 minutes each night thanks to our prep ahead checklists. It takes just one hour of ingredient prep on a Sunday!
Storing and reheating
To store your shrimp fajitas, transfer the peppers and shrimp into an airtight container and store them in the fridge for up to 5 days. When you're ready to enjoy your shrimp fajitas, warm them up in the microwave for up to a minute or reheat the mixture in a pan on the stovetop. Serve with fresh tortillas and dig in.
Freezing this recipe
Unfortunately, this skillet shrimp fajita recipe isn't a freezer-friendly meal. The peppers in this recipe don't freeze well and they'll get extremely soggy when reheated, so I don't recommend it!

More shrimp recipes
Meal prep tools for this recipe
Easiest Skillet Shrimp Fajitas
These Skillet Shrimp Fajitas come together in just one pan for minimal clean up. They take 10 minutes to cook and are PACKED with flavour!
Print
Pin
Rate
Servings: 4 servings
Calories: 333kcal
Ingredients
1 tbsp olive oil
1 lb shrimp
1 tbsp fajita seasoning storebought or homemade
salt & pepper, to taste
2 cloves garlic, minced
1 tbsp lime juice
1 tbsp soy sauce
1 tsp vinegar
1 small red onion, sliced
1 each red, green and yellow pepper, sliced
1/4 cup chopped fresh cilantro
Lime wedges, for garnish
12 corn tortillas, to serve
Homemade fajita seasoning (if not using store bought) – use just 1 tbsp of this mix and save the rest for another time
1 tbsp chili powder
1 tbsp paprika smoked is preferred
1 tbsp onion powder
1 tbsp garlic powder
1 tsp cumin
1 tsp each salt & pepper
1 pinch chili flakes
Instructions
Mix seasoning, lime juice, soy sauce, vinegar, salt & pepper and garlic together in a small bowl. Pour marinade over shrimp in a resealable plastic bag or in a large bowl and let marinate for 10 minutes. 

Meanwhile, slice peppers and onions. Heat olive oil in a large skillet over high heat. Once oil is smoking, add peppers and onions, sauteeing for 2-3 minutes until charred.

Add shrimp and all of marinade, reducing heat to medium-high and sauteeing for another 2 minutes until shrimp is no longer translucent.

Meanwhile, microwave corn tortillas or heat in the oven for a few minutes until soft and warm. Remove shrimp from heat and add to tortillas, garnishing with cilantro and lime wedges. Serve and enjoy!
Video
Notes
Make your own fajita seasoning and store it in the pantry to use anytime you want to make fajitas. Add on extra toppings like guacamole, refried beans, cotija cheese and more. Store the leftovers in the fridge for up to 5 days. Microwave the shrimp mixture or reheat it in a pan on the stovetop and then assemble your fajitas fresh.
Nutrition
Calories: 333kcal (17%)Carbohydrates: 39g (13%)Protein: 28g (56%)Fat: 7g (11%)Saturated Fat: 1g (6%)Cholesterol: 286mg (95%)Sodium: 1220mg (53%)Potassium: 296mg (8%)Fiber: 6g (25%)Sugar: 2g (2%)Vitamin A: 71IU (1%)Vitamin C: 9mg (11%)Calcium: 238mg (24%)Iron: 4mg (22%)