This One Pot Pasta Primavera is a 30-minute dinner that's packed with fresh vegetables and an easy creamy parmesan sauce.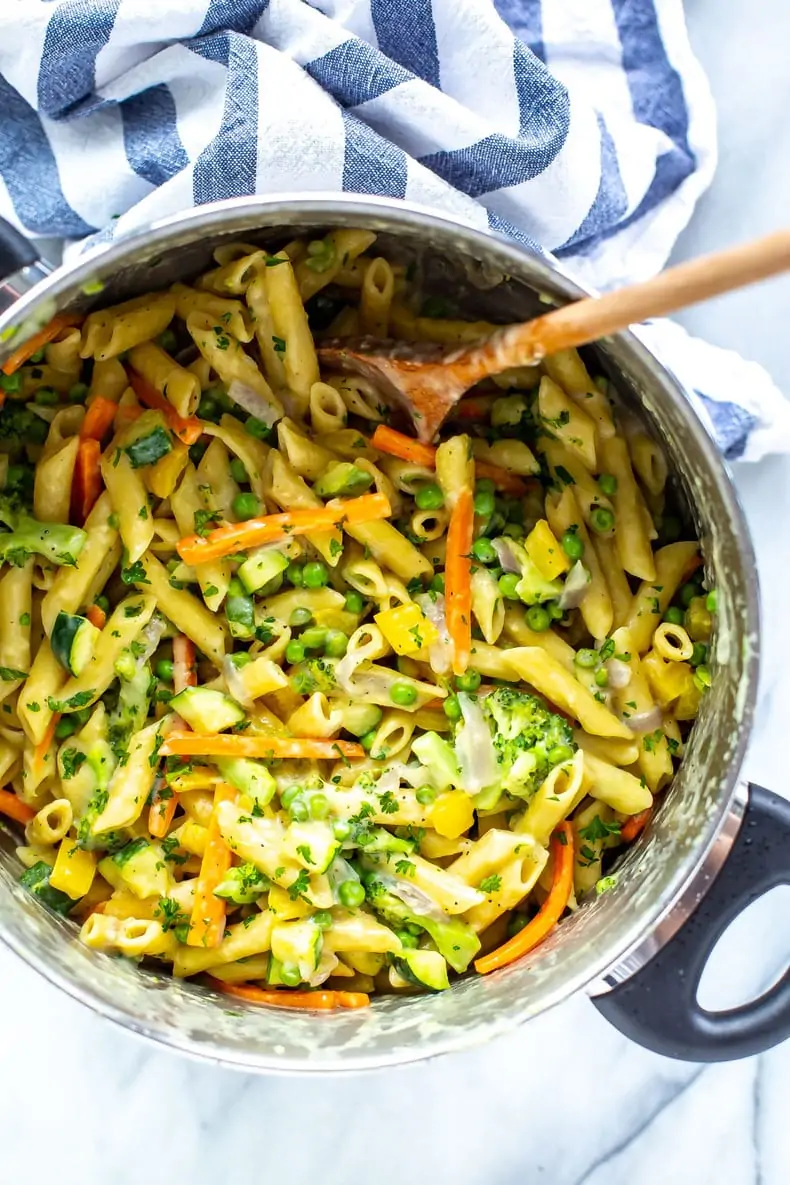 Ingredients and substitutions
Olive oil – or any other neutral cooking oil like avocado or grapeseed oil.
Red onions – white or yellow onion would also work.
Garlic – fresh minced garlic is best, but the jarred variety will work in a pinch.
Penne pasta – feel free to use another kind of pasta of your choice like rotini, rigatoni or fettucine.
Chicken broth – vegetarian broth will work just as well.
Mixed fresh vegetables – I like using a combination of broccoli florets, carrots, yellow pepper, zucchini and frozen peas but you can use whatever veggies you have on hand.
Butter – use a little extra olive oil if you don't have any butter.
Heavy cream – you can use half and half, but it won't give the sauce the same creamy texture.
Parmesan cheese – nutritional yeast is the best substitute here.
Fresh parsley – to garnish.
Salt & pepper – to taste.
Skip the Ads and Get Right to the Recipes!
ZERO ADS on over 600 recipes!
Weekly Meal Plans, Grocery & Prep Lists
Bonus eBooks
How to make pasta primavera
Sauté the onion and garlic.
Add in the penne and chicken broth.
Mix in the veggies and cook until tender-crisp.
Stir in the remaining ingredients.
Toss to coat.
Garnish with fresh parsley and dig in!
What to serve on the side
This delicious pasta has plenty of veggies and is quite filling on its own. If you'd like to serve something alongside it, you can't go wrong with some warm garlic bread or your favourite dinner rolls.
A salad may seem like overkill, but more greens are never a bad thing. Keep it simple so it doesn't compete with the flavours of the pasta.
Frequently Asked Questions
What is pasta primavera?
Pasta primavera is a dish packed with pasta, veggies and a light cream sauce. The veggies used vary based on whatever's fresh and in season. The name, primavera, means spring in Italian – a fitting name for a dish full of so many vibrant veggies!
Where did the dish originate?
There's some debate on the true origins of this pasta recipe, as several chefs claim to be the ones who originally came up with the combination. We do know for sure that the dish was introduced in New York City restaurants in the 1970s by combining fresh spring vegetables with tender pasta and a light cream sauce.
What is primavera sauce made of?
A primavera sauce is usually a combination of butter, leftover pasta liquid and Parmesan cheese. Typical add-ins to this sauce are heavy cream and/or lemon juice or zest. Unlike an Alfredo sauce, the focus of this pasta recipe is on the fresh vegetables themselves. Keeping the sauce simple with just a few ingredients allows it to compliment the natural flavour of the veggies.
How many calories are in this recipe?
There are 453 calories per serving in this pasta primavera recipe. It has less calories than other versions since it uses a lighter cream sauce with just 1/4 cup of heavy cream in the whole recipe.
Storing and reheating
You can store this pasta in an airtight container and keep in the refrigerator for up to 5 days. To reheat, warm a little oil in a pan on the stovetop. Add the leftovers to the pan and stir occasionally until heated through.
You can also add your leftovers to a microwave-safe dish and heat on high for a few minutes. The vegetables just won't be as crisp if you use this method. Make sure to add some extra water when reheating using whichever method to ensure your pasta doesn't dry out.
Freezing this recipe
Although you can freeze this meal, the texture of the vegetables just won't be the same when reheated. If you'd still like to freeze for later, there are a couple of methods that seem to work well. One is separating portions into freezer-safe zippered plastic bags. Then drop the bag into simmering water until heated through before serving. You could also freeze the dish in a disposable foil pan. When you're ready to reheat, place the pan in a preheated oven and bake.
Wanna Learn How To Meal Prep?
My meal planning service, Dinner Prep Pro, removes the guesswork and helps you get dinner on the table in 15-20 minutes each night. My meal prep checklists only take 1 hour each week!
More one pot pasta recipes
Meal prep tools for this recipe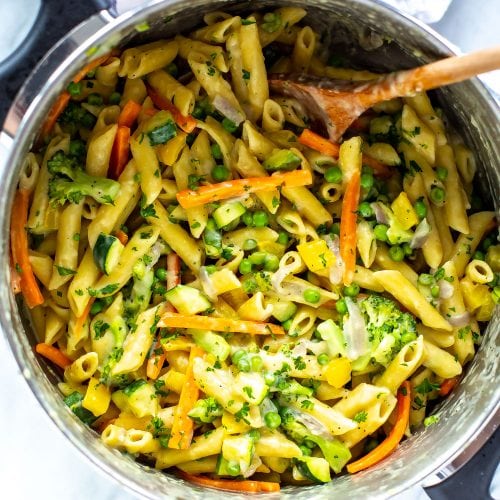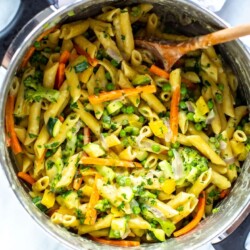 The Easiest One Pot Pasta Primavera
This One Pot Pasta Primavera is a 30-minute dinner that's packed with fresh vegetables and an easy creamy parmesan sauce.
Print
Pin
Rate
Click Here to Remove Ads
Servings: 6 servings
Calories: 453kcal
Ingredients
1 tbsp olive oil
1 red onion, sliced
4 cloves garlic, minced
1 lb penne pasta
4 cups chicken or vegetable broth use vegetable broth to make it vegetarian
4 cups mixed fresh vegetables (I used a combination of broccoli florets, julienned carrots, chopped yellow pepper, diced zucchini and frozen peas)
1 tbsp butter
1/2 tsp each salt & pepper
1/4 cup heavy cream
3/4 cup parmesan cheese make sure the parmesan is vegetarian if necessary
1/4 cup fresh chopped parsley (optional)
Instructions
Add olive oil to a large Dutch oven over med-high heat. Saute onion and garlic for 1 minute, stirring frequently.

Add in penne pasta and chicken broth, then bring to a boil. Simmer for 10-12 minutes, stirring often, until pasta is almost cooked through.

Meanwhile, prepare veggies. Add to pasta and cook another 5 minutes, stirring occasionally, until veggies are tender-crisp.

Stir in butter, salt & pepper, cream and parmesan cheese, tossing to coat. Remove from heat. Serve garnished with parsley (optional), and enjoy!
Video
Notes
Make this recipe completely vegetarian by using vegetarian instead of chicken broth. Swap out the penne for the noodles of your choice like rigatoni or rotini. Add in some protein like chicken or shrimp. Store any leftovers in the fridge for up to 5 days then reheat on the stovetop or in the microwave.
Nutrition
Calories: 453kcal (23%)Carbohydrates: 68g (23%)Protein: 17g (34%)Fat: 13g (20%)Saturated Fat: 6g (38%)Cholesterol: 27mg (9%)Sodium: 685mg (30%)Potassium: 437mg (12%)Fiber: 5g (21%)Sugar: 3g (3%)Vitamin A: 3383IU (68%)Vitamin C: 16mg (19%)Calcium: 197mg (20%)Iron: 2mg (11%)
Join The Girl on Bloor Premium!
ZERO ADS!
Weekly Meal Prep Checklists
Bonus eBooks