These Meal Prep Low Carb Big Mac Salad Jars are like a healthy cheeseburger – you probably already have the sauce ingredients!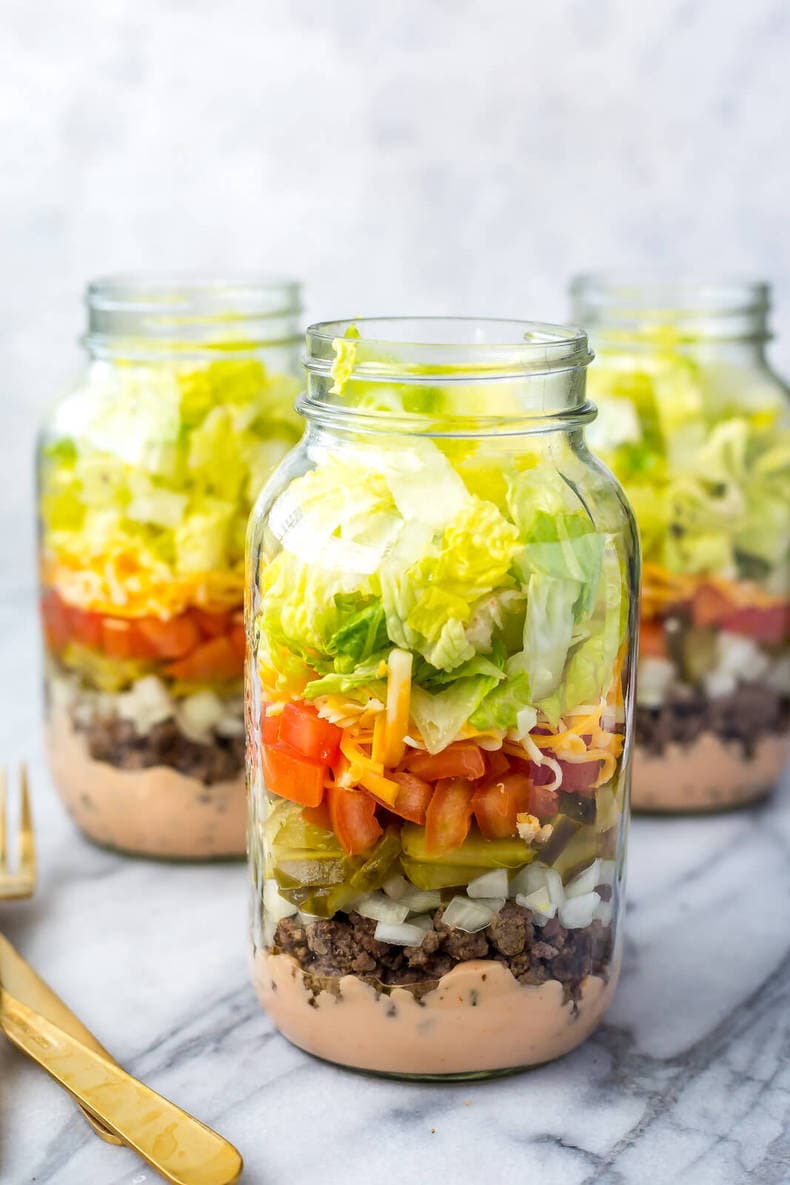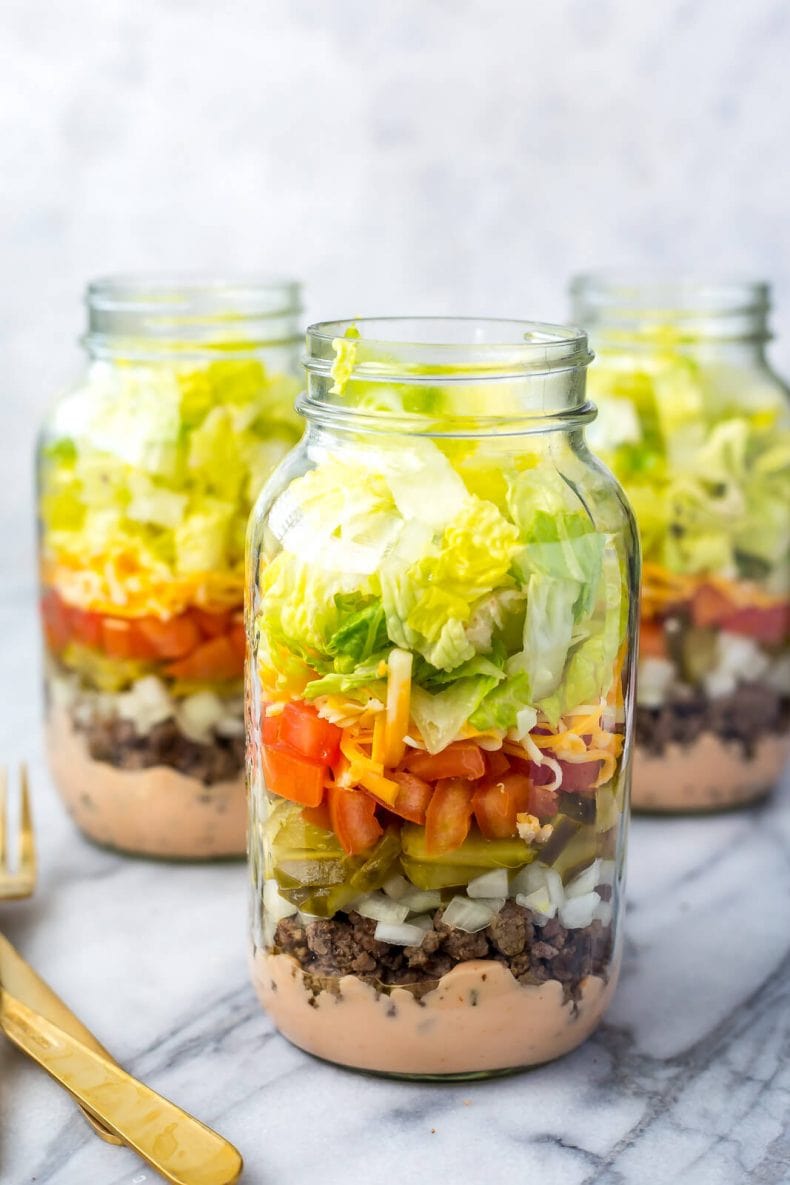 Ingredients in Big Mac salad jars
With ingredients you typically keep at home, you can make a healthy salad with the Big Mac flavors you crave!
I start with extra lean ground beef. This is at least 96% lean and at most 4% fat. Not only is it better for your diet, but it won't make the other ingredients in the salad soggy with grease.
This is a gluten free solution to eating a Big Mac. There is no bun so it is low carb and keto-friendly. When you are craving fast food, this copycat recipe will satisfy you without compromising your healthy eating habits.
After the ground beef, you will need:
Onion
Dill pickles
Plum tomatoes
Shredded cheddar cheese
Romaine lettuce
The secret sauce that becomes your salad dressing is just mayo, ketchup and relish. You can use light mayo if you prefer, but the dressing is rather strong so you won't need much.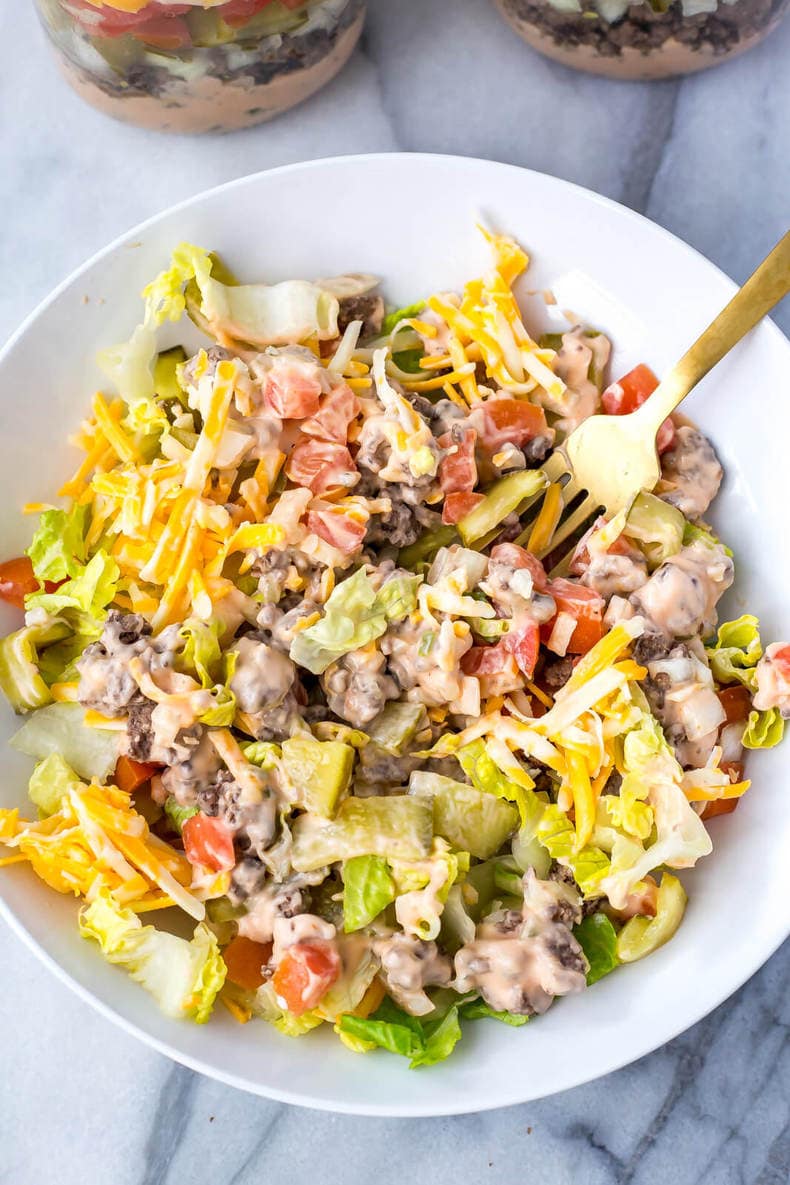 How to make a Big Mac salad
The secret to making a fantastic Big Mac salad, or any salad in a jar for that matter, is layering correctly. These salad jars are easy to assemble, but be sure to follow the layering instructions for the best results.
The only preparations you need to make are to fully cook the ground beef in a skillet and to mix the sauce together. Then you can start layering. Be sure to do so in this order:
Salad dressing
Ground beef
Onions
Pickles
Tomatoes
Cheese
Lettuce
This order will keep the salad dressing and ground beef from wilting the lettuce. Packing the onions on the warm ground beef will give them a chance to soften a bit.
How to make the Big Mac sauce
This salad dressing couldn't be easier. You already have the three ingredients in your house! Mayo, ketchup and relish are all you need.
You'll find lots of copycat recipes online that include vinegar, but I've discovered you really don't need it.
The measurements I've given will make more than you need for four salad jars. But don't worry because it will keep in the refrigerator for a long time. Make a big batch and keep it for making these Big Mac salad jars in the future or just to have on hand for salad night at home.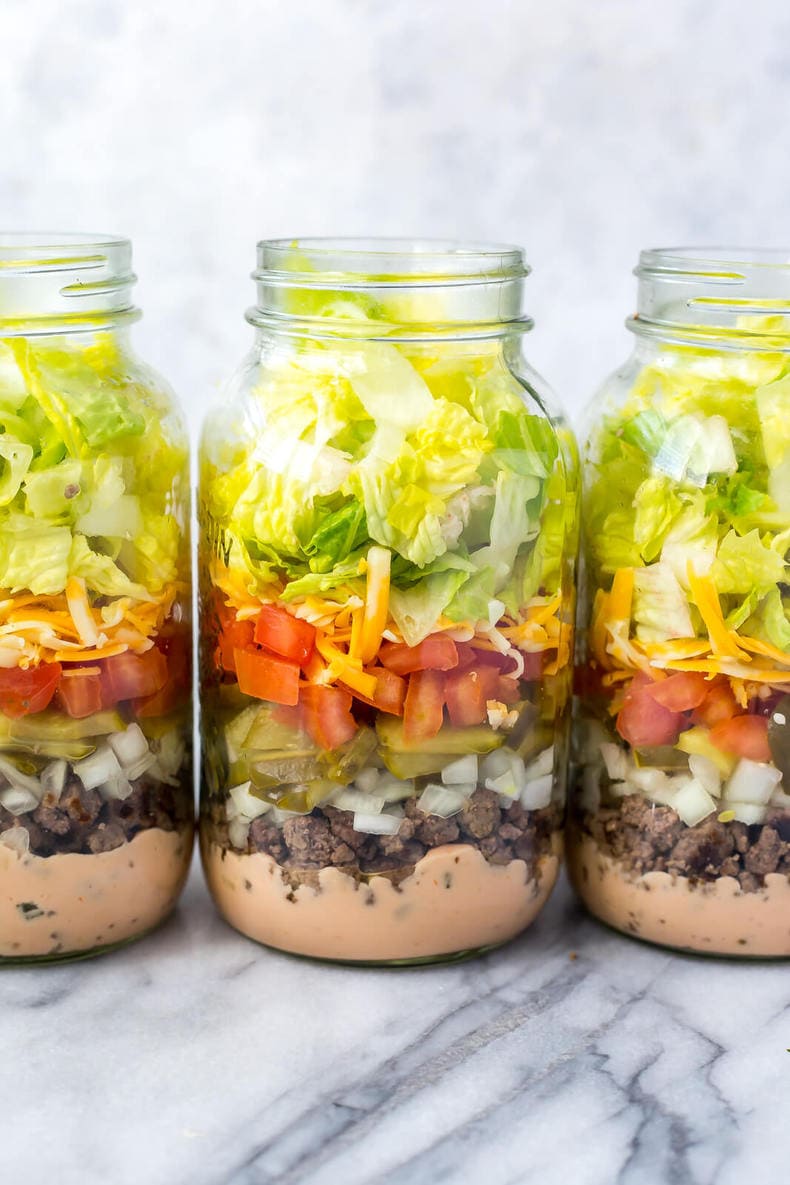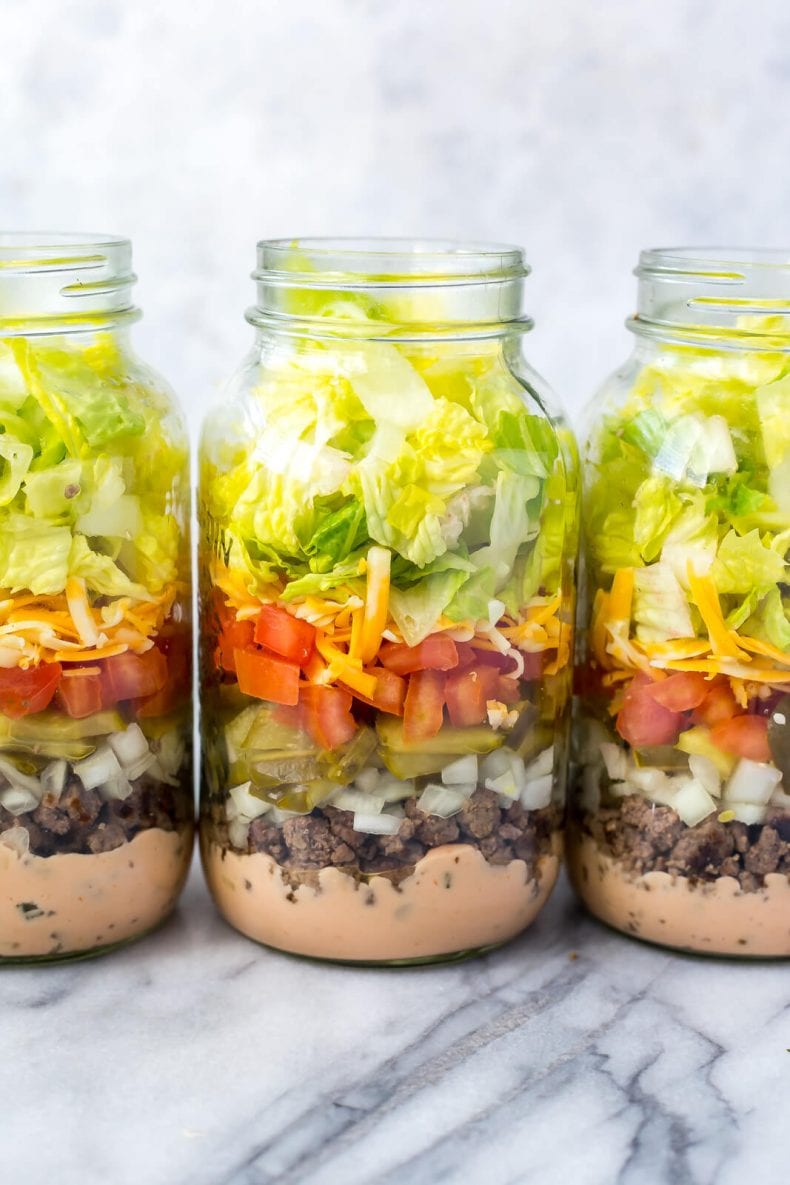 What store bought sauce can I use instead?
There are now versions of Big Mac sauce that you can buy at the store. Feel free to keep a jar in the refrigerator and add it to this or any other salad.
There are other salad dressings that would also taste great on this. It's basically a salad with ground beef so anything you like can be used. Some of my favorites are:
Thousand Island dressing (the ingredients are very similar to what you will find in this Big Mac sauce)
French dressing
Mustard vinaigrette (it tastes just like one of the burger toppings!)
Salsa will make it taste more like a taco
Greek dressing will give it the feel of a gyro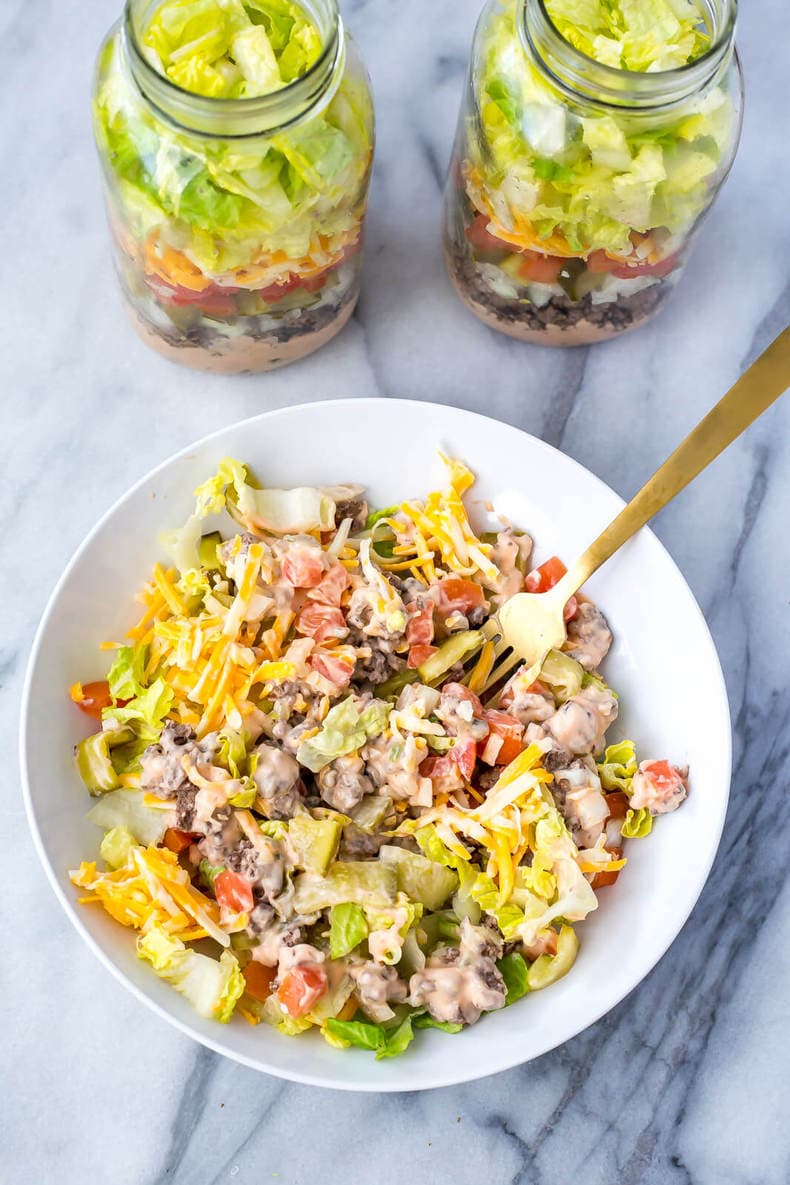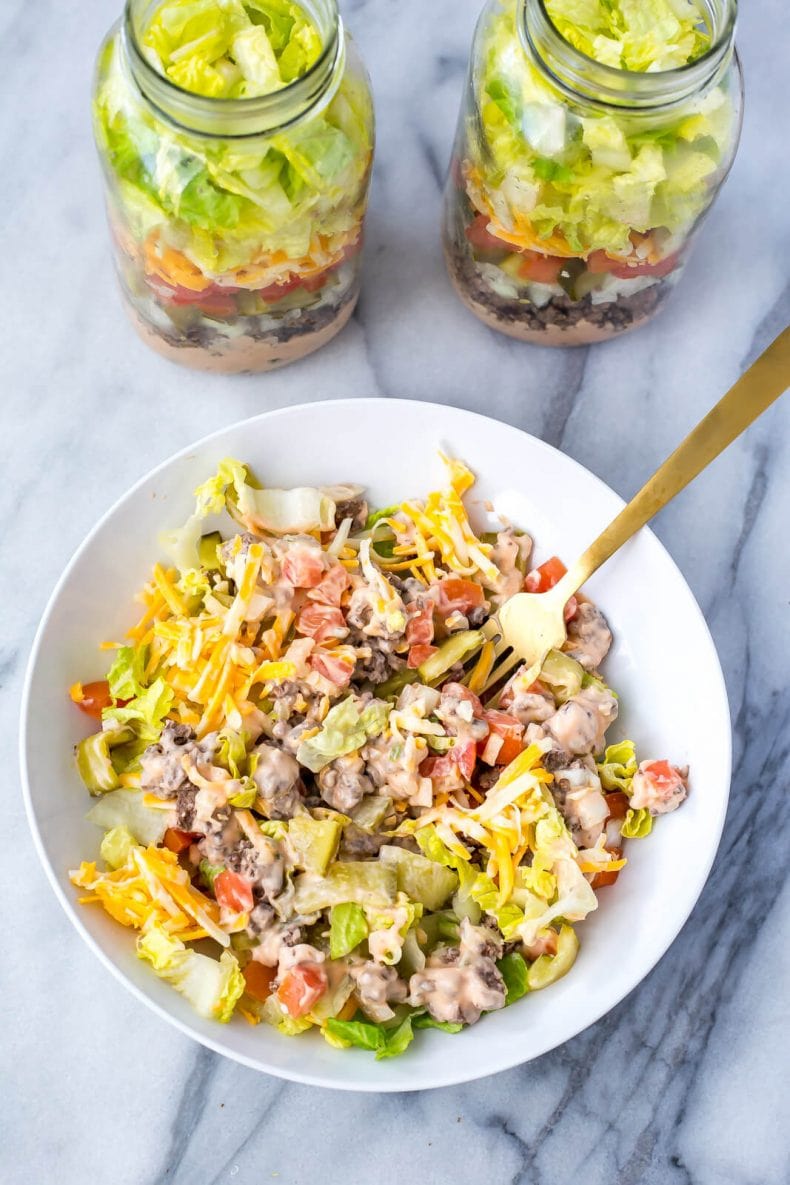 Ingredient substitutions
It's easy to swap ground turkey or chicken for the ground beef in this recipe.
For an extra dose of vitamins and minerals, you can use spinach instead of romaine lettuce.
To really amp up your salad, add other veggies to it.
Cucumber
Roasted red peppers
Avocado
Radish slices
How to serve salad jars
Mason jars are the perfect container for storing salads. They each have a lid. They're vertical so they fit better in the refrigerator. Plus, they are easy to wash and reuse. You can find them in any store, and they are inexpensive. You never have to worry about plastic containers leaching questionable chemicals into your food either.
However, Mason jars can be very difficult to eat from, especially if you don't have the wide mouth variety.
Pour your salad onto a plate to make it easy to mix everything together and eat.
Storing Big Mac salad jars
The prepared salad jars will last in the refrigerator for up to five days. This means they are perfect for meal prep.
This recipe will make four servings. You can have nearly a whole week's worth of lunches ready in about 30 minutes.
If you are preparing lunches for a crowd, you can easily double or triple this recipe.
While you can't freeze salad, you can make the ground beef in advance and freeze for up to four months. You'll want to thaw it in the refrigerator overnight before adding to your salad jar.
The Big Mac dressing will also last for a long time in the refrigerator. If it becomes a family favorite, you can make a large batch to use any time!
More mason jar recipes
Meal prep tools
Meal Prep Big Mac Salad Jars
These Meal Prep Low Carb Big Mac Salad Jars are like a healthy cheeseburger - you probably already have the sauce ingredients!  
Print
Pin
Rate
Ingredients
1

lb

extra-lean ground beef

1/2

tsp

salt

1

yellow onion, diced

1/2

cup

dill pickles, chopped

2

plum tomatoes, diced

1/4

cup

shredded cheddar cheese

1

cup

romaine lettuce, chopped
Big Mac sauce
1/2

cup

mayo

2

tbsp

ketchup

1

tbsp

relish
Instructions
Cook ground beef with salt in a medium-sized skillet over med-high heat until fat has absorbed and beef is fully cooked, about 10 minutes.

Meanwhile, mix Big Mac sauce ingredients together. Divide sauce among 4 mason jars. Top with ground beef, then layer with onions, pickles, tomatoes, cheese and lettuce.

Store in the fridge up to 5 days - serve by dumping into a large bowl and enjoy!
Video
Nutrition
Calories:
426
kcal
|
Carbohydrates:
15
g
|
Protein:
29
g
|
Fat:
28
g
|
Saturated Fat:
10
g
|
Polyunsaturated Fat:
5
g
|
Monounsaturated Fat:
8
g
|
Trans Fat:
0.03
g
|
Cholesterol:
92
mg
|
Sodium:
1041
mg
|
Potassium:
422
mg
|
Fiber:
2
g
|
Sugar:
9
g
|
Vitamin A:
1050
IU
|
Vitamin C:
19
mg
|
Calcium:
40
mg
|
Iron:
3.1
mg