This is the easiest ever Crockpot Lasagna Recipe – it cooks hands-off all day and is super easy to assemble. Plus, it freezes well!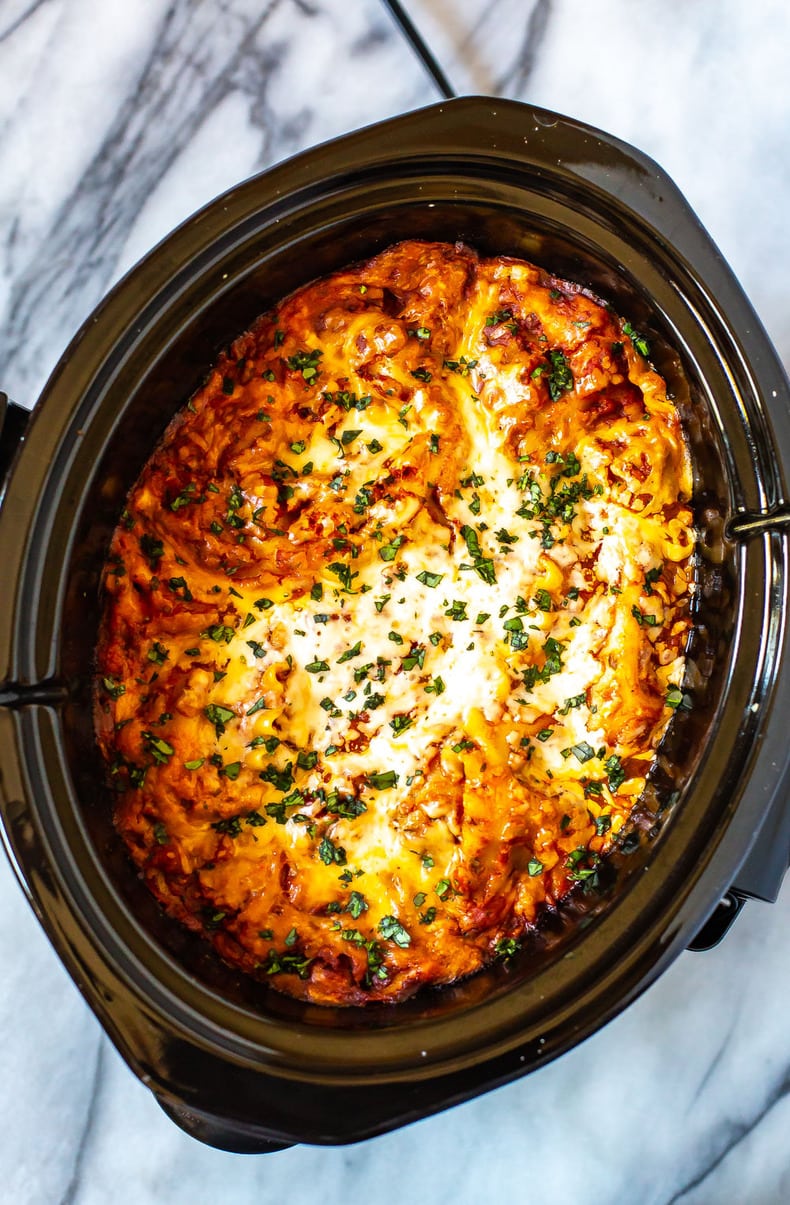 How to make crockpot lasagna
This easy crockpot lasagna only takes about 30 minutes of prep time. All the cooking is done while you are busy with the rest of your day. Here's how to make it step-by-step below:
Brown the ground beef
Add the onions, garlic, salt, pepper and tomato sauce
Layer your ingredients in the crock pot in this order: meat sauce, noodles and cheese
Repeat until you use all the ingredients and fill the crock pot (usually three layers)
Pour an extra jar of tomato sauce over the entire pot
Pour 1/2 cup of water down the sides to keep it from burning and allow for even cooking
Cook on high for four hours or low for eight hours
Ingredients in crockpot lasagna
This Crockpot Lasagna is SUPER easy to throw together! You don't need a giant ingredient list either. Of course you will use lasagna noodles for this crockpot lasagna recipe. I also use ground beef. Other ingredients you will need are:
Lasagna noodles
Ground beef
Onion
Garlic
Tomato sauce
Ricotta cheese
Mozzarella cheese
What type of noodles to use
You can easily find two different kinds of lasagna noodles on the shelves. Regular lasagna noodles and "oven ready" noodles. The difference is that oven ready or no-boil noodles are pre-cooked. They are run through hot water at the factory then dehydrated.
Typical lasagna noodles need to be boiled before used in a casserole pan. Oven ready noodles do not require that extra step.
However, in this slow cooker lasagna, the noodles are cooked for enough time that you can use either option. With oven-ready noodles, your noodles will be a little bit softer, whereas regular noodles will remain slightly al dente. Choose whichever option suits your preferences best.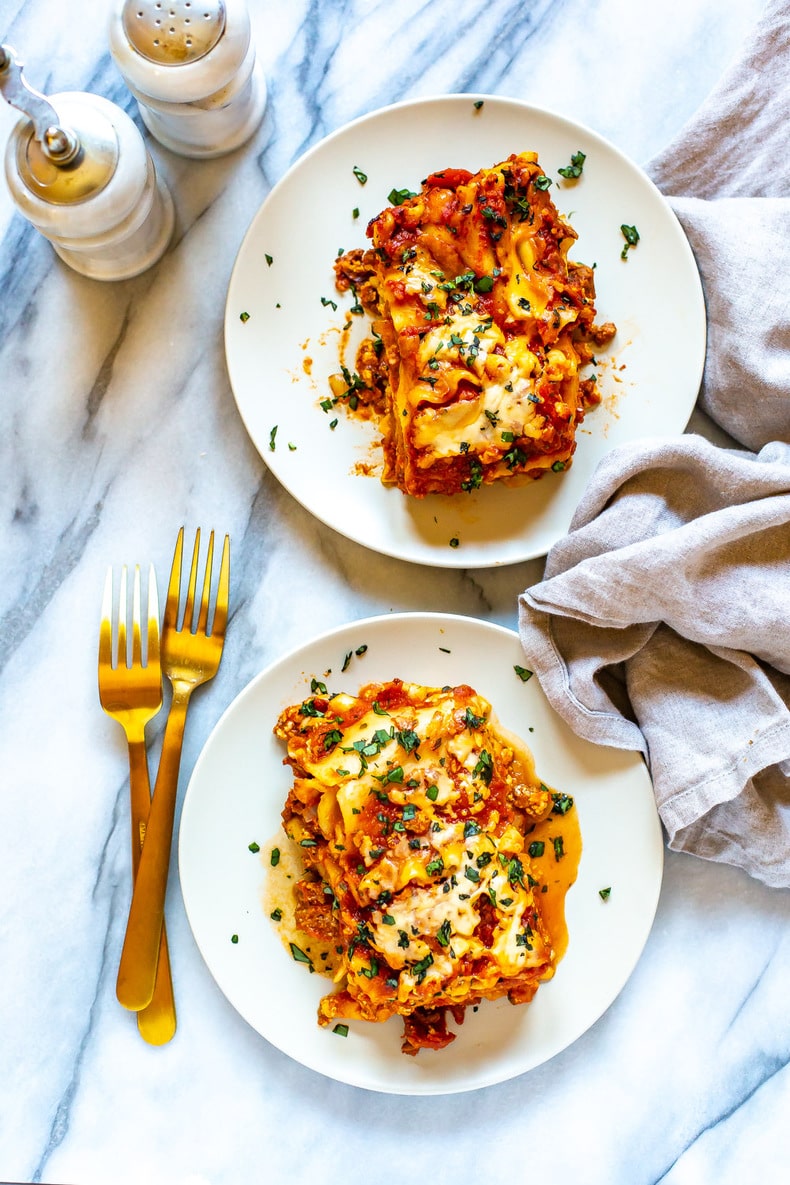 What type of tomato sauce to use
Tomato sauce is typically just what it says – a sauce made from tomatoes and little else.
To add some complex flavors to your sauce, you can use tomato sauce with seasoning added to it such as the sweet basil sauce I recommend. This sauce is the Classico brand, but feel free to use whatever sort of pasta sauce is your favourite!
Pasta sauce found in the store is just a more complex version of marinara sauce. It often has added cheese, meat, veggies and other spices. You can use this if you don't want to flavor the sauce yourself.
If you don't want to use jarred pasta sauce, you can make your own tomato sauce by mixing together strained/crushed tomatoes, some Italian seasoning, salt & pepper, a tiny bit of brown sugar, and a little garlic.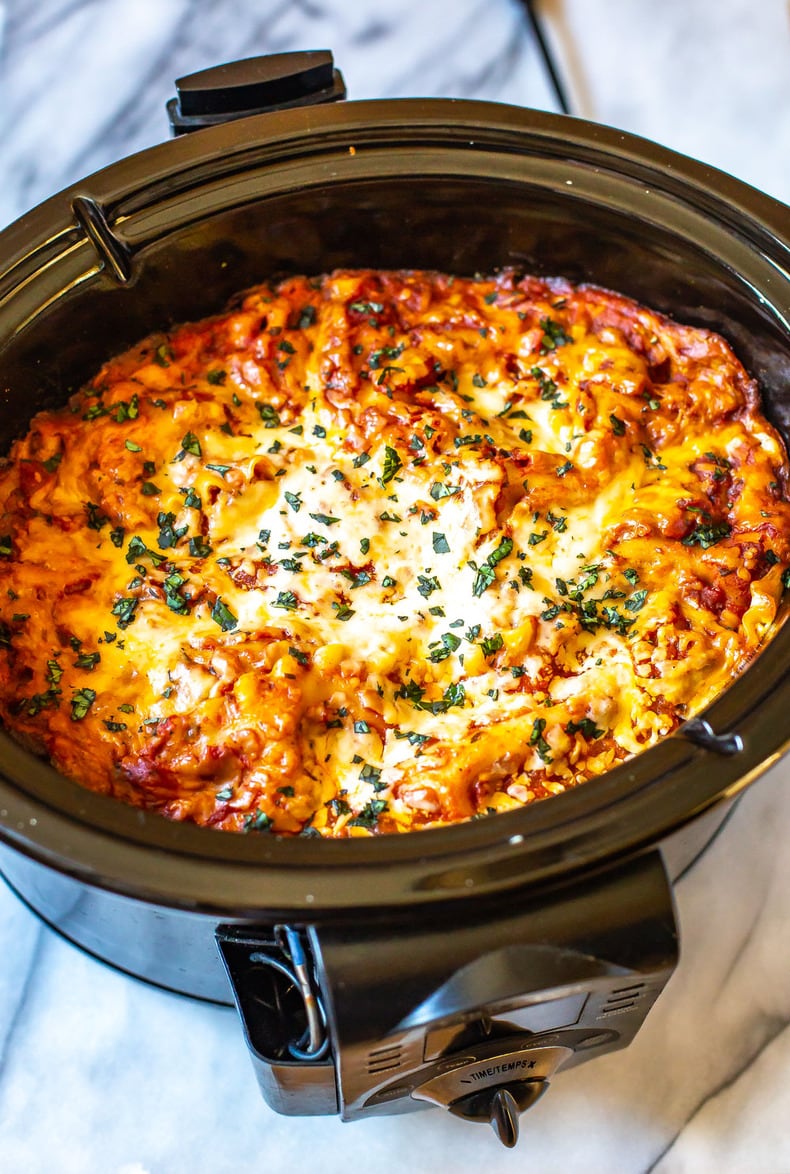 Can you make this ahead of time?
You can assemble this entire slow cooker lasagna ahead of time and cook it the next day.
Brown the meat and make the layers in your crock pot by following the instructions listed in the recipe card below. Pop the entire crockpot in the refrigerator overnight.
The next day, cook the lasagna as instructed.
This recipe gets even better after it sits for a day. Leftovers are delicious for 5 days. This means you can use this recipe as meal prep by having it made ahead. You can also serve the leftovers to guests by warming the lasagna in a 350 F oven for 20 minutes.
Additional filling ideas
If you want to up your lasagna game, you can use this crockpot lasagna as a base and add to it.
You can change the type of ground meat from beef to chicken, pork or turkey. You can even make it vegetarian with tofu, or just leave out the protein altogether and add a ton of veggies.
Add some of these ingredients for a flavor and nutrition boost:
Spinach
Mushrooms
Zucchini
Kale
Broccoli
Cauliflower
You can also change up the flavor by altering the type of tomato sauce you use. Adding spices such as red pepper flakes will also increase the flavor.
Try using cottage cheese instead of ricotta for a change in texture. Or add some parmesan for extra richness.
What to serve with crockpot lasagna
Lasagna can be heavy with all the starches of the pasta. Something light to go with it rounds out the meal nicely. Try these with your crock pot lasagna:
Tomato salad
Tossed salad
Sauteed snap peas or green beans
Roasted broccoli
Raw veggie plate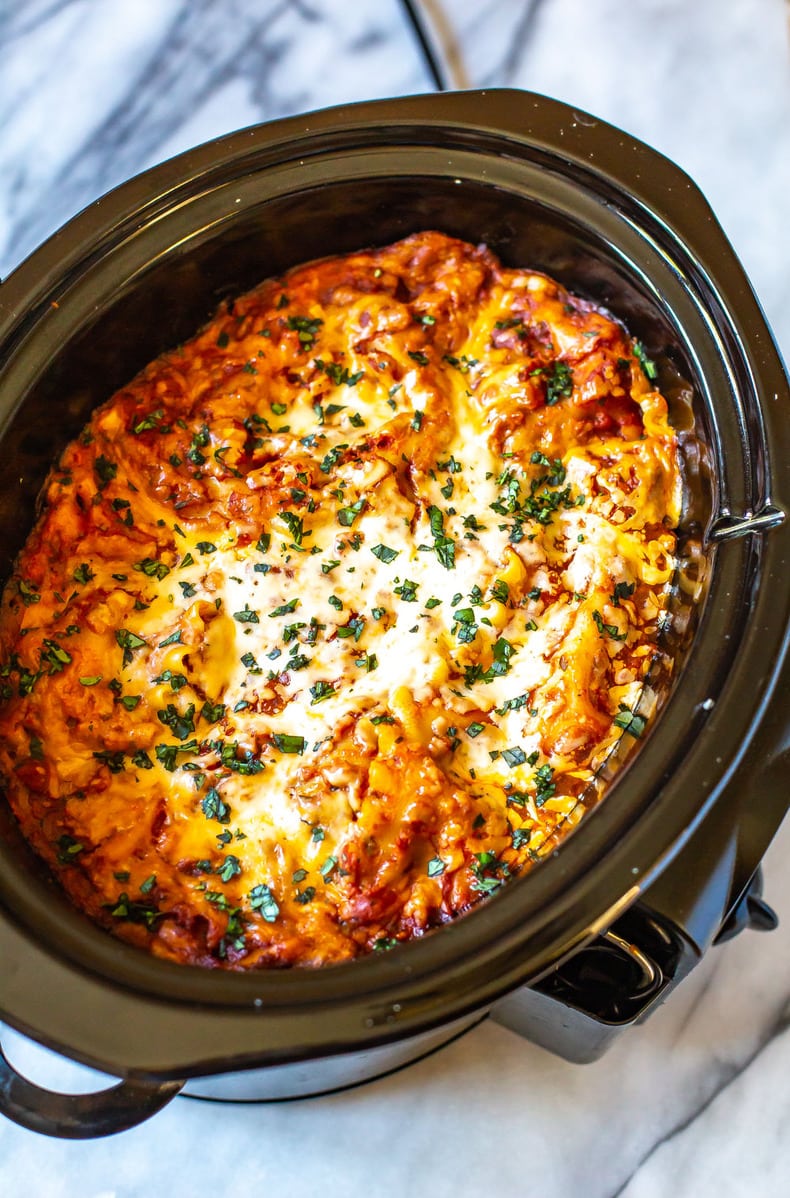 Storing and reheating lasagna
After the lasagna is cooled, you can store the leftovers in an airtight container in the refrigerator for up to 5 days. It makes a satisfying lunch or dinner!
This recipe tastes great, even after being reheated in the microwave. Be sure to sprinkle a little water overtop and then reheat in the microwave for 3-4 minutes. You can place a damp paper towel overtop to minimize splattering in the microwave and to ensure that the lasagna tastes fresh and moist after reheating. You can also reheat the whole casserole in a 350 F oven for 20 minutes.
Freezing crockpot lasagna
Lasagna is a great freezer meal because it holds up so well. You can freeze lasagna cooked or uncooked.
You will need to brown the meat before freezing it. After that, you can choose to freeze the entire meal. Put everything except the tomato sauce together in an airtight container and freeze.
When you are ready to cook it, let it thaw in the refrigerator overnight and then dump it in the crockpot the next morning. Your layers will not be perfect. It will be more like a casserole, but the flavor will be the same.
You can also completely cook this meal then freeze. Lasagna can even be cut and frozen in individual portions so it's easy to grab quickly and have a healthy, filling lunch. Let the lasagna cool in the refrigerator overnight so it's easier to cut into even pieces then freeze each individual serving.
To reheat the individual squares from frozen, simply microwave for 7-8 minutes, making sure to sprinkle water overtop before reheating.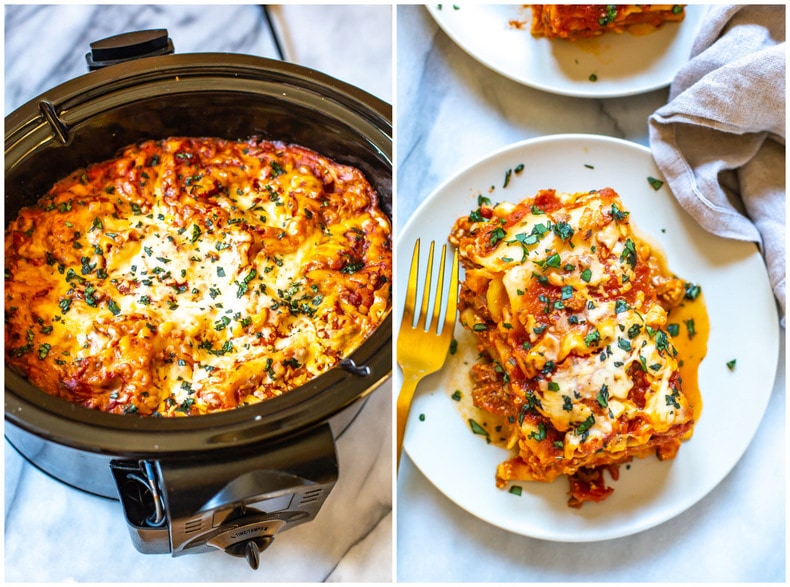 More Crock Pot recipes
Meal prep tools for this recipe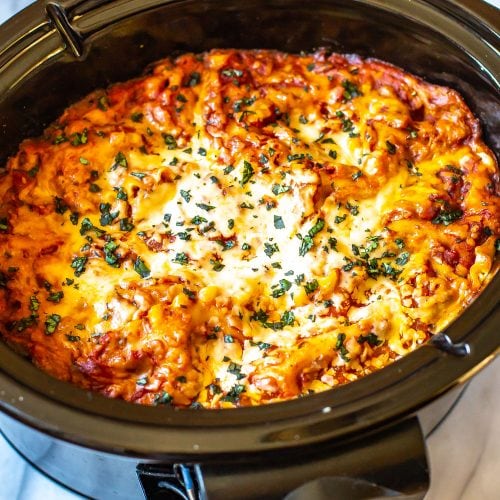 Crockpot Lasagna Recipe
This is the easiest ever Crockpot Lasagna Recipe! Just brown the beef and onions, then add ricotta cheese, lasagna noodles and jarred tomato sauce. Cooks hands-off all day and is easy to assemble.
Print
Pin
Rate
Ingredients
Cooking spray

1

lb

extra-lean ground beef

1

yellow onion, diced

2

cloves

garlic, minced

1/2

tsp

each salt & pepper

2

(650mL) jars

tomato sauce (I used Classico's sweet basil marinara sauce)

1

lb

lasagna noodles (can use either oven ready or normal)

1

(475g) tub

ricotta cheese

2

cups

mozzarella cheese

1/2

cup

water

Chopped fresh basil or parsley, for garnish
Instructions
In a large frying pan, brown the ground beef over med-high heat. When beef is almost cooked through, add onions, garlic, salt & pepper and 1 jar of tomato sauce, then stir to combine.

Spray slow cooker with cooking spray, then layer in a bit of meat sauce. Add lasagna noodles (you may need to break some into pieces to make them fit), then add some ricotta and mozzarella cheese, and more of the meat sauce. All layers should be about 1 inch thick. Repeat until the slow cooker is full - usually 3 layers total.

Pour the other jar of tomato sauce overtop of lasagna, then add mozzarella cheese to the top. Pour water in on the sides. Cook on high for 3 hours, or on low for 6 hours.

Garnish lasagna with basil and/or parsley, then serve and enjoy!
Video
Nutrition
Calories:
470
kcal
|
Carbohydrates:
46
g
|
Protein:
32
g
|
Fat:
17
g
|
Saturated Fat:
10
g
|
Cholesterol:
84
mg
|
Sodium:
264
mg
|
Potassium:
420
mg
|
Fiber:
2
g
|
Sugar:
3
g
|
Vitamin A:
426
IU
|
Vitamin C:
1
mg
|
Calcium:
272
mg
|
Iron:
2
mg