This is the BEST EVER Cauliflower Fried Rice! It's low carb and comes together in 15 minutes thanks to frozen veggies and pre-chopped cauliflower rice. Add shrimp for a boost of protein!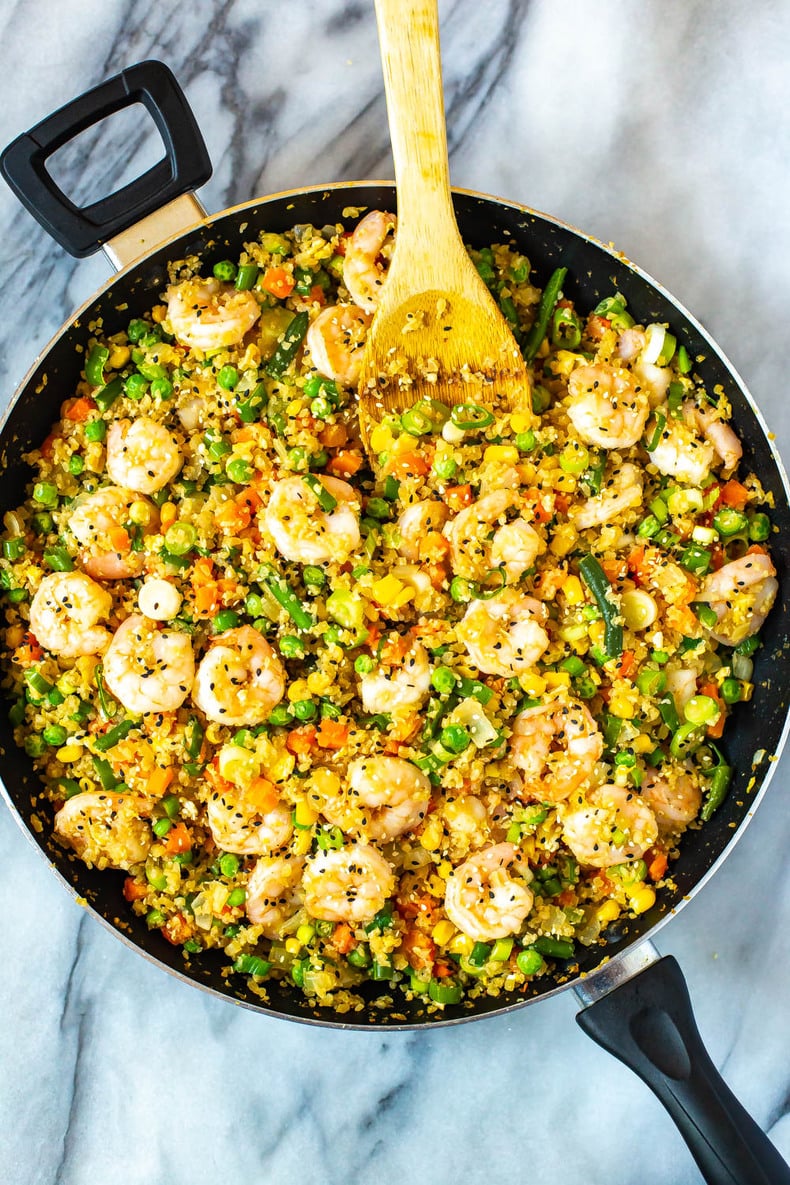 Is cauliflower rice healthy?
If you are looking to replace rice in your diet with something healthier, cauliflower rice is a great option for keto, Whole30 and other diet plans. Nutritionally, cauliflower:
is lower in calories (only 25 per cup compared to 218 for a cup of brown rice)
has fewer carbs (5g per cup compared to 46g in brown rice)
is high in fiber, B-vitamins, and protein
contains some antioxidants and choline for memory retention
Ingredients in cauliflower fried rice
In addition to the rice, there are just a few simple ingredients needed to make cauliflower fried rice.
Onions and garlic
Soy sauce
Frozen veggies (I use a packaged blend, usually Green Giant)
Butter
Egg
Protein to turn it into a whole meal (shrimp, chicken, beef, bacon, scallops, etc.)
You can also add some protein to make this dish more substantial. Shrimp is my favorite, but other meats would work as well. You could even add in tofu or canned beans to keep the dish vegetarian.
How to make cauliflower fried rice (step by step)
Using prepared cauliflower rice cuts your prep time down to just 15 to 20 minutes for this meal. It can all be cooked in one pan, too!
Here are the exact steps to making this cauliflower rice, as you can see pictured above.
Stir fry the shrimp and set it aside to avoid overcooking it.
Add butter to the pan for that fried rice flavour.
Cook the onion and garlic.
Add the prepared cauliflower rice (whether you've prepared it or bought it already prepared), then add soy sauce.
Stir in the frozen veggies, then create a whole in the middle of the pan and add a tiny bit more butter.
Add an egg to the hole in the middle of the pan, scramble, and combine everything.
Add the cooked shrimp back to the pan.
Stir in scallions and get ready to eat!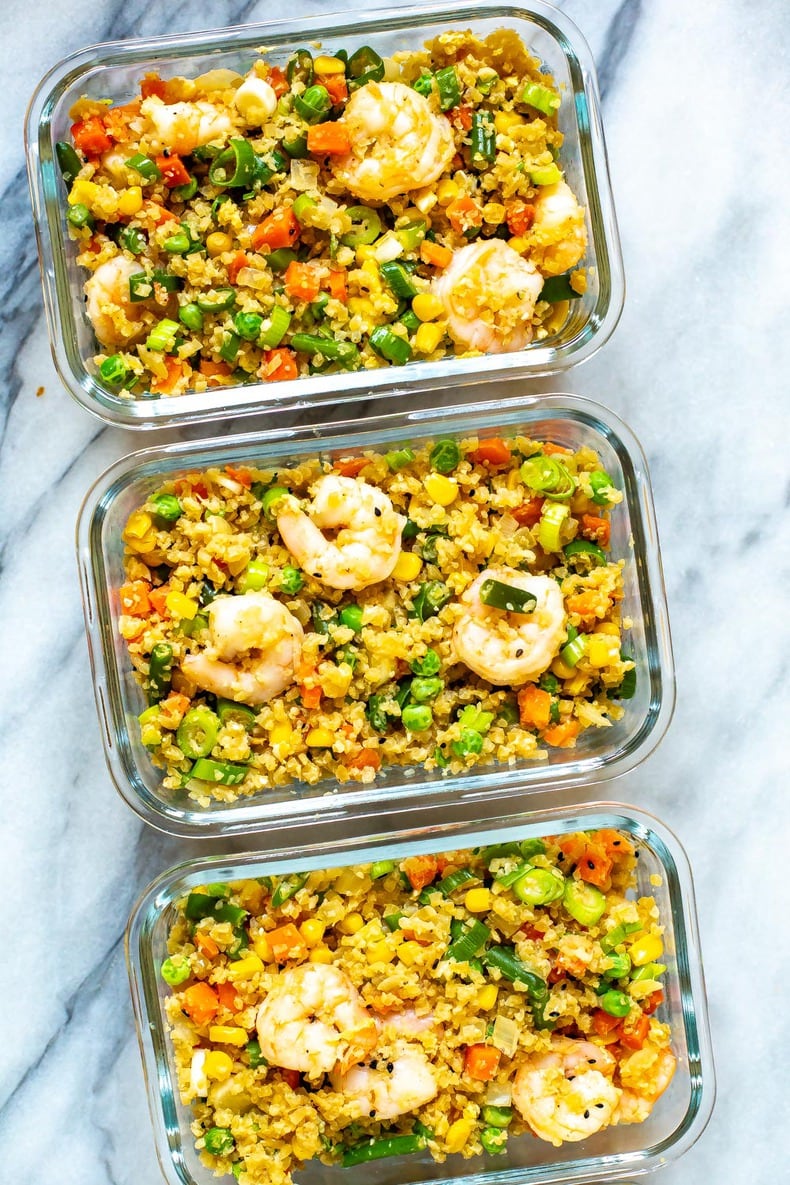 Making cauliflower rice from scratch
If you are feeling ambitious, you can make cauliflower rice from scratch. One head of cauliflower will make about four cups of rice.
Using the grating blade on your food processor makes quick work on turning cauliflower into rice. If you use a food processor, you will have a little water by-product. Let it drain on a paper towel before cooking.
A hand chopper or a good kitchen knife will work as well.
The homemade version is the exact same product you would buy in a bag at the grocery store, for a lot less money! Use it just as you would the frozen rice.
Buying cauliflower rice
Nearly every major brand offers packaged cauliflower rice. This is fast becoming a staple in every kitchen pantry! With the rising popularity of diets such as Whole30 and keto, which focus on low carb eating, cauliflower rice is quickly gaining popularity.
Fresh cauliflower rice can be found in the refrigerated produce section. The grains will be bigger and more like rice. However, this will need to be used within a week or less of purchasing. Make sure to buy enough cauliflower rice to yield 4 cups!
Can you use frozen cauliflower rice?
Frozen store-bought cauliflower rice is something you can put on your regular shopping list. The cauliflower is a little more finely grated so it easily goes from frozen to ready to eat. Otherwise, it tastes the same as if you made it at home. It will keep in the freezer for months so it's great to keep some on hand for last minute dinners.
If you're using frozen cauliflower rice, you'll want to defrost it in the fridge overnight and drain any excess water. You can also defrost in the microwave for 1-2 minutes, stirring halfway through. You don't have to get crazy with draining it as the heat from the skillet will absorb some of the liquid. Frozen, defrosted cauliflower rice is actually what I used for this recipe myself! Just try to get the rice as dry as you can with some paper towel or a clean dish towel.
Can I use chicken instead of shrimp?
You can use any protein you choose with this dish. Chicken, pork, beef and tofu are all acceptable substitutes for the shrimp. Just keep in mind that cooking times vary for these other meats. Chicken must reach an internal temperature of 165 degrees Fahrenheit, so allow it to cook a little longer during the first step of the recipe – instead of a 2-3 minute for the shrimp, you'll be looking at a 6-7 minute cook time for the chicken. Thin strips of beef should only cook in 2-3 minutes, just as the shrimp do.
Cauliflower fried rice sauce
There really is no sauce for this recipe! You'll be creating the fried rice flavour with a combo of butter, garlic & onions, soy sauce and a pinch of salt. I know that it seems like a lot of sodium so I recommend using low-sodium soy sauce then just the tiniest pinch of salt. The salt is needed to create more of a savoury flavour but you can always leave it out. I also recommend using coconut aminos if you're trying to watch the sodium content or are following the Whole 30 diet.
How to store and reheat cauliflower fried rice
This is a dish that is best eaten right after it's cooked. You do have a few options for storing it though.
Meal Prep – You can use this recipe as meal prep. Divide it into glass meal prep bowls as individual servings and store in the refrigerator for up to five days. Sprinkle a tiny bit of water overtop and reheat for 1-2 minutes in the microwave.
Freeze ahead of time: You can assemble this recipe ahead of time and freeze it. Add everything (except for the shrimp, which will already be frozen in a separate package) to a large Ziploc freezer bag then defrost in the fridge for 24 hours. Cook the shrimp as usual, then add your bag of rice/veggies/soy sauce to the skillet and continue cooking. Stir in green onions fresh and you're ready to go.
Freeze – You can not refreeze shrimp that was bought frozen and then thawed for cooking. However, you can freeze the cooked cauliflower rice and veggies, and add the shrimp when you are ready to prepare the meal.
Freezing cauliflower rice
If you make your cauliflower rice from scratch, grate the cauliflower, place it into an airtight container, and store it in the freezer for up to two months.
If you freeze your cauliflower rice, you can thaw it in the refrigerator. It takes a few hours. You can also cook cauliflower rice from frozen. It will only take an extra minute to cook.
Other low carb cauliflower recipes
Cauliflower is a great low carb substitute for rice, pasta and other starchy foods. With its extra dose of protein and fiber, it's a healthier option as well. Try a few of these cauliflower recipes in addition to cauliflower fried rice: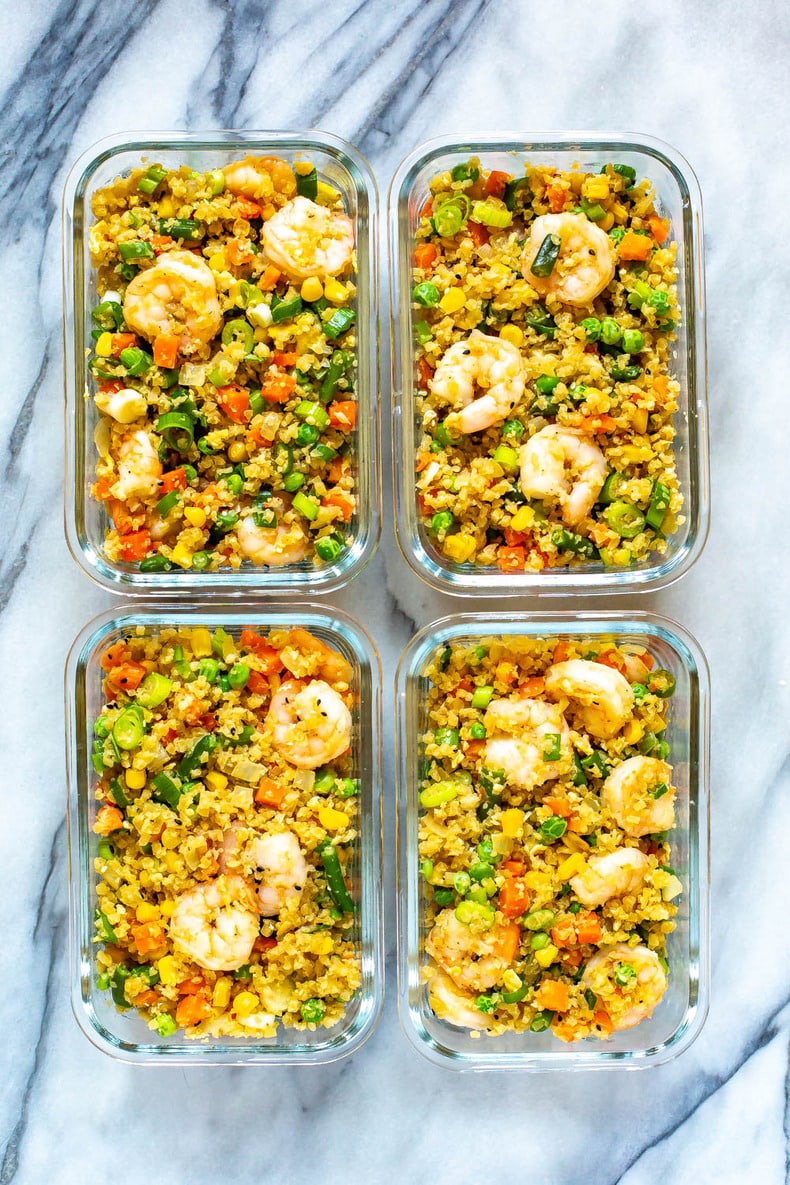 Meal prep tools for this recipe
Meal prep challenge
If you'd like some more help with meal planning, then you'll love my free 5-day meal prep challenge! Over the course of the challenge, I'll send you a free meal planner and shopping list templates so that you stay on the right track with meal prep (plus more goodies of course!) Sign up for free below:
Cauliflower Fried Rice
This is the BEST EVER Cauliflower Fried Rice! It's low carb and comes together in 15 minutes thanks to frozen veggies and pre-chopped cauliflower rice. Add shrimp for a boost of protein!
Print
Pin
Rate
Ingredients
1

tbsp

olive oil

1

lb

frozen raw shrimp, desfrosted and de-shelled

Salt & pepper, to taste

1

tbsp

butter

1

yellow onion, diced

4

cloves

garlic, minced

4

cups

cauliflower rice (or 1 head cauliflower)

3

tbsp

low-sodium soy sauce (sub in coconut aminos for Whole 30)

2

cups

mixed frozen vegetables

1

pinch

salt

1

egg

4

green onions, sliced

Sesame seeds, for garnish
Instructions
Heat olive oil in a large skillet over med-high heat. Add shrimp and season with salt & pepper, stir frying for 2-3 minutes until shrimp are no longer translucent. Remove from heat and transfer to a plate.

Without wiping skillet clean, add butter. Once melted, add onions and garlic, sauteeing for 1-2 minutes until softened. Add cauliflower rice and soy sauce, sauteeing another 5-6 minutes until softened. Stir in frozen vegetables and salt, and cook another 2 min.

Create a circle in the middle of veggies and add a tiny bit more butter. Crack egg and scramble, cooking for 30 seconds or so until solid. Stir in with the rest of veggies, and add shrimp back to pan.

Remove from heat and stir in green onions, then garnish with sesame seeds. Serve and enjoy!

Storage and reheating: Wait until meal has cooled slightly, then store in glass meal prep bowls up to 5 days. To reheat, microwave for 1-2 minutes.
Video
Nutrition
Calories:
305
kcal
|
Carbohydrates:
25
g
|
Protein:
32
g
|
Fat:
10
g
|
Saturated Fat:
3
g
|
Cholesterol:
334
mg
|
Sodium:
1426
mg
|
Potassium:
872
mg
|
Fiber:
8
g
|
Sugar:
5
g
|
Vitamin A:
4889
IU
|
Vitamin C:
96
mg
|
Calcium:
244
mg
|
Iron:
5
mg