These Crockpot Chicken Fajitas are so perfect for meal prep! Dump in 5 ingredients, then cook for 8 hours – this is the easiest recipe ever!
How to make crock pot chicken fajitas
This chicken fajita crockpot recipe is so perfect for busy families. Seriously – it's a dump-and-go recipe!
Add some chicken, salsa and spices to your crock pot in the morning. Then let everything cook on low heat for about eight hours.
When you are almost ready to eat, you just need to shred the chicken.
Return it to the crock pot along with the peppers and onions and let them cook for 30 minutes – this way, your veggies stay crisp!
While you wait for the meal to finish cooking, get your toppings prepped and then, it'll be time to eat!
Originally, fajitas were made using beef skirt steak, but now days, people make chicken fajitas, shrimp fajitas, and even vegetarian style. When the Crock Pot came into the picture is when everything changed for the better!
Ingredients and substitutions
This recipe boasts one of the shortest, simplest ingredient lists. Here's what you need below:
Boneless, skinless chicken breasts – you can also use boneless chicken thighs
Salsa – you can use store-bought jarred salsa or make your own fresh salsa
Garlic – fresh or jarred minced garlic is recommended. In a pinch use garlic powder or garlic salt (if you use garlic salt, limit the amount of salt you're adding later)
Chili powder – cayenne, paprika or taco seasoning can be used to replace the chili powder
Cumin – ground coriander or taco seasoning can be used to replace the chili powder
Salt (to taste)
Yellow onion – red onion, white onion or shallots can also be used in this recipe
Bell peppers – use a variety of colours as listed in the recipe card. If you're in a pinch, use whatever colours you're able to find.
Cilantro (to garnish)
Toppings for this recipe
Included in the nutritional value is the optional cheese, cilantro and corn tortillas that one typically serves with chicken fajitas. You can feel free to skip these toppings though and just add your chicken to meal prep bowls. They are just as good with or without the toppings so don't feel pressured to add extra ingredients if you don't want to!
You can also use flour tortillas if you can't find corn tortillas, or add any type of veggies you'd like to this recipe. Sometimes I'll stir in some frozen corn and black beans for extra protein. Pickled jalapeños are also a great add-in if you're a fan of a little heat!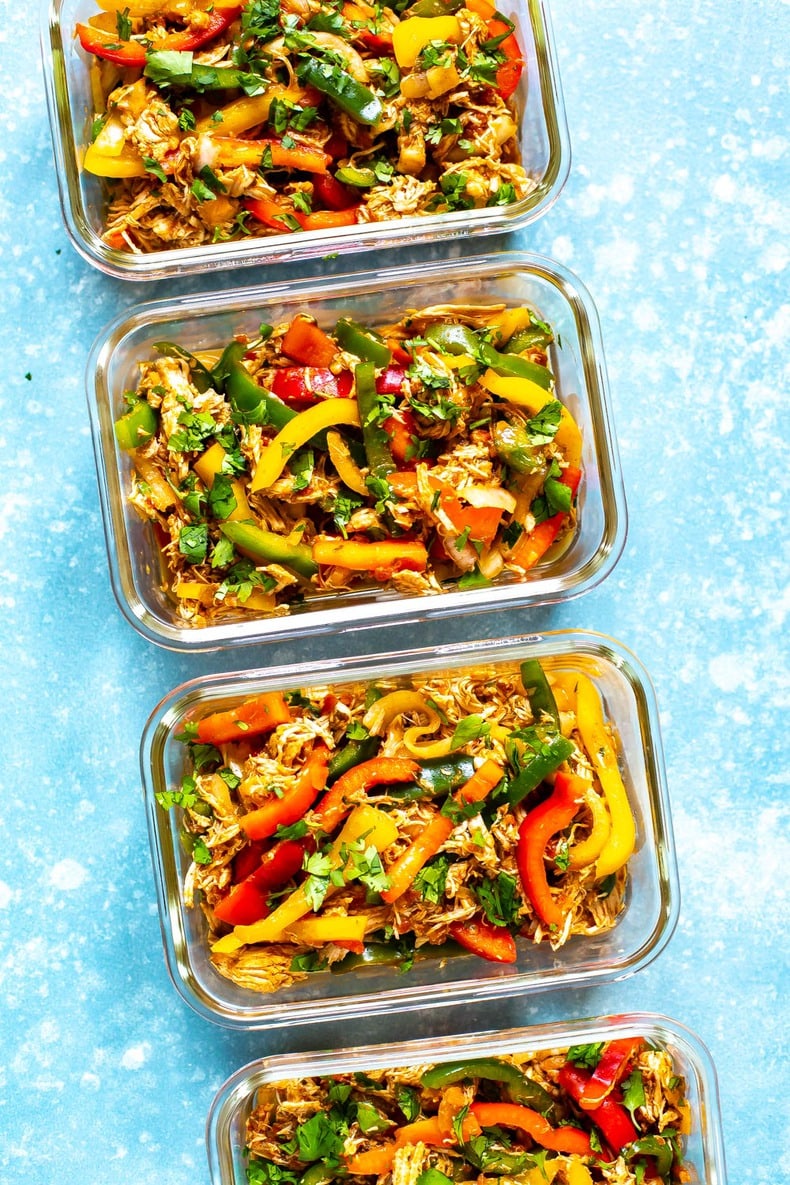 What type of salsa to use
I prefer to use a fresh salsa such as Garden Fresh Gourmet – this is not an ad for them, I swear! I just really like their salsas. You can find this type of salsa in most grocery stores and some stores even carry their own no name brand of fresh salsas. They can usually be found in among the fresh dips and salad dressings. Fresh salsa is just way better than jarred salsa in my opinion.
However, you can definitely use your fave brand of jarred salsa instead! Always do what's easiest and sometimes that's using up what you already have on hand at home.
Do you need to marinate chicken?
It is not necessary to marinate the chicken for this chicken fajita crock pot recipe. The salsa keeps the chicken moist as it cooks. That being said, if you want to add another layer of flavour, go for it!
As a matter of fact, feel free to use my easy chicken fajita marinade recipe.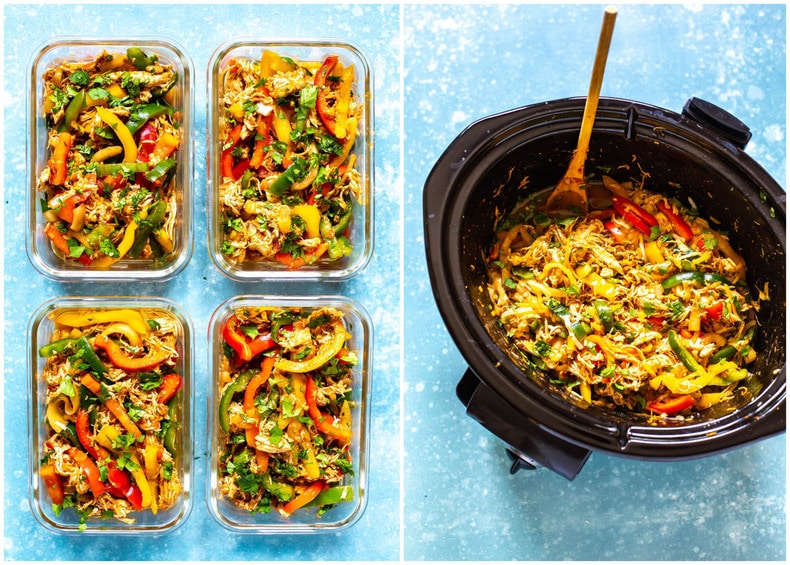 Can you put chicken in a slow cooker without liquid?
Honestly, you do not need to add any water when you make slow cooker chicken fajitas. This is because unless it's organic, store-bought chicken has a solution added to it to keep it juicy. The liquid in the chicken itself is all you really need.
I add salsa to the chicken for extra flavor, but it also adds moisture. You will notice that no other liquids are needed for the cooking process.
If your chicken is frozen, you will need to make sure that it is completely thawed prior to cooking it in a crock pot. This is best done in the refrigerator.
Cooking frozen chicken in a crock pot is not recommended because the chicken sits in the "danger zone" for too long. This is when bacteria grows very quickly.
As a result, you and anyone else who eats the chicken fajitas would be at risk for getting food poisoning.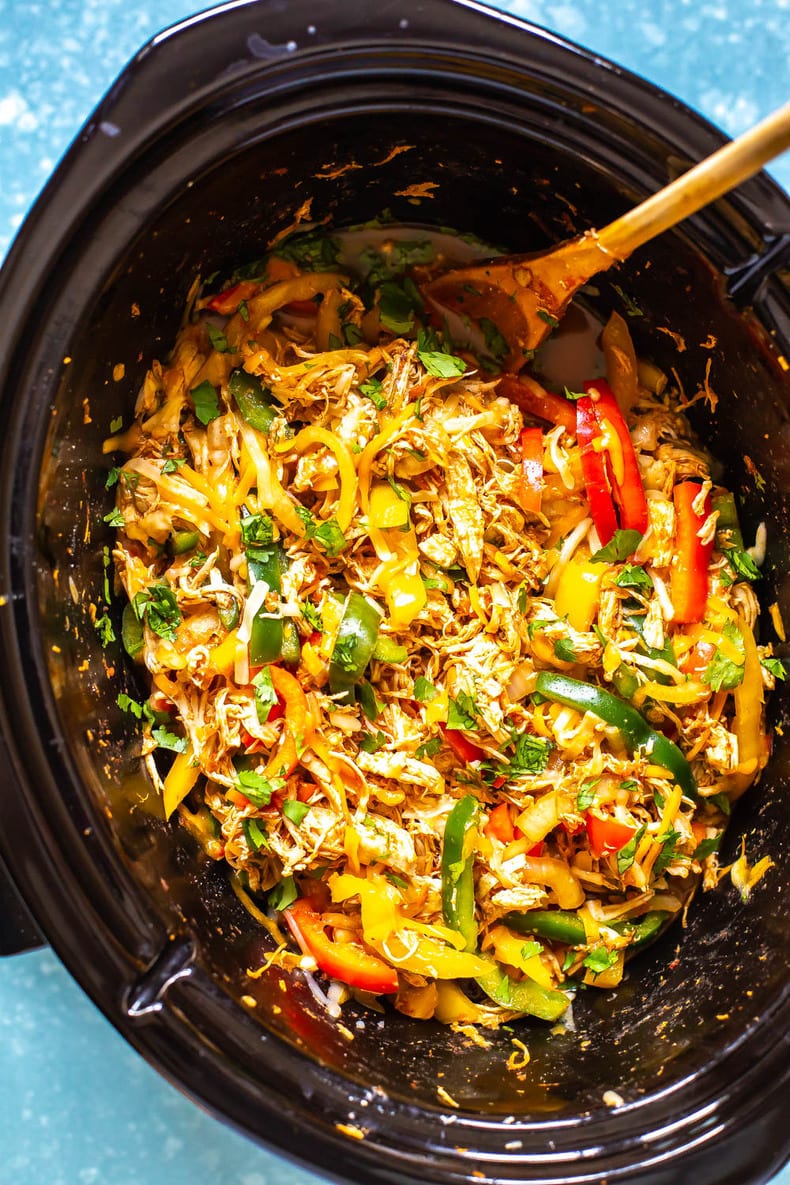 How to serve crockpot chicken fajitas
When you make crockpot chicken fajitas, everything stays warm for a longer period of time. As a result, if your family is busy and eats dinner in shifts, everything stays warm from the first round through the last round of meals.
That makes crockpot chicken fajitas perfect for serving at a party as well. By keeping the lid on the crock pot throughout the party, guests can add to their plate at any time without worrying about cold fajitas.
Serve in flour or corn tortillas and a little bit of cheese and cilantro on top for extra flavour!
Using this recipe for meal prep
This crockpot chicken recipe is perfect for meal prep because all you have to do is dump a few ingredients into the slow cooker then cook for 8 hours. It's relatively hands off and make a big batch of food at once so you're good to prep ahead for the work week in other ways.
Store chicken fajitas in glass bowls so they are easy to just grab and go then you can reheat them when you're at work. Super easy!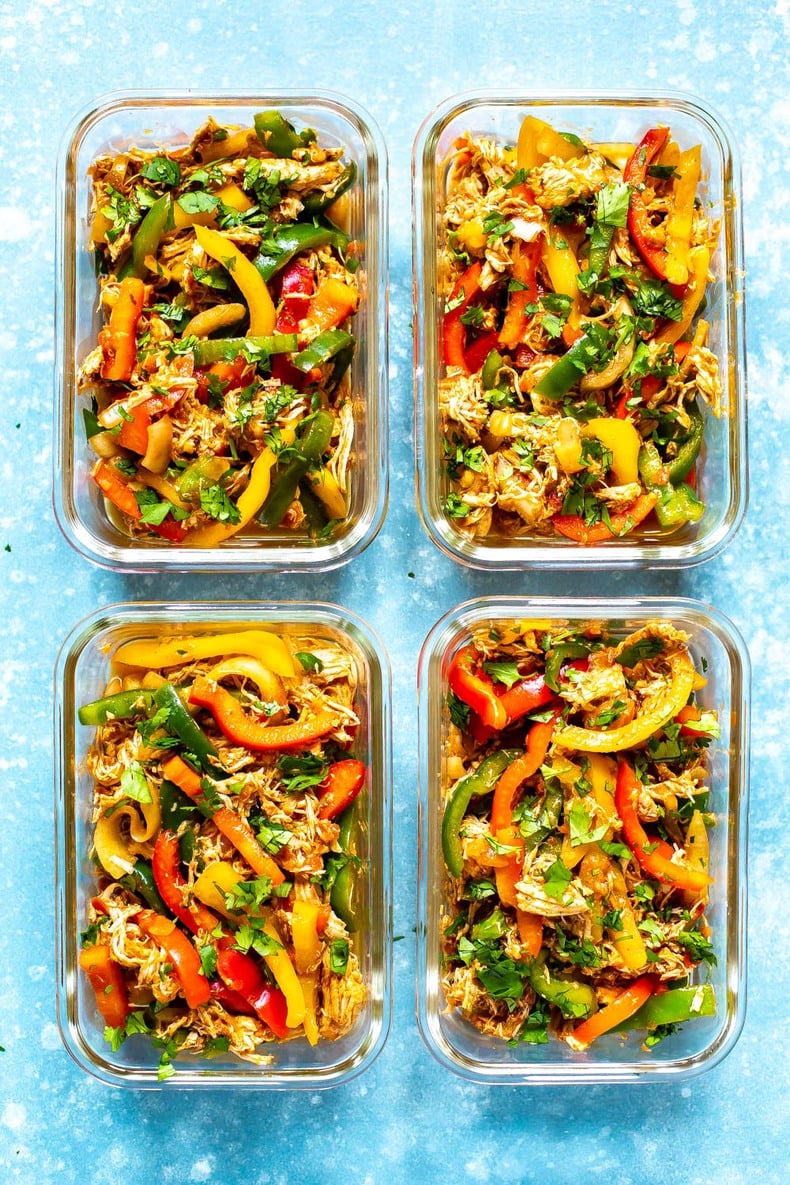 Freezing chicken fajitas
You can freeze these chicken fajitas within five days – if freezing right away, wait at least 1 hour for the recipe to cool and then you can store individual portions in glass bowls and freeze for up to 3 months.
When you're looking to reheat from frozen, you'll want to aim for a 6-7 minute cook time in the microwave. Sprinkle a little bit of water overtop, then reheat, stirring halfway through. Add fresh cheese and cilantro overtop to revive the recipe completely.
Reheating this recipe
If you just plan on refrigerating the leftovers and want to reheat them without the funky chicken taste, here are my tips to making it taste fresh again:
Add a tiny bit of olive oil to a skillet and saute an individual portion for about 5 minutes until heated through. This is the best way to avoid the leftover chicken taste
Sprinkle 1 tbsp of water overtop of an individual portion and microwave for 2-3 minutes, stirring halfway through. Water will refresh the rice and chicken, avoiding dryness – this is a great option if you don't have a skillet to use
Add a bit of extra salsa before microwaving for extra flavour and moisture
Side dish ideas
These crockpot chicken fajitas are good on their own, but if you aren't serving with tortillas, you may want to add a side dish if you'd like more carbs. Here are some great ideas for sides:
Mexican rice
Side salad
Cauliflower rice
Serve over pasta
Want to Learn How to Meal Prep? Join Dinner Prep Pro!
Our meal planning service removes the guesswork and helps you get dinner on the table in 15-20 minutes each night thanks to our prep ahead checklists. It takes just one hour of ingredient prep on a Sunday!
More crockpot chicken recipes
When you're short on time, but need to feed the family, there are lots of easy meals you can fall back on. Chicken is versatile and easy to cook in batches.
You can even use the crockpot to make a large amount of shredded chicken, without the onions and peppers. Easiest meal prep ever! You can use it to make sandwiches and salads for lunches, or for other dinners throughout the week.
Try some of my other easy crockpot recipes using chicken:
Meal prep tools for this recipe
Grab some glass meal prep bowls if you plan on making crockpot chicken fajitas as your weekly lunches.
I get all my free-range chicken from Butcher Box, conveniently delivered to me frozen.
Get a meat thermometer to make sure your chicken is cooked through
Use these Ziploc bag holders if you're marinating the chicken then freezing it
Freeze this recipe in glass microwave-safe bowls up to 3 months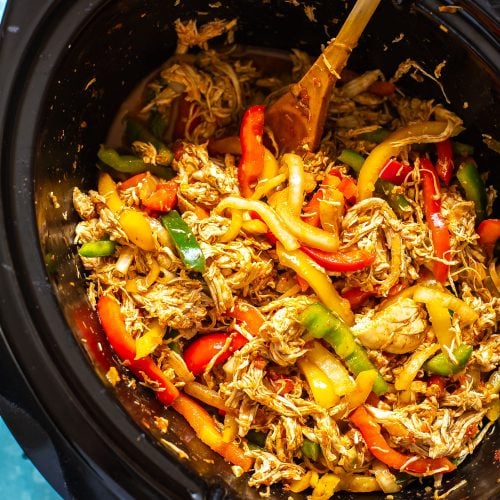 Easiest Ever Crockpot Chicken Fajitas
These Crockpot Chicken Fajitas are so perfect for meal prep! Dump in 5 ingredients, then cook for 8 hours – this is the easiest recipe ever! 
Print
Pin
Rate
Servings: 4 servings
Calories: 341kcal
Ingredients
1 lb boneless skinless chicken breasts
1 (500mL) container fresh salsa (or jarred salsa)
2 cloves garlic, minced
1 tbsp chili powder
1 tsp cumin
1 tsp salt
1 yellow onion, sliced
1 red pepper, sliced
1 green pepper, sliced
1 yellow pepper, sliced
Optional toppings
1/2 cup grated cheddar cheese
1 tbsp fresh chopped cilantro
Corn tortillas, to serve
Instructions
Add chicken, salsa, garlic, chili powder, cumin and salt to slow cooker. Cook on high for 4 hours or on low for 8 hours.

In the last half hour of cooking time, remove chicken and shred. Meanwhile, switch crockpot to high and add onions and peppers. Cook for the remaining half hour.

Add chicken back to the peppers and onions, then stir to combine. Top with cheese and cilantro and serve in corn tortillas if desired. Enjoy!
Video
Nutrition
Calories: 341kcal (17%)Carbohydrates: 32g (11%)Protein: 32g (64%)Fat: 10g (15%)Saturated Fat: 4g (25%)Cholesterol: 87mg (29%)Sodium: 863mg (38%)Potassium: 796mg (23%)Fiber: 6g (25%)Sugar: 4g (4%)Vitamin A: 1870IU (37%)Vitamin C: 119.9mg (145%)Calcium: 173mg (17%)Iron: 2.3mg (13%)