Meal Prep Sausage Peppers and Onions Skillet
This Meal Prep Sausage Peppers and Onions Skillet with bell peppers, mushrooms and onions in a super simple spicy tomato sauce is a delicious one pan recipe perfect for busy weeknights!
Meal Prep Sausage Peppers and Onions Skillet
Say hello to the easiest, tastier meal prep idea EVER!
It's no secret I'm a huge fan of sheet pan sausage recipes – they're such a delicious way to get your fill of protein and veggies and are a great way to change up your traditional chicken meal prep and try something different!
This Meal Prep Sausage Peppers and Onions Skillet comes together with just a few simple ingredients and a very easy sauce so that you don't have to stress over putting together a super complicated set of lunches for the week.
The basic formula is this: sausage, peppers, onions, garlic, spices, tomato sauce. It's that easy!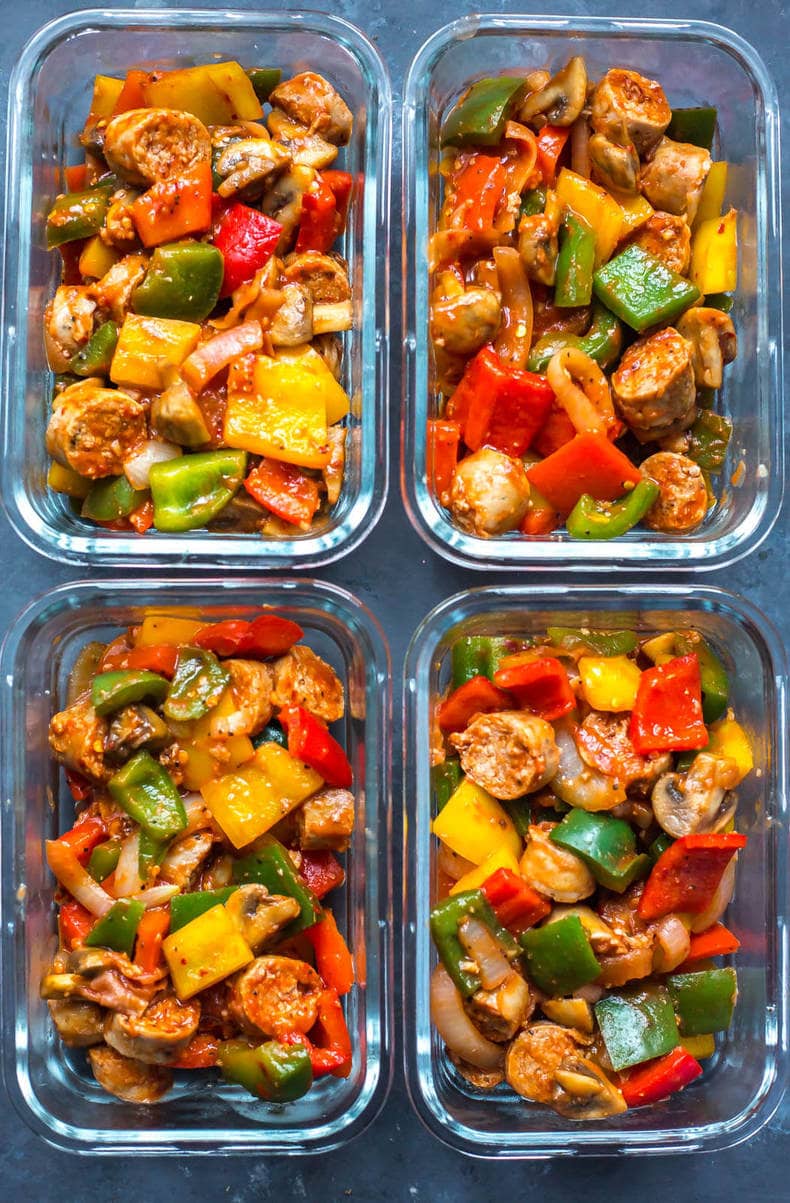 If you're really in a bind and craving some turkey sausage but don't have any on hand at home, you can actually make some yourself – it's SUPER easy! The secret is using ground chicken or turkey, and then a very simple blend of spices.
I always use fennel seeds because I find they really give the meat that typically "sausage"-y flavour, but they can be expensive to buy at the grocery store so if you're looking at your most basic sausage recipe, you can look to my breakfast sausage recipe for inspiration and just leave out the fennel seeds!
All you really need is paprika and garlic powder as your two main seasonings – break up and brown the ground poultry and then continue to saute with the veggies and sauce!
I use your most basic strained tomatoes in a jar for this recipe and then combine it with a little bit of salt and pepper and red chili flakes for some heat! If you're looking to serve this Low Carb Sausage and Peppers Skillet as a bigger dinner, I suggest adding in some cooked pasta to take the flavours over the top and create a more filling meal.
Not to dive too deep into my family history or anything (LOL people hate when food bloggers do this don't they?!) but my mom always used to whip up a batch of what she called Sausage and Penne for the nights my dad was on a work trip, and this Sausage and Peppers Skillet is basically a lighter version of that.
I can see now why this would become one of her repeat meals: it's super easy to pull together and comes together in one pan for minimal clean up.
It's basically like your favourite spicy pasta dish without all the carbs. Although you can definitely add some, it drastically cuts down on the cooking time so you can get back to what you do best: eating.
You can also swap out the veggies in this Sausage and Peppers recipes so you don't necessarily have to do the mushroom-pepper-onion combo if you don't want. Broccoli or any type of greens works, along with carrots, cabbage, cauliflower, zucchini, green beans and more. So take your veggie crisper and dump it up in this recipe. You just can't go wrong here.
I also find that these Sausage and Peppers doesn't really take long to cook either, but it depends on how you like your peppers. I know my brother and I HATE mushy peppers and like them barely cooked, but I know there are some people out there who aren't off put by a softer texture and instead like the sweeter, deeper taste that more well-done peppers have so treat the cook times on this recipe as a guideline.
Follow the recipe exactly for crisp veggies, and allow a longer cook time for softer veggies. The great thing about this recipe is that you'll be cooking the sausage ahead of time then slicing before adding back in to the skillet so you've got some flexibility on the veggie cook time.
Will you be making this Meal Prep Sausage Peppers and Onions Skillet? 
It's quickly become my last-minute go-to for both work lunches and weeknight dinners because I've usually got all the ingredients on hand at home already. Keep sausages handy in your freezer, and if necessary pick up some bell peppers. Soooooo good!
If you try any of my recipes be sure to let me know on Instagram, Twitter, Facebook or in the comments – I'd love to see what you come up with!
These glass meal prep bowls are so great for microwaving and reheating your sausage and peppers safely
Print Recipe
Meal Prep Turkey Sausage Skillet
Ingredients
1

tbsp

olive oil

4

turkey sausages (I love the ones from Longo's)

1

(8oz) package

mushrooms, quartered

2

yellow onions, sliced

1

each

green, yellow and red pepper, chopped

4

cloves

garlic minced

1

tsp each

Salt & pepper

1

tsp

red chili flakes (cut in half or leave out if you don't like spicy)

1/2

cup

tomato sauce
Instructions
Heat olive oil over med-high heat in large frying pan. Add turkey sausages and cook for 10 minutes. Remove from heat and slice when cool.

Meanwhile, after sausage, add mushrooms to skillet and saute until juices start to release, about 5 minutes. Add onions and peppers, cooking another 2 minutes or so. Add sausages back in, along with garlic, salt & pepper and red chili flakes. Add tomato sauce. Cook mixture another 2-3 minutes until sausages are fully cooked and veggies are softened.

Divide among 4 meal prep bowls or enjoy for dinner. Leftovers will last up to 5 days in the fridge - enjoy!
Nutrition
Calories:
312
kcal
|
Carbohydrates:
14
g
|
Protein:
25
g
|
Fat:
19
g
|
Saturated Fat:
3
g
|
Polyunsaturated Fat:
1
g
|
Monounsaturated Fat:
2
g
|
Cholesterol:
98
mg
|
Sodium:
709
mg
|
Potassium:
537
mg
|
Fiber:
4
g
|
Sugar:
7
g
|
Vitamin A:
79
%
|
Vitamin C:
398
%
|
Calcium:
6
%
|
Iron:
20
%