These Healthy Dinner Ideas will show you how to cook quickly and efficiently – these strategies help you get dinner on the table FAST!
Dinner is one of the toughest meals of the day. So how do you make a healthy dinner meal plan for the week? Here are some of my tips and tricks to making healthy dinner recipes that are also quick and easy!
Get all my dinner ideas here.
Most of the dinner recipes you will find below:
Have 10 ingredients or less
Come together in 30 minutes
Come together on one pan or in one pot
Freezer-friendly potential
Can cook in the slow cooker all day while you're at work
Come together in the Instant Pot
Wanna Learn How To Meal Prep?
My meal planning service, Dinner Prep Pro, removes the guesswork and helps you get dinner on the table in 15-20 minutes each night. My meal prep checklists only take 1 hour each week!
Dinner recipes with 10 ingredients or less
One of the best ways to cut back on the time you spend on making dinner is to limit the number of ingredients needed to make the meal. Below are some delicious dinner recipes with 10-ingredients or less. Most of the dishes below are low carb options too since grains take the longest to prepare and cook besides proteins.
Stuffed Poblano Peppers // Low Carb Cauliflower Mac & Cheese
Sausage, Peppers and Onions // French Onion Chicken
Hasselback Caprese Chicken // Jalapeno Popper Chicken
BONUS: Check out my fave chicken dinners!
Make dinner on a sheet pan
Here are some of my fave sheet pan recipes below to get you started – they make such great dinner ideas! I've also got a super handy round up of more sheet pan dinners right here on the blog if you'd like to check out more of them.
Pesto Chicken Sheet Pan Dinner // Sausage & Root Veggie Scramble
Sheet Pan Chicken & Asparagus // Sheet Pan Bruschetta Chicken
Sheet Pan Balsamic Chicken // Sheet Pan Rosemary Chicken
One pot pasta recipes for dinner
Making dinner in one pot is a great way to minimize your cooking time, and most of the pasta recipes below do just that! Pasta is just an overall great dinner idea because you get in your protein, carbs and veggies all in one meal as opposed to having to make separate side dishes.
Pasta Primavera with Shrimp // One Pot Arrabiata
Chili Mac and Cheese // Bruschetta Chicken Pasta
Pesto Chicken Pasta // Cajun Chicken Pasta
Easy stir fries and skillet dinners
I've listed some low carb dishes below where you have the option to cook the rice separately, and I've also got some chicken teriyaki bowls where the rice cooks alongside the chicken and veggies. These easy dinners come together in a flash! And if you're looking for more skillet meals be sure to check out this other skillet recipes post with more ideas!
Kung Pao Shrimp // Sesame Chicken
One Pan Chicken Teriyaki // Chicken Marsala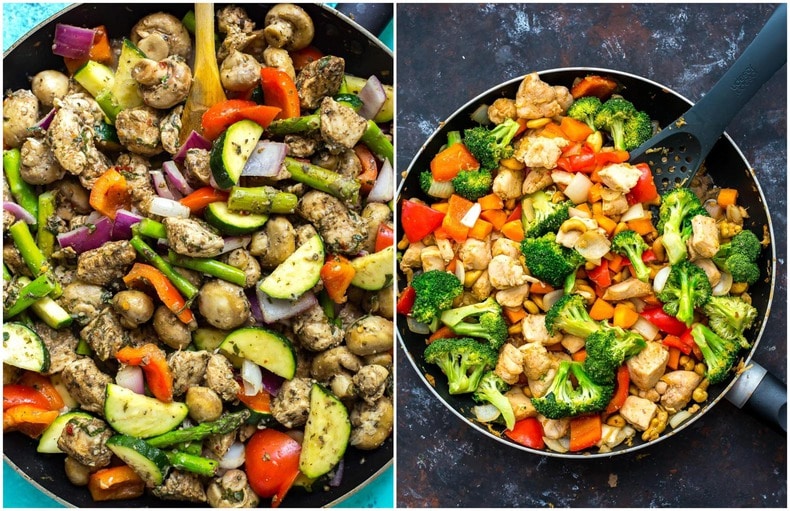 Italian Chicken Skillet // Cashew Chicken
Mix and match dinner ideas
Mix and match dinner ideas are mainly the kinds of dinner where you use up whatever you have lying around in the fridge to make recipes that are more throw-together than pre-planned. Things like  buddha bowls, burritos, tacos, salads, lettuce wraps, burgers, loaded fries, healthy nachos, etc. are great starting points for last-minute dinner ideas.
Tequila Lime Chicken // PF Chang's Lettuce Wraps
Thai Basil Chicken // Mini Taco Pizzas
Carne Asada Fries // Hasselback Greek Chicken
Chicken Tinga Tacos // Cheesy Grilled Potato Nachos
Reheat dinner from the freezer
Another great dinner idea is to rely on freezer meals. Whether it's a dinner recipe you've made already and frozen, or just some large Ziploc bags full of frozen ingredients and sauces, freezer-friendly recipes can take a lot of stress off of dinnertime! I usually make something like pasta or a protein-rich soup or stew ahead of time and freeze in small glass containers. From there you can reheat in the microwave for 7-8 minutes, stirring halfway through.
Healthier Homemade Hamburger Helper // African Peanut Stew
Vegetable Lasagna Cups // Freezer Turkey Meatballs
Mini Chicken Pot Pies // Chicken Pasta Bake
Crockpot recipes for easy dinners
Have dinner cooking in your crockpot all day for the EASIEST dinner ever! You can usually prep this the night before and have it cook overnight or while you're at work.
Usually all you have to do with crockpot meals is assemble the ingredients and dump into your slow cooker. The meal will cook on low for 8 hours and then most of the legwork is already done for you. Add in fresh veggies at the last minute if you'd like and dinner is on the table in a flash!
Crockpot Swedish Meatballs // Slow Cooker Chicken Tikka Masala
Crockpot Breakfast Casserole // Crockpot Beef Stroganoff
Butternut Squash Lentil Dal // Tuscan Sausage and Kale Soup
Instant Pot recipes for hands off dinners
Whip up dinner using your Instant Pot – like the slow cooker, it's mostly a hands-off cooking process. Dump everything in and cook on high pressure. The main difference? The Instant Pot cooks everything FAST! You're looking at a 20-30 minute cook time from preheating to releasing the pressure, and everything comes together in one pot to minimize clean up.
Instant Pot Chicken Burrito Bowls // Cream of Mushroom Chicken
Teriyaki Chicken Bowls // Honey Sesame Noodle Bowls
Barbacoa Beef // Sweet and Sour Chicken
Instant Pot Chicken Pad Thai // Instant Pot Pepper Steak
And there you have it – my full, comprehensive list of healthy dinner ideas! These are by far the easiest way to get dinner on the table and help you choose what to make even if you're not sure what you're craving.
If you liked this list, be sure to pin the top image for later or share on Facebook to spread the word about just how easy dinner can really be!
How to choose quick dinner ideas
Knowing what to make for dinner is probably the toughest part of dinner itself. Either you don't know what you're craving or you're worried it's going to take too long. Well, never fret with these strategies!
Pick recipes that have ingredients you already have on hand at home – this way you reduce waste. Have a ton of carrots? Look up carrot recipes! Want to do something with that chicken laying on the counter? Maybe look up some chicken pasta or casserole recipes.
Use Pinterest to discover last-minute recipes and hone in on your cravings. You can use it as both a visual search engine or just browse your home feed for inspiration!
Keep a list of all your usual go-to dinner recipes for easy access when you're running out of inspiration. This way you know you'll get to eat something you like, but don't have to think too much about what that is.
Use Instagram and search specific hashtags like #lowcarb #broccoli or #groundbeef or even just #recipes to find new Instagram accounts and browse their recipes for ideas.
Make a meal plan for weekly dinner ideas
I think meal planning is really the only way to go when you're trying to keep on track with dinner ideas. I will usually fill in 5-6 days' worth of meals in a meal planner and account for my schedule that week when planning everything out. You can use some of the dinner prep strategies above when making out your meal plan for the week ahead. Having everything on paper helps you stay on track!
And if you need some help coming up with ideas in general, be sure to check out my Start Here page to learn how to best use my blog to help with meal prep! Or check out my easiest ever 30 minute dinner ideas to get started.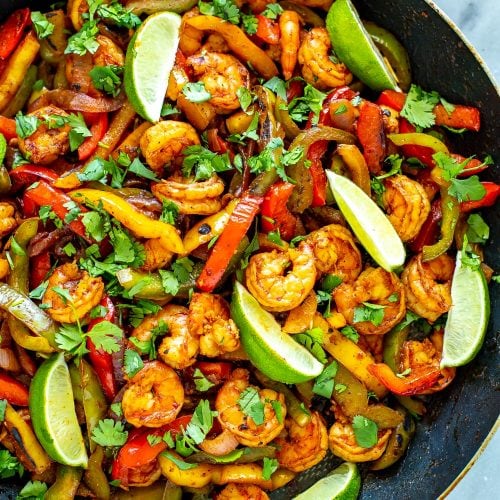 52 Healthy Dinner Ideas for Busy Weeknights
These Healthy Dinner Ideas will show you how to cook quickly and efficiently – these strategies help you get dinner on the table FAST!
Print
Pin
Rate
Click Here to Remove Ads
Servings: 4 servings
Calories: 300kcal
Instructions
Follow the instructions of the recipe of choice linked to above.
Video
Nutrition
Calories: 300kcal (15%)