This Slow Cooker Tuscan Sausage and Kale Soup is a hearty, veggie-filled comfort food option for cold days – just dump it all in the crockpot then set it and forget it!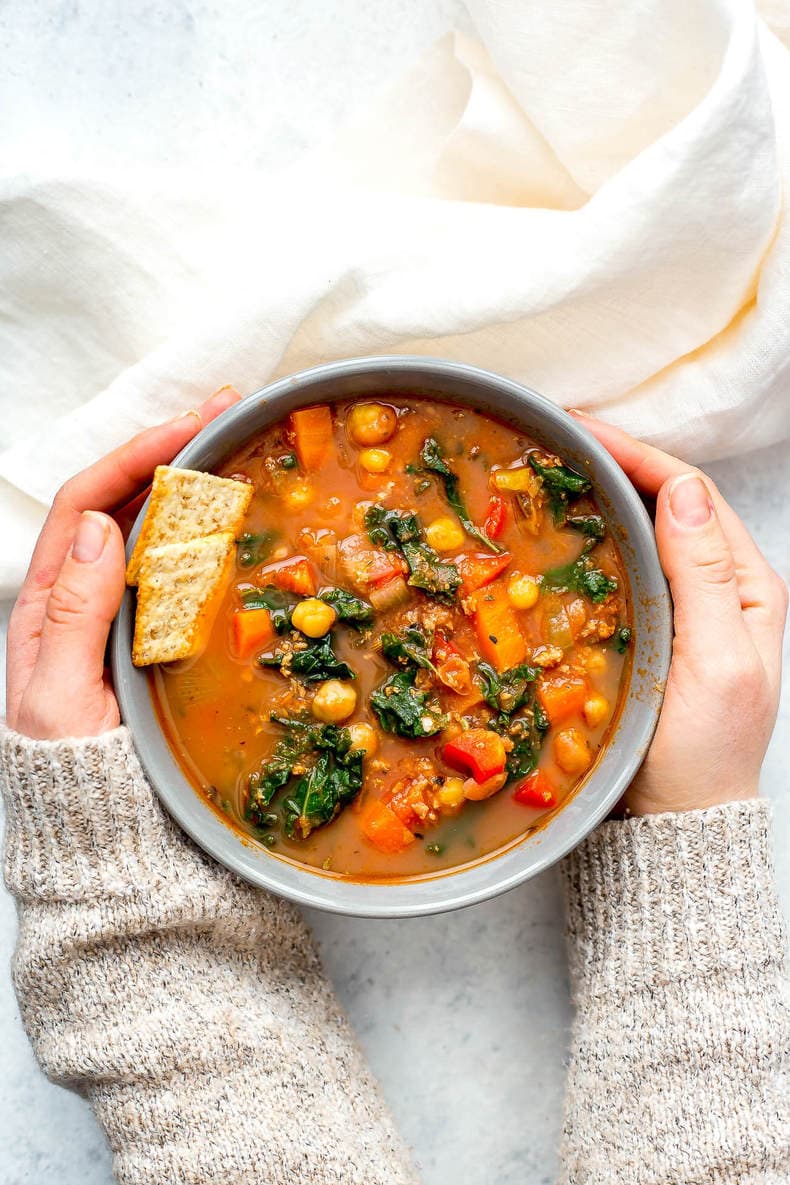 Say hello to another new cozy soup recipe to help you get through the rest of March! Hang in there, we're SO CLOSE TO SPRING!
Here in Canada anyways lol!
But in the meantime of course, this Slow Cooker Tuscan Sausage and Kale Soup will have to get us through. It's filled with hearty vegetables like carrots, celery, onions, red pepper and kale, and has a delicious tomato-based broth that feels so appropriate for cozy nights in on the couch.
All that's missing is a thick, crusty loaf of bread to make this a complete meal!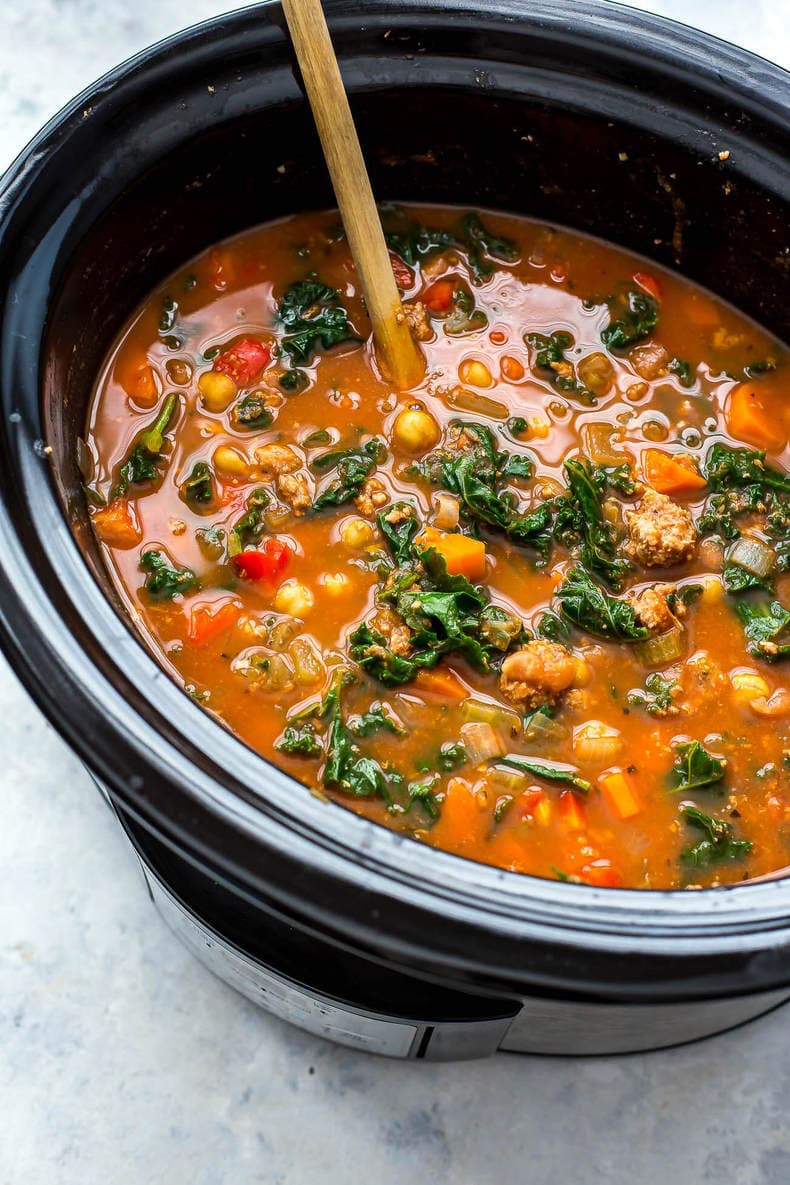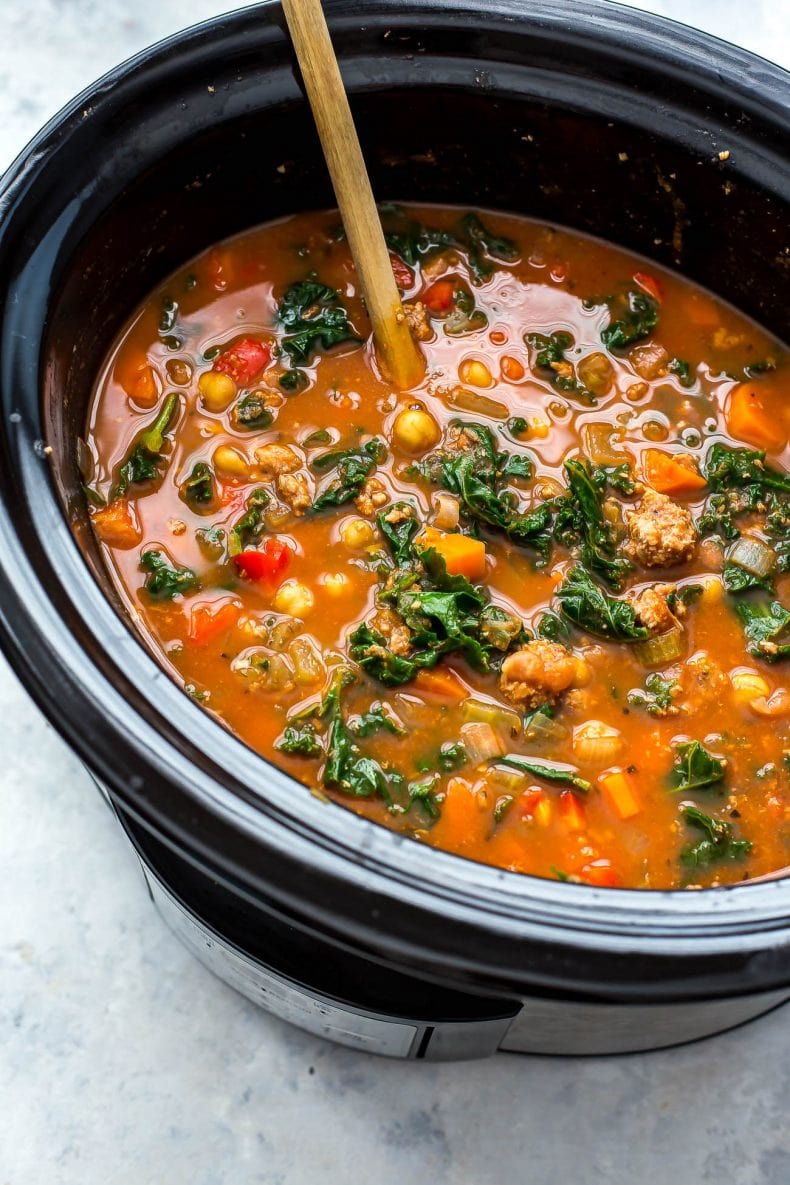 Sausage and Kale Soup: Stovetop Directions
This is such a simple and delicious recipe that I've actually made a few times on the stovetop when the weather first started to get cold. The first time I made it was with some chopped up butternut squash and it was to DIE for. But for the sake of keeping the ingredient list a bit shorter, I changed things up a bit for the blog.
But we've still got some great flavours going on and that's not to say you can't change things up if you'd like!
To make this Sausage and Kale soup on the stovetop, you will basically saute the sausage, onions and garlic for 5 minutes before adding the rest of the ingredients and simmering for 30-40 minutes on a lower temperature. It's so easy and a delicious one pot recipe you'll turn to over and over!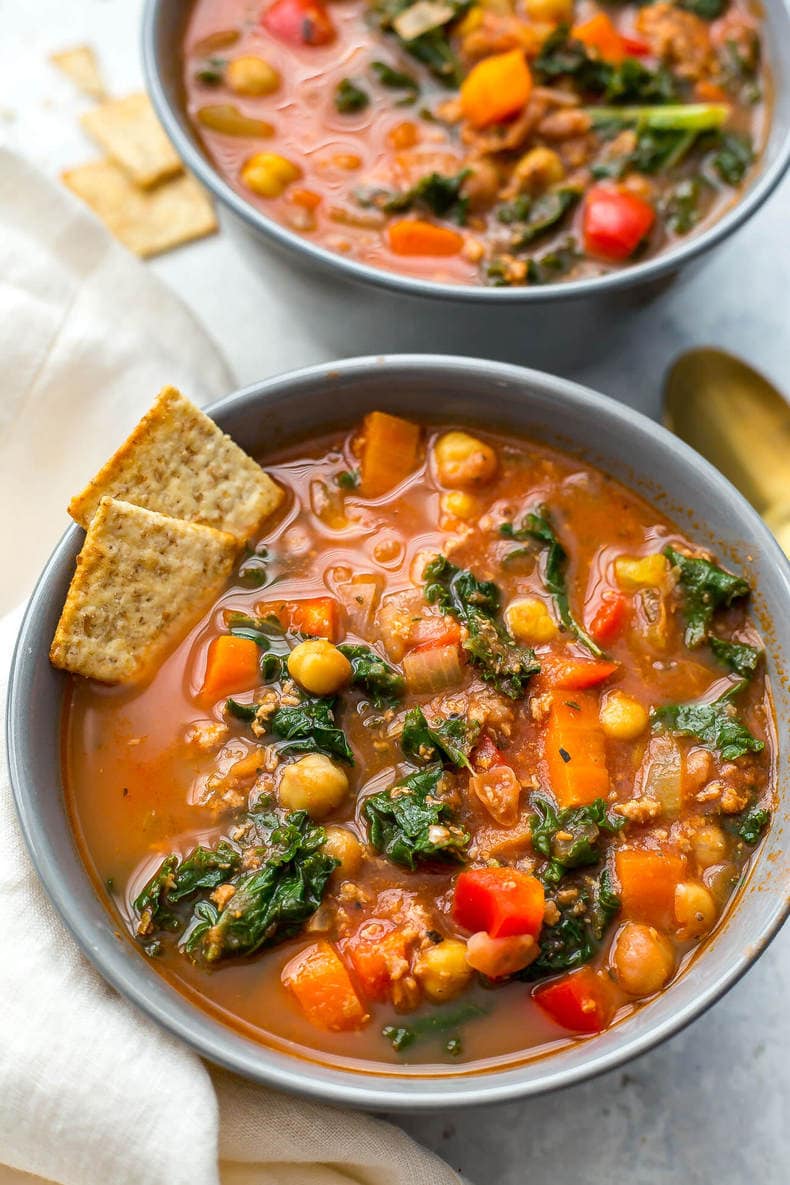 I also usually use turkey sausages for this Slow Cooker Tuscan Sausage and Kale Soup but when I went to Longo's to shoot it they were all out of my favourite ones, so I swapped in some ground turkey and made my own. If you have a Longo's near you their sausages are also bomb in my Sheet Pan Sausage & Root Vegetable Scramble.
I don't eat pork so most turkey sausages at the grocery store are still made with pork casings – like what is the point?! Why provide an alternative to pork sausages when they still contain the same products? Oh well!
Anyways, my point is that it's hard to find actual turkey sausages that fit my dietary restrictions. And don't ask about the pork thing, it's a long story haha.
What I'm really getting to is that you can make your own sausage at home with just about any type of ground meat. It'll be without the casing of course but the flavours will still be there!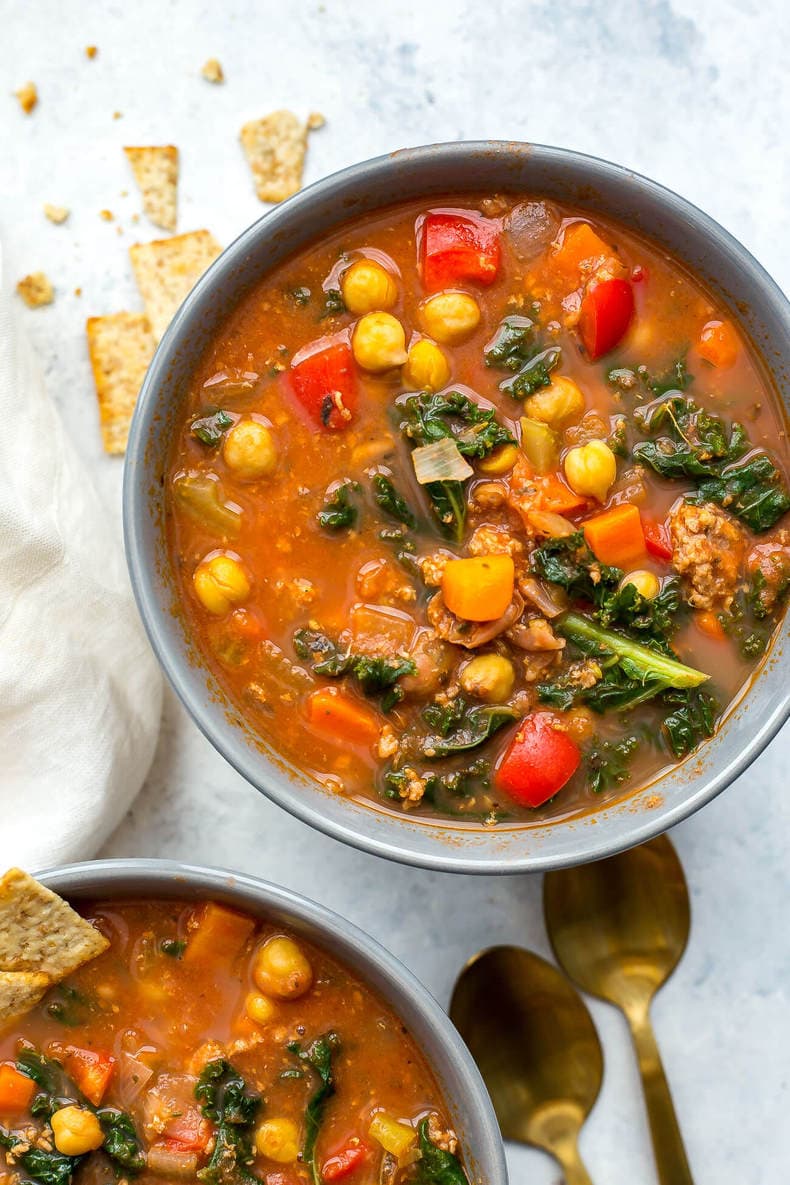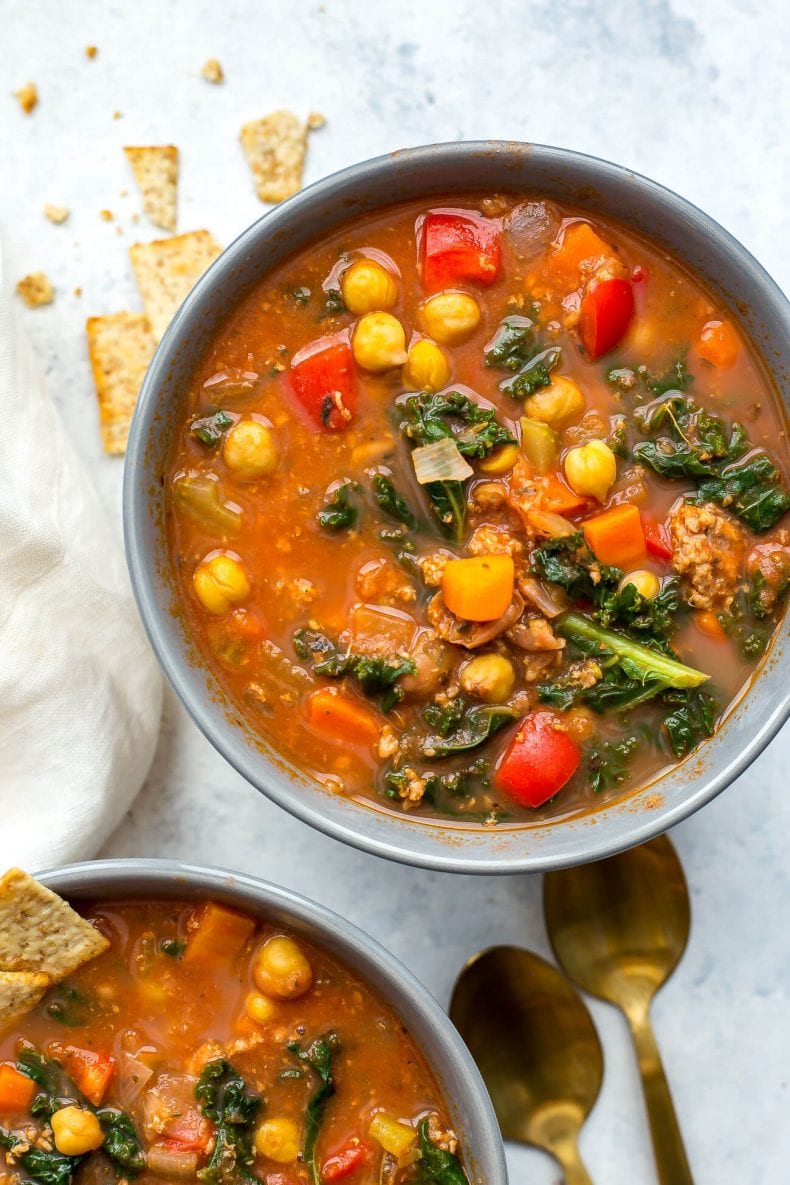 Making Your Own Turkey Sausage
To season a pound of ground turkey and turn it into sausage, all you need are some fennel seeds, garlic powder, salt and pepper, and if you're feeling fancy, some paprika! That's all there is to it! Add in a bit of each, mix together well, and you've got yourself faux-sausage!
I sometimes like to mix mine all together and then freeze it into little balls to use when I'm craving other recipes like this Turkey Sausage Pasta Arrabiata. Sooooooo good.
Once you get the sausage together (whether you're using homemade or storebought, make sure to remove the casings), you just add it to the slow cooker along with the rest of the ingredients.
It's THAT EASY.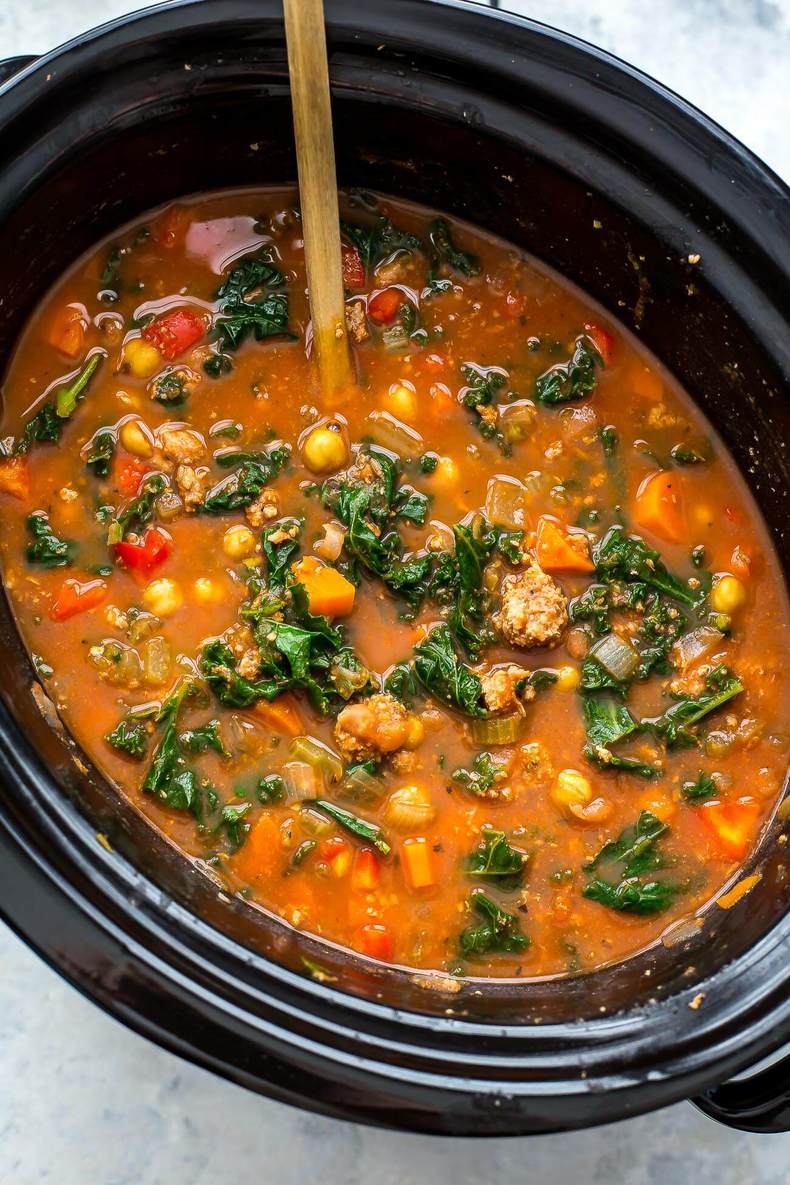 Italian Sausage and Kale Soup Ingredients
This Sausage Kale soup is a rustic, Italian-inspired recipe that uses some pretty simple ingredients, most of which you should already have on hand at home.
Most soup recipes use carrots, celery, onions and garlic in some form, and this recipe adds in Italian seasoning, chicken broth and crushed tomatoes for a soup base that's similar to the Tuscan Minestrone Soup.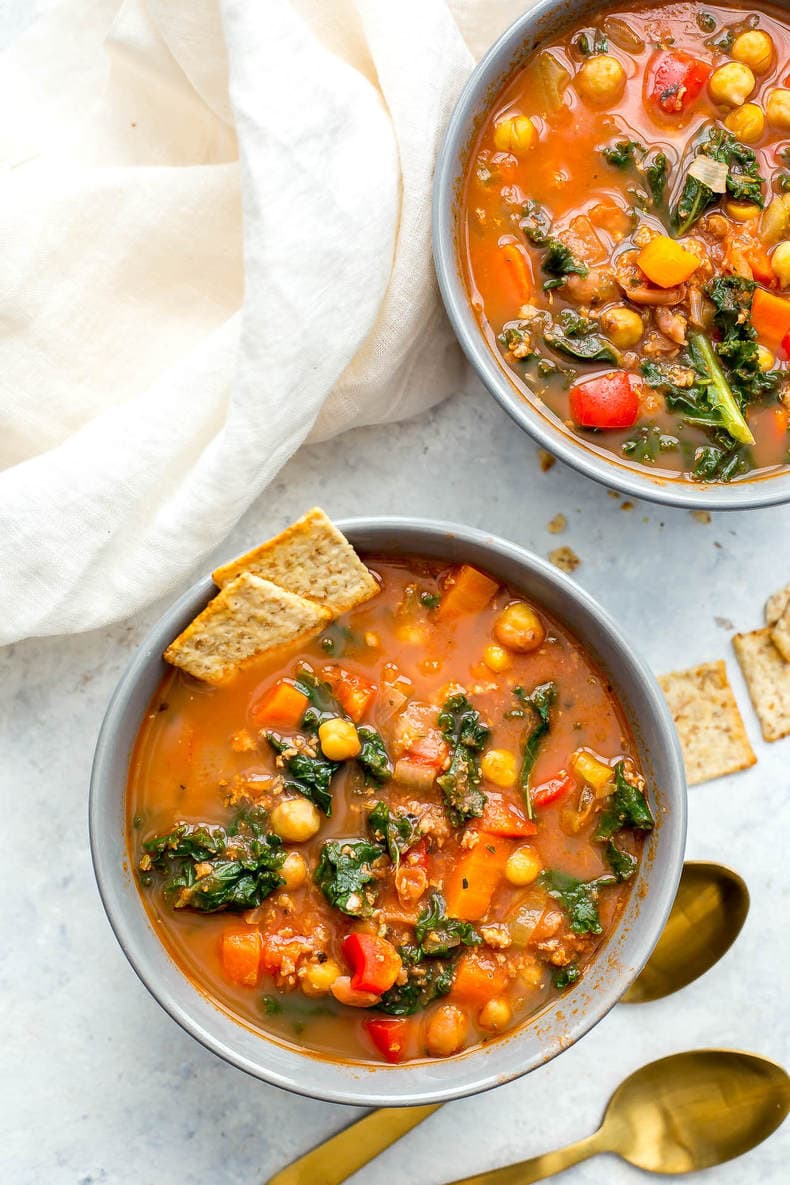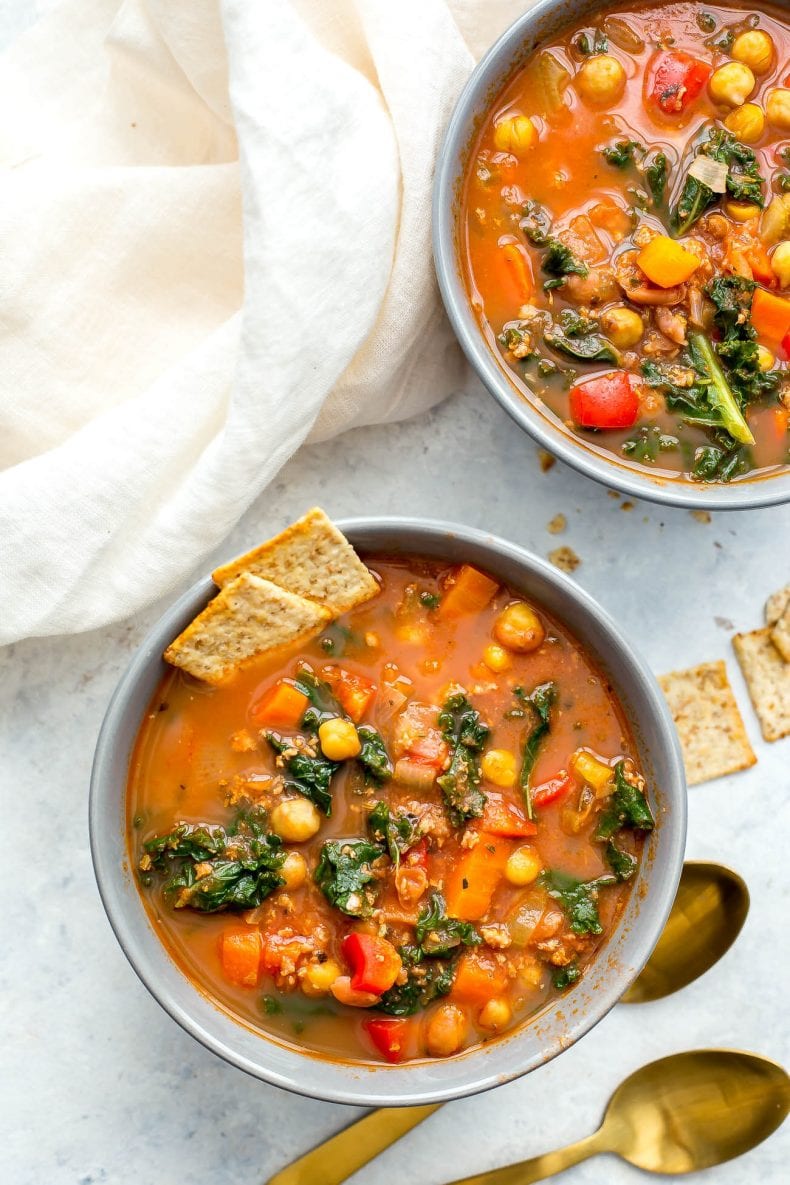 Sausage Kale Soup Variations
Chickpeas add some extra fibre and protein, and then any type of greens can be added in place for the kale. If you want to make this soup vegetarian, just leave out the sausage and double the amount of chickpeas or add in some white kidney beans.
If you don't have any kale on hand, you can add in some Swiss chard or spinach at the last minute once everything has cooked through, and you can also use any colour bell pepper too.
Like all my recipes, this Slow Cooker Tuscan Sausage and Kale Soup is super easy to customize – just how I like it!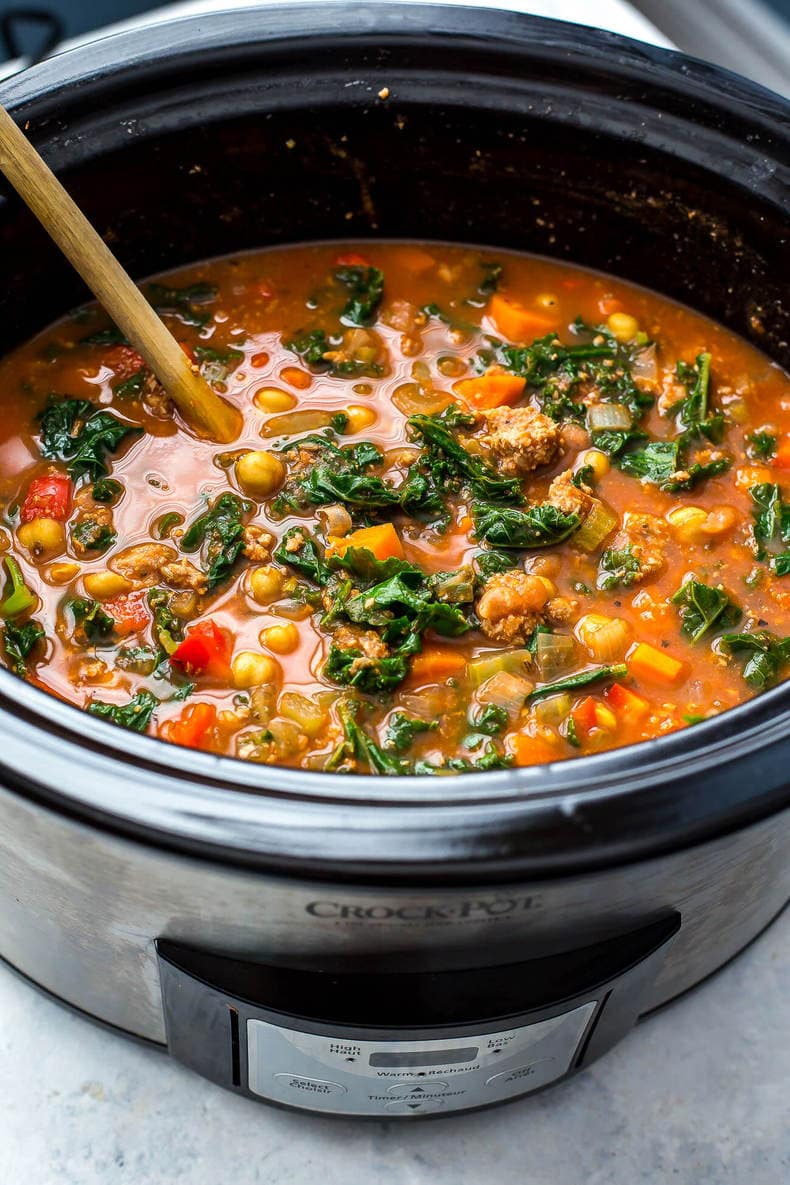 Freezing This Sausage Kale Soup
You can freeze this Tuscan Sausage and Kale Soup!
Make sure to freeze in a glass container – leftovers will keep up to 3 months. To reheat, microwave for 6-7 minutes or bring to a boil on the stove. I love freezer meals, they make sure great meal prep!
Will you be making this Slow Cooker Tuscan Sausage and Kale Soup?
I am so in love with these giant bowls of comfort food. Get this cooking all day, fill up the house with the aroma of delicious food, light a few candles and cozy up on the couch with some blankets while you still can! I'll be hiding out until the last snow storm passes in April (but hopefully that's not the case this year…)
If you try any of my recipes be sure to let me know on Instagram, Twitter, Facebook or in the comments – I'd love to see what you come up with!
Get your square glass meal prep bowls here – they're so great for packing up your leftovers!
And of course I get all my free-range poultry from Butcher Box!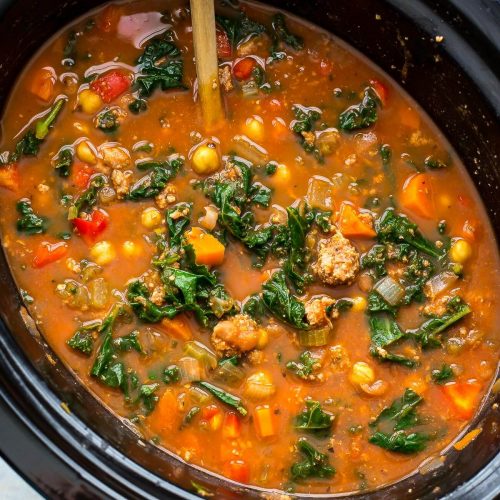 Slow Cooker Tuscan Sausage and Kale Soup
This Slow Cooker Tuscan Sausage and Kale Soup is a hearty, veggie-filled comfort food option for cold days - just dump it all in the crockpot then set it and forget it!
Print
Pin
Rate
Ingredients
1

tbsp

olive oil

4

cloves

garlic minced

2

yellow onions, diced

1

large carrot, chopped

2

stalks

celery, chopped

1

tbsp

Italian seasoning

4

cups

chicken broth

1

(796mL) jar

crushed/strained tomatoes (passata)

1

can

chickpeas, drained and rinsed

1

red pepper, diced

2

cups

kale, chopped
Turkey sausage
1

lb

ground turkey (or use 4 turkey sausages instead of making your own, casings removed)

1

tbsp

fennel

1

tsp

garlic powder

1

tsp

salt

1/2

tsp

pepper
Instructions
If using storebought sausages, remove casings and break up meat. If making your own, mix together sausage ingredients and break up. Add to slow cooker, along with rest of ingredients except for red pepper and kale.

Cook on high for 6 hours or low for 8 hours. When ready to serve, stir in red pepper and kale, then let sit for 3-4 minutes. Serve and enjoy!
Video
Nutrition
Calories:
312
kcal
|
Carbohydrates:
21
g
|
Protein:
28
g
|
Fat:
14
g
|
Saturated Fat:
3
g
|
Polyunsaturated Fat:
3
g
|
Monounsaturated Fat:
6
g
|
Cholesterol:
83
mg
|
Sodium:
1126
mg
|
Potassium:
720
mg
|
Fiber:
5
g
|
Sugar:
3
g
|
Vitamin A:
7750
IU
|
Vitamin C:
66.8
mg
|
Calcium:
110
mg
|
Iron:
4.7
mg