Low Carb Cauliflower Mac and Cheese
This Low Carb Cauliflower Mac and Cheese is a tasty keto spin on a classic mac and cheese. Enjoy it as an indulgent, calorie-wise side dish or load it up with veggies and bacon for a full meal!
What is considered low carb?
Generally, diets of less than 100 grams of carbohydrates per day are considered low carb. However, most people will need to be under 50 grams of carbs a day to see the desired results.
This is the point when the body goes into ketosis. When your body doesn't have enough glucose to burn for energy, it starts to dip into its fat stores instead. The body always burns glucose, which is found in carbohydrates, first. This is how rapid weight loss happens on a low carb diet.

It's no secret that I'm a giant fan of Mac and Cheese. All you have to do is look at these recipes for my Instant Pot Mac & Cheese or this delish Butternut Squash Mac and Cheese. I have a few other mac and cheese recipes too, but I thought I should save you some scrolling LOL!
How to Make Low Carb Cauliflower Mac and Cheese
It may look like your favorite comfort food, but thanks to roasted cauliflower, this mac and cheese is low carb. Oh, and it is delicious, too!
Roasting cauliflower allows the natural sugars in the cauliflower to caramelize. As a result, it creates a deep, rich flavor for the base of the mac and cheese.
How to Roast Cauliflower
Prepare your baking dish by greasing it or covering it with parchment paper.
Cut the cauliflower into uniform sized pieces and drizzle them with olive oil and some salt and pepper.
Roast the cauliflower in an oven at 425 degrees F. for 20 minutes. The pieces should be tender and the edges slightly charred.
While the cauliflower is cooking, prepare your cheese sauce. It is very simple to make! You just melt together butter, milk, cream cheese, and cheddar cheese.
Use a light hand when adding the milk because cauliflower does not soak up liquids like starchy pasta does. In fact, the sauce will look very thick. This is how you know it will be perfect on the cauliflower!
The cheese sauce just needs to be warm enough to melt the cheeses. Do not over cook the sauce or the milk will start to curdle. By cooking the cheese sauce at a low temperature, you can ensure that it has enough time to melt and become smooth, but not enough heat to curdle.
What are the health benefits of roasted cauliflower?
Cauliflower has antioxidant and anti-inflammatory properties that help reduce the risk of cancer. It also has lots of fiber and vitamin C. No other mac and cheese can claim all that!
And of course, by using cauliflower instead of pasta, this dish becomes gluten free.
If you've never had roasted cauliflower before, you've been missing out! Keep this part of the recipe in mind for a quick and delicious side dish for any meal!
What substitutions can I make in this recipe?
For the Cheese:
If you don't have cream cheese at home or prefer not to use it, you can use more cheddar in its place. The cream cheese creates a thicker smoother cheese sauce, which is why I always indulge in the cream cheese for this recipe.
For the Milk:
I use 2% milk because it's what we keep in the house. However, any variety of milk will work just fine. This includes non-dairy nut milk like almond and coconut. If you want something even creamier and more indulgent, you can use half and half or heavy cream.
How do I make cauliflower mac and cheese into a complete meal?
Mac and cheese is often a side dish because it's traditionally only staches and dairy. This dish is different.
It's already packed with vegetables as the base.
The cheese has quite a bit of protein, but you can add more. Try some of these additions to your mac and cheese for a one-pot dinner.
Chicken – try a few different flavor combinations with these shredded chicken recipes
Ground beef or turkey
Pork chops, bacon, or ham
Bell peppers
Broccoli
Chives
Spinach
Tomatoes
What do I serve with cauliflower mac and cheese?
You can choose to leave this dish in its perfect state and eat it just the way it is. It can be a healthy, complete meal, but you may want a little something else to go with it.
You could opt for a protein or more vegetables. Try a few of these dishes with the cauliflower mac and cheese.
Doesn't this big pot of low carb cauliflower mac and cheese look absolutely irresistible?! You've got to whip this up ASAP!
Will you be making this low carb comfort food?
You basically have no excuse not to try it – it's so easy to make AND easy on the waistline 😉
If you try any of my recipes be sure to let me know on Facebook or in the comments – I'd love to see what you come up with!
Grab some glass meal prep bowls if you plan on packing this Mac & Cheese up for lunch!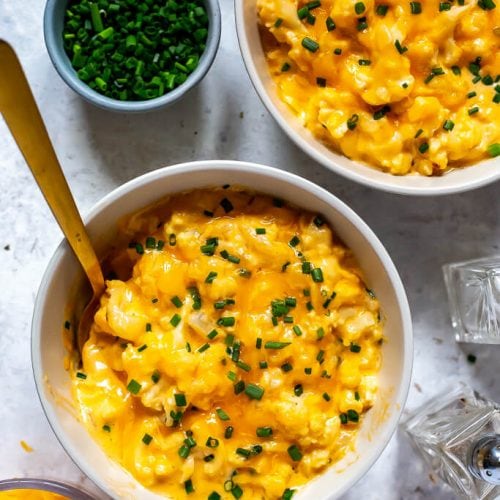 Print Recipe
Low Carb Cauliflower Mac and Cheese
This Low Carb Cauliflower Mac and Cheese is a tasty keto spin on a classic mac and cheese - enjoy it as an indulgent, calorie-wise side dish or load it up with veggies and bacon for a full meal!
Ingredients
1

tbsp

olive oil

1

head

cauliflower, chopped into small pieces

1

yellow onion, diced

Salt & pepper to taste

1

tbsp

butter

1/3

cup

milk

1/3

cup

light cream cheese

1

cup

cheddar cheese, grated

1

tbsp

chopped chives
Instructions
Preheat oven to 450 F and line a baking sheet with parchment paper. Add cauliflower and onions and toss with olive oil, then season with salt and pepper. Bake for 20 minutes, flipping halfway through.

While cauliflower is cooking, make the cheese sauce. Melt butter in a large saucepan, then add milk, cream cheese and cheddar cheese, whisking to combine and simmering over low heat for 4-5 minutes until smooth.

Remove cauliflower from oven and toss in cheese sauce. Garnish with extra shredded cheddar cheese (optional) and chives then serve and enjoy!
Nutrition
Calories:
321
kcal
|
Carbohydrates:
18
g
|
Protein:
18
g
|
Fat:
22
g
|
Saturated Fat:
12
g
|
Polyunsaturated Fat:
1
g
|
Monounsaturated Fat:
8
g
|
Cholesterol:
57
mg
|
Sodium:
348
mg
|
Potassium:
792
mg
|
Fiber:
6
g
|
Sugar:
8
g
|
Vitamin A:
2400
IU
|
Vitamin C:
168.3
mg
|
Calcium:
350
mg
|
Iron:
1.6
mg