This French Onion Chicken Skillet is a delicious weeknight dinner that is a play on French onion soup. It's packed with protein for a filling meal!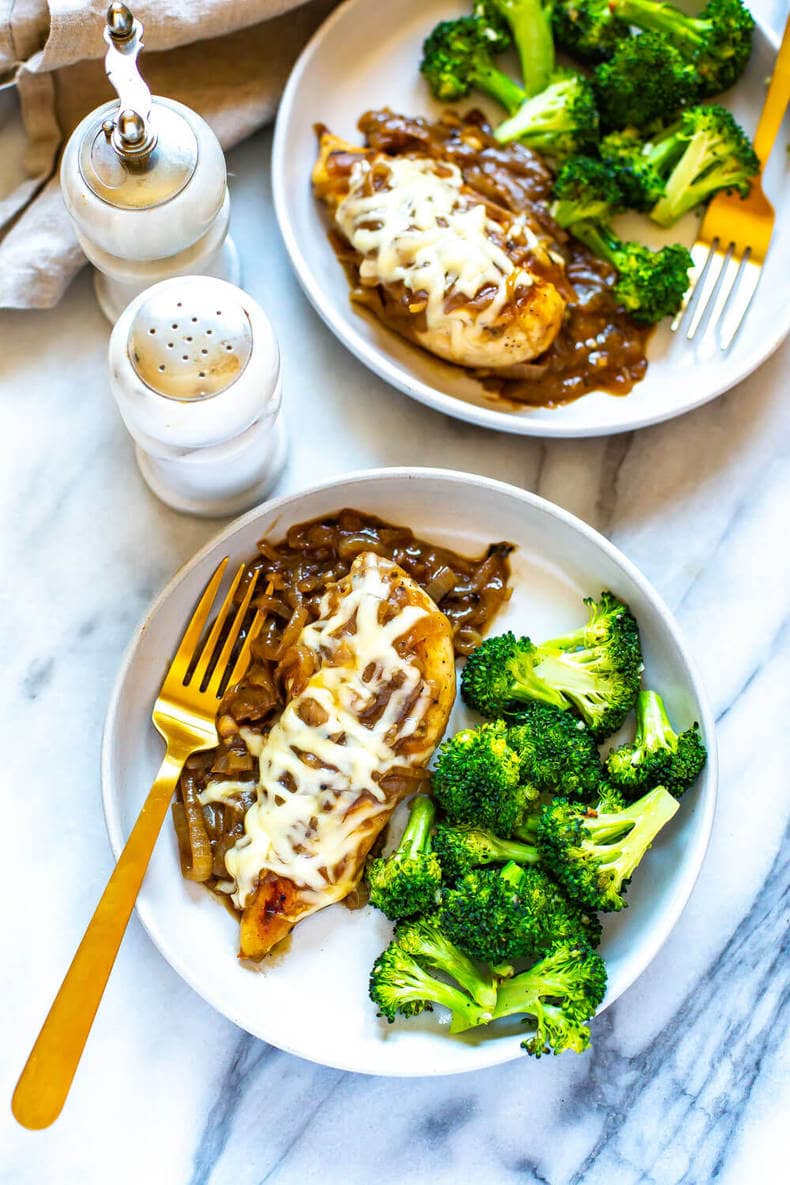 Ingredients and substitutions
Olive oil – or any neutral cooking oil such as avocado or canola oil.
Chicken breasts – chicken cutlets or chicken thighs can also be used. You could also make this recipe with another protein like pork chops, steak or fish.
Salt & pepper – to taste.
Yellow onions – I find that yellow onions are best but you could also try sweet onions, red onions, shallots or leeks.
Flour – feel free to use a gluten-free flour of your choice like almond flour.
Red wine – for an alcohol-free version, add in some extra beef broth instead.
Beef broth – beef bouillon cubes dissolved into hot water are the best substitute.
Swiss cheese – swap out for another cheese like Emmental or pizza mozzarella.
Oven-roasted broccoli
Broccoli – feel free to serve the chicken with another veggie of your choice like cauliflower.
Olive oil – see substitution notes above.
Garlic – freshly minced garlic is best but jarred minced garlic will work in a pinch.
Salt & pepper – to taste.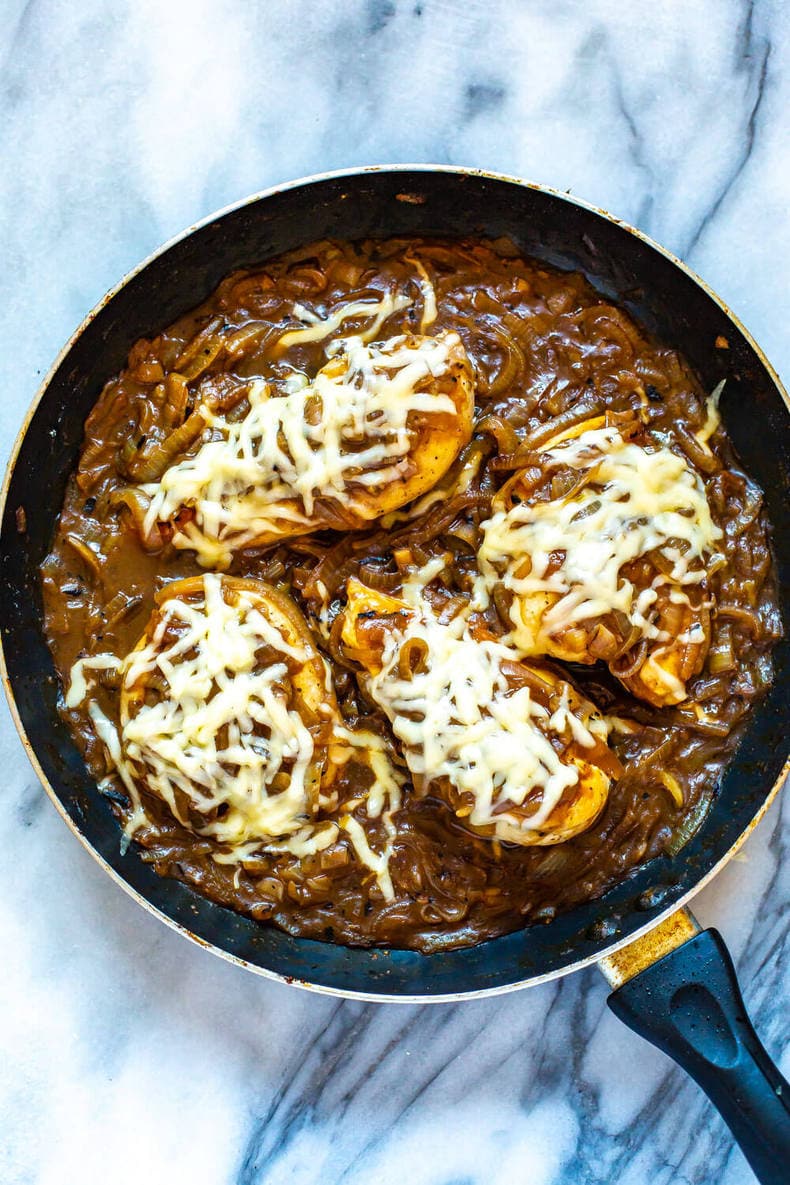 How to make French onion chicken skillet
Sauté the chicken.
Caramelize the onions.
Roast the broccoli.
Make the French onion sauce.
Melt the cheese on the chicken.
Serve and enjoy!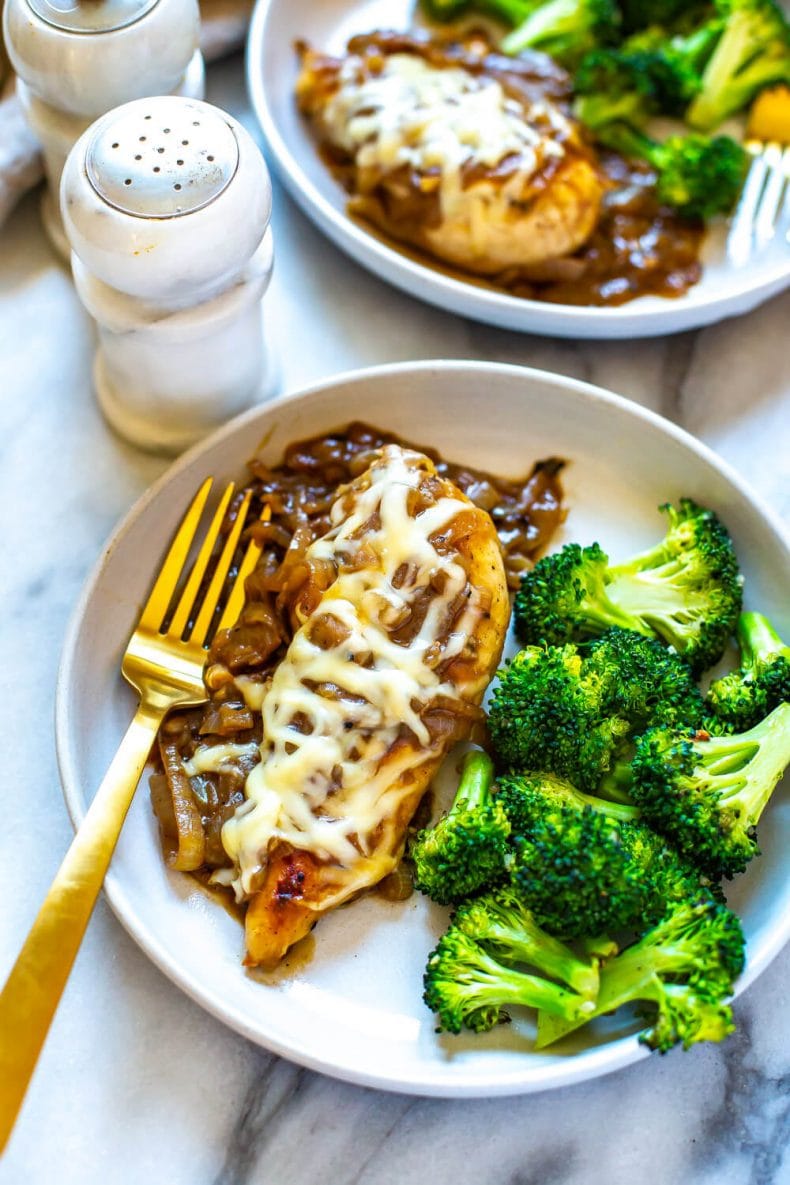 What to serve with French onion chicken
With a versatile chicken skillet dinner like this one, options for sides are pretty limitless.
Make a veggie that your family likes. Steamed broccoli, green beans, or carrots are great choices, as are starches like rice or potatoes.
Oh, and of course, a crusty loaf of French bread would be perfect with a comfort food meal like this French onion chicken, too.
Worst comes to worst, you can always do some frozen fries on the side, or some sweet potato tater tots as I like to do occasionally. A salad also pairs really nicely with this dish and keeps it low carb.
Frequently Asked Questions
What onions are best for French onion chicken?
I use yellow onions to make this dish because it's what is in most versions of French onion soup. That being said, if you want to alter the flavour a bit and get creative, you can use other types of onions. Sweet onions such as Walla Walla and Vidalia are fantastic for caramelizing. The extra sugars in them will make them less bitter. If you want something a little milder, try a white onion. It will also be sweeter than the yellow onions. Red onions will give your dish a splash of bright color and a sweet mild flavor. While shallots are small, and they roast well because the layers are so thin. They have a garlicky taste. Leeks are great in sauces because their flavor mellows as they are cooked.
What kind of chicken should you use?
The healthiest option for protein is chicken breast. It has slightly less cholesterol and much less saturated fat than chicken thighs and legs. In a dish like this, boneless breast meat cooks more quickly because there is no bone in the meat. You can use chicken breast cutlets that are pre-cut for you at the store to make the recipe quicker, but you can always slice one chicken breast in half lengthwise to accomplish this.
What cheese is best?
The cheese that is best served with French onion soup or French onion chicken is DEFINITELY a nice Swiss cheese. I usually use the Jarlsberg brand, and Emmental is another delicious, mild cheese that would pair nicely with this chicken dinner. You ideally want a cheese that melts nicely and is relatively mild to highlight the gravy and onions.
You could also use pizza mozzarella if you're in a pinch!
How do you caramelize onions?
When you make caramelized onions, you want to take your time. Keep in mind, you aren't just browning them; you want the sugars in the onions to break down. The goal is for them to develop a perfectly deep, sweet flavour, not the taste of slightly burnt onions. Cut the onions fairly thin, but not too thin. If they are too thin, the will get crispy instead of caramelizing. Fry the onions in oil, not butter, and make sure to caramelize them over low heat, stirring once every few minutes. If you start to get a burnt spot, add some water and scrape it up, but continue cooking at a lower temperature.
Storing and reheating
You can store this meal in the refrigerator for up to 5 days, which makes it great for meal prep. You can make the dish in advance for a weeknight dinner, or even make a large batch to divide into single serving sizes. Then you will have lunches for several days, ready to go.
To reheat, microwave it for a few minutes, or pop it in the oven for 20 minutes at 350° Fahrenheit.
Freezing this recipe
Unlike French onion soup that loses its signature texture when frozen, this meal freezes beautifully and can be frozen for up to 3 months. That is why it's so perfect for meal prep dinners; you just need some meal prep containers and you're good to go!
As another option, you can freeze just the caramelized onions. Since they take a while to make, you can cook up a larger batch and freeze. Caramelized onions last in the freezer for at least 5 months.
The amazing caramelized onions make a great topping for any type of meat, soup, burgers and more! You can freeze them in small portions in a muffin tray for individual servings to spice up another meal.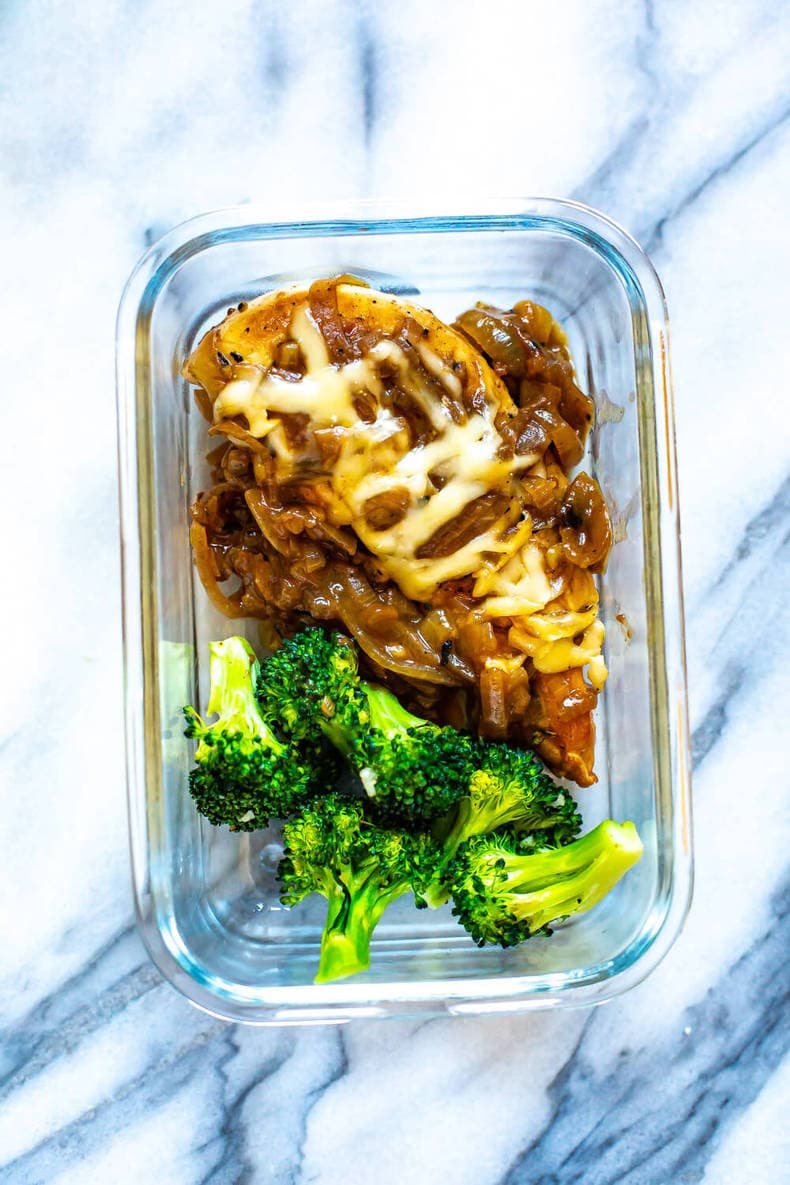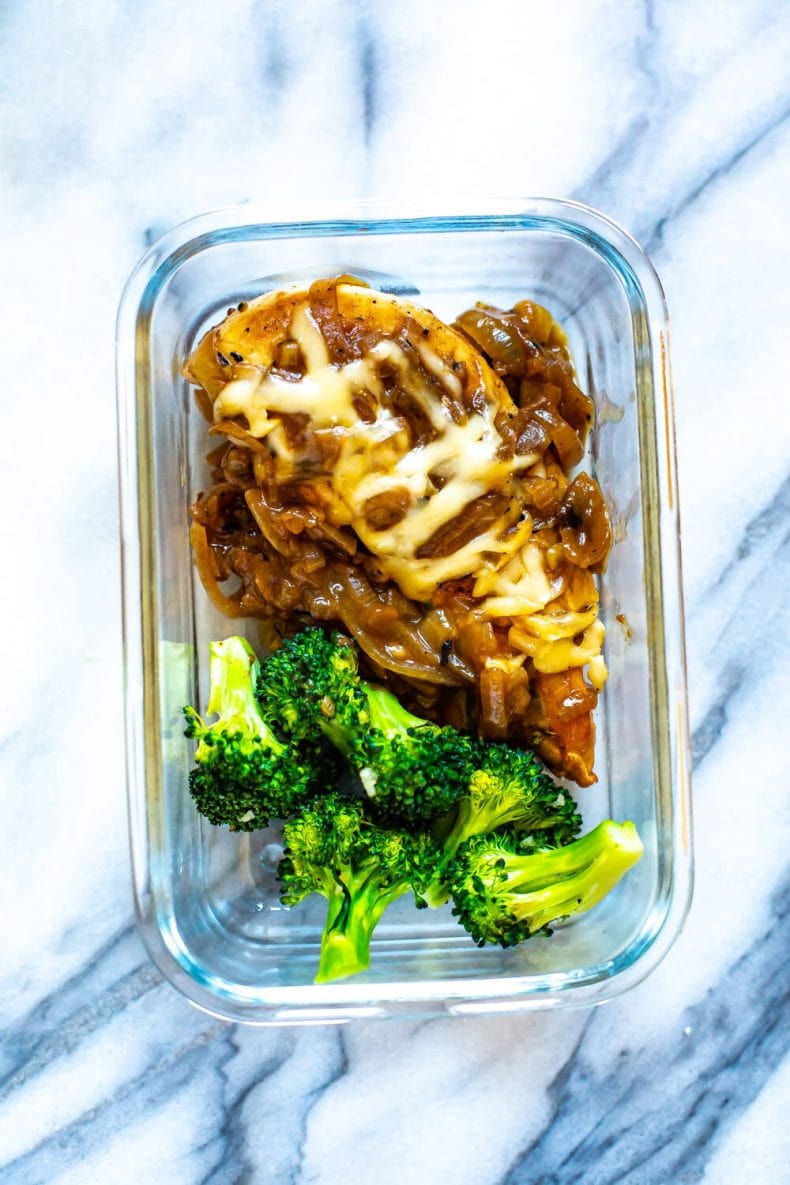 Wanna Learn How To Meal Prep?
My meal planning service, Dinner Prep Pro, removes the guesswork and helps you get dinner on the table in 15-20 minutes each night. My meal prep checklists only take 1 hour each week!
More chicken skillet dinners
Meal prep tools for this recipe
Grab some glass meal prep bowls if you plan on turning this French onion chicken skillet meal into your lunches for the week.
I get all my free-range chicken from Butcher Box, conveniently delivered to me frozen.
Get a meat thermometer to make sure your chicken is cooked through.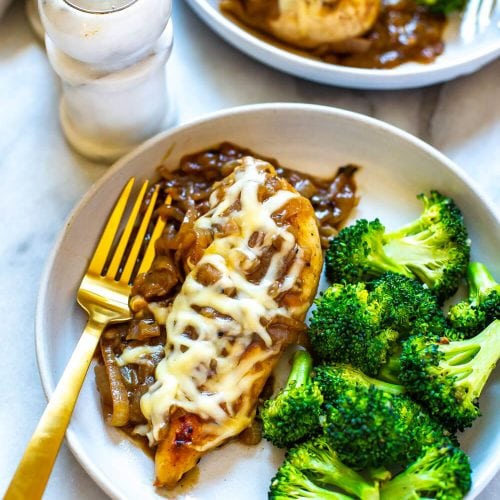 French Onion Chicken Skillet
This French Onion Chicken Skillet is a delicious weeknight dinner that is a play on French onion soup. It's packed with protein for a filling meal!
Print
Pin
Rate
FEELING BURNED OUT?We've got you covered with a December self care plan! Sign up for weekly habit audits, 3 weeks of meal prep plans, weekly goal setting printables + live calls!👇
Join our December ✨Feel Good✨ Challenge!
Servings: 4 servings
Calories: 400kcal
Ingredients
1 tbsp olive oil
2 large chicken breasts, sliced in half lengthwise
Salt & pepper to taste
1 tsp olive oil
4 yellow onions, sliced
2 tsp flour
2 tbsp red wine
1/2 cup beef broth
1/2 cup Swiss cheese, grated
Oven-roasted broccoli
1 head broccoli, cut into florets
1 tsp olive oil
2 cloves garlic minced
1/4 tsp each salt & pepper
Instructions
Preheat oven to 425 F. Add 1 tbsp olive oil to a large skillet over med-high heat. Meanwhile, slice chicken in half lengthwise then season with salt and pepper.

Saute chicken for 4-5 minutes each side, then remove from heat and wipe pan clean with a paper towel. Add 1 tsp olive oil to skillet then add onions and cook for 10 minutes, stirring occasionally until onions brown.

Meanwhile, toss broccoli with 1 tsp olive oil, garlic, salt and pepper on a parchment-lined sheet pan. Bake for 8-10 minutes until broccoli is tender.

Once onions are softened and somewhat browned, mix in flour and then add red wine and beef broth, mixing well to combine.

Add chicken back to skillet and cover with onion mixture, then top with cheese and put lid on top of skillet to let cheese melt, about 2 minutes.

Serve chicken with broccoli and enjoy!
Video
Notes
When cutting the onions, turn on the fan or chill the onions before chopping them to prevent your eyes from watering. Try serving the onion sauce with another protein like pork chops, steak or fish. Store the leftovers in the fridge for up to 5 days. Reheat in the microwave for a few minutes or in the oven at 350 F for 20 minutes. Freeze this recipe for up to 3 months. Defrost in the fridge overnight then reheat as normal.
Nutrition
Calories: 400kcal (20%)Carbohydrates: 8g (3%)Protein: 28g (56%)Fat: 28g (43%)Saturated Fat: 9g (56%)Polyunsaturated Fat: 3gMonounsaturated Fat: 10gCholesterol: 86mg (29%)Sodium: 484mg (21%)Potassium: 311mg (9%)Fiber: 1g (4%)Sugar: 1g (1%)Vitamin A: 500IU (10%)Vitamin C: 28.9mg (35%)Calcium: 260mg (26%)Iron: 1.3mg (7%)