These Super Easy Mini Chicken Pot Pies are a lighter version of your favourite comfort food in the cutest individual serving sizes!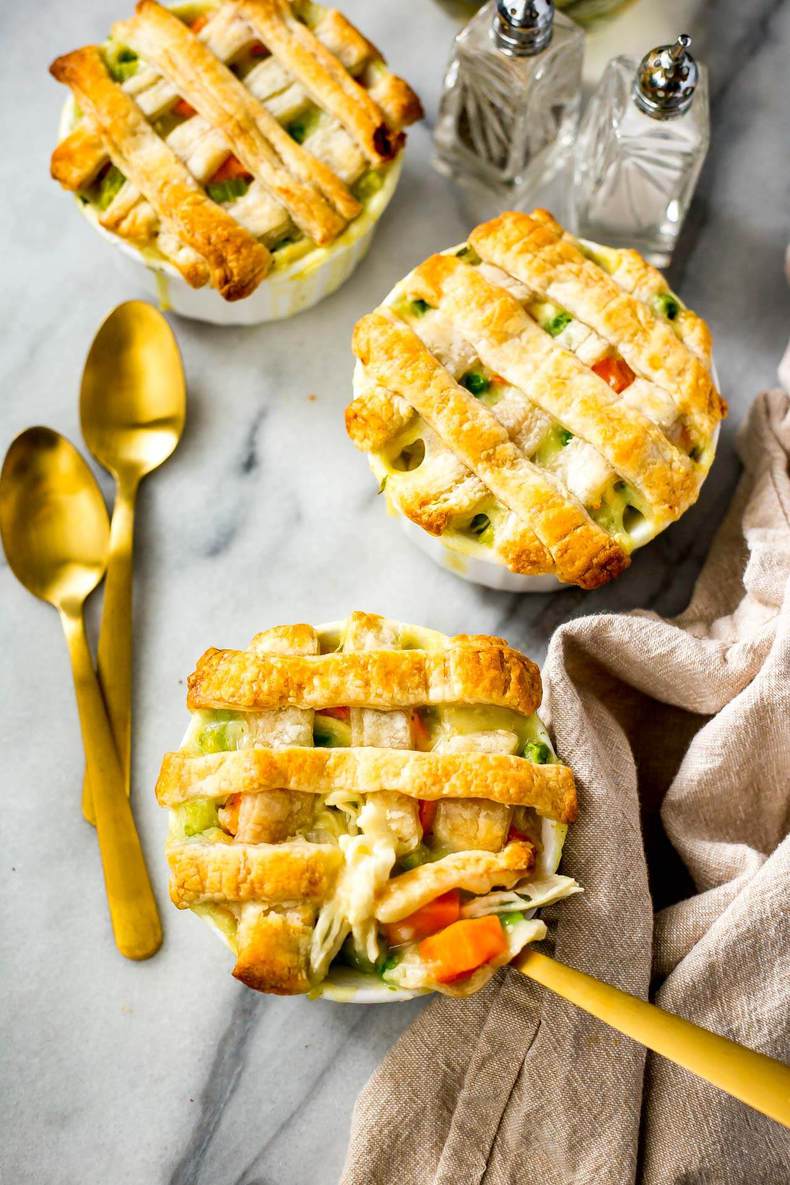 Ingredients and substitutions
Olive oil – or another neutral cooking oil like avocado or canola oil.
Yellow onion – white onion or shallots would also work here.
Garlic – freshly minced garlic is best but jarred minced garlic can be used in a pinch.
Celery – use a bag of frozen veggies instead for easy meal prep.
Carrots ­– parsnips or leeks would be good too.
Salt & pepper – to taste.
Thyme – oregano will provide a similar flavour.
Dried sage – double up on the thyme or use rosemary instead.
Flour – you could also use 2 tbsp. cornstarch to thicken the sauce.
Chicken broth – vegetable broth is the best substitute here.
Cooked chicken breasts – leftover chicken or shredded rotisserie chicken would work, or you can leave out the chicken entirely for a vegetarian option.
Peas – swap out for another small veggie of your choice like corn.
Puff pastry – use pre-made puff pastry or make your own from scratch. Mini pie shells would also be good!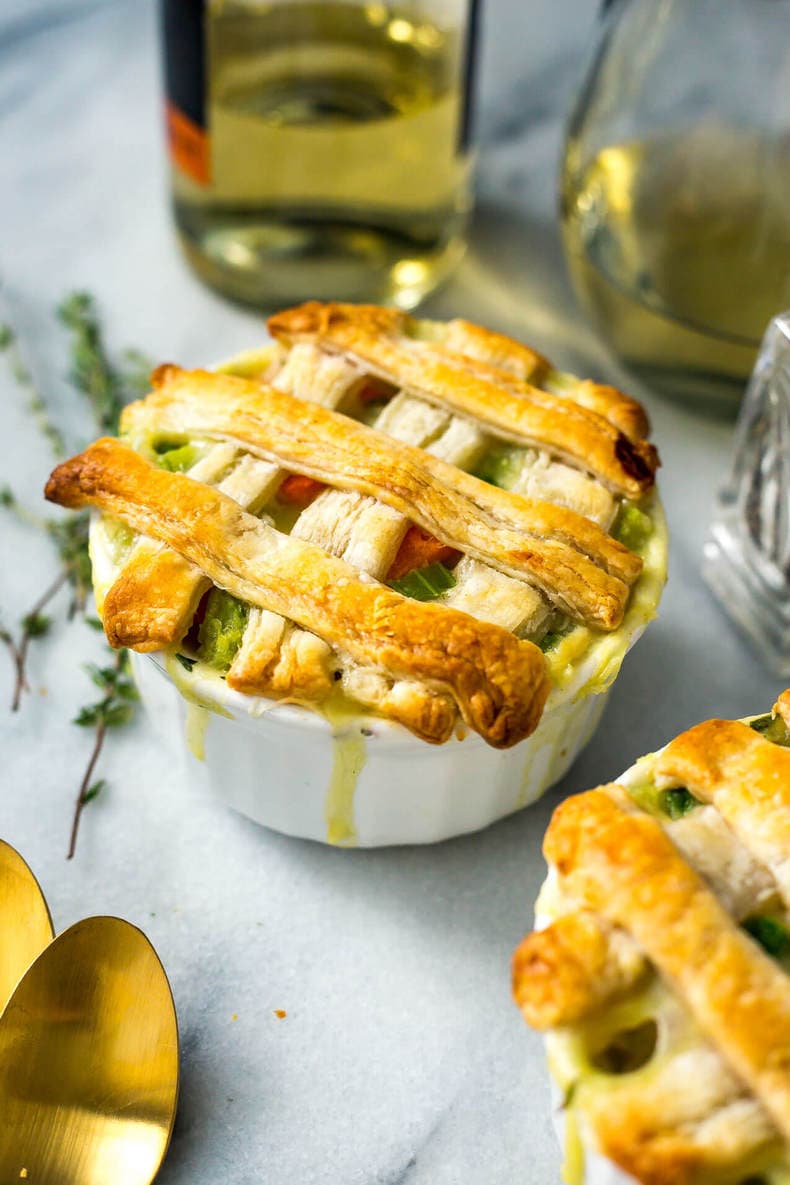 Skip the Ads and Get Right to the Recipes!
ZERO ADS on over 600 recipes!
Weekly Meal Plans, Grocery & Prep Lists
Bonus eBooks
How to make mini chicken pot pies
Cook and shred the chicken.
Make the sauce.
Stir in the chicken and veggies.
Divide the mixture amongst the ramekins.
Top with puff pastry.
Bake and then serve!
What to serve with mini chicken pot pies
These mini chicken pot pies are an entire meal on their own – you've got your protein, veggies and starch all in one! That being said, if you're looking for things to serve on the side, here are some ideas:
Side salad
Butternut squash soup
Roasted vegetables
Mashed potatoes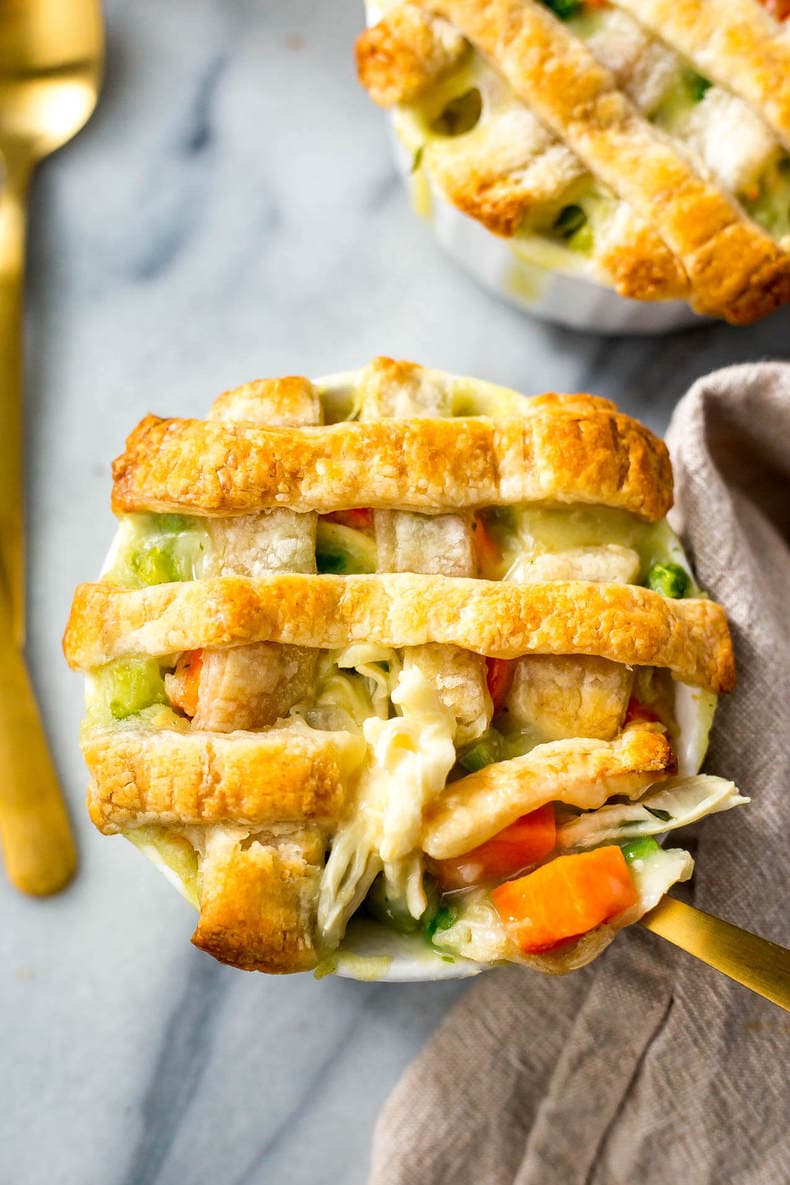 Frequently Asked Questions
What is the sauce made of in chicken pot pie?
The sauce in chicken pot pie is one of the best parts! For this recipe, I made the sauce a bit lighter by omitting the heavy cream you might find in some recipes. The easy sauce is made with onion, garlic, celery, carrots, salt, pepper, thyme, sage, flour and chicken broth. If you want to cut down on the cooking time even more, you can swap out the celery and carrots for a frozen vegetable blend instead.
Why does it get watery?
If you find that your mini chicken pot pies are a bit watery after cooking, they likely haven't cooked for long enough – stick them back in the oven for a bit more. When you're making the sauce, make sure to bring it to a boil and let it thicken before adding it to the ramekins!
How long do you cook it for?
These mini pot pies will need to bake in the oven for 20 minutes at 400° Fahrenheit.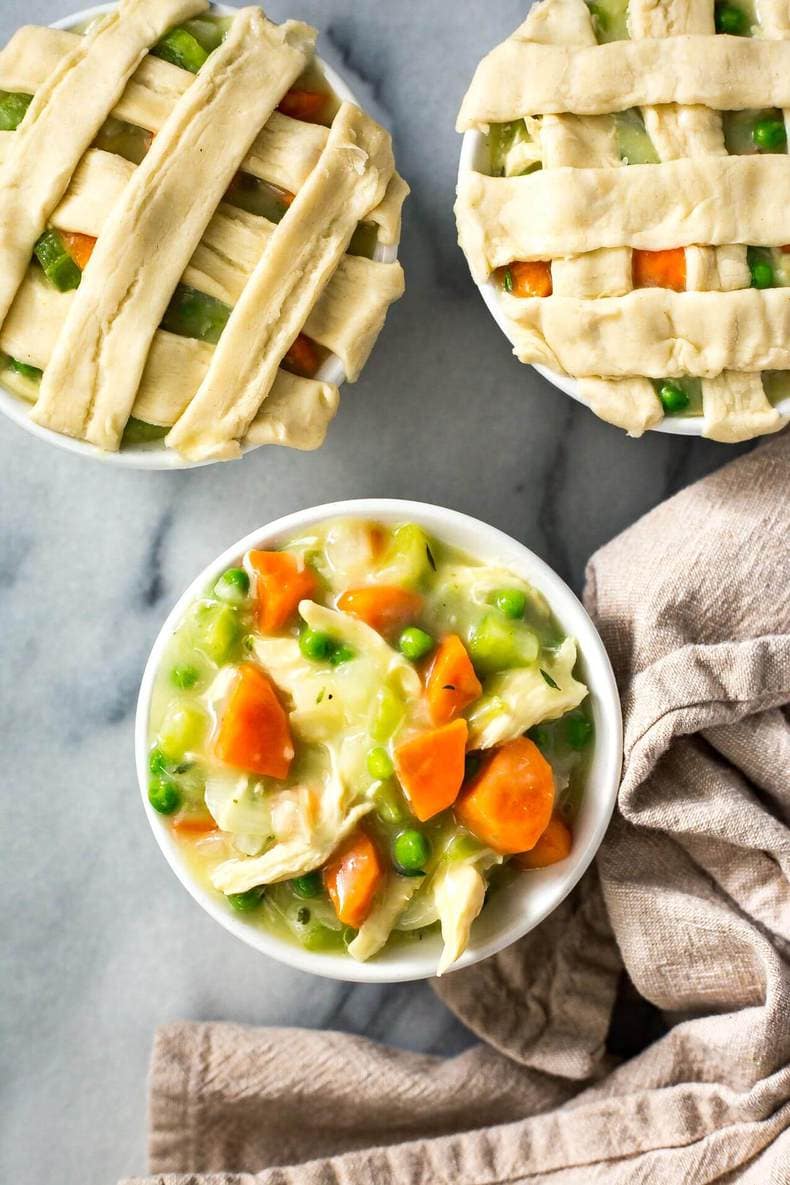 Storing and reheating
You can store these mini pot pies in the fridge for 3 to 4 days. Store the full mini pot pies or cook the filling ahead of time and store it in the fridge in a glass container, then add on the puff pastry when you're reheating.
I recommend reheating the pot pies in the oven for 10 to 15 minutes at 350° Fahrenheit so the puff pastry gets nice and crispy! This recipe is great as leftovers and they'll taste just like new after reheating in the oven.
Freezing this recipe
There's nothing better than pulling a mini chicken pot pie out of the freezer and kicking back with one of your favourite shows. You can freeze these mini pot pies for up to 3 months right in the ramekins – just be sure to cover them with foil or plastic wrap to prevent freezer burn.
You can reheat them in the oven right from frozen for 30 minutes at 375° Fahrenheit. Make sure your ramekins are oven-safe before sticking them back in the oven. If they aren't oven safe, let the mini pot pies defrost in the fridge overnight before reheating.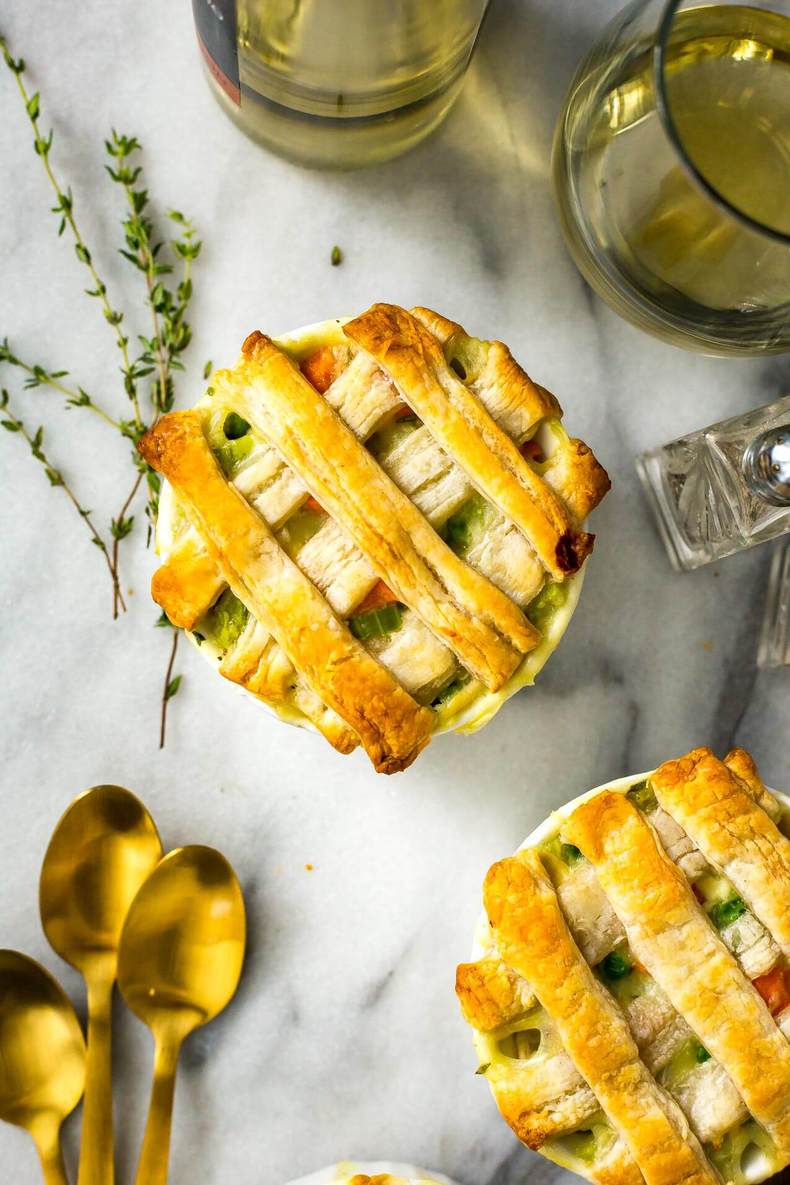 Wanna Learn How To Meal Prep?
My meal planning service, Dinner Prep Pro, removes the guesswork and helps you get dinner on the table in 15-20 minutes each night. My meal prep checklists only take 1 hour each week!
More comfort food recipes
Meal prep tools for this recipe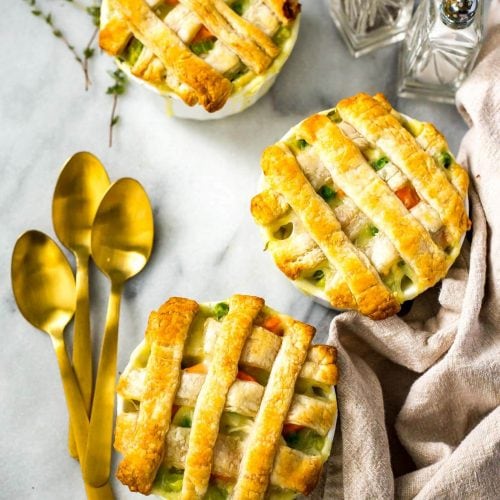 Super Easy Mini Chicken Pot Pies
These Super Easy Mini Chicken Pot Pies are a lighter version of your favourite comfort food in the cutest individual serving sizes! 
Print
Pin
Rate
Click Here to Remove Ads
Servings: 4 pot pies
Calories: 423kcal
Ingredients
1 tbsp olive oil
1 yellow onion, diced
2 cloves garlic minced
2 stalks celery, chopped
2 carrots, chopped
1/2 tsp salt
1/4 tsp pepper
1/2 tsp thyme
1/2 tsp dried sage
2 tbsp flour
2 cups chicken broth
2 cooked chicken breasts, pulled (you can also use 1 1/2 cups leftover chicken)
1 cup peas
1 puff pastry sheet
Instructions
Cook chicken in boiling water for 15 minutes until fully cooked and shred once cooled. I usually do this step a couple days ahead of time during my weekly meal prep or use leftover/rotisserie chicken for this recipe.

Preheat oven to 400 F. In a large skillet, heat olive oil over med-high heat. Add onions, garlic, celery, carrots, salt and pepper, sauteing for 4-5 minutes until softened. Add flour, sage and thyme, mixing well. Add chicken broth, bringing to a boil and letting mixture thicken. Stir in chicken and peas, then remove from heat.

Divide chicken mixture evenly among 4 medium-sized ramekins (I use the Coringware kind). Roll out puff pastry and cut into thin 1/2-inch thick slices with a pizza cutter. Take slices and add to ramekins in a criss-cross fashion, or just place a large piece of puff pastry overtop of the whole ramekin.

Place ramekins on a baking sheet and bake in the oven for 20 minutes until puff pastry is golden brown. Remove from oven, serve and enjoy!
Video
Notes
Cut down on prep time by placing a sheet of puff pastry over top of the ramekins instead of doing the criss-cross pattern. Store the leftovers in the fridge for 3-4 days. Reheat in the oven for 10-15 minutes at 350 F. Freeze this recipe for up to 3 months right in the ramekins. Reheat from frozen in the oven for 30 minutes at 375 F.
Nutrition
Calories: 423kcal (21%)Carbohydrates: 42g (14%)Protein: 20g (40%)Fat: 21g (32%)Saturated Fat: 7g (44%)Polyunsaturated Fat: 2gMonounsaturated Fat: 6gCholesterol: 36mg (12%)Sodium: 882mg (38%)Potassium: 537mg (15%)Fiber: 6g (25%)Sugar: 9g (10%)Vitamin A: 7800IU (156%)Vitamin C: 34.7mg (42%)Calcium: 50mg (5%)Iron: 3.1mg (17%)
Join The Girl on Bloor Premium!
ZERO ADS!
Weekly Meal Prep Checklists
Bonus eBooks