Eating healthy on a budget can be tricky but meal planning helps immensely – enjoy these cheap dinner ideas to get you started!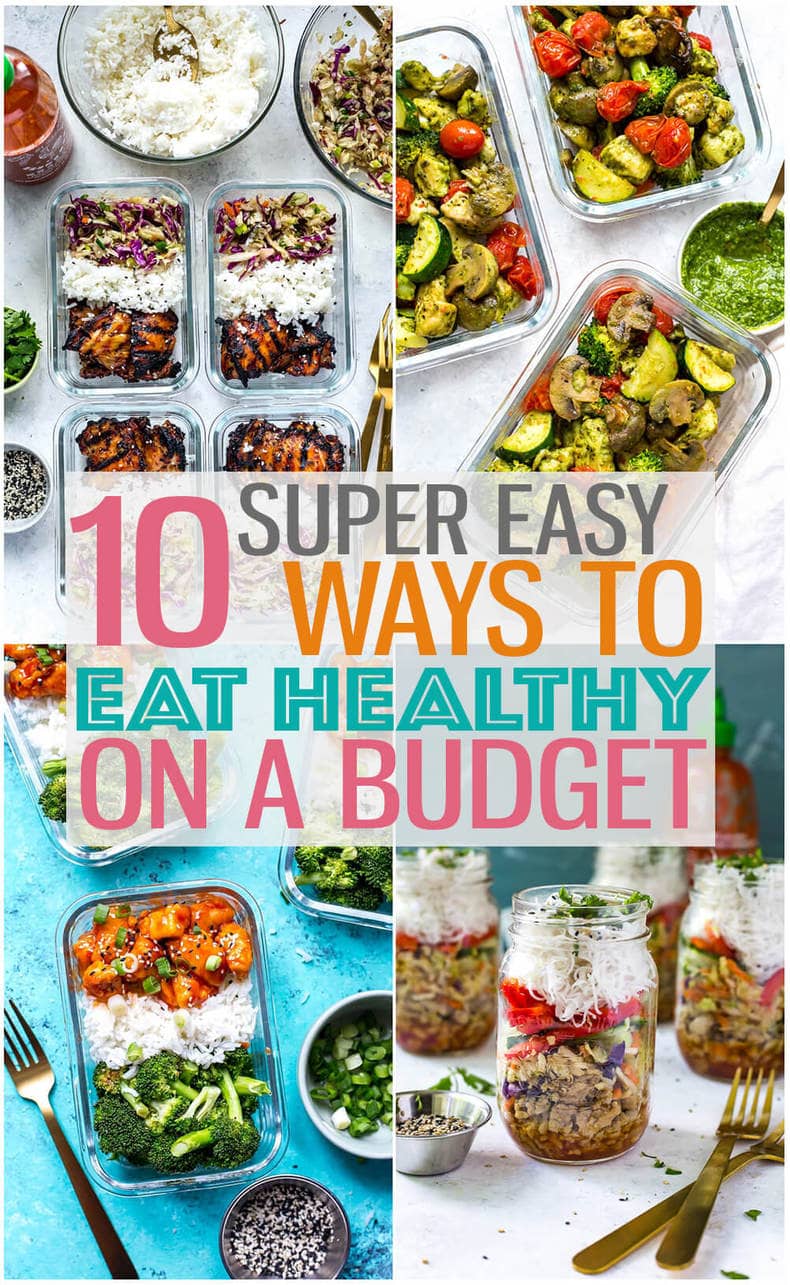 I know it can seem really hard to eat healthy on a budget, but there are different ways you can save money at the grocery store that doesn't involve buying a bunch of crap.
You don't need to buy a bunch of expensive produce and boneless skinless chicken breasts every week in order to eat healthy, and you can still enjoy more expensive cuts of meat every so often.
As a former student who used to eat ALL her meals at home, I feel especially qualified to write this post on eating healthy on a budget. I really knew how to make my dollar stretch in the grocery store and hopefully you'll get a few handy tips from me here.
Believe it or not I used to be able to eat on $30-50 a week and I was pretty good about sticking to this budget!
Keep reading to find out how you can eat healthy but still save on your grocery bill.
Simple tips to eating healthy on a budget:
Opt for cheaper protein sources like lentils, chickpeas, beans, eggs, quinoa & tofu – even one or two meatless meals per week can save you tons of money!
Use frozen fruits & veggies – this reduces food waste and allows you to diversify the number of veggies you're using
Buy produce when it's in season – veggies like cabbage, squash & broccoli tend to be cheaper during the winter months when they're in season. Likewise, apples are cheaper in the fall, berries are cheaper in the summer and so forth
Use coupons & look at your local grocery flyer to see what's on sale
Stay away from the inner aisles of the grocery store – trust me, it's just filled with junk and it's more expensive than buying basics
Shop for spices at your local bulk foods store
Shop for pantry staples like oils, vinegars, condiments, sauces, etc. at your local discount grocery store – in Canada we have stores like Price Chopper & Food Basics where you can save up to a dollar or two on the exact SAME condiments like ketchup, soy sauce, olive oil, etc. When you're running low on these staples stock up!
Speaking of discounted food items, shop for no-name products whenever possible
Buy meat when it's on sale and freeze it – you usually have 3 or more months to eat it
Meal planning on a budget
Of course, meal planning is absolutely integral to eating healthy on a budget so it's one of the top ways you can save money.
You need to stay organized and that involves planning out easy, quick recipes that don't use a ton of fancy, expensive ingredients.
Write out a weekly meal plan + grocery list
It's super easy to write out a meal plan if you can commit to doing it on a certain day of the week. I always do mine on Sundays; I sit down and take a look at my social calendar and then plan the recipes I'm going to make accordingly.
If you want to plan out your meals like I do, you can join my 5-Day Meal Prep Challenge to download my free weekly meal planner, along with a grocery list and other meal prep resources to keep yourself organized!
It's also helpful to take a look through your fridge to see what you already have on hand so you don't buy double what you need or don't use up what's going to go bad.
Skip the Ads and Get Right to the Recipes!
ZERO ADS on over 600 recipes!
Weekly Meal Plans, Grocery & Prep Lists
Bonus eBooks
More meal prep resources
Cheap dinner ideas
Now for those tasty cheap recipes! I promise you can make budget meals that still taste amazing and these recipes are proof! I've rounded up 16 cheap dinner ideas in a different blog post that all cost around $10 to make!
You can also scroll through the recipes below for more cheap eats, or check out more healthy dinner ideas below, most of which are also budget-friendly.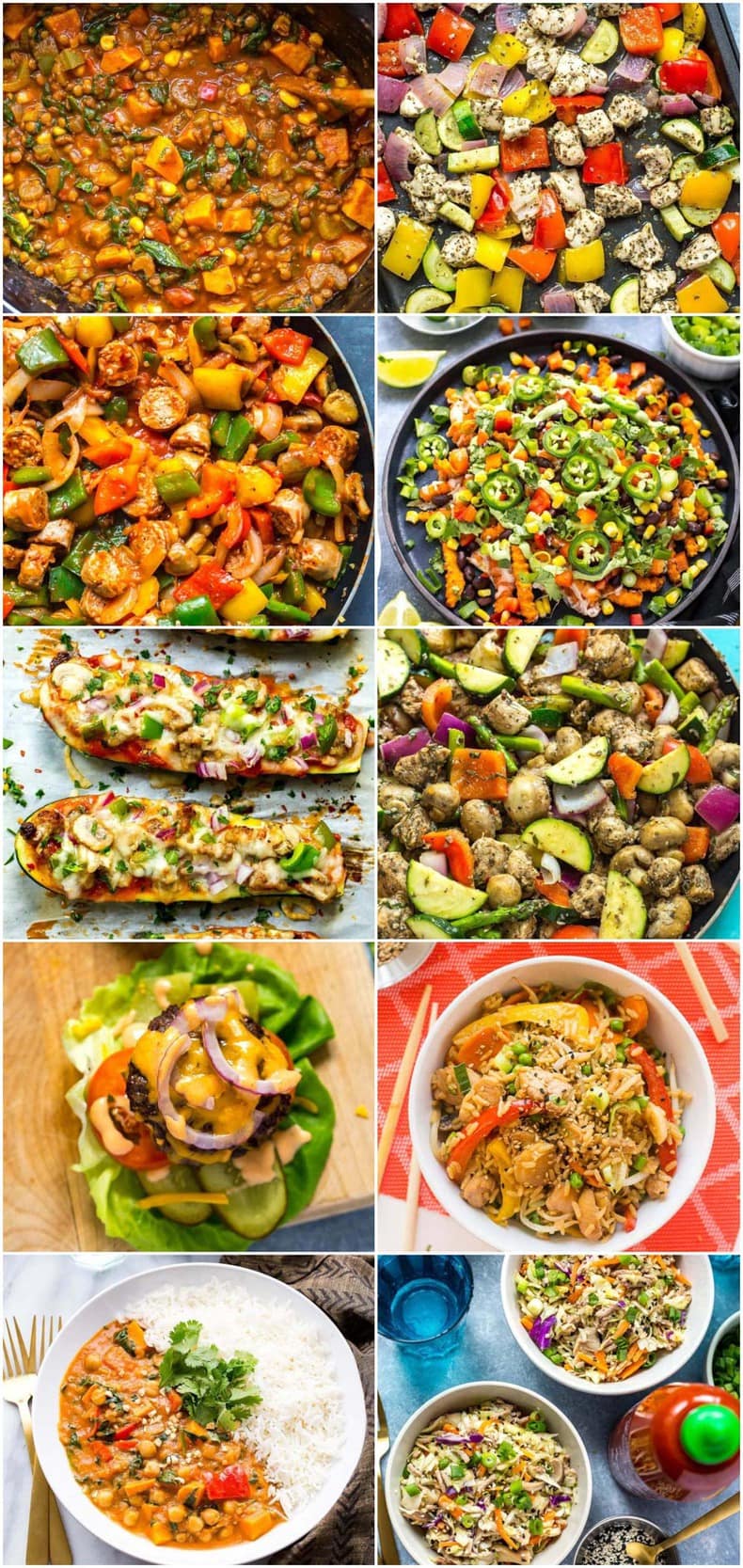 Wanna Learn How To Meal Prep?
My meal planning service, Dinner Prep Pro, removes the guesswork and helps you get dinner on the table in 15-20 minutes each night. My meal prep checklists only take 1 hour each week!
Healthy breakfast ideas
Healthy lunch ideas
If you're also struggling to make lunch every week, I've got some great posts to help you out!
More healthy dinner ideas
If you're looking for more delicious meal inspiration, look no further than some of these helpful resources below!
Meal prep tools
Here are my go-to meal prep tools to store all your delicious food for the week:
Glass meal prep bowls are so great for microwaving and reheating your food safely
Mason jars are perfect for salads since they keep lettuce separated from dressings
Salad containers are another awesome option for keeping your greens and proteins separated so nothing gets soggy
My Rice Cooker saves me so much time in the meal prep process because I can cook my grains ahead of time
These Bento box containers are perfect for packing snacks and lunches together!
Restock your freezer with grass-fed beef and poultry from Butcher Box