This Hasselback Baked Caprese Chicken is like summer on a plate, made with mozzarella cheese, sliced plum tomatoes and fresh basil.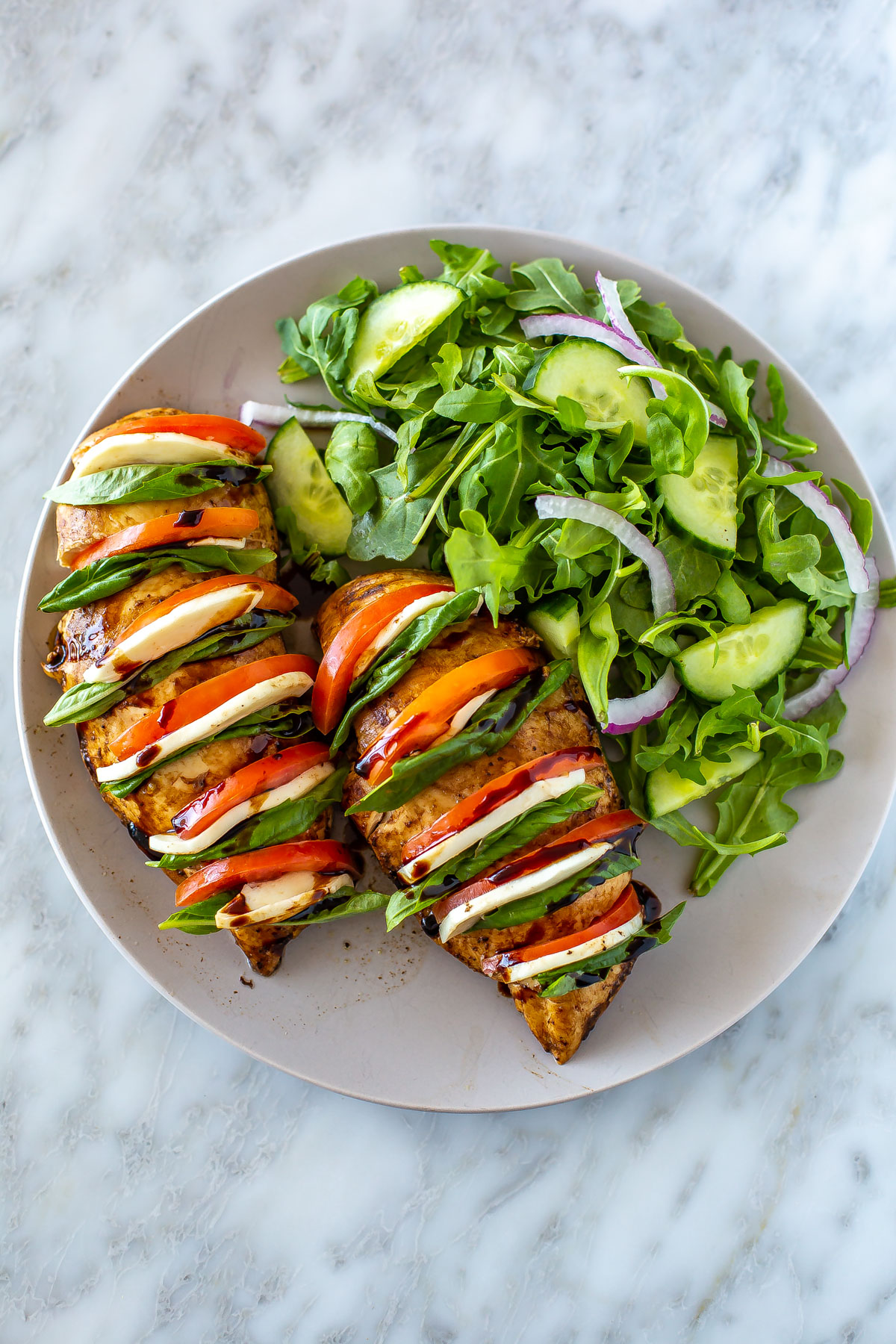 Ingredients and substitutions
Olive oil – sub out olive oil for any neutral oil such as grape seed oil or avocado oil.
Chicken breasts – boneless, skinless chicken breasts are commonly used for hasselback recipes. I highly recommend sticking with chicken breasts.
Plum tomatoes – plum tomatoes are firm but juicy making them the best option for this recipe. Heirloom tomatoes, when in season, will also be a great option.
Bufala mozzarella – any fresh mozzarella or bocconcini cheese that can be sliced into round pieces will work. In a pinch, shredded mozzarella will work also, but won't be authentic to caprese chicken.
Fresh basil leaves – fresh basil leaves are recommended for this recipe for the most flavour.
Salt and pepper – to taste.
Balsamic glaze – use store-bought or make your own with balsamic and brown sugar.
Balsamic marinade
Olive oil – sub out olive oil for any neutral oil such as grape seed oil or avocado oil.
Balsamic vinegar – feel free to use a store-bought balsamic glaze if you don't have balsamic vinegar on hand.
Maple syrup – brown sugar or honey will also thicken the vinegar into a glaze.
Dijon mustard –stone-ground mustard will provide a similar (but milder) flavour.
Salt and pepper – to taste.
Side salad
Arugula – baby spinach, mustard greens, watercress, baby kale or mixed greens would also work.
Cucumber – feel free to use another vegetable you like instead or in addition to the cucumber.
Red onion – if you're not a fan of red onions, feel free to use shallots or leave them out entirely.
How to make this recipe
Slice tomatoes, basil and mozzarella.
Marinate chicken in balsamic marinade.
Bake in the oven for 25 minutes then cut slits in the chicken.
Stuff the tomatoes, basil and mozzarella into the chicken.
What to serve with caprese chicken
This chicken goes with just about any side dish! If you're looking for some side dish inspiration, I've got you covered. Here are some of my favourite ideas:
A light side salad (as shown in the recipe card)
Homemade fries (with russet potatoes or sweet potatoes)
Roasted potato wedges or roasted mini potatoes
Roasted/steamed veggies of choice
Your favourite pasta dish
Garlic bread
Frequently Asked Questions
What is hasselback chicken?
The term Hasselback describes a cooking method that was traditionally used on potatoes. It involves creating deep slits into potatoes, without cutting all the way through, and creating layers. The reason for this was so that those slits could be stuffed with other ingredients. It began as a technique with the purpose of creating visual interest and added flavour to an ingredient. Hasselback chicken is now very popular because it adds extra flavour to chicken breasts, taking away the stereotype that chicken breasts are "boring"!
What is caprese chicken made of?
Caprese chicken consists of chicken marinaded in a balsamic marinade and stuffed with tomatoes, mozzarella and fresh basil leaves.
How do you bake stuffed chicken?
Hasselback stuffed chicken is super easy to make. This recipe has you bake the chicken first and then stuff it so you don't have to worry about the stuffed chicken falling open.
Storing and reheating
Store any leftover chicken in the fridge for up to 5 days. Just transfer the chicken to a glass meal prep container and allow it to cook down to room temperature before refrigerating.
To reheat the chicken, stick it in the oven for 10-15 minutes. If you're in a rush, you can pop it into the microwave for 1-2 minutes. I recommend sprinkling some water overtop before microwaving to prevent the chicken from drying out.
Freezing this recipe
Hasselback stuffed chicken is great to store in the freezer! You can freeze your chicken either cooked or raw, making it the perfect meal prep dish.
To freeze raw or cooked chicken, make sure to wrap the chicken tightly with plastic wrap to keep the toppings in place and then put the chicken into a meal prep container or freezer bag. When you're ready to enjoy the chicken, cook the raw chicken using the instructions provided in the recipe card or reheat the thawed cooked chicken using the reheating instructions above!
Wanna Learn How To Meal Prep?
My meal planning service, Dinner Prep Pro, removes the guesswork and helps you get dinner on the table in 15-20 minutes each night. My meal prep checklists only take 1 hour each week!
More hasselback chicken recipes
Meal prep tools for this recipe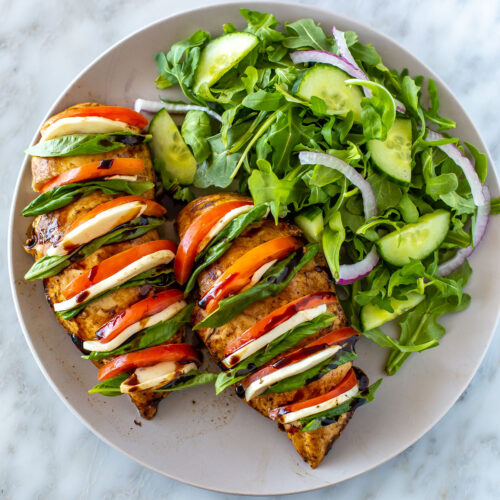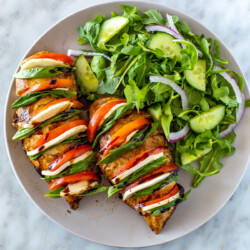 Hasselback Baked Caprese Chicken
This Hasselback Baked Caprese Chicken is like summer on a plate, made with mozzarella cheese, sliced plum tomatoes and fresh basil.
Print
Pin
Rate
IN A CYCLE OF EATING POORLY?We've got you covered with our free Routine Revamp mini course! You'll receive 8 lessons and free coaching with us! Register👇
Join Routine Revamp!
Servings: 4 servings
Calories: 401kcal
Ingredients
4 medium-sized boneless skinless chicken breasts
2 plum tomatoes, thinly sliced and cut in half
1 log buffala mozzarella, thinly sliced and cut in half
1/2 cup fresh basil leaves
Balsamic glaze to serve
Marinade/dressing
1/4 cup olive oil
1/4 cup balsamic vinegar
2 tbsp honey or maple syrup
2 tsp dijon mustard
1 tsp salt
1/2 tsp pepper
Side dish
2 cups baby arugula
1/2 cucumber, sliced and quartered
1/2 red onion, thinly sliced
Instructions
Preheat oven to 400 F or preheat BBQ to med-high. Mix together olive oil, balsamic vinegar, honey, dijon mustard, salt and pepper. Divide this mixture in half; one half is for the chicken marinade, the other half is to be used as dressing for the arugula side salad. Be sure to do this before handling raw chicken to avoid cross contamination; the salad dressing should never come into contact with the chicken.

Marinate chicken for at least 15 minutes and up to 2 days. When ready to cook, bake for 20-25 minutes or grill for 15-20 minutes. Time will depend on the size of your breasts; internal temperature should reach 165 F.

While chicken is cooking, thinly slice tomatoes and mozzarella, cutting each in half. Also prepare side salad by mixing arugula, cucumber and red onion together.

Remove chicken from the oven/grill when fully cooked. Cut wide, deep slits into chicken, then stuff sliced tomatoes, mozzarella and basil in each chicken breast. Drizzle with balsamic glaze, then serve with salad tossed in remaining dressing on the side and enjoy!
Notes
Stuff the tomatoes and mozzarella into each slit first, then stuff in the basil. Store any leftovers in the fridge for up to 5 days then reheat in the oven or the microwave. You can use a store-bought balsamic glaze instead of making your own to save time. Freeze the stuffed chicken either raw or cooked.
Nutrition
Calories: 401kcal (20%)Carbohydrates: 14g (5%)Protein: 34g (68%)Fat: 23g (35%)Saturated Fat: 8g (50%)Polyunsaturated Fat: 1gMonounsaturated Fat: 3gTrans Fat: 0.02gCholesterol: 98mg (33%)Sodium: 345mg (15%)Potassium: 293mg (8%)Fiber: 0.4g (2%)Sugar: 8g (9%)Vitamin A: 250IU (5%)Vitamin C: 7.4mg (9%)Calcium: 230mg (23%)Iron: 0.9mg (5%)
Don't wait until January to eat healthy!Sign up for our free Routine Revamp mini course!
Join Routine Revamp!