This Instant Pot Sweet and Sour Pineapple Chicken is a one pot meal prep idea that comes together with a 5-ingredient sauce that's made of mostly pantry staples – it's gluten-free, high protein and works with any veggie too!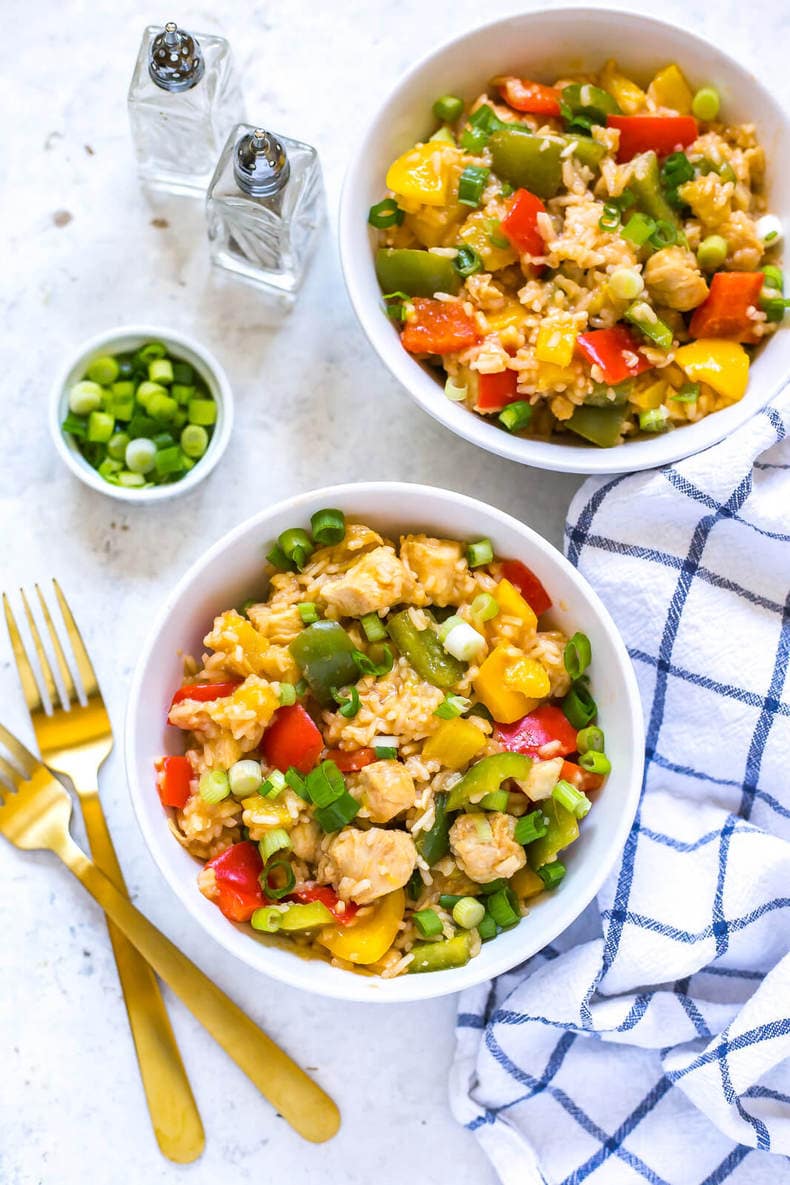 Weeknight dinner woes?
This Instant Pot Sweet and Sour Pineapple Chicken has GOT YOUR BACK!
I love simple dump dinners like this, and with the exception of the fresh veggies this is basically a pantry dinner – you should have most of the ingredients on hand already and from there it's just about adding some fresh veggies.
This recipe is honestly so easy you're going to forget that you're even cooking. Technically you aren't. You're just chopping up some chicken and veggies. Easy right?!
If you're looking to get serious about meal prepping and make more delicious recipes like these, you HAVE to sign up for my free 5-day challenge below! 
How to Make Sweet and Sour Chicken
Now I have seen soooooo many recipes for sweet and sour chicken that rely on all kinds of pantry ingredients – everything from vinegar and ketchup to soy sauce and chicken broth to get that perfect combination of sweet, sour and savoury that we have all come to love with this takeout-inspired chicken dish.
But you know what the secret ingredient really is, and the one thing you can't skip out on?
PINEAPPLE.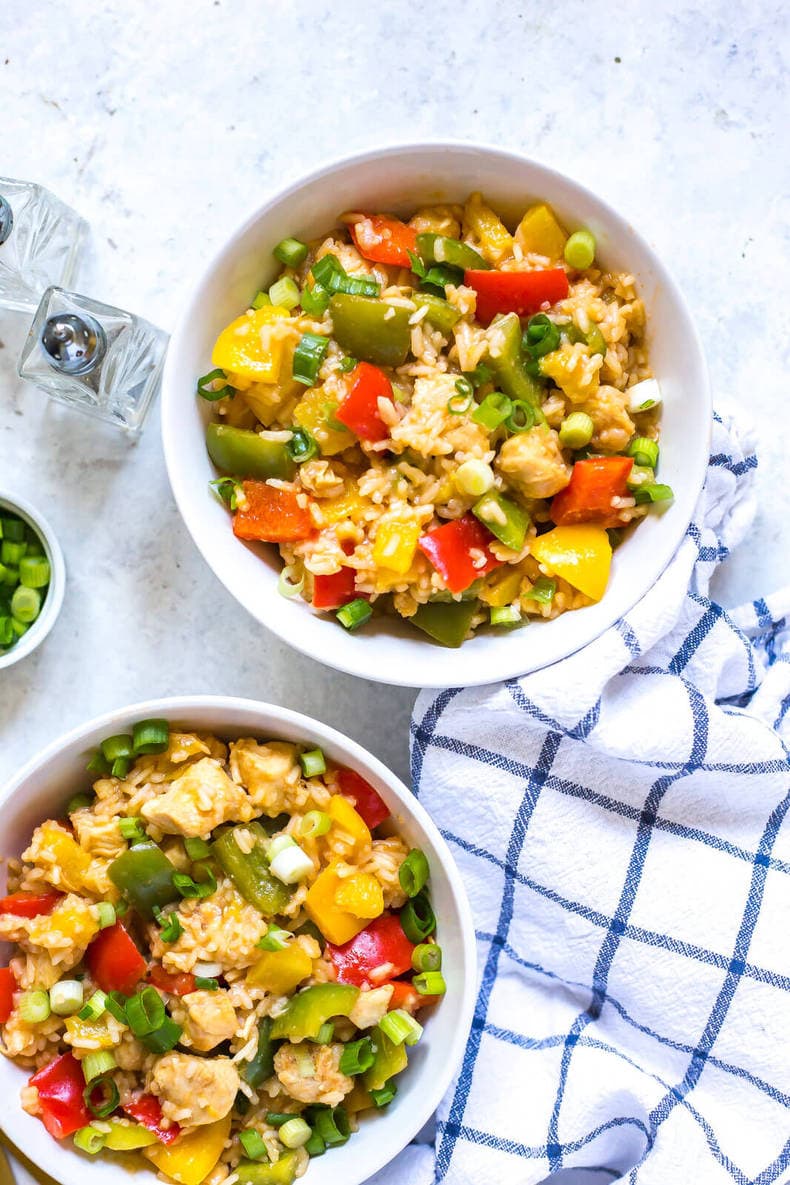 Whether you have fresh pineapple on hand or are just digging into your pantry to pull out of a can of diced pineapple, you really do need to include it to get that signature flavour. And while I do also use rice vinegar and ketchup, the sweet and sour chicken flavour really can't be achieved without finely diced pineapple so don't try to make this if you don't have it on hand!
You have a bit more flexibility with the kinds of veggies you can use though, but I recommend stirring in veggies that are going to cook quickly at the end of the cook time in the hot rice and chicken mixture, like bell peppers.
I ALWAYS have bell peppers on hand in the fridge that need to be used up so they're a no-brainer here, and I feel like they are easier to include too because then you don't have to cut up a variety of different veggies and worry about different cooking times, but you still get a full serving of vegetables.
I should warn you that I like my bell peppers a bit on the crunchier side, especially if I'm eating them in a stir fry type of rice bowl so they don't get superrrrr cooked but they definitely get nice and tender sitting in the hot rice after you've cooked it on high pressure with the sauce ingredients and the chicken.
I do really love the Instant Pot when it comes to making many of my takeout-inspired favourites because it's such a great way to make what I call "dump" dinners: you dump in all the ingredients, then set the time and forget it's even cooking. And the clean up is a breeze too!
This pineapple chicken is so easy because you don't need to cook the rice separately, and you don't have to mix the sauce ingredients together ahead of time to pour over the chicken, you just pour everything in all at once.
To avoid the rice sticking to the bottom, you're going to want to add it on top of all the other ingredients so it's kind of floating on top so to speak but that's really the only trick there is to it!
Once the sweet and sour chicken has done cooking, stir everything together, add your bell peppers, top with some green onions (and maybe even some cilantro if you love fresh herbs) and dinner has come together in a pinch super easily! You really don't have any excuse to grab takeout anymore, do you?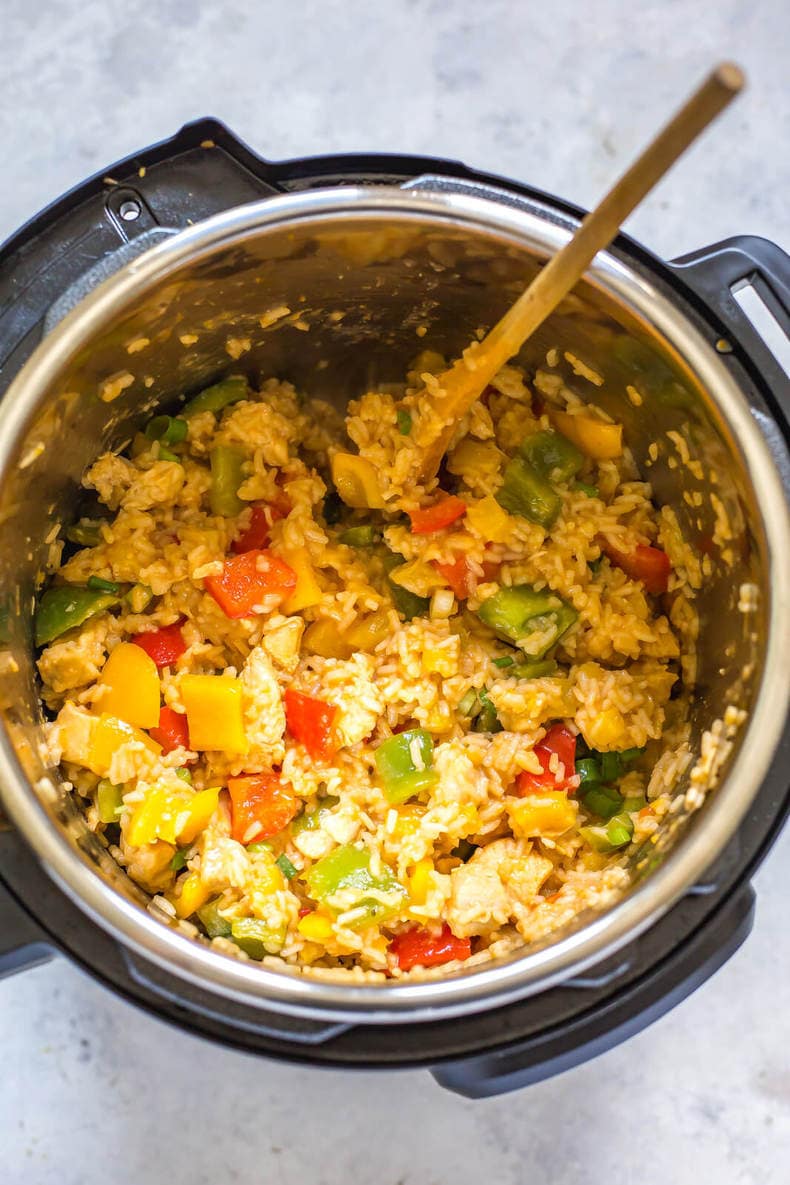 Will you be making this Instant Pot Sweet and Sour Pineapple Chicken?
Whether you make it as your weekly lunch meal prep or enjoy it after a long day at work, you're just going to love the flavours in these takeout-inspired rice bowls!
If you try any of my recipes be sure to let me know on Instagram, Twitter, Facebook or in the comments – I'd love to see what you come up with!
The Instant Pot DUO Plus 60
 is the version I use in this recipe.
Grab some Glass meal prep bowls if you plan on packing this sweet and sour chicken up for lunch!
And of course I get all my free-range chicken breasts from Butcher Box!
Instant Pot Sweet and Sour Pineapple Chicken
This Instant Pot Sweet and Sour Pineapple Chicken is a one pot meal prep idea that comes together with a 5-ingredient sauce that's made of mostly pantry staples - it's gluten-free, high protein and works with any veggie too!
Print
Pin
Rate
Ingredients
1

tbsp

olive oil

2

medium-sized chicken breasts, diced into 1 inch pieces

1

cup

diced pineapple (fresh or from a can; I used fresh)

3

tbsp

rice vinegar

3

tbsp

brown sugar

2

tbsp

ketchup

2

cloves

garlic minced

2

tbsp

low sodium soy sauce

1 1/4

cups

chicken broth

1

cup

dry jasmine rice

1

each

red, green and yellow bell pepper, chopped

4

green onions, sliced
Instructions
Add olive oil, chicken, pineapple, rice vinegar, brown sugar, ketchup, garlic, soy sauce, broth and rice to Instant Pot in that order leaving rice to float on top of other ingredients. Place lid on and cook for 2 minutes on high pressure.

Instant Pot will take about 10 minutes to come to pressure then cooks on high pressure for two minutes. Do a quick pressure release and remove lid when safe to do so. The rice may appear to be uncooked or crunchy looking at this point but it's crucial that you stir in bell peppers, then replace lid and let sit another 5-10 minutes so it can absorb the extra liquid. It does get fully cooked after sitting for a bit, I promise!

Remove lid, then divide among four bowls. Top with green onions, then serve and enjoy!
Nutrition
Calories:
409
kcal
|
Carbohydrates:
59
g
|
Protein:
28
g
|
Fat:
9
g
|
Saturated Fat:
2
g
|
Polyunsaturated Fat:
2
g
|
Monounsaturated Fat:
4
g
|
Cholesterol:
52
mg
|
Sodium:
867
mg
|
Potassium:
497
mg
|
Fiber:
3
g
|
Sugar:
10
g
|
Vitamin A:
1950
IU
|
Vitamin C:
157.6
mg
|
Calcium:
40
mg
|
Iron:
1.8
mg