These 30-Minute Sesame Chicken Rice Bowls with jasmine rice and snap peas are a healthy takeout substitute, and ready in under half an hour!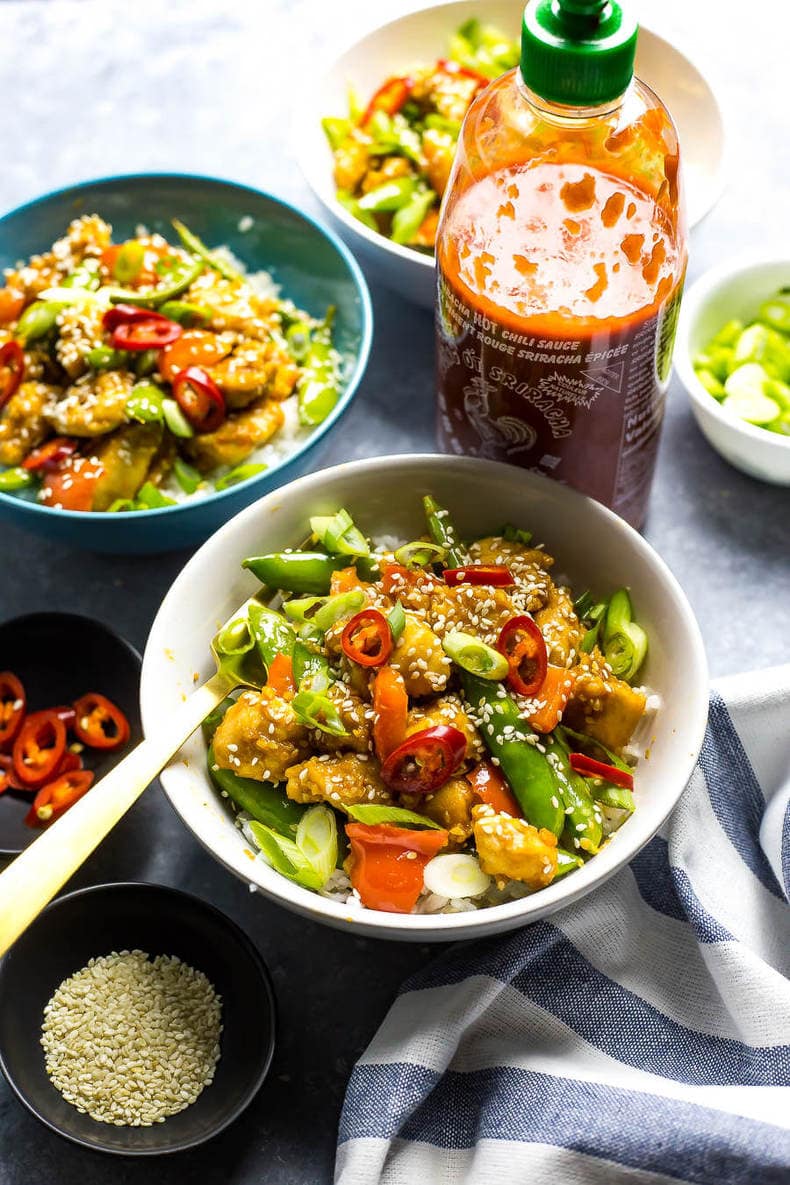 It's a brand new week and I've got a brand new slew of healthy, easy recipes for the week coming right at ya!!!??
Starting with these 30-Minute Sesame Chicken Rice Bowls.
Umm, hello perfection. THIS is exactly what you want to be eating after a long day when you're craving takeout. It's a surprisingly close copy cat of the sweet, savoury sesame chicken you get at your local Chinese food joint, and it's a dinner you can throw together at the very last minute with ingredients you likely already have on hand at home.??
I mean, don't you just LOVE pantry meals????
The kind where you can literally clear out your vegetable crisper, use some chicken from the freezer and then take the rest from your fridge and pantry? I mean, you always have sesame oil, cornstarch and soy sauce on hand (at least I do!)
Hopefully you also have a couple eggs in your fridge because those are key alongside the cornstarch in getting the perfect coating on the chicken. It's quite simple actually: toss some cut up chicken breasts with cornstarch and egg, then fry on medium-high heat with some sesame oil. Add a bit of soy sauce for some extra flavour, then comes the sesame sauce and the veggies!
And jasmine rice. OMG, this is what MAKES these Sesame Chicken Rice Bowls!? I swear, the nutty flavour of this rice with the sweet and sticky honey sesame sauce is what drives this dinner over the edge – and these are perfect as leftovers for the week.
As a single person, half the importance of meal planning and preparation is turning dinner leftovers into lunches for the week. Though I'm technically not on my own and cooking for just myself right now, I am often on my own for lunches and a few dinners a week depending on everyone's schedules. Of course when I'm not shooting all this food, I'm prioritizing efficiency and want to make everything in batches for the work week.
But sometimes, you just don't have time to do batch meal prepping, like after you've had a busy weekend for instance. I was out all day Saturday and Sunday running around, having fun, doing family stuff and all of a sudden we got home last night at like 6pm and I was dead tired.?No way I'm going for groceries, cooking or any of that. I know this story isn't unique to any of you either! So, what to do? Make dinner do double duty for the week!
And these Sesame Chicken Rice Bowls are absolutely PERFECT for that.
The chicken tastes just as good re-heated, and this recipe makes so much that even if you're making it for just yourself, you'll still have three or four lunches ready for the week. And you'll enjoy the leftovers just as much as the first time around. That's what I call a win-win in the meal prep world!?
And even if you do get sick of these Sesame Chicken Rice Bowls or need to stretch it all out, you can always switch it up by adding in extra veggies or toppings to make the recipe a bit different for the work week. I love adding in mushrooms, bean sprouts, broccoli and baby corn to stir fries, so you could always add these things in after or even add another protein like shrimp and stir fry all together.
Or rice noodles or yakisoba noodles! Omg I might love noodles even more than jasmine rice. Have a little bit of extra sauce kicking around and toss the noodles with the chicken and veg and you've got another unique meal for the week. Really, I could just eat this stuff all the time.?
Will you be making these 30-Minute Sesame Chicken Rice Bowls? 
I know I am ALL for more easy, fast dinners that are reminiscent of takeout. And when they're this healthy, it's certainly a bonus! ?
If you try any of my recipes be sure to let me know on Instagram, Twitter, Facebook or in the comments – I'd love to see what you come up with!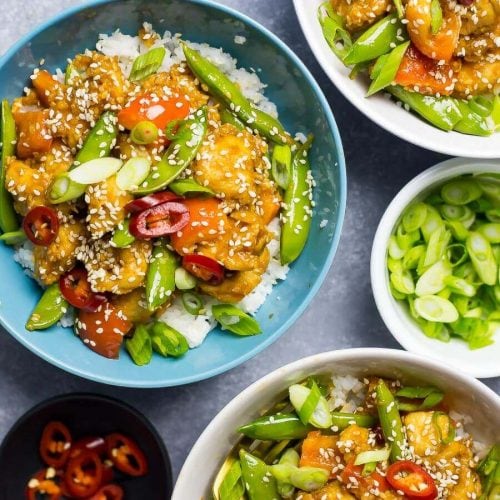 Sesame Chicken Rice Bowls
These 30-Minute Sesame Chicken Rice Bowls with jasmine rice and snap peas are a healthy takeout substitute, and ready in under half an hour!
Print
Pin
Rate
Ingredients
1

lb

chicken breasts, cubed

1/4

cup

cornstarch

1

egg

2

tbsp

sesame oil

2

tsp

soy sauce or tamari

1

cup

snap peas

1

red pepper, chopped

2-3

cups

cooked jasmine rice

3

scallions, sliced

1

red chili pepper, sliced

Extra sesame seeds for garnish
Sesame sauce
1/4

cup

soy sauce or tamari

1/4

cup

honey

2

tbsp

sesame oil

4

cloves

garlic

2

tbsp

cornstarch

2

tbsp

sesame seeds

1

tsp

fresh ginger, minced

2

tsp

sriracha (optuional)
Instructions
Cook jasmine rice according to package directions (I usually make enough servings for 4) in a rice cooker or on the stovetop. Prepare veggies and chicken.

In a large bowl, toss chicken with cornstarch and egg. Mix together well. Meanwhile, heat 2 tbsp sesame oil in a large skillet over med-high heat. Add chicken and 2 tsp soy sauce, sauteeing for 4-5 min until chicken starts to brown.

Meanwhile, mix sauce ingredients together. Pour overtop of chicken, then add red pepper and snap peas, sauteeing for another 3-4 min until veggies are tender and sauce has thickened.

Serve chicken overtop of rice and garnish with scallions, sesame seeds and red chili peppers. Enjoy!
Video
Nutrition
Calories:
542
kcal
|
Carbohydrates:
58
g
|
Protein:
32
g
|
Fat:
20
g
|
Saturated Fat:
3
g
|
Polyunsaturated Fat:
8
g
|
Monounsaturated Fat:
8
g
|
Trans Fat:
1
g
|
Cholesterol:
113
mg
|
Sodium:
1132
mg
|
Potassium:
678
mg
|
Fiber:
3
g
|
Sugar:
20
g
|
Vitamin A:
1382
IU
|
Vitamin C:
57
mg
|
Calcium:
88
mg
|
Iron:
3
mg