These Super Easy Mini Vegetable Lasagna Cups are such a cute individual serving-sized version of everyone's favourite comfort food.
Ingredients and substitutions
Olive oil – or another neutral cooking oil like canola or avocado oil.
Ricotta cheese – feel free to swap out the ricotta for fresh mozzarella instead.
Oven-ready lasagna noodles – you can try using thinly-sliced eggplant or zucchini for a low-carb version, but the lasagna won't have the same texture.
Red or yellow pepper – swap out for another veggie of your choice. Carrots, celery, cauliflower and red onions would all be good.
Mushrooms – see substitution notes above.
Broccoli – see substitution notes above.
Zucchini – see substitution notes above.
Salt & pepper – to taste.
Pasta sauce – use your favourite store-bought spaghetti sauce or make your own.
Mozzarella cheese – fresh mozzarella is best but you can use the store-bought pre-shredded stuff in a pinch.
Fresh basil – leave this off if you don't have any on hand.

How to make vegetable lasagna cups
Layer the lasagna cups.
Add cheese on top.
Bake for 20-25 minutes.
Serve and enjoy!
What kind of ramekins to use
I used a Corningware set I had kicking around the kitchen for these lasagna cups, but you can use just about any brand. The ramekins should be 10-12oz in size, and need to be oven-safe so that they don't crack in the oven. Ramekins are typically safer than any other type of glassware, so just make sure to read the labels. You can grab some oven-safe ramekins here.
If you don't have any ramekins, you can use regular muffin tins instead. Grease them well with cooking spray and make sure to divide the filling amongst all 12 muffin cups. The serving sizes will be smaller, but the bake time should be about the same – aim for the lower end of 15 minutes. You will likely be able to eat 2 to 3 as a serving size as opposed to the one ramekin if you choose to use muffin tins.
Frequently Asked Questions
What does vegetable lasagna contain?
This vegetable lasagna is made with ricotta cheese, mozzarella, pasta sauce, oven-ready lasagna noodles, bell pepper, mushrooms, broccoli and zucchini. Feel free to mix it up when it comes to what veggies you use – cauliflower, red onion, carrots and celery would all be delicious, too!
How many calories are in this recipe?
These mini lasagna cups have 405 calories per serving. They're the perfect portion size and a great way to enjoy your favourite comfort food without all the extra calories.
What type of noodles are best?
I always use oven ready lasagna noodles. Since you aren't cooking your lasagna as long as you would a full tray of lasagna, you don't want to end up with under-cooked or over-cooked noodles. By using oven-ready noodles, they'll turn out al dentse since you're only baking them for 15 to 20 minutes and they don't take as long to cook.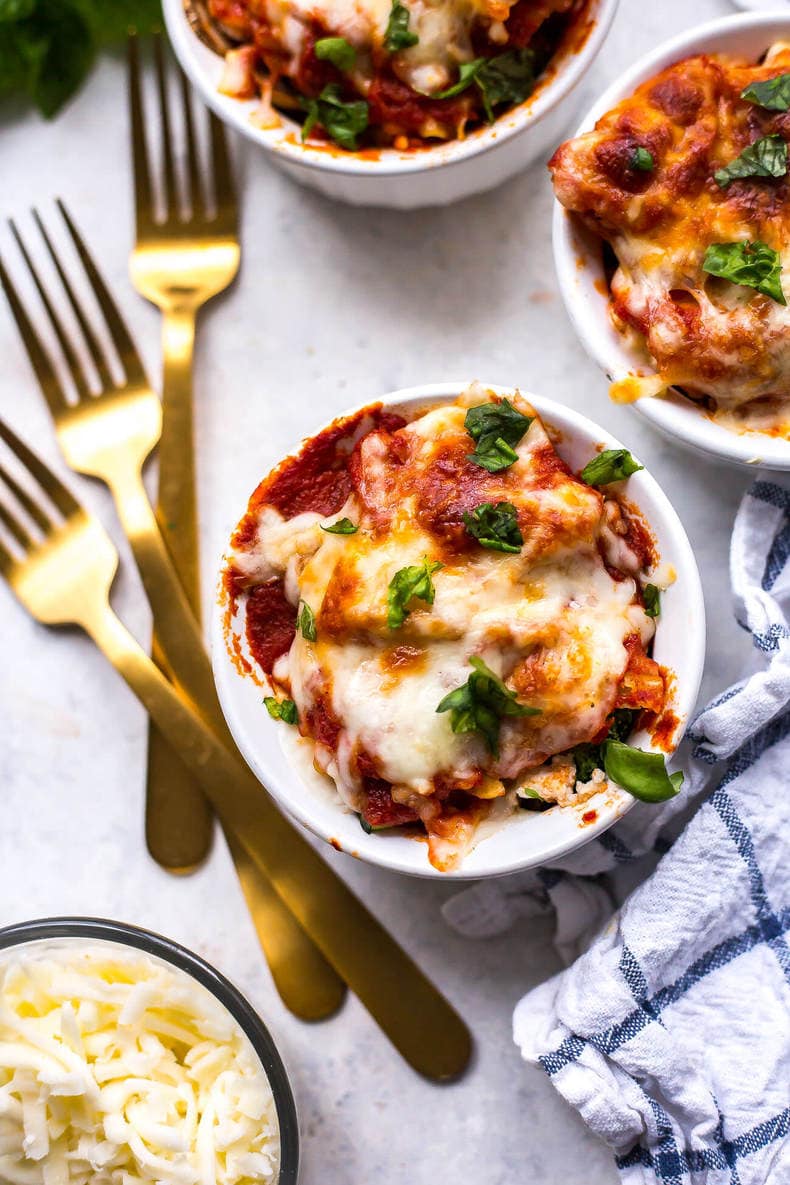 Storing and reheating
You can store these mini lasagna cups in the fridge up to 5 days. They make the perfect leftovers and you can reheat them right in the ramekins! Sprinkle a bit of water over top, then reheat on high in the microwave for 2 to 3 minutes, gently stirring halfway through.
Freezing this recipe
On busy nights, lasagna is my go-to. When I need something that I can pull out of the freezer or I'm looking for a quick and easy dinner idea, these mini lasagna tricks do the trick!
You can freeze the lasagna cups right in their ramekins covered with foil or plastic wrap for up to 3 months. Reheat them in the oven from frozen for 30 to 40 minutes at 375° Fahrenheit. You can also defrost them in the fridge overnight then pop them in the microwave and reheat as normal.
Want to Learn How to Meal Prep? Join Dinner Prep Pro!
Our meal planning service removes the guesswork and helps you get dinner on the table in 15-20 minutes each night thanks to our prep ahead checklists. It takes just one hour of ingredient prep on a Sunday!
Meal prep tools for this recipe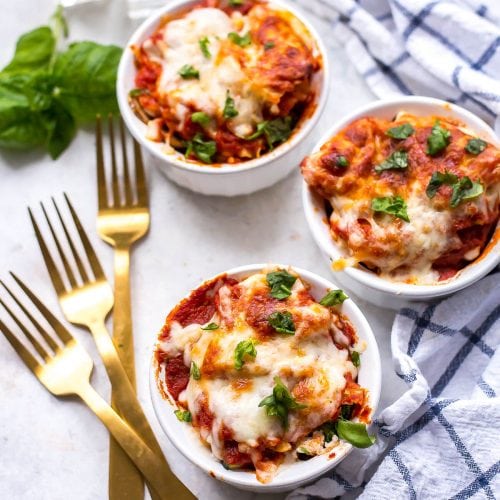 Super Easy Mini Vegetable Lasagnas
These Super Easy Mini Vegetable Lasagna Cups are such a cute individual serving-sized version of everyone's favourite comfort food.
Print
Pin
Rate
Servings: 4 servings
Calories: 405kcal
Ingredients
1 tbsp olive oil
1/2 cup ricotta cheese
1 cup oven ready lasagna noodles, broken up
1 red or yellow pepper, diced
1/2 cup mushrooms, sliced
1/2 cup broccoli, chopped
1/2 cup zucchini, chopped
1/2 tsp each Salt & pepper to taste
1 cup pasta sauce
1/2 cup mozzarella cheese, grated
1-2 tbsp chopped fresh basil
Instructions
Preheat the oven to 400 F. Grease four (8 oz/1 cup sized) ramekins with olive oil.

Divide fillings evenly among ramekins, starting with ricotta cheese, then lasagna noodles, veggies and more ricotta. Top with more lasagna noodles and pour a bit of pasta sauce over top (about 1/4 cup's worth). Add grated mozzarella cheese to the top of each ramekin.

Bake in the oven for 20-25 minutes until lasagna noodles are al dente and cheese is melted. Remove from oven, top with fresh basil and serve.
Video
Notes
Add in different veggies like carrots, celery, cauliflower and red onion. Store the leftovers in the fridge for up to 5 days. Sprinkle some water over top then reheat in the microwave for 2-3 minutes. Freeze these lasagna cups right in their ramekins for up to 3 months. Reheat from frozen in the oven for 30-40 minutes at 375° F.
Nutrition
Calories: 405kcal (20%)Carbohydrates: 50g (17%)Protein: 19g (38%)Fat: 15g (23%)Saturated Fat: 7g (44%)Polyunsaturated Fat: 1gMonounsaturated Fat: 4gCholesterol: 35mg (12%)Sodium: 201mg (9%)Potassium: 243mg (7%)Fiber: 4g (17%)Sugar: 4g (4%)Vitamin A: 850IU (17%)Vitamin C: 38mg (46%)Calcium: 300mg (30%)Iron: 2.5mg (14%)