These Low Carb Stuffed Poblano Peppers are a healthy Mexican dinner idea stuffed with ground beef, red peppers, onions, and a topping of cheddar cheese and cilantro! 
I love to make stuffed poblano peppers for dinner! These low carb stuffed poblano peppers are healthy, loaded with flavour, and they're perfect for easy meal prep!
If you're looking to get serious about meal prepping and make more delicious recipes like these, you HAVE to sign up for my free 5-day challenge below! It's going to get you on the right path and give you the structure you need to meal prep like a pro!
Are poblano peppers good for you?
It may be surprising to know that poblano peppers are a very healthy vegetable, it all just depends on what you stuff them with! Typical stuffed poblanos at a Mexican restaurant are loaded up with cheese and sometimes fried, whereas the cheese is minimal here and the peppers are stuffed with high-protein extra-lean ground beef and other veggies to keep them light and healthy.
Poblano peppers a great source of vitamins A and C, as well as insoluble fiber.  Poblanos are also packed with antioxidant properties, can boost your immunity, and are even good for pain relief!
Capsaicin, the active ingredient in peppers that makes them spicy, can block the nerve receptors, so we feel less pain. Unfortunately, capsaicin is also an irritant, so it can cause burns when it comes in contact with skin and mucous membranes.
Lucky for you though, poblano peppers are the mildest of any spicy pepper so you don't need to take any precautions when cutting them in half for this recipe like you would for jalapeno peppers.
How many net carbs are in poblano peppers?
Poblano peppers are perfect to use in making keto and low carb meals. One poblano pepper (weighing about 6 grams) has 4 grams of carbohydrates and 3 grams of fiber. So there is just 1 net gram of carbs in a poblano pepper!
However, if you are restricting your intake of carbs, be mindful because all peppers are not as low in carbs as poblano peppers are. For instance, one red bell pepper has 6 net grams of carbohydrates. In general, though, most varieties of green peppers are lower in carbs.
When you make higher carb Mexican dinners like tacos, green peppers can be a great low carb substitute for the taco shells!
Can you eat the skin of poblano peppers?
Like most peppers, the skin of poblano peppers is safe to eat. However, the skin is flavorless and tough, making it difficult for some people to digest. As a result, some people choose to peel poblanos before using them in recipes. As you'll see, in the low carb stuffed poblano peppers recipe, I leave the skin on – it saves time and you shouldn't find it too tough to eat.
If you want to remove the skin before making the stuffed poblano peppers recipe, roast the peppers under a broiler for a few minutes and then the skin should peel off.
How hot is a poblano pepper?
On the scale of spicy peppers, poblanos are pretty far down. The spiciness in poblanos can vary from pepper to pepper, even if they have grown on the same plant. As a frame of reference, jalapeno peppers are generally five times spicier than poblanos are.
Poblano peppers typically provide a very mild bite that even children can eat for the most part – think of them as having a bit of a kick when compared to bell peppers but not quite being spicy.
They are perfect for most Mexican-inspired recipes and I even substitute recipes (tacos, enchiladas and burritos especially) that call for regular bell peppers with poblano peppers when I can. They are just so much more flavourful and and even bring a hint of smokiness. You'll love them once you try them!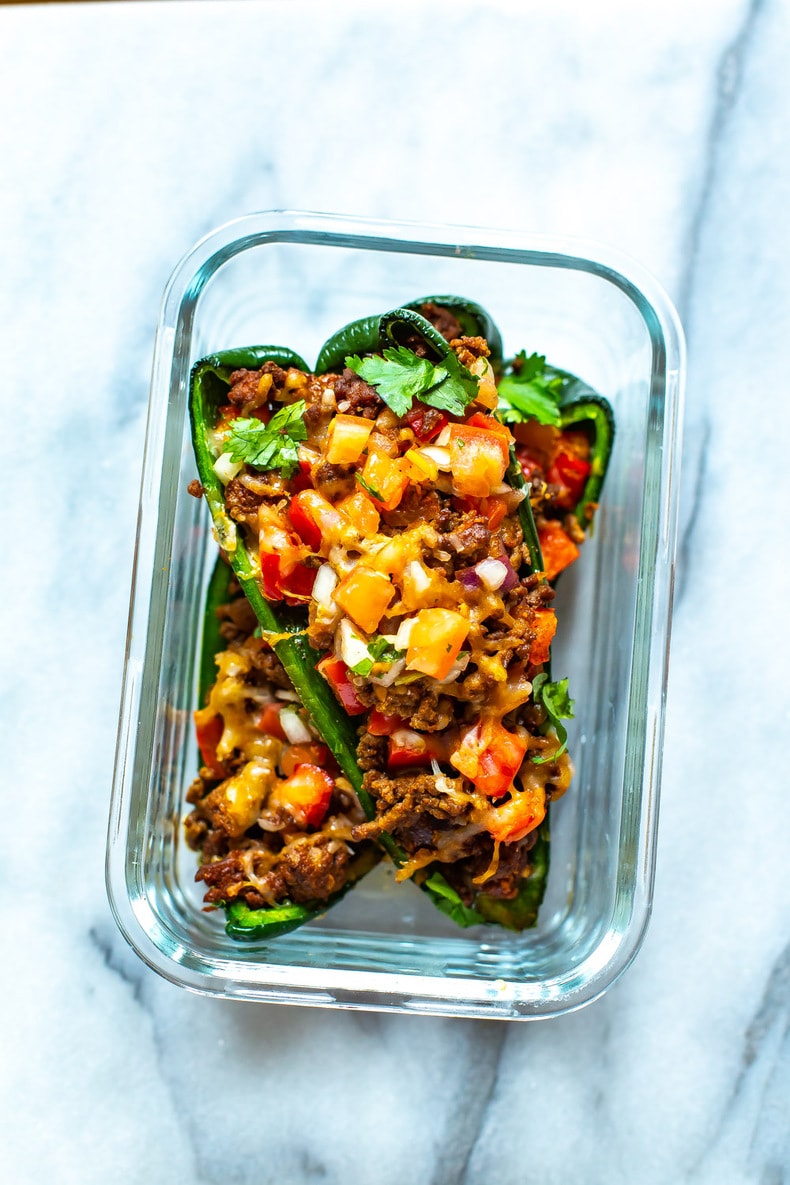 Can these stuffed poblano peppers be frozen?
As mentioned earlier, stuffed poblano peppers freeze really well, so this recipe is great for freezer meals and meal prep. Just be sure that the stuffed peppers are room temperature before you freeze them.
To freeze, place them into meal prep containers or a large covered container. You can also just wrap them in a layer of plastic wrap and store them in a large Ziploc bag.
When you make this low carb stuffed poblano peppers recipe, you can stuff the peppers with any type of ground meat you prefer. Ground beef, turkey, chicken, or even ground pork will work perfectly. I usually make stuffed peppers with lean ground beef or turkey.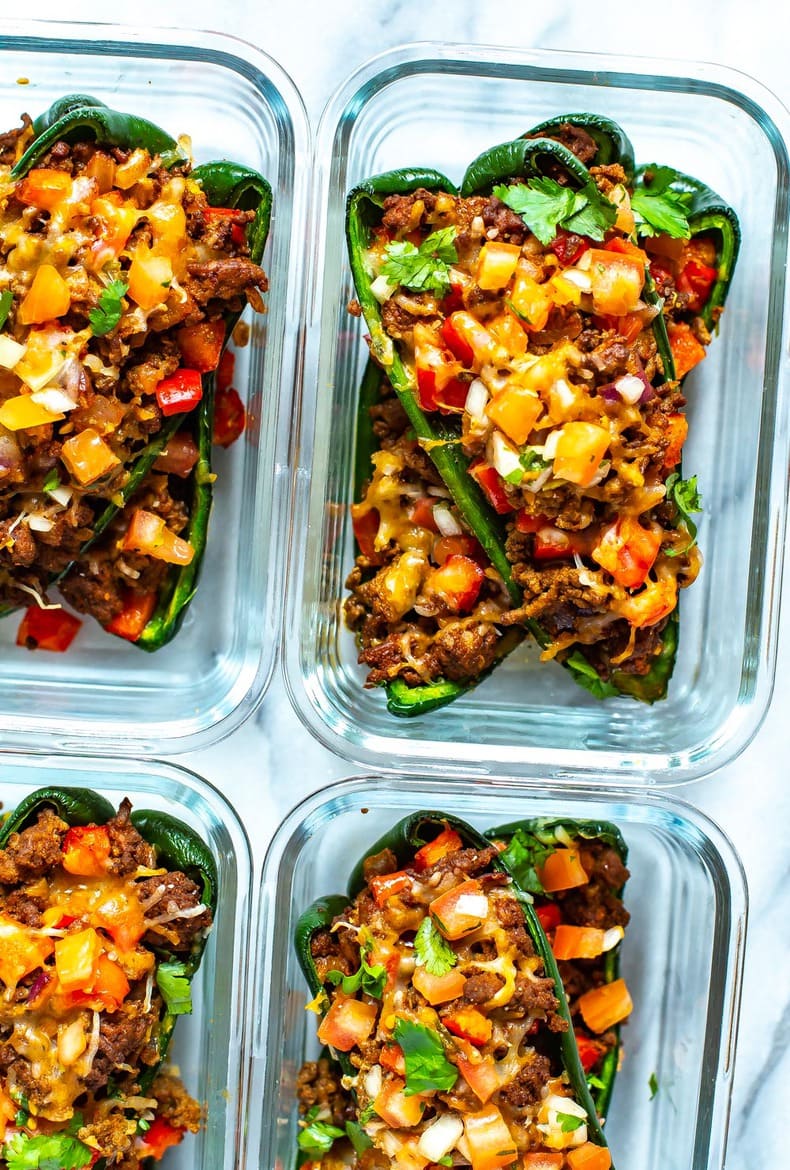 Meal prep tools
Grab some glass meal prep bowls if you plan on turning these Low Carb Stuffed Poblano Peppers into your weekly lunches.
I get all my free-range chicken and grass-fed beef from Butcher Box, conveniently delivered to me frozen.
Meal prep challenge
If you'd like some more help with meal planning, then you'll love my free 5-day meal prep challenge! Sign up for free below: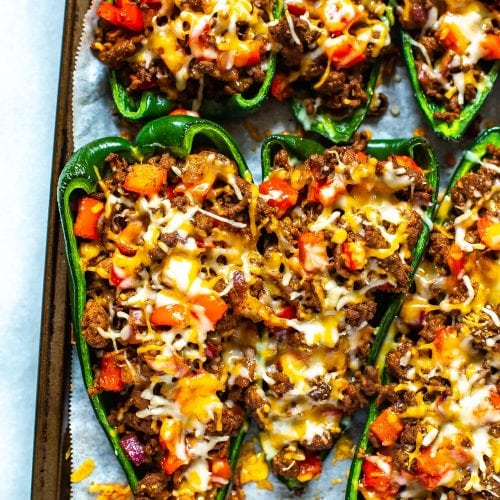 Low Carb Stuffed Poblano Peppers
These Low Carb Stuffed Poblano Peppers are a healthy Mexican dinner idea. Stuffed with ground beef, red peppers, onions, and a topping of cheddar cheese and cilantro!
Print
Pin
Rate
Ingredients
1

tbsp

olive oil

4

poblano peppers

1

lb

extra-lean ground beef (or ground turkey)

2

cloves

garlic minced

1

tbsp

chili powder

1

tsp

cumin

1

tsp

paprika

1

red pepper, diced

1

red onion, diced

1/2

cup

shredded cheddar cheese
Optional toppings
Store-bought pico de gallo or salsa

Sliced avocado

cilantro

sour cream
Instructions
Preheat oven to 400 F. Wash and de-seed poblano peppers, then drizzle with olive oil and season with salt and pepper if desired. Add to a parchment-lined baking sheet and bake for 10 minutes.

Meanwhile, cook ground beef ove med-high heat until browned (about 5-7 min) then drain any excess fat. Add chili powder, cumin, paprika, salt, garlic, red pepper and red onion, sauteeing another 2 minutes until veggies are tender.

Stuff ground beef mixture into poblano peppers, then top with cheese. Bake another 10 minutes until cheese is melted.

Remove from oven and top with toppings of choice. Serve and enjoy!
Video
Nutrition
Calories:
429
kcal
|
Carbohydrates:
11
g
|
Protein:
34
g
|
Fat:
28
g
|
Saturated Fat:
11
g
|
Polyunsaturated Fat:
1
g
|
Monounsaturated Fat:
10
g
|
Cholesterol:
100
mg
|
Sodium:
608
mg
|
Potassium:
565
mg
|
Fiber:
3
g
|
Sugar:
5
g
|
Vitamin A:
1900
IU
|
Vitamin C:
131.2
mg
|
Calcium:
50
mg
|
Iron:
3.4
mg