Instant Pot Teriyaki Chicken Bowls
These Instant Pot Teriyaki Chicken Bowls with rice, broccoli and a 5-ingredient stir fry sauce make for a delicious meal prep idea – just dump everything into one pot and dinner is ready in 30 minutes!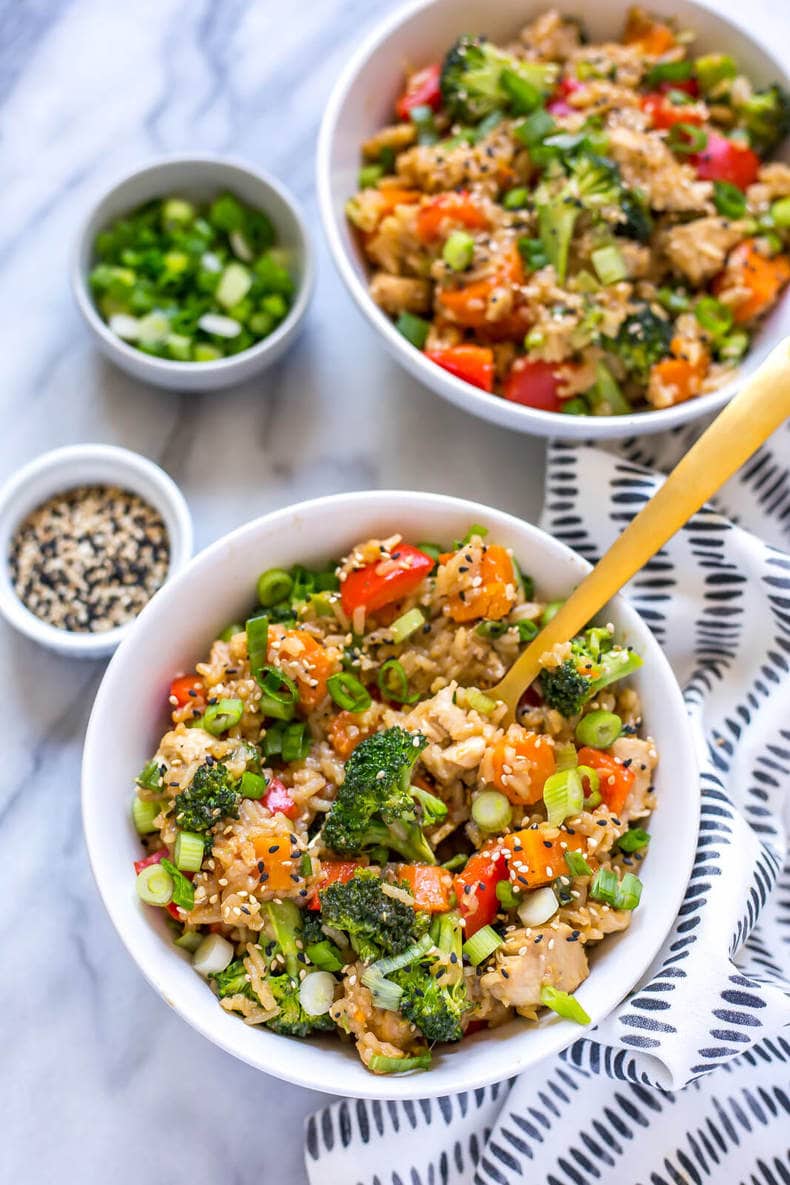 I'm back with another Instant Pot rice recipe and I swear, this one is the easiest EVER!
And I'm not going to lie when I say that I really only had to test this recipe once and it was honestly a bit of an experiment to see if I could get it right the first time, but I think the simplicity of the pressure cooker really helps. I've realized that there's a basic formula to most rice dishes, and it's about getting the ratio of liquids to grains just right while keeping the pressure high and the cook time low.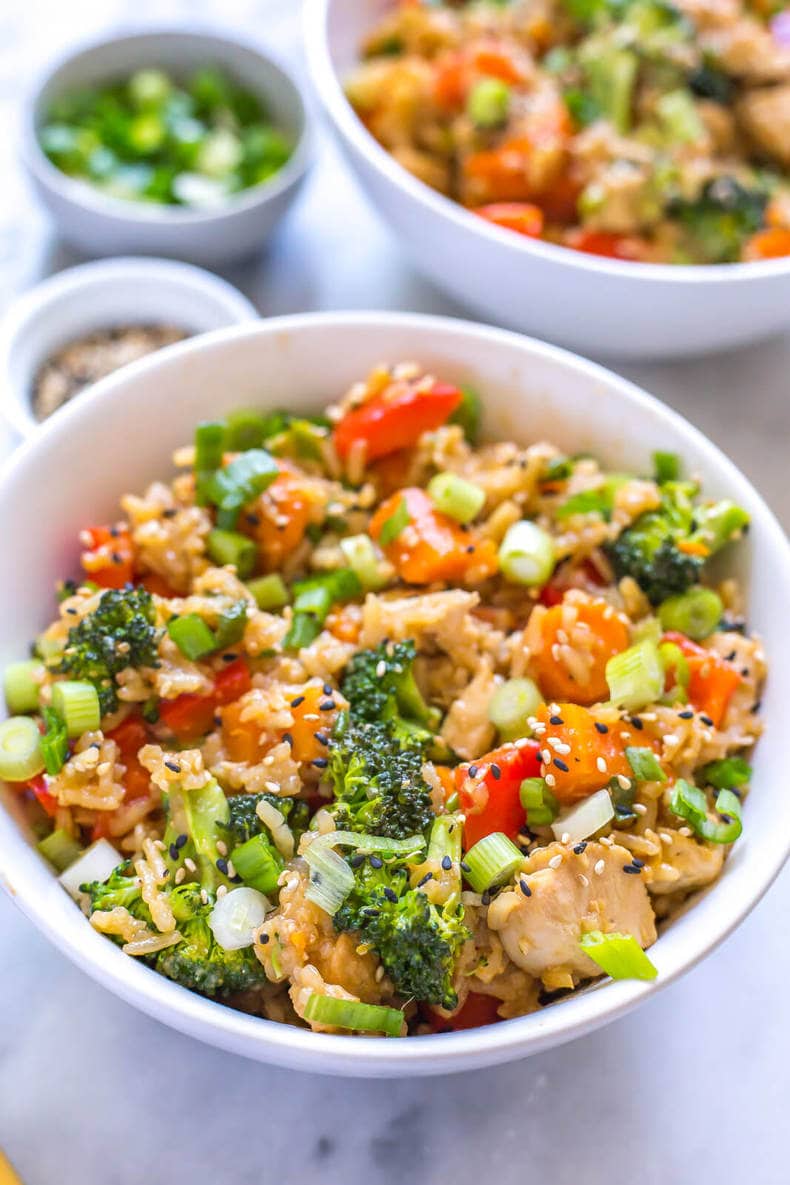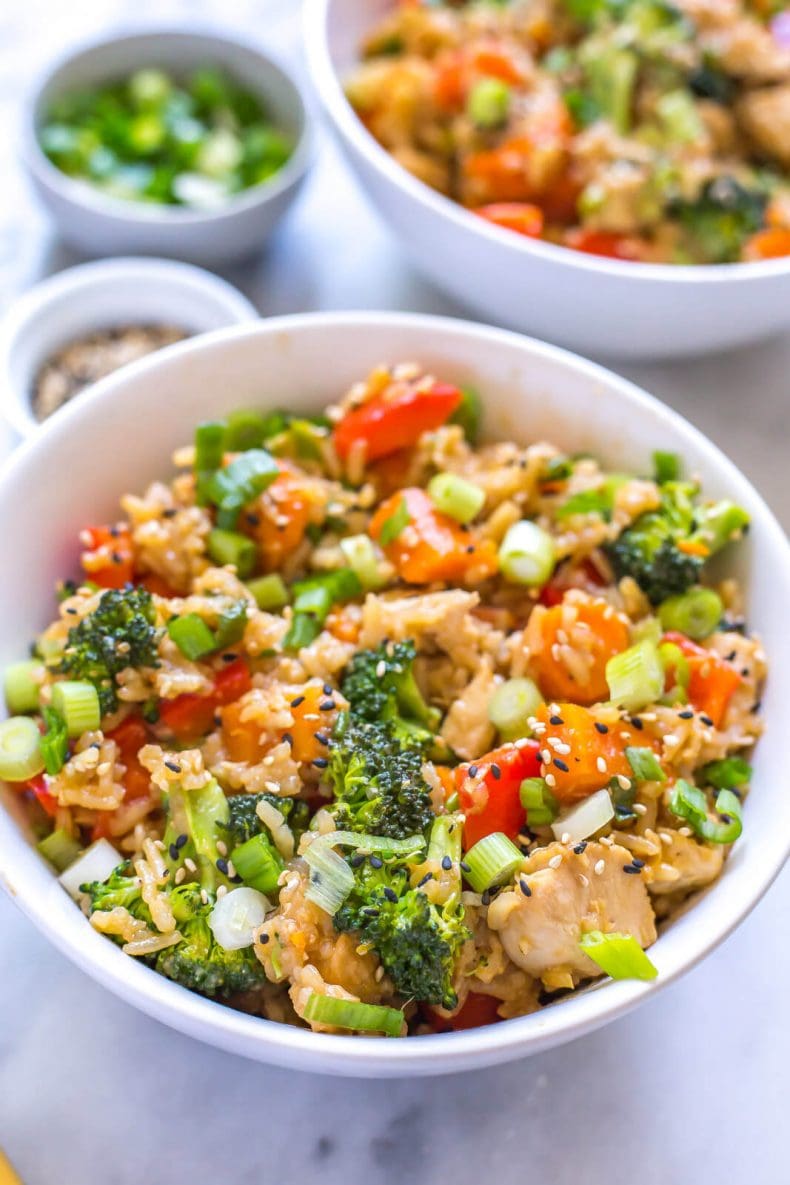 This Teriyaki Chicken Bowl is going to quickly become your go-to for a delicious chicken stir fry (next to this Pineapple Chicken recipe anyway) where the rice and chicken gets cooked together in the sauce all at once. No dirtying a whole bunch of dishes making the perfect sauce and sauteing the chicken and getting the rice ready ahead of time. This teriyaki recipe eliminates all those unnecessary steps!
How to Make a Teriyaki Chicken Bowl
So, as it turns out, teriyaki sauce is SO easy to make at home – say goodbye to the bottled stuff and to takeout! All you really need are a few pantry staples like garlic, rice vinegar, soy sauce, hoisin sauce and ginger. If you don't have fresh ginger you can use dried ginger in a pinch so don't be afraid to think outside the box.
With only 5 ingredients, teriyaki sauce couldn't be simpler! From there it's about cutting your chicken into small 1-inch pieces to ensure they will cook in two minutes on high pressure. The Instant Pot does take about 10-15 minutes to preheat before it pressure cooks so don't worry, your chicken won't be undercooked either! I find 2 minutes on high pressure to be the perfect amount of time to get the chicken cooked through but not dry, and the rice fully cooked but not soggy either.
You can use a variety of veggies with these teriyaki chicken bowls so whether you decide to go with broccoli, red peppers and carrots like I have is up to you! Snap peas, other colour bell peppers, bok choy, baby corn, edamame and asparagus are all other good alternatives so take a look in your veggie crisper and see what you have on hand to clear out the fridge.
You'll just have to be careful about what veggies you end up cooking on the pressure setting – I tend to add most in afterwards so they don't get soggy or overcooked.
I only add in the carrots with the chicken and rice in this recipe because any other veggie will get overcooked on the high pressure setting – I find that red peppers and broccoli (cut into very small florets) will get steam cooked as long as you let them sit with the other hot ingredients for about 5 minutes before serving so take that into account when choosing what veggies you'll use.
This healthy chicken rice bowl recipe is so easily customizable so it's definitely a great meal to serve up after a long day when you just can't even think about cooking.
Plus, I've realized as the warm weather is FINALLY here that the Instant Pot will probably work brilliantly during the summer months so you don't heat up the house with the oven or the stove. Just dump everything in the one pot, let it do all the work, sit outside with an ice cold beverage and don't even think twice about the heat.
Instant Pot Teriyaki Chicken Bowls will definitely be on my summer rotation moving forward!
Will you be making these Instant Pot Teriyaki Chicken Bowls? 
I love delicious healthy recipes like this! They're so perfect for lunch or dinner and these bowls are only ready in 30 minutes so you really have no excuse not to make them!
If you try any of my recipes be sure to let me know on Instagram, Twitter, Facebook or in the comments – I'd love to see what you come up with!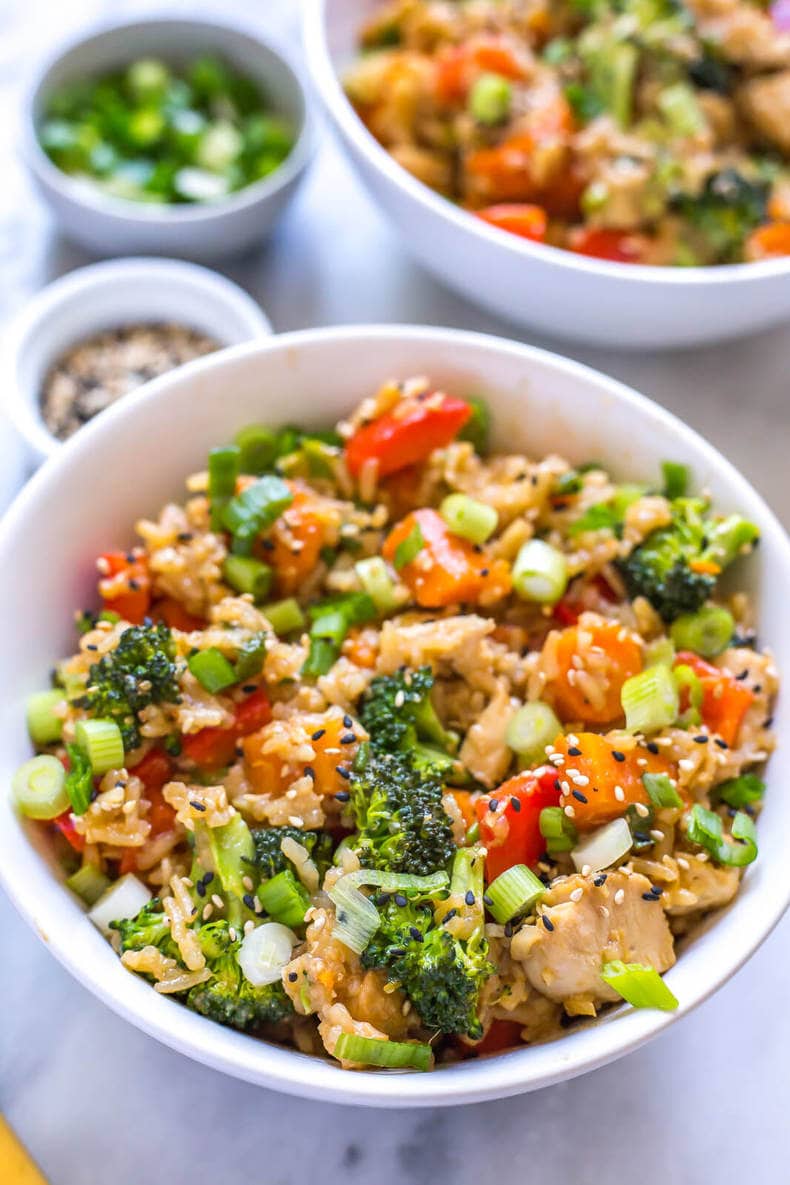 Meal prep tools
Meal prep challenge
If you'd like some more help with meal planning, then you'll love my free 5-day meal prep challenge! Sign up for free below: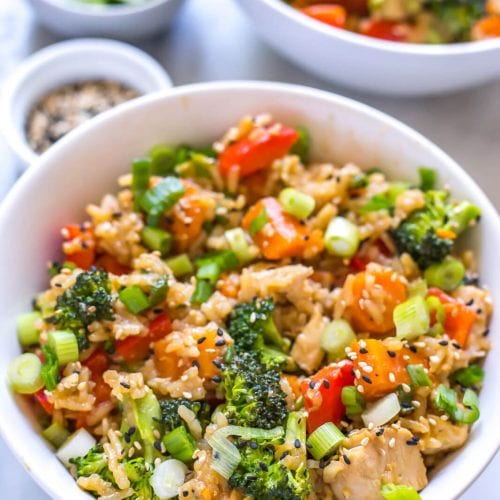 Print Recipe
Instant Pot Teriyaki Chicken Bowls
These Instant Pot Teriyaki Chicken Bowls with rice, broccoli and a 5-ingredient stir fry sauce make for a delicious meal prep idea - just dump everything into one pot and dinner is ready in 30 minutes!
Ingredients
1

tbsp

olive oil

2

medium-sized chicken breasts, diced into 1 inch pieces

1/4

cup

low-sodium soy sauce or tamari

1/4

cup

hoisin sauce

2

tbsp

rice vinegar

4

cloves

garlic minced

1

tbsp

grated fresh ginger

2

carrots, chopped

1 1/2

cups

water

1

cup

jasmine rice

1

head

broccoli, cut into small florets

1

red pepper, chopped

4

green onions, sliced

1

tbsp

Sesame seeds for garnish
Instructions
Dump olive oil, chicken, soy sauce, hoisin sauce, rice vinegar, garlic, ginger, carrots, water and rice into Instant Pot in that order leaving rice to float on top of other ingredients. Place lid on and cook for 2 minutes on high pressure.

Instant Pot will take about 10 minutes to come to pressure then cooks on high pressure for two minutes. Do a quick pressure release and remove lid when safe to do so. Stir in broccoli, red pepper and green onions, then replace lid and let sit another 5 minutes.

Serve among four bowls and top with more green onions if desired and sesame seeds. Enjoy!
Nutrition
Calories:
391
kcal
|
Carbohydrates:
53
g
|
Protein:
25
g
|
Fat:
11
g
|
Saturated Fat:
2
g
|
Polyunsaturated Fat:
3
g
|
Monounsaturated Fat:
5
g
|
Cholesterol:
41
mg
|
Sodium:
1038
mg
|
Potassium:
523
mg
|
Fiber:
4
g
|
Sugar:
8
g
|
Vitamin A:
6900
IU
|
Vitamin C:
116.3
mg
|
Calcium:
60
mg
|
Iron:
2.2
mg