30-Minute Kung Pao Shrimp
This 30-Minute Kung Pao Shrimp is a delicious quick and easy stir fry that's perfect for getting dinner on the table quickly! Switch up the veggies to use whatever's leftover in your fridge!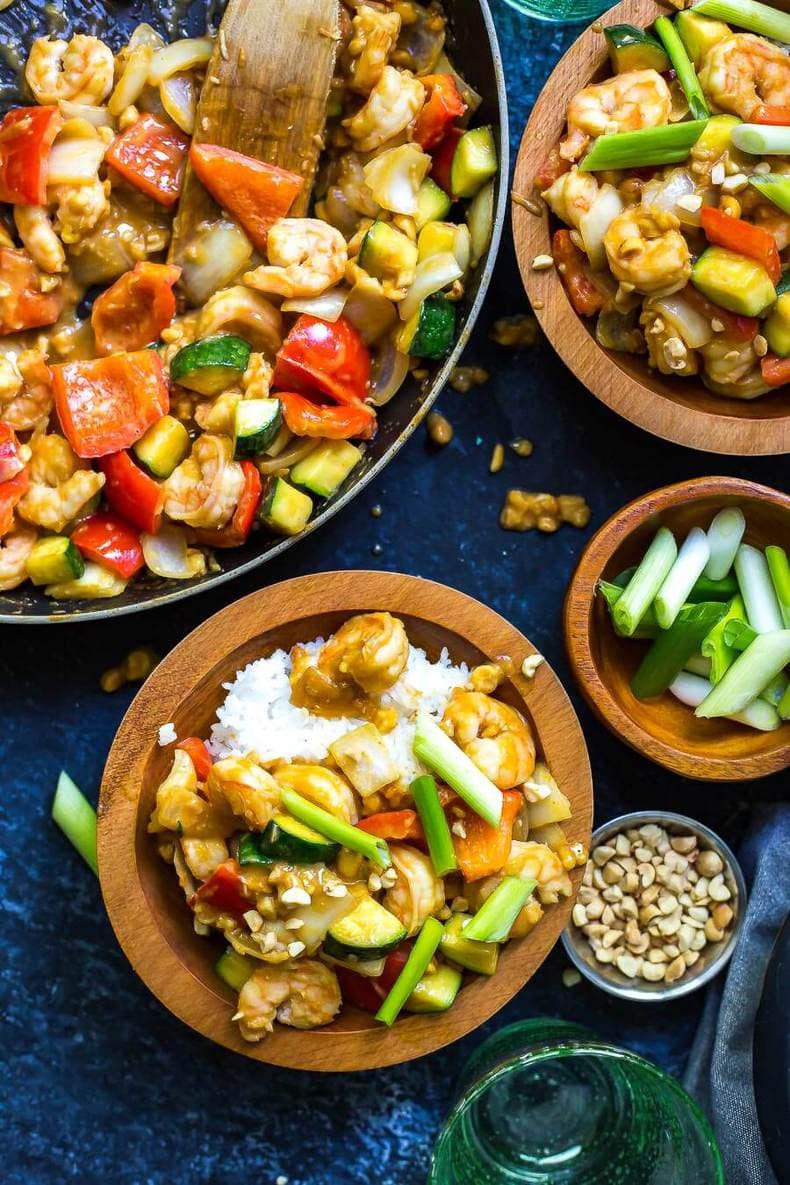 This post is sponsored by The Peanut Bureau of Canada. Thanks for supporting the brands I love – they help keep my blog up and running!
30 minute meals are the best.
MY LATEST VIDEOS
There's really no doubt about it.
Whenever I'm in a rush and find myself running low on time between work and events some nights, my go-to is ALWAYS a stir fry. So, these 30-Minute Kung Pao Shrimp bowls with jasmine rice and chopped peanuts are an absolute no-brainer for dinner.
And did I mention how crazy delicious this recipe is?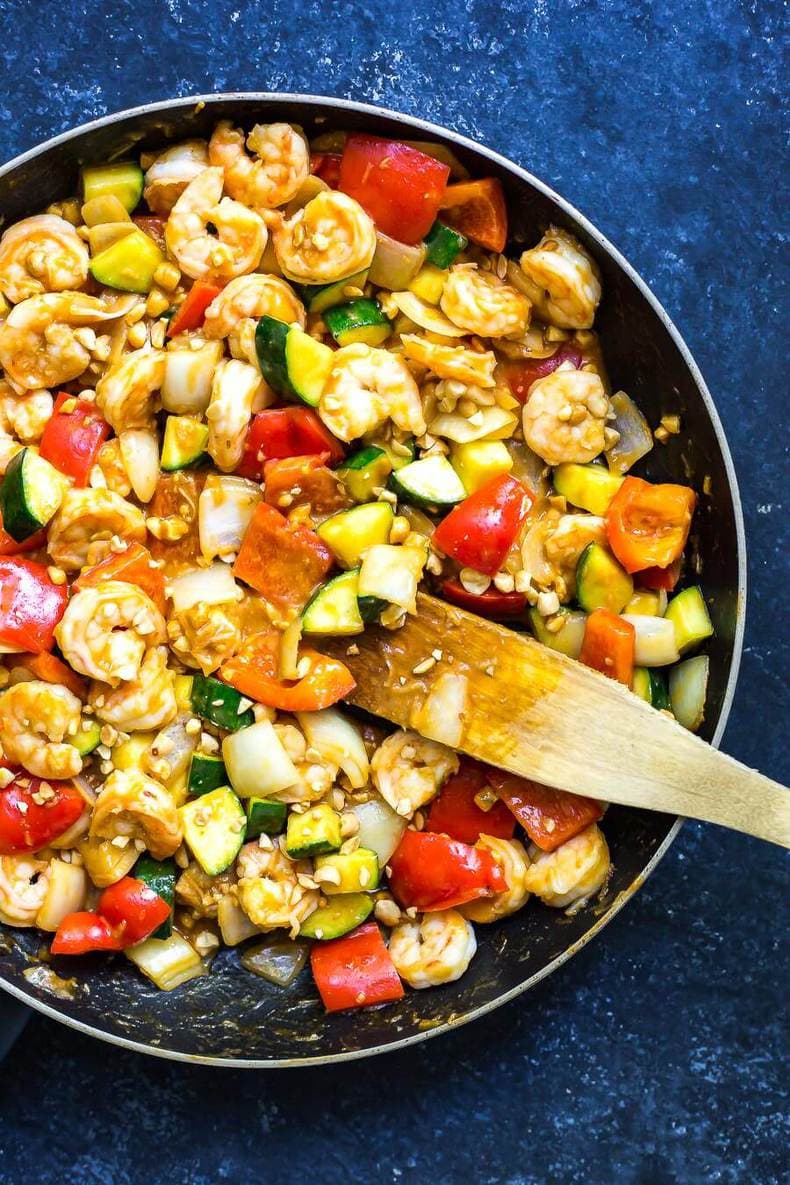 There are multiple substitutions you can make with this recipe to make it work for you, so you really have no excuse for stopping and grabbing takeout after work. I swear, it will probably take you more time to stop and wait than to throw this stir fry together. Switch the shrimp for chicken, beef or tofu if you want, and use up whatever veggies you have lying on hand in the fridge, like carrots, broccoli, green beans, snap peas and more. The options here are limitless.
The peanut butter based sauce is one you can throw together with ingredients from your fridge and pantry (soy sauce, sriracha, rice vinegar, ginger and garlic) too!
Oh, handy trick by the way.
If you're like me and don't find yourself using ginger too often, you can freeze it! Did you know that? I always buy a couple inches at a time and keep it in a plastic bag in the freezer so I can use it as a pantry staple as opposed to fresh produce that eventually goes bad. Alternatively, dried ginger powder also works in a pinch – there's very little difference!
I think one of the biggest pieces of feedback I kept hearing from friends and family when I first started my food blog was how difficult it is for them to find recipes that keep in mind what they already have on hand at home. I mean, who really has the time to go out and buy all these specialty spices? If you're a huge foodie like me and photograph food for a living, you might have some star anise, za'atar spice or ground cardamom in your cupboard, but I know most of us just have the basics. That's why I've got you covered with this quickie in particular!
While we are on the topic of pantry staples, let me just continue to say how obsessed I am with using peanut butter in different savoury sauces. I've worked with The Peanut Bureau of Canada on a couple recipes now and each has encouraged me to really play with my favourite breakfast ingredient in new ways to elevate my favourite types of food. Just check out my Slow Cooker African Peanut Stew or these Thai Green Curry Vemicelli Bowls!
I know traditionally speaking Kung Pao shrimp does not include peanut butter, but I find it brings a much richer, thicker flavour to this recipe and I honestly don't know if I can go back to the usual sauce. Plus, odds are you've already got some on hand in your cupboard!
And speaking of experimenting in the kitchen, I should mention that Kung Pao Shrimp and I go way back. It was actually the very first real recipe that I made on my own for family dinner and it really sparked my interest in cooking. I loved the idea of taking simple ingredients and transforming them into something nourishing and delicious.
In fact, trying an internationally-inspired recipe for the first time as a teen has really influenced my cooking style. I'd like to think I'm really adventurous and like to adapt different recipes to my taste, and touch on restaurant classics to lighten them up and healthify (is that a word?! LOL) them. It's funny how you can start to read a recipe and know what flavours will work and what won't. I just love the process from start to finish.
But when I don't have time to love the process, let me just say that a 30-minute stir fry like this Kung Pao Shrimp will do!
Will you be making this 30-Minute Kung Pao Shrimp? 
I promise this recipe will quickly become your go-to when you have no money for takeout but don't have a ton of time to cook either. And it's WAY healthier too. I'm hopping on the stir fry train more often from now on – I'm all for saving time and money!
If you try any of my recipes be sure to let me know on Instagram, Twitter, Facebook or in the comments – I'd love to see what you come up with!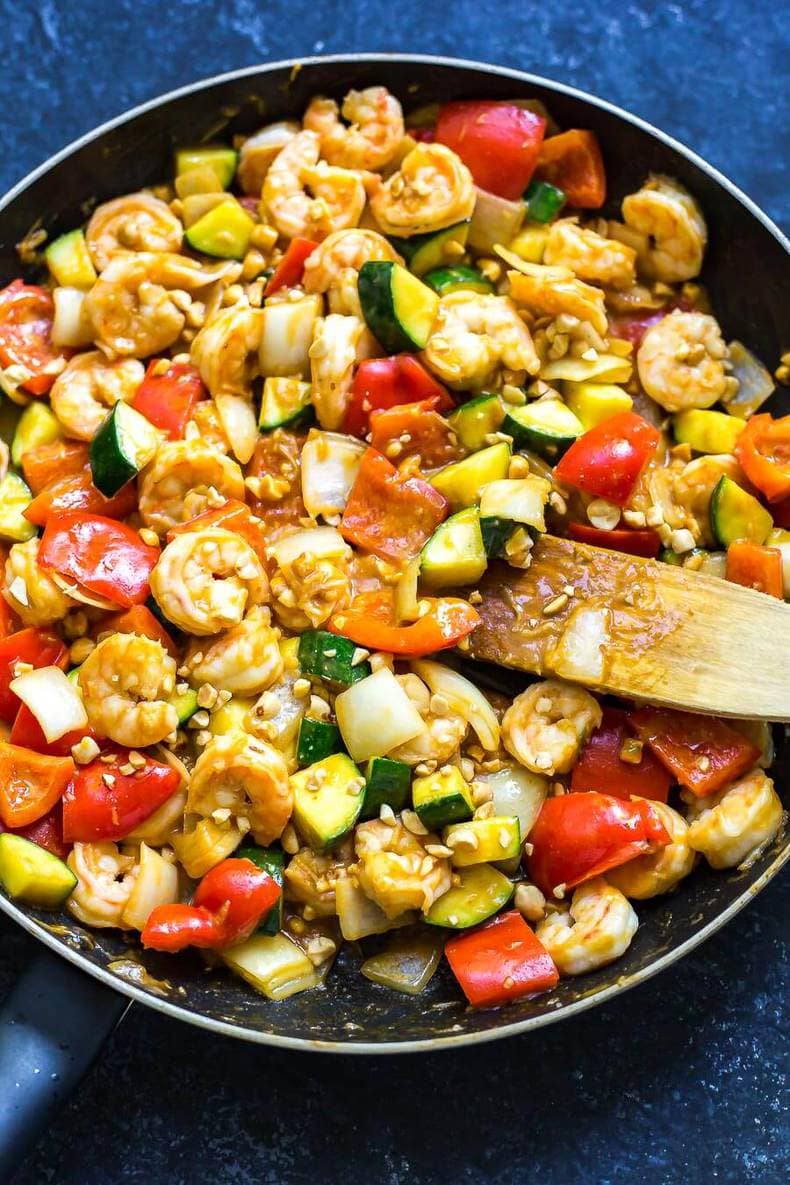 Print Recipe
Kung Pao Shrimp
Yum
This 30-Minute Kung Pao Shrimp is a delicious quick and easy stir fry that's perfect for getting dinner on the table quickly! Switch up the veggies to use whatever's leftover in your fridge!
| | |
| --- | --- |
| | |
Cook jasmine rice according to package directions or in a rice cooker.

In a large frying pan, heat 1 tbsp olive oil over med-high heat. Saute shrimp for 2-3 minutes until no longer translucent. Remove from heat and set aside.

Wipe pan clean and add a little bit more olive oil. Turn heat to high. Add peppers, onion and zucchini, sauteeing for 3-4 min until veggies start to soften. Add sauce and shrimp, cooking for another 2-3 min until sauce starts to thicken slightly. Remove from heat and stir in scallions and peanuts, then serve overtop of jasmine rice.