These Baked Turkey Meatballs are freezer-friendly and perfect for meal prep! I show you how to pair them with zucchini noodles too.
Ingredients in baked turkey meatballs
These ground turkey meatballs are one of the simplest recipes out there, but it's the simplicity that makes them so good! You only need a handful of ingredients to turn ground turkey into something amazing! By the way, you can use these same ingredients to make the juiciest, most delicious turkey burgers too.
Here's what you need:
1 lb ground turkey or ground chicken
1/3 cup breadcrumbs
1/4 cup fresh parsley (or you could do 1 tbsp dried)
1 egg
1 medium-sized yellow onion, grated (trust me on this, it injects SO much flavour!)
1 tbsp dijon mustard
2 cloves minced garlic
Salt and pepper
How to make this recipe
Meatballs in the oven are actually pretty easy to do, and require no extra cooking oil as long as you use parchment paper. Here's exactly how to make these turkey meatballs, step-by-step:
Line a baking sheet with parchment and preheat the oven to 400 F.
Mix together all the ingredients for the meatballs in a large bowl.
Once you've mixed the ingredients together, roll the meatballs into 1-inch balls and place them on the parchment-lined baking sheet
Bake for 10 minutes per side.
Super easy right?
Meal prepping the meatballs
These meatballs are fantastic for meal prep! All you really need to do is pair them with a vegetable in meal prep bowls and you've got healthy lunches for the week.
Serve them with the spiralized zucchini and tomato sauce you see here, or you can even just enjoy them with a salad or coleslaw on the side. Eat Smart makes these awesome kale slaws that I'll sometimes add to the side if I'm in a pinch and then I've got a relatively low carb meal prep bowl!
Freezing the meatballs
When the colder months are approaching, I like to change up the type of meal prep I do so that it helps me push past the winter blues. When it's dark out, it's easy to lose motivation and skip making dinner. But not when you have delicious meatballs waiting for you in the freezer!
Seriously, freezer meals are the bomb and you can totally freeze these turkey meatballs. As long as you eat them within 3 months they'll stay juicy and good as new so you can add them to last minute meal prep bowls or heat them up along with some pasta, rice or veggies for dinner – your choice!
Freeze in a large Ziploc freezer bag that's labelled with the date you've frozen them, then just take out a couple meatballs as needed or reheat them all at once. You can also store the meatballs in glass bowls to reduce your plastic consumption.
Reheating baked turkey meatballs
The meatballs will keep in the fridge up to 5 days then you can freeze the rest. To reheat these meatballs, sprinkle a tiny bit of water overtop so they retain their moisture, then microwave for 2 minutes or so.
If you're reheating from the freezer, reheat with some water sprinkled overtop, then microwave for 4 minutes until heated through. You can reheat them straight from the freezer with no defrosting time needed! From there, enjoy one or two at a time as a snack or add them to spaghetti sauce…the options are endless! I've listed more serving suggestions below.
How to serve ground turkey meatballs
While the meatballs are cooking, you can assemble any sides you want to pair with them (grains or veggies), or you can just do up the dishes and prepare a large Ziploc bag so they can go right in the freezer after cooling for a little bit, and then you've got some wholesome food in the freezer for those days you don't have time or energy to cook but still want something homemade.
I paired these baked turkey meatballs with some spiralized zucchini and topped the zoodles with some jarred tomato sauce for an easy meal – it's a great way to make these meatballs lower carb while also eliminating any extra cooking time.
On days when everything just feels too hard or you're just too lazy to cook, these baked turkey meatballs are sure to help you out (or these sticky sriracha lettuce wraps are an amazing variation too!)
Ingredient substitutions
Have no ground turkey on hand? Fear not! These baked turkey meatballs can also be made with ground chicken, ground pork or ground beef so feel free to go with whatever you have on hand (or what's on sale!)
Here's a full list of ingredient substitutions you can make:
Use whatever type of ground meat you'd like this this recipe (pork, beef, lamb, chicken, etc)
Sub in almond flour or parmesan cheese for the breadcrumbs
Leave out the egg if needed – the meatballs will still hold their shape
Leave out the parsley altogether if needed
Leave out the garlic altogether if needed
The only things you really can't leave out or change is the Dijon mustard and the grated onions. Those are what give the meatballs moisture and flavour and you will have a drastically different meatball without them. Be forewarned that subbing in almond flour or parmesan cheese will also slightly change the taste but they are a great way to make this recipe low carb and you'll still get great flavour!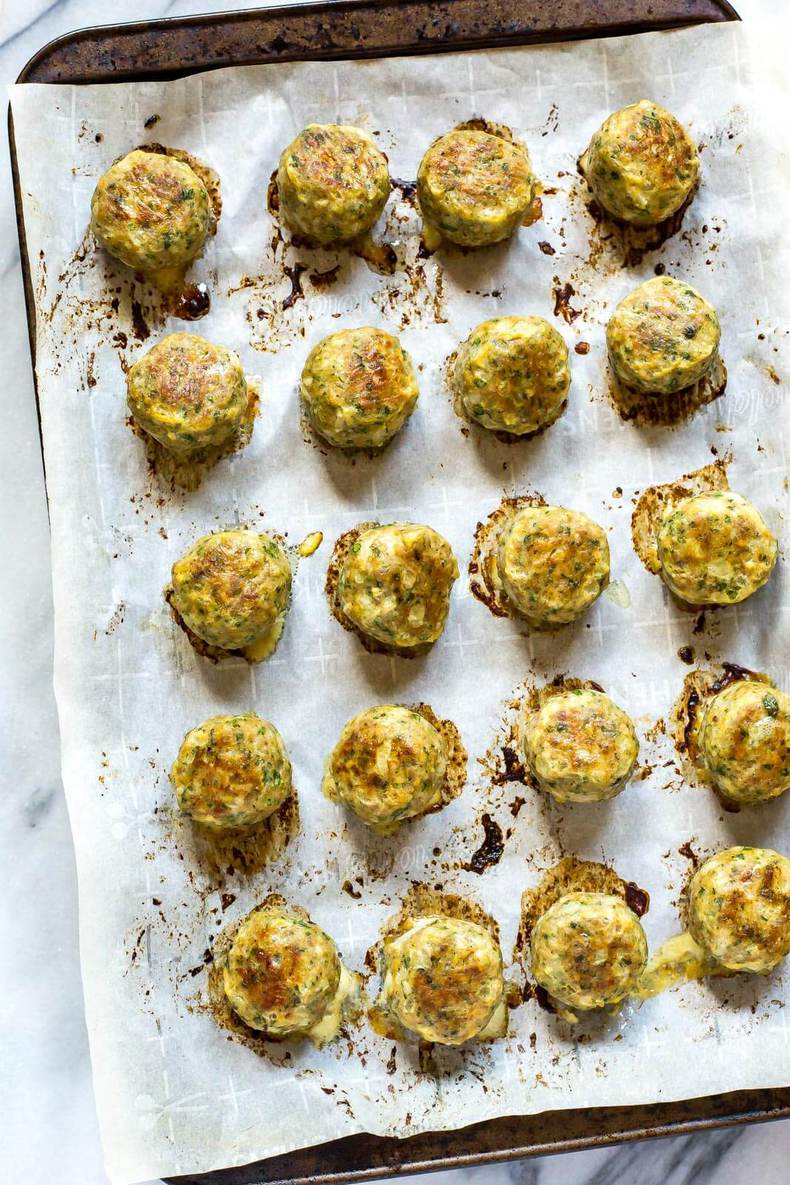 Adding zucchini noodles
If you choose to add the zucchini noodles and tomato sauce as pictured in this post, I've got you covered with instructions here!
You can buy your zucchini spiralled already in your local grocery store to save on prep time – that's what I did and it's one of my top meal prep tricks. Buy your veggies ready to go in the produce area (usually found near the fresh salad dressings and dips or alongside boxes of greens) and save time in the kitchen and on your weekly meal prep!
You can of course also use a spiralizer so it's up to you!
Just add a little bit of tomato sauce overtop and you're ready to microwave these bowls! Reheat for 2-4 minutes until the zucchini has softened and the meatballs are hot inside.
These baked turkey meatball meal prep bowls are so perfect for your work week lunches or you wait to add the meatballs out of the freezer to all sorts of dinners.
The choice is up to you!
More ground turkey recipes
Meal prep tools for this recipe
Freezer-Friendly Meal Prep: Baked Turkey Meatballs
These Baked Turkey Meatballs are awesome for freezer-friendly meal prep! In this recipe for meatballs in oven, I show you how to include them in low carb meal prep bowls with spiralized zucchini & tomato sauce so you can eat healthy lunches all week!
Print
Pin
Rate
Servings:
4
meal prep bowls
Ingredients
2-3

zucchini, spiralized (I just buy a 500g package from the grocery store pre-made)

1

jar

tomato sauce (make sure there's no sugar added for Whole 30)
Baked turkey meatballs
1

lb

ground turkey or chicken (you could even do extra lean ground beef too!)

1/3

cup

breadcrumbs

1/4

cup

finely chopped fresh parsley (or 1 tbsp dried)

1

egg

1

medium-sized yellow onion, grated

1

tbsp

dijon mustard

3

cloves

garlic, minced

1/2

tsp

each salt and pepper
Instructions
Prepare a baking sheet lined with parchment paper and preheat oven to 400 F.

Mix all ingredients for ground turkey meatballs in a large bowl, stirring until well-combined. Wet hands with water and roll into 1-inch meatballs, creating 20 of them. Add to baking sheet in rows and bake for 20 minutes.

Meanwhile, spiralize zucchini or add prepared zucchini to meal prep bowls and top with a bit of tomato sauce. When meatballs come out of oven, add 5 to each bowl. Bowls will keep in fridge up to 5 days.

If freezing, place in a thick plastic bag and label with date. Will keep in freezer up to 6 months.
Video
Nutrition
Calories:
361
kcal
|
Carbohydrates:
29
g
|
Protein:
31
g
|
Fat:
14
g
|
Saturated Fat:
4
g
|
Polyunsaturated Fat:
3
g
|
Monounsaturated Fat:
5
g
|
Cholesterol:
118
mg
|
Sodium:
790
mg
|
Potassium:
1292
mg
|
Fiber:
5
g
|
Sugar:
12
g
|
Vitamin A:
900
IU
|
Vitamin C:
72.6
mg
|
Calcium:
100
mg
|
Iron:
4.1
mg