Instant Pot Chicken Pad Thai
This Instant Pot Chicken Pad Thai is a super quick and easy one pot pad thai recipe that is perfect for your weekly meal prep – the noodles cook in the pot along with the other ingredients for minimal clean up too!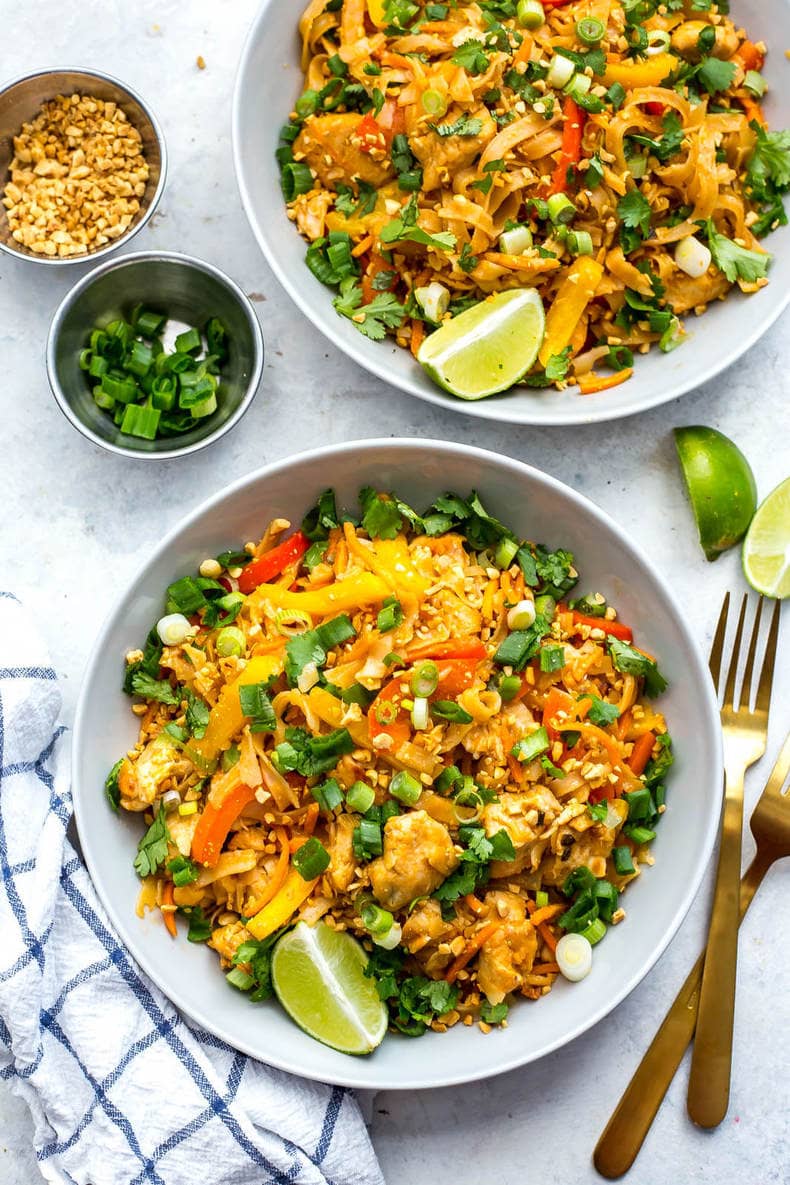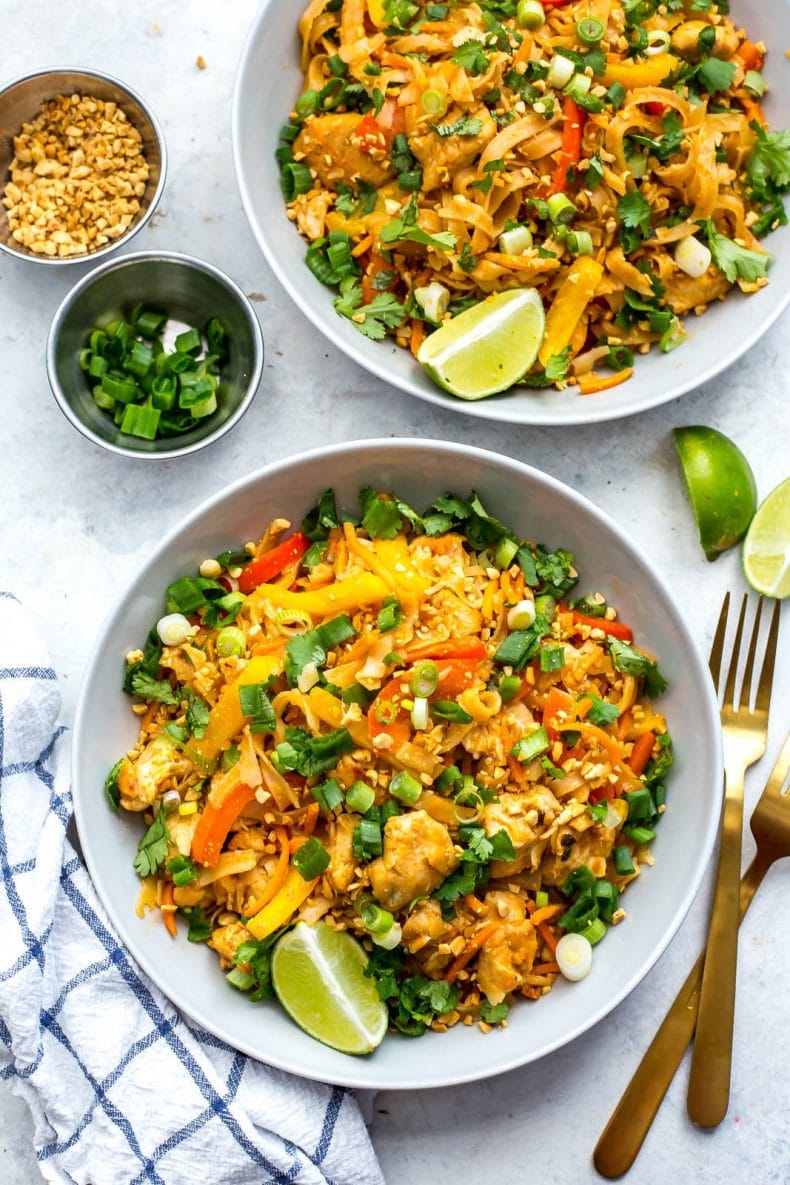 Disclosure: This post contains affiliate links – that means I will make a very small commission if you happen to make a purchase through one of my links; this helps me keep my site up and running so I can continue to provide you with free recipes and resources 🙂 There is no additional cost to you!
So, I've made quite the miraculous discovery that I'm going to share with you all (besides this Homemade Hamburger Helper or these Yakisoba Noodles of course…)
You can make CHICKEN PAD THAI NOODLES in your Instant Pot (if you still don't have one by the way, you can get your Instant Pot DUO Plus 60
 here)
OMG, my life is forever changed.
The idea actually came about quite by accident while I was first tinkering around with my Instant Pot and I made these amazing Honey Sesame Chicken Noodle Bowls.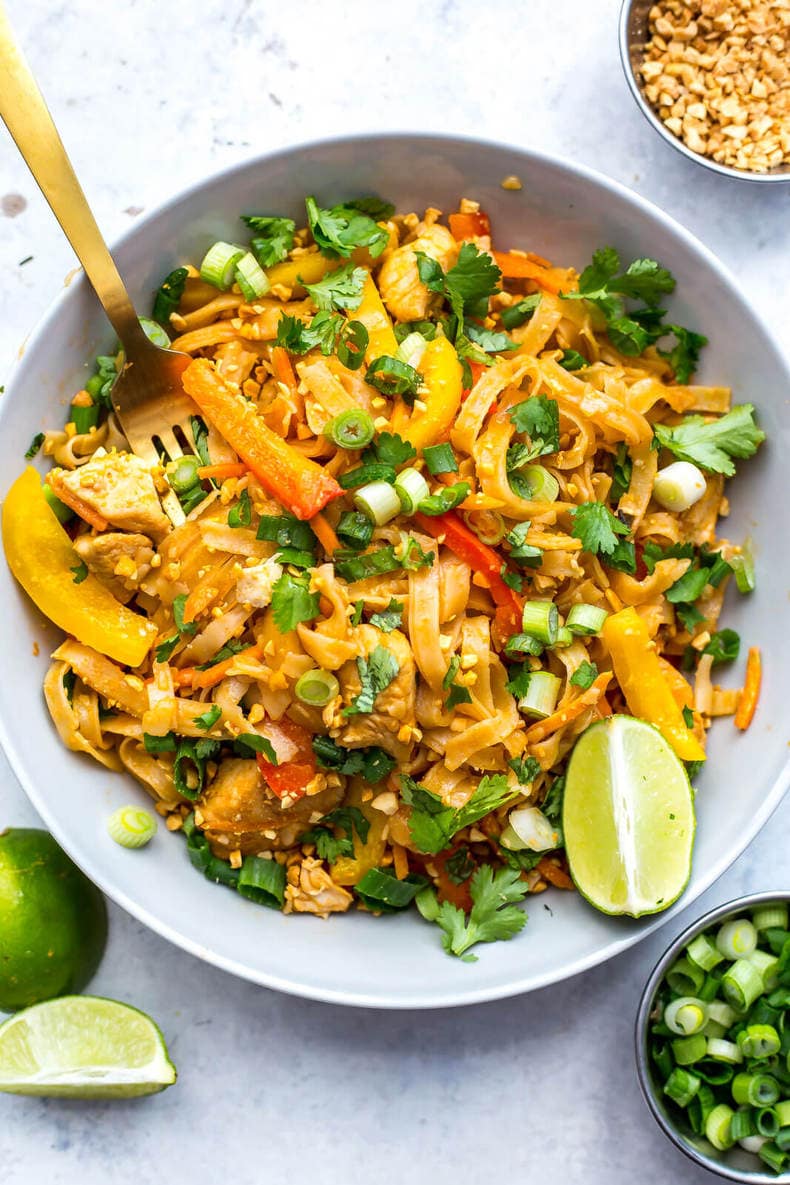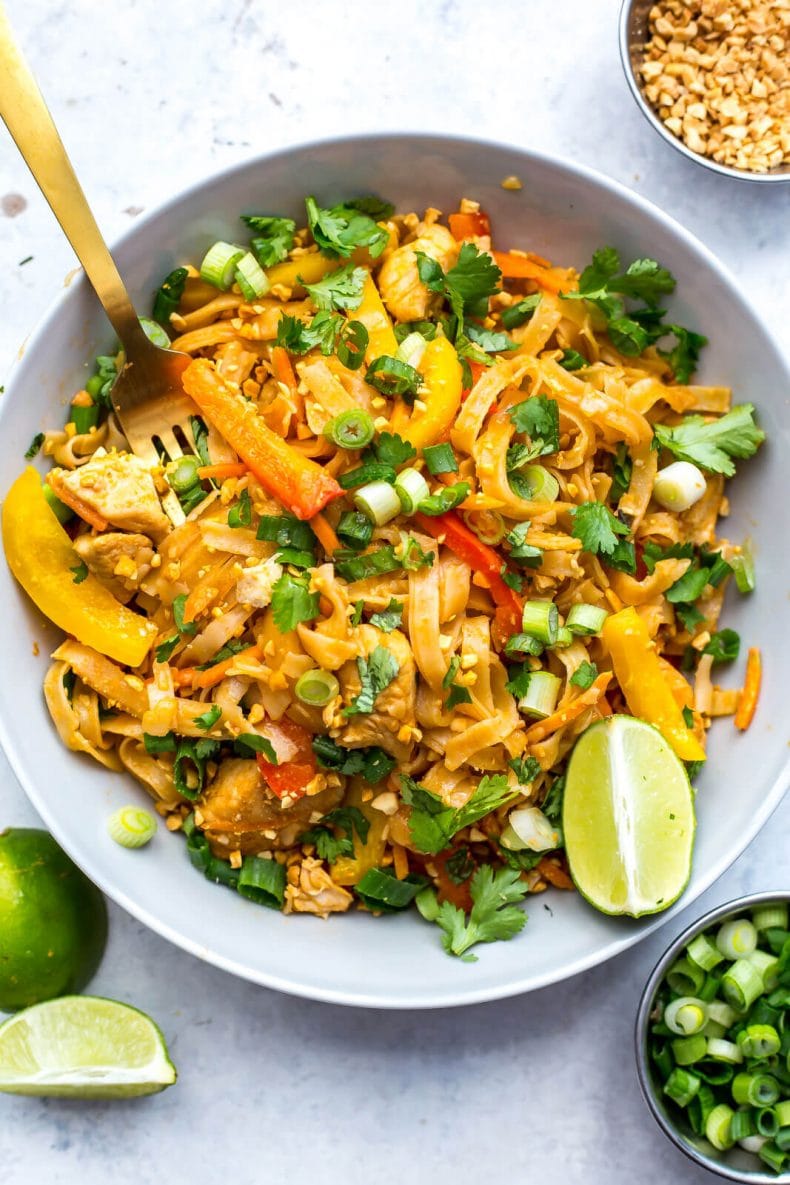 I was *actually* trying to make regular old sesame chicken, and I had this dream of making this crispy coated chicken by sauteeing it in the Instant Pot first and then making the sauce separate, and the rice…and then I realized that there were just waaaaaay too many steps to the recipe I was trying to create. Like who has time for 4 separate steps when the Instant Pot is made for the convenience of dumping all the ingredients in and cooking?
So, I knew there had to be a better way, and round two of sesame chicken turned into me adding rice noodles (I buy Thai Kitchen Rice Noodles
) at the very last second and hoping they would not get overcooked.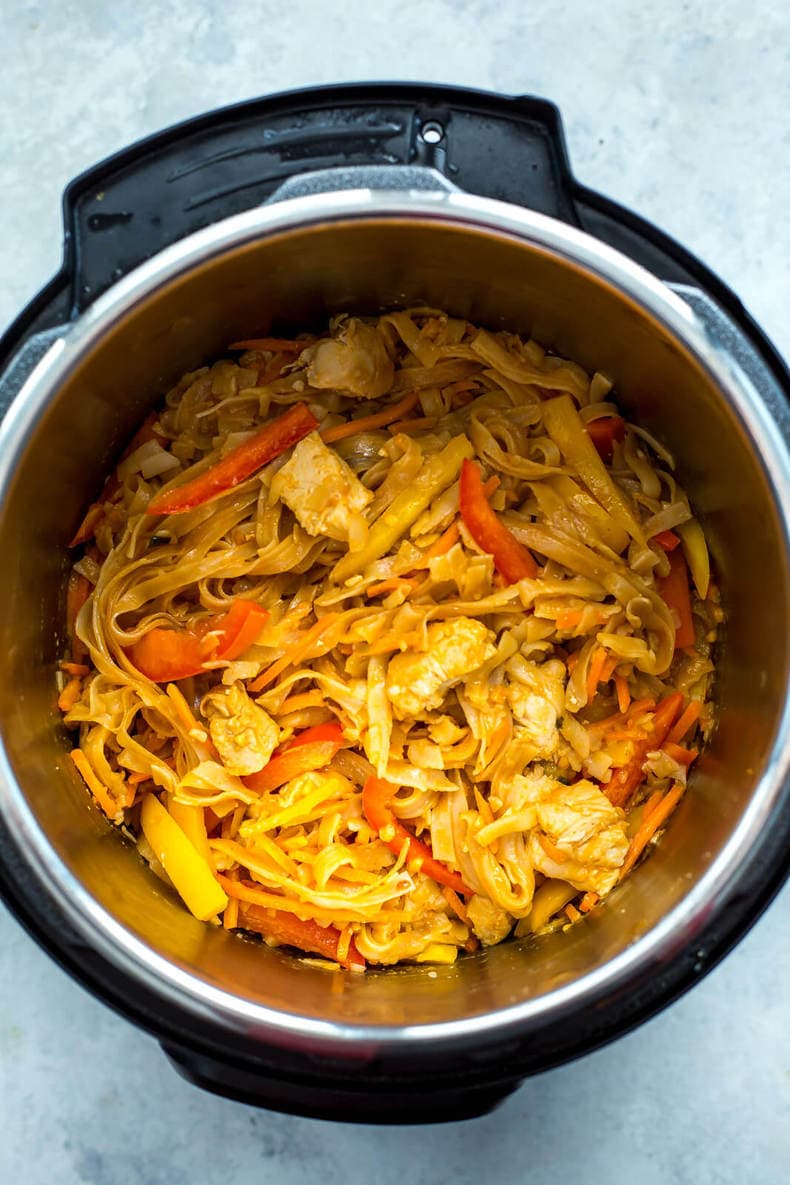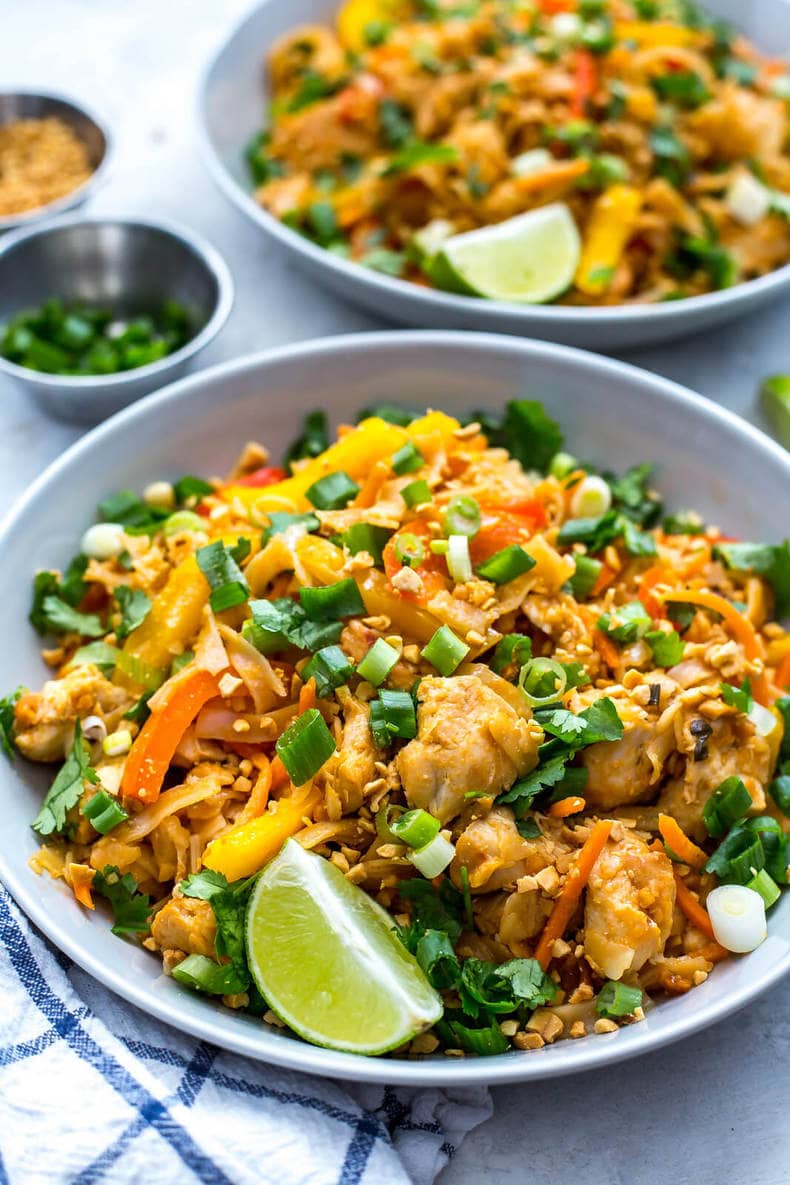 Turns out, if you set them just above all the liquid and cook for only 2 minutes on high pressure, you're good to go. And it was then that I had found out, by mistake, that you could do noodle stir fries in the Instant Pot.
Don't you just love my accidents in the kitchen?
They're so delicious!!!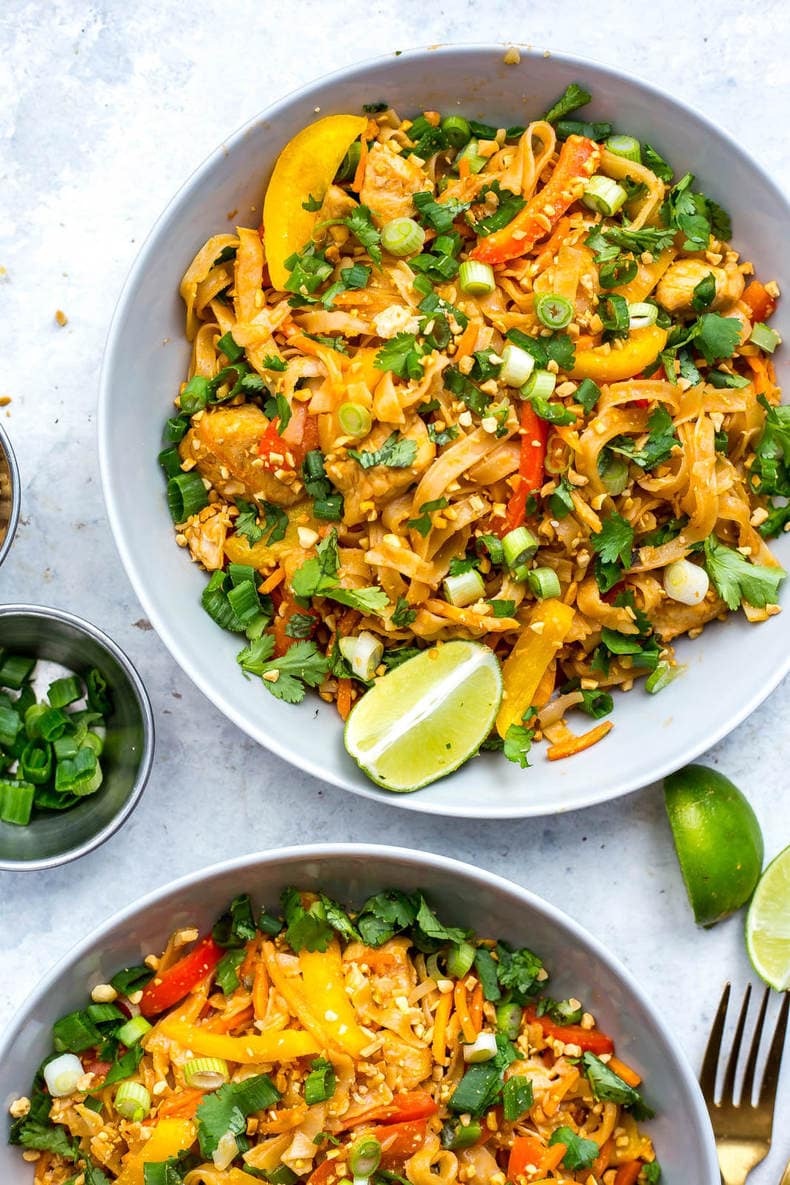 So of course given how easy it is to work with rice noodles, I knew I had to try my hand at Instant Pot Chicken Pad Thai. And yes, it turned out very similarly to the sesame chicken noodle bowls, except you have to know that I've cheated a bit when it comes to the sauce.
But I think you're going to thank me for it, because this is the simplest pad thai recipe ever and it tastes pretty authentic too.
The secret is pre-made Pad Thai sauce LOL.
But seriously.
I actually love Thai Kitchen's Pad Thai sauce (this is not a sponsored post, I just love this product), and I have made a version of homemade Pad Thai sauce that's relatively easy, but when you're looking to throw dinner together in a hurry sometimes you don't wanna haul like 5 to 10 sauces out of your pantry.
And really, tamarind is the secret ingredient to Pad Thai sauce and you can't always finds tamarind paste at the grocery store. But you can usually find Pad Thai sauce in the Asian and rice section. If you do want to try your hand at a homemade sauce though, you can always check out these Spiralized Pad Thai Meal Prep Bowls and add the ingredients to the Instant Pot instead!
Add a little bit of that, some soy sauce and garlic, and you're on your own to Pad Thai land.
And what I also love about this Instant Pot Chicken Pad Thai is that you can use up whatever veggies you have on hand in the fridge, as long as they are veggies that will get tender fairly quickly because the veggies themselves don't go in with the chicken, sauce and noodles or they'll get overcooked.
You could always sub in finely chopped broccoli, spinach, red cabbage and more – I used matchstick carrots and thinly sliced bell peppers because you can buy the carrots pre-chopped, and I really only like my peppers barely cooked so I find everything gets tender-crisp and not too overdone.
Top your Instant Pot Chicken Pad Thai bowls chopped peanuts, green onions and cilantro and you're set! Now enjoy the most delicious dinner or lunches all week long!!!
Will you be making this Instant Pot Chicken Pad Thai? 
This recipe is SO perfect for your weekly meal prep and will have you feeling as though you're eating takeout all week long!
If you try any of my recipes be sure to let me know on Instagram, Twitter, Facebook or in the comments – I'd love to see what you come up with!
Meal prep tools
Meal prep challenge
If you'd like some more help with meal planning, then you'll love my free 5-day meal prep challenge! Sign up for free below: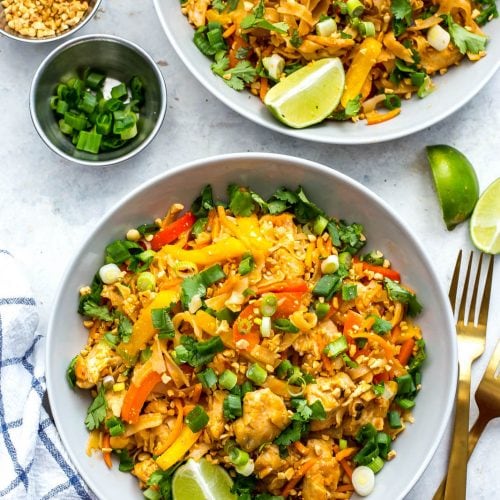 Print Recipe
Instant Pot Chicken Pad Thai
This Instant Pot Chicken Pad Thai is a super quick and easy one pot pad thai recipe that is perfect for your weekly meal prep - the noodles cook in the pot along with the other ingredients for minimal clean up too!
Ingredients
2

tbsp

olive oil

2

chicken breasts, diced

4

cloves

garlic minced

3

tbsp

low-sodium soy sauce or tamari

1/2

cup

jarred pad thai sauce (I like Thai Kitchen brand)

1 1/2

cups

water

7

oz

rice noodles

1

cup

Carrot matchsticks

1/2

each

red and yellow pepper, sliced

4

green onions, sliced

1/3

cup

chopped peanuts

1/3

cup

fresh chopped cilantro
Instructions
Add olive oil, chicken, garlic, soy sauce, pad thai sauce, water and rice noodles to Instant Pot in that order, leaving noodles floating slightly above other ingredients. Set to manual and pressure cook on high for 2 minutes. Instant Pot will take about 10 minutes to pre-heat and then 2 minutes to cook. When complete, press cancel and do a quick release of the steam, waiting until the pressure gauge drops back down and the lid is safe to open.

Add carrot matchsticks, bell peppers and half of peanuts, tossing carefully with tongs. Place lid back on and let sit for 5 minutes.

Remove lid and serve, then top with green onions, remaining chopped peanuts and cilantro. Enjoy!
Nutrition
Calories:
402
kcal
|
Carbohydrates:
48
g
|
Protein:
25
g
|
Fat:
16
g
|
Saturated Fat:
2
g
|
Polyunsaturated Fat:
1
g
|
Monounsaturated Fat:
6
g
|
Cholesterol:
36
mg
|
Sodium:
1174
mg
|
Potassium:
202
mg
|
Fiber:
3
g
|
Sugar:
15
g
|
Vitamin A:
850
IU
|
Vitamin C:
34.7
mg
|
Calcium:
30
mg
|
Iron:
1.1
mg