20-Minute Instant Pot Chicken Burrito Bowls
These 20-Minute Instant Pot Chicken Burrito Bowls are a delicious, healthy quick dinner or meal prep idea using mostly pantry staples – read on for a slow cooker option! 
Continuing on with my Instant Pot obsession, I'm presenting you with possibly the easiest full on dinner idea: 20-Minute Instant Pot Chicken Burrito Bowls!!!
If you're not necessarily looking for a quick dinner idea, these bowls are absolutely PERFECT for your weekly meal prep! They couldn't be easier: dump all the ingredients in, let it cook for 4 minutes on high pressure, and you've got lunch for the entire work week!
I know, it really sounds too good to be true. I don't know why I didn't get an Instant Pot earlier…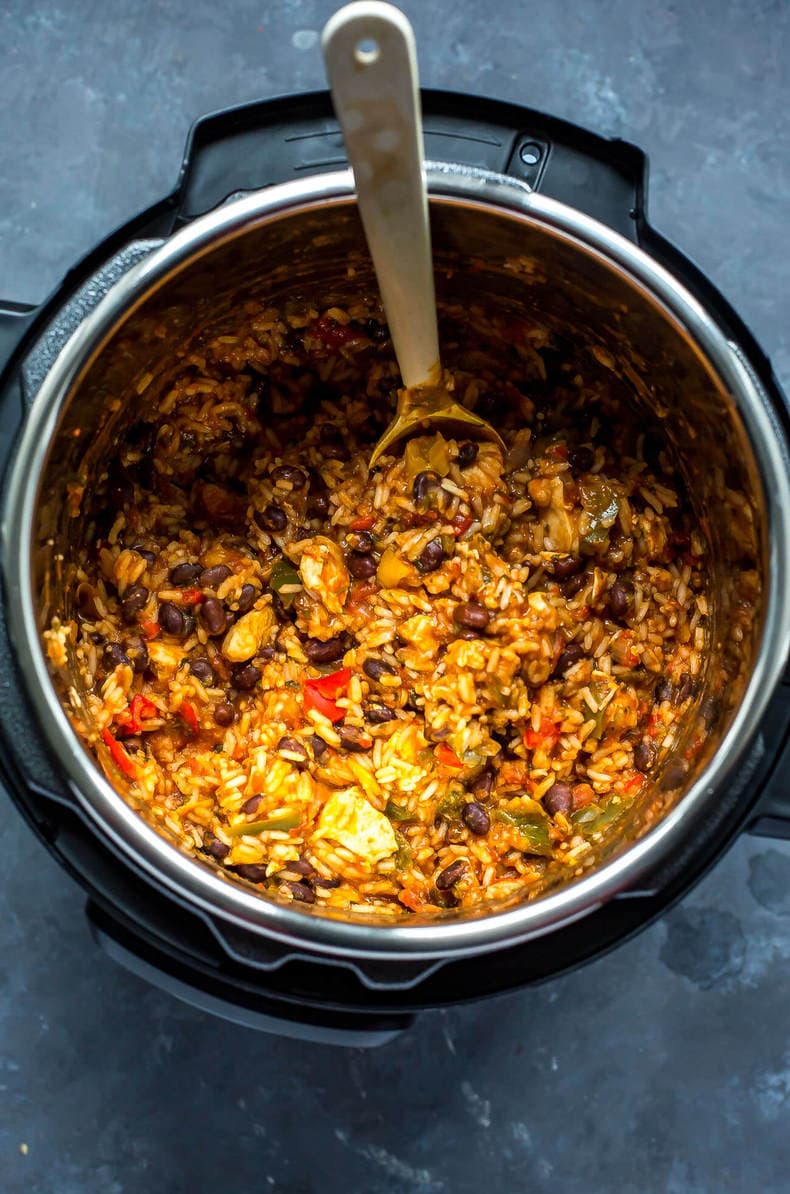 The bonus with these 20-Minute Instant Pot Chicken Burrito Bowls is that you can literally use whatever veggies you have on hand and other than that, all you need is some pantry staples like taco seasoning (homemade or storebought), salsa (jarred or fresh), crushed tomatoes and broth.
Add in some rice, black beans and chopped up chicken from the freezer and you've got yourself a meal! Pretty much like a Mexican rice "dump and push start" meal like this Homemade Hamburger Helper!
I added in mixed coloured bell peppers because I almost always have some on hand in the fridge (I think they're the number one veggie I buy every week!) but you can also use up other veggies like spinach, sweet potato, corn, red cabbage or kale – just make sure to stir in greens and cabbage in at the end instead of cooking them along with the other ingredients so they don't get overcooked.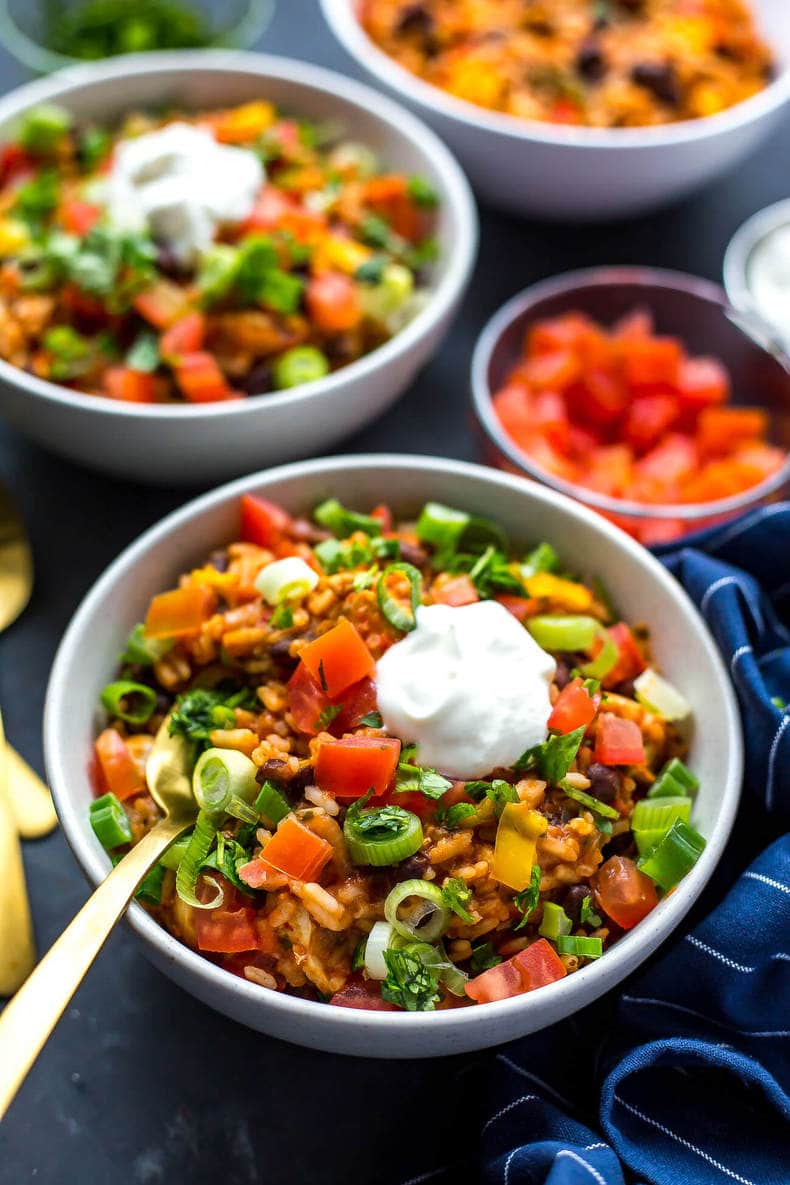 That really is the thing with the Instant Pot, or the slow cooker for that matter. Everything gets cooked all at the same time so while your chicken and rice will be cooked through, the veggies can get overcooked. I put the bell peppers in along with everything else all at once but if I were to do it again, I might stir in the peppers last just so they remain somewhat crisp.
But, there is something to be said for more well-cooked bell peppers – they really bring out a sweeter flavour and blend in well with the rice so it's up to you and how you like your veggies cooked. I always make sure to top these 20-Minute Instant Pot Chicken Burrito Bowls with some fresh ingredients like scallions, tomatoes and cilantro to have a mixture of textures so it's up to you how you wanna do it!
These 20-Minute Instant Pot Chicken Burrito Bowls really remind of the most popular recipe on my site, these Fiesta Chicken Rice Bowls, mainly because of how simple they are. You really can't go wrong with anything Mexican-inspired. You just can't.
And if you cook the rice separately, you can also make this recipe in the slow cooker! That's the great thing about most Instant Pot recipes – they can be pressure cooked but also modified to include a slow cooker option.
If you're gonna make these burrito bowls in your slow cooker, make sure you cook the rice separately as I mentioned and then dump everything else in the slow cooker. Cook on low for 8 hours and add in the rice at the end. The chicken will definitely be softer and more tender and have a bit of a pulled apart texture but it's a good option if you don't have an Instant Pot or would prefer to come home to dinner already made after work.
My roommate has an amazing way of meal prepping for the week and I have to say I'm so inspired by her way of cooking, and think more single people living on their own and cooking for themselves should probably cook this way. At the beginning of the week, she often makes a giant skillet or slow cooker recipe that feeds 4-6 people and eats it all during the work week either for lunch or dinner.
I can see this also translating to the Instant Pot. I know I could definitely eat these Instant Pot Chicken Burrito Bowls or even this Instant Pot Zucchini Noodle Pho all through the work week, especially if that means minimal clean up and staying out of the kitchen the whole week long while still having wholesome, home cooked food.
Will you be making these 20-Minute Instant Pot Chicken Burrito Bowls? 
I am OBSESSED with the Instant Pot, honestly! If you're sick of waiting a million years for dinner to be ready and just wanna get your Netflix and chill on, these are the bowls to make! Meal prep/weeknight dinners made easy!
If you try any of my recipes be sure to let me know on Instagram, Twitter, Facebook or in the comments – I'd love to see what you come up with!
I feel like I need to make more dump meals in the Instant Pot from here on out. It just makes cooking so easy. Would you like to see more Instant Pot recipes?!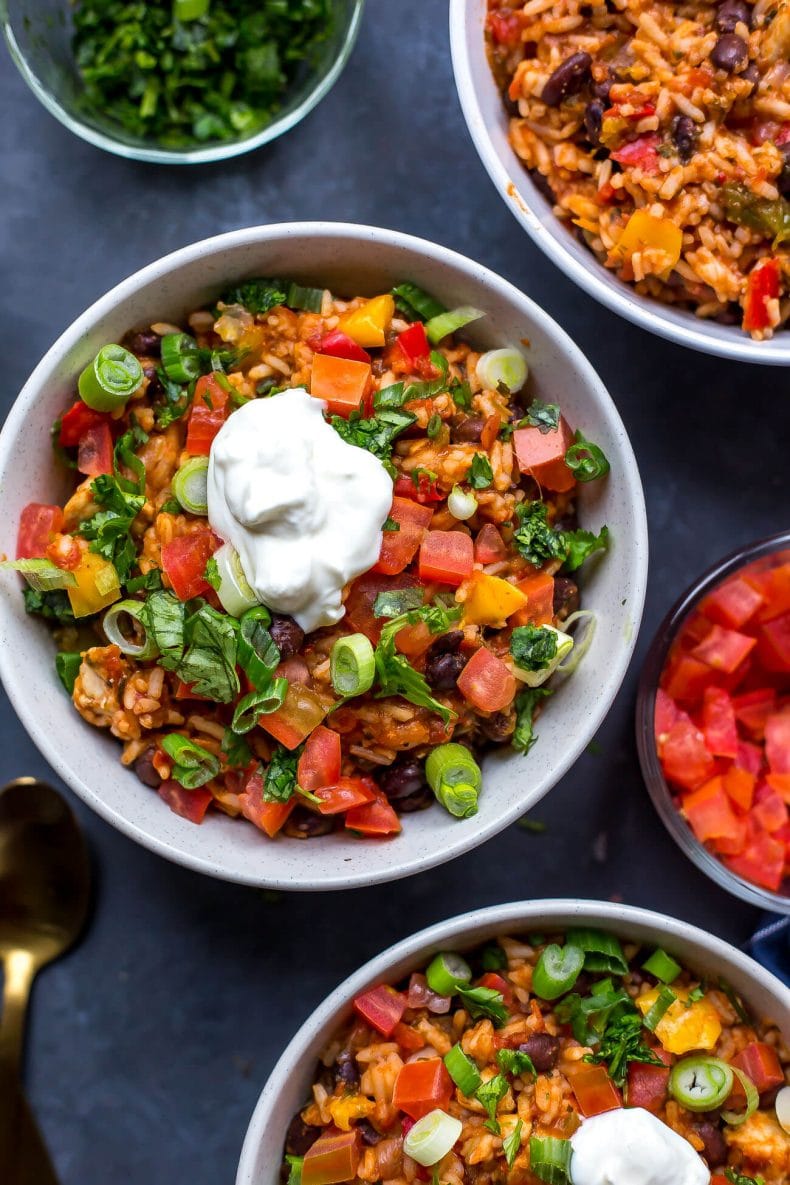 The Instant Pot DUO Plus 60
 is the version I use in this recipe.
And this is my fave taco seasoning if you don't feel like making your own!
Stock up on jasmine rice while you're at it.
Grab some Glass meal prep bowls for your leftovers.
And of course I get all my free-range chicken breasts from Butcher Box!
Print Recipe
20-Minute Instant Pot Chicken Burrito Bowls
Ingredients
2

chicken breasts, diced into 1-inch cubes

1

can

black beans, drained and rinsed

1

tbsp

taco seasoning

1/2

each

red, green and yellow pepper, diced

2

onions, diced

2

cloves

garlic minced

1/4

cup

finely chopped fresh cilantro

1

cup

chicken broth

1

cup

strained/crushed tomatoes

1

cup

salsa (I used the fresh kind found in the refrigerated section of the grocery store as I prefer it)

1

cup

jasmine rice

1/4

tsp

salt (optional - you can add in after if it needs it)

Diced plum tomatoes for topping

Chopped scallions for topping

Sour cream for topping
Instructions
Dump all ingredients except for plum tomatoes, scallions and sour cream in Instant Pot, making sure to add the rice last. Ensure you add rice on top of everything else or rice will burn the bottom of the pot. Set to manual and pressure cook on high for 4 minutes. Instant Pot will take about 10 minutes to pre-heat and then the 4 minutes to cook. When complete, press cancel and do a quick release of the steam, waiting until the pressure gauge drops back down and the lid is safe to open.

Remove lid, stir contents well and divide among 6 bowls. Top with plum tomatoes, scallions and sour cream (I also sometimes add cheese, lettuce, more cilantro, avocado and whatever other veggies I have on hand). Serve and enjoy!

Update: upon further testing, the bell peppers turn out much fresher if you cook everything on high pressure, then stir the peppers in after. It depends on the texture you want!
Nutrition
Calories:
447
kcal
|
Carbohydrates:
62
g
|
Protein:
32
g
|
Fat:
8
g
|
Saturated Fat:
3
g
|
Polyunsaturated Fat:
2
g
|
Monounsaturated Fat:
3
g
|
Cholesterol:
64
mg
|
Sodium:
1206
mg
|
Potassium:
941
mg
|
Fiber:
9
g
|
Sugar:
6
g
|
Vitamin A:
2700
IU
|
Vitamin C:
151
mg
|
Calcium:
110
mg
|
Iron:
4.1
mg