When you know how to meal prep, your life becomes SO much easier! Stick to this weekly meal prep routine to save time and money.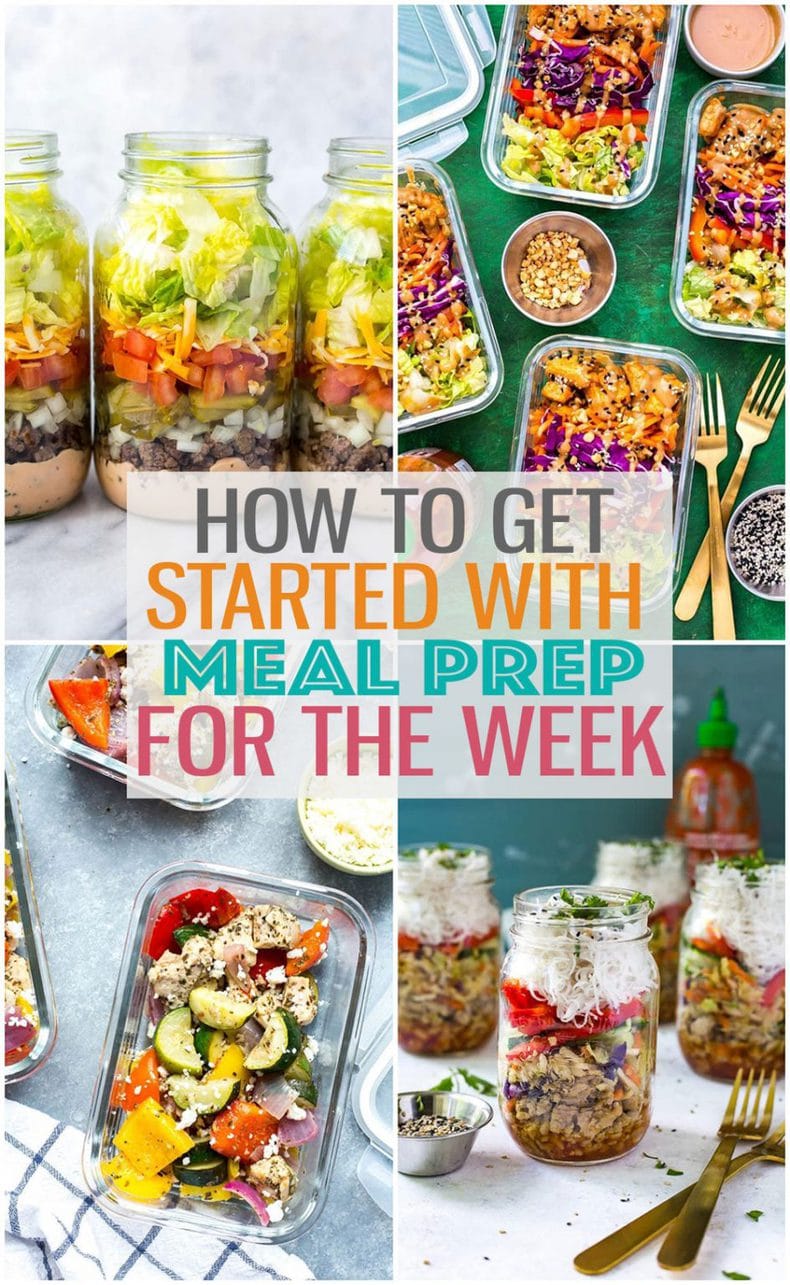 How to Meal Prep
Meal prep is a total game-changer, but I always recommend that you start small. You don't want to overwhelm yourself! Try making one set of meal prep bowls or batch cook one recipe to get your feet wet then slowly work your way up to regular weekly meal prepping.
When I first started meal prepping, I often cooked one big recipe and packed it all up into meal prep containers to enjoy throughout the work week. Then, I would get ingredients to make a simple and easy breakfast like steel cut oats or a smoothie in the morning.
As I got used to prepping ahead, I eventually started adding a couple more recipes to the mix for lunches and dinners. Nowadays, I typically make 3 to 4 recipes a week total and try to repurpose leftovers to incorporate some more variety and ensure I don't get bored of what I'm eating.
There are a few tips and tricks when it comes to how to meal prep. I outlined my steps below so you can get started!
Make a "Master List" of Recipes
When you're first starting out and are unsure of what to make, I suggest creating a Master List of recipes. I learned this informal process from my mom! Each week on Saturday morning, she would ask everyone in the house what their plans were for the week and take suggestions for dinner. From there, she'd go into her memory bank of favourite recipes, list out a couple we hadn't had in a while, then plug them into her meal plan, which was just a small piece of paper posted on the fridge each week.
To get started with your meal prep, start documenting the recipes you like and don't like. Whether that's on paper in a notebook or through a blank Word doc on your computer, mark them all down! Odds are, you have at least ten recipes you've made that you know are easy and you really enjoy.
Divide your list into "Recipes you like" and "Recipes you want to try". That way you can try new things and actually put a plan in place to make them, and you can go with easy old favourites that will be sure to please and hopefully don't take too much time to make. Easy, right?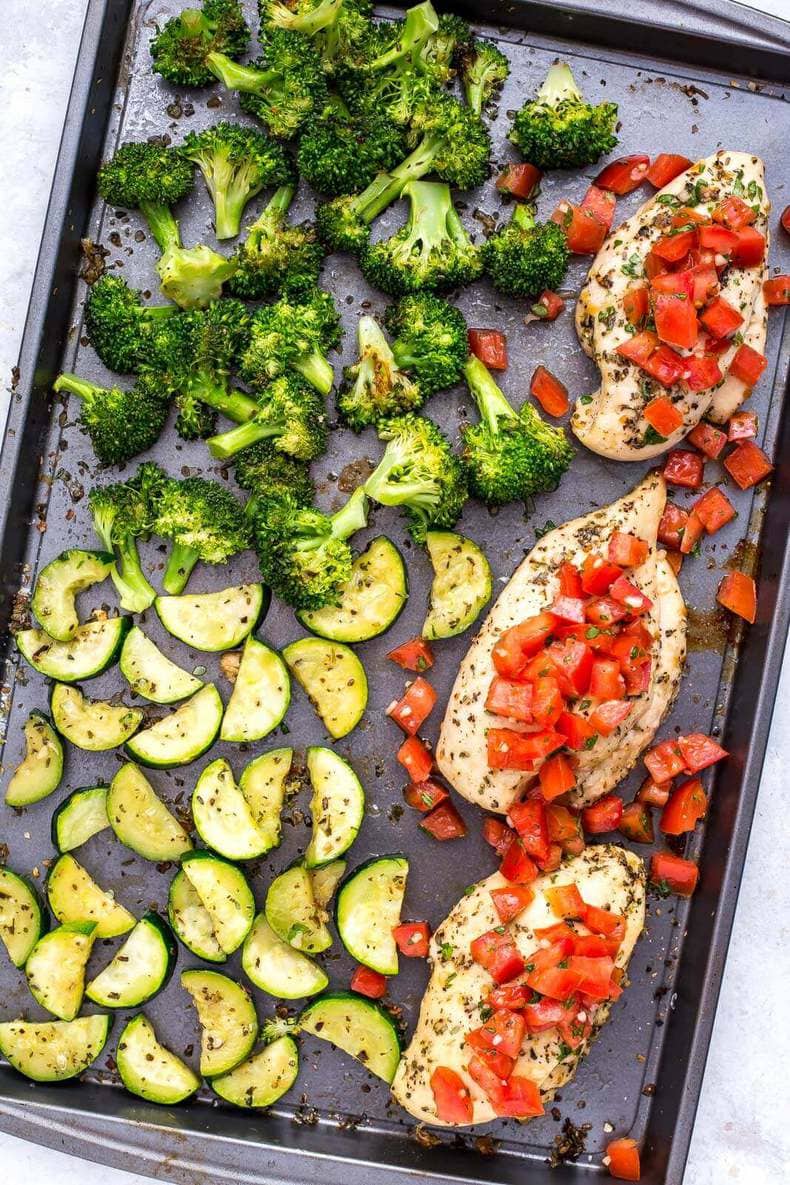 Skip the Ads and Get Right to the Recipes!
ZERO ADS on over 600 recipes!
Weekly Meal Plans, Grocery & Prep Lists
Bonus eBooks
Weekly Meal Prep Routine
There are 5 basic steps (plus one bonus step!) that I follow when I go to meal prep every week:
1) Choose 2-5 recipes from your Master List
I love to use Pinterest to organize my meal prep ideas (check out my boards) and then depending on my schedule that week, I'll go through and choose 2-5 recipes to make. These recipes usually double as lunches and dinners! Then, I just have a few easy breakfast items on hand because I personally don't often have time to prep breakfast – though it is a thing I have prepped in the past.
Start small, and then you can add on more recipes as you get comfortable batch cooking and meal planning. Even if you only make one recipe for your first week and take it for lunch, that's the start of a healthy habit!
2) Sit down and make your meal plan
Make the effort to sit down and plan out your meals at least once a week, even if you have to schedule that planning time into your calendar. Most people meal plan on a Saturday or Sunday morning, but all you really need is a quiet moment in your day. That could even be during your lunch break on a Thursday or Friday as you look ahead to see what's on your calendar for the following week. Just make sure to MAKE THE TIME.
From there, you'll add your recipes from your Master List into your meal plan. I have a free meal planner and shopping list for you to enjoy for free when you subscribe to my email list. You can subscribe here for a free Meal Prep Challenge where you can download your planner!
3) Go grocery shopping
Grocery shopping can seem like a huge chore but you just need to make your list efficiently and shop during downtimes (think after work or during the evenings on weekends). I will often copy and paste ingredient lists for my recipes since I get most of my recipes online, and then I'll go through my kitchen and strike off any items that I already have.
From there, you'll want to list your ingredients in order of the grocery store sections – group the meats, dairy, grains and produce together so you can whip in and out of the store efficiently. I've rounded up all my grocery shopping tips if you need any additional help in this area.
4) Prep your ingredients or batch cook
I usually batch cook breakfasts and lunches on Sundays and then leave dinners during the work week until after work.
Alternatively, you can have your dinner cooking all day in the slow cooker or speed things up by using your Instant Pot.
Freezer meals where you assemble all raw ingredients ahead of time and pull out to cook the day-of can also be a great way of meal prepping ahead of time without having to do a bunch of cooking.
In either case, you'll either prep your ingredients on the same day you do your groceries (cook meat, cook and shred chicken, cook rice/quinoa, chop veggies, etc.) so that it's faster to cook your weeknight dinners, or you'll want to batch cook entire meals ahead of time so all you have to do is reheat the day-of.
You can also do a buffet style meal prep with prepped ingredients, and use those ingredients to make quick meals such as salads and pita pizzas. The way you choose to do your prep depends on how much time you have to cook that week, as well as personal preference. I often do a mix of both!
5) Store your food in the right containers
After you have cooked or prepped any ingredients for meals that you're going to cook later in the week, you'll want to store your food in the right containers. I have a list of my go-to meal prep containers below. HINT: you don't need a million different gadgets. Just some glass meal prep containers, freezer bags and round bowls will often do the trick!
6) BONUS: Repurpose your leftovers
If you have time, I recommend that you try to get creative with your leftovers! I will usually do things like load up frozen fries with extra toppings or make pita pizzas, salads, grilled cheeses, stews, curries and more with leftovers. There are so many options to turn your old food into something new!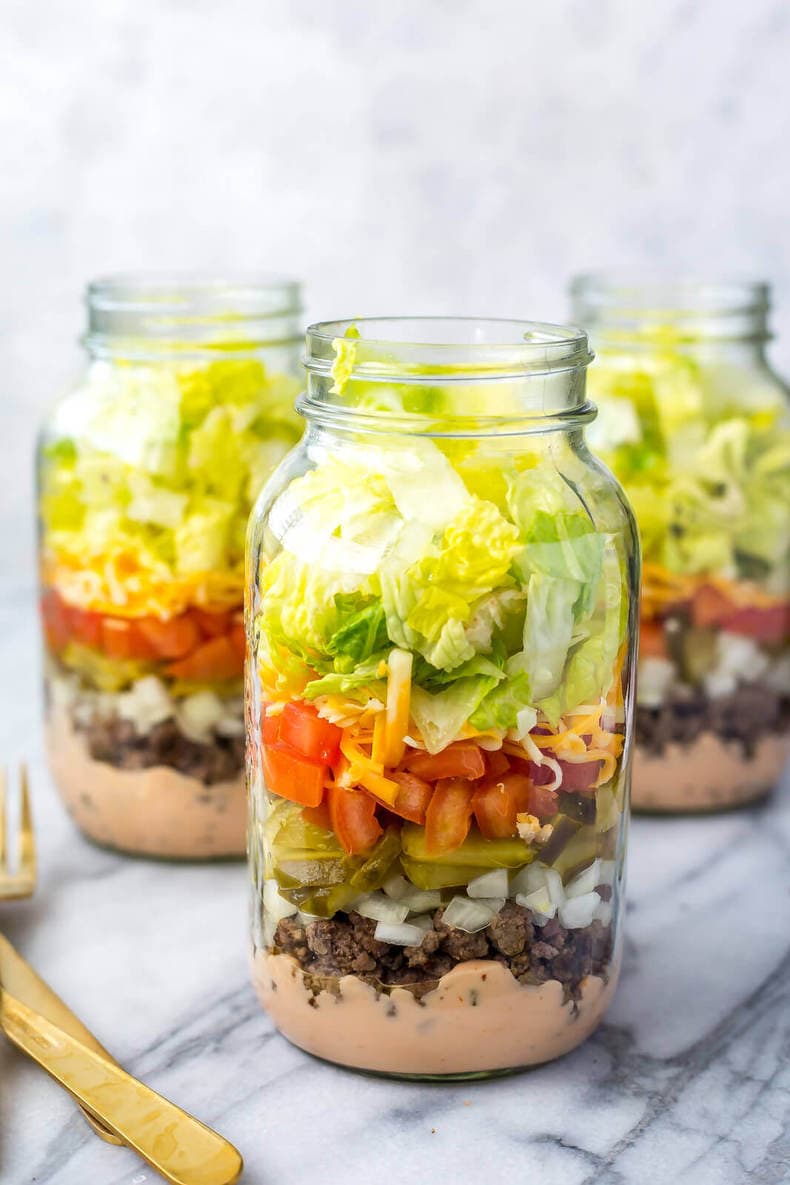 How long do meal prep meals last in the fridge?
You can typically expect most meal prep recipes to last for 3-5 days. It does depend on the ingredients used though. Here's a general guide:
Meats and chicken have about a 5 day shelf life
Spinach and lettuce starts to brown after 3-4 days unless you add them separately
Any sauces or salad dressings (see my 5 homemade salad dressing recipes here) will last for a couple weeks up to a couple months
Any food you freeze (soups, stews, pastas and certain curries freeze best) will typically last up to 3 months – check out my dump dinners here, which are perfect for the freezer
Homemade snacks such as protein balls will last for 1-2 months in the fridge as well.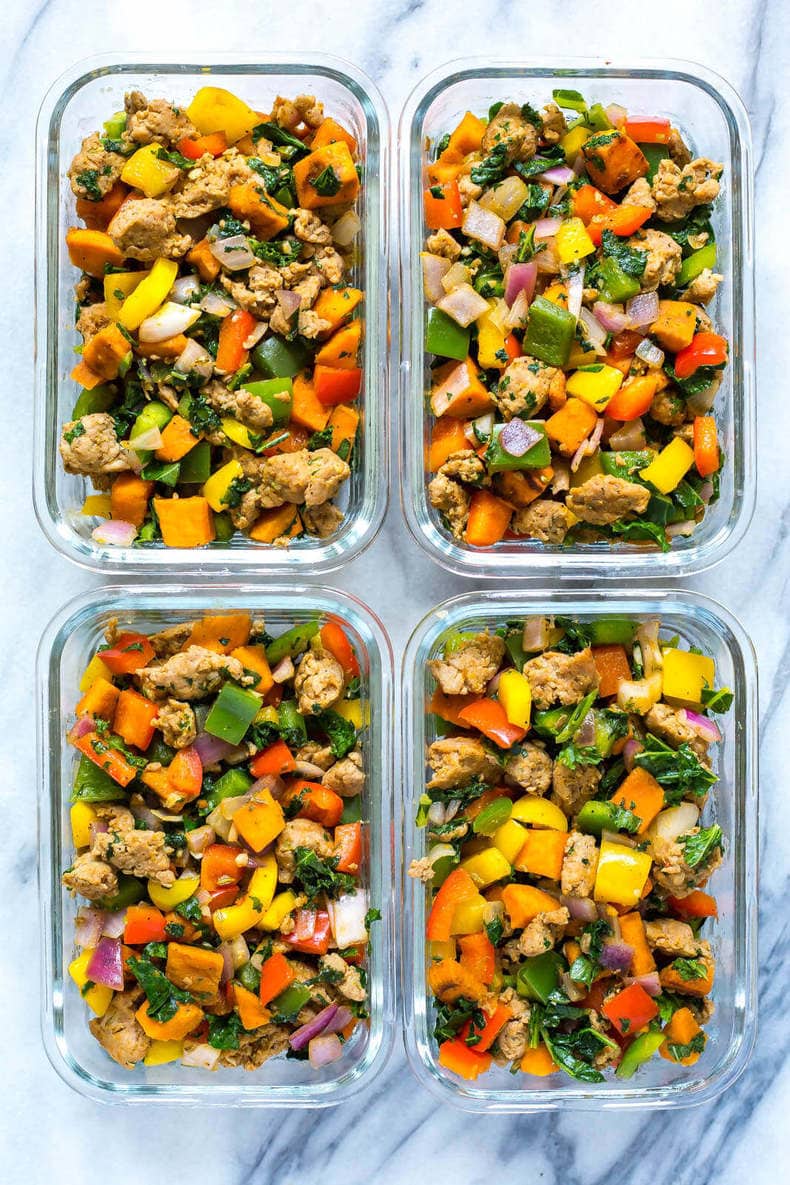 The Best Meal Prep Containers & Tools
Once you've mastered your own meal prep routine and figured out what you're going to do, you want to make sure you have the proper gear to store it all!
Here are my go-to meal prep containers:
Meal Prep Recipes
To help you get started on your new meal prep routine, I rounded up some of my favourite meal prep recipes from breakfast to dinner!
Meal Prep Breakfast Ideas
I love freezer-friendly and make-ahead ideas for breakfast like some of these ideas below:
Meal Prep Lunch Ideas
I love batch cooking my lunches in meal prep bowls or repurposing my dinner leftovers as a tasty meal the next day. Here are some of my fave lunch recipes:
Meal Prep Dinner Ideas
Dinner can be tough to prepare ahead of time, but you can make freezer-friendly recipes or have food ready to dump into the crockpot. I rounded up some easy dinner ideas below:
Wanna Learn How To Meal Prep?
My meal planning service, Dinner Prep Pro, removes the guesswork and helps you get dinner on the table in 15-20 minutes each night. My meal prep checklists only take 1 hour each week!
More meal prep resources
Looking for more meal prep recipes and resources? You'll love these articles – they're filled with recipes to help you get started with your meal planning!