This Crock Pot Chicken Teriyaki is made with just FIVE ingredients and cooks on low all day in the slow cooker so it's perfect for hands-off meal prep!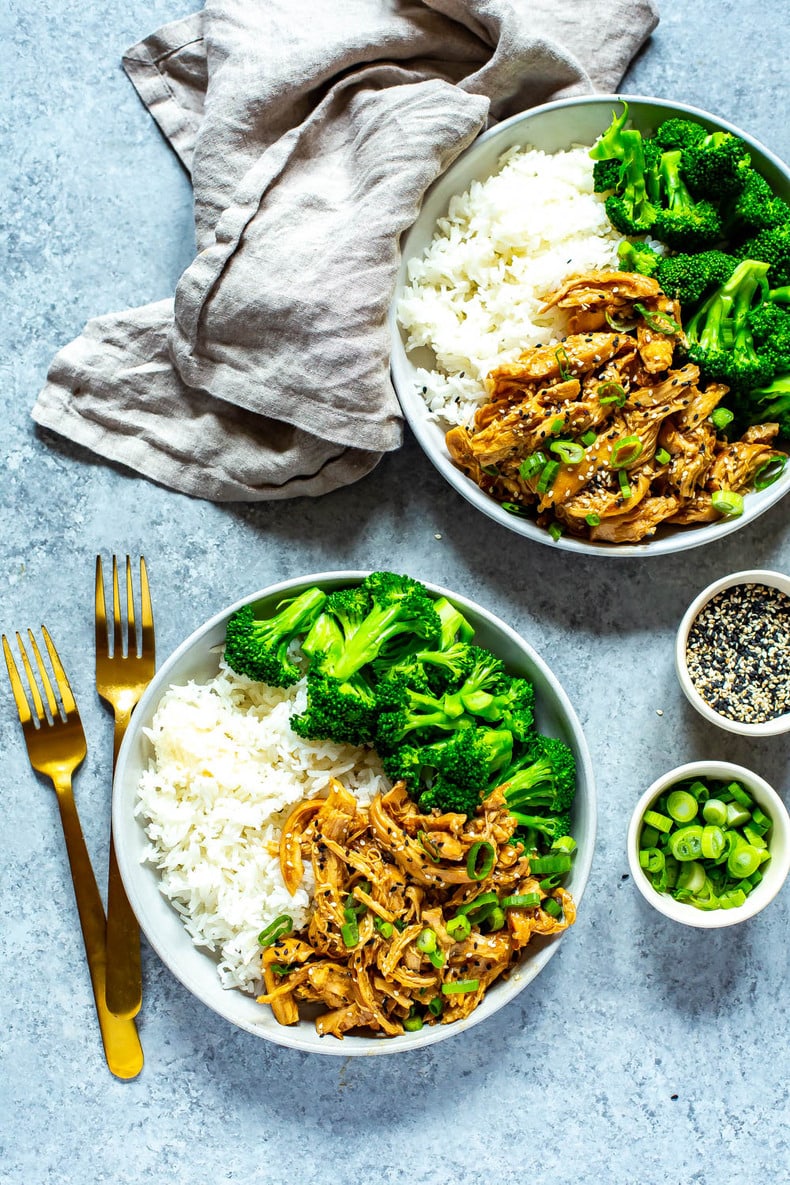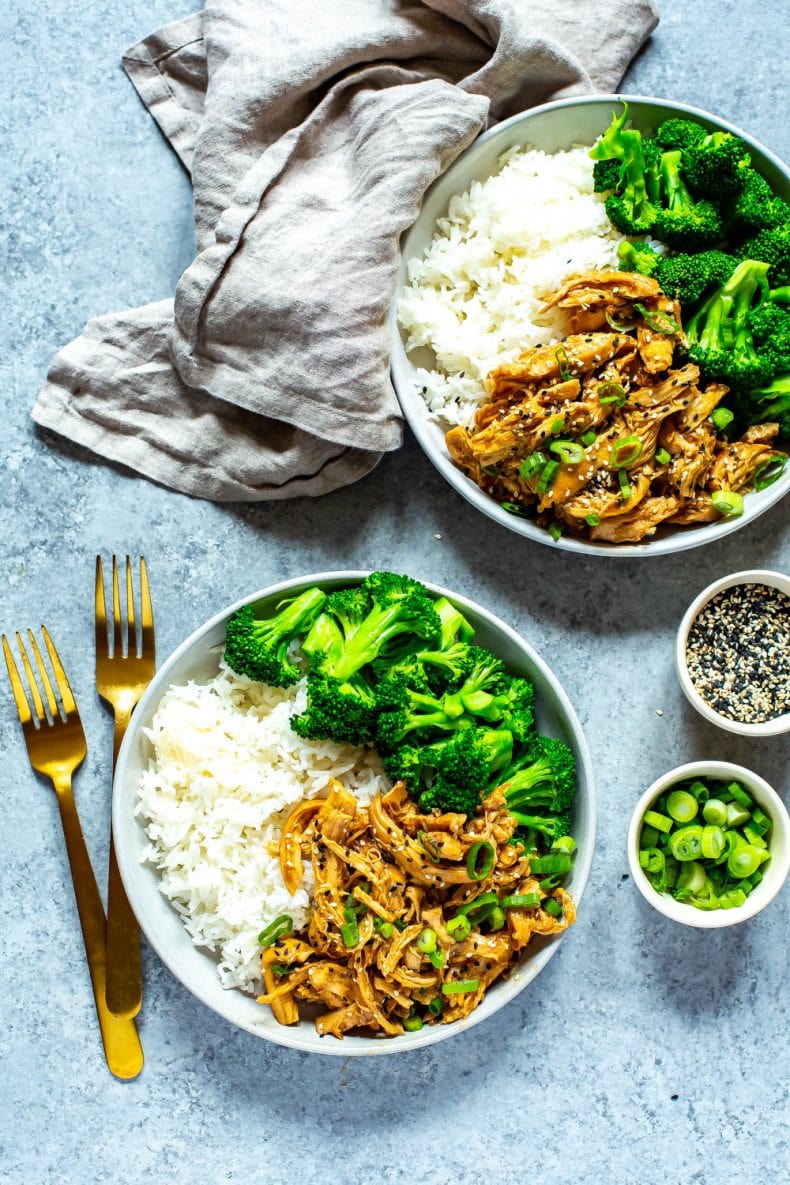 Benefits to making chicken teriyaki in a slow cooker
Although a slow cooker isn't ideal for every cooking situation, it does offer some great advantages for this chicken teriyaki recipe:
Convenience: Crock Pots can usually be left unattended all day. Just put your teriyaki ingredients in before going to work and come home to a ready-to-eat meal!
Less clean up: You only need to clean the one pot when you're done cooking.
Save on electricity costs: A slow cooker uses less electricity than an oven, which can save you money in the long run.
Perfect for hot summer days: You can enjoy this Crock Pot Chicken Teriyaki all summer long without heating up your kitchen like using the oven would.
More cooking space: When you're having a large gathering and preparing lots of dishes, making slow cooker Chicken Teriyaki can free up oven and/or stove top space.
Portable: Speaking of large gatherings, Crock Pots travel well. Take your slow cooker to your next potluck and just plug it in!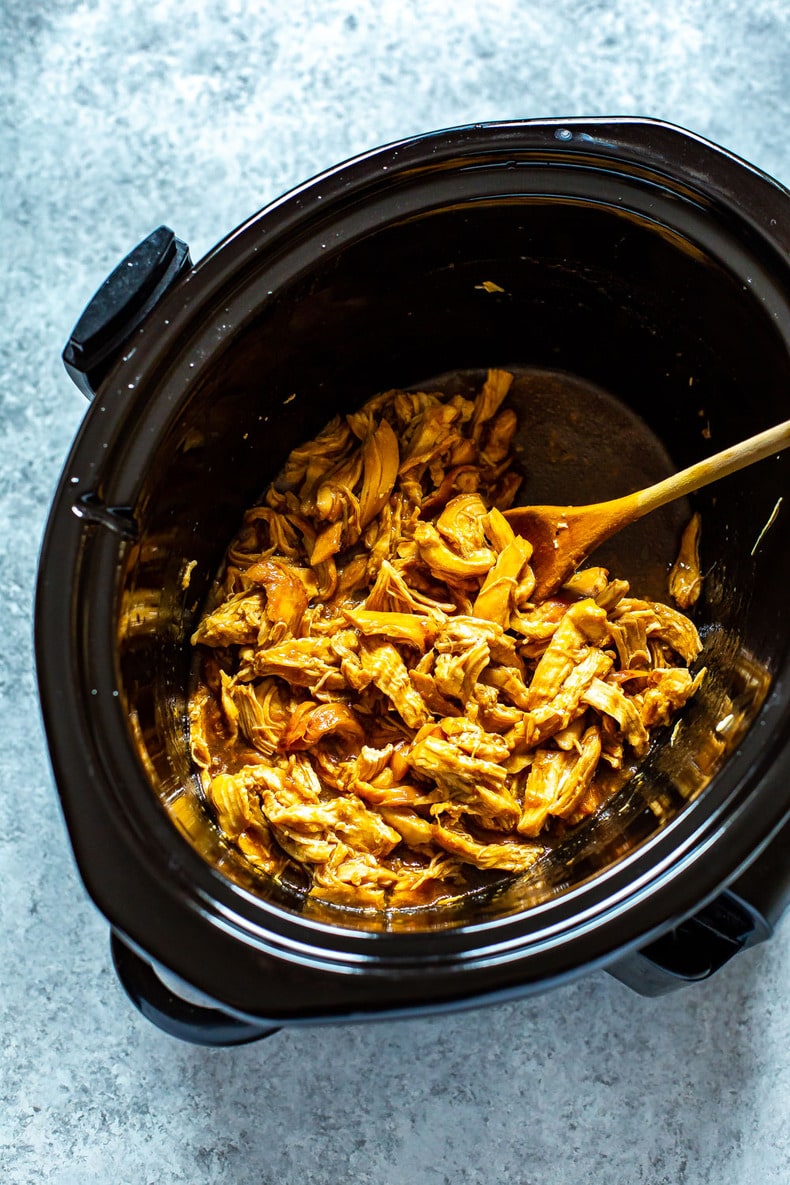 What is Teriyaki?
Teriyaki is a Japanese cooking term for food (usually meat) that is dipped or brushed with a sauce, then grilled or broiled.
Teriyaki sauce is traditionally made with soy sauce, sake or mirin and sugar or honey as a sweetener. Nowadays, there are many different variations in use but almost all Teriyaki sauces include soy sauce and some kind of sugar (for sweetness).
You can easily make your own teriyaki sauce at home with ingredients found in your pantry, but you can also buy the bottled sauce to make this recipe super quickly and conveniently.
In Japan, teriyaki is often used on fish, while in North America, chicken, pork, lamb and beef are more popular. This Crock Pot Chicken Teriyaki recipe is a modern and convenient way to cook the popular Asian-inspired dinner at home. You'll get all the flavour without having to use your stove or BBQ!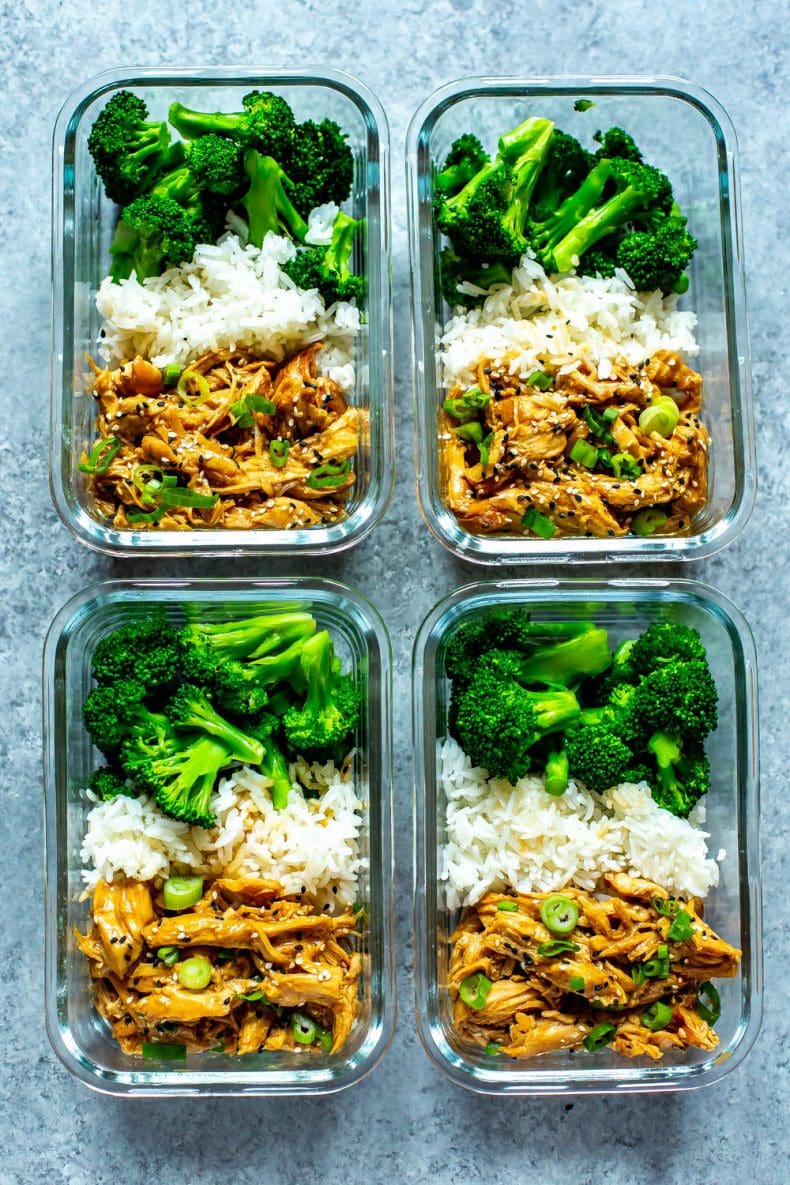 Meal Prepping Chicken Teriyaki
Turning this recipe into your weekly meal prep is super easy!
Cook the chicken, shred it and toss in the sauce from the slow cooker. Divide the mixture evenly into four glass meal prep bowls.
While the chicken is cooking, cook your rice in a slow cooker and steam your broccoli. I usually just throw the broccoli into a pot of boiling water for 2 minutes or you could use a steamer.
Assemble your meal prep bowls and you've got leftovers for the next 5 days!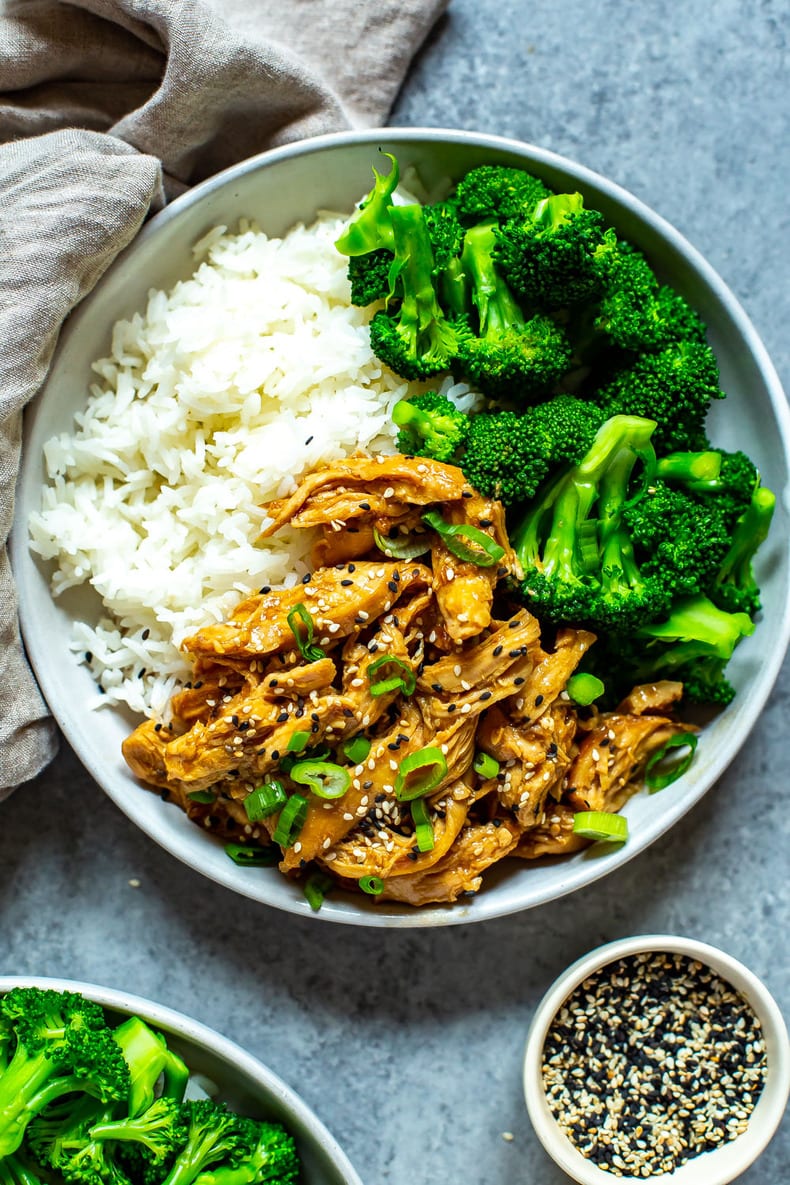 Is it safe to cook raw chicken in a slow cooker?
Yes, as long as you follow the general food safety rules shown below, it's perfectly safe to cook raw chicken in your slow cooker. It's so much faster than cooking your chicken ahead of time too!
Use thawed chicken: Make sure the chicken is completely thawed before cooking. Cooking frozen chicken in a slow cooker is not recommended. Be sure to defrost your chicken in the fridge until fully thawed.
Hit the right temperature: Make sure that your chicken is cooked to an internal temperature of 165°F (75°C). A meat thermometer will help ensure that the proper temperature has been met. When using a meat thermometer, insert the probe into the thickest part of the meat.
Use boneless, skinless chicken breasts: They cook a lot faster and more consistently than bone-in chicken breasts
Cook for the right amount of time: The full 8 hours on low is recommended for this recipe. You can sometimes cook on high for 4 hours but I do not recommend this
Can you freeze chicken teriyaki?
Yes you can! There are a couple of different ways you can do this.
Cook the chicken, shred it and toss in the sauce, then freeze in glass microwave-safe bowls up to 3 months
Marinate the whole raw chicken breasts in a freezer-safe Ziploc bag (use these Ziploc bag holders to help with this), then store up to 3 months. Defrost the chicken in the bag, then cook as directed below
I wouldn't recommend freezing the broccoli but you could always freeze the cooked chicken and cooked rice together in meal prep containers. You could also buy frozen broccoli to include in the freezer meal prep bowls then defrost all ingredients all at once. Just be forewarned that frozen broccoli is not near as good as fresh steamed broccoli but it does help with the convenience factor.
When you're ready to reheat the cooked food, sprinkle a little bit of water overtop then microwave on high for 4-5 minutes, stirring halfway through.
Is Crock Pot Chicken Teriyaki healthy?
This slow cooker Chicken Teriyaki is a good source of protein and other nutrients. However, depending on how it's made, it can be high in fat, sodium and calories.
The chicken teriyaki recipe below keeps things healthy by using olive oil and low-sodium soy sauce, and it limits added sugars in the sauce. The hoisin sauce does have quite a bit of sugar so if you're looking to make the sauce even healthier, cut the amount of hoisin sauce in half and replace with soy sauce.
You can also pair this Crock Pot Chicken Teriyaki with healthier side dish options, like steamed broccoli and whole grain rice. I like adding in some sliced carrots and red peppers too for extra colour.
What side dishes for Slow Cooker Chicken Teriyaki?
Crock Pot Chicken Teriyaki pairs really well with many other side dishes. Try to keep the side dishes light and subtle-flavored to best highlight the taste of the chicken. Some side dish suggestions include:
-Steamed or stir-fried vegetables. Popular Asian stir fry veggies include any/all of the following:
green beans
carrots
broccoli
cauliflower
mushrooms
snow peas
bok choy
water chestnuts
bell peppers.
-Rice noodles or lo mein – I love switching it up and using noodles instead of rice!
-Rice side dishes – Choose flavourful versions, like cilantro lime rice, coconut rice, or cauliflower fried rice. Any of them will pair well with chicken teriyaki.
Wanna Learn How To Meal Prep?
My meal planning service, Dinner Prep Pro, removes the guesswork and helps you get dinner on the table in 15-20 minutes each night. My meal prep checklists only take 1 hour each week!
Other chicken teriyaki recipes:
Meal prep tools:
Grab some glass meal prep bowls if you plan on turning this Crock Pot Chicken Teriyaki into your weekly lunches.
I get all my free-range chicken from Butcher Box, conveniently delivered to me frozen.
Get a meat thermometer to make sure your chicken is cooked through
Use these Ziploc bag holders if you're marinating the chicken then freezing it
Freeze this recipe in glass microwave-safe bowls up to 3 months
Crock Pot Chicken Teriyaki
This Crock Pot Chicken Teriyaki is made with just FIVE ingredients and cooks on low all day in the slow cooker so it's perfect for hands-off meal prep!
Print
Pin
Rate
Click Here to Remove Ads
Servings: 6 people
Calories: 312kcal
Ingredients
1 tbsp olive oil
3 chicken breasts
1/3 cup low-sodium soy sauce
1/2 cup hoisin sauce
4 cloves garlic, minced
4 scallions, sliced (optional, for garnish)
Sesame seeds (optional, for garnish)
Optional side dishes
2 cups cooked rice
1 bunch broccoli, steamed
Instructions
Add olive oil, chicken, soy sauce, hoisin sauce and garlic to Crock Pot in that order, then cook on low for 8 hours.

Meanwhile, make side dishes if desired. To steam broccoli, I usually use a steamer or boil in water for 2 minutes on the stove before draining.

To make rice: Add 1 cup dry white rice, 2 cups water and 1 tsp of butter to a rice cooker.

When chicken is done cooking, shred or dice into bite-sized pieces then add overtop of rice and serve with broccoli. Enjoy!
Video
Nutrition
Calories: 312kcal (16%)Carbohydrates: 33g (11%)Protein: 29g (58%)Fat: 6g (9%)Saturated Fat: 1g (6%)Cholesterol: 73mg (24%)Sodium: 1008mg (44%)Potassium: 831mg (24%)Fiber: 3g (13%)Sugar: 8g (9%)Vitamin A: 745IU (15%)Vitamin C: 93.2mg (113%)Calcium: 74mg (7%)Iron: 1.9mg (11%)