These Overnight Oats recipes are perfect for busy mornings when you don't have time for breakfast – try these 9 recipes to get started!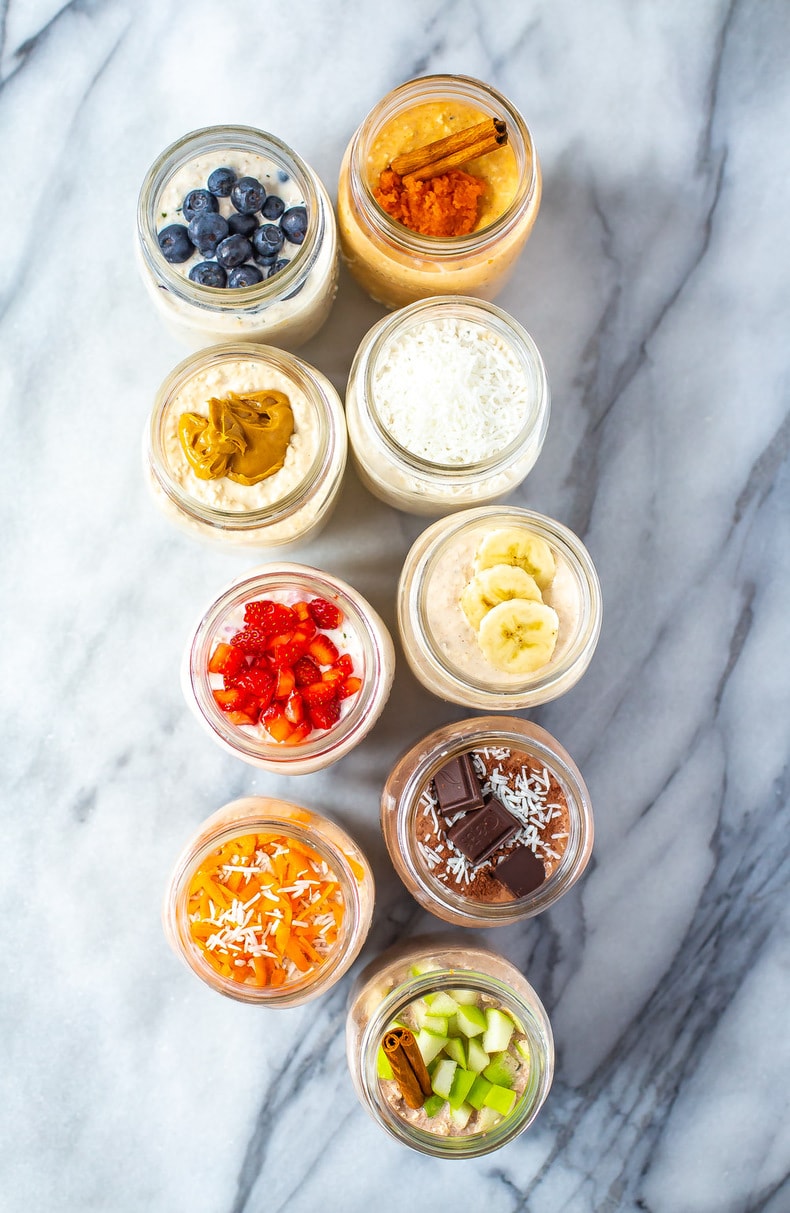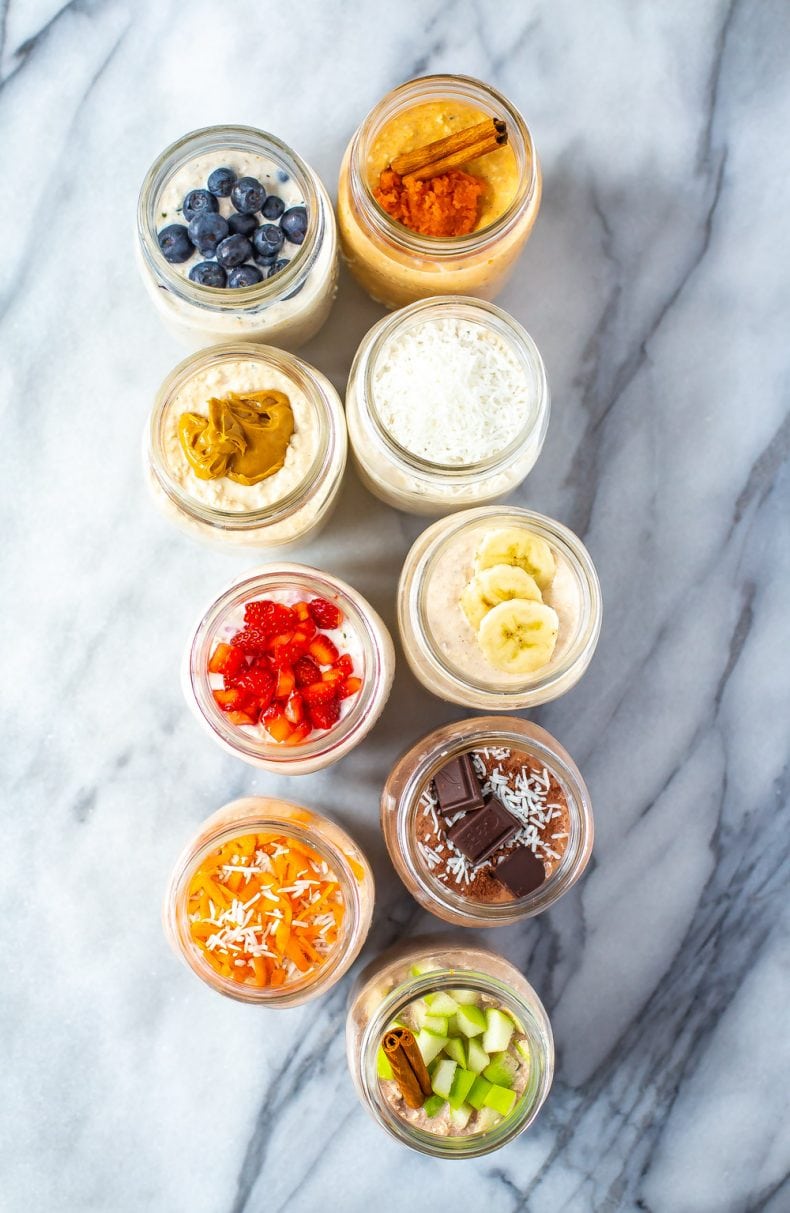 How to make overnight oats
All that is necessary for overnight oats is your favorite kind of milk (dairy or non-dairy) and rolled oats. Greek yogurt and seeds are optional but give the oats more flavor and texture. I prefer almond or coconut milk and Greek yogurt, although you can use other kinds of milk and even the Greek yogurt is optional.
Here is the basic formula in bullet form:
1/2 cup dry oats
3/4 cup milk of choice
Optional overnight oats add-ins:
1/4 cup Greek yogurt (for protein)
1 tbsp hemp hearts, chia seeds or flax seeds (for extra protein, healthy fats and fibre)
Add-ins and additional flavour options are listed below – everything from banana bread to carrot cake, there are so many different flavour combos and this is your chance to add healthy fruits and veggies that will boost the nutrition and make this a full meal!
Are overnight oats healthier than cooked oats?
In a word- yes. Overnight oats are easier to digest and have more nutrients, particularly resistant starch, than cooked oats. The heating process required for regular oatmeal destroys the healthy fiber, so ultimately, you won't have a boost for healthier digestion. In comparison, overnight oats are never heated. Instead, they soak up the moisture from the liquid they steep in.
Which oats are best for an overnight oats recipe?
Old-fashioned regular or thick rolled oats are best for this overnight oats recipe. While steel cut oats are popular for cooked oatmeal, their texture makes them too firm for this recipe.
One-minute oats are a quick and convenient option to use when making this recipe. However, keep in mind that the consistency and soaking time will change. Quick oats will only need to soak for about 30 minutes. They will also be thinner when completed, regardless of soaking time – although maybe you prefer your oats that way!
Overnight oats add-ins
The beauty of this recipe is that the basic ingredients can be improved upon in hundreds of ways. Start with any one of my nine suggestions and then get creative with your favourite flavour combinations!
Choose the flavour you want for your oats – pictured below are the nine recipes you can start out with.
Peanut butter
Banana bread
Chocolate
Blueberry
Strawberry
Apple cinnamon
Pumpkin pie
Coconut
Carrot cake
How long do overnight oats need to sit?
Put the mason jar of prepared oats into the refrigerator for at least two hours. Overnight soaking is perfect for a breakfast with no morning prep time. Overnight oats will keep in the refrigerator for up to five days, so they're perfect for meal prep! Batch enough for the whole week on Sunday evening and as a result, you won't have to think about breakfast at all!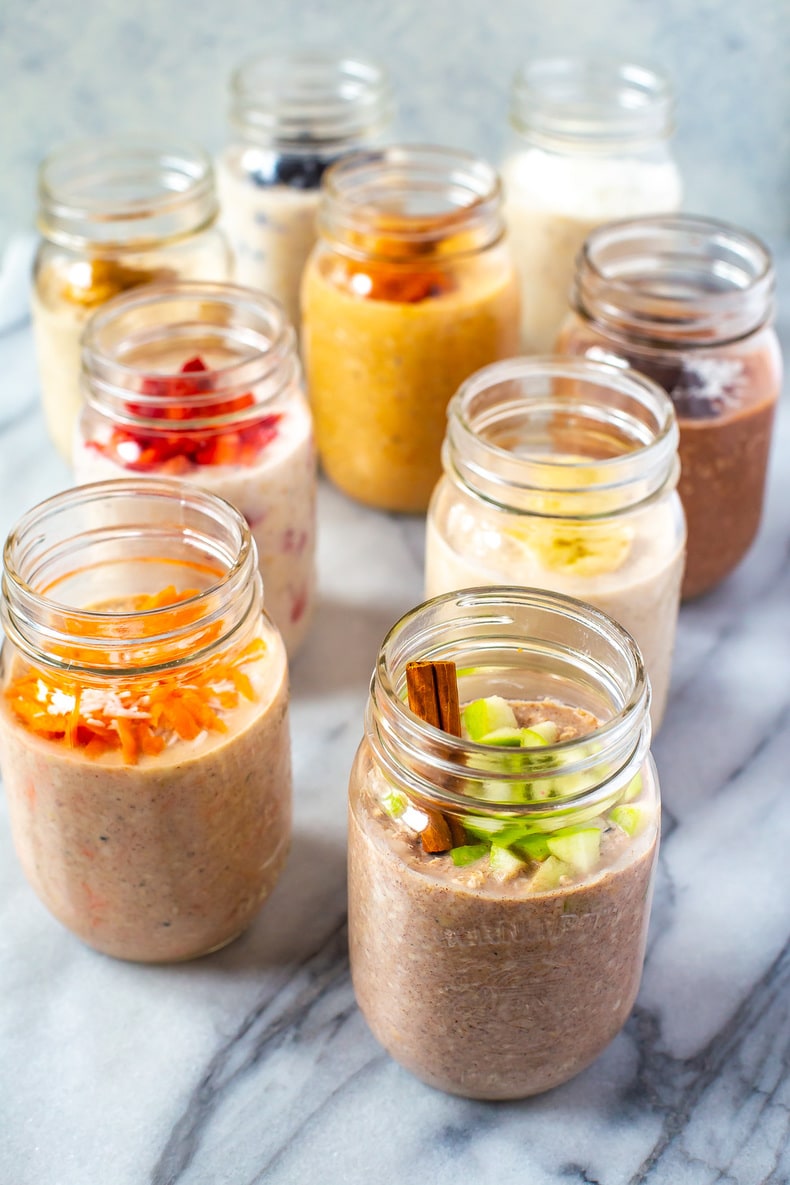 Meal prepping overnight oats
I like to make overnight oats ahead of time on Sundays for the busy work week ahead. The great part is that these jars will last up to 5 days in the fridge so all you need to do is make the base (milk, oats and Greek yogurt if desired), then add your flavorings of choice. You could in theory make all five of the jars different flavours so long as you have the right ingredients on hand!
Do you eat overnight oats warm or cold?
By definition, overnight oats are intended to be eaten cold. They do not need to be heated to absorb the liquid into the oats because they soak for at least two hours. If you prefer hot oatmeal, pop the whole jar into the microwave before eating. Keep in mind though that heating does decrease the amount of healthy starch in the oats, and I would not recommend heating if you have added Greek yogurt.
Can you freeze cooked oats?
Any kind of cooked oatmeal, including these overnight oats, can be frozen for up to six months in an airtight container. Add a little bit of water before freezing.
Freezing the oats in a muffin tin and then transferring the individual servings to a freezer bag will provide your family with portions appropriate for breakfast that will just need to be reheated. Reheat the oats in the microwave for 2-3 minutes depending on serving size for a healthy and quick breakfast.

Are overnight oats good for weight loss?
I'm technically not a weight loss resource and instead focus on healthy eating and clean eating in general. However, if you are trying to focus on your diet and nutrition, I will say that overnight oats are a great breakfast in SO many ways. They are high in fibre, and with the added protein sources such as Greek yogurt and hemp hearts (or other seeds), you will stay fuller for longer.
These oats are also great as a grab and go breakfast, ensuring that you will actually eat breakfast each day and kickstart your diet on the right track. Just be aware that everything you eat will affect weight loss or weight gain and that oats alone will not help you lose weight. But when you add them to a healthy diet and lifestyle, they may assist in the weight loss process.
Read more about meal prep and weight loss here.
Can you make overnight oats without milk?
You definitely can – just sub in water if you don't want that creamy texture. If you need your oats to be dairy-free I recommend using almond, coconut, soy or cashew milk just because the creaminess is part of the appeal. But it really is the fillings that bring the flavor so if you don't have any milk of any kind on hand, water will do.
Making overnight oats vegan
This is super easy to do! Use non-dairy milk, then skip the Greek yogurt and double up on the hemp hearts/chia seeds/flax seeds so that you still get your protein in. Then just add your fruit, spices, veggies or whatever other flavourings you'd like!
Sweetening overnight oats
You really don't need to do this, but you can make your oats sweeter if you have a sweet tooth in the morning and are trying to move away from sugary cereals, granolas, etc.
Here are some great natural sweeteners:
Honey
Maple syrup
Stevia
Dates
Applesauce
Coconut
Mashed banana
Substitutions for Greek yogurt
There are some vegan coconut yogurts that you can use if you are still craving that yogurt taste, but otherwise you're looking at just adding another protein source for the Greek yogurt if you feel you need something extra to keep you satiated.
Here are some great options for replacing the Greek yogurt – otherwise you can feel free to leave the yogurt out altogether, you won't necessarily miss it!
Nut butters
Extra hemp hearts, chia seeds or flax seeds
Protein powder
Mashed banana
More oatmeal recipes
Meal prep tools for this recipe
9 Overnight Oats Recipes
These Overnight Oats recipes are perfect for busy mornings when you don't have time to cook breakfast - try these 9 recipes to get started!
Print
Pin
Rate
Ingredients
Overnight oats base (makes 4 jars)
2

cups

rolled oats

3

cups

almond or coconut milk

1

cup

Greek yogurt (optional)

1/4

cup

chia, flax or hemp seeds (optional)
Chocolate
1/4

cup

cocoa powder

2

tbsp

chocolate shavings
Strawberry
2

cups

finely chopped strawberries
Blueberry
2

cups

mashed blueberries
Pumpkin
1

cup

pumpkin puree

2

tsp

cinnamon

1

tsp

nutmeg
Apple cinnamon
2

cups

finely chopped green apple

1

tbsp

cinnamon
Carrot cake
2

cup

shredded carrot

1/4

cup

unsweetened shredded coconut

2

tsp

cinnamon
Coconut
1

cup

unsweetened shredded coconut

NOTE: use coconut milk instead of almond milk for your base
Banana bread
2

bananas, mashed

1

tbsp

vanilla

1

tsp

cinnamon
Instructions
Mix together base ingredients of choice in a large bowl. Note that Greek yogurt and seeds are optional - you really only need to mix together milk of choice and oats, then add your flavored add-ins.

Once you have mixed up your base, add your add-ins. Most flavors only require 1-3 ingredients. For instance, if wanting to make the carrot cake overnight oats, mix the carrots, coconut and cinnamon into your overnight oats base.

Divide mixture among 4 mason jars then let sit in the fridge for at least 2 hours, or overnight. Jars will last in the fridge up to 5 days so they are perfect for meal prep!
Video
Nutrition
Calories:
366
kcal
|
Carbohydrates:
37
g
|
Protein:
18
g
|
Fat:
16
g
|
Saturated Fat:
5
g
|
Cholesterol:
2
mg
|
Sodium:
270
mg
|
Potassium:
384
mg
|
Fiber:
8
g
|
Sugar:
4
g
|
Vitamin A:
9610
IU
|
Vitamin C:
2.6
mg
|
Calcium:
338
mg
|
Iron:
4.9
mg
Note: nutrition info is for 1 jar using rolled oats, almond milk, Greek yogurt, hemp seeds and 1 tbsp unsweetened coconut. Nutritional info will vary depending on toppings.