Learn how to meal prep and diet plan for weight loss with tips that are all about being flexible and developing a healthy lifestyle!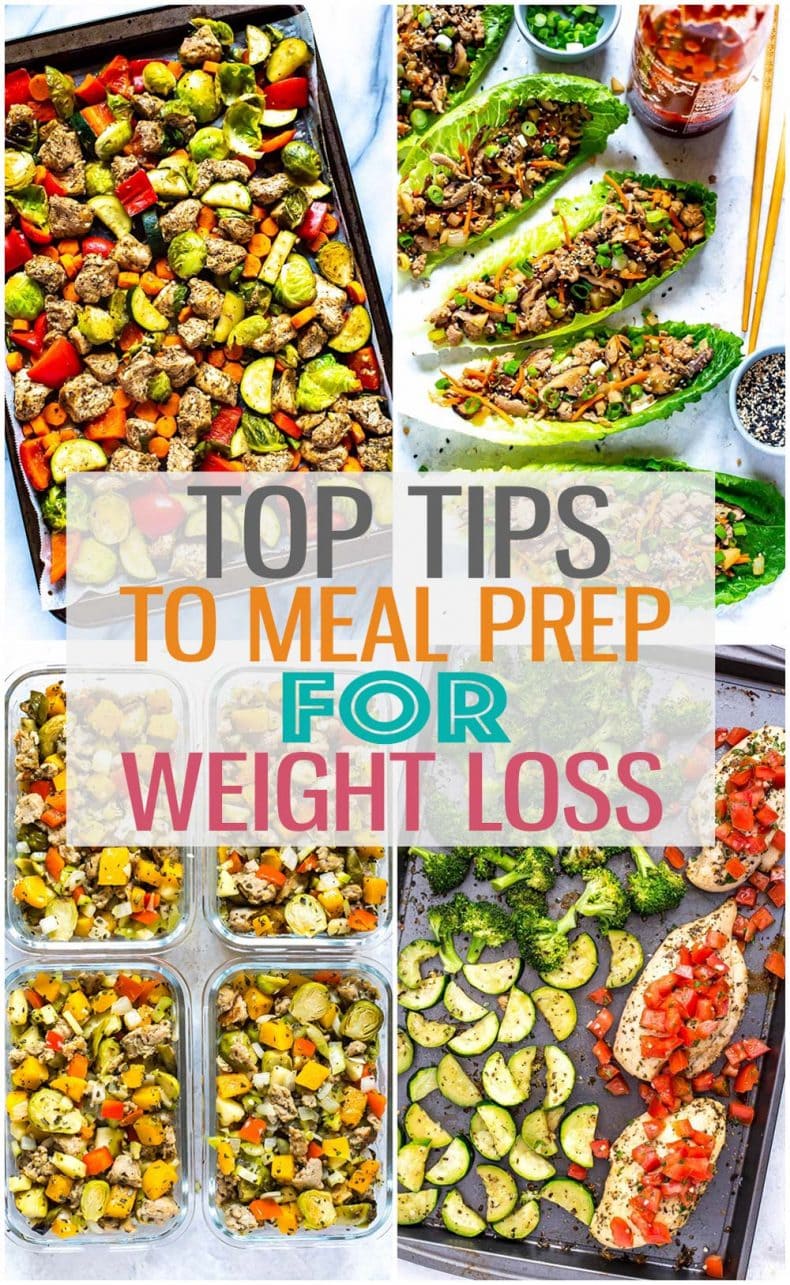 Disclaimer: I am NOT a doctor and this post should not in any way be taken as complete fact or medical advice. Everyone's body and health needs are different and this is not a post detailing or advocating for extreme weight loss measures. If you have experienced body image issues and are conflicted about your reasons for losing weight, you may want to skip this post. I have tried to provide accurate sources and a general overview of how you could possibly achieve weight loss through meal prep. Keep in mind that I'm just a regular person who lost a minor amount of weight through meal prep, healthy eating and exercise and I'm merely sharing my experience and what has worked for me in the past. What worked for me will not work for everybody!
Wanna Learn How To Meal Prep?
My meal planning service, Dinner Prep Pro, removes the guesswork and helps you get dinner on the table in 15-20 minutes each night. My meal prep checklists only take 1 hour each week!
Meal Prep for Weight Loss
When you start meal prepping for the first time, you may notice that you end up losing weight just because you're eating healthier and are more prepared for meal time. I've been meal prepping on and off for the past five years and it's been a key component of self care that has had some pretty amazing benefits. As a result of being more organized with my meals, I've improved my overall health and have also lost some weight (about 25 lbs) while doing it!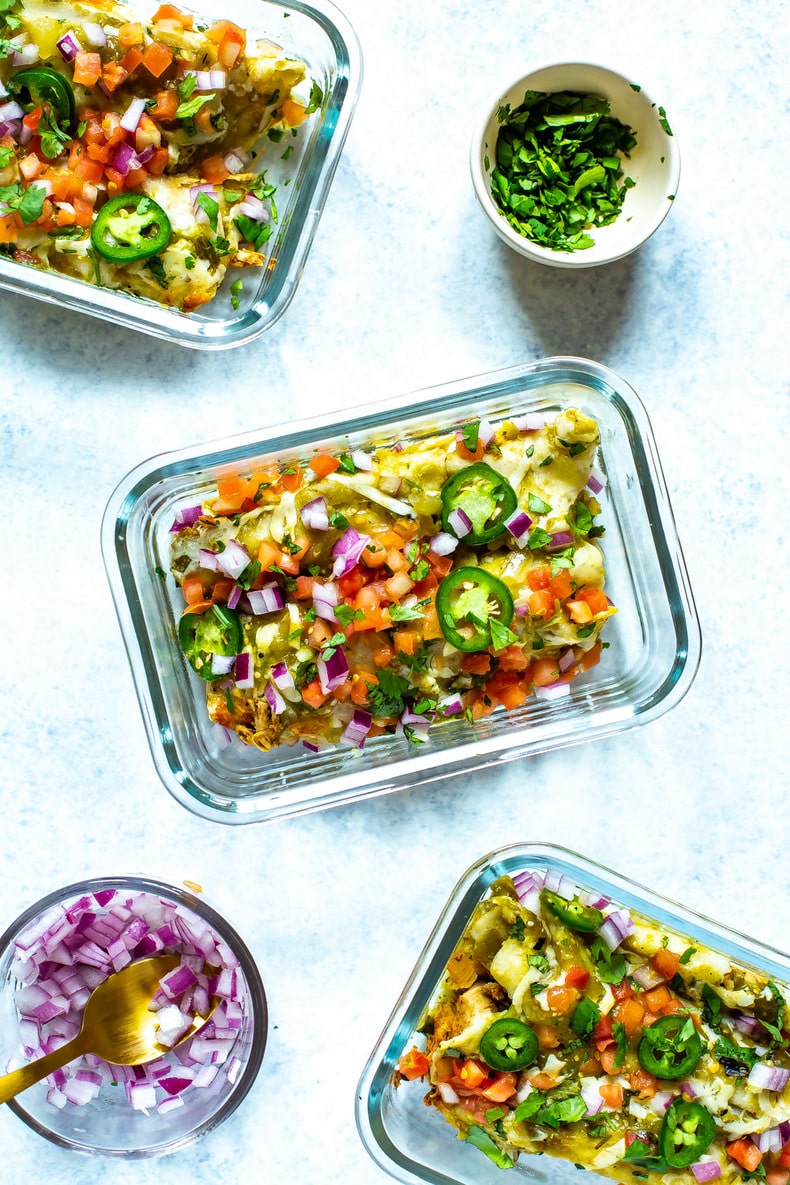 Does meal prepping help you lose weight?
You can definitely meal prep and lose weight.
Whenever you stay organized and control your food portions, you're helping yourself to eat healthier and more mindfully, which can lead to weight loss.
It's also a lot easier to calculate your meal's calorie count when you have cooked the food yourself and know how to divide that recipe into the appropriate portion size. I have nutritional info on all of my recipes and most other food websites offer the same thing.
If you know exactly what you're eating and when, it will definitely help with any sort of weight loss plan. Plus, if you meal prep, you're less likely to eat out at lunch or order takeout after work, and you are also less likely to snack because when you're hungry, the food is right there waiting for you!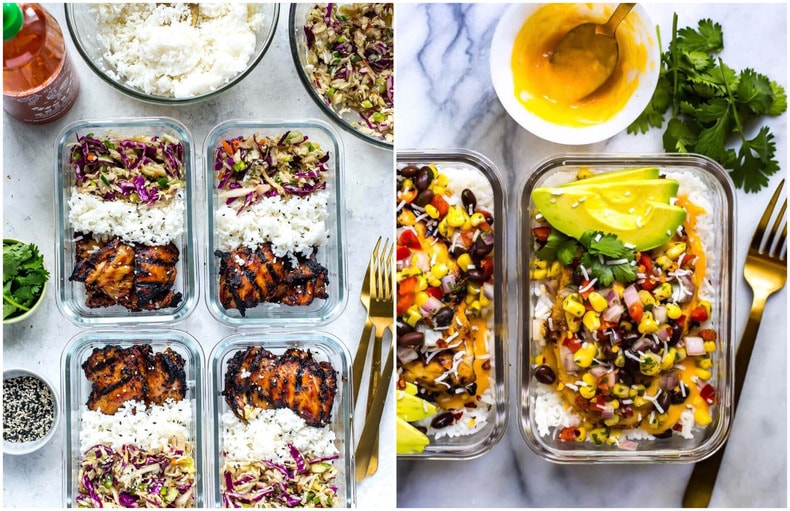 How many calories should you eat in a day?
So, we come to the age-old question then: how many calories should you eat?
Well, the answer is that it really depends. It's mostly based on your gender, height, weight, age and activity level – you can read more about calorie counting and weight loss here.
As a basic rule, you should eat between 1200-1700 calories a day in order to lose weight depending on the factors I listed above. If you are very active, then you should probably eat a little more to make sure you're fuelling your body and have enough energy throughout the day. You can calculate the amount of calories you should be eating per day to maintain your weight and you can also calculate the amount of calories for weight loss so you have an idea of how your body is functioning.
One of the most common misconceptions about weight loss is that you have to starve yourself or restrict what you're eating. The reality is, restricting your diet can actually disrupt your metabolism and cause your body to go into starvation mode and hold onto all the fat you're storing. You'll also likely be pretty miserable.
All of this said, I honestly don't put too much emphasis on calorie counting. It's usually unsustainable in the long run, and while it was something I did for a bit while I had a weight loss goal, I only really stuck to it for four months. After that, I had a good estimate of the amount of calories I was eating each day. You will eventually be able to eyeball how much chicken you are eating, for instance, and how many calories each serving of food is. Now, I place more emphasis on eating mindfully and nourishing my body so that I can be strong, healthy and happy.
You also want to be careful with calorie counting because it can sometimes cause you to form a bad relationship with food.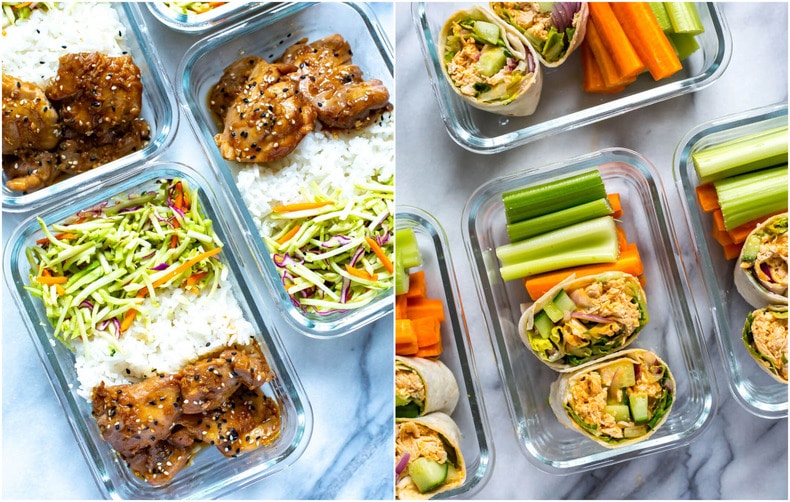 How do I start a meal plan to lose weight?
Meal planning is actually very simple to do once you get started, and it's the key to meal prepping in an organized fashion. While you don't necessarily need to be on a diet plan for weight loss, it does help to plan out what you're going to be eating and when so that you have the right structure to stay on track. It will also keep you motivated to achieve your goals!
If you'd like to learn more about meal planning, I have a super handy post where I detail my meal prep routine so that you can see how I organize my week ahead of time.
Diet Plan for Weight Loss
I typically advocate for recipes to be between 300 to 500 calories when you're looking to experience weight loss based on a 1500-calorie a day diet. Again, this is just an approximate benchmark that will apply to many people, myself included, but definitely not all. You can read more about why a 1500 calorie a day diet usually works for weight loss here. You should be using the calculators mentioned above to help determine how much weight you'd like to lose as well. Context is everything!
As an example, if you were following a 1500-calorie a day diet, then three meals a day at 400 calories each would equal to 1200 calories. You'd have about 300 calories leftover that could be allotted for snacks (let's say two snacks at 150 calories each). I would say you should still be eating about four or five times a day including your snacks, but again, this particular diet plan is what worked best for me.
Any time you start a "diet", you should really factor in what's realistic for your current lifestyle. I really encourage an overall lifestyle change in order to achieve long-lasting weight loss results, especially placing an emphasis on eating whole foods and healthy ingredients. Get rid of the packaged foods and cook healthy meals at home. This is where meal prep helps as part of a diet plan!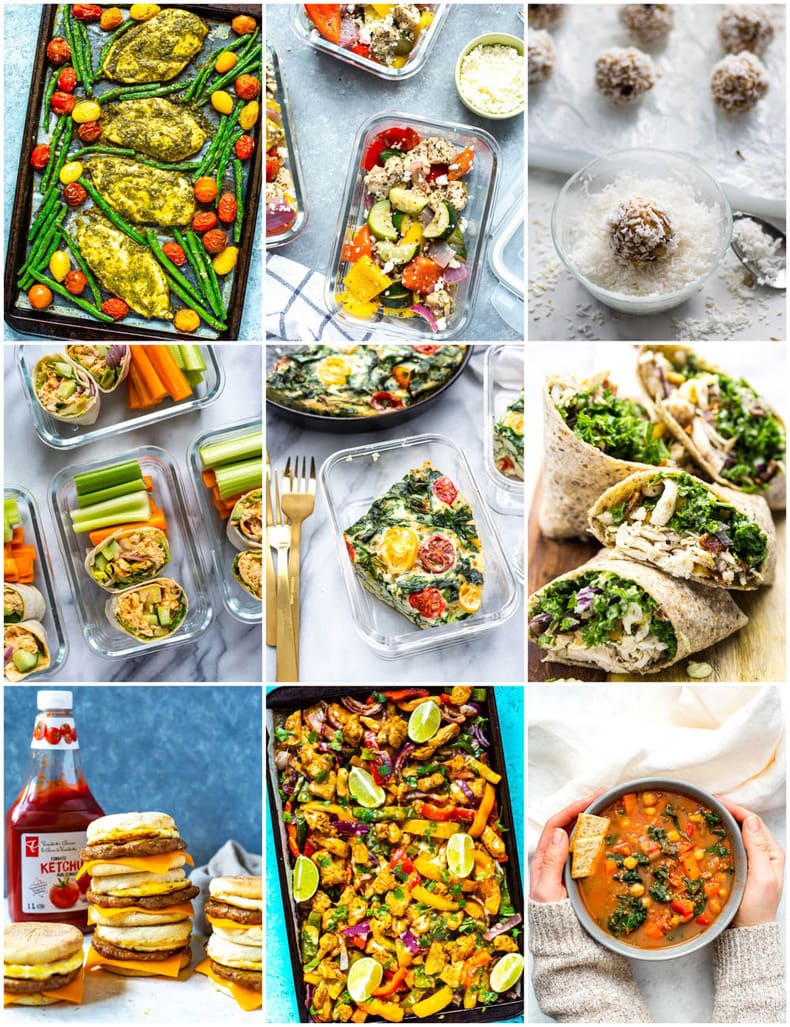 All of the above considered, here is a very simple outline of what a diet plan might look like:
Meal 1: 300-400 calorie breakfast. I will usually go with a slice of egg white frittata and half a bagel, or a sausage egg Mcmuffin.
Meal 2: 100 calorie snack, eaten in the morning. Usually a banana, half an apple and 1 tbsp of peanut butter, a mini Greek yogurt, or veggies and 2 tbsp hummus.
Meal 3: 400 calorie lunch. I love meal prep bowls like this Greek chicken or this buffalo chicken wrap.
Meal 4: 200 calorie snack, eaten in the afternoon. Maybe a protein bar (homemade like these protein bites or store-bought), some salted peanuts or almonds, cold cuts or turkey pepperettes, and more fruit and veggies.
Meal 5: 400 calorie dinner. I love this pesto chicken or these sheet pan chicken fajitas – both are simple meals that come together quickly but still pack a ton of flavour!
The key is to not restrict yourself or develop an unhealthy obsession with food and counting calories. You should still be able to eat the foods you like in moderation and have fun at social gatherings! Always remember that starving yourself won't help with weight loss, so get out there and continue to enjoy your life. Weight loss takes time, consistency and a healthy mindset.
Meal Prep Recipes for Weight Loss
To help you get inspired, I compiled some of my top meal prep recipes. They're all between 300-500 calories so they're healthy and will help you stick to whatever weight loss goals you have in mind.
I recommend starting with one or two of the following recipes and adding them to your meal plan. Once you're comfortable cooking more at home, you can always make more recipes and add more variety to your diet!
French Onion Chicken // Sausage, Peppers and Onions
Gluten-Free Paleo Stuffing (similar to a turkey sausage hash) // Sheet Pan Bruschetta Chicken
Low Carb Stuffed Poblano Peppers // Kung Pao Shrimp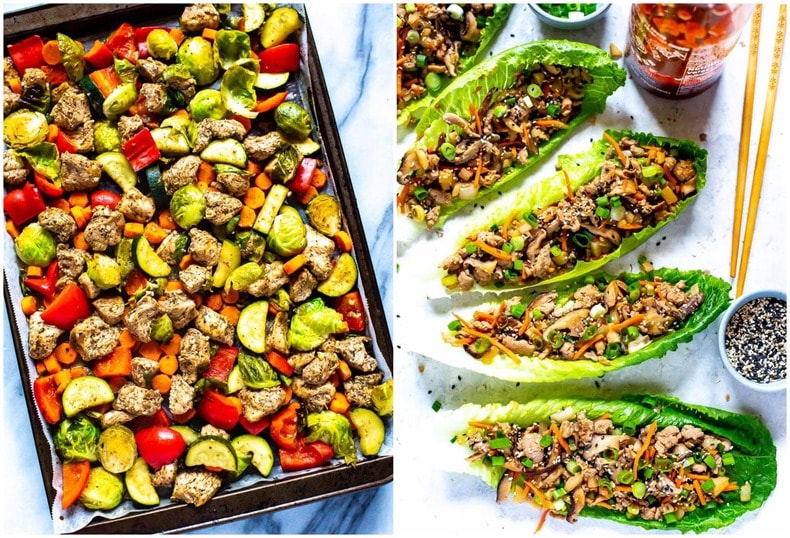 Sheet Pan Balsamic Chicken and Veggies // PF Chang's Lettuce Wraps
Sheet Pan Chicken and Asparagus // Skillet Cashew Chicken
The Best Meal Prep Containers
These meal prep tools will get you started with meal prep and help you stay organized and motivated! It always helps to have the equipment to get the job done right!
Other Meal Prep Resources
If you're looking for more resources on healthy eating and meal prep, I've got a TON of other great resources (browse the archives here).
These are just some of my top posts that are a great way to get started with meal prep and hopefully they will assist you in learning how to cook healthier food at home, which may result in weight loss!
Wanna Learn How To Meal Prep?
My meal planning service, Dinner Prep Pro, removes the guesswork and helps you get dinner on the table in 15-20 minutes each night. My meal prep checklists only take 1 hour each week!