Clean out your fridge with these Leftover Meal Ideas – they're creative ways to use up leftover chicken, steak, rice, taco meat and veggies!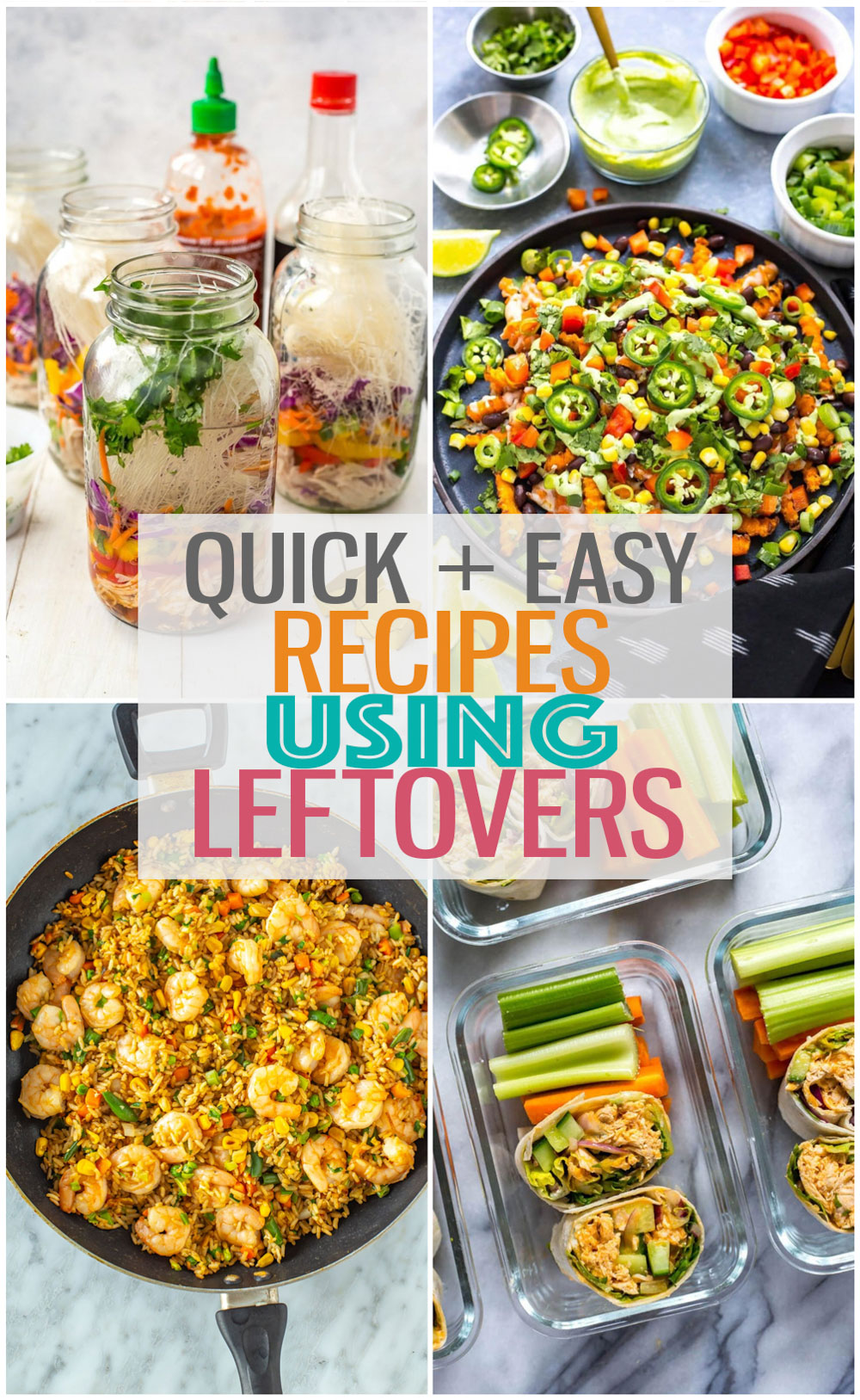 Leftover Recipes
If you find yourself with a bunch of leftovers at the end of the week, don't just throw them in the garbage. You can reduce food waste by repurposing your leftovers into a delicious new meal! There are tons of ways you can reuse leftover protein, veggies and grains. I rounded up some of my favourite leftover recipes that will help you clean out your fridge and make sure nothing goes to waste.
What food makes the best leftovers?
Rice, meat and veggies all make great leftovers as long as they're stored properly (more on that below). I recommend storing things separately where possible to prevent anything from getting soggy. That way, you have the option to either reheat everything as its original dish or make something new. Pasta, soups and pizza or flatbreads are also great as leftovers!
How to store and reheat your leftovers
Airtight glass meal prep containers are my go-to when it comes to food storage. It keeps your food fresh the longest and prevents any of the chemicals you might find in plastic containers from getting into your food. You can also reheat your leftovers right in the container so you'll save room on dishes.
For most of these recipes, your leftovers will be reheated as you cook them with the rest of the ingredients. If you're reheating leftovers on their own, I recommend sprinkling some water over top of any meat or rice to make sure it doesn't dry out. It's also a great way to avoid that dreaded leftover chicken taste!
Watch how to make some of these recipes on YouTube!
Leftover Rice Recipes
Cooked a bit too much rice? Not a problem! Try using it to create fried rice or incorporate it into new dishes like meal prep bowls. Gone are the days of just eating plain, old, boring leftover rice!
Shrimp Fried Rice via The Girl on Bloor // Meal Prep Fiesta Chicken and Rice Bowls via The Girl on Bloor
Sweet Chili Chicken Meal Prep Bowls via The Girl on Bloor // Dynamite Shrimp Sushi Jars via The Girl on Bloor
Leftover Chicken Recipes
One of the most common types of leftovers I have lying around is chicken. Whether it's some shredded chicken from a store bought rotisserie chicken or leftover cooked chicken breasts, I love using it up in different recipes! Soups, salads, and wraps are all quick and easy ways to reinvent your leftover chicken. I've got even more ideas to use up leftover chicken on the blog.
Mason Jar Instant Noodles via The Girl on Bloor // The Ultimate Buffalo Chicken Wrap via The Girl on Bloor
Super Easy Mini Chicken Pot Pies via The Girl on Bloor // Chicken Wild Rice Soup via The Girl on Bloor
Chicken and Kale Caesar Wraps via The Girl on Bloor // Spinach Artichoke Spaghetti Squash Boats via The Girl on Bloor
Leftover Steak Recipes
Have you ever gone to a restaurant and had some leftover steak to take home? I've got you covered with these quick and easy recipes! You won't even feel like you're eating leftovers when it comes to these delicious dishes. I've got even more delicious ways to use up leftover steak on the blog.
30-Minute Steak and Quinoa Burrito Bowl via The Girl on Bloor // Philly Cheesesteak Salad Bowl via The Girl on Bloor
Philly Cheesesteak Stuffed Peppers via The Girl on Bloor // Grilled Steak Gorgonzola Flatbread via The Girl on Bloor
Leftover Taco Meat Recipes
After taco night, I sometimes end up with leftover meat. It's such a fun ingredient to try to use up. I love adding it to pizza, fries, and salad! You can also always build a burrito bowl or have it on top of nachos for something fast and simple.
Meal Prep Individual Taco Pizza via The Girl on Bloor // Taco Bell Nacho Fries via The Girl on Bloor
20-Minute Doritos Salad via The Girl on Bloor // Low Carb Taco Stuffed Avocados via The Girl on Bloor
Recipes Using Leftover Vegetables
One sure-fire way to cut back on food waste is to make sure to use up all of your vegetables before they go bad. These dishes are great for that! You can really mix and match the types of vegetables you use in each of them. Stick to substituting vegetables with similar cooking times for the easiest swaps. However, feel free to play around and experiment!
Easy Loaded Tex Mex Sweet Potato Fries via The Girl on Bloor // Low Carb Instant Pot Egg Roll in a Bowl via The Girl on Bloor
One Pot Pasta Primavera via The Girl on Bloor // Black Bean Stuffed Sweet Potatoes via The Girl on Bloor
Roasted Vegetable Flatbread via The Girl on Bloor // Build Your Own Buddha Bowl via The Girl on Bloor
Sheet Pan Balsamic Chicken via The Girl on Bloor // One Pot Creamy Mac and Cheese Bar via The Girl on Bloor