These 5 Healthy Salad Dressings will last in your fridge up to 2 months! Try Italian, ranch, balsamic, honey dijon and ginger sesame.
Ingredients in homemade salad dressings
Your ingredients will vary depending on what kind of homemade salad dressing recipes you want to make. I like to keep several different kinds on hand at all times. Then I have choices for any dish I want to make and can accommodate my guests.
Most of what you need for homemade salad dressings is probably in your pantry already. But here are the ingredients you want to keep on hand to be able to put a great tasting salad dressing together in no time!
Canola oil
White wine vinegar
Honey
Parmesan cheese
Sour cream
Lemon juice
Garlic
Rice vinegar
Sesame oil
Soy sauce
Dijon mustard
Balsamic vinegar
Standard seasonings like salt, pepper and parsley
How to make homemade salad dressings
Healthy homemade salad dressings couldn't be easier! Just assemble all the ingredients for the variety of your choosing in a jar (I like to use Mason jars). Shake until it is all combined – that's it!
You'll want to give your dressing a good shake again before using, especially if it's been sitting in the fridge for a bit. It's normal for ingredients to separate but using a mason jar helps in shaking everything up easily.
Five different variations
In this recipe, I'm giving you five popular variations on homemade salad dressing. Here they are listed and pictured below:
Balsamic
Italian
Honey dijon
Ranch
Ginger sesame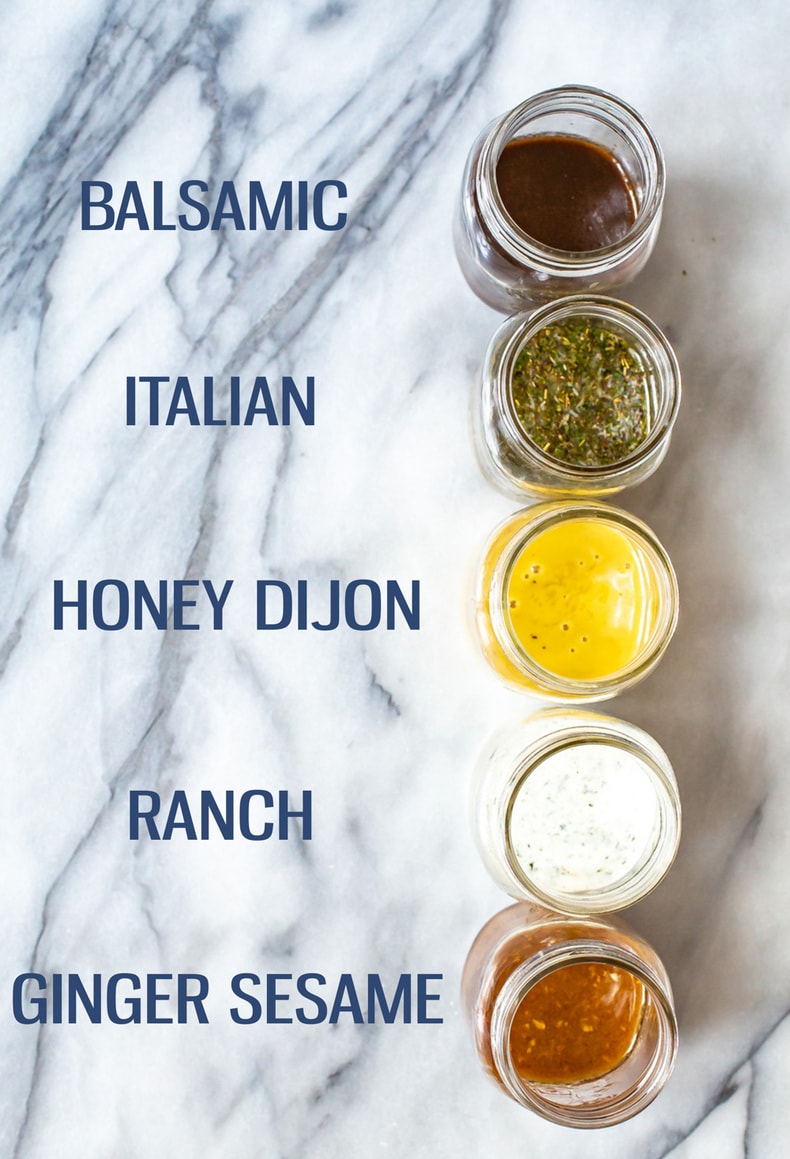 Why make your own salad dressing?
If you've taken the time to make a big healthy salad chock full of fresh veggies, you don't want to ruin it with a salad dressing with questionable ingredients. Making your own is the best way to ensure your salad dressing is fresh and nutritious.
These are just a few of the reasons you should set aside a few minutes to make your own salad dressing:
Store bought salad dressings usually have a lot of refined sugar.
To make salad dressing shelf-stable, manufacturers have to use chemical preservatives.
Salad dressing can be high in bad fats and calories.
When you make your own salad dressing, you know it was made with fresh ingredients.
These homemade dressings taste way better!
It's cheaper to make your own.
You can make salad dressing to fit any eating plan – gluten-free, paleo, keto, Whole30 and more!
The best salad dressing formula
While these five salad dressing recipes give you a great variety to choose from, you can start to make your own combinations once you understand the basic formula for healthy homemade salad dressings.
Get creative with this standard formula:
Two parts oil – I use canola oil in many of these recipes. But you can use sesame oil, extra virgin olive oil, avocado oil and more.
One part acid – vinegar, lemon juice or lime will all do the job here.
One part sweetner or emulsifier – honey and maple syrup are great natural sweeteners, but if you don't use a sweetener you will want to use an emulsifier like mustard or Dijon mustard, which will help ensure that the oil and acid blends together well.
Salt and pepper – always add these, unless you're using a savoury ingredient such as soy sauce.
Herbs – Your choices here can be infinitely unique. Garlic, parsley, ginger, dill – the possibilities are endless!
Ranch is a little different because it is a creamy salad dressing rather than being oil-based. However, you make it much the same way, but the ratios change. Follow the recipe for this one and your ranch will be way better than anything you buy at the store.
Ingredient substitutions
There are some changes you can make to these recipes if you want to create a different flavor.
Use your favorite oil. Canola and vegetable oils are affordable and accessible, but you can use what you like best or have on hand. Each oil has a unique flavor to bring to the dressing. Avocado oil, olive oil, flax seed oil and more will change the flavor subtly.
Change the acid. Any kind of vinegar will also change the taste. Balsamic, white wine, rice vinegar and more are easy to switch between. Lemon and lime juice will also change the flavor.
Change the seasonings. You can add red pepper flakes to bring some heat. Or increase the ginger or dill if that is your favorite flavor. Herbs and spices are easy to change up depending on what you have on hand. I always like to use fresh herbs when possible too for a brighter flavor but that will impact the shelf life of your dressing. Dressings with dried herbs will last up to 2 months in the fridge, whereas fresh herbs will last about 1 week to 10 days.
Why use mason jars?
Mason jars are perfect for making homemade salad dressings.
With them being glass, you don't have to worry about any nasty chemicals leaking into your food from unsafe plastics.
They are easy to wash and reuse. Buy a few and they will last for years! They're also dishwasher safe.
If you buy the mason jars with a wide mouth, you can even get a utensil down in the jar!
Plus, the ring and lid seal tightly, making you confident about giving the dressing a good shake before serving.
How long can you store them?
These homemade salad dressing will last for two months in the refrigerator. That means you can always have a few on hand. Just as you would buy a few varieties at the store, make several flavors and rotate to keep your salads fresh.
If you use just oil and vinegar in your dressing, it will be shelf stable. The vinegar is acidic enough to keep it fresh. However, if there are any fresh ingredients like garlic, dairy products or fresh herbs, it should be refrigerated.
More mason jar recipes
Meal prep tools for this recipe
5 Healthy Homemade Salad Dressings
These 5 Healthy Homemade Salad Dressings are so easy and delicious, and will last in your fridge up to 2 months! Try Italian, ranch, balsamic, honey dijon and ginger sesame!
Print
Pin
Rate
Ingredients
Italian dressing
1/4

cup

canola oil

1/4

cup

white wine vinegar

2

tbsp

honey

1

tbsp

parmesan cheese

1

tsp

Italian seasoning

1

tsp

onion powder

2

cloves

garlic, minced

1/2

tsp

each salt & pepper
Ranch dressing
1/2

cup

sour cream

2

tbsp

canola oil

2

tbsp

lemon juice

2

cloves

garlic, minced

1

tbsp

dried parsley

1

tsp

dried dill

1

tsp

onion powder

1/2

tsp

salt

1/4

tsp

pepper
Ginger sesame dressing
1/4

cup

rice vinegar

2

tbsp

sesame oil

2

tbsp

soy sauce

2

tbsp

brown sugar

2

cloves

garlic, minced

1

tbsp

fresh ginger, minced
Honey dijon dressing
1/4

cup

dijon mustard

1/4

cup

honey

2

tbsp

canola oil

1/2

tsp

salt

1/4

tsp

pepper
Balsamic dressing
1/4

cup

olive oil

1/4

cup

balsamic vinegar

2

tbsp

honey

1

tbsp

dijon mustard

2

cloves

garlic, minced

1/2

tsp

each salt & pepper
Instructions
Add ingredients of choice to a pint-sized mason jar and place the lid on. Shake jar well to mix up dressing. Store in the fridge up to 2 months and enjoy!
Video
Nutrition
Calories:
83
kcal
|
Carbohydrates:
5
g
|
Protein:
1
g
|
Fat:
7
g
|
Saturated Fat:
1
g
|
Cholesterol:
1
mg
|
Sodium:
11
mg
|
Fiber:
1
g
|
Sugar:
4
g
|
Calcium:
11
mg
|
Iron:
1
mg
*Nutritional info is for 2 tbsp dressing – nutritional values vary slightly per dressing