Here's how to meal plan in 5 easy steps – my simple system eliminates decision fatigue. Plus, download my free weekly meal plan template!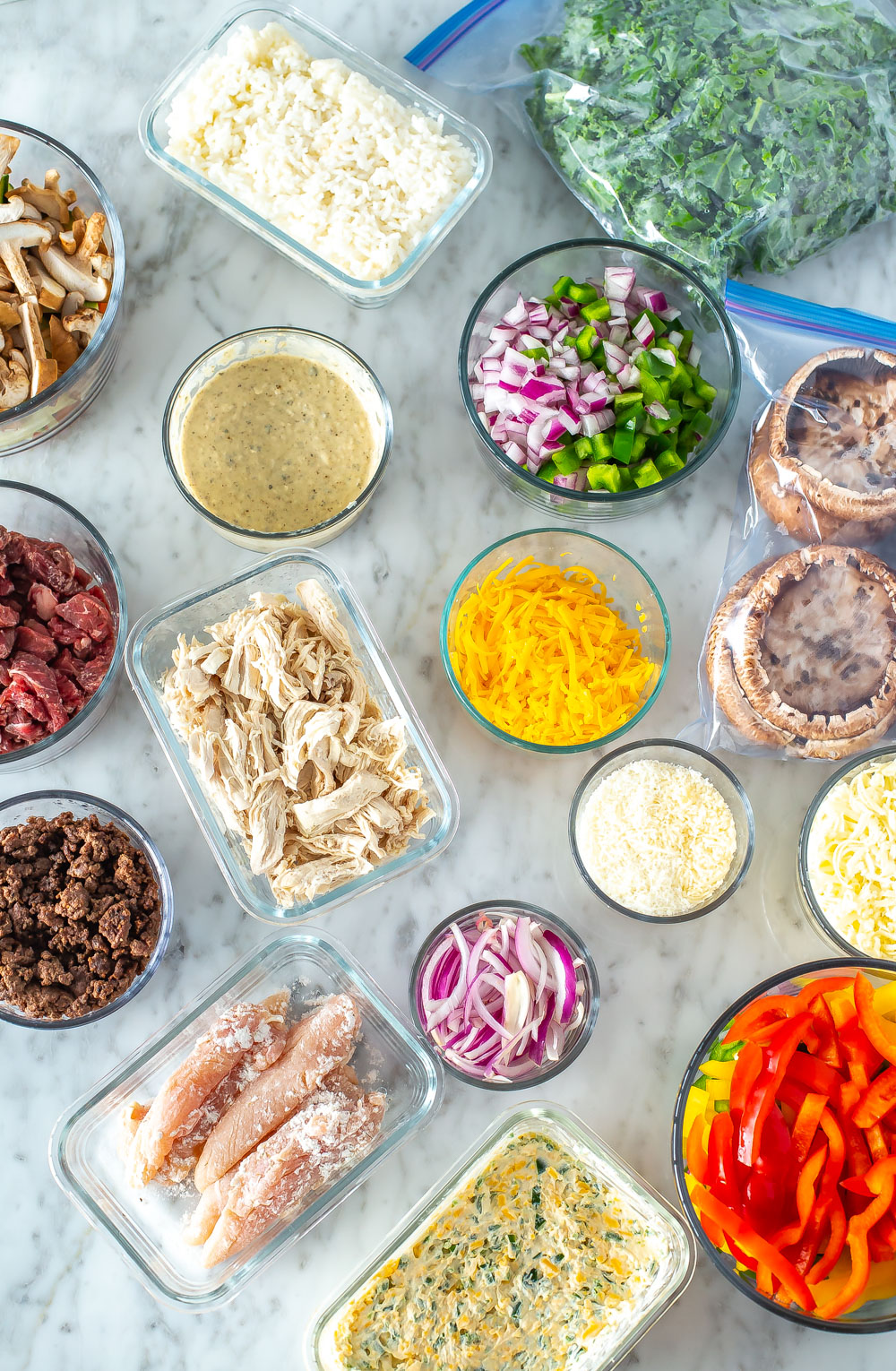 How do I start a meal plan?
A meal plan is much simpler to put together than you think, and it doesn't have to take a long time! The truth is that most people are doing it backwards, creating unnecessary stress and decision fatigue that then makes meal planning feel like a dreaded chore.
In this blog post, I'll be giving you a simple 5-step system to follow so meal planning will only take 15 minutes each week (my grocery list method takes only 5 minutes so check that out as well!). The goal is to give you the structure you need to get started, so whether you are a beginner or have been meal planning for some time, you will definitely learn a more efficient routine that will also help you reduce food waste.
Did I mention the money (and time!) you'll save by having a solid plan?
It doesn't have to be complicated – you just need the right system in place so that it becomes an easy weekly habit. Keep reading to download my free weekly meal plan template that will help you put your newfound skills into practice.
DOWNLOAD MY FREE WEEKLY MEAL PLAN TEMPLATE HERE.
Watch My Meal Planning Routine
What are the 5 basic steps of meal planning?
STEP 1: Make the time for meal planning
Ever felt so tired and so burned out that you can't even sit down to make a meal plan? It's no good if you're already running on empty and can't find the time to do it.
To set yourself up for success before you even begin, you should:
Assess your current schedule and your energy levels at different points in the week – the goal is to find patterns in your week and find a time to do it when you don't feel rushed
Choose a date/time that works for you every single week
Be consistent with this date and time! That way you can make it a habit
When you're tired and feel like you "don't have time", you tend to experience more decision fatigue, and then you become tired of not being able to make choices and the cycle goes on and on.
By choosing a date and time that works for you, you're more likely to stick to a meal planning routine for the long haul. Think of it as an appointment that you make with yourself, a time when you take care of YOU. Learn more about how to customize your meal plan to make it work for you.
STEP 2: Audit your fridge, freezer and pantry to identify ingredients you need to use up.
Here's what I meant when I said you're likely doing your meal planning backwards!
I see a lot of people making their meal plans based on what sounds good, or what they are craving, without even realizing that maybe they have to buy 20 different ingredients for a recipe!
Instead, you're better off taking stock of what you already have in your kitchen, then work around that. This way, you totally minimize the groceries you need to buy – cheers to saving money AND reducing food waste!
Here's what to do each week:
Take a look through your fridge – you likely have a ton of produce you can use up, and probably some other sauces and condiments that have been sitting there for a while
Take a look through your freezer – most people complain about the freezer being a black hole because they don't check it enough! Doing so every week will let you catch meat before it gets freezer burn, and will bring attention to old freezer meals you could eat instead of cooking one night
Don't forget your pantry – there are probably a ton of canned beans, pasta, rice, sauces, etc. that you could make a ton of meals with, and could give you inspiration for the week
BONUS: Check grocery flyers – this is another great way to save money. Take a look at the proteins and produce only (sales aren't as good on canned items, etc) and then you can make menu decisions based on the best sales
STEP 3: Refer to a "master list" of recipes.
This is key to preventing overwhelm and is a real game changer. I love to develop my own "master list" of recipes that I like, along with recipes I want to try so that it's easier to plug recipes into the meal plan and then build your grocery list.
I make it as plain as possible in a simple note doc on my computer that syncs to my phone so it's always with me. I don't have to worry about scrolling for endless amounts of time, and I have everything all in one place for easy reference.
Here's how to make it – divide the list into three sections:
Recipes I like, aka ones that I know and trust.
Quick meal ideas, like frozen potstickers and broccoli, grilled cheese and soup or pita pizzas
Recipes I want to try – these are the ones I find on Pinterest or while scrolling through Instagram
The goal with this list is to reduce decision fatigue and let you have a bunch of options all in the same place for easy access each week when you do go to meal plan.
STEP 4: Look at your calendar.
Similar to actually finding the time to sit down and plan, we need to make sure that we aren't trying to plan for the sake of planning. If you have commitments during the week, then you really need to plan with those things in mind.
For instance, if you or one of your kids has an extra-curricular, maybe a sport in the evening, then you should be planning something quick and easy for that night, or maybe something you can make in advance like a slow cooker recipe.
Meal planning also doesn't have to mean that you need to eat a homemade meal every single night. I know many of us start with this aim to be perfect so we can be healthy and "on track", but that's just not realistic.
We can always try to plan around and avoid exhaustion by making quick meals or even batch cooking and meal prepping, but life happens. If you end up only planning 3 or 4 meals for the week, that's totally ok! There's no rule that says you have to meal plan to perfection or it doesn't count.
To wrap up:
On nights you're busy, choose a quick meal or a tried and true favourite
On nights when you have a bit more time, you can try a new recipe
You don't have to cook a from-scratch meal every single night – life happens! It's better to not cook than plan to cook something and waste it
STEP 5: Start putting it all together.
Let's make a meal plan! This is where the magic happens.
To summarize so far:
You have found a date/time to meal plan every week
You have audited your kitchen to see what's in need of using up
You have an organized list of recipes to choose from
You know what commitments you have this week and how much time you have to cook
Now you're ready to make your plan!
Let's say you did your kitchen audit and have half an avocado to use up, some bell peppers in the fridge and then some ground turkey in the freezer.
You can do so many things with this combo:
tacos
quesadillas
burrito bowls
salads
wraps
a skillet meal
soup or chili
You might have an idea of how you could use the ingredients, then your master list should come through with the actual recipes.
If cooking doesn't come super naturally to you this may take some time and practice, but I promise that you should eventually be able to see some patterns of where you can use up the ingredients you already have on hand at home.
Based on these ingredients:
You can start scanning your master list for recipes
Plug the recipes into the days you need dinners for
Make your grocery list (see my method)
CONGRATS! You've now made a meal plan!
Let Us Meal Plan For You!
Don't like meal planning? Sign up for Dinner Prep Pro and get weekly meal plans filled with delicious seasonal recipes. You'll also receive a filled-out grocery list and prep instructions designed to make meal prep easy!
How to make a meal plan for one vs a family
Here's one of the trickier parts of meal planning, and the part that isn't talked about a whole lot: HOW DO YOU MAKE A MEAL PLAN THAT WORKS SPECIFICALLY FOR YOU?!
It's all fine and dandy to select your dinner ideas, but it's another to know how much to actually cook.
One of the number one things I see people doing wrong is making too much food in general, or making too much of the same recipe and trying to eat it over and over.
We all need variety to feel excited about what we're eating, so what I personally think works for EVERY household across the board is to plan for at least 4 to 5 meals every single week so you can switch things up without tiring yourself out.
For families of 4 or more: this many dinners will work perfectly for you and allow you to eat out once or twice on the weekend or have some quick meals to give yourself a break from cooking. You may want to prep a separate set of lunches.
For households of 2: make 4-5 recipes as normal. You each get a dinner and a lunch given that most recipes serve four.
For households of 1: I recommend that you cut recipes in half so you're only eating dinner and then the leftovers for lunch.
How do I create a meal plan template?
Use a note doc on your computer! That's the simplest way.
OR DOWNLOAD MY FREE WEEKLY MEAL PLAN TEMPLATE HERE.
Fill in the meal plan based on the instructions I gave in this post. The first time you do it, it might feel overwhelming or like it's taking a long time to set up but give yourself some grace to learn this new skill and get the system down pat.
With practice, I promise you this whole routine will take you just 15-20 minutes each week. The key is to not overthink it. Assess your upcoming schedule, pick some meals based on ingredients you already have on hand using your master list of recipes, then plug them in!
I do also have a 4-WEEK MEAL PLAN E-BOOK that will get you started if you'd like a ready-made meal plan and want an example, so definitely go ahead and download that for more help with meal planning!
Meal Prep Tools To Help You Save Time in the Kitchen