This is the Best Meal Prep Green Smoothie filled with tons of healthy ingredients like spinach, green apple, banana and mango!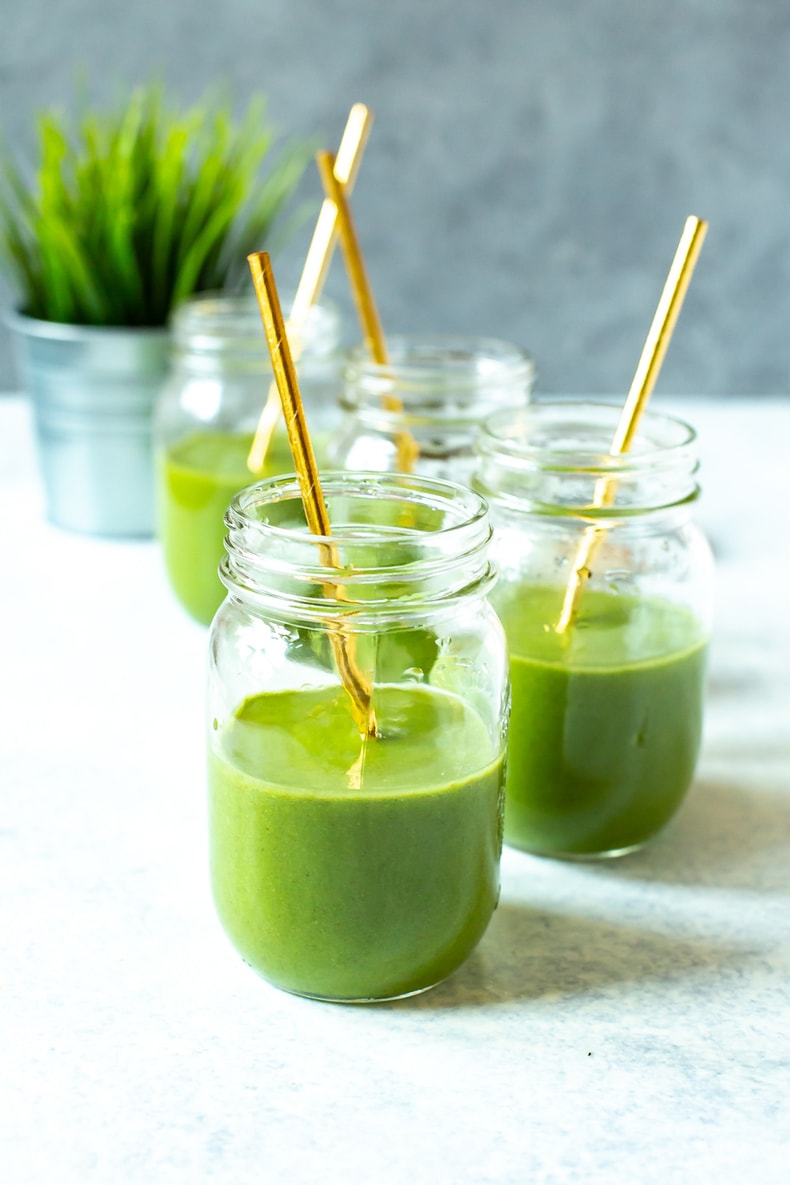 Ingredients and substitutions
Bananas – if you're not a fan of bananas, frozen mango or avocado are both great substitutes.
Spinach – swap out for another dark leafy green such as kale.
Mango – avocado would also make your smoothie nice and creamy.
Green apple – use another type of fruit like kiwi, pineapple or berries.
Cucumber – try using zucchini or leave this out altogether.
Ground flax – you could also try adding in some chia seeds or hemp seeds.
Skip the Ads and Get Right to the Recipes!
ZERO ADS on over 600 recipes!
Weekly Meal Plans, Grocery & Prep Lists
Bonus eBooks
How to make a green smoothie
Prep your ingredients.
Add everything to the blender.
Blend until smooth.
Drink right away.
If meal prepping, use mason jars.
Divide the smoothie amongst mason jars and store.
What to add to your smoothie
Feel free to experiment with different smoothie add-ins! I suggest using frozen ingredients wherever you can, since it provides more texture to your smoothie. Keep in mind you might need to add in about ½ cup of water depending on how much frozen fruit you've used.
The flax seed in this smoothie is great for your digestive system, but there are lots of other add-ins that will provide an extra nutritional boost:
Nut butters, protein powder, silken tofu or Greek yogurt for more protein
Chia seeds, sunflower seeds or pumpkin seeds for healthy fats
Spirulina for extra amino acids
Aloe vera juice for its cleansing properties
Apple cider vinegar for gut health
Cacao nibs for antioxidants
Cinnamon for sweetness
Hemp seeds for omega-3 fatty acids and protein
Frequently Asked Questions
What is a green smoothie made of?
Green smoothies are typically made of a dark leafy green like spinach or kale, fruits, veggies and a liquid like water, fruit juice or milk. For this recipe, I used spinach, bananas, mango, green apple, cucumber and ground flax seeds. They're a great breakfast idea and are full of amazing nutrients!
What are the best greens to put in?
Spinach is one of the best greens to put in a smoothie because it has a mild taste, so you don't need to add in a lot of sweetness to cover up the taste. Kale is a super healthy and nutrient-filled option, but it does have a stronger taste so you'll need to add in additional ingredients that will disguise the flavour of the kale.
Is this smoothie good for you?
Yes! As long as you stick to fruits and veggies without sugar-filled juices or syrups, green smoothies are super healthy and packed full of nutrients. This green smoothie is packed full of fresh, whole foods that will reset your body and make you feel awake and refreshed.
Should you do a green smoothie cleanse?
Despite the popularity of green smoothie cleanses, I would not recommend using this recipe to replace your meals. So the short answer is no! Smoothies are a great way to get a variety of fruits and veggies in one sitting, but you do need to actually eat them as well to get the full health benefits so that's why I never recommend doing any sort of smoothie "detox" or "cleanse". Your body does a great job of naturally detoxing on its own (read more on that here). Deprivation is never healthy. Make good food choices, and you can reach your health goals without resorting to unhealthy solutions.
Meal prepping your smoothies
You can meal prep your green smoothies to ensure you always have a healthy breakfast or snack waiting for you. Make a large batch of green smoothies and store them in the fridge for 4 to 5 days in mason jars.
Depending on the ingredients, your smoothie may experience some discoloration after being in the fridge for a few days. That doesn't mean it's gone bad, just that it's been exposed to air. It will still taste great – just give it a stir and consider adding in some water to revive it.
Freezing this recipe
If you aren't sure how soon you will consume your smoothie, you can freeze it for up to 3 months. Separate the green smoothies into individual portions and freeze. You can put a smoothie in the refrigerator the night before then just grab it and go the next morning. Green smoothies can also sit at room temperature for a few hours to thaw.
You could also assemble all the ingredients and freeze them in ready-to-go smoothie packets. All you have to do when you are ready to enjoy your smoothie is pour all the smoothie in a blender, add in a bit of liquid and let the blender do its work.
Wanna Learn How To Meal Prep?
My meal planning service, Dinner Prep Pro, removes the guesswork and helps you get dinner on the table in 15-20 minutes each night. My meal prep checklists only take 1 hour each week!
More healthy breakfast recipes
Meal prep tools for this recipe
These are the mason jars I use to store my green smoothies.
Vitamix is the best blender on the market – definitely worthwhile if you're going to make smoothies often!
These colourful mason jar lids are so fun and perfect if you lose your lids.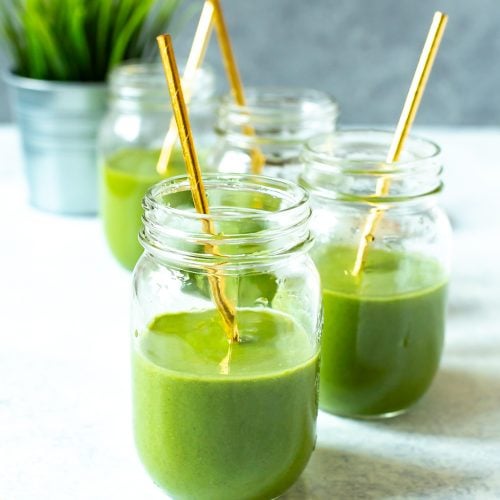 The Best Meal Prep Green Smoothie
This is the Best Meal Prep Green Smoothie filled with tons of healthy ingredients like spinach, green apple, banana and mango!
Print
Pin
Rate
Click Here to Remove Ads
Servings: 4 servings
Calories: 227kcal
Ingredients
2 bananas
2 cups spinach
1 mango, peeled and sliced
1 green apple, cored and sliced
1 cucumber, sliced
1/2 cup ground flax
Instructions
Add all ingredients to a blender (you may want to add up to 1/4 cup of water), then divide evenly among 4 different mason jars with lids. Smoothies will last up to 4 days in the fridge.
Video
Notes
Add some more protein to your smoothie using protein powder, silken tofu, nut butter, coconut milk, Greek yogurt or hemp hearts. Pre-blend this smoothie and store it in the fridge for 4-5 days in mason jars. Before drinking, give it a good stir and add in a bit of water. Freeze these smoothies for up to 3 months then let them thaw in the fridge overnight. Create ready-to-go smoothie packs will all the ingredients for your smoothie. Dump it into the blender with your liquid and you're good to go!
Nutrition
Calories: 227kcal (11%)Carbohydrates: 35g (12%)Protein: 6g (12%)Fat: 9g (14%)Saturated Fat: 1g (6%)Sodium: 20mg (1%)Potassium: 652mg (19%)Fiber: 10g (42%)Sugar: 20g (22%)Vitamin A: 2056IU (41%)Vitamin C: 31mg (38%)Calcium: 85mg (9%)Iron: 2mg (11%)
Join The Girl on Bloor Premium!
ZERO ADS!
Weekly Meal Prep Checklists
Bonus eBooks