This Meal Prep Green Smoothie is ready in 15 minutes and made with bananas, cucumber, spinach, mango, green apple and hemp hearts!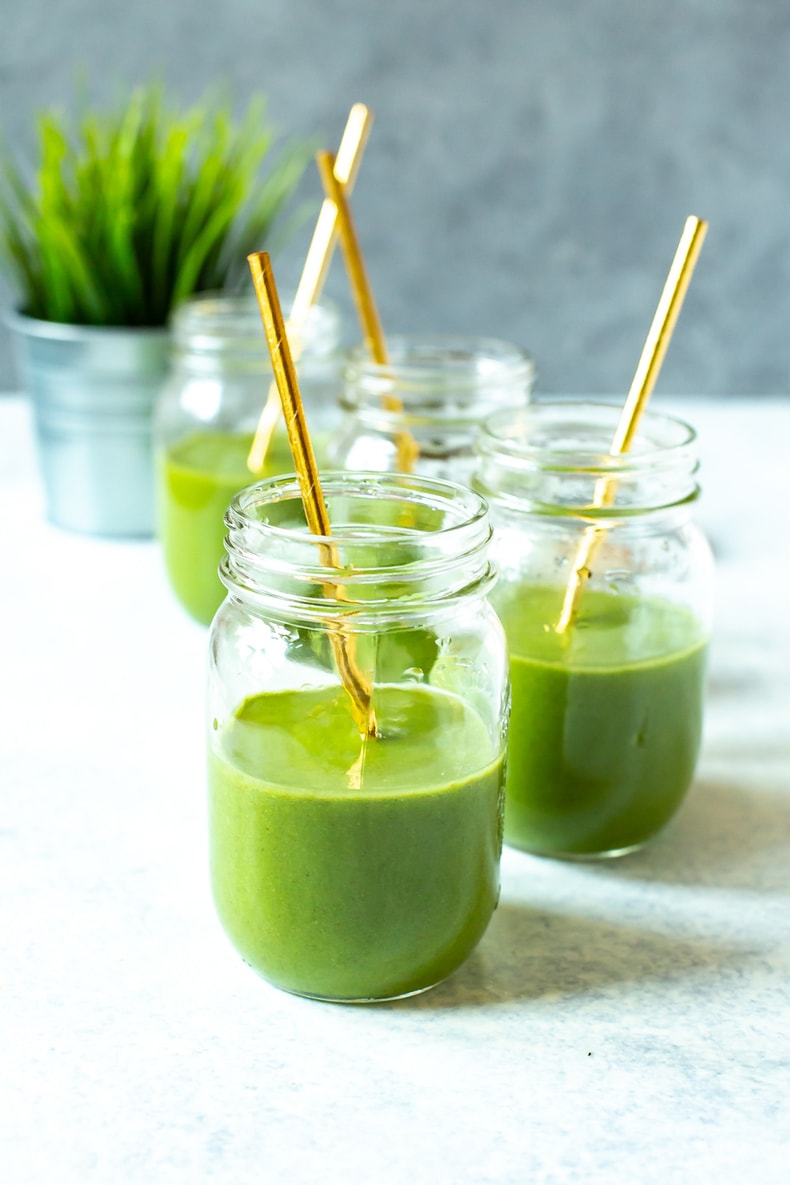 How to make a green smoothie
In about fifteen minutes, you can prepare four servings of this healthy green smoothie recipe, and all portions will last in the fridge up to 4-5 days!
Peel and slice the mango
Core and slice the apple
Slice the cucumber
Put all the ingredients in a blender and blend (you may need to use a bit of water but if you layer in the bananas first you should be fine)
Divide into four containers (I like mason jars because they seal well)
Ingredients in the best green smoothie
This quick breakfast is a combination of fruits and veggies. That makes it a great choice for anyone on any diet plan, or anyone just trying to eat healthier in general. It's packed full of fresh, whole foods that will reset your body and make you feel awake and refreshed.
You will need these ingredients to make this smoothie:
Banana
Spinach
Mango
Green apple
Cucumber
Flax seed (or hemp hearts)
Ingredient substitutions and add-ins
Any of these fruits and veggies will also taste great in your green smoothie:
Kiwi
Pineapple
Avocado
Berries
Kale
Use frozen ingredients whenever you can. It provides more texture to the smoothie – if you do this though, you will need up to 1/2 cup of water depending on how much frozen fruit you've used.
You can add some other ingredients for an extra nutritional boost. Like the flax seed that is great for your digestive system, other add-ins can increase the value of your green smoothie:
Nut butters for more protein
Chia seeds, sunflower seeds or pumpkin seeds for healthy fats
Tofu or protein powder
Spirulina provides extra amino acids
Aloe vera juice for its cleansing properties
Apple cider vinegar for gut health
Cacao nibs for antioxidants
Cinnamon for sweetness
Hemp seeds for omega-3 fatty acids and protein
Greek yogurt for protein
Should you do a green smoothie cleanse?
Despite the popularity of green smoothie cleanses, I would not recommend using this recipe to replace your meals. So the short answer is no!
It is much healthier to eat whole healthy foods in moderation. Your body needs the nutrition of all kinds of foods, not just what can be tossed in a blender. Keep in mind, when you blend foods instead of consuming them whole, you are not getting a sufficient amount of fibre like you would if you ate a whole apple or raw spinach.
Smoothies are a great way to get a variety of fruits and veggies in one sitting, but you do need to actually eat them as well to get the full health benefits so that's why I never recommend doing any sort of smoothie "detox" or "cleanse". Your body does a great job of naturally detoxing on its own (read more on that here)
This green smoothie is fantastic for breakfasts and will leave you feeling refreshed and ready to start your day. It's easy to make ahead as well. You'll find lots of recipes here that make healthy eating this easy. Deprivation is never healthy. Make good food choices, and you can reach your health goals without resorting to unhealthy solutions.
How to add more protein
It's easy to make this green smoothie with extra protein. Adding some protein is a great way to start your day and will keep you full until lunch time.
Try adding any of these ingredients for more protein:
Protein powder
Silken tofu
Nut butter
Coconut milk
Greek yogurt
Hemp hearts
What type of blender?
With thousands of options on the market, how do you decide what kind of blender to buy?
A blender is always worth the investment. Not only will you use it for green smoothies, you will keep it busy with blending soup, making salsa and whipping up other sauces and dressings. But if you plan to make green smoothie recipes frequently, you want a blender that can handle it. Some blenders even have a smoothie setting, a giveaway that this is a perfect blender for your purposes.
Look for these features:
A large container if you plan to use this recipe for meal prep. Green smoothies store for up to four days, so you want at least 48 ounces to blend at one time.
A wider bowl shaped bottom is very efficient at combining all the ingredients.
A blender that is powerful enough to cut through frozen fruit and tear tough dark greens like kale. Choose one that has a minimum of 600 watts.
Consider other things you want in a blender. Are you low on space? Do you need one that is dishwasher safe? All of these options are available!
Vitamix is the best blender on the market and what I use – it's definitely worthwhile if you're going to make smoothies often! The one I have even has a self-cleaning feature!
How to meal prep smoothies in advance
There are a few ways you can meal prep these green smoothies to ensure that you always have a healthy breakfast waiting for you.
You can make a large batch of green smoothies and keep them in the refrigerator for up to four or five days.
If you aren't sure how soon you will consume the smoothie, you can freeze it. Separate the green smoothies into individual portions and freeze. You can put a smoothie in the refrigerator the night before and just grab-and-go the next morning. Green smoothies can also sit at room temperature for a few hours to thaw.
You can also assemble all the ingredients and freeze them in ready-to-go smoothie packets. All you have to do when you are ready to drink it, is pour all the ingredients in a blender and let the blender do its work.
Storing already made smoothies
If you make a large batch of these smoothies, you can keep them in the refrigerator for four to five days. Depending on the ingredients, it may experience some discoloration. This does not mean that it is bad, just that it has been exposed to air. It will still taste great – just give it a stir and consider adding some water to it to revive it.
More breakfast recipes
Meal prep tools for this recipe
These are the mason jars I use to store my green smoothies
Vitamix is the best blender on the market – definitely worthwhile if you're going to make smoothies often!
These colourful mason jar lids are so fun and perfect if you lose your lids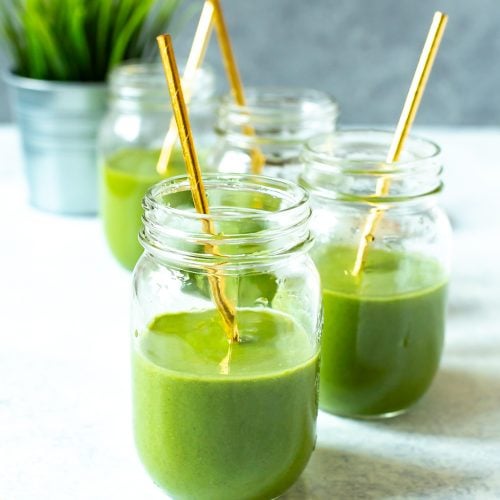 The Best Meal Prep Green Smoothie
The BEST Green Smoothie is ready in just 15 minutes. Made with bananas, cucumber, spinach, mango, apple & hemp hearts, it will become your go-to breakfast!
Print
Pin
Rate
Ingredients
2

bananas

2

cups

spinach

1

mango, peeled and sliced

1

green apple, cored and sliced

1

cucumber, sliced

1/2

cup

ground flax
Instructions
Add all ingredients to a blender (you may want to add up to 1/4 cup of water), then divide evenly among 4 different mason jars with lids. Smoothies will last up to 4 days in the fridge.
Video
Nutrition
Calories:
227
kcal
|
Carbohydrates:
35
g
|
Protein:
6
g
|
Fat:
9
g
|
Saturated Fat:
1
g
|
Sodium:
20
mg
|
Potassium:
652
mg
|
Fiber:
10
g
|
Sugar:
20
g
|
Vitamin A:
2056
IU
|
Vitamin C:
31
mg
|
Calcium:
85
mg
|
Iron:
2
mg